Enchilada Breakfast Casserole
Breakfast Casseroles are a favorite Brunch staple. Kick it up with this easy Enchilada Breakfast Casserole. The festive flavors are a warm & welcome surprise for any breakfast/brunch gathering. This can easily be made ahead. Leftovers are unlikely to happen.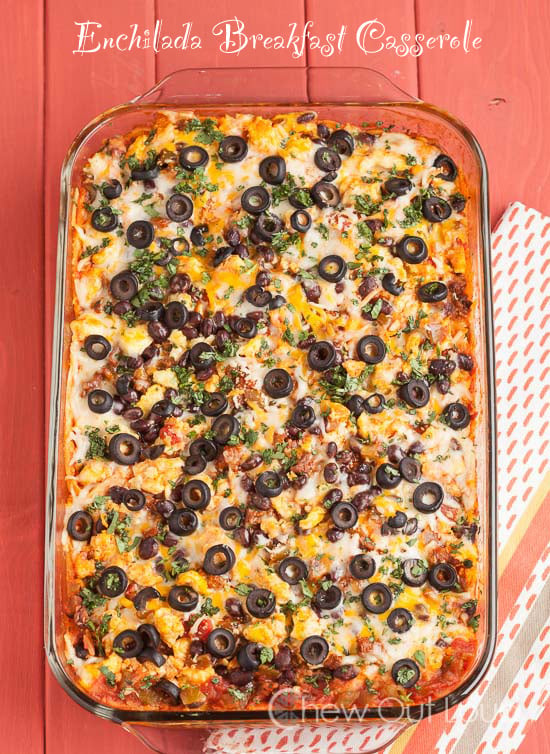 If yesterday was full of bittersweet goodbyes (you can read about that here,) today was brimming with the anticipation and the hope that summer brings.
The shift towards blue skies and warm sun seems to magically brighten everyone's smiles. You can see it everywhere around us. Little tykes skipping barefoot at the park, colorful blooms cheerily being planted, and shoppers sauntering casually outdoors.
I have every intention of not wasting one drop of this warmth I've been pining for. Pining for the last 6 months, I tell ya.
So. Yesterday I walked to Target and back in lieu of driving. I discovered it's a 5 mile trek. Truth.
Today The Littlest and I spent the better part of a gorgeous afternoon with good friends, building dirt forts and collecting wildflowers. What a difference a day makes…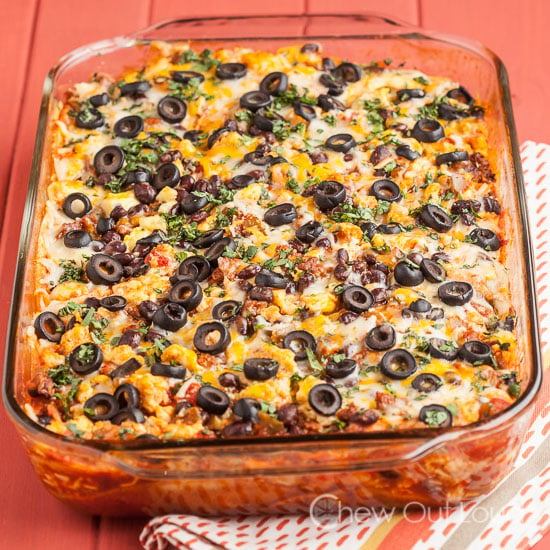 Needless to say, I'm feeling much better about it being the end of another school year and the close of a chapter. Ask me in September, and I'll probably pull out the mama Kleenex again. But for now, it's all good.
Year-end school and church activities are synonymous with potlucks, brunches, and picnics. Celebration Time.
For a women's brunch last week, I decided to shake up my usual breakfast casserole routine. Clearly, I have a strong friendship with breakfast bakes. Cheesy Potato Breakfast Casserole; Eggs Benedict Casserole; French Toast Casserole with Streusel. Etcetera. Yeah, we're on good terms.
But I love a twist, and decided to kick up the morning with this Enchilada Breakfast Casserole. If you make this, be prepared to hand out recipe cards.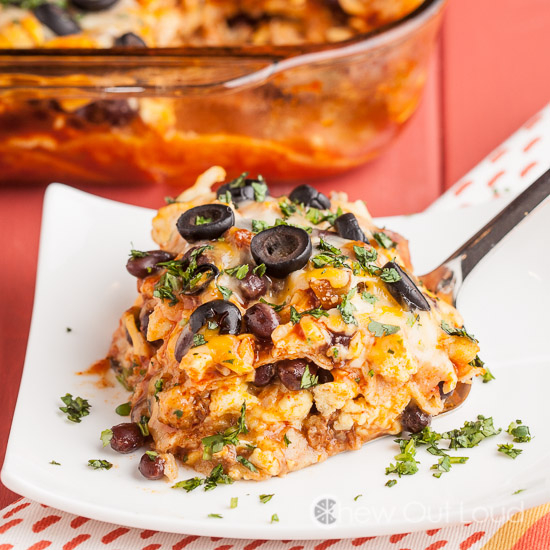 This Enchilada Breakfast Casserole is chock full of good stuff. Layers of eggs, chorizo, black beans, cheese, and salsa rest on layers of corn tortillas. The flavors are festive, savory, and bright.
This tasty breakfast is perfect for feeding a group, as it's hearty and satisfying. There is a nicely mild kick to it, which make the flavors pop. Feel free to modify the spice level, using mild or medium (or hot!) salsa.
Here's to the anticipation of summer, with many more potlucks and picnics to come. Though I'll probably drive to Target from now on.
Enjoy!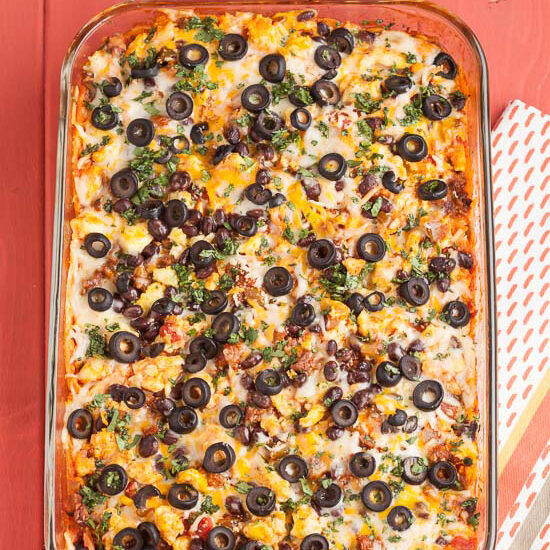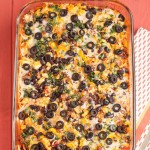 Enchilada Breakfast Casserole
This Enchilada Breakfast Casserole is great for groups or preparing ahead of time. The flavors are festive and bright, just like an enchilada for breakfast should be! Spice level can be toned up or down, depending on your preference.
Ingredients
12

oz

chorizo sausage

,

no casings

10

large eggs

¼

cup

milk

,

I use whole

¼

tsp

table salt

½

tsp

garlic powder

3

TB

olive oil

1

cup

black beans

,

rinsed and drained

½

tsp

table salt

12

8-inch corn tortillas

15

oz

Mexican blend shredded cheese

,

cheddar jack works well, too

2

10 oz each cans enchilada sauce

1

cup

chunky salsa

,

I use mild

1

2.25 oz can sliced olives, drained

3

TB

fresh cilantro

,

chopped for garnish
Instructions
Grease a 13x9 glass baking dish; set aside. Preheat oven to 350F.

In a large nonstick skillet, cook chorizo while stirring and breaking it up into small pieces until cooked through. Transfer to a bowl and set aside.

In a bowl, beat eggs together with milk, 1/4 tsp salt, and garlic powder.

In same skillet, heat olive oil over medium heat about 1 min. Add beaten eggs and cook, gently pushing and stirring cooked portions to the center and allowing uncooked portions to come underneath until scrambled eggs are set. Transfer to a bowl and set aside.

In a bowl, combine enchilada sauce, 1/2 tsp salt, and salsa.

Spread a third of the salsa mixture on the bottom of prepared baking pan. Layer 6 corn tortillas, followed by half of the scrambled eggs, half of the chorizo, and half of the beans. Sprinkle with half of the cheese. Spread a third of the salsa mixture on top, followed by the remaining tortillas, scrambled eggs, chorizo, and beans. Spread the remaining third of salsa mixture. Sprinkle with the rest of the cheese. Top with sliced olives.

Cover with foil and bake 20 minutes. Remove foil and bake another 20 minutes or until cheese is bubbly.

Garnish with chopped cilantro.

* Notes: Casserole may be assembled the night before, covered and chilled overnight, and baked the next morning. If cold, additional bake time may be required. Regular sausage may be used if you don't want any heat, but Chorizo is highly recommended.
Did you make this?
Leave a comment below and tag @chewoutloud on Instagram
Source: Chew Out Loud
Love Breakfast and Brunch food, too? This Nutella Bread Pudding is seriously one of the best breakfast-slash-desserts around. Best of both worlds. Couldn't be easier, either.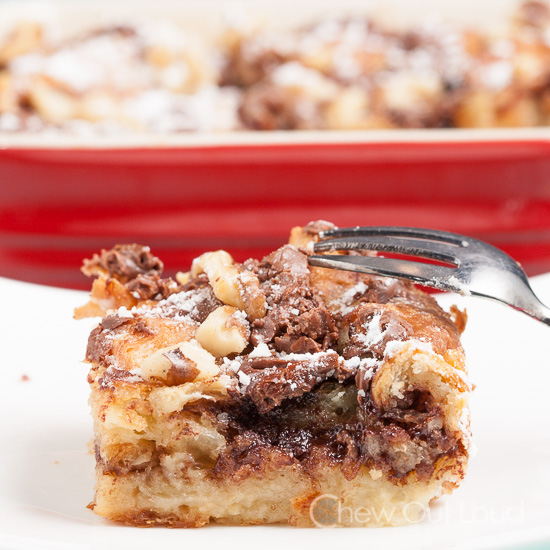 Here's my all-time favorite French Toast Casserole with Amazing Streusel. The streusel topping is pure gold. I always eat a spoonful of it straight up.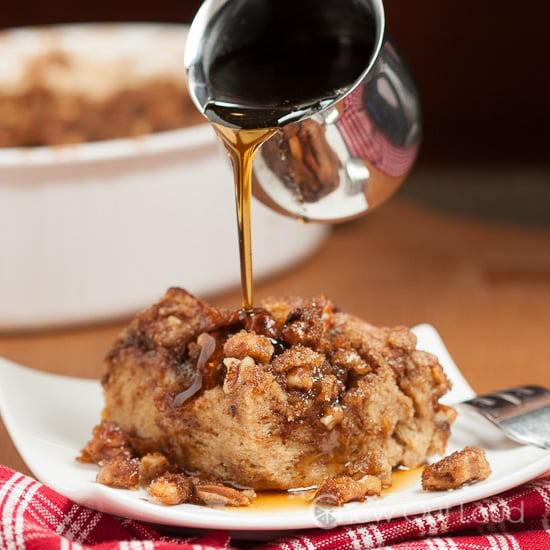 And this Cheesy Hash Brown and Ham (or Bacon or Sausage) Bake? Nom nom nom. 'Nuff said.