Strawberry Cupcakes with whipped Cream Frosting
These Fresh Strawberry Cupcakes with Whipped Cream Frosting are the real deal. Nothing artificial goes into these baby cakes. These cupcakes are tender, moist, and bursting with fresh strawberries. The Strawberry Whipped Cream Frosting is finger licking great!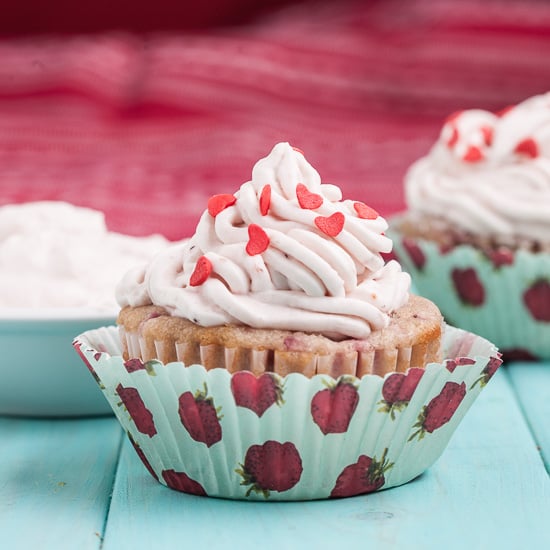 It's official. My youngest one graduated with cap, gown, and diploma in hand this week.
Granted, the diploma was a rolled-up blank white paper. Wisely done, so the hands that received the mock-ups needn't fret about crumpling, losing, or ripping the real deal.
Video: Watch Us Make This Recipe
Because the hands that proudly shook their instructors' hands belonged to preschoolers. Past preschoolers, now Big Graduates who will hand their hard-earned lemonade stand money to the ice-cream trucks all summer. And then head off to kindergarten in the fall.
I've been here 3 times now, and I prepared myself for the bittersweet moments this week would bring. We hugged the teachers and reminisced about all 3 boys having hung their "Cars" backpacks up on those same walls. And how this is the last time I'll hold a tiny hand down those familiar little hallways.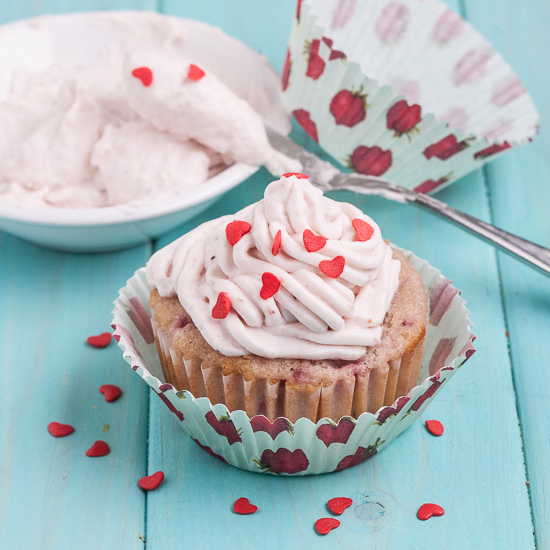 And I realize once again how fleeting every season is. And how this probably never really ends, this parenting thing with its stages, seasons, and chapters.
So it is with bittersweet joy that I celebrate the end of this chapter with you guys today. Any celebration clearly includes food! 🙂
Since fresh strawberries are my Littlest's favorite treat in the whole wide universe, these Fresh Strawberry Cupcakes are the perfect dessert. With Strawberry Whipped Cream Frosting, no less. It is a seriously fabulous combination. Fabulous, from top to bottom!
These cupcakes boast the fresh and fruity flavors of real strawberries in every bite. The tender, soft, and unbelievably moist crumb satisfies any cupcake lover. The strawberry whipped cream frosting is my favorite part…SO full of strawberry flavor, light, refreshing, and the perfect topping for these baby cakes.
People will ask you for the recipe. I've been told by my grown-up friends that these are their favorite cupcakes, in the whole wide universe.
Enjoy!
Did you make this?
Please give us a rating and comment below. We love hearing from you!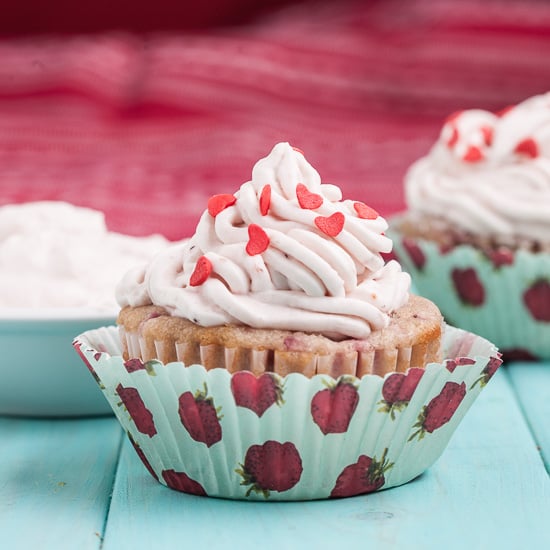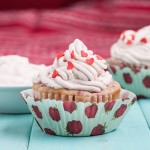 Strawberry Cupcakes with Frosting
These fresh strawberry cupcakes are superior in moistness, tenderness, and they are bursting with strawberry flavor! The strawberry whipped cream frosting is simply divine, tastes amazing, and a must-do.
Ingredients
For the Cupcakes:
10

oz

fresh ripe strawberries

,

towel-dried and finely minced

1

and 3/4 cup all purpose flour

½

tsp

baking powder

½

tsp

baking soda

½

tsp

table salt

1

cup

granulated sugar

½

cup

unsalted butter

,

melted

1

large egg

,

lightly beaten and room temp

¼

cup

Greek strawberry yogurt

,

whole

¾

cup

whole milk

1

tsp

pure vanilla extract
Instructions
Preheat oven to 350F and line standard muffin pans with liners. Set aside.

In a bowl, whisk together the flour, baking powder, baking soda, and salt until well combined.

In a separate bowl, combine melted butter and sugar. Whisk together until well combined. With a wooden spoon, stir in beaten eggs, yogurt, milk, and vanilla until fully incorporated.

Carefully combine dry ingredients with wet ingredients with a rubber spatula. Fold with spatula just until no lumps remain, but do not overmix. Gently fold in the minced strawberries and its juices until combined.

Divide batter evenly into lined muffin pan. Bake about 20 minutes, or until a toothpick inserted in the center comes out clean. Do not over-bake. Let cool in muffin tin, on top of wire rack. Cool completely before frosting.

While cupcakes cool, make the frosting: In a blender or small processor, blend freeze dried strawberries until finely ground into a powder. Set aside.

Place mixing bowl and beaters in freezer for a couple minutes to get them very cold.

In a small bowl, combine gelatin with 2 TB water and allow gelatin to dissolve and soak up the water, about 1 minute. Microwave for 20 seconds to melt gelatin mixture. Set aside.

In cold mixing bowl, combine heavy cream, powdered sugar, and the strawberry powder. Beat until it reaches soft peaks. Check that melted gelatin is no longer hot, but a warm liquid (if it has firmed up, microwave 10 seconds and stir until just warm.) Continue to beat whipped cream to stiff peaks, while gradually pouring liquid gelatin directly into the beaters. This will stabilize your whipped cream so that it does not become runny and keeps its shape well!

Keep chilled until ready to frost. Frosted cupcakes will keep well at moderate room temperature for several hours, or cover and keep chilled if room temp is too warm.
Source: Chew Out Loud, cupcake portion adapted from Sally's Baking Addiction
Have you seen the World's Best Chocolate Oatmeal Cupcakes? You can't taste the oatmeal, but it feels great knowing you're getting some oats in there. They are what makes these cupcakes super moist and tender.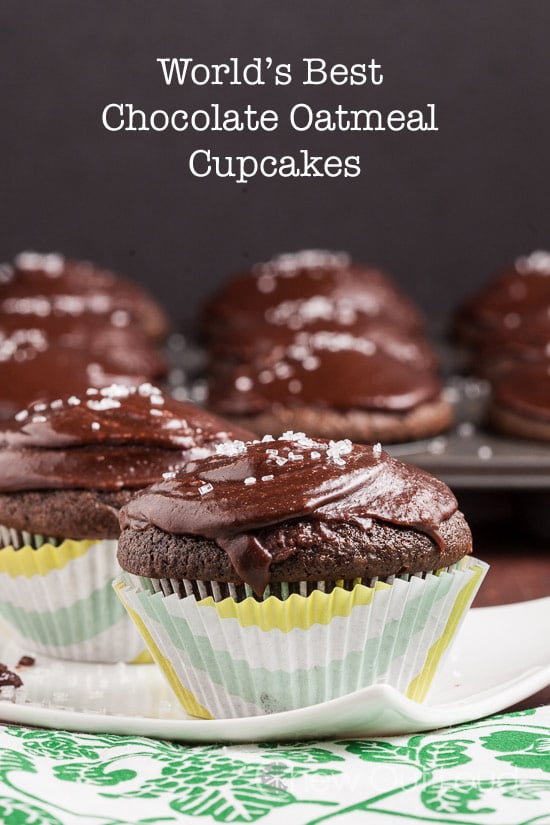 These are easy and totally delicious Carrot Cake Cupcakes with Cream Cheese Frosting. I mean, the Cream Cheese Frosting is simply divine all by itself.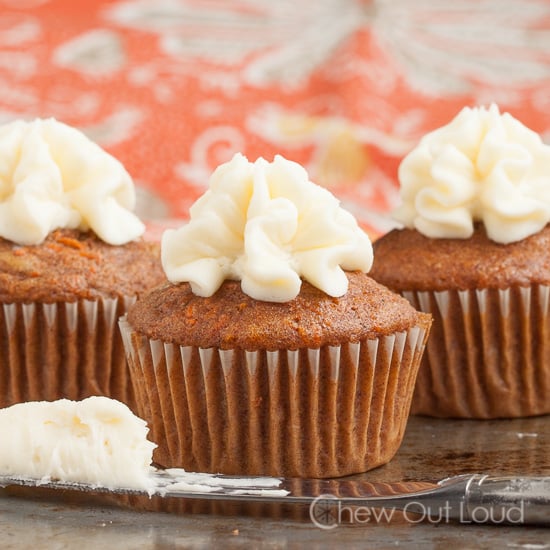 If yellow cupcakes are what your peeps crave in a jiffy, these One Bowl Yellow Cupcakes with Chocolate Ganache Frosting are seriously easy and melt-in-your-mouth delish right out of the oven!