Fluffy Whole Wheat Waffles
By Amy Dong
Published Feb. 20, 2015
Updated Feb. 21, 2023
These are the fluffiest soft waffles ever. Nobody realizes these are made with wholesome whole wheat. Healthy and totally delish. Hello, Morning!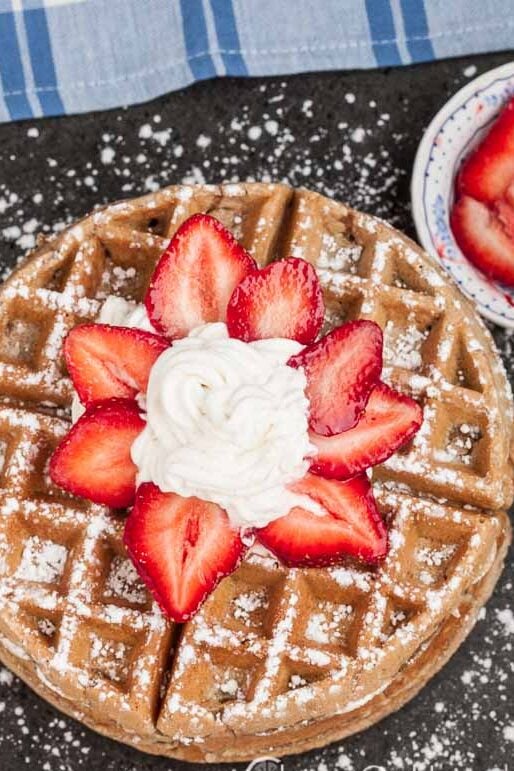 Whole Wheat Waffles
Happy Weekend, Everyone!
It's time for waffles, waffles, waffles 🙂
Wheat waffles at that. These are so fluffy, soft, luscious…nobody will know they've got whole grain all over and within 'em.
They're the perfect vehicle for strawberries, blueberries, raspberries, and just berries.
Stabilized whipped cream, powdered sugar, and syrup are optional but not really…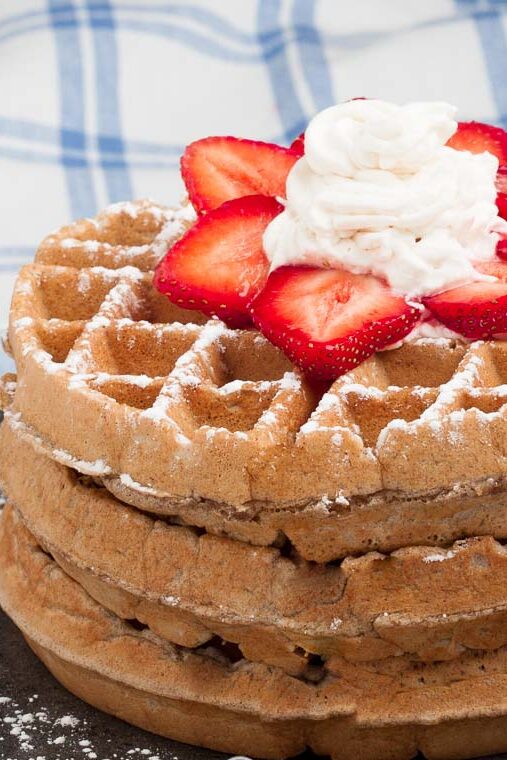 About five years ago, The Littles and I gave Hubby a waffle iron for Father's Day.
And every since then, we bust out and fix sky high stacks of waffles every Father's Day. Plus whenever the waffle craving hits.
Waffle craving. It's a thing.
If you don't have a waffle iron, it's sooo worth the teensy investment. For about thirty bucks, you can have unbeatable homemade waffles anytime you want.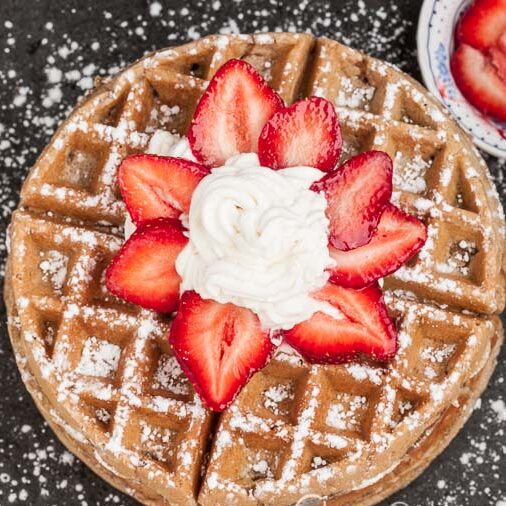 And trust, there is nothing like homemade waffles. Even restaurant waffles can't beat the steaming hot, crispy yet tender waffles emerging from your own iron.
These ain't your Leggo my Eggo pop ups. Not that I'm judging, 'cause I've totally done the Eggo thing before.
But let's keep it real. Homemade waffles are simply beyond compare. Matchless. Peerless. Second to none.
You get it. Now, go get it.
Did you make this?
Please give us a rating and comment below. We love hearing from you!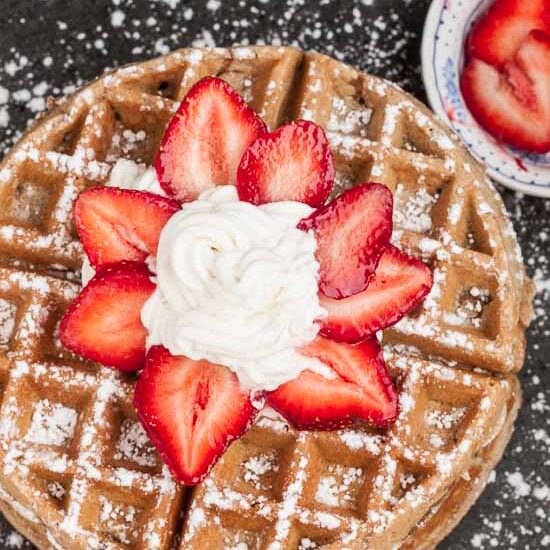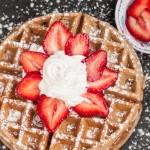 Fluffiest Wheat Waffles
These are the fluffiest waffles ever! They're crispy on the edges and tender on the inside, and 120% scrumptious! Nobody will guess they're made of healthy whole grains. It's worth getting a waffle iron just for these babies.
Instructions
Preheat waffle iron. In a large bowl, beat eggs with electric mixer until light and fluffy, 2-3 minutes on medium high. Using a hand whisk, gently whisk in all ingredients, except for the flours, until incorporated. Using a rubber spatula, fold in both flours just until no flour streaks remain. Don't over-mix.

Lightly grease hot waffle iron with cooking spray and pour appropriate amount of batter onto hot waffle iron, according to manufacturer's instruction (typically, fill iron to two-thirds full, close it to cook, and open when steam stops being emitted.) Allow waffle to cook until golden and crispy on the edges.

Repeat with remaining batter, lightly greasing the iron each time. Serve warm with stabilized whipped cream, berries, and your choice of syrup.
Notes
Batter can be made the night before, covered, and chilled. Gently stir before using.

If you enjoyed this recipe, please come back and give it a rating ❤️
Nutrition (per serving)
Serving:
1
g
|
Calories:
198
kcal
|
Carbohydrates:
38
g
|
Protein:
7
g
|
Fat:
4
g
|
Saturated Fat:
1
g
|
Polyunsaturated Fat:
0.4
g
|
Monounsaturated Fat:
1
g
|
Cholesterol:
10
mg
|
Sodium:
211
mg
|
Potassium:
187
mg
|
Fiber:
5
g
|
Sugar:
8
g
|
Vitamin A:
121
IU
|
Vitamin C:
0.02
mg
|
Calcium:
273
mg
|
Iron:
2
mg