These fluffy soft buttermilk pancakes are just what the weekend calls for. They're super easy and quick to whip up. Bonus: these fluffy pancakes are freezer friendly and taste delicious reheated, making them perfect for busy weekday mornings as well.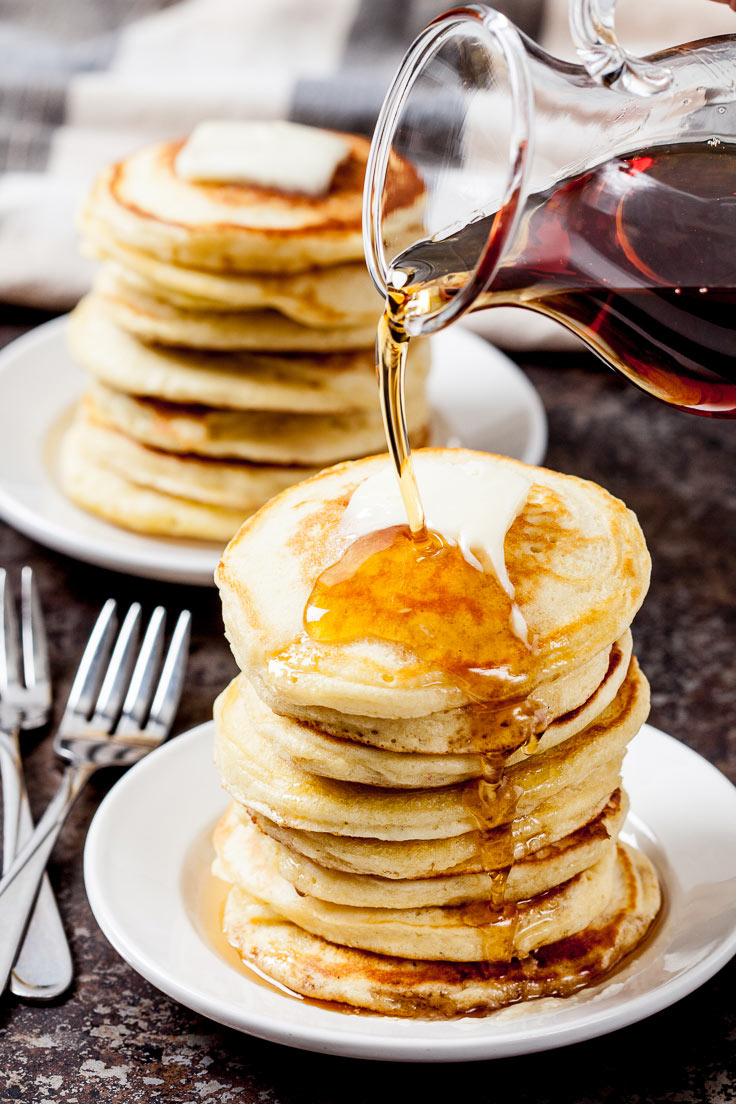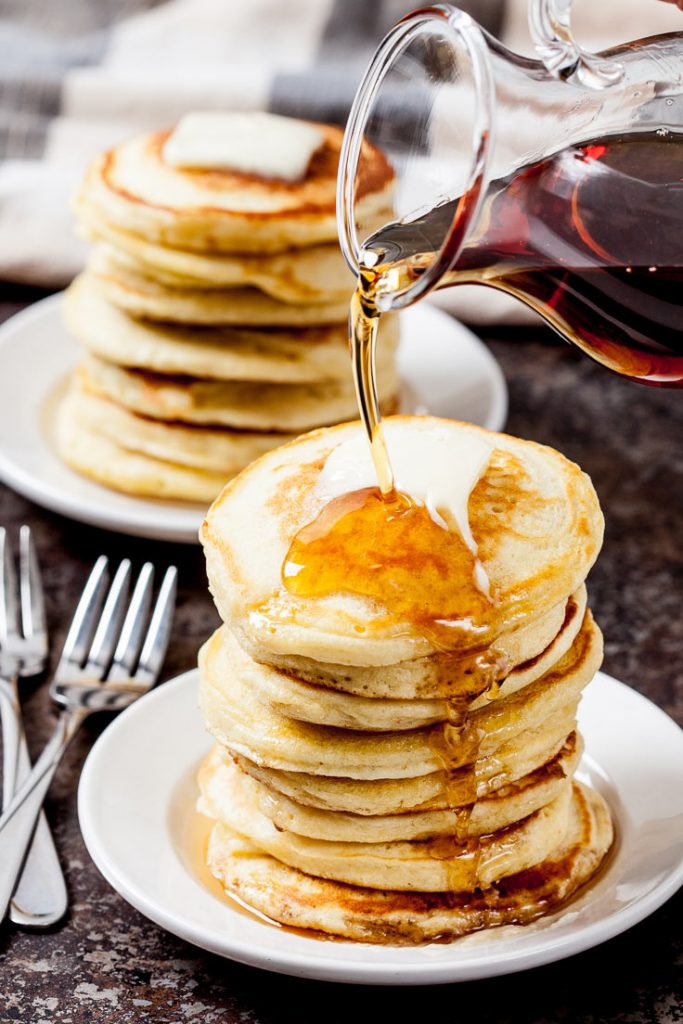 Best Buttermilk Pancakes Recipe
Sometimes we need to make up for the crazy week by sitting down to Saturday morning with extra tall stacks of super fluffy buttermilk pancakes. Dare we say, the best buttermilk pancakes ever.
Any busy week elicits major pancake cravings on the weekends. We love our fluffy stacks all year 'round, not just during special weekends. And because these light, fluffy buttermilk pancakes are so easy to whip up, we make them often.
Bonus: these fluffy pancakes are freezer-friendly! We like to make an extra batch of pancakes to freeze and reheat whenever the craving calls…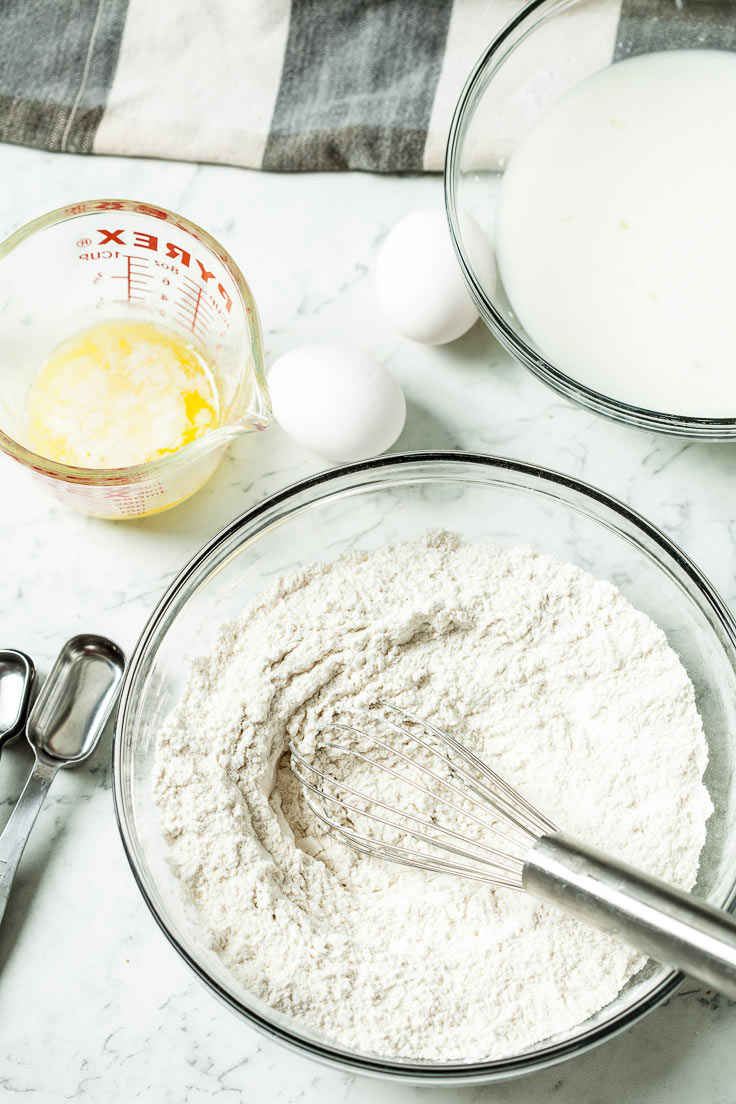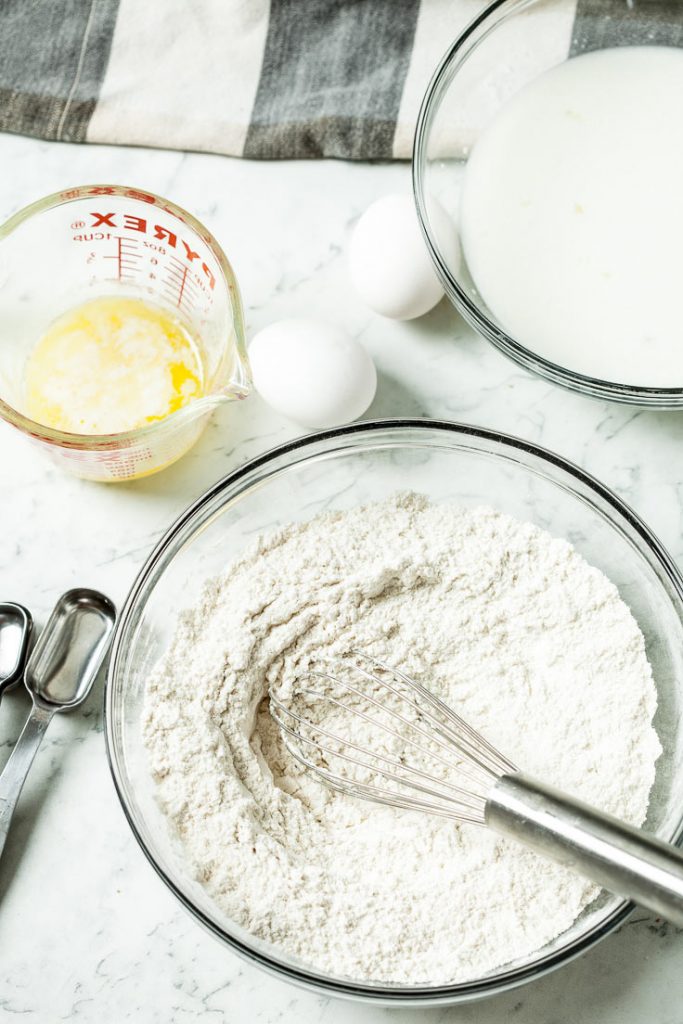 How to make fluffy buttermilk pancakes
Be sure your baking powder and baking soda are super fresh. I routinely replace both of those items every few months, just to ensure that my baked goods come out correctly. In order for these fluffy pancakes to achieve full on fluffiness, they'll need fresh baking powder and soda.
Fresh, real buttermilk is the best in this pancake recipe. That said, if it's hard for you to find buttermilk, you can use 1 TB freshly squeezed lemon + enough whole milk to reach the 1 3/4 cups needed. You can also get long-lasting Buttermilk Powder for making buttermilk anytime.
Be sure to use table salt and not kosher. The salt should be fine, in order to mix in with the dry ingredients well.
Speaking of salt, I always use real salted butter in my fluffy pancakes. It provides such great flavor without making the pancakes too salty at all.
Skillet trick: I've learned that it's best to flip the pancakes carefully, once the little bubbles appear and pop. Once those bubbles pop, the cakes are ready to be flipped. I've messed up way too many pancakes in my life with premature flipping.
While we're on the skillet, be sure to use medium heat only. Any higher and the pancakes are likely to burn before the middle is cooked through.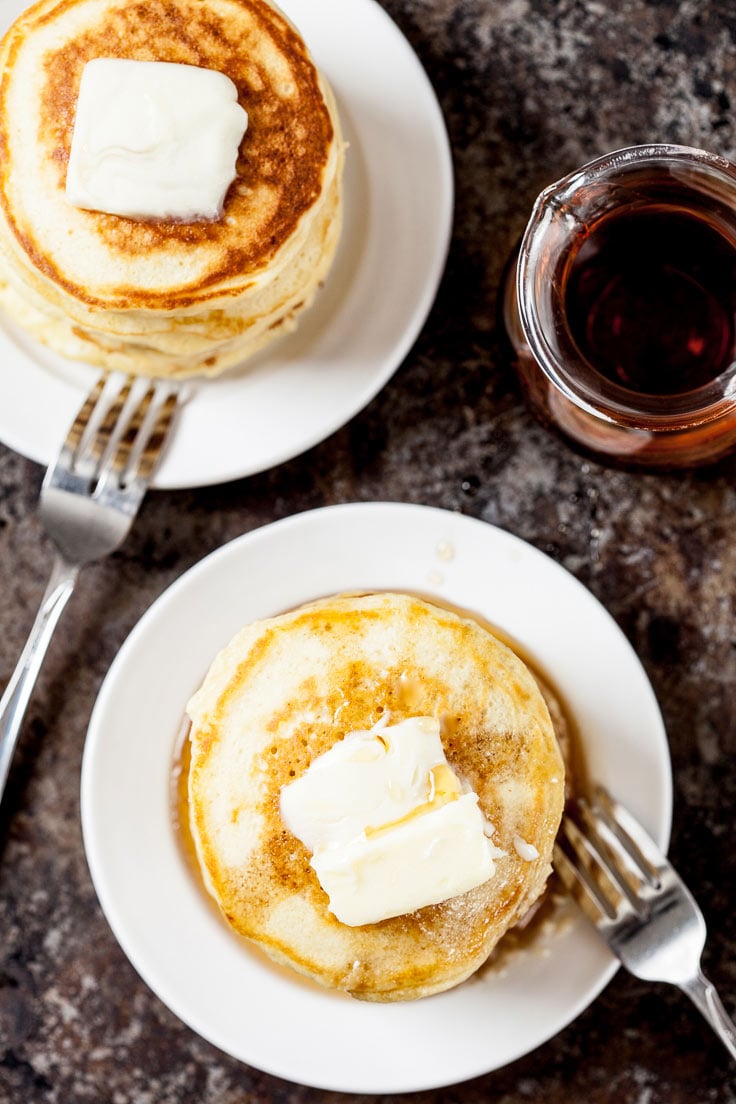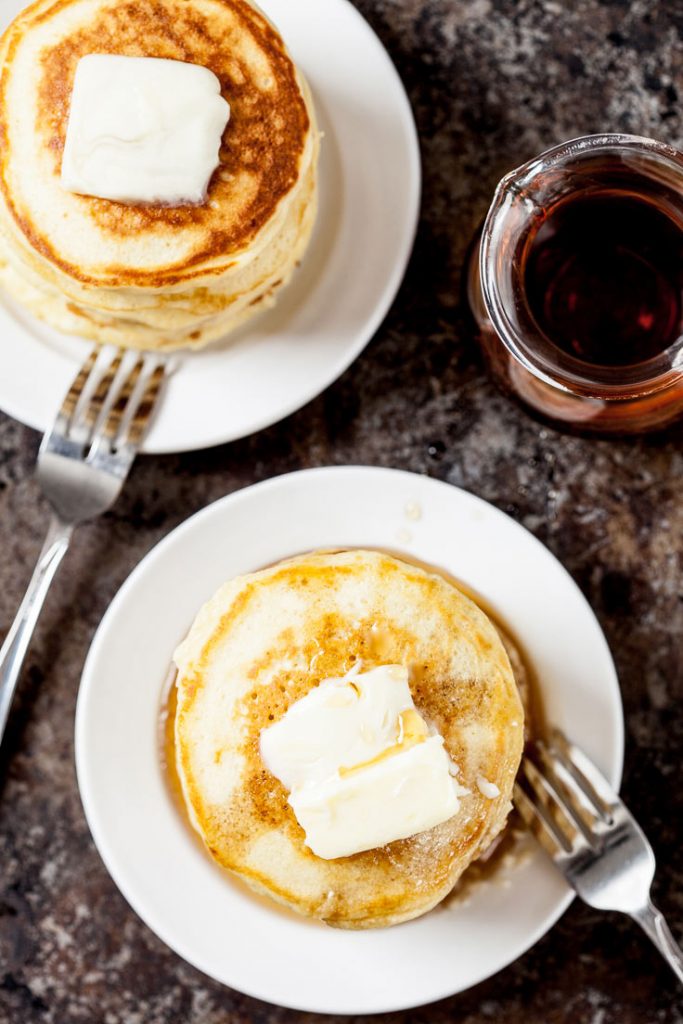 How to freeze and reheat buttermilk pancakes
First off, we typically make big batches of pancakes and do it serve-as-you-cook style. Then we keep those cakes warm by lightly covering and keeping them on warm setting in the oven until everyone is done.
Let remaining pancakes cool completely before freezing.
If you've got room in the freezer, flash freeze the pancakes in a single layer on pan(s) for 5-10 minutes. Or if you live in a frozen area like we do, you can simply put all pancakes on a huge baking sheet, single layer, and stick them outside for 5-10 minutes [one of the few benefits of life in the Bold North.]
Wrap frozen pancakes in airtight container or large Ziploc bag. Freeze until ready to use.
For reheating small batches, we gently microwave just a couple cakes at a time. For larger batches, you can place frozen pancakes on a large baking sheet, cover with foil, and reheat on low heat until warmed through.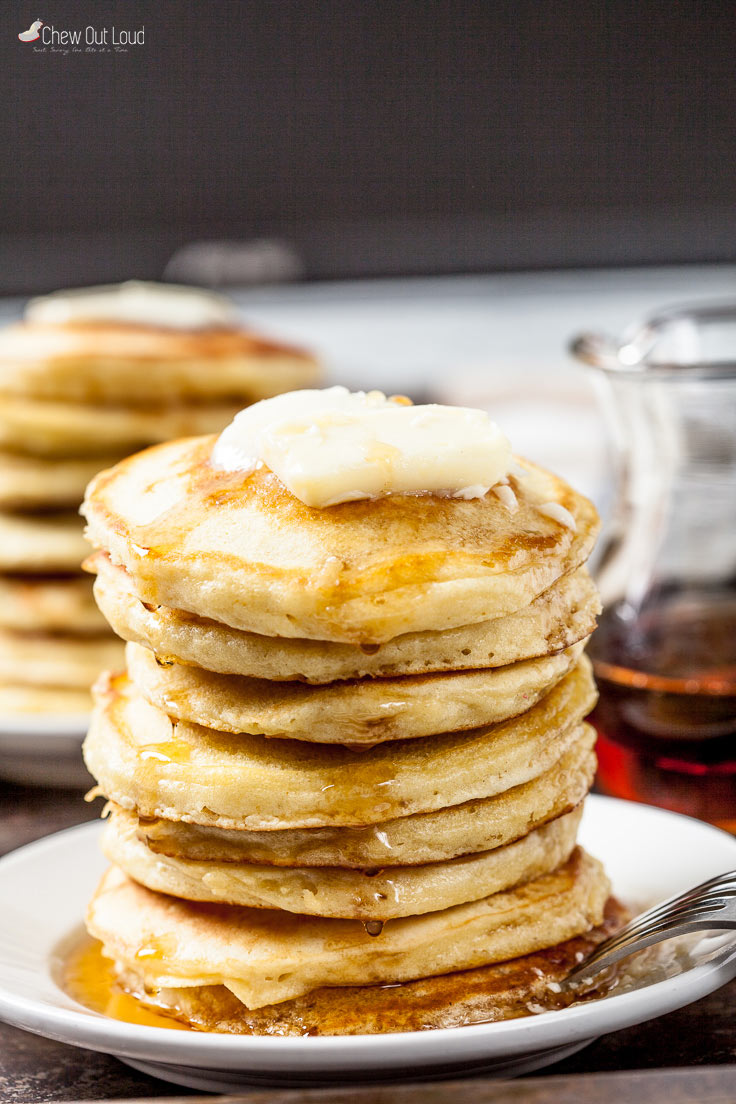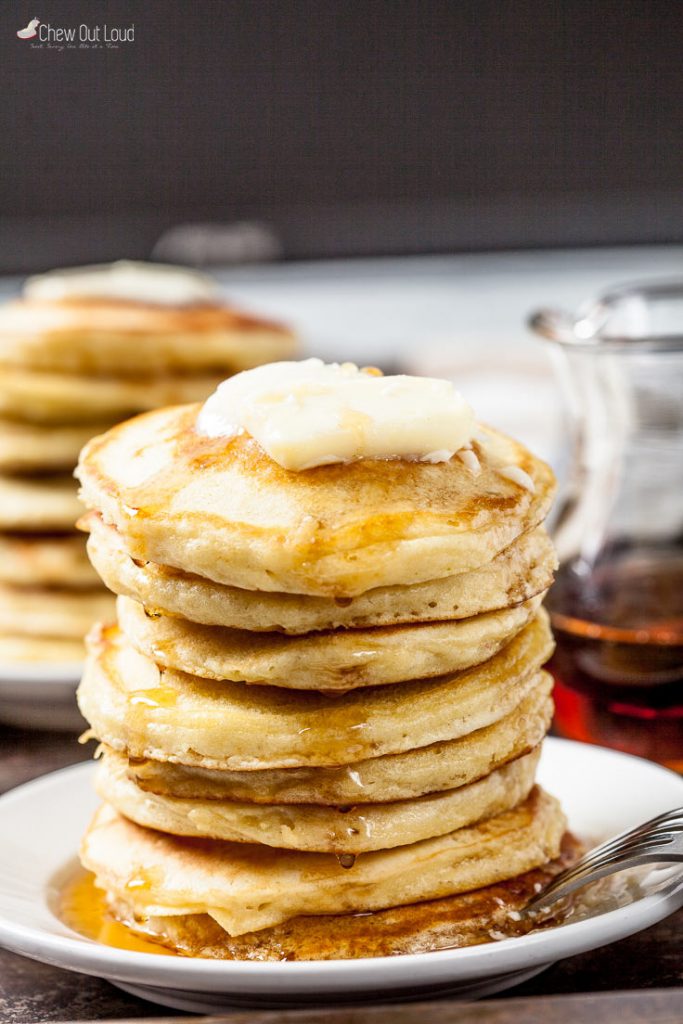 Perfect Toppings for fluffy buttermilk pancakes
We gotta have pure maple syrup, of course. This Coombs Family Farms maple syrup is super popular for good reason. It's worthy of topping your best pancake recipe.
We like to make an extremely easy, delicious fresh strawberry syrup with just 2 ingredients: freshly sliced strawberries and sugar. I slice up desired amount of strawberries, sprinkle all the berries with a thin coating of granulated sugar, and let it sit and macerate for about 30 minutes. The result is a wonderfully fresh, simple strawberry syrup that's amazing over these fluffy pancakes.
Stabilized whipped cream is a go-to for buttermilk pancakes. This particular whipped cream recipe can be made days ahead of time, kept in fridge, and it will not become runny or flat at all.
There's also this One Ingredient coconut whipped cream that's totally awesome for those who prefer non-diary whip.
Of course, plain ol' fresh berries and slices of bananas are always a win for topping pancakes.
If you've got any other great topping ideas, I'd love to hear them!
Print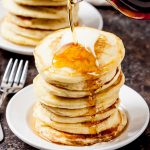 Fluffy Buttermilk Pancakes Recipe
---
Author:

Prep Time:

10 min

Cook Time:

5 min

Total Time:

15 minutes

Yield:

10

1

x
Description
These fluffy soft buttermilk pancakes are just what the weekend calls for. They're super easy and quick to whip up. Bonus: these fluffy pancakes are freezer friendly and taste delicious reheated, making them perfect for busy weekday mornings as well. 
---
2 cups

flour

4

TB sugar

2 tsp

baking powder

1 tsp

baking soda

2/3 tsp

table salt

2

large eggs, room temp

4

TB salted butter, melted

1 3/4 cups

real buttermilk

2 tsp

pure vanilla extract
oil for cooking
---
Instructions
In a bowl, use a hand whisk to combine the flour, sugar, baking powder, baking soda, and salt until well incorporated.
In a separate bowl, whisk together the egg, butter, and buttermilk until well combined. Using a rubber spatula, fold the dry ingredients into the wet ingredients just until dry flour streaks are gone; some little lumps are fine.
Heat a large skillet with low sides, coated with enough oil to prevent sticking, over medium heat. Pour batter by 1/4 cup fulls of batter; once bubbles appear and start to pop on top surface, gently flip pancakes and continue cooking until golden brown on both sides. Serve with desired toppings.
Notes
If buttermilk isn't available, use: 1 TB freshly squeezed lemon + enough whole milk to reach the 1 3/4 cups needed. Let mixture sit at room temp for at least 15 minutes before using. Another easy option is Buttermilk Powder, which lasts a long time in your fridge.
See post notes for freezing/reheating tips
Try stabilized whipped cream over these fluffy pancakes
Category:

breakfast

Method:

Stovetop

Cuisine:

American
Keywords: Buttermilk Pancakes, Fluffy Pancakes
Kitchen Stuff We Love:
Weekend Morning Favorites:
Easy Overnight Breakfast Casserole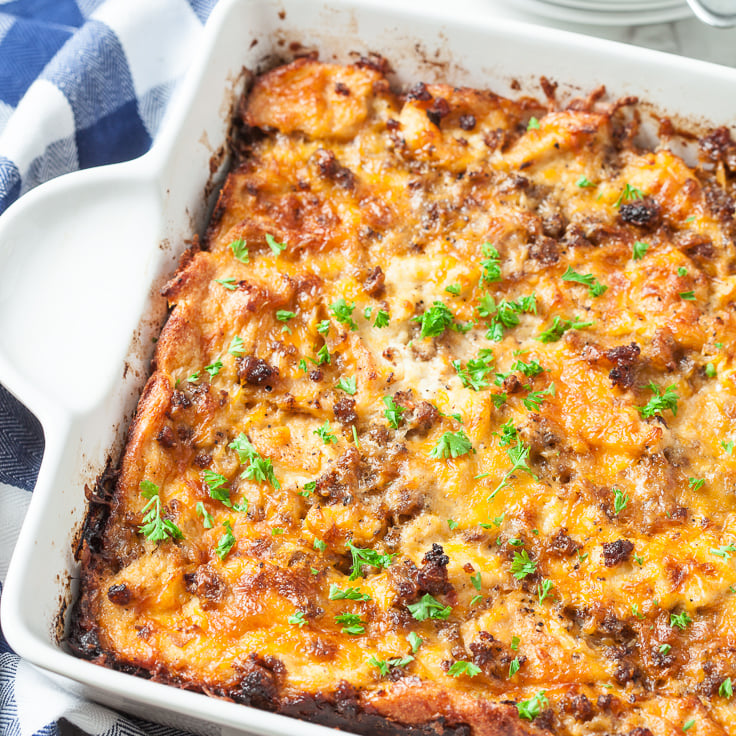 Cheesy Tater Tot Breakfast Bake