Peach 'n Blueberry Crumb Bars
Anyone still loving on the final peaches and berries of the season? We're still enjoying the last hurrah of peaches and nectarines around here. We also just finished up a major feast on berries our family hand-picked from a local farm. Several friends and all our kiddos had quite the exciting day, filling up boxes with fresh-picked strawberries and raspberries.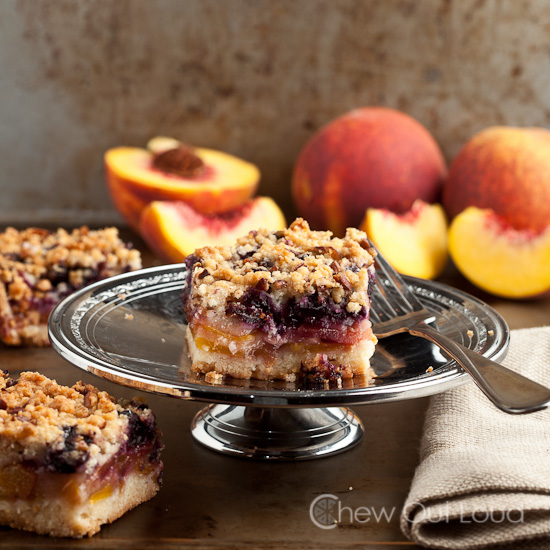 You would think that a mountain of freshly picked berries would result in a baking extravaganza in our kitchen. It didn't. Because my berry monsters ate them all.
There is such a thing as getting too much fiber, and knowing this, I tried to intervene. My intervention was a bust. Little – and big – hands kept sneaking into that berry heap, and before I knew it, the berries vanished within 48 hours.
If you are one of the peeps who saw our cargo of berries when we left the farm, you know the craziness I speak of.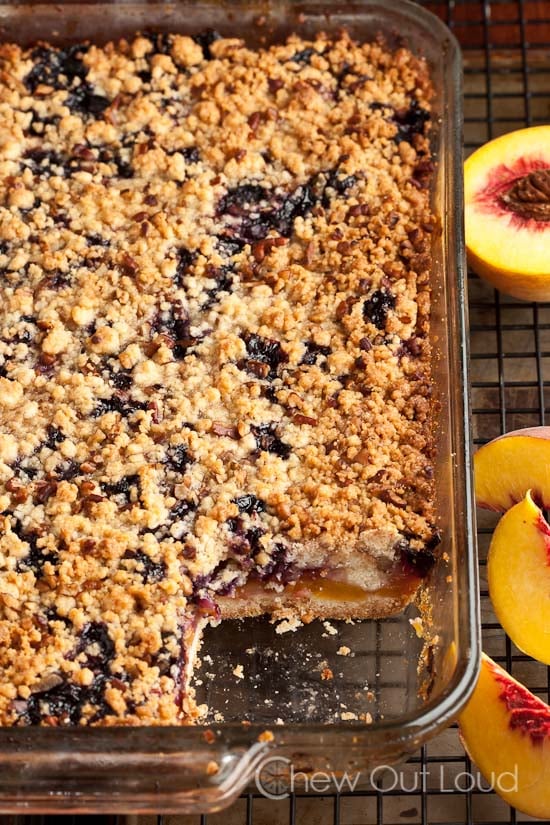 It's all good, though, because these scrumptious bars I'm sharing with you today are made not with raspberries, but blueberries. From the market 🙂
If you love raspberries, these fabulous Berry Pie Bars are your ticket to tummy bliss. I was really craving cooked peaches this time, and opted for these awesome peach 'n blueberry bars. I think my last peach action was Peaches with Honey Crostini. Which, by the way, was beyond great.
These peach bars are my way of relishing these luscious stone fruits before they're gone.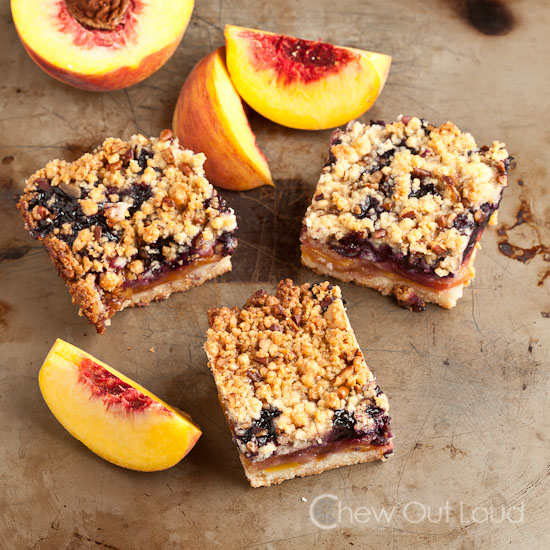 These Peach and Blueberry Crumb Bars are all you'd want in a decadent dessert bar. They are perfectly juicy, brimming with ripe peaches and blueberries cooked to perfection.
The fruit filling pairs beautifully with warm spices of cinnamon and nutmeg.
The filling sits on a crust that is wonderfully buttery and melt-in-your-mouth delish.
All of it is amply topped with a crispy, crumbly, mouthwatering topping that boasts a toothsome texture.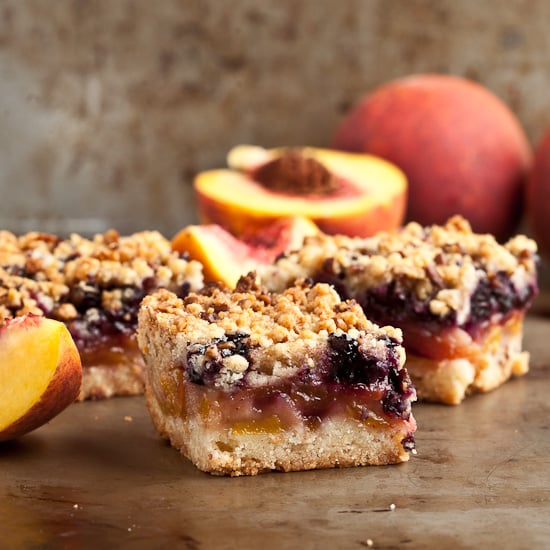 Serve these straight up or with homemade whipped cream. Or with vanilla bean ice cream. Or with your favorite cup of joe.
I stole a couple of these beautiful bars so I could experiment with how well they freeze. I'll have to update you on that after I defrost them and gobble them up for breakfast.
If one of you beats me to it, let us all know how well these beauties keep in the freezer. Because wouldn't it be awesome to have a few on hand whenever the craving calls!
Enjoy!
Did you make this?
Please give us a rating and comment below. We love hearing from you!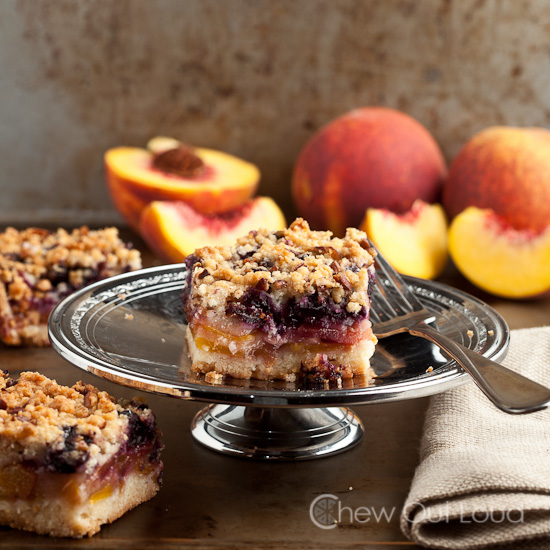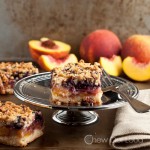 Peach 'n Blueberry Crumb Bars
These dessert bars are bursting with plummy peaches and blueberries, cooked to perfection. Filling sits on top of a buttery crust. All topped with a crunchy, crumbly topping. Great for potlucks or just yourself!
Ingredients
Other:
4

TB

packed brown sugar

½

cup

chopped pecans
Instructions
Preheat oven to 375F, with rack on middle position. Generously grease a 9x13 inch pan, and set aside.

For the Dough: In a large bowl, whisk together the flour, sugar, baking powder, and salt. Cut in the cold butter with a pastry cutter. Add the lightly beaten egg. Dough will be moist and crumbly, like clumpy wet sand. Firmly press half of the dough into well-greased pan. Place in fridge while you make topping.

For the Topping: Add 4 TB brown sugar and 1/2 cup chopped pecans to the remaining half of the dough. Mix together by hand. Place in fridge while you make filling.

For the Filling: In a large bowl, combine peaches and lemon juice. In another bowl, whisk together the flour, sugar, salt, cinnamon, and nutmeg. Gently fold flour mixture together with the peaches.

Spread peach mixture evenly over the chilled crust. Sprinkle blueberries over the peaches. Crumble the chilled topping over the filling.

Bake for 45-60 minutes, or until top is golden brown. If top is getting too browned, you can cover loosely with foil for awhile during baking. If it is not browned enough, finish baking on upper middle rack.

Cool completely on wire rack. Chill in fridge, uncovered until ready to cut and serve. It will be easier to cut when chilled.

Serve with fresh whipped cream, ice cream, or a good cup of coffee.
Nutrition (per serving)
Calories:
255
kcal
|
Carbohydrates:
40
g
|
Protein:
3
g
|
Fat:
10
g
|
Saturated Fat:
5
g
|
Polyunsaturated Fat:
1
g
|
Monounsaturated Fat:
3
g
|
Trans Fat:
0.3
g
|
Cholesterol:
28
mg
|
Sodium:
137
mg
|
Potassium:
109
mg
|
Fiber:
2
g
|
Sugar:
25
g
|
Vitamin A:
407
IU
|
Vitamin C:
4
mg
|
Calcium:
23
mg
|
Iron:
1
mg
Source: Chew Out Loud, adapted from Brown Eyed Baker