This Peach BBQ Pork Tenderloin recipe makes tasty use of juicy summer peaches. The peach BBQ sauce is magical with tender grilled pork tenderloin.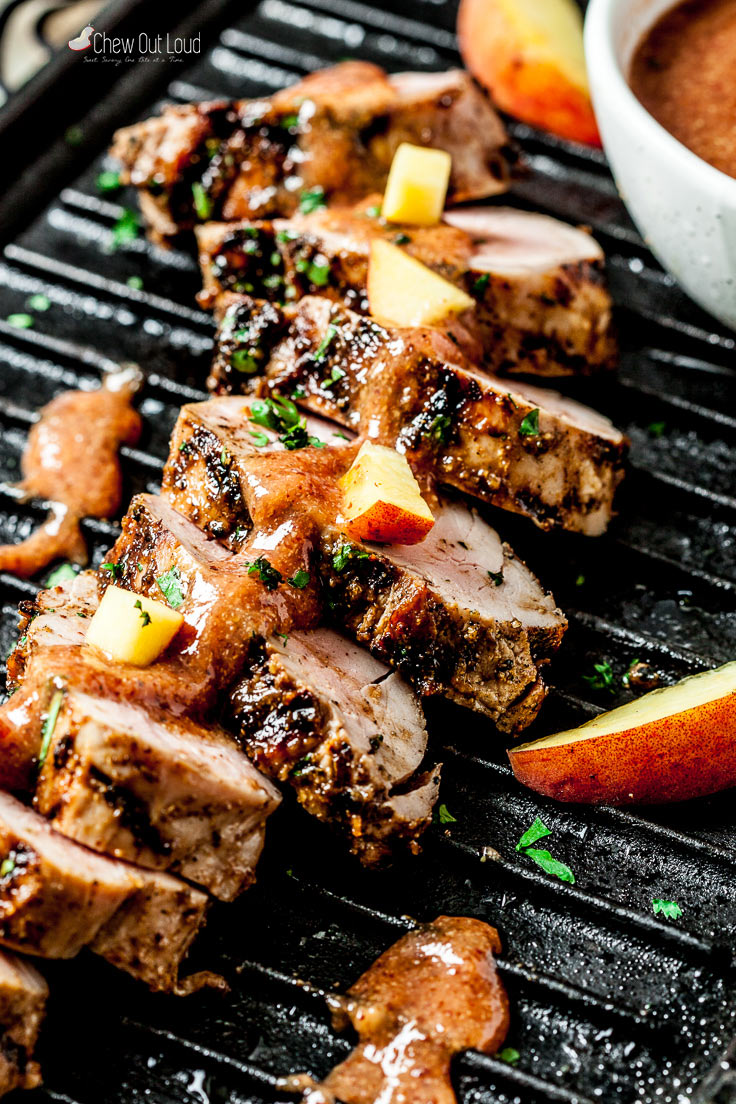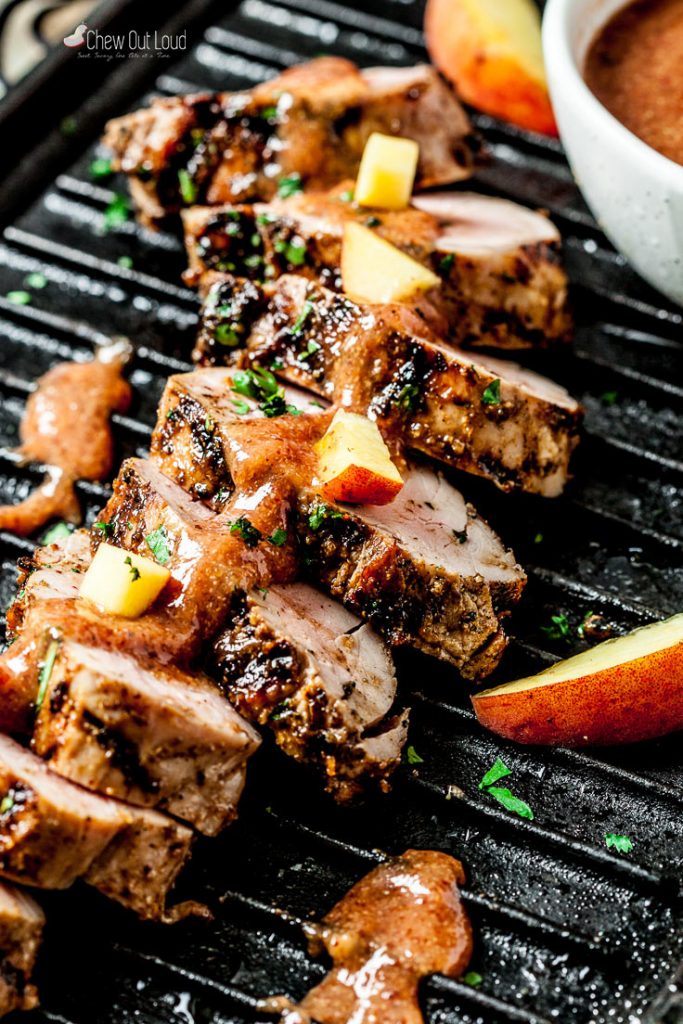 Dear Summer,
Why, oh why is there only one little month of you left? How could the sassy calendar be claiming August already?
I mean, I still have to make it over to the best ice cream joint before they close down for the cold seasons here in the Land of 10,000 Lakes. Shedding a silent small tear just thinking about no more java chunk cones for 8 months straight.
My inbox is inundated with back-to-school info and good 'ol Google Calendar here is getting overwhelmed.
Every store is all about summer clearance and backpacks and mountains of Crayola. Target, I'm talking about you.
Summer, you're my favorite season in all the world and I'm not letting you go that easily. So. We're gonna throw open the windows wide [unless there's lightening] and wear all the flip flops to all the places at all times.
And we're firing up the grill for as long as we can. Say hi to this tender, succulent Peach BBQ Pork Tenderloin…
How to make Peach BBQ Pork Tenderloin
Pork tenderloin is known for its supremely lean yet tender qualities. It's commonly showcased as a quick and easy roast, as in this Sheet Pan Roast Pork Tenderloin with Potatoes.
During summer months, pork tenderloin is a fantastic grill option. It quickly cooks up on a grill in about 12 minutes with gorgeous charred exterior and super tender interior. We sprinkle let the tenderloins marinade in the peach BBQ sauce for a couple of hours and then do the baste 'n grill. The key is to cook until thickest part registers 145F and not more; it will continue to cook a bit as it rests. You don't want to overcook and forfeit tenderness.
The peach BBQ sauce is where all the flavors are at with this pork tenderloin dish. During warmer months, nab those fresh ripe peaches; it's also a great way to use up those peaches in the fridge that need to be eaten.
The fresh peach BBQ sauce consists of ripe peaches, dijon mustard, honey, ketchup, and salt/pepper. Just a few ingredients keeps things simple, sweet, and magically delicious.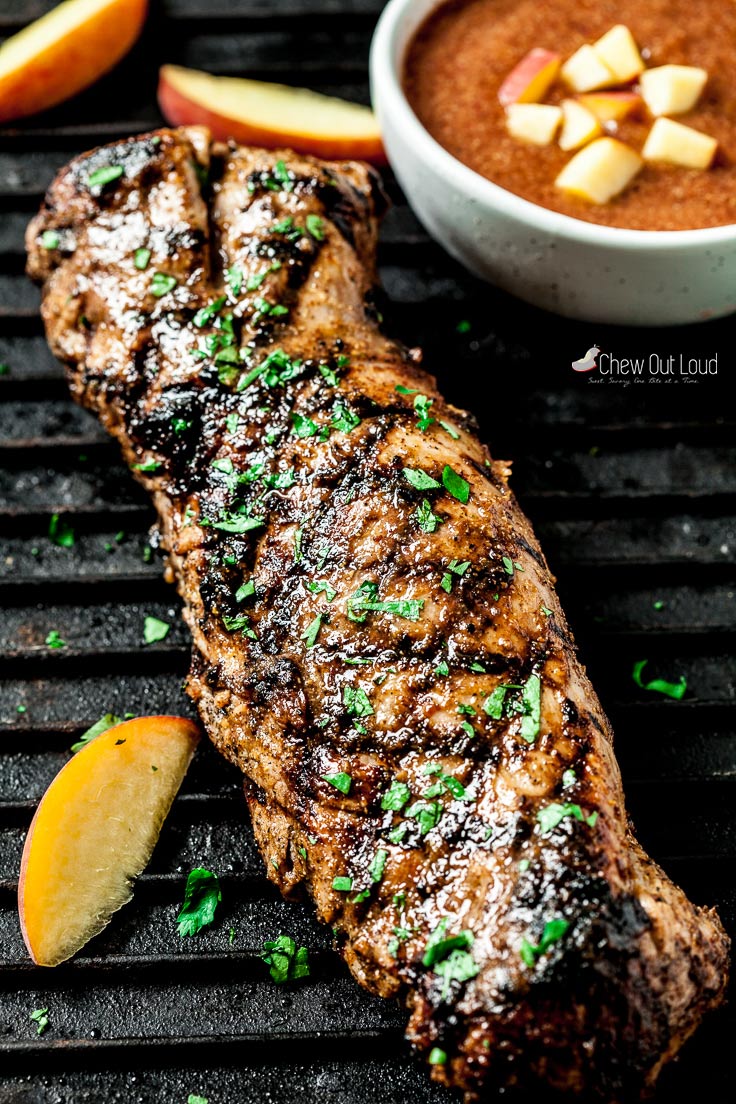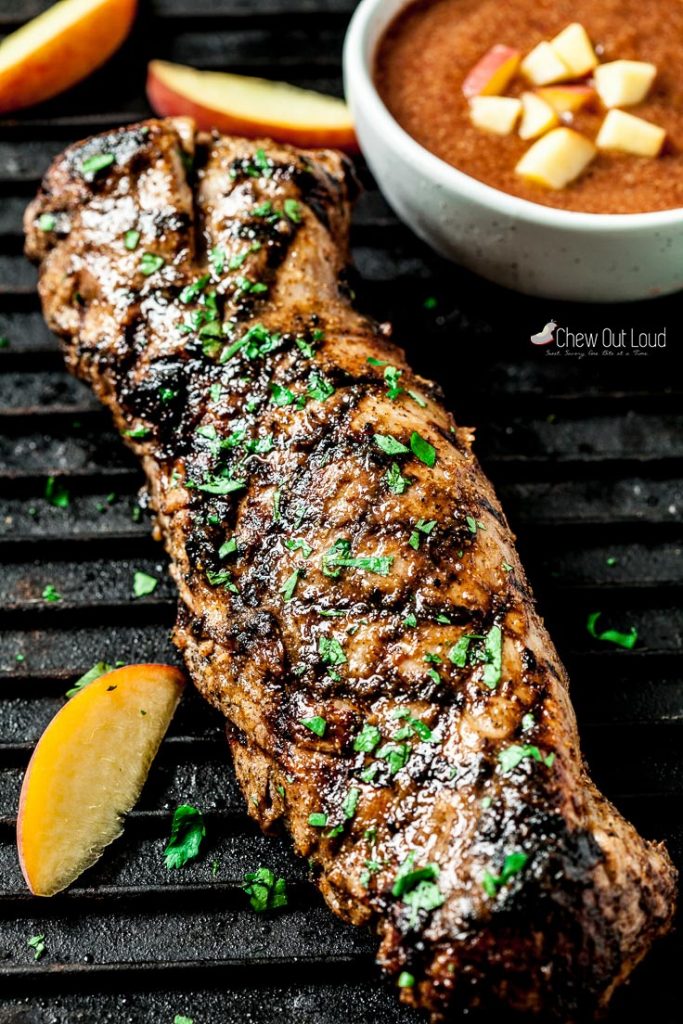 Why We love Peach BBQ Pork Tenderloin
Fresh peaches + Grilled meat = Summer
The peach sauce is super crazy easy
It's way fun grilling up something other than burgers 'n dogs
It's a super easy way to impress and can be prepped ahead
Plus, this peach BBQ pork tenderloin is quite lean and healthy.
Which means java chunk ice cream cones after. 😉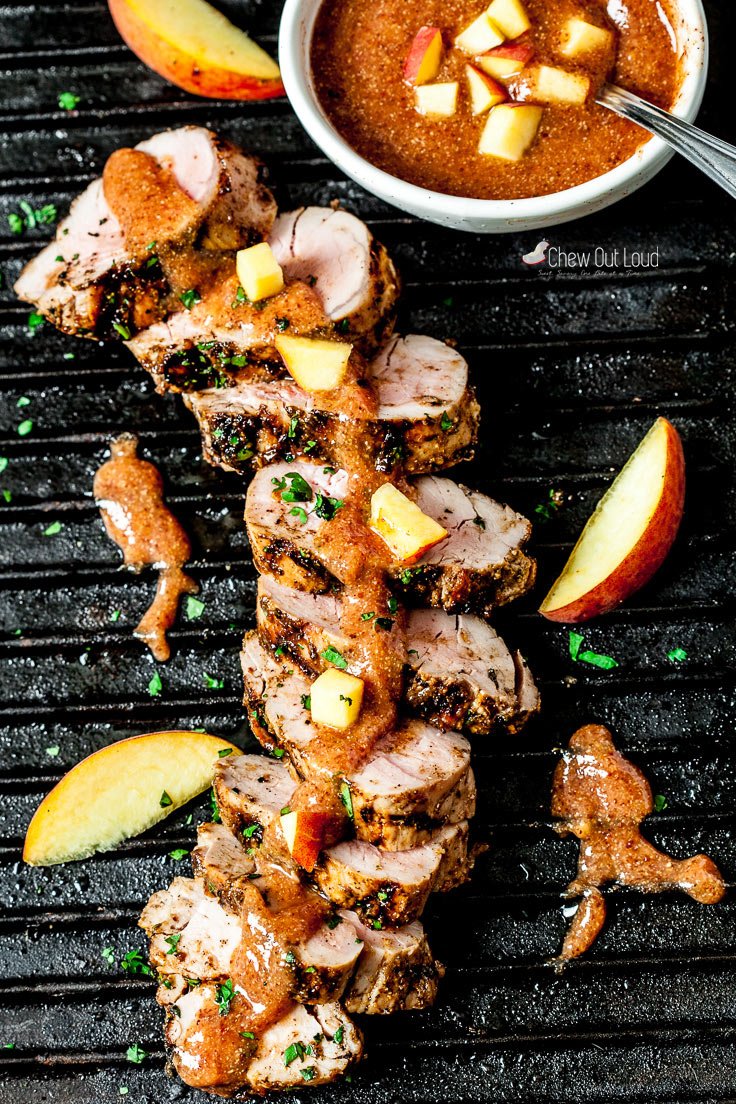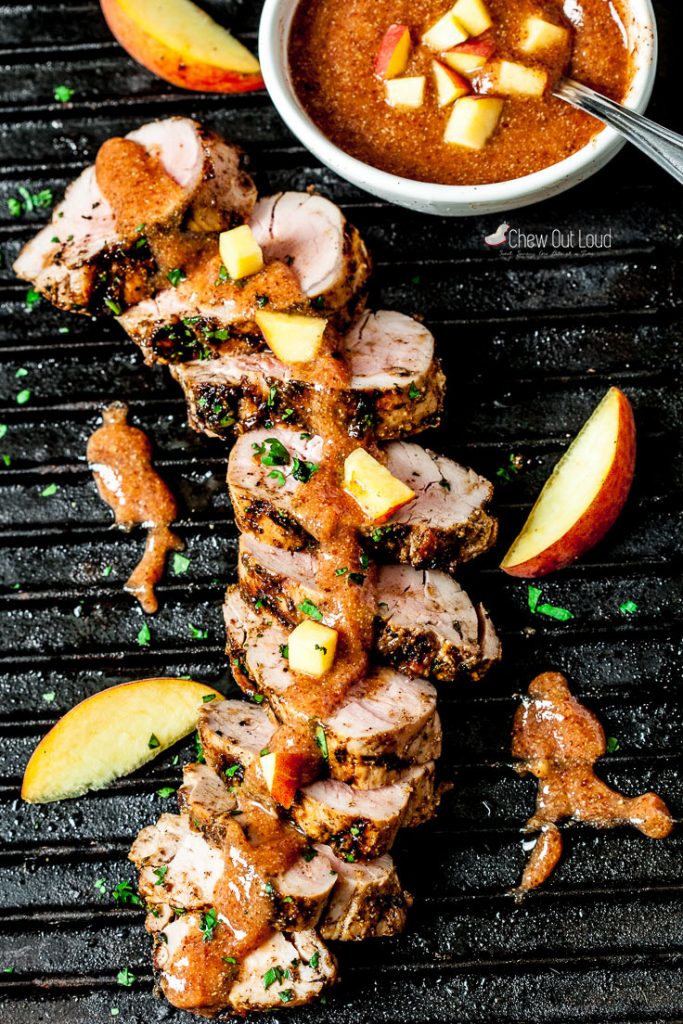 The 3-Ingredient Sauce You'll Keep Using:
Print
Peach BBQ Pork Tenderloin Recipe
---
Author:

Prep Time:

30 min

Cook Time:

12 min

Total Time:

42 minutes

Yield:

5

lbs pork tenderloin

1

x
Description
This Peach BBQ Pork Tenderloin recipe makes tasty use of juicy summer peaches. The peach BBQ sauce is magical with tender grilled pork tenderloin. 
---
For Peach BBQ Sauce:
3 large ripe peaches, cut into large cubes (no need to peel)
3 TB Dijon coarse mustard
2 TB ketchup
2 heaping TB pure honey
1/2 rounded tsp kosher salt
1/2 tsp freshly ground black pepper
For the Pork Tenderloin:
Two (2 1/2 lbs each, for a total of 5lbs) pork tenderloins, plain/unseasoned*
2 tsp kosher salt
1/2 tsp freshly ground black pepper
---
Instructions
Make the Peach BBQ Sauce: In a blender or food processor, combine all peach sauce ingredients and blend until mixture is a smooth puree. Can be made 24 hours ahead. Cover and chill until ready to use.
Sprinkle pork tenderloins evenly with 2 tsp kosher salt and 1/2 freshly ground black pepper. Place tenderloins in a large ziploc and add 1/2 cup of the peach BBQ sauce to thoroughly coat the meat. Seal airtight and let pork marinade for at least 2 hours, up to overnight.
Divide remaining peach BBQ sauce in half. You'll use half of it for basting and half for serving.
Grease and heat grill to medium high heat. Grill pork tenderloins evenly, using tongs to turn every 4 minutes and basting regularly with peach sauce. Once exterior is nicely charred and an instant thermometer reads 145F at the thickest center portion of pork, it's done (approx 12-14 min, depending on thickness of pork.) Immediately remove from heat, transfer to cutting board, and let rest 10 minutes (do not slice yet.)
Slice pork into desired pieces and serve with remaining peach BBQ sauce.
Notes
*Some pork tenderloins come in packages that are in a seasoned or salted liquid solution. This recipe is for pork that has not been pre-salted at all. If your tenderloins are in a salted solution, then reduce the recipe's kosher salt to 1 tsp.
Category:

main, pork

Method:

grill

Cuisine:

American
Keywords: pork, tenderloin, peach, bbq, grill
Kitchen Stuff We Love:
Great Grilled Eats:
General Tso BBQ Grilled Chicken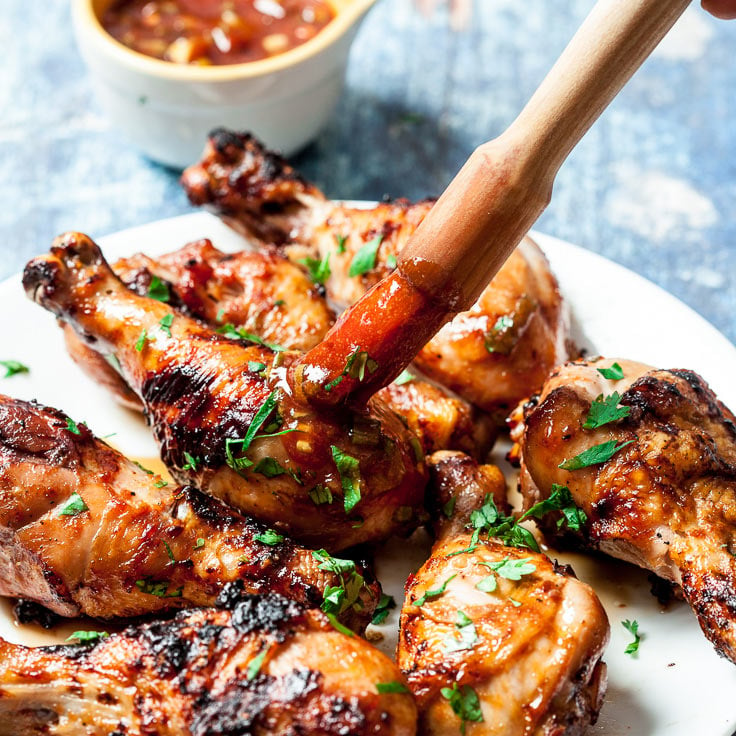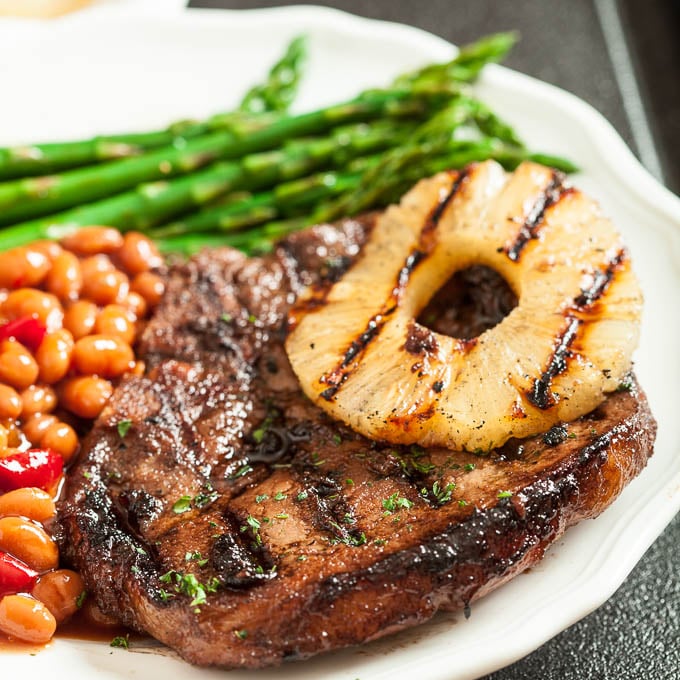 15-Minute Spicy, Buttery Asian Grilled Shrimp