Sloppy Joes Recipe
By Amy Dong
Published Feb. 15, 2022
Updated Oct. 20, 2023
Use lean ground beef or turkey for these one-pan sloppy joes. Your family will devour these saucy, flavorful, and easy sloppy joes. Perfect for parties and meal prep alike.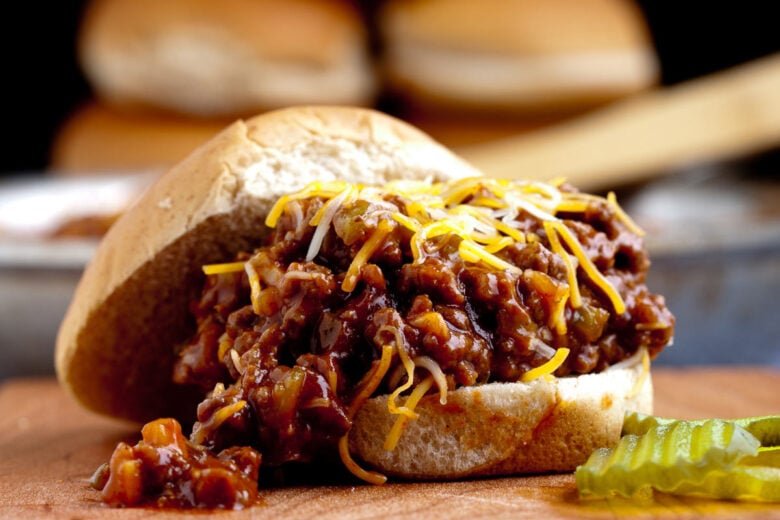 Our Favorite Sloppy Joes
Ever encounter crazy weekdays that call for simple yet fool-proof meals your family will happily run to the dinner table for? Say hello to the sloppy joes we keep going back to again and again.
Why you'll love these sloppy joes:
You only need simple pantry ingredients, most of which you probably already have on hand.
Both lean ground beef and ground turkey work amazingly well in this recipe.
It can be made in advance for weekly meal prep.
It's ideal for gatherings and parties, as you can easily double the recipe to feed a crowd.
This sloppy joe recipe is a one-pan deal. SO easy and minimal effort.
Video: Watch Us Make This Recipe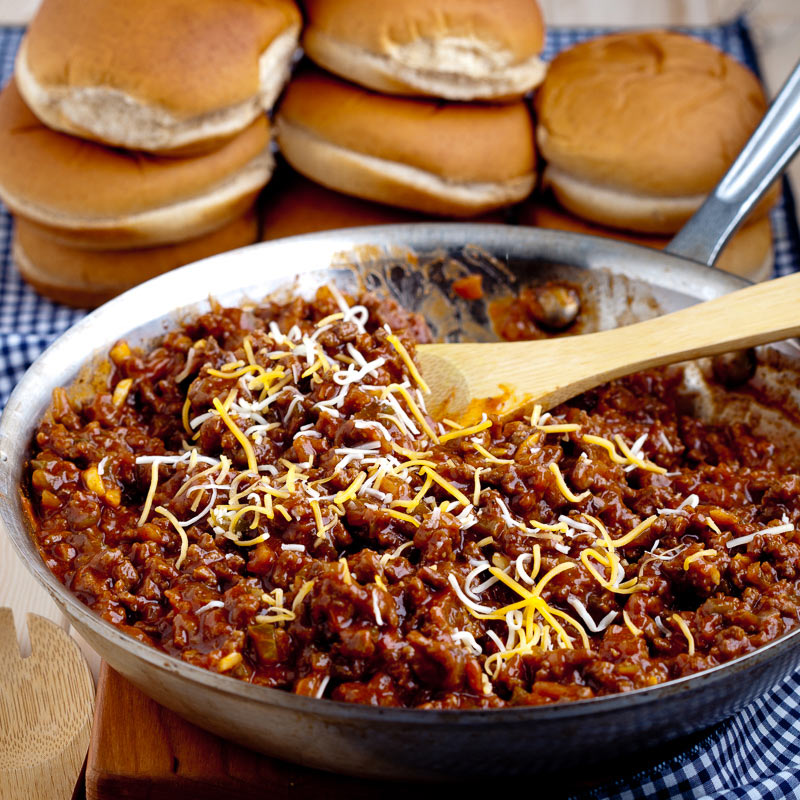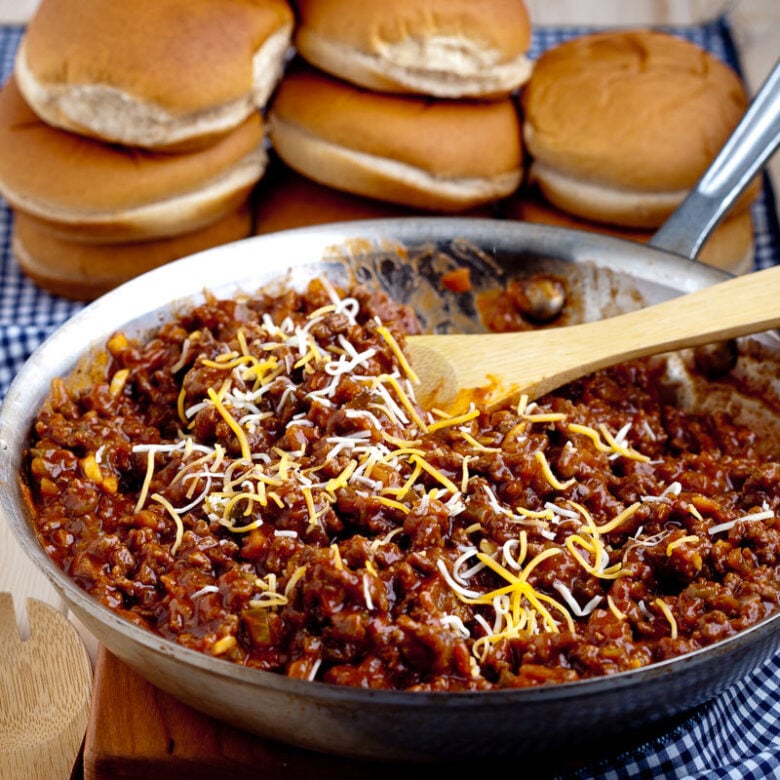 meal prep and Freezer Friendly
These tasty sloppy joes are destined to be a go-to recipe for busy weeknights. You can meal prep this recipe in 2 easy ways:
Fully prepare and cook sloppy joes according to instructions below, except for shredded cheese and buns. Divide into freezer-friendly containers and defrost as needed throughout the week.
Or, prep the ingredients for sloppy joes the night before, up until the point of cooking. Place entire pan of combined ingredients in fridge and place it on the stovetop to cook when you're ready.

For the Freezer: cooked sloppy joes, minus the buns, can be frozen in airtight freezer containers for several weeks. Thaw in fridge overnight and use either microwave or stovetop to reheat.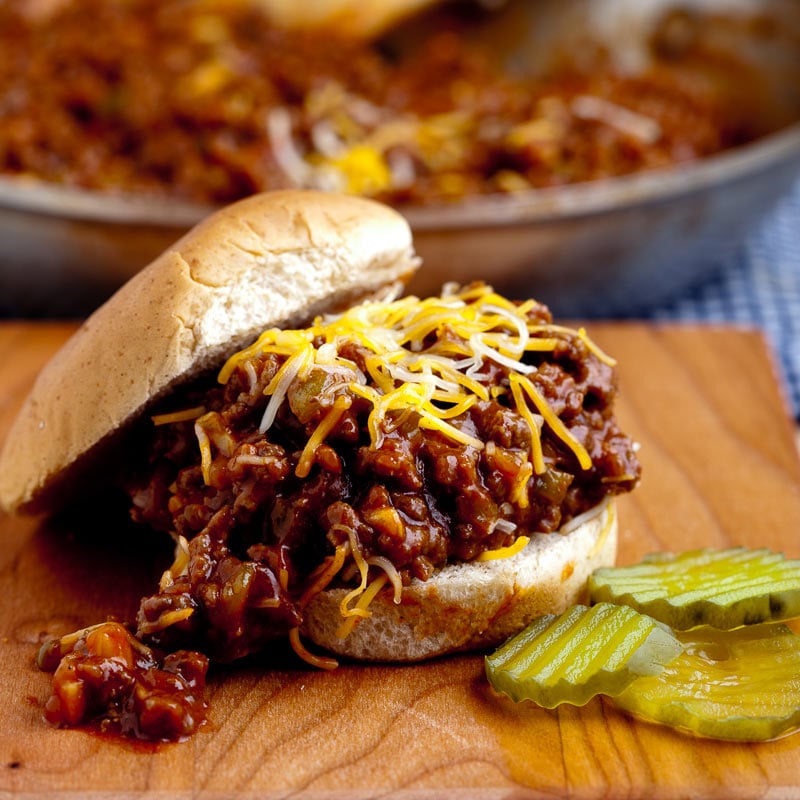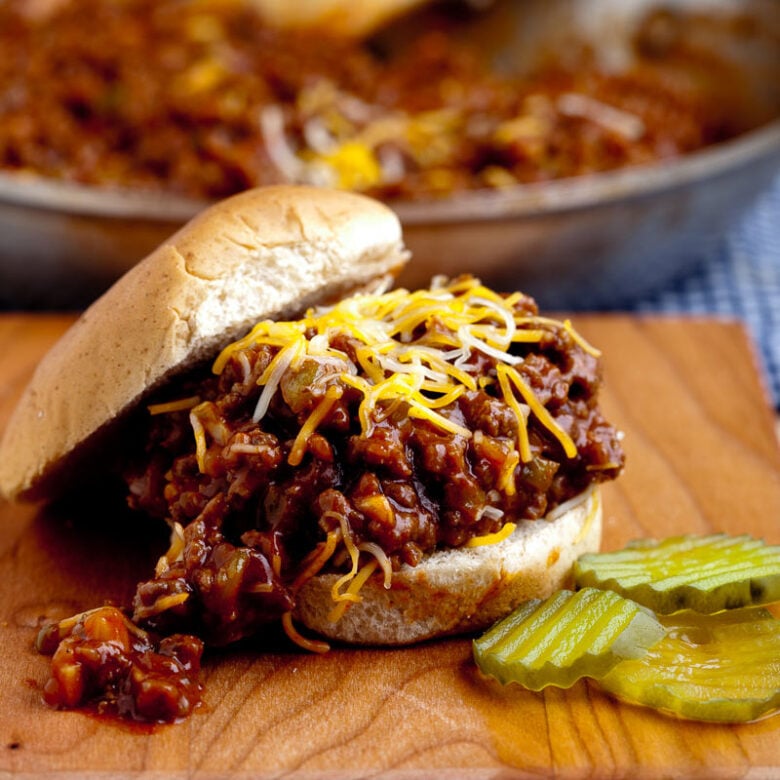 More to cook and eat
---

commonly asked questions
Are sloppy joes and Manwiches the same thing?
They're sometimes referred to interchangeably, but Manwhich is simply a brand name for the canned, store-bought version of sloppy joes. Of course, homemade sloppy joes are much better than canned versions.
Are sloppy joes healthy?
Sloppy joes are definitely much healthier when homemade! In our recipe, we use lean ground turkey or beef, plenty of chopped veggies/herbs, and less sugar than other versions. Use whole grain buns to up the nutritional value.
Can sloppy joes be frozen?
Yes. We suggest dividing cooked sloppy joes into freezer-friendly containers (minus the cheese and buns.) Just defrost as needed throughout the week.
Can I use ground turkey instead of ground beef?
You can absolutely use ground turkey for sloppy joes, with great results.
Did you make this?
Please give us a rating and comment below. We love hearing from you!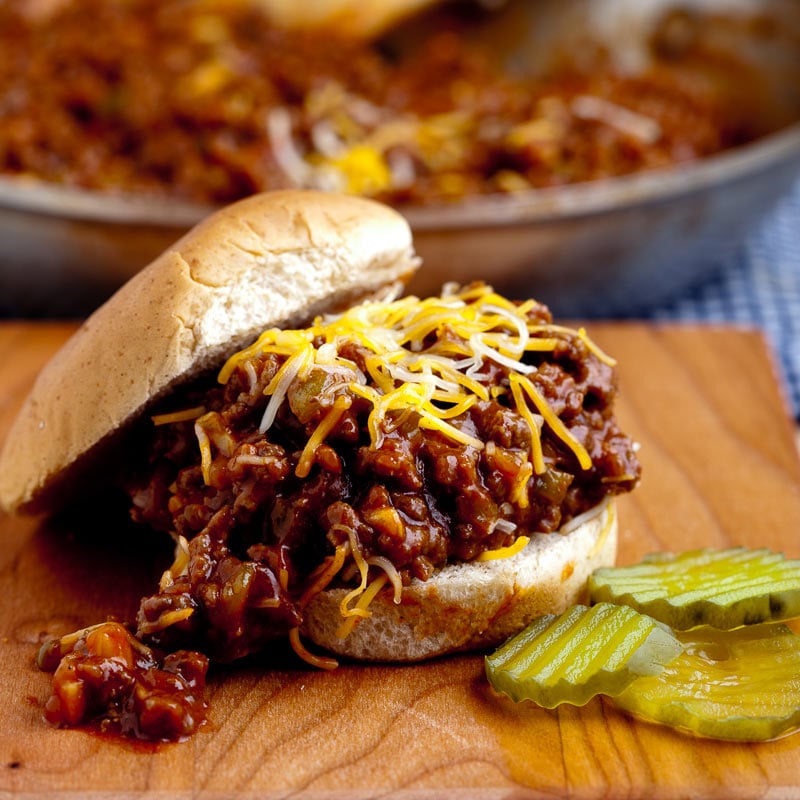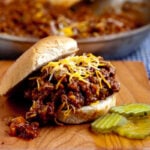 Sloppy Joes Recipe
Use lean ground beef or turkey for these one-pan sloppy joes. Your family will devour these saucy, flavorful, and easy sloppy joes. Perfect for parties and meal prep alike.
Instructions
In a large pan, brown meat with 1 tsp kosher salt and 1 tsp pepper over medium heat. Drain if needed. Set aside.

In same pan over medium heat, heat olive oil until hot. Add onion, garlic, green pepper, and 1 tsp kosher salt. Stir until veggies are soft; 2-3 minutes. Drain liquids if needed. Add back the browned meat to pan.

Stir in ketchup, tomato paste, and brown sugar, and mustard. Stir to incorporate well. Cover and bring to simmer. Let simmer for 30 minutes.

Serve warm over hamburger buns. Garnish options include shredded cheddar cheese and pickles.
Notes
If you'd like your sloppy joes extra saucy, add a bit of water until mixture reaches desired consistency. If you want it thicker, simmer longer.
See original article for suggestions on meal prep.
Nutrition facts are for sloppy joe mixture only.
If you enjoyed this recipe, please come back and give it a rating. We ❤️ hearing from you!
Nutrition (per serving)
Calories:
232
kcal
|
Carbohydrates:
24.1
g
|
Protein:
21.4
g
|
Fat:
5.7
g
|
Saturated Fat:
1.8
g
|
Trans Fat:
0.1
g
|
Cholesterol:
54.2
mg
|
Sodium:
849.6
mg
|
Fiber:
1.7
g
|
Sugar:
17.5
g