This weekend marks the end of spring break for us.  The kiddos might not be ready for the end of their vacation from school, but let's just say I'm good with resuming their school schedule.  The ongoing freeze has made it hard to spend time outside during spring break this year.  Three kids plus a new puppy under one roof equals one exhausted mommy.  Thus, I packed everyone in the car today (puppy included) for a good romp in the empty, snow-laden park fields.  Energy outlet galore!
Days of chaos render little time for padding around in my kitchen.  Crazy days like these call for simple yet fool proof meals.  Meals that everyone will happily run to the dinner table for.  Meals that can be made ahead of time and easily served.
These tasty sloppy joes are one of my favorite go-to recipes for crazy weeknights.  If I know the next day is going to be hectic, I like to prep the ingredients for sloppy joes the night before.  Then, all I have to do is put it on the stove the next day.  Easy.  Hugely flavorful.  Satisfying.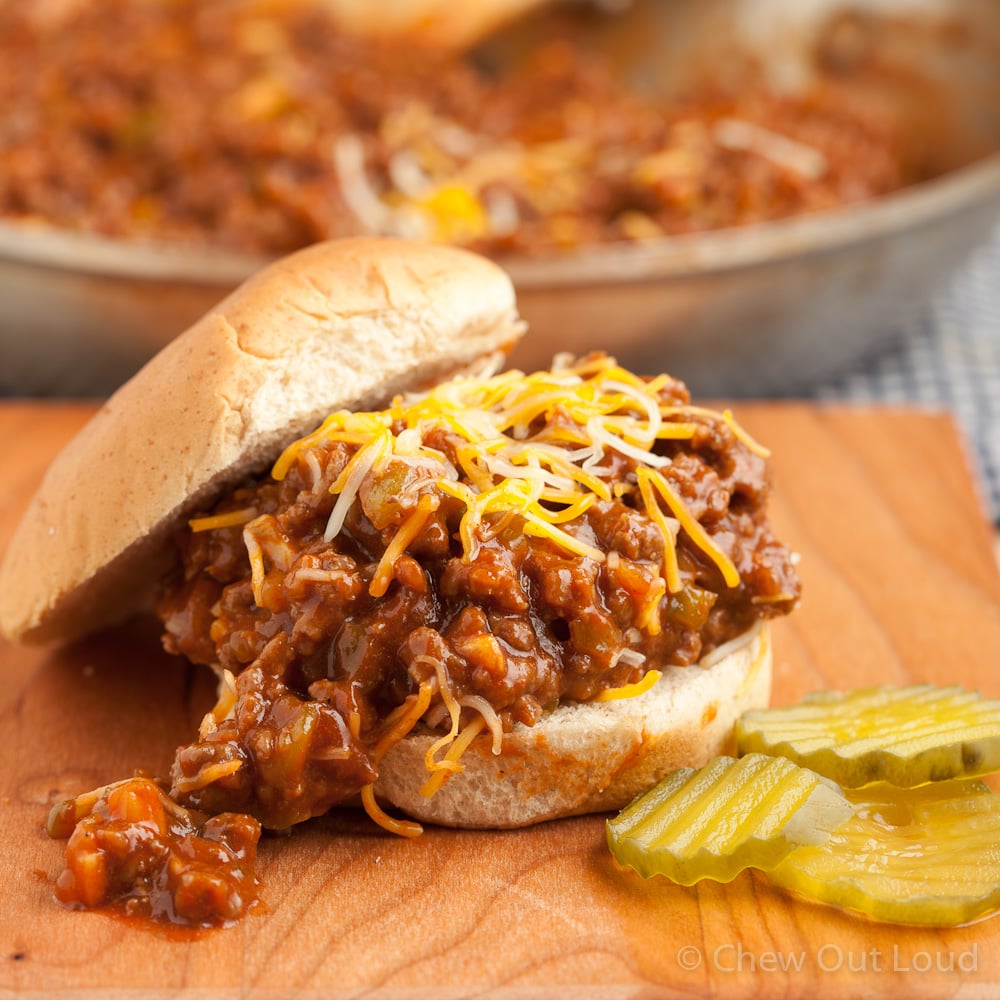 I often use ground turkey for my sloppy joes, but ground beef works well.  My guys inhale this stuff, and it makes enough for leftovers, which taste amazing!    Be sure to have enough buns on hand, as it's easy to polish off several of these at one sitting.
Enjoy something yummy for your chaotic days 🙂
————————————————————————————————————
RECIPE (approx. 10 servings)
INGREDIENTS
2 lbs lean ground turkey (or beef)
1 chopped brown onion
1 chopped green bell pepper
2 TB olive oil
4 cloves chopped garlic
1 TB mustard
2 cups ketchup
1 cup tomato paste
2 TB brown sugar
2 tsp kosher salt, divided
2 tsp freshly ground black pepper, divided
Shredded cheddar cheese for topping
Buns
DIRECTIONS
In a large pan, brown meat with 1 tsp salt and 1 tsp pepper over medium heat.  Drain and set aside.
In same pan over medium heat, stir together olive oil, onion, green pepper, garlic, 1 tsp kosher salt, 1 tsp pepper until veggies are soft.  Drain liquids.  Add back the browned meat to pan.
Stir in mustard, ketchup, tomato paste, and brown sugar.  Stir to incorporate well.  Bring to simmer.  Let simmer for 30 minutes, covered.  Can be made ahead of time, and reheated for serving.
Serve warm, with shredded cheddar cheese on hamburger buns.
Source:  Chew Out Loud