Busy weeknights are no match for this Easy Skillet Tamale Pie.  It comes together quickly and is fuss-free.  This skillet tamale pie smells phenomenal and tastes even better.  All natural, nothing artificial, and absolutely mouthwatering.  The family will devour this.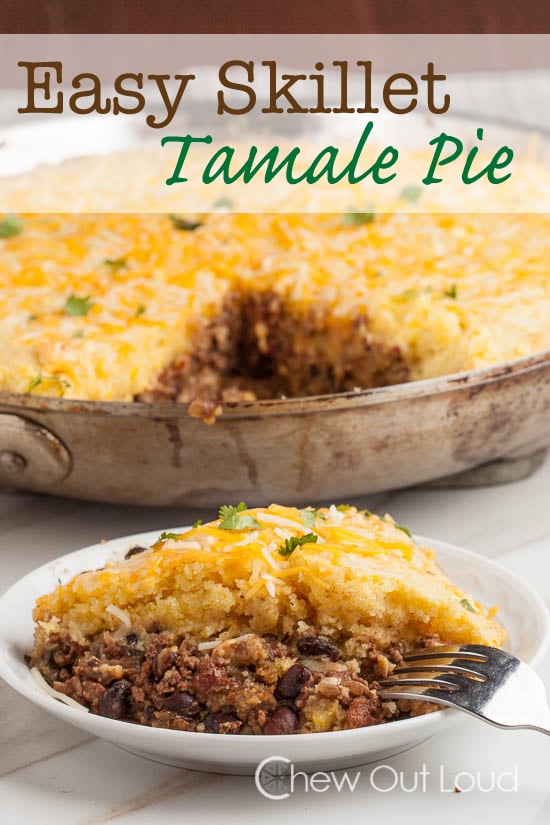 It's been such a long time since we've had a tamale pie.  It used to be on regular dinner rotation, but somehow I've forgotten all about how much we love a good tamale pie.
Even better is how easy and quick this one comes together.  No need to transfer to a casserole dish; everything is done from start to finish in the same big skillet.
One less big pan to wash.  I'll take it.
The family devoured this tamale pie so quickly and completely, it literally shocked me…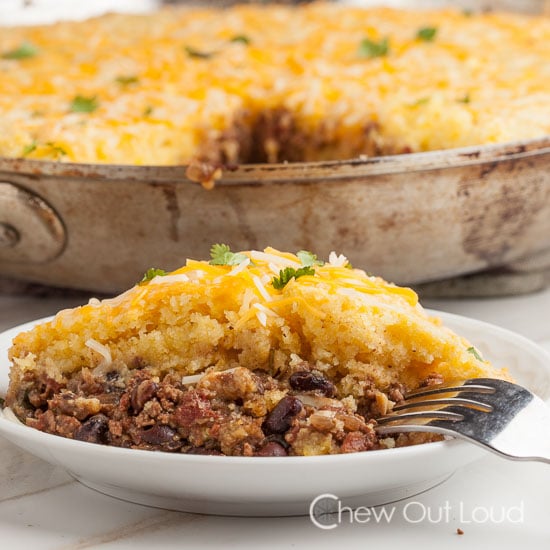 This past year, dinnertime has somehow gotten later and later for us, given the increasing daily grind every afternoon.
Whether it's soccer season, baseball season, or homework galore, dinner hour is rush hour in our home.
Which is why I have been embracing no-fuss meals everyone will want to eat.  Easy is good.  Deliciousness is a requirement.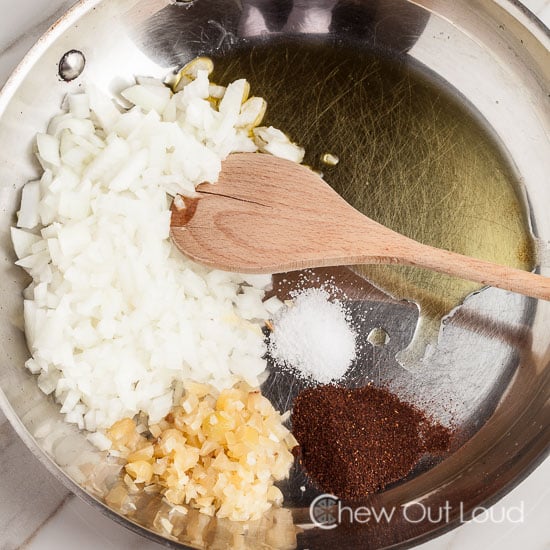 Simply stir together some onions, garlic, olive oil, and chili powder.  It might seem like a lot of chili powder, but after all is said and done, it's just the right amount of little kick.  Just enough to taste the zing, but not overly so.
Don't skimp on the garlic.  Garlic makes everything better.  And it's a super food.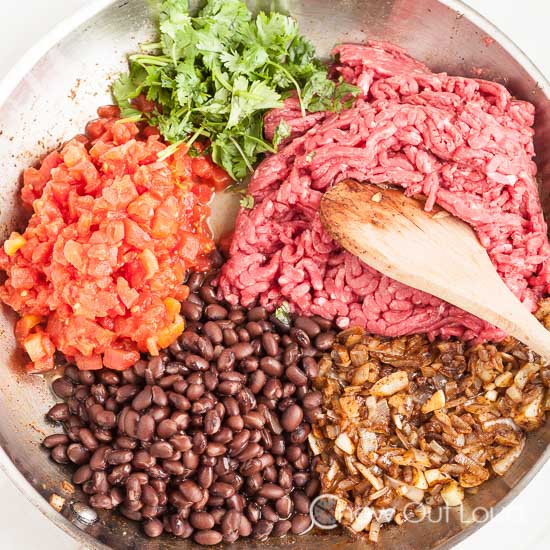 Add in a can of diced tomatoes, black beans, and lean ground beef.
Of course cilantro.  If you can't deal with cilantro, you can sub with chopped green onions.  But cilantro is the name of the game when it comes to Tex Mex.  Highly recommended.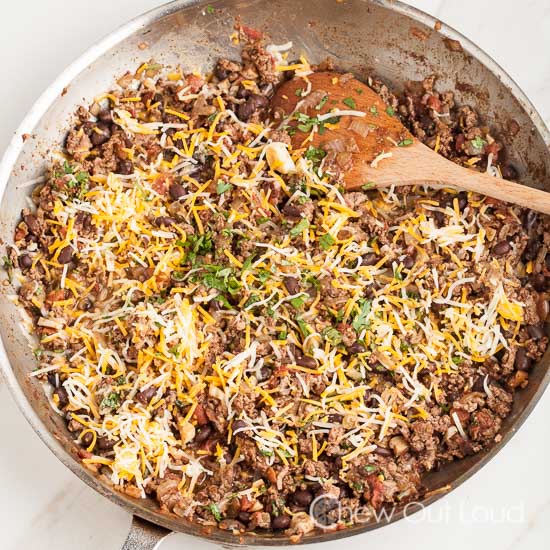 Stir all that goodness together until nice and hot.
At this point, the temptation to grab a spoon and shovel will be very great.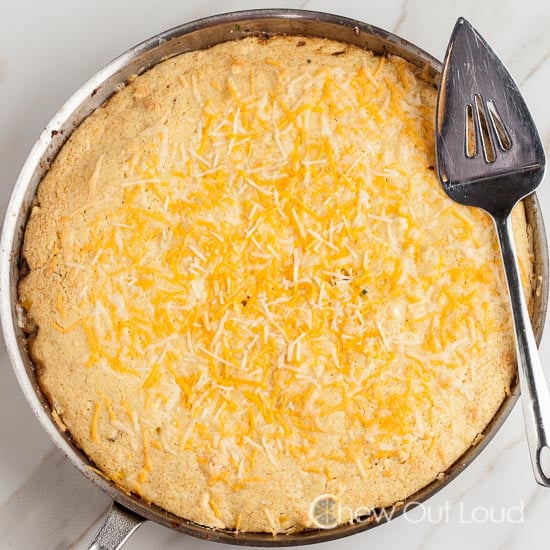 Keeping with the easy 'n quick dinner theme, we use our favorite all-natural cornbread mix from Trader Joes.  Feel free to use your favorite brand, as long as the package is about 15 oz.
If you don't mind making your own cornbread batter from scratch, this one is truly unbeatable.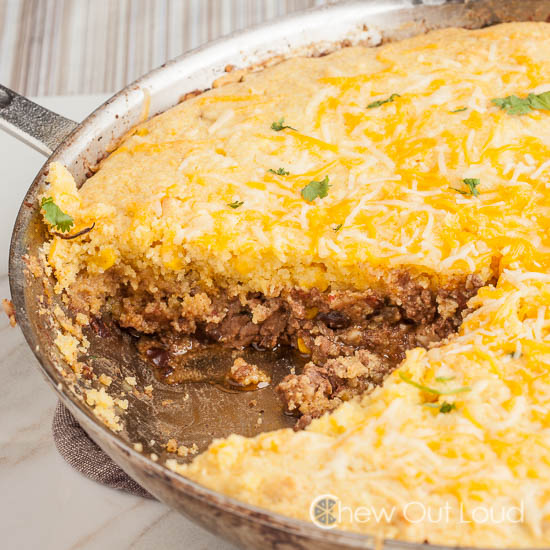 Viola!  A complete meal in one.  Underneath that moist cornbread layer rests a mouthwatering lean beef filling.
I served generous wedges, one at a time.  By the time I got to slicing a piece for Hubby, our Littlest had finished his entire big piece.  His plate was empty, but I promise I did give him some.
Both shocked, Hubby and I looked around the floor.  Like The Littlest must have dropped it or the dog ate it.  But no crumbs on the floor and no dog around.  The only tamale smudges were on the boy's face.
True story.
Enjoy! 🙂
Print
---
Description
This recipe is quick and easy for weeknights, making use of a store bought cornbread mix. However, feel free to make your own cornbread batter for a totally homemade dinner! See below for the link to my popular/moist homemade cornbread.
---
Scale
Ingredients
2

TB oil

1

onion, minced

2

TB chili powder
kosher salt

2

garlic cloves, minced

1

lb 90% lean ground beef

1

(15 oz) can black beans, drained and rinsed

1

(14.5 oz) can diced tomatoes, drained

1 cup

shredded cheddar cheese

2

TB minced fresh cilantro
ground black pepper

1

box your favorite store-bought cornbread mix, plus ingredients listed on package (or

1

recipe for your favorite homemade cornbread batter)
---
Instructions
Adjust oven rack to lower middle position and heat oven to 450F.
In a 12 inch ovenproof skillet over medium heat, warm up the oil until shimmering. Add onion, chili powder, and 1/2 tsp salt and cook just until onion is soft. Stir in garlic and cook 30 seconds.
Stir in ground beef, beans, and tomatoes. Bring to a simmer, breaking up the meat with a spatula, 5 minutes. Off heat, stir in cheddar and cilantro. Season with salt and pepper to taste. Set aside.
According to package instructions, prepare the cornbread batter. Don't overmix the batter. Smooth the beef filling into an even layer in the skillet. Spread cornbread batter evenly over teh filling, covering filling completely. bake until top is golden, 15-20 min. Let pie cook 10 minutes before serving.
---
Source:  Chew Out Loud, adapted from The Best Skillet Recipes 
Here are a few quick 'n easy favorite dinners our family really likes.
 This Easy Mexican Pasta is a delicious way to twist things up from the usual boring pasta nights.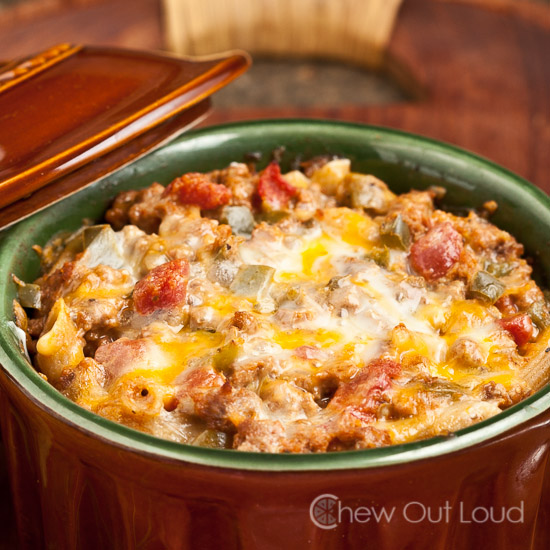 Probably nothing is easier than this One Pot Wonder Pasta.  It's everything you love, in one pot, quick 'n yummy!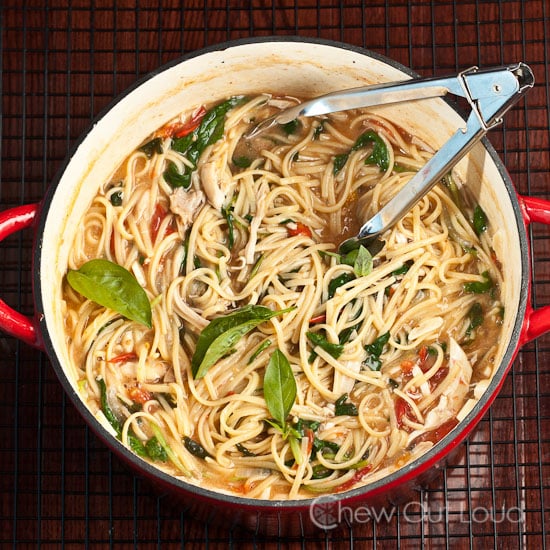 Breakfast for Dinner?  Yes, please!  We love this Enchilada Breakfast Bake so much, and it's packed with everything in the food pyramid.  Enchiladas, breakfast style… any meal of the day.