Easy Tamale Pie (Skillet or Cast Iron Technique)
This Easy Tamale Pie comes together quickly for any busy weeknight. Golden delicious cornbread is baked right on top of a satisfying layer of beef chili. It's a family favorite!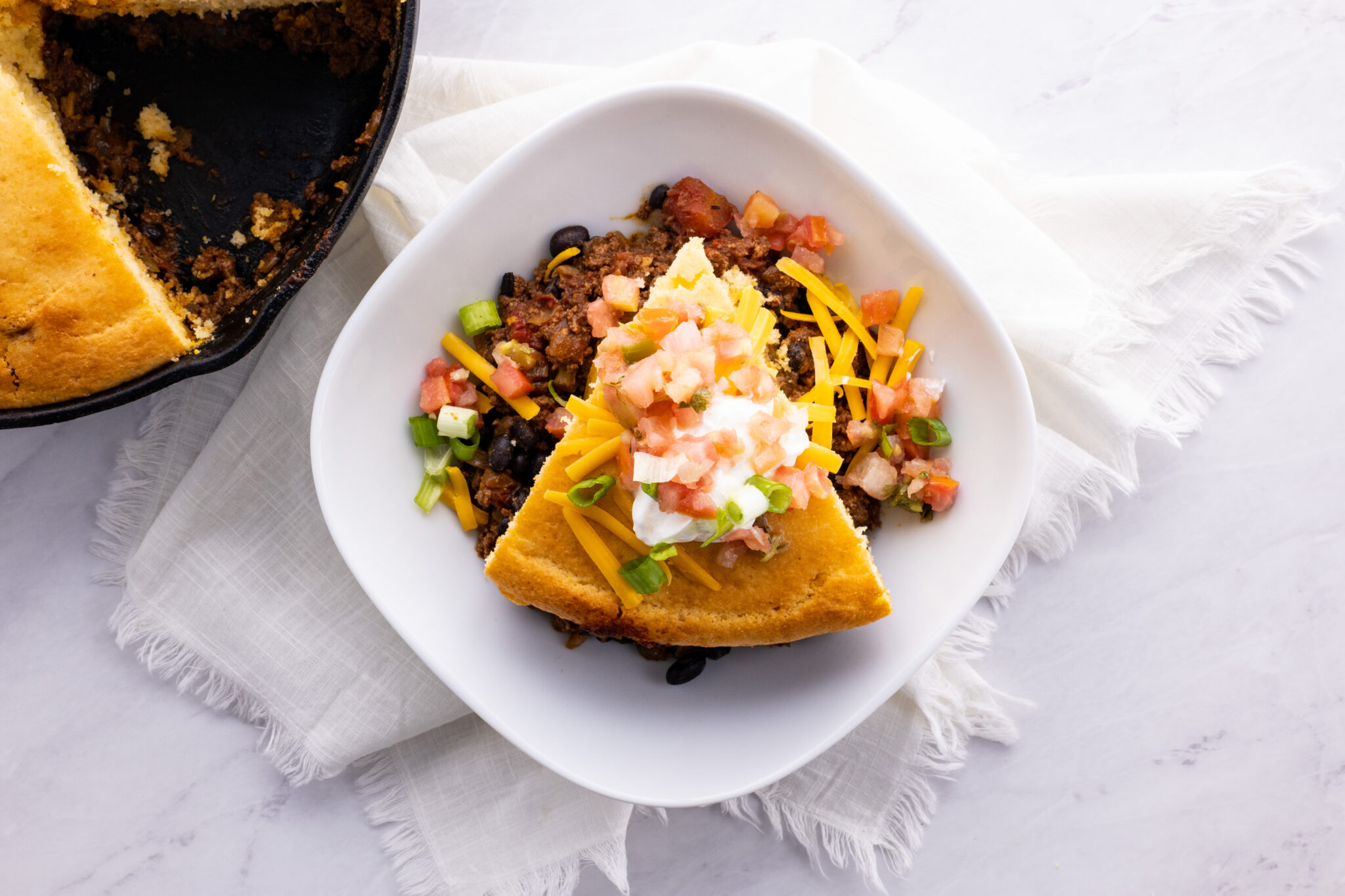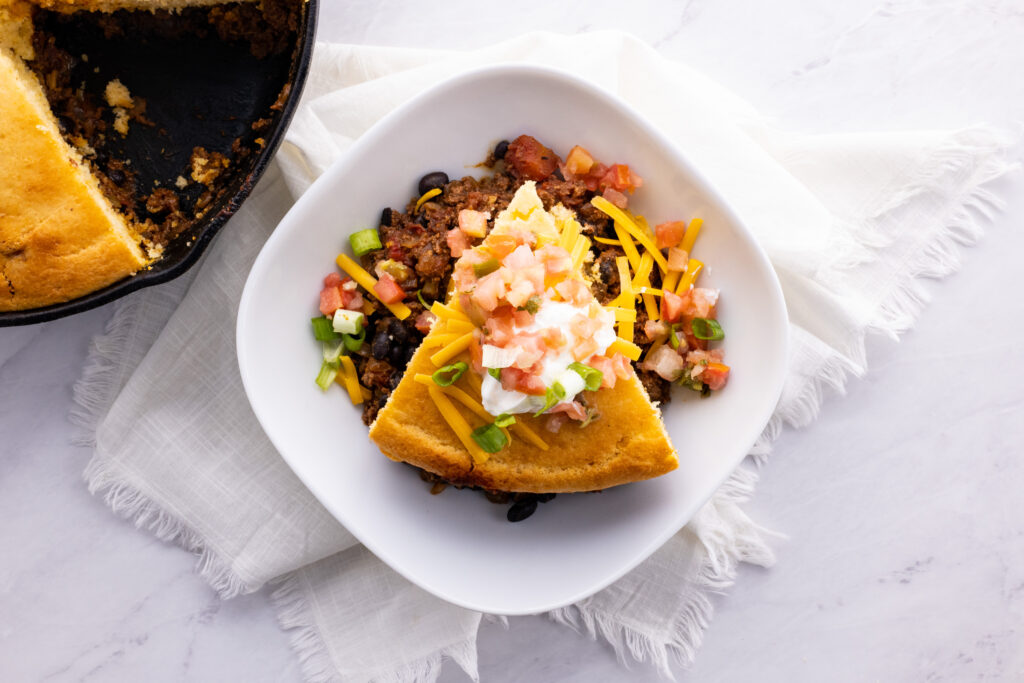 easy tamale pie in a Skillet
When the urge for a cozy bowl of comforting chili and golden cornbread hits, there's nothing quite like a fabulous tamale pie to satisfy that craving.
What's tamale pie, you may ask? It's nothing short of a weeknight dinner lifesaver. It's a cornbread chili casserole, made extra easy with our one-skillet cooking. method.
The virtues of this tamale pie are plentiful:
It's easy and quick, taking less than an hour from start to finish
No need to cook and transfer anything into a casserole dish; everything is done in the same large pan, cast iron, or skillet
There are only 10 basic ingredients needed
It's a all-in-one meal deal, with protein, carbs, and veggies all taken care of
How to make tamale pie
Simply stir together some onions, garlic, olive oil, and chili powder. It might seem like a lot of chili powder, but after all is said and done, it's just the right amount of little kick. Just enough to taste the zing, but not overly so.
Add in diced tomatoes, black beans, and lean ground beef to the aromatics already sizzling in the skillet.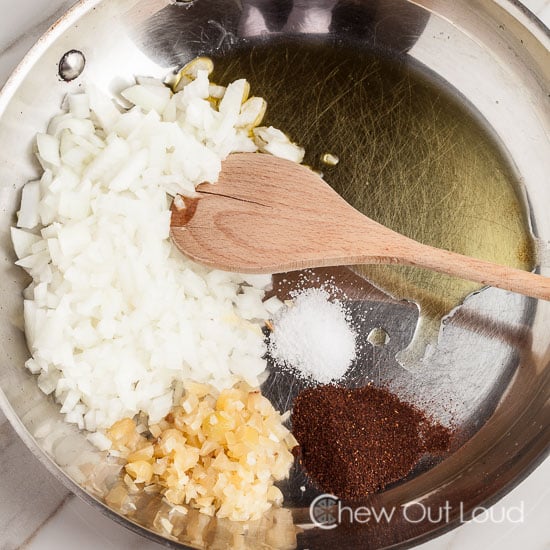 Stir in the shredded cheese. Cheddar, monterey-jack, or Mexican blend cheese all work well here. Now a good time to season with kosher salt and add more chili powder if you prefer more kick.
Stir all that goodness together until nice and hot. Smooth beef mixture in an even layer, as you'll want an evenly thick layer of cornbread on top.
Keeping with the easy and quick dinner theme, feel free to use your favorite cornbread mix, as long as the package is about 15 oz.
If you don't mind making your own cornbread batter from scratch, this one is truly unbeatable.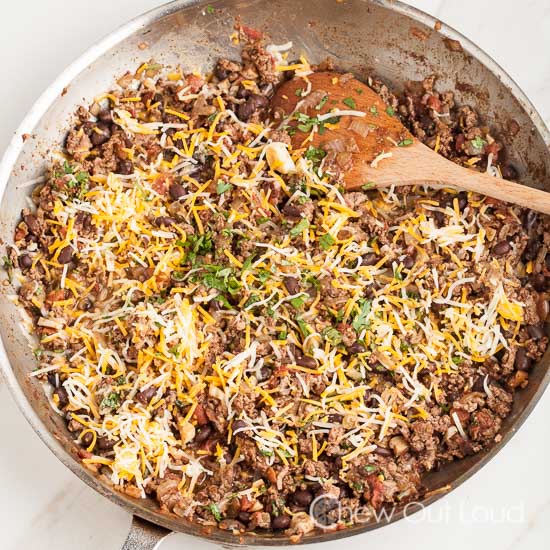 Common Questions and ANswers
What kind of cornbread mix should I use for the topping?
You can use your favorite brand of dry cornbread mix, and prepare it according to the package instructions; rather than bake it by itself, you'll bake it on top of the beef chili mixture. Your box or package of dry cornbread mix should be about 15 oz.
Can I use another kind of ground meat?
Yes, you can sub the ground beef with lean ground turkey, chicken, or pork. You can even make it meatless by adding an extra variety of beans or using plant based ground "meat."
Does tamale pie reheat well?
This dish does reheat very well. Be sure to store leftovers in an airtight container to retain moisture. For best results, reheat in an oven-safe container, covered, for about 10 minutes at 350F.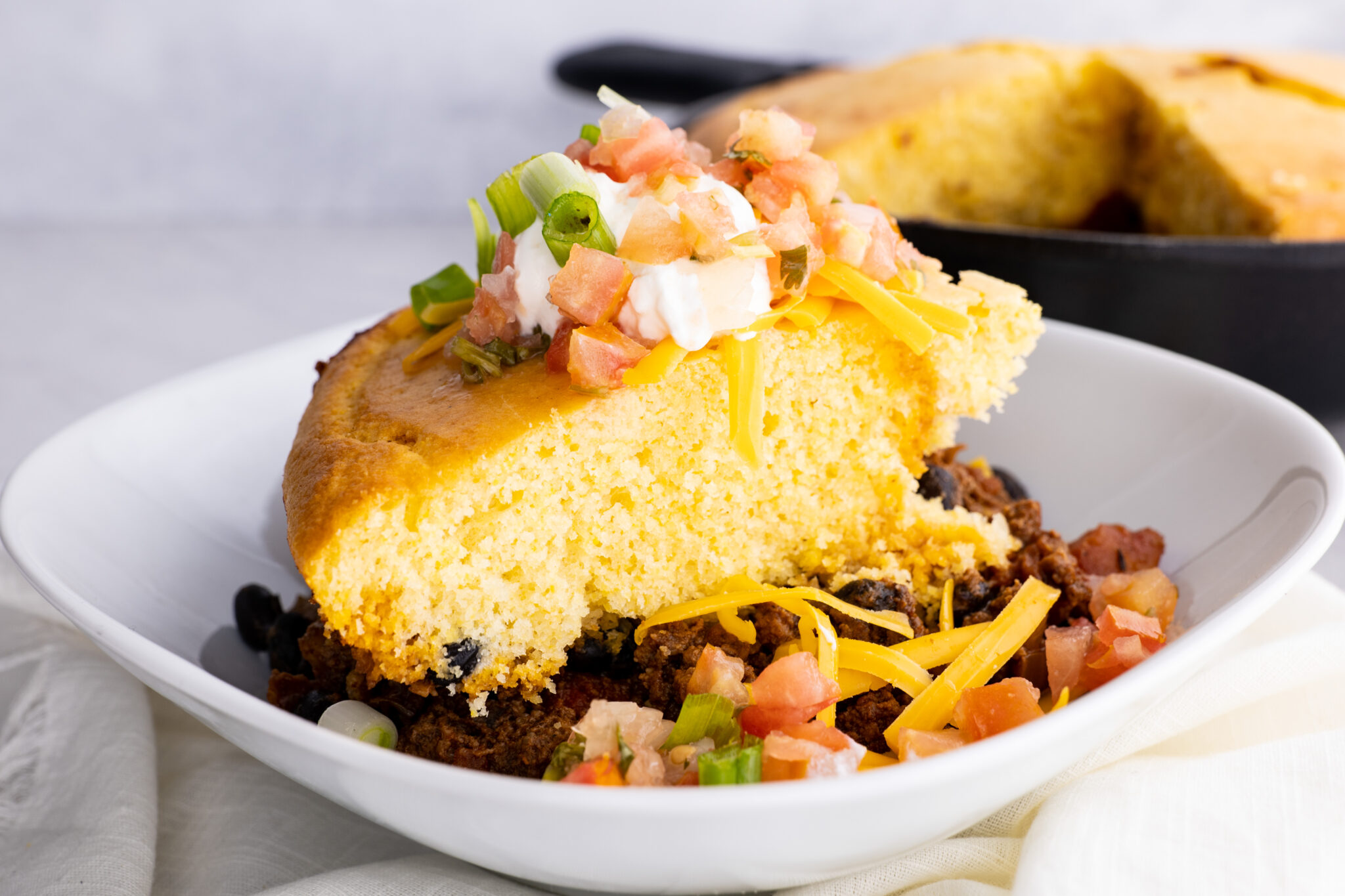 More to cook and eat
---
Tamale pie, In Action:
---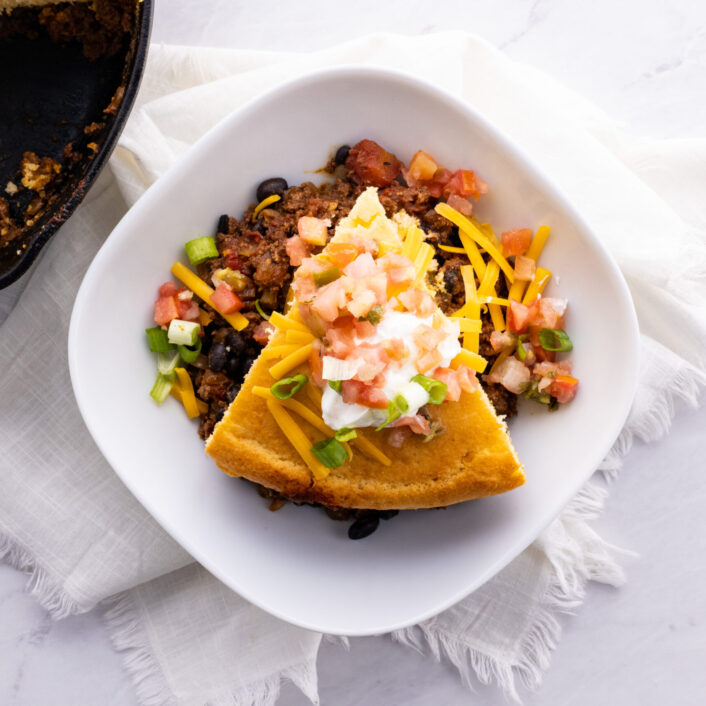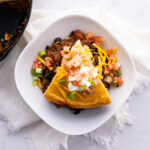 Easy Tamale Pie
This recipe is quick and easy for weeknights, making smart use of your favorite cornbread mix. It's simply delicious for all your busy weeknights.
Ingredients
2

TB

oil

1

onion

,

minced

2-3

TB

chili powder

3

garlic cloves

,

minced

1

lb

90% lean ground beef

1

15 oz can black beans, drained and rinsed

1

14.5 oz can diced tomatoes, drained

1

cup

shredded cheddar or Mexican blend cheese

1

15oz box of your favorite cornbread mix, plus any required ingredients listed on the package

Optional garnishes: Fresh Tomato Salsa,

sour cream, sliced green onion, chopped cilantro, shredded cheese
Instructions
Preheat: Adjust oven rack to lower middle position and heat oven to 450F*

Aromatics: In a 12 inch ovenproof skillet over medium heat, warm up the oil until hot. Add onion, chili powder, and 1/2 tsp salt and cook just until onion is soft. Stir in garlic and cook 30 more seconds.

Cook: Stir in ground beef, drained beans, and drained tomatoes. Cook and break up the meat with a spatula until fully browned, about 5 min. Off heat, stir in cheese. Season with kosher salt to taste. Add more chili powder if desired. Smooth beef mixture into an even layer in the skillet.

Prepare Cornbread: According to package instructions, mix the cornbread batter. Spread cornbread batter evenly on top of the beef mixture in skillet.

Bake: Bake until edges are golden brown, approx. 15 minutes. Check center of cornbread for doneness. If needed, cover loosely with foil and bake another 5 minutes or until center is cooked through. Let rest at room temperature 10 minutes before serving. Garnish as desired.
Notes
*If you don't have an oven-proof 12-inch skillet, you can layer casserole into an oven-safe baking dish instead.
*Bake time may need to be adjusted, depending on thickness/brand of your cornbread in chosen baking dish. Brands of boxed cornbread mixes vary, so adjust bake time as needed for center to bake through.
If you enjoyed this recipe, please come back and give it a rating ♡
Nutrition
Serving:
1
g
|
Calories:
681
kcal
|
Carbohydrates:
128.4
g
|
Protein:
17.5
g
|
Fat:
20
g
|
Saturated Fat:
6.4
g
|
Cholesterol:
19.2
mg
|
Sodium:
622.5
mg
|
Fiber:
50.9
g
|
Sugar:
4.7
g
Did you make this?
Leave a comment below and tag @chewoutloud on Instagram