Garlic Herb Roasted Potatoes
By Amy Dong
Published Mar. 26, 2021
Updated Mar. 27, 2023
These Garlic Herb Roasted Potatoes are super quick, easy, crispy on the outside, and tender. It's the perfect side with any meal. Always a crowd pleaser.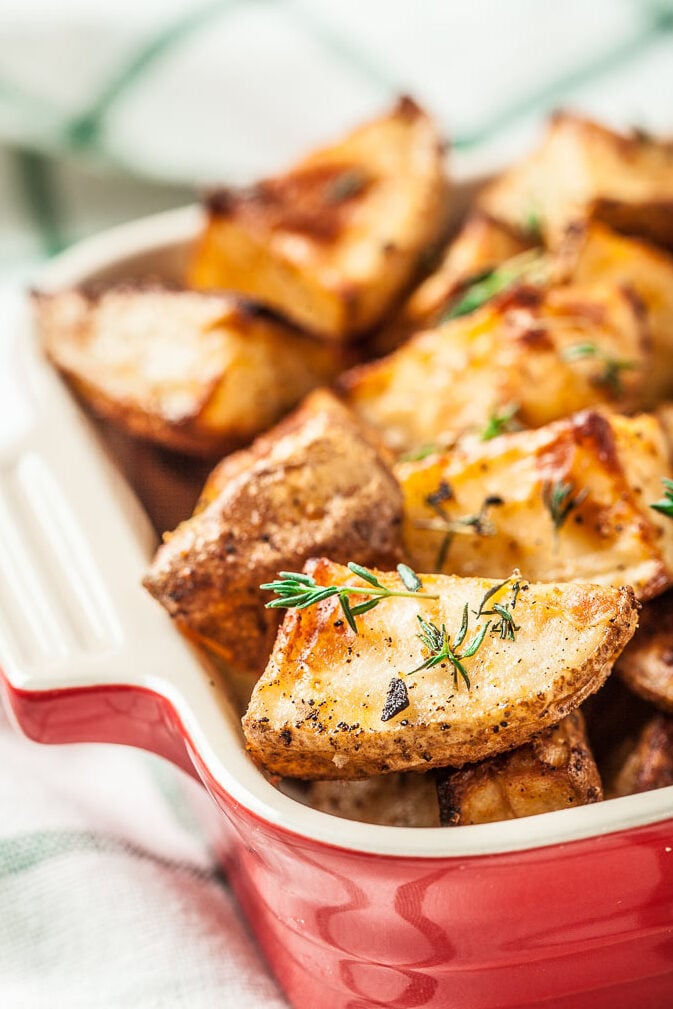 Garlic Roasted Potatoes with Fresh Herbs
These garlic roasted potatoes are packed with flavor and fresh herbs. Only the good stuff, and nothing you don't want.
Potatoes have gotten a bit of a bad reputation in decades past, but these days they've been redeemed, as they're now known to be rich in vitamins and minerals, and are a great carb/starch option as part of a healthy diet.
These delicious Garlic Herb Roasted Potatoes boast simple, flavorful seasonings that allow the potatoes to shine. The only fat is the healthy kind, thanks to extra virgin olive oil. And because they're roasted rather than fried, very little oil is absorbed into the potatoes themselves.
Here's how to make these crispy yet tender garlic roasted potatoes.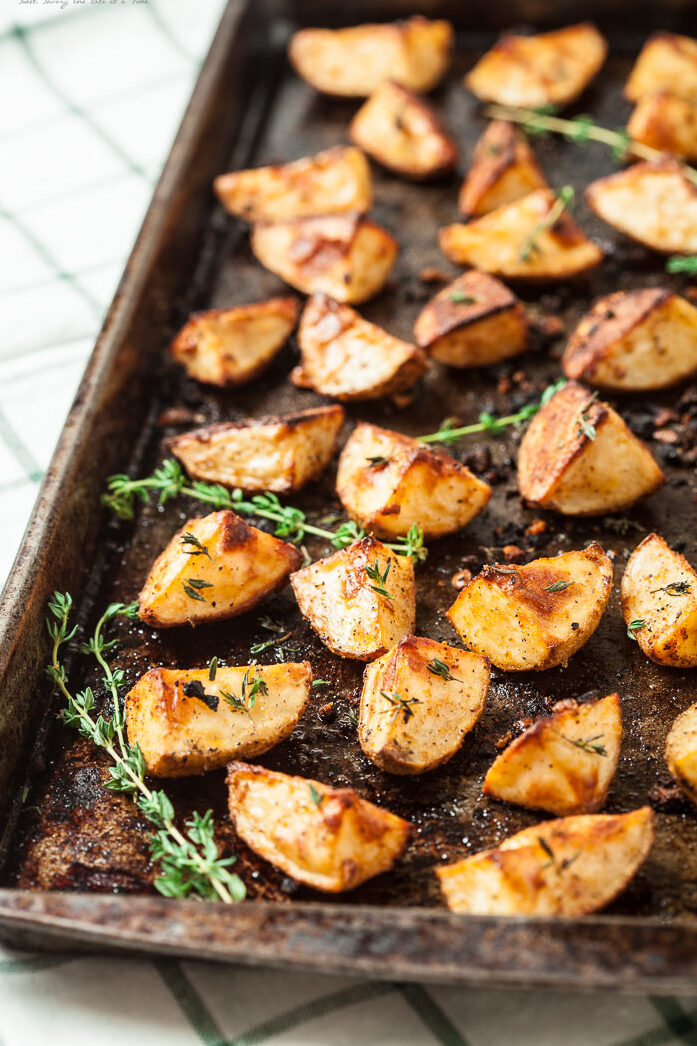 Your Basic Pantry Ingredients
This recipe calls for baby potatoes, which are a great choice for producing tender results. However, you can use russet potatoes as well. It's up to you whether you'd like to peel them or not. Just be sure to cut them evenly, into 1 1/2-inch cubes.
Extra virgin olive oil is our healthy oil of choice. You'll only need 2 tablespoons of it. Your roasted potatoes will not come out of the oven greasy at all.
As much as we love fresh garlic, we always opt for garlic powder when roasting potatoes. Fresh garlic, whether chopped or minced, tend to become burnt bits. No thank you to burnt bits; stick with the powder here.
The above goes for onion as well; embrace the onion powder for your roasted potatoes.
Ground paprika is the perfect sidekick for amping up the flavor of roasted potatoes; it provides a sprinkling of color as well.
You'll toss the finished roasted potatoes with some fresh thyme and rosemary; be sure to use only the leaves of thyme and discard the stems. Alternatively, you can use freshly chopped parsley, chives, basil, or oregano as well. Bring on the fresh herbs.
Always use kosher salt and not table salt, when specified in recipes, as they are not the same; table salt is much saltier by volume.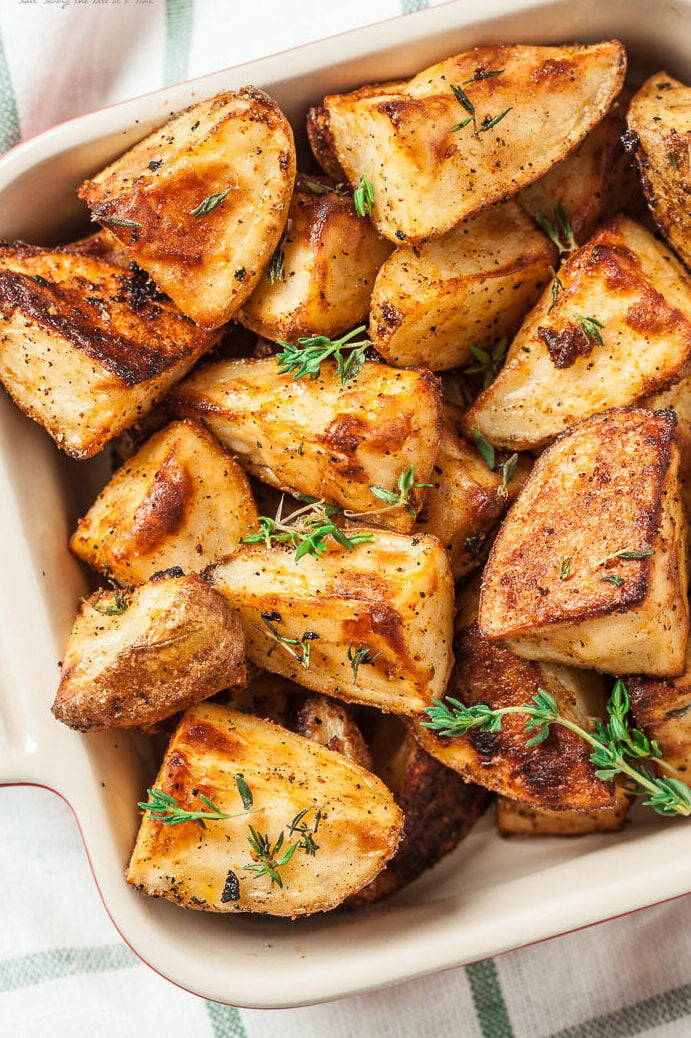 Pro Tips
Cut potatoes as evenly-sized possible, for even cooking throughout. We recommend 1.5″ cubes for best results.
If you'd like to pre-cut your potatoes a few hours in advance, submerge them in a bowl of cool water to prevent oxidation. If you do this, be sure to towel-dry the potatoes to remove all excess moisture.
Always avoid over-crowding on the pan; potatoes should be arranged with a bit of air flow between the pieces and in a single layer. This ensures even browning and crispy edges.
Garlic and onion powders are used in lieu of fresh garlic and onion; this is due to the fact that freshly chopped garlic/onion tends to burn during the dry roasting process.
Fresh herbs are tossed in after cooking to prevent burning. This also helps preserve their most intense flavor.
Note: for a deeper dive on how to roast potatoes perfectly, see this article we wrote about getting them perfectly browned and tender.
Other Spuds to Cook and Eat
---
---
Did you make this?
Please give us a rating and comment below. We love hearing from you!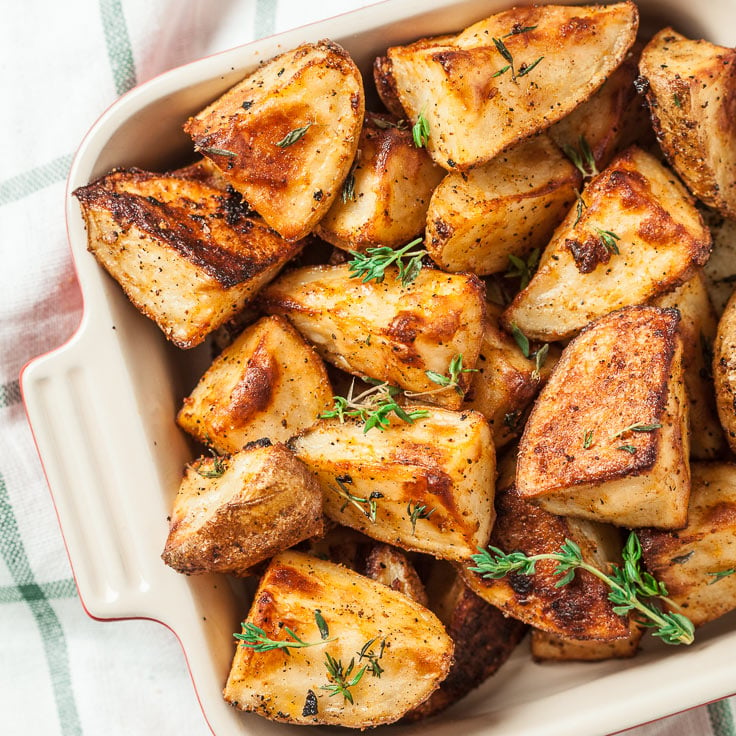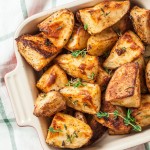 Garlic Herb Roasted Potatoes
These Garlic Herb Roasted Potatoes are super quick, easy, and ultra yummy! It's the perfect side with any meal. Always a crowd pleaser.
Ingredients
3

lbs

baby potatoes

,

halved or quartered to bite-size (about 1.5″ cubes)

1 ½

tsp

garlic powder,

fresh cloves will burn, so use powder

1

tsp

paprika

1

tsp

onion powder

1

tsp

kosher salt

1

TB

fresh leaves of thyme or rosemary
Instructions
Preheat oven to 400F with rack on upper middle position. Line a large sheet pan with foil; set aside.

In a large bowl, combine potatoes with all ingredients except the fresh herbs. Toss well to coat thoroughly. Spread potatoes onto foil lined sheet pan, in a single layer. Do not over crowd. Roast 45-60 minutes, until nicely browned (flip once halfway during bake time.)

Toss finished potatoes with the fresh herbs and serve immediately.
Notes
You can also use russet potatoes in place of baby potatoes. Whether to peel them or not is up to you.
Alternative fresh herb options include: chives, basil, or oregano
If you enjoyed this recipe, please come back and give it a rating ♡
Nutrition (per serving)
Calories:
201
kcal
|
Carbohydrates:
36.6
g
|
Protein:
4
g
|
Fat:
5
g
|
Saturated Fat:
0.7
g
|
Sodium:
243.7
mg
|
Fiber:
5.7
g
|
Sugar:
2.7
g