Quick breads are one of my fave things to bake for breakfast. Now, I don't wake up extra early to bake. I'm a bear if awoken too early. I don't even try to pretend I'm Miss Sunshine at the crack of dawn. Instead, my happy night-owl self prefers to strut around the kitchen in the evening, baking something yummy for tomorrow's breakfast. Honey Pear Bread makes an awesome breakfast, particularly if it was baked the day before 🙂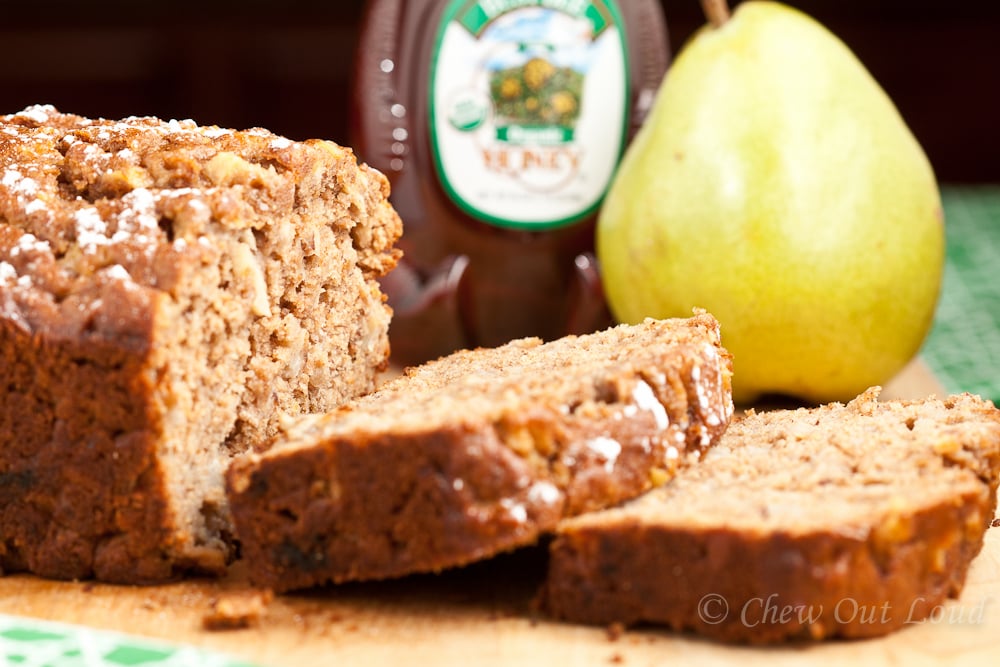 I often bake various quick breads on the weekends so the family has something extra yummy for breakfast when they wake up. They love this moist, tender, pear-filled bread with the perfect balance of sweetness, thanks to honey and brown sugar. Honey Pear Bread is loaded with healthful ingredients, making it a no-brainer for both flavor and nutrition. One loaf lasts about one day in our household.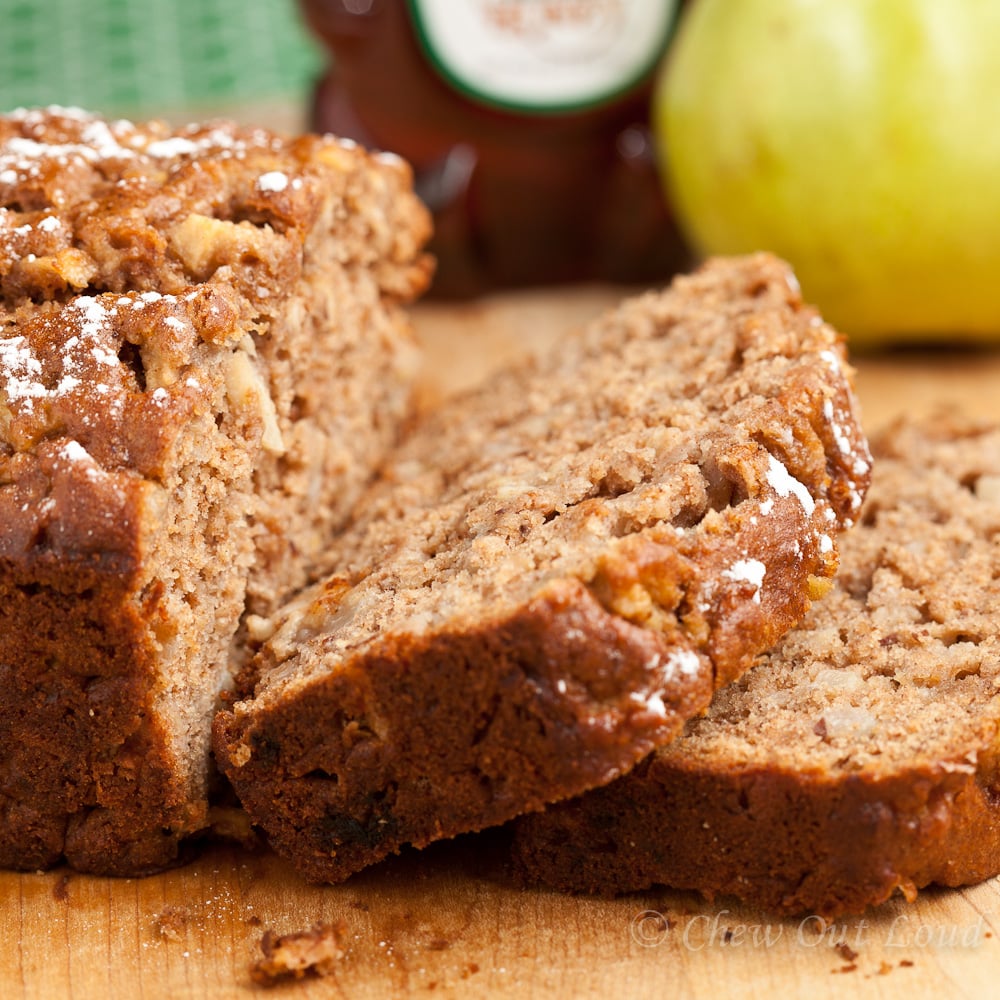 This Honey Pear Bread is a tasty alternative to apple breads, when you're looking to deviate from the norm. I love that this bread uses firm pears, because pears are almost always firm at the store when I buy them, and I don't have to wait for them to soften! A bit of immediate gratification.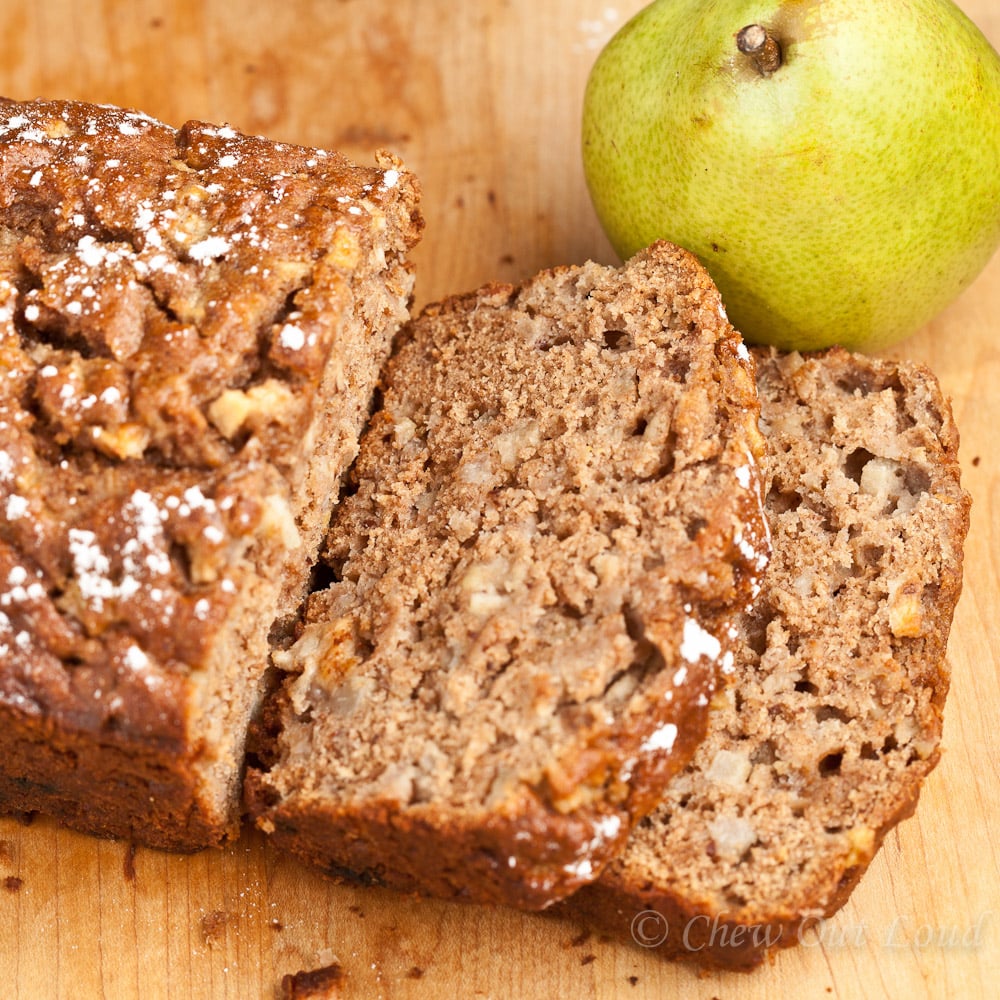 This recipe makes extra batter, which is perfect for tender muffins – bonus! Dense, moist, chock-full of goodness, and superbly satisfying. Make some Honey Pear Bread, and sit back to enjoy it with your morning coffee. Or afternoon snack with tea. Or dessert with ice-cream on top 🙂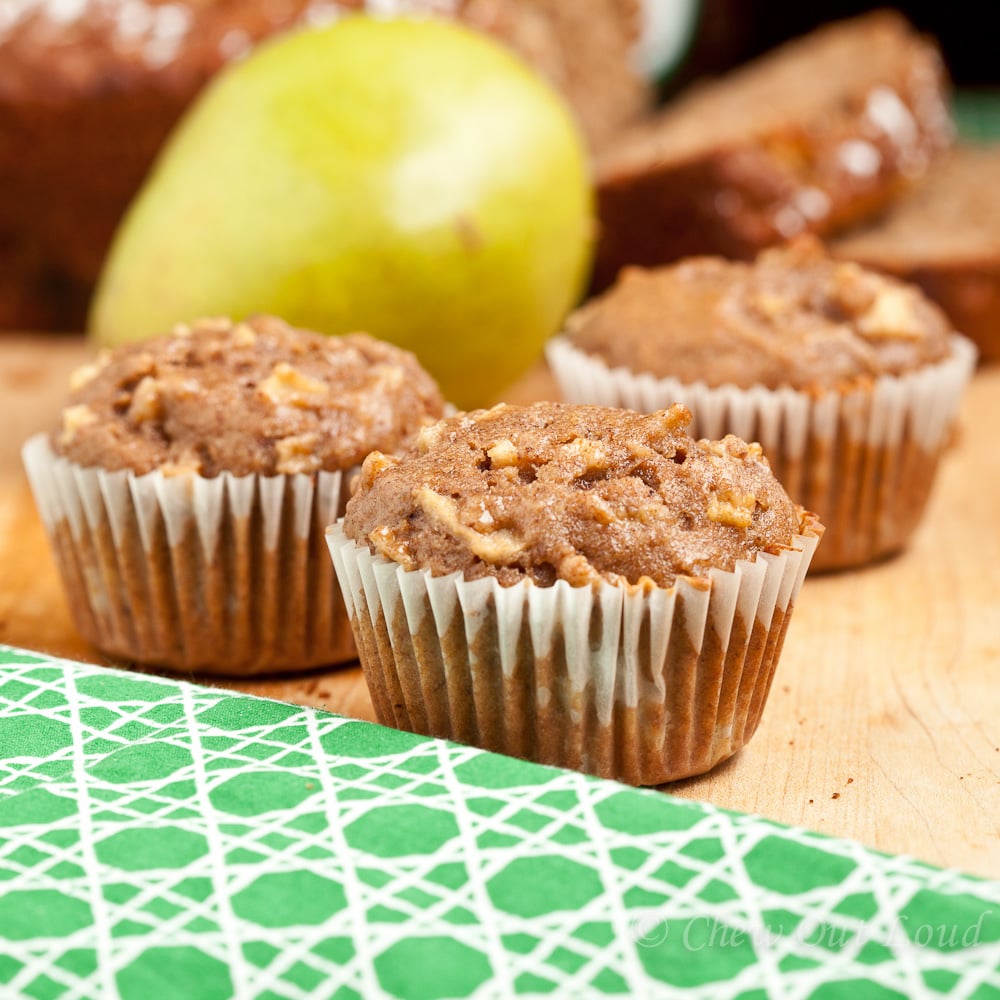 Honey Pear Bread (or muffins) keeps really well. Both texture and flavor are much better the day after it's baked.
—————————————————————————————————————
RECIPE (one large 9×5 loaf + ten muffins, OR 2 smaller loaves)
INGREDIENTS
1 1/4 cups packed light brown sugar
1/2 cup olive oil
1/2 cup applesauce
1/4 cup honey
3 eggs, lightly beaten
1 TB vanilla extract
1 1/4 tsp table salt
1 tsp baking soda
3 tsp ground cinnamon
1/2 tsp ground cloves
2 tsp ground ginger
1/2 tsp ground allspice
2 cups all purpose flour
1 cup whole wheat flour
3 TB ground flax meal (dry)
5 cups of very firm pears, peeled and diced
DIRECTIONS
Preheat oven to 350F, with rack on lower middle position. Generously grease one large loaf pan and line a muffin pan (or grease two loaf pans for two smaller loaves.)
In a large bowl, combine brown sugar, olive oil, applesauce, and honey. Stir together. Add eggs and vanilla. Stir to incorporate.
In another large bowl, combine salt, baking soda, cinnamon, cloves, ginger, allspice, all-purpose and wheat flours, and flax meal. Mix dry ingredients well. Gently fold honey mixture into dry ingredients, just until completely moistened. Gently fold in pears, distributing evenly. Pour batter into prepared loaf pan(s) and/or muffin tin.
For single large loaf, filled almost to the top, bake 60 minutes or until toothpick comes out almost clean, with few moist crumbs attached.
If splitting batter between two loaf pans, bake 45-50 minutes or until toothpick comes out with few moist crumbs attached.
For muffins filled almost to the top, bake 20-23 minutes or until toothpick comes out with few moist crumbs attached.
Source: Chew Out Loud, inspired by allrecipes