Pear Bread
This Pear Bread is a simple and sweet way to start the day. Try this pear bread recipe for a healthy make-ahead breakfast that everyone is sure to love.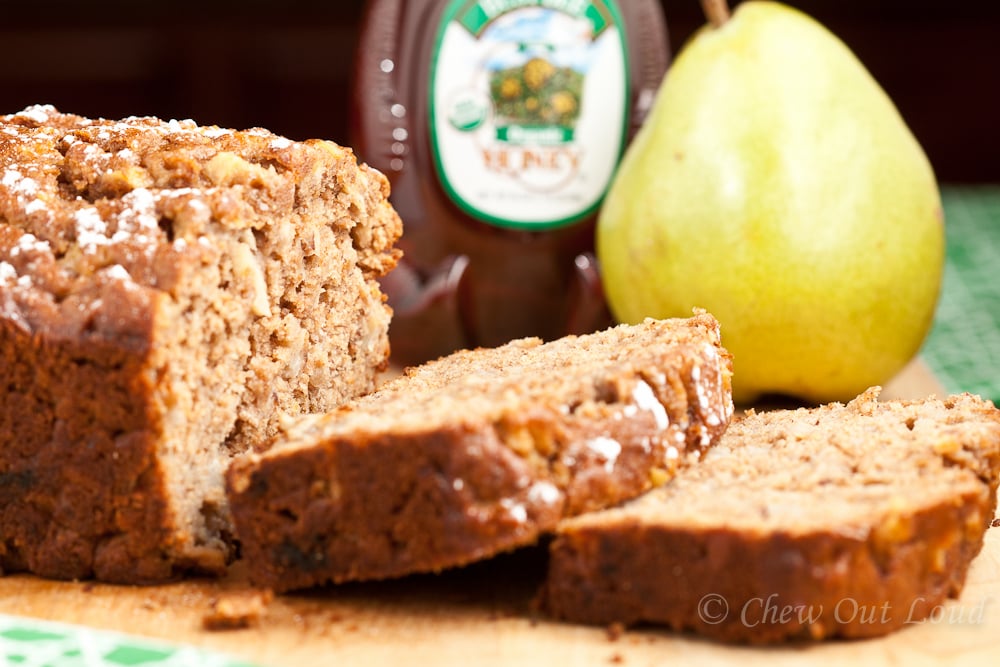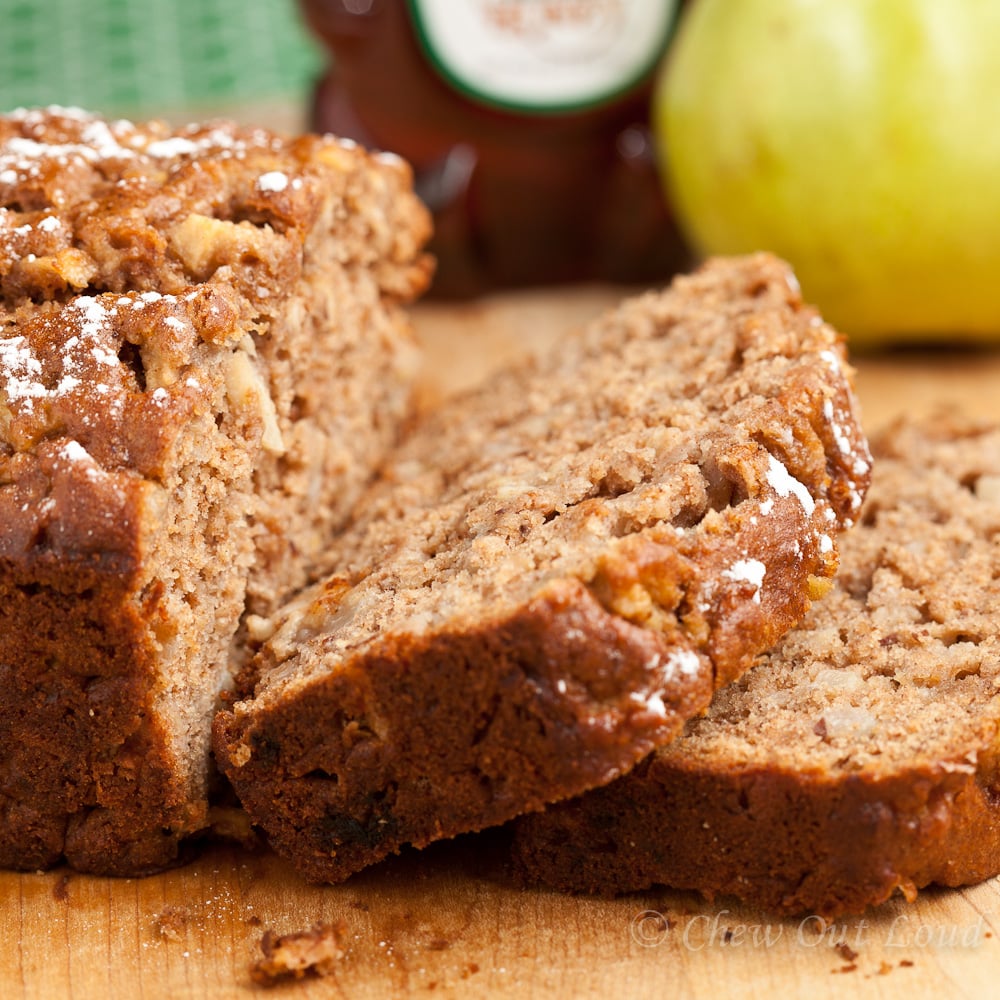 Delicious Pear Bread Recipe
The late summer season into early fall can only mean one thing – pear season. The subtle flavor of pears is a perfect pairing for an easy recipe like a quick bread. A quick bread is a bread made without flour and usually baked in a loaf pan. Although bananas are usually the stars of the quick bread show, this recipe is all about pears.
This honey pear bread is a great breakfast to make ahead of time or a fun snack to enjoy in the late afternoon. You'll need only a few ingredients that are both tasty and full of nutritious benefits. This is certainly a recipe that you can't help but make again and again.
Why This Quick Bread Recipe Stands Out
It uses pears. Pears are one of the most underrated fruits because people often think their light flavor makes them difficult to add to recipes. However, pears can be used in so many wonderful ways. Try them in salads like this Pomegranate Salad with Pear and Blue Cheese or the Roasted Pear Gorgonzola Salad. They also work great in elegant desserts like Julia Child's Pear Clafoutis.
This recipe can be easily adjusted to your preferences. You can use it to make one large loaf of honey pear bread, two smaller loaves, or even honey pear muffins.
Even though it's a sweet breakfast recipe, this honey pear bread recipe is filled with healthy ingredients. Items like ground flax meal and whole wheat flour help balance out the sweetness and add nutritious benefits.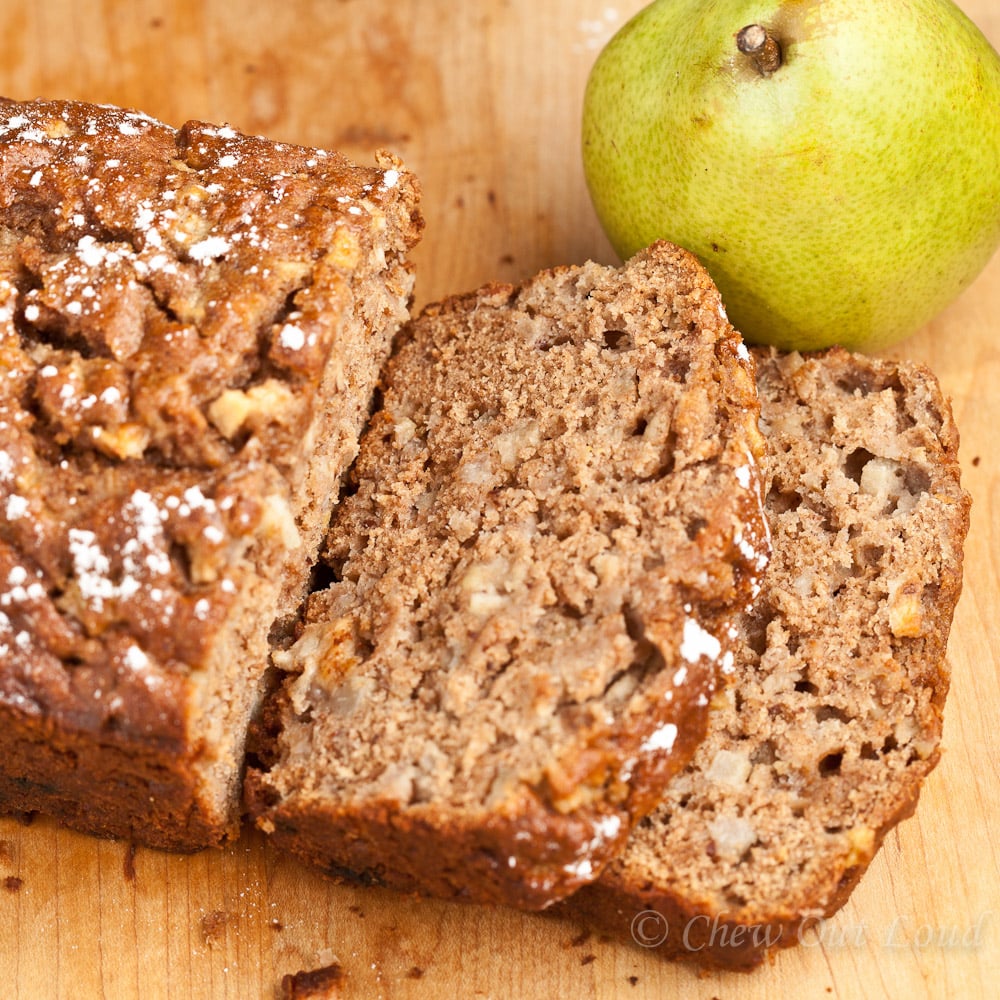 Key Ingredients
The ingredients are one of my favorite parts of this sweet quick bread recipe. So many of the ingredients are pantry staples or easy to find and very affordable. Plus, this honey pear bread recipe focuses on healthy ingredients to create a sweet treat that's both nutritious and delicious. You'll find the full list of ingredients in the recipe card, but here are few key ingredients to familiarize yourself with:
Pears – Pears are so often overlooked in cooking and baking, but they're such a wonderful ingredient to use. Pears have a subtle flavor and a soft texture that's perfect for a recipe like this one. Luckily for this recipe, you can use firm pears right from the store. However, you will need to peel the pears before using them.
Ground Flax Meal – Ground flax meal or flaxseed meal is produced from ground flax seeds. It has a slightly mild flavor and contains so many nutritious benefits like omega-3 fatty acids.
Whole Wheat Flour – I love working with whole wheat flour for both its flavor and nutrients. Whole wheat flour has a rich, earthy taste that brings great balance to sweet dessert recipes like this one. It's also more nutrient dense than typical white flour.
Key Tips For Success
This honey pear bread is such a simple and straightforward quick bread recipe. By following these tips for success, you'll have perfect and delicious sweet bread in no time.
Don't Over Mix. There are a few times throughout this recipe that you'll need to stir and combine ingredients. When you do, make sure you mix just until everything is incorporated – don't over do it. Overmixing can result in a tough, slightly dry bread.
Pack the Brown Sugar. This sweet dessert calls for 1 ¼ cups of packed light brown sugar. When you measure your brown sugar, remember to pack it tightly into your measuring cup. Packing your brown sugar ensures you have the exact proportion.
Grease the Pans. Before adding the batter, grease your loaf pan. This small step will make it easy to remove the bread after it has baked.
Let Cool Completely. As soon as this honey pear bread comes out of the oven, you're going to want to dive right in. However, try and resist long enough for the bread to completely cool before slicing into it.
Prep Ahead Strategy
The pears can be peeled and diced the day before, if needed. However, store the diced pears in an airtight container in the refrigerator until you're ready to use them.
The entire honey pear bread can be made 1-2 days in advance, as long as it's kept covered before you're ready to serve.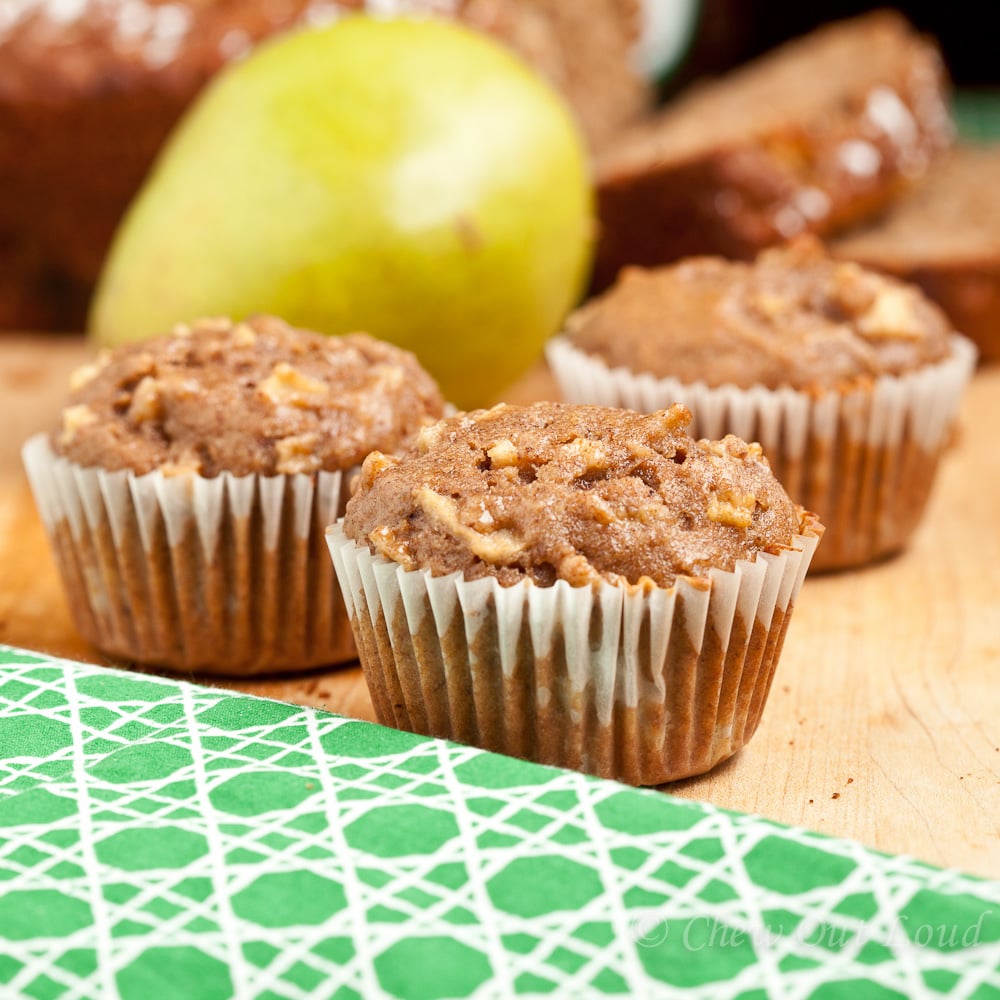 Commonly Asked Questions
Can I use this recipe to make two loaves of pear bread?
Absolutely you can! You can either double the recipe to make two regular sized loaves, or use the recipe as is to make two smaller loaves. If you're splitting the batter between two loaf pans, then bake them for 45 – 50 minutes or until a toothpick comes out clean with only a few moist crumbs attached.
How can I use this recipe to make muffins?
This recipe works so incredibly well for muffins. For muffins, follow the recipe as is but then scoop the batter into a lined muffin pan. The batter should allow you to fill the muffin tin to the top. Bake the honey pear muffins for 20 – 23 minutes or until a toothpick comes out clean.
How should I store leftover pear bread?
You can store leftover honey pear bread at room temperature or in the refrigerator. Although both methods will work, the bread should be fully wrapped or stored in an airtight container to keep it from drying out.
Can I freeze this pear bread?
If you find yourself with a bit more honey pear bread than expected, freezing is a great option. Once the bread is fully cooled, wrap it snugly in aluminum foil and then store in a Ziploc bag. The extra wrapping will help keep the bread as moist as possible in the refrigerator. The honey pear bread will last for up to three months in the freezer.
More To Bake And Eat
Honey Pear Cake – If you love this honey pear bread, then you're sure to fall in love with this honey pear cake recipe. As a bonus, the cake is free of refined sugar.
Strawberry Banana Bread – This quick bread recipe focuses on sweet strawberries instead of pears.
One-Bowl Healthy Banana Bread- It's hard not to love banana bread, but this healthy banana bread might just be one of the best. It's completely free of refined sugar and dairy, but still packed with flavor.
Moist Gingerbread with Cream Cheese Frosting – This dessert is like winter in one decadent loaf.
Did you make this?
Please give us a rating and comment below. We love hearing from you!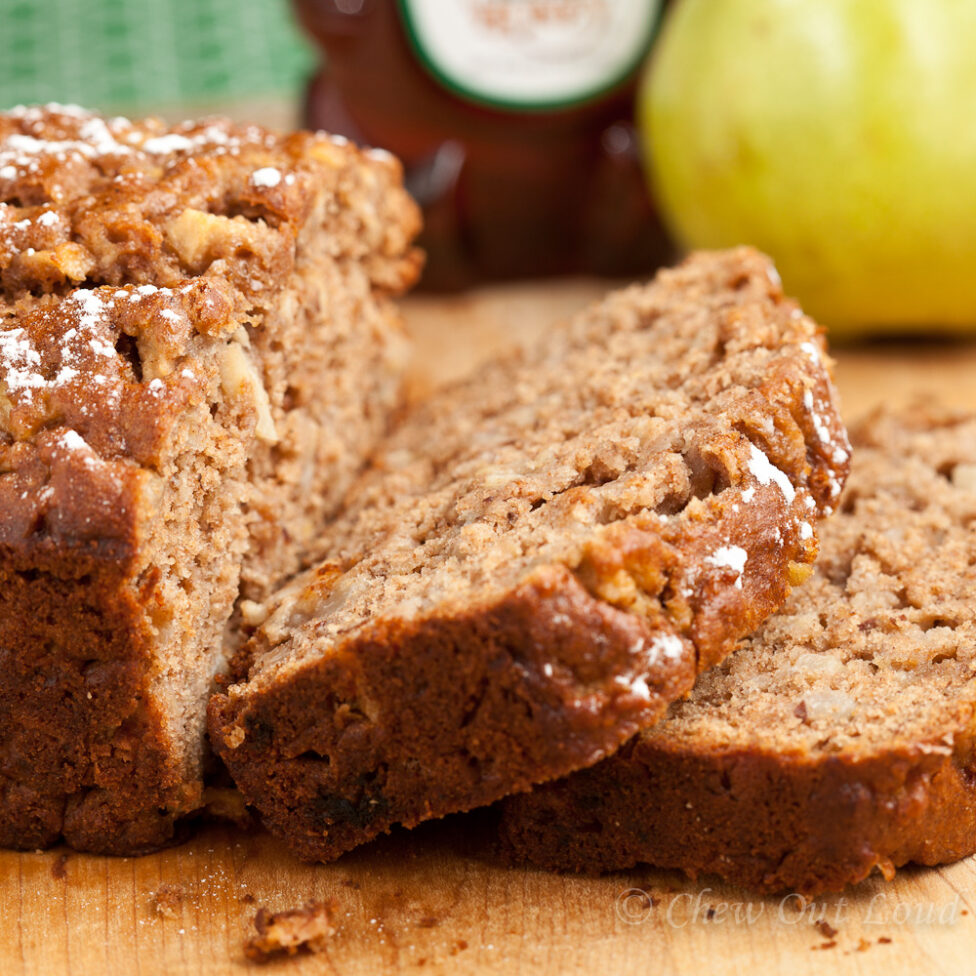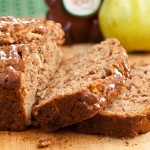 Pear Bread
Simple and delicious, this honey pear bread recipe is the perfect make-ahead breakfast or dessert.
Instructions
Preheat oven to 350F, with rack on lower middle position. Generously grease one large loaf pan and line a muffin pan (or grease two loaf pans for two smaller loaves.)

In a large bowl, combine brown sugar, olive oil, applesauce, and honey. Stir together. Add eggs and vanilla. Stir to incorporate.

In another large bowl, combine salt, baking soda, cinnamon, cloves, ginger, allspice, all-purpose and wheat flours, and flax meal. Mix dry ingredients well. Gently fold honey mixture into dry ingredients, just until completely moistened. Gently fold in pears, distributing evenly. Pour batter into prepared loaf pan(s) and/or muffin tin.

For single large loaf, filled almost to the top, bake 60 minutes or until toothpick comes out almost clean, with few moist crumbs attached.
Notes
If splitting batter between two loaf pans, bake 45-50 minutes or until toothpick comes out with few moist crumbs attached.
For muffins filled almost to the top, bake 20-23 minutes or until toothpick comes out with few moist crumbs attached.
If you enjoyed this recipe, please come back and give it a rating ❤️
Nutrition (per serving)
Serving:
1
serving
|
Calories:
331
kcal
|
Carbohydrates:
59
g
|
Protein:
5
g
|
Fat:
10
g
|
Saturated Fat:
2
g
|
Polyunsaturated Fat:
1
g
|
Monounsaturated Fat:
6
g
|
Trans Fat:
0.004
g
|
Cholesterol:
41
mg
|
Sodium:
363
mg
|
Potassium:
180
mg
|
Fiber:
6
g
|
Sugar:
31
g
|
Vitamin A:
84
IU
|
Vitamin C:
3
mg
|
Calcium:
55
mg
|
Iron:
2
mg