Strawberry Banana Bread
By Amy Dong
Published May. 15, 2020
Updated Aug. 17, 2022
Strawberry Banana Bread is beyond delicious; it's moist, tender, and the perfect combination of strawberry bread and banana bread in one magical loaf.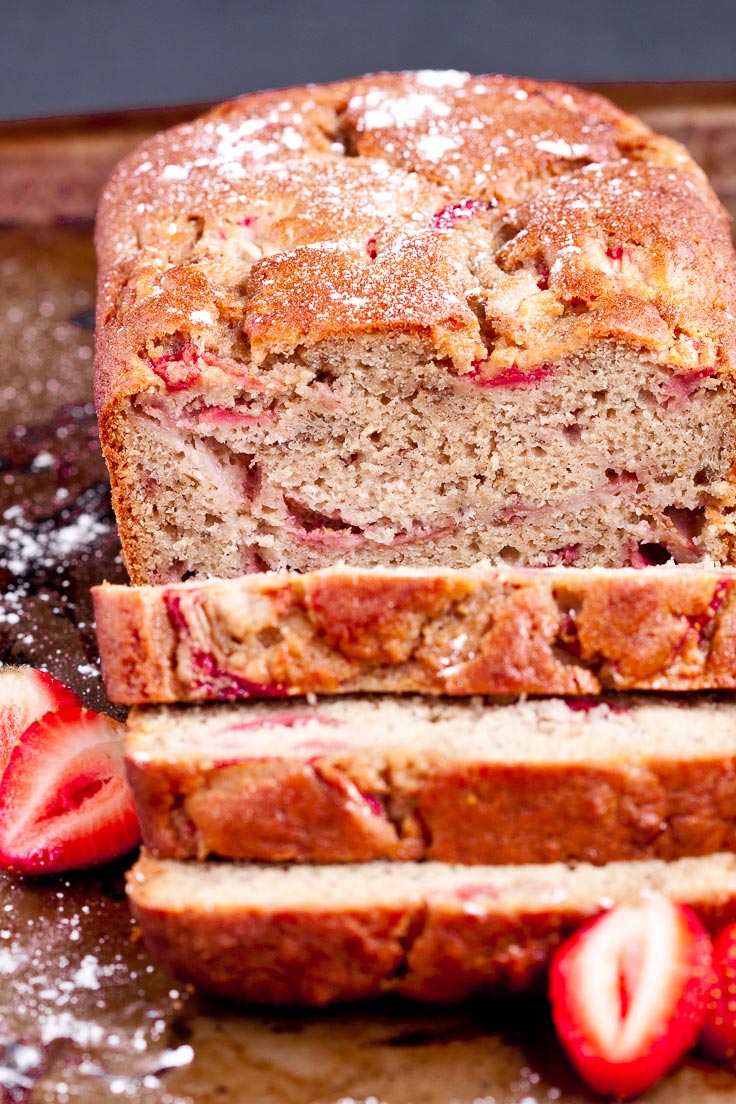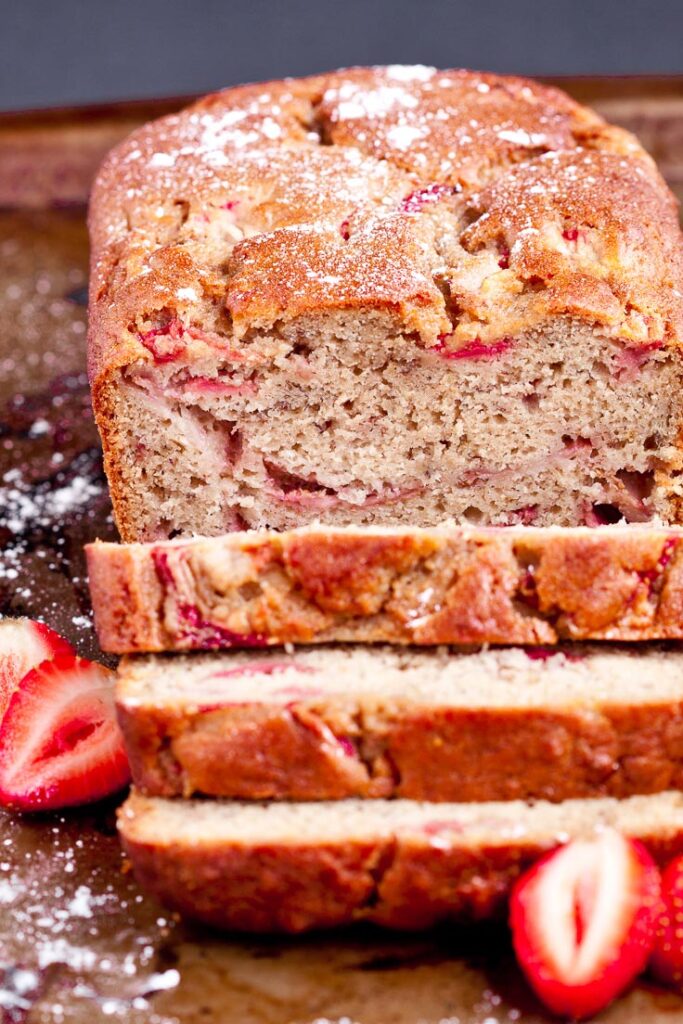 Strawberry Banana Bread
Banana bread is our all-time favorite solution to a bunch of overly ripe bananas. One of our boys is a self-proclaimed banana king, but even banana kings can't outdo the lightening-speed ripening of bananas on warm days. Bananas go from perfectly yellow to profusely spotted in the blink of an eye. My freezer tells me she just hasn't got the space for more.
Thus, we are a banana bread making bunch. Our moist banana bread with yogurt (often with chocolate) gets its share of appearances around here. Sometimes we luck out and find ourselves with an extra carton of plump, fresh strawberries that needed some attention. Hello, Strawberry Banana Bread.
This Strawberry Banana Bread is moist, dense, and chock full of sweet berries and bananas. It's super easy and keeps well for breakfast, snack, or sneak a scoop of vanilla ice cream over it for dessert. The ripe strawberries make a world of difference in this magnificent bread.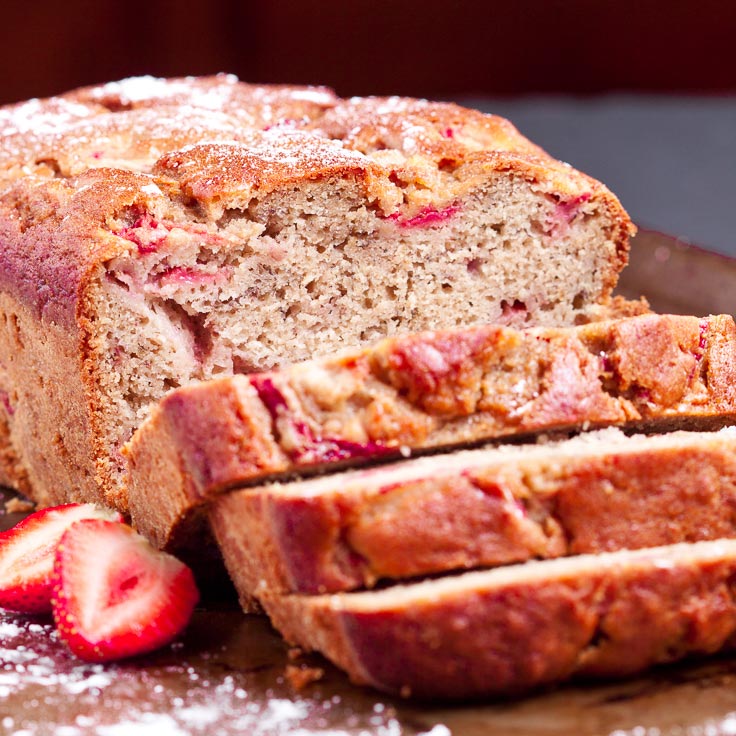 Baking with Strawberries
We were originally inspired to start making strawberry bread about ten years ago, and once it happened, we never looked back. Baking with strawberries is amazing.
Not only are fresh, ripe strawberries fabulous in this fresh strawberry pie and in this strawberry crumb cake, now you can toss your pretty red berries into an outstanding quick bread. Simply use strawberries as you would blueberries when it comes to baking; gently fold them in at the end, right before transferring to baking pan.
Tip: chop or gently mash the strawberries for even dispersement of berries throughout the bread. This prevents heavy chunks of fruit from sinking to the bottom of your strawberry bread.
Our strawberry banana bread calls for fresh berries that are mashed and macerated, making them extra plump. We recommend sticking with fresh berries here, but if you do bake with frozen strawberries, be sure to keep them frozen and chop them up just prior to folding into the batter.
Strawberry bread all by itself is superbly delish, even without bananas. But two good things coming together can turn into something great, and that's what happened here.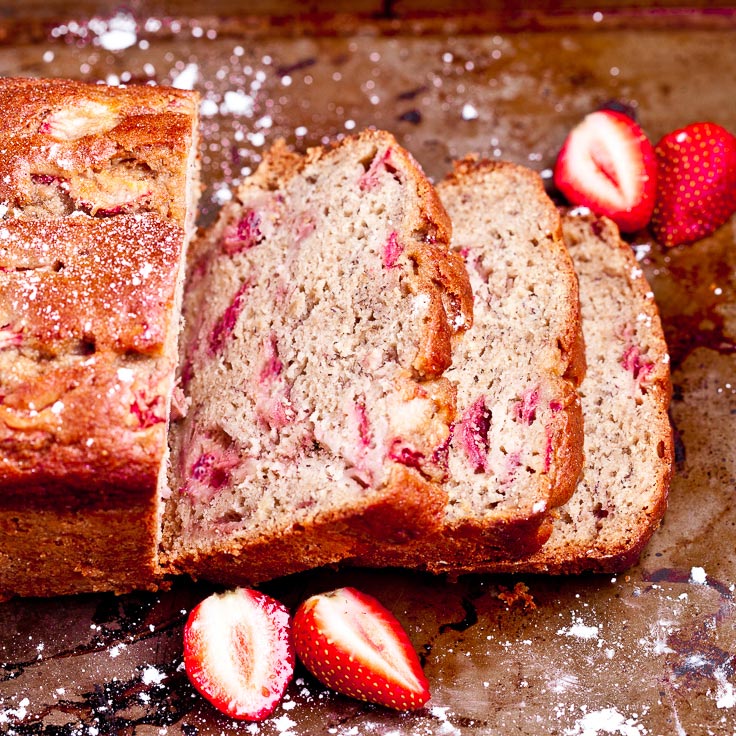 Buying Strawberries
Keep in mind that size doesn't correlate with sweetness, as there are many varieties of strawberries with various sizes.
Look for berries that are evenly vibrant and deep red in color throughout the entire strawberry. Berries that are lighter in color or whitish near the caps indicate underripe fruit. Green caps are a good indicator of freshness, while brownish caps should be avoided.
Because strawberries do not continue to ripen once picked, do look for berries that are ripened but not moldy. Wet strawberries or stained containers can mean there is mold underneath the fruit, so go for strawberries and containers that are dry.
Be sure to keep your fresh strawberries dry, covered, and chilled in fridge; wash them only when ready to use. Because fresh strawberries don't last long, extra berries are perfect to bake with.
Try This One-Bowl Fresh Apple Cake, Too:
Did you make this?
Please give us a rating and comment below. We love hearing from you!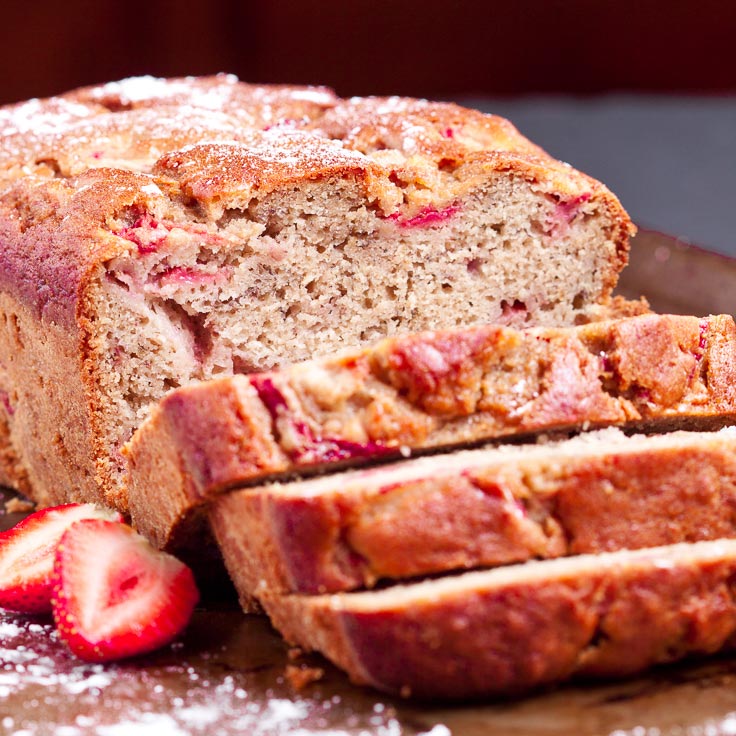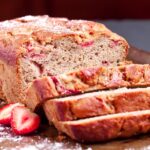 Strawberry Banana Bread
This strawberry banana bread is bursting with fresh berries and sweet bananas. It is moist and keeps well.
Instructions
Preheat oven to 350F, with rack on lower middle. Grease and flour a glass 8x5" loaf pan.

In a bowl, gently toss strawberries with the granulated sugar, coating all strawberries with sugar. Let sit.

In large bowl, whisk together flour, baking powder, baking soda, salt, and cinnamon.

In separate bowl, beat eggs until slightly foamy. Add vanilla, brown sugar, and melted butter (not too hot.) Add in the macerated strawberries and mashed bananas.

Using rubber spatula, gently fold flour mixture into the egg/butter mixture, just until dry ingredients are moistened.

Scrape batter into prepared pan. Bake about 1 hour to 1.5 hours, or until toothpick in center comes out almost clean, with just a few moist crumbs attached.

Let bread cool completely in pan on wire rack prior to slicing. Overnight works best.
Notes
For extra tips on buying and baking with strawberries, see original article.
If desired, you can use a combination of whole wheat and regular flour (up to half of each) or try white-whole-wheat flour.
Bread can be frozen airtight for several weeks.
If you enjoyed this recipe, please come back and give it a rating ♡
Nutrition (per serving)
Calories:
339
kcal
|
Carbohydrates:
38.6
g
|
Protein:
3.9
g
|
Fat:
19.7
g
|
Saturated Fat:
11.8
g
|
Cholesterol:
86
mg
|
Sodium:
142.8
mg
|
Fiber:
1.9
g
|
Sugar:
20.2
g