Kalbi (Galbi) Korean BBQ Short Ribs
These Kalbi Korean Short Ribs are winningly delicious and irresistibly tender. There IS a surprisingly simple secret to making super tender grilled short ribs. You'll want to keep this one in your cookout routine.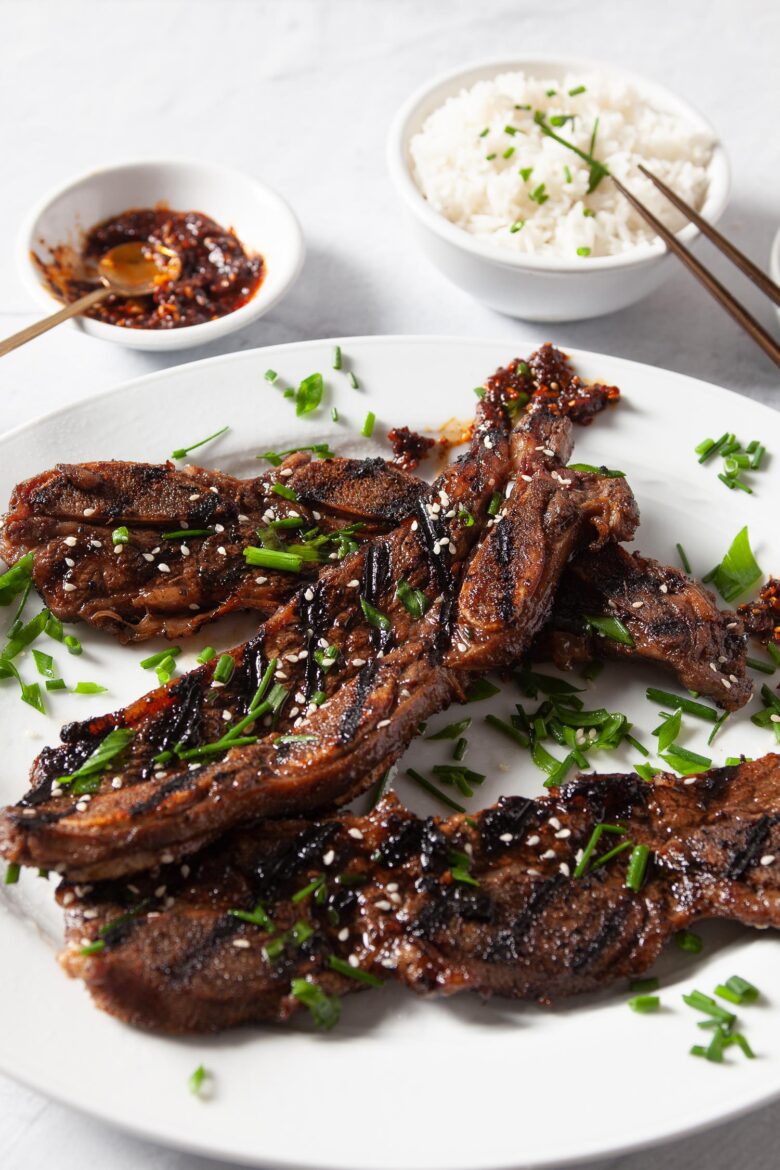 Video: Watch Us Make Kalbi
What is Kalbi?
Kalbi, or galbi, is a popular Korean BBQ dish that spotlights beef short ribs. The short ribs are cut super thinly, generally about ¼ inches thick, lengthwise. These specialty cuts are typically found at Asian grocery stores, and may occasionally be found at major grocery stores. Often, butchers can cut Korean style short ribs upon request. The thinly sliced beef short ribs are then marinated in a mixture that can include sugar, soy sauce, sesame oil, garlic, rice cooking wine, and ginger. Marinated kalbi is cooked on a grill until both sides are nicely charred. The flavors are aromatic, sweet, and savory at all once.
Why This Recipe Stands out
Kalbi Korean BBQ Short Ribs can be prepared the night before and grilled on the day you wish to serve them – the overnight marinade time brings out unparalleled flavors.
The flavors here are like no other – kalbi short ribs are 100% a welcome offering at any cookout or gathering.
Kalbi cooks up quickly, in just 3-4 minutes per side, which makes them perfect for sharing with friends.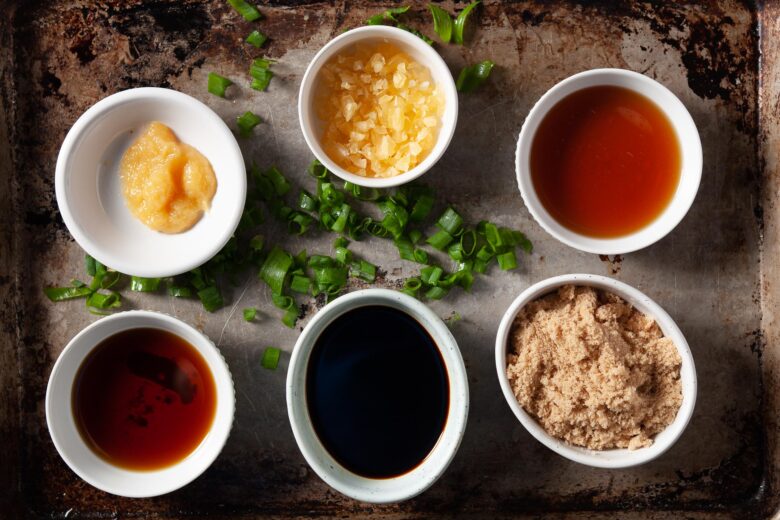 Key Ingredients
The Secret to Tenderness
The surprising secret ingredient here is kiwi fruit. Kiwi contains acidity levels that work as a potent tenderizer. If your beef short ribs are thicker than ¼ inches, you'll want to let the kiwi juice soak into the meat for up to 4 hours instead of the specified 2 hours.
Tips for Success
The short ribs must be cut to ¼ inches thick; if they're any thicker, they'll need a longer marinade time and extra cook time. Thicker cuts will be less tender than thinner cuts.
Always use clean paper towels to pat dry the meat, removing as much excess moisture as possible prior to starting the recipe.
We highly recommend letting kalbi marinade overnight, allowing the beef to soak in all the fragrant flavors.
Fresh kiwi juice/puree should be allowed to soak into the meat 2 hours prior to cooking. Do not let it go longer than 2 hours, as that can cause meat to break down beyond desired levels. The exception is when short ribs are cut thicker than ¼ inches – in that case, they will need to soak in the kiwi juice for 1-2 hours more.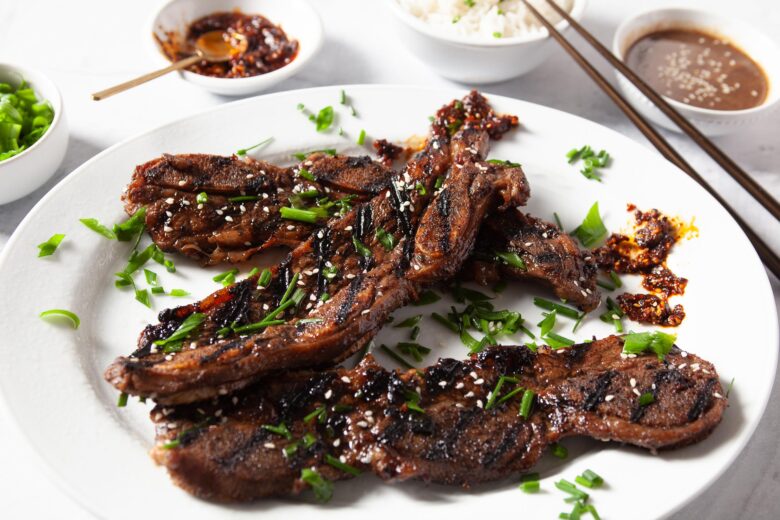 What to Serve with Kalbi Short Ribs
The options here are endless. We love serving kalbi with jasmine rice or brown rice. It's fabulous when paired with crisp salads, kimchi, rice dishes, or almost any Asian dish. Here are several of our favorite recipes to use alongside of Kalbi Korean Beef Short Ribs:
Commonly Asked Questions
How do you pronounce kalbi?
Kalbi is pronounced "KAHL-bee." It's sometimes referred to as "galbi" as well.
What is the traditional method of cooking kalbi?
Traditionally, kalbi is cooked on a grill or barbecue, often over charcoal or an open flame. The ribs are grilled until they are tender and have nice grill marks, giving them a delicious smoky flavor.
Can I make kalbi without a grill?
Yes, you can still make kalbi without a grill. You can use a stovetop grill pan, broil the ribs in the oven, or even cook them on a regular frying pan. However, grilling over charcoal or an open flame is the traditional method and provides the best flavor.
What cuts of beef are used for kalbi?
Kalbi is typically made using beef short ribs. The ribs are cut across the bone, resulting in very thin, rectangular-shaped cuts.
Is kalbi spicy?
Kalbi itself is not generally spicy. The marinade usually contains ingredients like soy sauce, sugar, garlic, and sesame oil, which provide a savory and sweet flavor. However, if you prefer spiciness, you can add chili paste such as Korean gochujang sauce or red pepper flakes to the marinade or serve it with a spicy dipping sauce.
Did you make this?
Please give us a rating and comment below. We love hearing from you!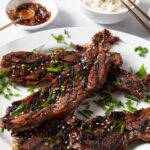 Kalbi (Galbi) Korean BBQ Short Ribs
This Korean Kalbi Beef Short Ribs recipe is absolutely scrumptious! It's tender and teeming with flavor.
Ingredients
5

lbs

beef short ribs

,

1/4" thick*

10

TB

brown sugar,

packed

10

TB

soy sauce,

or gluten-free tamari sauce

3.5

TB

Asian sesame oil

3.5

TB

garlic

,

crushed

5

TB

rice cooking wine,

or sake

1

TB

fresh ginger root

,

minced

2

whole

kiwi

,

peeled and pureed/juiced

Optional Garnish: thinly sliced green onion
Instructions
Place beef short ribs in a large pan. Sprinkle a light layer of kosher salt and black pepper onto both sides of short ribs. Set aside.

In a bowl, mix together the brown sugar, soy sauce, sesame oil, garlic, rice wine, and ginger until well combined.

Pour marinade evenly over the short ribs; work it in so that every piece is well coated. Cover and place in fridge for several hours, preferably overnight. If needed, turn ribs over halfway to evenly redistribute marinade.

Two hours prior to cooking, add kiwi juice and mix well so all short ribs are coated. This is amount of time is perfect for tenderizing beef, without breaking it down too much.

Grease and preheat outdoor or indoor grill on medium heat. Drain and reserve marinade from short ribs. Cook beef until fully cooked through and lightly charred on both sides, about 3-4 min per side.* Keep warm.

Meanwhile, bring reserved marinade to a boil, for use as a serving sauce.

Serve kalbi beef with sauce. Garnish with green onions and serve in whole pieces, or cut into smaller pieces for a large party.
Notes
Beef short ribs should be butcher-cut specifically for kalbi. The short ribs are cut lengthwise across the bones, 1/4-inch thick. If your short ribs were cut thicker than 1/4″, soak longer in kiwi juice (3-4 hours).

Kiwi contains acidity that works as a potent tenderizer; do not let kiwi sit on short ribs longer than 2 hours, or it can cause beef to break down and lose texture.

10 TB is equivalent to 5/8 cups, if you'd prefer to measure in cups.

Actual cook time depends on thickness of beef, starting temperature of beef, and temperature of grill.

Listed prep time does not include passive marinade time.
If you like a bit of heat, serve with some gochujang sauce on the side.
Serves about 6 people for a main dish. For a large party, use kitchen shears to cut short ribs into smaller appetizer-size pieces.
Meal Prep Tip: raw short ribs can be combined with marinade (minus the kiwi juice) in freezer bags and frozen for up to 2 months.
If you enjoyed this recipe, please come back and give it a rating ❤️
Nutrition (per serving)
Serving:
1
g
|
Calories:
556
kcal
|
Carbohydrates:
49
g
|
Protein:
53
g
|
Fat:
36
g
|
Saturated Fat:
13
g
|
Polyunsaturated Fat:
4
g
|
Monounsaturated Fat:
15
g
|
Cholesterol:
163
mg
|
Sodium:
726
mg
|
Potassium:
1036
mg
|
Fiber:
0.1
g
|
Sugar:
42
g
|
Vitamin A:
1
IU
|
Vitamin C:
2
mg
|
Calcium:
48
mg
|
Iron:
6
mg