30-Minute Steak Teriyaki
It's Monday night and there's hardly time to cook. Yet you want something scrumptious, healthy, and doesn't include the word takeout. This 30-Minute Steak Teriyaki is the perfect solution. Easy, fast, healthy, and absolutely delicious. So fork-tender, even the kids love this one.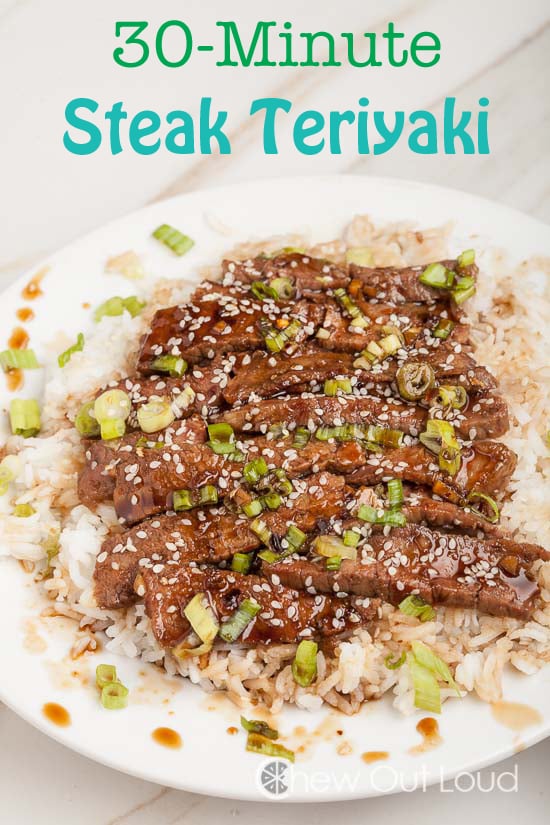 If you poke around here, you'll discover how much we love our Teriyaki. Baked Teriyaki Chicken. Grilled Teriyaki Chicken. The BEST burger in the whole wide world. Even Teriyaki Meatloaf — have no fear; it's awesome!
I wonder why it's taken me so long to include Steak Teriyaki into our dinner mix. #questionoftheday
I've just always assumed steak teriyaki would be harder for the kids to eat because it would be tougher than chicken or shrimp or…yeah, meatloaf (surprisingly delish)…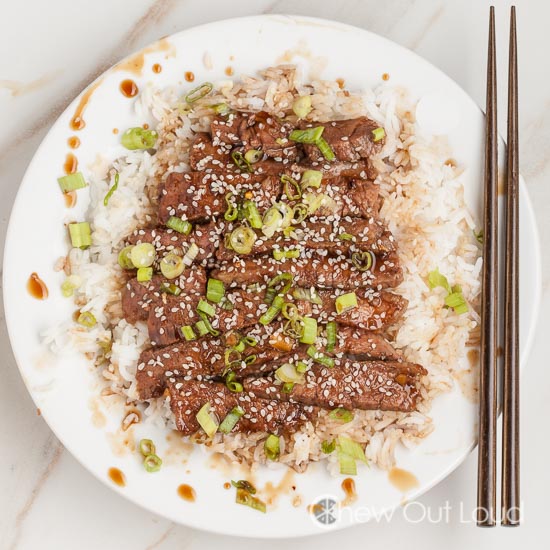 But here I stand corrected. Happily, humbly so. Game-changingly corrected.
This Steak Teriyaki proved to be juicy, tender, and easily devoured by The Littles. Even the Littlest licked his plate clean. In fact, I eagerly anticipated leftovers for lunch the next day, but there was zip left. Zippo.
Hubby asked why I never made steak teriyaki before. I don't know, something about the kids, their little teeth… yada yada.
After cooking, the strip steaks are sliced super thin, against the grain. That allows the beef to be extremely tender and to soak up all the scrumptious sauce. And I mean scrumptious.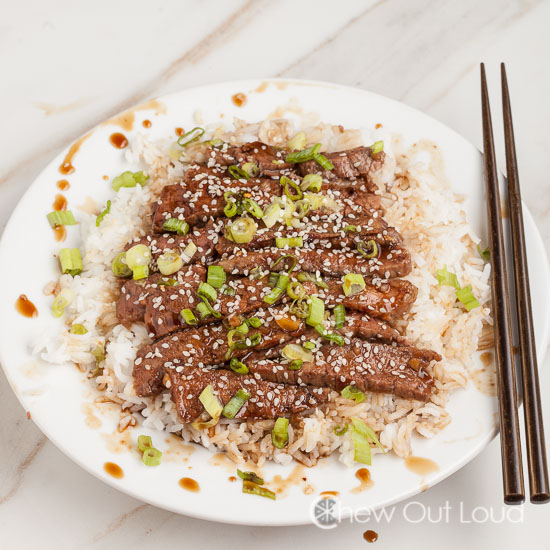 Next time I make this, you know I'm doubling it.
This steak teriyaki over fluffy rice would be awesome as leftovers for lunch the next day. Yeah, I'm still fixated over the fact that I didn't get a lunch out of it.
The flavorful, savory, slightly sweet sauce keeps well and tastes so good, you'll want to slather it over everything.
Maybe even over your next meatloaf.
Enjoy!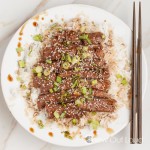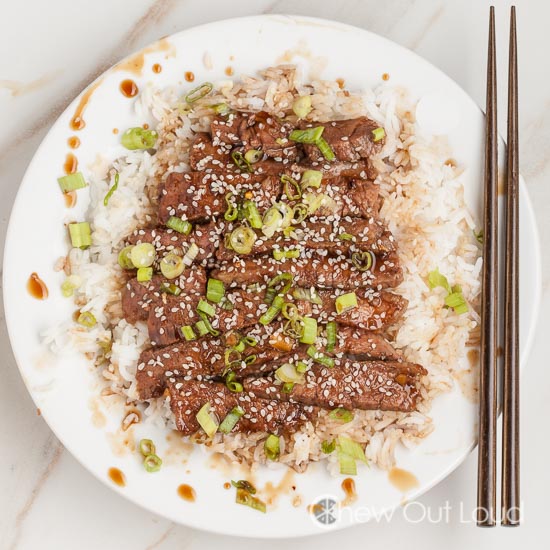 30 Minute Steak Teriyaki
This Steak Teriyaki is superbly tender, bursting with big flavor, and so quick to make! Dinner is on the table in less than 30 minutes. Your family is sure to enjoy this one. It's a keeper!
Ingredients
½

cup

regular soy sauce

½

cup

white sugar

2

TB

apple cider vinegar

3

garlic cloves

,

minced

1

TB

grated fresh ginger

1

TB

cornstarch

⅛

tsp

rd pepper flakes

3

strip steaks

,

10-12 oz each, 1 inch thick

2

TB

vegetable oil

2

scallions

,

sliced thin

sesame seeds for garnish
Instructions
In a bowl, whisk together the soy sauce, sugar, vinegar, garlic, ginger, cornstarch, and pepper flakes.

Pat steaks dry with paper towels. Heat oil in large nonstick skillet over medium high heat until smoking. Add steaks and cook just until well browned, 3-5 min per side. Transfer to plate and tent with foil at least 5 min.

Wipe out skillet and add soy sauce mixture. Simmer over medium heat until sauce is thickened, 2 min. Slice steaks thin against the grain and transfer to platter. Pour sauce over steak and sprinkle with scallions and sesame seeds.
Did you make this?
Leave a comment below and tag @chewoutloud on Instagram
Source: Chew Out Loud, adapted from The Best Simple Recipes Cookbook
Here are a few of our favorite and fail-proof teriyaki dinners!
Baked Teriyaki Chicken. When you don't have easy access to grilling or it's cold outside, baked is the way to go. This stuff is so good!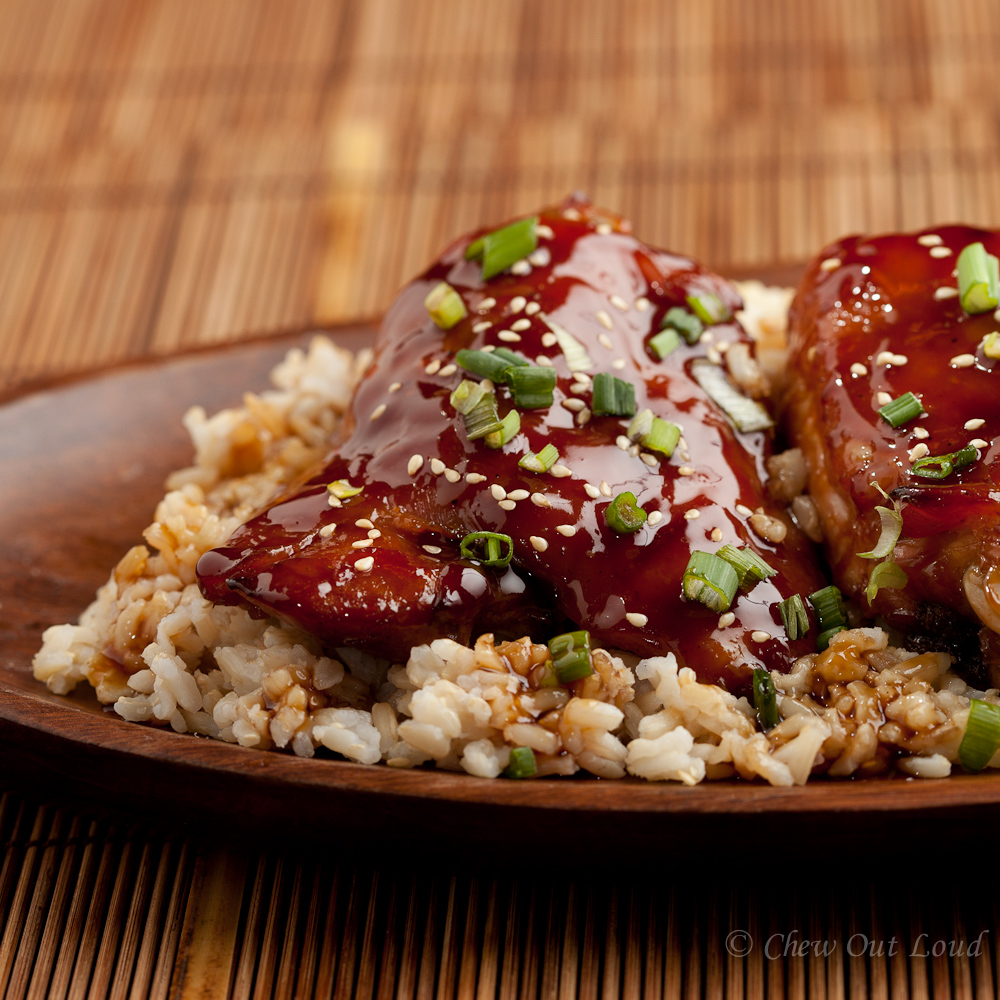 Grilled Teriyaki Chicken. On the other hand, when you do have access to grilling or it's nice out, go for it! I almost always have this homemade sauce in the fridge, ready for the grill at any given moment.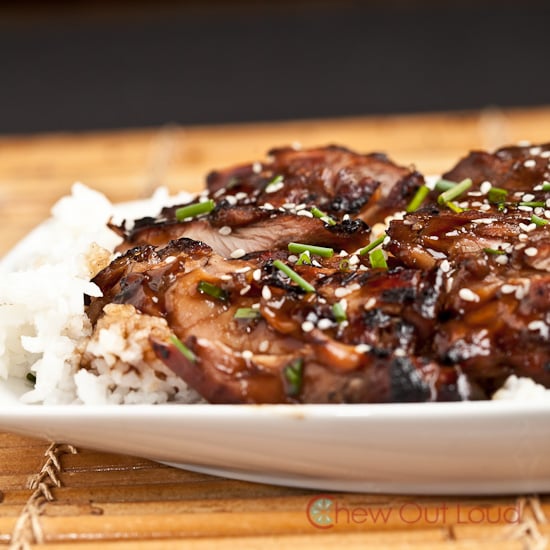 3. Slow Cooker Chicken Teriyaki. Perfect for days you don't want to grill OR bake! Get out that slow cooker and fill your house with the tempting smell of teriyaki chicken. Perfect weeknight meal.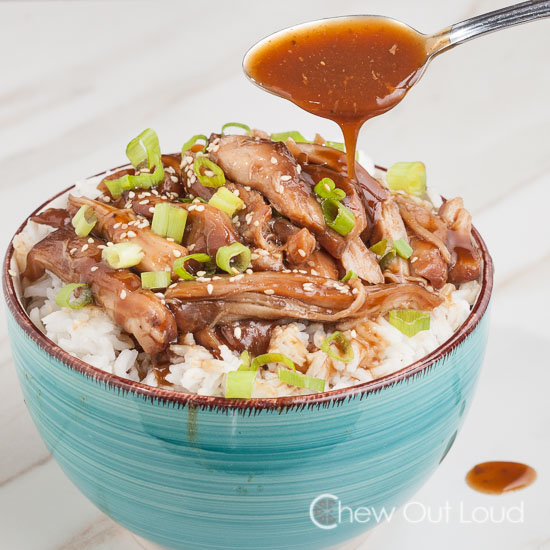 Teriyaki Meatloaf. I did tell ya this was some awesome stuff. Super easy, feeds a crowd, and ultra tender. Fluffy rice a must!