This 30-Minute Beef Teriyaki is bursting with all our favorite Asian takeout flavors. Simple, fresh ingredients effortlessly come together to make a super easy and delicious weeknight dinner that will have you gladly ditching takeout!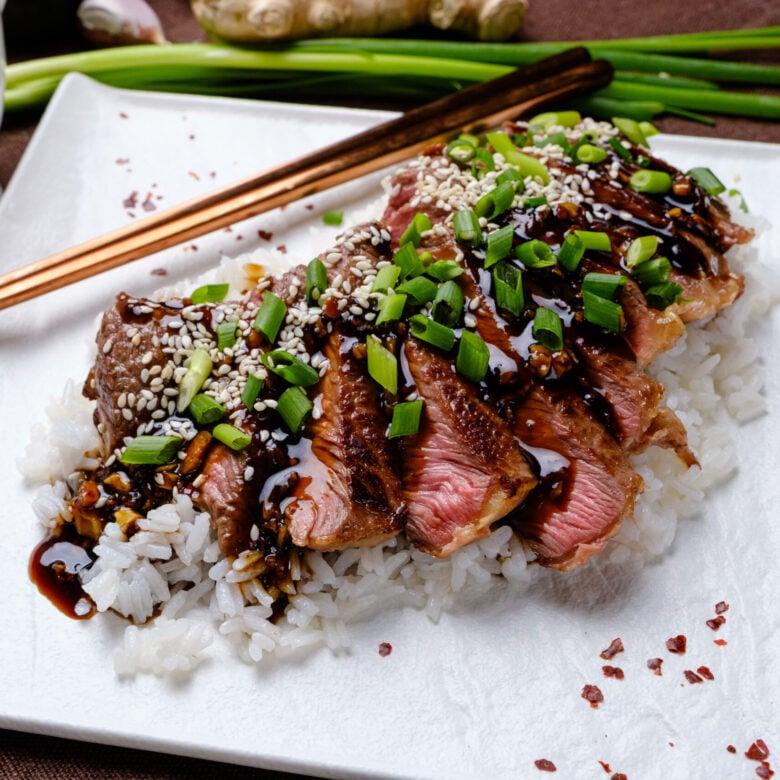 Video: Watch Us Make This Recipe
Why This Recipe Stands Out
While we love ordering our favorite takeout dishes from time to time, the cost of eating out adds up quickly; and, if we're being honest, takeout isn't the healthiest option either. That's why we opt for making simple, healthy takeout dishes like this 30-Minute Beef Teriyaki right at home.
This meal is ready in less than 30-minutes, making it perfect for busy weeknights or days where you just don't feel like cooking.
It's healthier and fresher than takeout.
It has all the flavor of our favorite Asian recipes like soy sauce, fresh ginger, and garlic.
It's super versatile. Stir Fry recipes like this one, are incredibly easy to adjust based on what you have on hand.
It's a great easy, healthy meal-prep option. 30-Minute Beef Teriyaki stores well and makes for great lunches throughout the week.
What Is Teriyaki?
Teriyaki is an Asian dish that involves grilling or broiling meat and covering it in a sauce usually containing soy sauce, sugar, mirin (a rice wine), and ginger. In Japanese the word "Teriyaki" is pretty self-explanatory. "Teri" means shine and "Yaki" means grill, describing grilled mean with a shiny sauce.
Teriyaki can be made using all kinds of meat. Japanese Teriyaki usually uses fish, while a lot of the Teriyaki here in the U.S. uses meat like chicken, beef, and pork. If you're looking for an amazing chicken Teriyaki, try our Grilled Chicken Teriyaki recipe with the perfect sauce. For fish, we love making this tender, flavorful Teriyaki Salmon.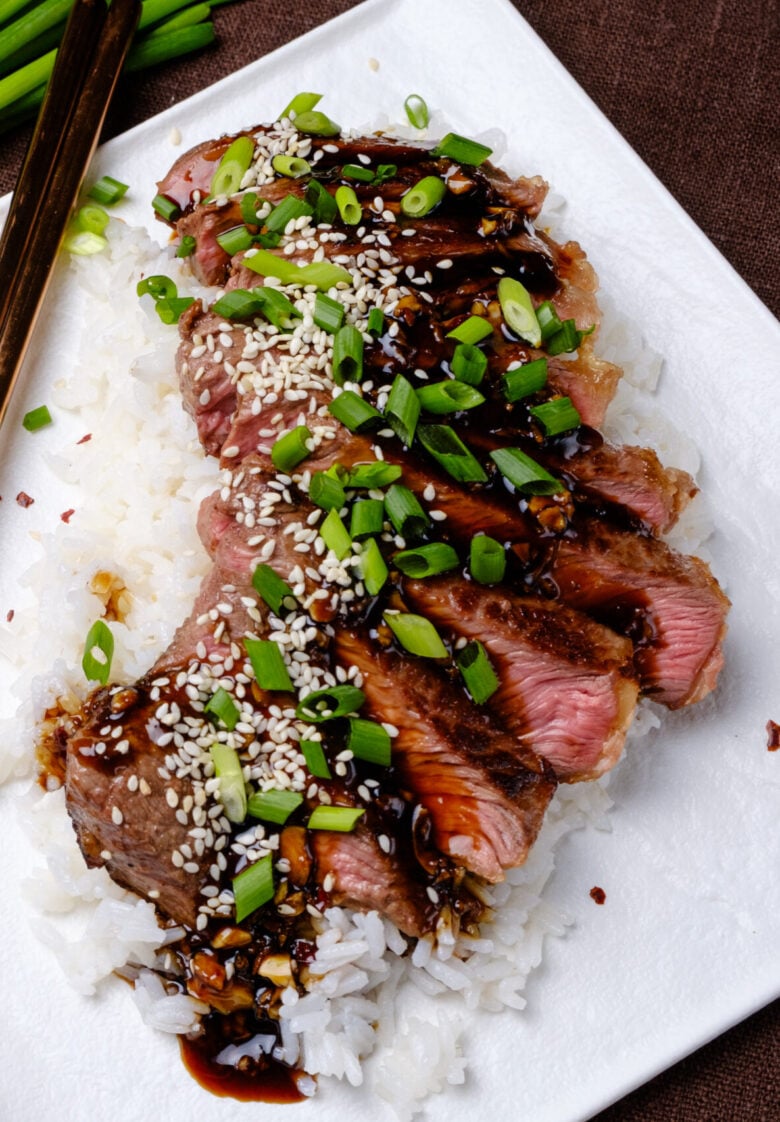 Key Ingredients
Teriyaki is known for a being a dish packed with the perfect blend of salty and sweet flavors. Each ingredient works together to create the most bold and rich sauce that we want to put on everything.
Soy Sauce – This staple in Asian cuisine brings that bold, salty flavor characteristic of Teriyaki sauce. If you want to make this recipe gluten free, simply substitute this with Tamari.
Apple Cider Vinegar – Apple cider vinegar is our easy replacement for the more classic rice wine vinegar, mirin. The acidity in the vinegar helps balance the saltiness of the soy sauce and sweetness of the sugar.
Ginger – We love freshly grated ginger for this recipe as an easy way to boost the flavor and add some spice. Not to mention, fresh ginger is great for digestion.
Garlic – Just like the ginger, we recommend freshly minced garlic for a bolder and better flavor.
Red Pepper Flakes – Just 1/8 teaspoon of red pepper flakes brings the perfect pop of spice to the Teriyaki without being too overwhelming. If you are sensitive to spice, you can always omit this.
Sesame Seeds – Sesame seeds are sprinkled on as a garnish for a nutty flavor and slight crunch.
Strip Steaks – We like strip steak for this recipe, because it's tender, flavorful, and somewhat marbled making it a great option for Stir Fries. Use steaks that are 10-12 oz. each and 1 in. thick for best results.
Substitutions And Variations
As mentioned earlier, Teriyaki is super versatile. Take a look at these substitution and variation ideas that we think would be amazing:
Meat: We use strip steak for this recipe, but feel free to switch up the protein source based on what you have on hand. This recipe would go amazing with chicken, shrimp, other cuts of beef, or even fish. You could also check out our other Teriyaki recipes like this easy stovetop teriyaki chicken or this bursting-with-flavor teriyaki salmon.
Veggies: Although we don't include veggies in this Teriyaki recipe, you can definitely add them to boost the health benefits of the dish. Just grab whatever veggies you have, cut them to similar sizes so they cook evenly, and add them to the pan cooking until tender!
Starch: We love this 30-Minute Beef Teriyaki on this simple Instant Pot Jasmine Rice, but it also pairs wonderfully with noodles or lettuce wraps. You could even use it to top a salad for an easy, healthy lunch.
Key Steps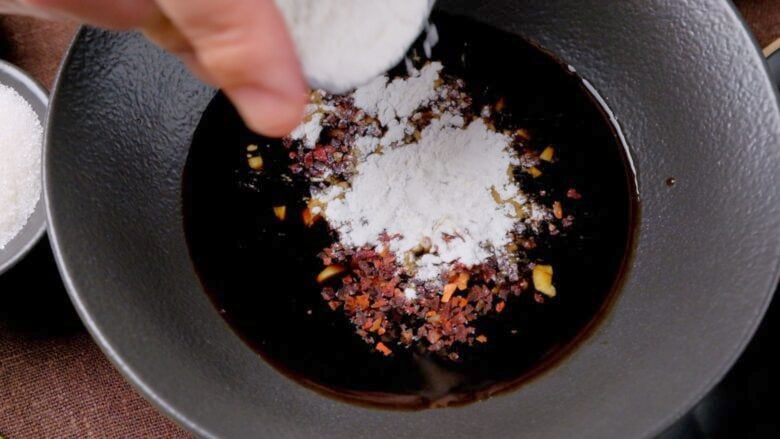 Whisk together ingredients for Teriyaki sauce in a bowl.
Pat strip steaks dry with paper towels.
Cook steaks over medium-high heat for 3-5 minutes.
Flip steaks and cook for another 3-5 minutes or until well-browned.
Slice steaks thin against the grain and transfer to platter.
Pour Teriyaki sauce over the beef and garnish as desired. Enjoy!
For full list of ingredients and instructions, see recipe card below
How To Prep Ahead
This recipe is so simple, there's not much prep required. However, there are a few easy ways you can prep ingredients ahead of time for super busy days.
If adding veggies, feel free to cut them up the night before or even a few days in advance. We also think precooked frozen veggies are a great option for this dish.
Mix all the ingredients for the Teriyaki sauce (except the cornstarch) ahead of time and just pour it in your pan when you're ready to cook.
If your steaks are frozen, don't forget to defrost them in the fridge a couple of nights in advance. Tip: If you're pulling out frozen steaks the day of cooking, place them in a sealed Ziplock bag and immerse it entirely in warm water for several hours.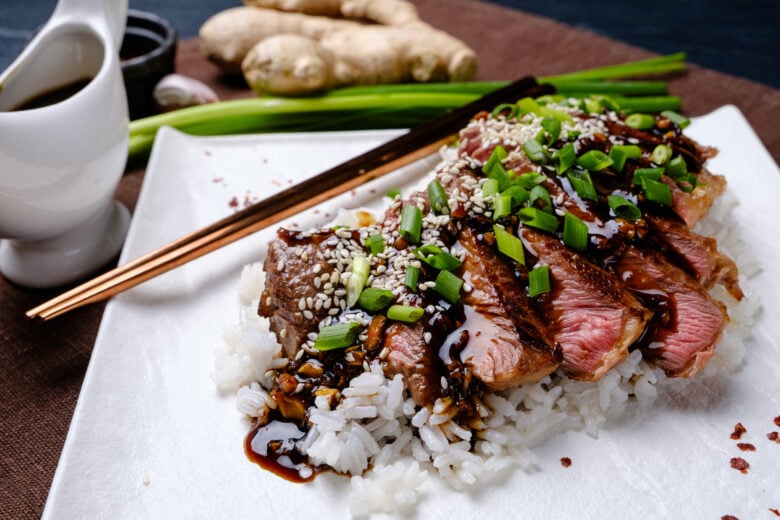 What To Serve With 30-Minute Beef Teriyaki
Veggies: For quick and easy veggie sides for this recipe, we love this 6-Minute, Crispy Air Fryer Broccoli or this Simple Grilled Zucchini. For a fresh, crunchy side, try this Vibrant Strawberry Salad with Asparagus.
Rice and Noodles: For a simple base to Beef Teriyaki, try this super simple Instant Pot Jasmine Rice or this Perfect Instant Pot Brown Rice. For a super flavorful rice side, we also love this Asian Sticky Rice made with Shitake mushrooms, ginger, and soy sauce. You can also serve this over your favorite wheat or rice noodles.
Dessert: Looking for something to satisfy that post-dinner sweet tooth? We've got you covered! Try these sweet and delicious Red Bean Mochi Bars, this Easy Homemade Almond Jello, or this cool and refreshing Green Tea Ice Cream for a dessert that pairs well with any Asian dinner.
Commonly Asked Questions
How long can I keep Beef Teriyaki?
Store 30-Minute Beef Teriyaki in an airtight container in the fridge for up to 3 days. If you need it longer, it also freezes well for up to 3 months.
What other kinds of steak work well with Beef Teriyaki?
If you can't get your hands on strip steak for this recipe, flank steak, skirt steak, and sirloin steak are also good options for beef stir fries.
Is 30-Minute Beef Teriyaki gluten free?
The only thing in this recipe that is not gluten free is the soy sauce. If you want to make this recipe gluten free, just swap the soy sauce with Tamari. Tamari tastes almost exactly like soy sauce, with even more depth of flavor. It's just made without the wheat.
Why is my beef tough?
Make sure your pan is really hot when you start cooking the beef. If it cooks too low and slow, it may get a little tough. Also, check to make sure you are cutting your meat against the grain. This helps make it tender and easy-to-chew. We only cook the beef for 3-5 minutes per side in this recipe to ensure it doesn't get over-done. This will also help create a tender outcome.
More to Cook and eat
Did you make this?
Please give us a rating and comment below. We love hearing from you!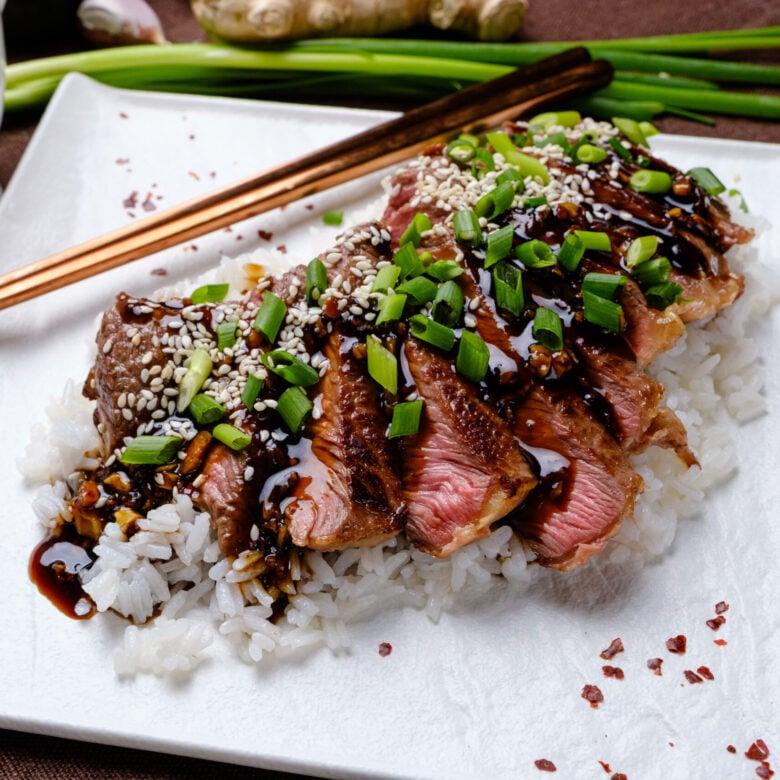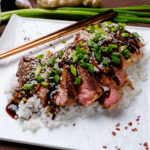 30 Minute Beef Teriyaki
This 30-Minute Beef Teriyaki is sweet, sticky, and bursting with all our favorite Asian flavors. Simple, fresh ingredients come together to make the perfect weeknight dinner that will have you gladly ditching takeout!
Instructions
In a bowl, whisk together the soy sauce, sugar, vinegar, garlic, ginger, cornstarch, and pepper flakes.

Pat steaks dry with paper towels. Heat oil in large nonstick skillet over medium high heat until smoking. Add steaks and cook just until well browned, 3-5 min per side. Transfer to plate and tent with foil at least 5 min.

Wipe out skillet and add soy sauce mixture. Simmer over medium heat until sauce is thickened, 2 min.

Slice steaks thin against the grain and transfer to platter. Pour sauce over steak and sprinkle with scallions and sesame seeds.
Notes
Use Tamari instead of soy sauce to make this recipe gluten free.
The grain of a steak is the direction that the muscle fibers run. Make sure to cut against the grain for tender Beef Teriyaki.
Serve 30-Minute Beef Teriyaki over Instant Pot Jasmine Rice and with Air Fryer Broccoli for a complete meal.
Note that with any variations or substitutions to the recipe, cooking times will vary.
If you enjoyed this recipe, please come back and give it a rating ❤️
Nutrition (per serving)
Calories:
466
kcal
|
Carbohydrates:
25
g
|
Protein:
47
g
|
Fat:
15
g
|
Saturated Fat:
5
g
|
Polyunsaturated Fat:
5
g
|
Monounsaturated Fat:
5
g
|
Trans Fat:
0.04
g
|
Cholesterol:
70
mg
|
Sodium:
734
mg
|
Potassium:
767
mg
|
Fiber:
1
g
|
Sugar:
16
g
|
Vitamin A:
79
IU
|
Vitamin C:
2
mg
|
Calcium:
64
mg
|
Iron:
4
mg