Creamy Vegan Ice Cream (Dairy-Free, Egg-Free)
Dairy-free and egg-free, this delicious vegan ice cream is surprisingly rich and indulgent. Use any add-ins you like in this dairy-free ice cream; a fantastic base recipe that's super easy!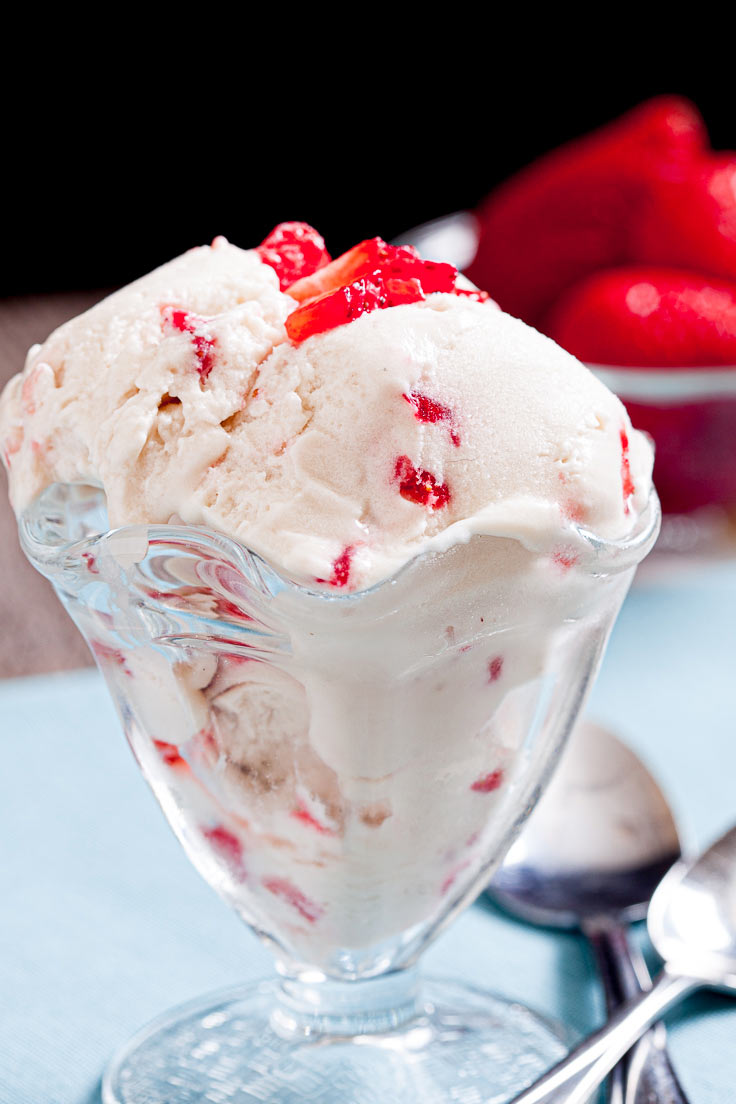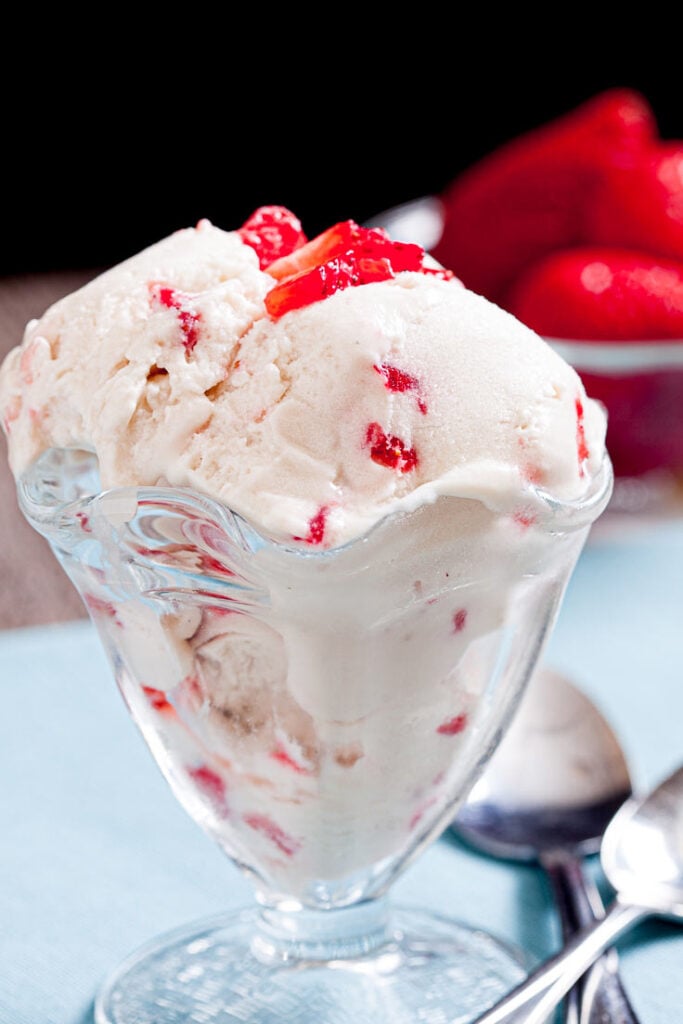 Vegan Ice Cream That's Rich and Creamy
Nothing screams summer like ice cream. Once the temps go up, the freezer gets loaded with all the favorite flavors. Vanilla bean ice cream for me, Mint chip ice cream for Hubby, cookies 'n cream for the Littles, and Chocolate ice cream for all.
But recently, several friends have announced their search for egg-free, dairy-free, vegan, or gluten-free treats. Though our family isn't vegan, we have plenty of family and friends who are. If they need ice cream, we've got their back.
The clincher is how surprisingly rich and decadent this dairy-free vegan ice cream is.
What You'll Love About This Vegan Ice Cream Recipe
It tastes as good as, if not better, than most store bought vegan ice cream.
It uses pure agave nectar as a sweetener, which mixes into the ice cream easily.
It's rich and creamy and full of flavor, despite being dairy free and egg free
There are only 5 simple ingredients!
This vegan ice cream recipe is the perfect base upon which to build your favorite ice cream flavors on.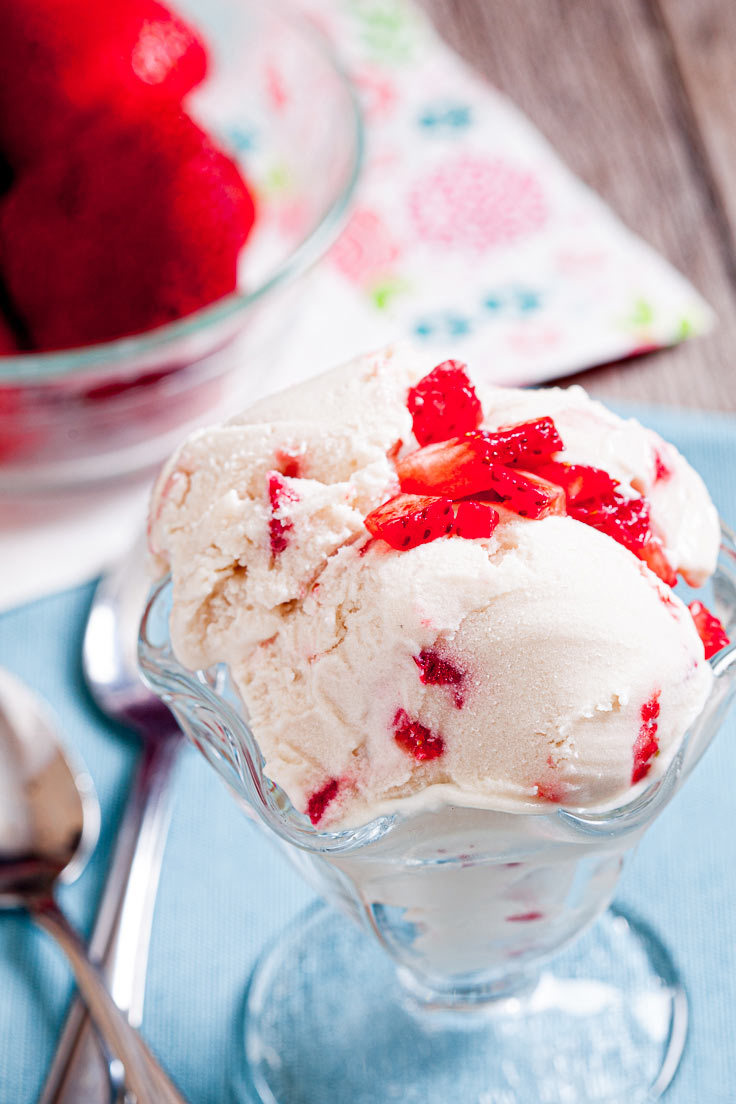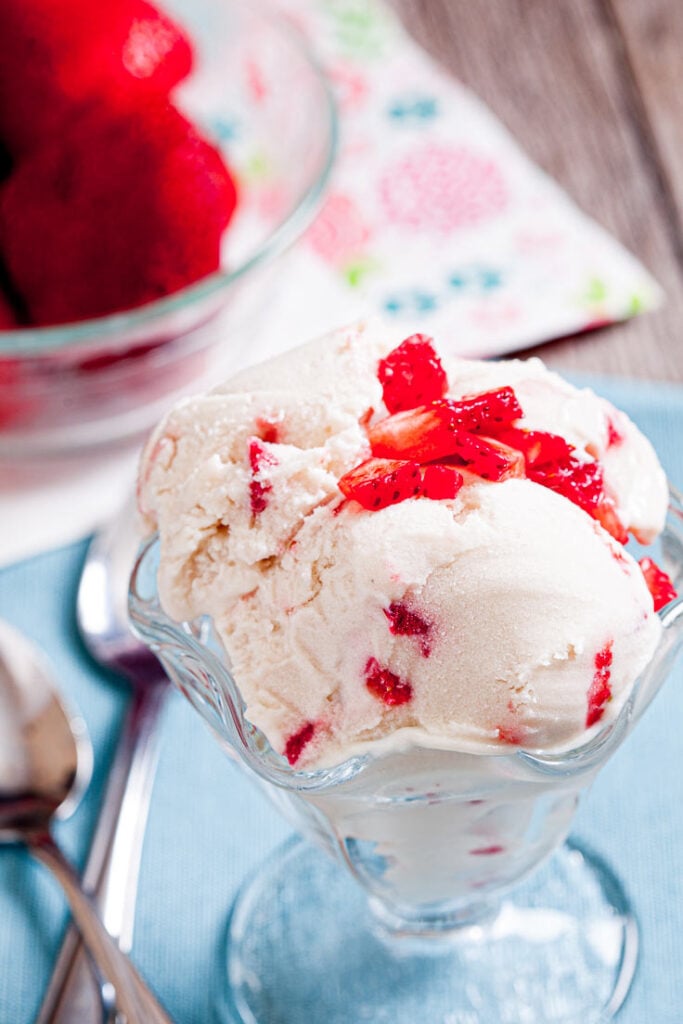 Vegan Ice Cream
5 simple ingredients
Even if you've got no qualms with dairy or eggs, you'll still swoon over this rich and creamy ice cream. It's easy, luscious, and homemade is always better.
Plus, you only need 5 simple ingredients. These include:
Our friends and family are are so taken with the frothy deliciousness of the vanilla flavor, it's always devoured like nobody's business. Despite being such a healthy ice cream, you'll have to hide some for yourself in the back of the freezer in an obscure container so nobody tries to attack your share.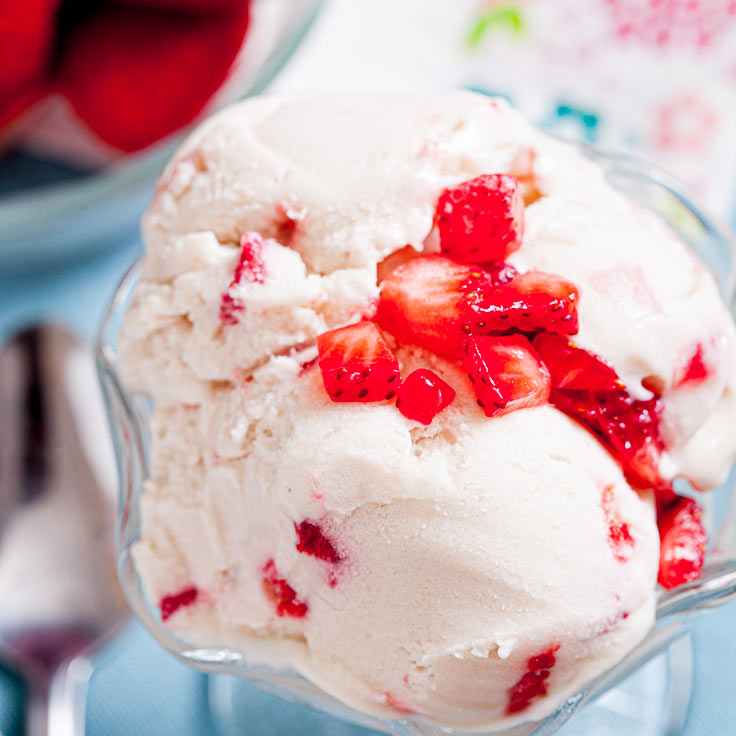 Non-Dairy Eats to Enjoy
Vegan Ice Cream
Commonly Asked Questions
Is vegan ice cream healthier than regular ice cream?
For those who are watching saturated fats from dairy products, this vegan ice cream is a good option, as it has a healthier cholesterol profile. It's definitely easier on digestion for those with sensitivities.
What is vegan ice cream made of?
Vegan ice cream recipes often use coconut milk and nut milks in lieu of cow's milk. Xanthan gum is a thickener that helps ice cream gain a creamy texture, without the need for heavy cream and eggs.
Why is vegan ice cream harder when it comes out of the freezer?
Generally, nut milks more water content and less fat than heavy cream or whole cow's milk. Thus, they tend to be more solidly frozen than regular ice cream. Give your vegan ice cream a few minutes to sit at room temperature, and it will soften up perfectly!
How long will vegan ice cream last in the freezer?
We recommend enjoying your dairy-free ice cream within 10 days of making it, for the freshest flavor and best texture. To keep it fresh, store it in an airtight container with a layer of plastic cling wrap sitting right on on top of the ice cream.
Did you make this?
Please give us a rating and comment below. We love hearing from you!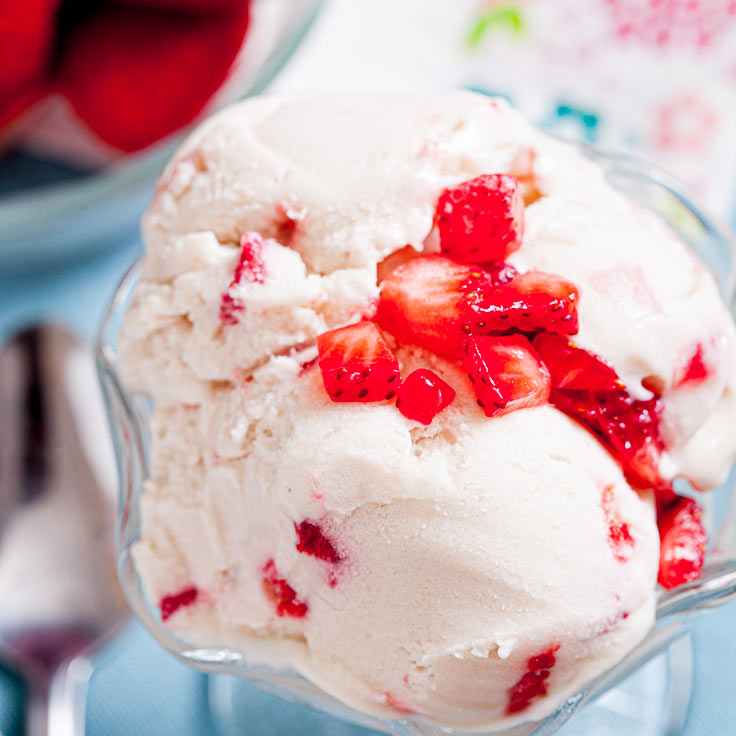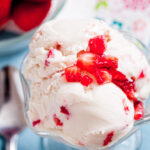 Vegan Ice Cream (Dairy and Egg Free)
Dairy-free and egg-free, this delicious ice cream is surprisingly rich and indulgent. Use whatever add-ins you like in this dairy-free ice cream; a fantastic base recipe that's super easy!
Instructions
Blend: In a blender, add all ingredients and blend on high until thick and creamy, 1-2 min. Transfer mixture to an airtight container and chill 2-4 hours.

Churn:

Place chilled mixture into an

ice-cream maker

and churn according to manufacturer's instructions (might only need half the amount of suggested churn time, as it thickens pretty quickly.) If using add-ins, gently add them during last 5 minutes of churning.

Freeze: May serve immediately for a frozen custard-like texture that's ultra creamy, smooth, and soft. Otherwise, transfer ice cream to an airtight container and freeze 30-60 minutes for a firmer texture. If frozen much longer, it will need thaw time at room temp before serving (actual thaw time depends on your room temp.)
Notes
Extra creamy almond milk is highly recommended, for richer/creamier results.
Look for certified vegan xantham gum, which is dairy-free.
This ice cream is best enjoyed shortly after churning; it's soft and velvety right out of the ice cream maker and can be served immediately. If preferred, 30 minutes in the freezer will firm ice cream up a bit. If freezing longer, please allow ice cream to soften a bit at room temp before serving.
If you enjoyed this recipe, please come back and give it a rating. ♡
Nutrition (per serving)
Calories:
190
kcal
|
Carbohydrates:
16.2
g
|
Protein:
1.6
g
|
Fat:
14.2
g
|
Saturated Fat:
12.1
g
|
Sodium:
144.2
mg
|
Fiber:
0.2
g
|
Sugar:
12.5
g