Quick Easy Stuffing
By Amy Dong
Published Nov. 16, 2015
Updated Nov. 27, 2022
If you find yourself running short of time this holiday season, try this Quick and Easy Stuffing! It's fast, easy, and 100% delicious!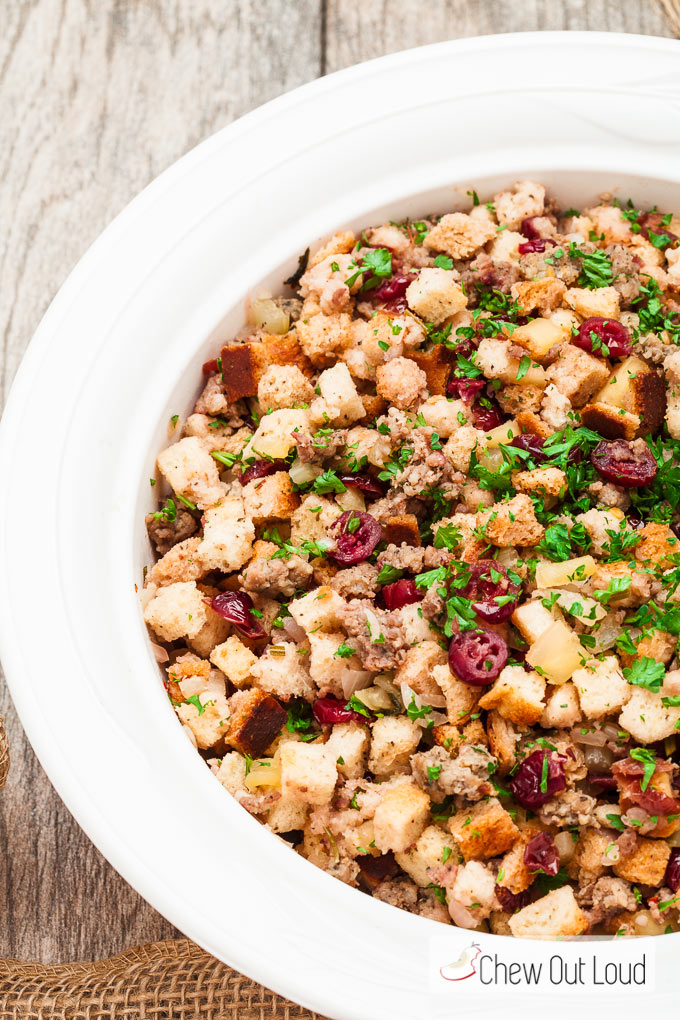 Once upon a time long long ago, I did not like stuffing slash dressing.
Turkey and gravy and mashed potatoes were my Thanksgiving dream team. Just those and that's all, said my nine-year-old self.
When I saw mushy stuffing in the bird, I swiftly and deftly removed it. I routinely did away with the soggy boxed stuffing, re-homing it far into a deep abyss never to be seen again.
Years later, I realized two things about stuffing…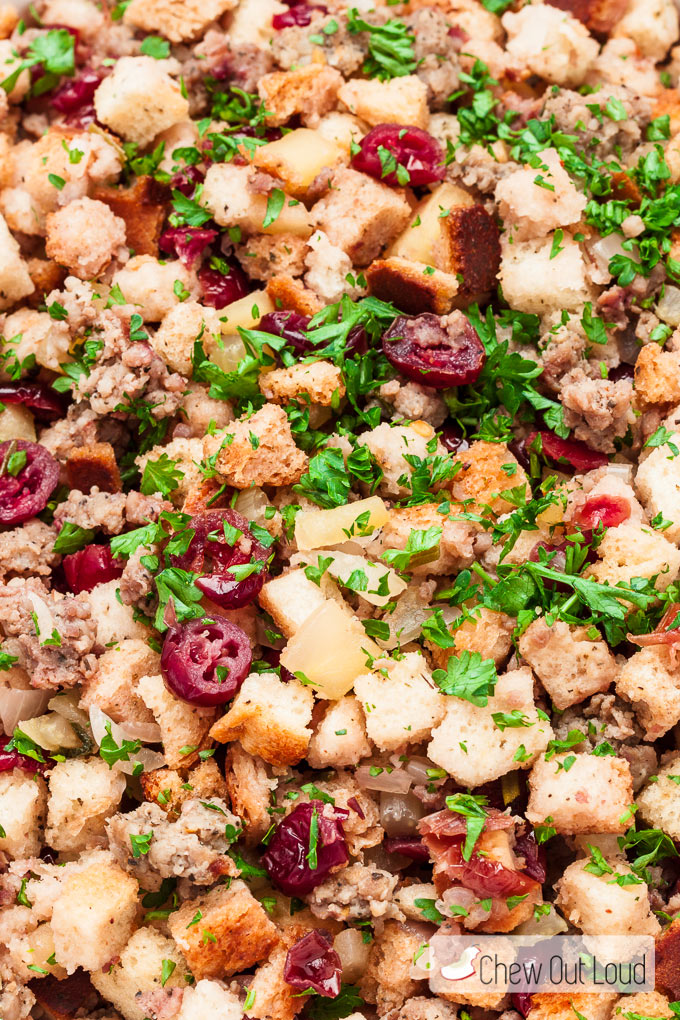 …these are the 2 stuffing rules we have so that nobody ever feels a bent toward tossing their serving into said abyss:
Stuffing/dressing has to be homemade (Apple-Sausage Stuffing, hi.)
Bake stuffing/dressing in a dish separately from the bird.
I might have unwittingly tapped into long-standing controversy with #2. I know some people like their turkeys stuffed nice 'n full.
It's just personal preference, so please don't be mad. 💓
For us, it's much easier to ensure a perfectly cooked turkey that's tenderly cooked throughout when it's unstuffed. And we really like the crispy golden topping and edges of stuffing that wasn't stuffed. 😊
But. Though I make stuffing from scratch every year, I realize there are times when you don't have time to do everything entirely from scratch. Who woulda thunk?
So here's a handy dandy way to elevate a bag of pre-seasoned bread cubes and make it "almost homemade." It has all the usual suspects of a from-scratch stuffing, minus the cubing of your own toast. And it tastes fabulous. That's really what matters.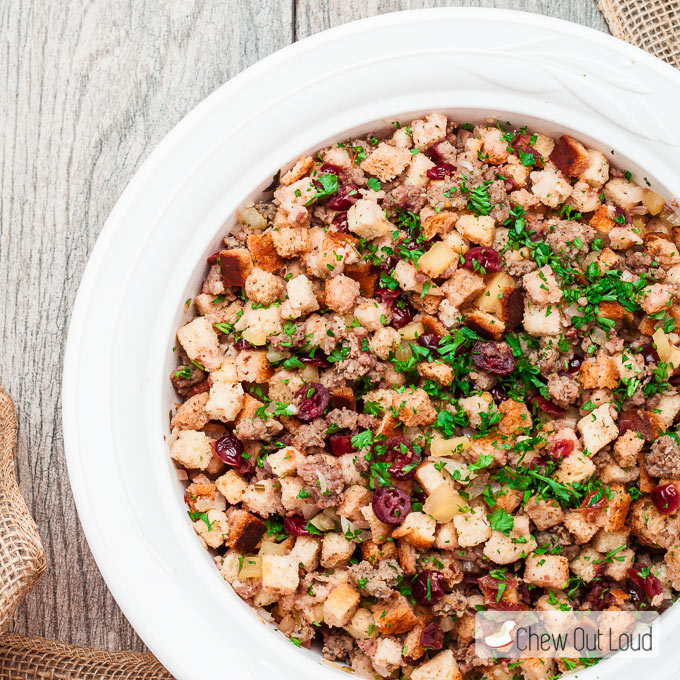 Here's to all the quick 'n easy recipes that can be dished up this busy holiday season.
P.S. Keep your eyes open for THE most luscious cornbread stuffing/dressing coming up next! (It's definitely homemade 😇)
Did you make this?
Please give us a rating and comment below. We love hearing from you!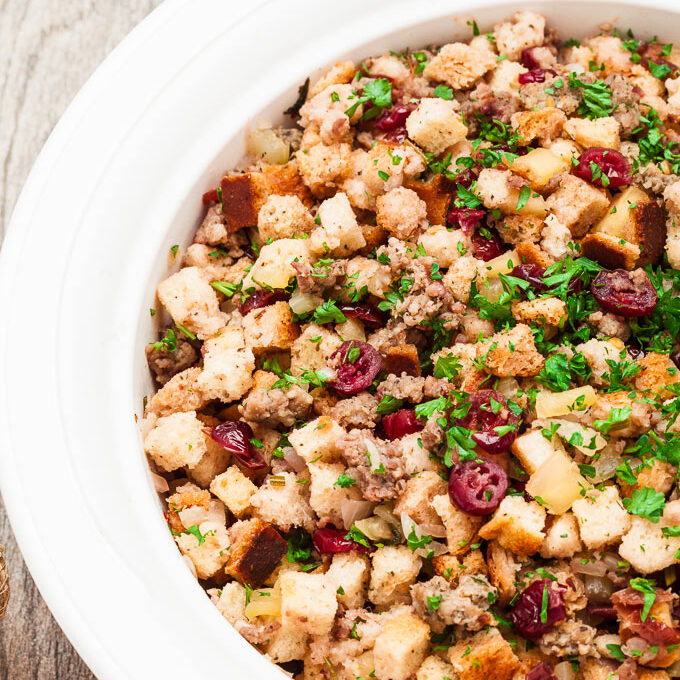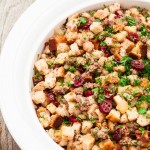 Quick Easy Cranberry-Sausage Stuffing
If you find yourself running short of time this holiday season, but you want to go beyond the box, try this Quick Easy Sausage Herb Stuffing! It's fast, easy, and 100% delicious!
Ingredients
½

lb

bulk sausage

,

no casings, browned and crumbled

½

cup

dried cranberries

14

oz

bag seasoned dry bread cubes

,

dry stuffing

1 ¾

cups

chicken broth

½

cup

chopped fresh celery

1

small onion

,

chopped

leaves

of 1 sprig fresh sage

,

chopped

leaves

of 1 sprig fresh rosemary

,

chopped
Instructions
In a large serving dish, combine browned/cooked sausage, cranberries, and seasoned bread cubes. Set aside.

In a heavy pot, bring chicken broth to a boil. Add celery, onion, and black pepper. Bring back to a boil. Reduce to simmer; simmer 5 minutes. Add sage and rosemary and simmer another 5 minutes. Remove from heat. (Stuffing can be made ahead of time to this point. Reheat broth when ready to serve, and continue with recipe.)

Gently pour enough broth over the sausage mixture and fold together with a rubber spatula. Add all the broth or as much as needed to reach desired consistency.

Serve immediately.
Nutrition (per serving)
Calories:
255
kcal
|
Carbohydrates:
32
g
|
Protein:
10
g
|
Fat:
10
g
|
Saturated Fat:
3
g
|
Polyunsaturated Fat:
2
g
|
Monounsaturated Fat:
4
g
|
Trans Fat:
0.1
g
|
Cholesterol:
21
mg
|
Sodium:
612
mg
|
Potassium:
191
mg
|
Fiber:
3
g
|
Sugar:
9
g
|
Vitamin A:
53
IU
|
Vitamin C:
2
mg
|
Calcium:
74
mg
|
Iron:
2
mg
Source: Chew Out Loud
You're not alone if you really really love holiday side dishes:
Apple and Sausage Stuffing. This single handedly caused my adoration of stuffing once and for all.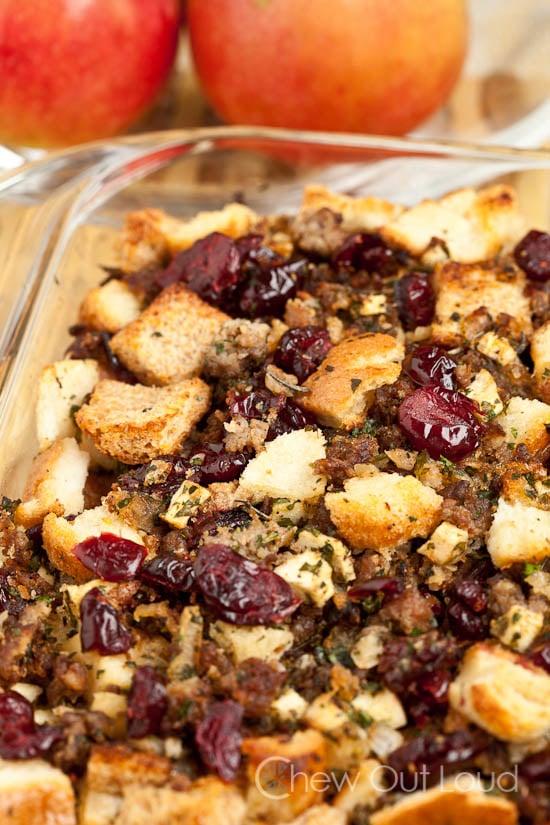 2. Creamy Baked Mashed Potatoes. Because it's Creamy. Baked. And Make-Ahead.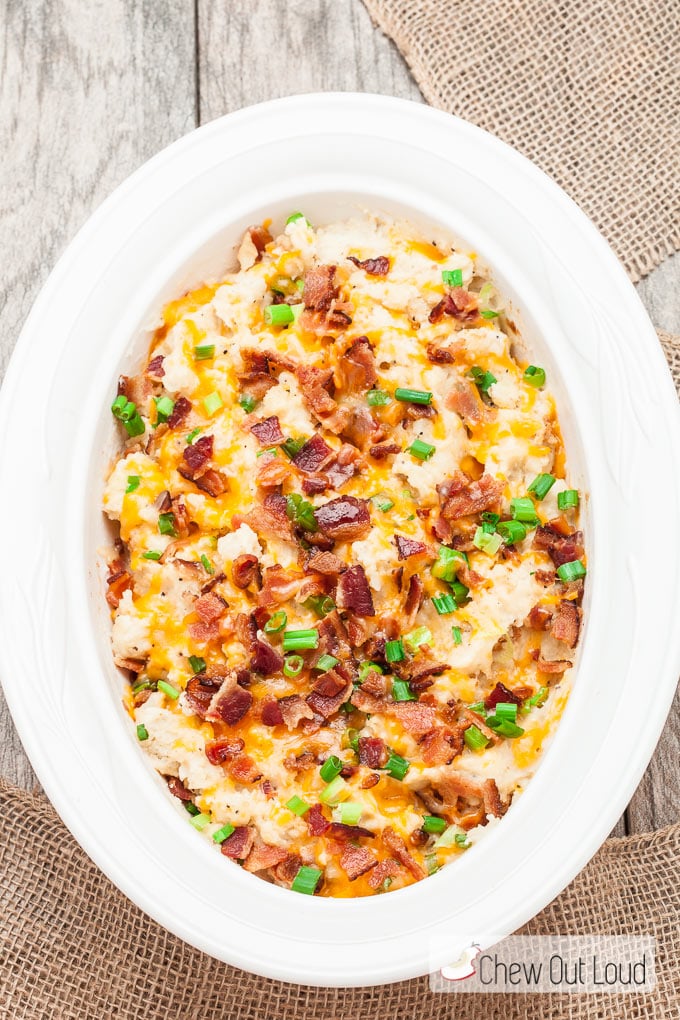 Sweet Potato Casserole. Taste it and never ever go back to any other sweet potato casserole again. We mean it.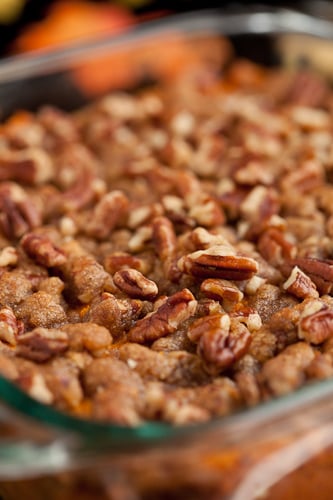 Easiest Fresh Cranberry Sauce. Um, you've just gotta make your own cranberry sauce if it's THIS easy. And canned stuff doesn't hold a match to fresh.