Stuffing Muffins Recipe (Make-Ahead)
Stuffing Muffins are a deliciously impressive yet easy side dish. This stuffing recipe is make-ahead, which reduces the stress of holiday cooking.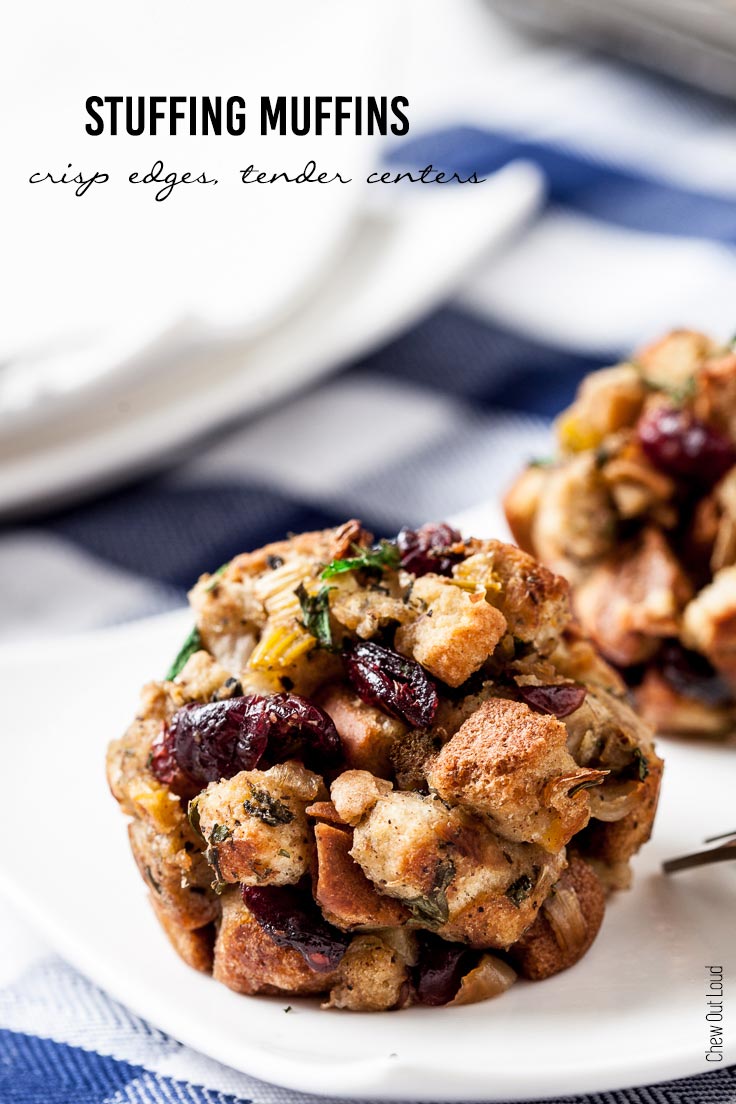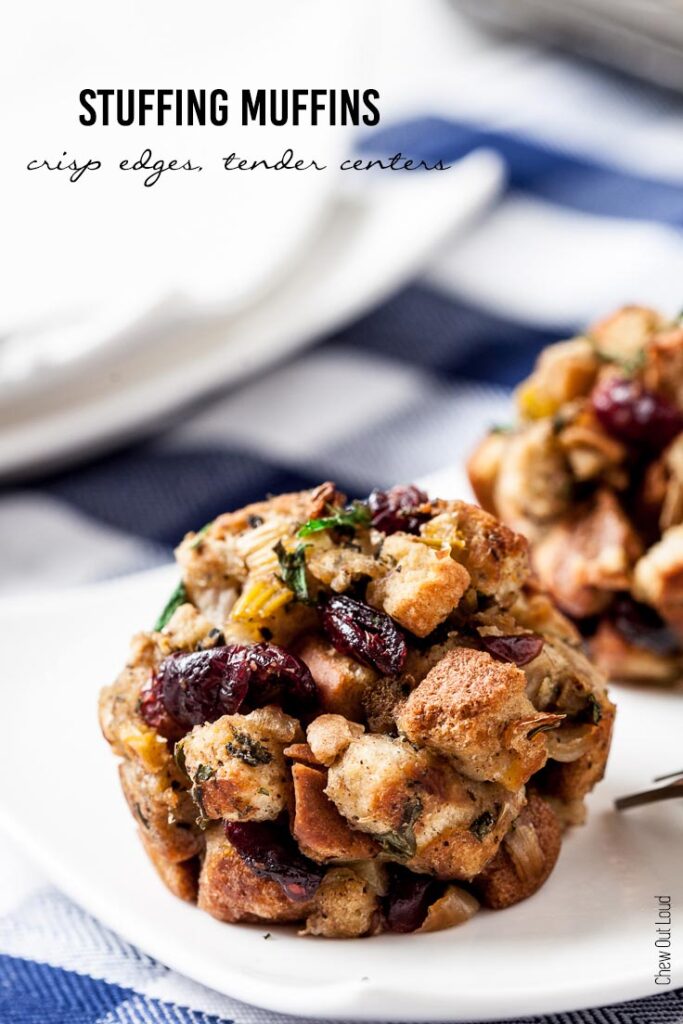 The best stuffing recipe in muffin form
I realized something about our Olde English Bulldogge. He may be a solidly goofy brute, but he's quite the athlete.
Shortly after we got him, our pup proved sporty when he started playing soccer with the boys like nobody's business. He would never get tired. Soon he started tossing himself into any body of water he could find, swimming to his heart's content. I didn't know bulldogs swam.
And now that the weather's cold, Dog is showing off mad cardio skills, running 4 miles with even splits and performing hill repeats alongside of me. All you runners can appreciate.
Our boy's wide chest, floppy ears, and smushed nose do not make him look agile. Which all just goes to show, some unassuming packages can be surprisingly impressive.
Case in point: this stuffing recipe. In general, stuffing is definitely non-pretentious. It's humble and homey. It's the Robin to Roast Turkey's Batman.
Yet…a great stuffing recipe is stunningly delicious. When made in muffin tins, each stuffing muffin is nicely browned with crisp edges and tender centers. There's no slightly-soggy middle. There's no fighting over the best edge pieces.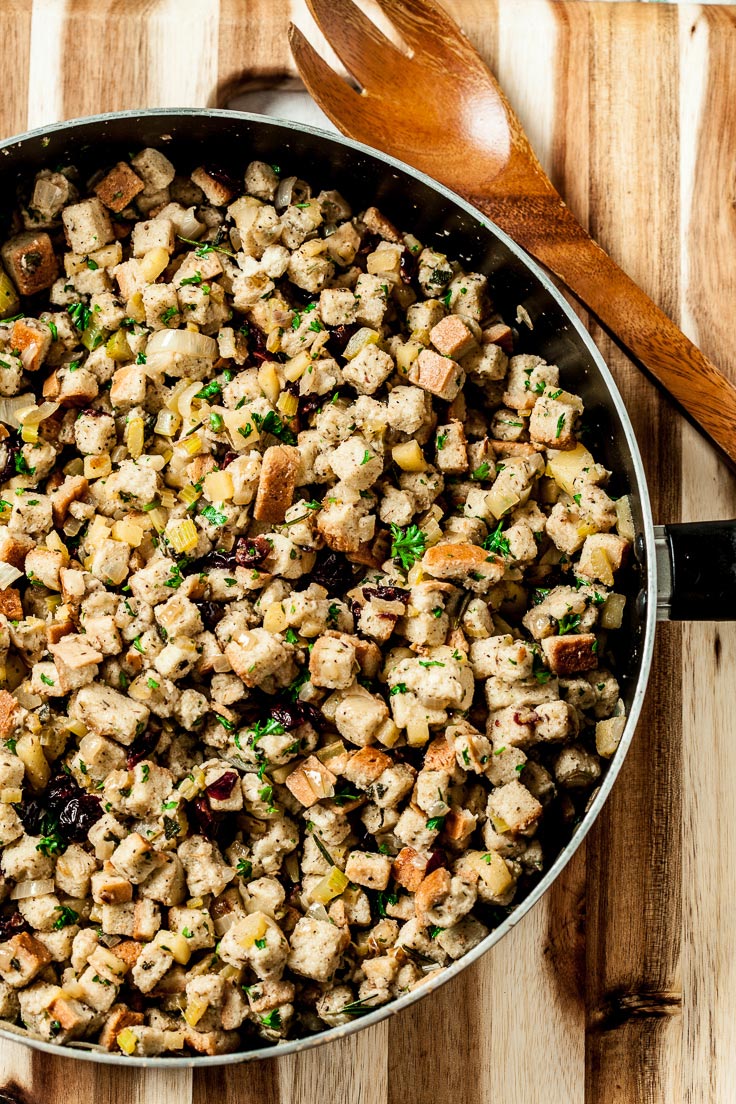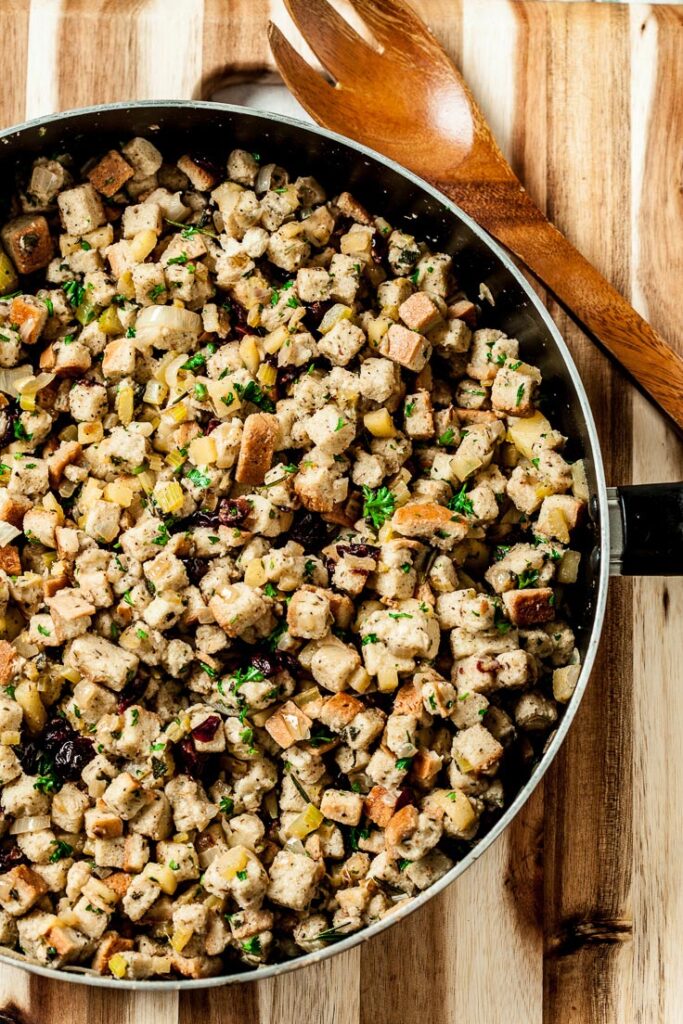 Stuffing muffins can be made ahead
This stuffing muffin recipe boasts just the right balance of crunch and tenderness. It becomes even more of a standout when they're shaped like cute little muffins. This stuffing has a good chance of being the Thanksgiving favorite this year.
You can easily prep this holiday stuffing the night before and bake a couple hours before serving time. These Stuffing Muffins are delish both fresh out of the oven or at room temp. If you make them a couple hours early, you can quickly reheat them – due to their small size, they reheat quickly.
If you prefer to bake right before serving, these stuffing muffins bake up much faster than your typical casserole sized dish.
All this means that your holiday cooking stress is way diminished.

Tender center and crispy edges
These Stuffing Muffins are loaded with seasonings, apples, and cranberries. We made them meatless, but feel free to add cooked crumbled sausage to the mix if you like.
The best part about these stuffing muffins is that they cook evenly. So you've got nice and crisp exteriors with a tender center with every single bite. Every serving is blissfully loaded with apples, cranberries, aromatic herbs, and flavorful seasonings.
Everyone gets their "favorite" piece and you're the super smart cook who made that happen.
Here's to all things humbly impressive. Enjoy.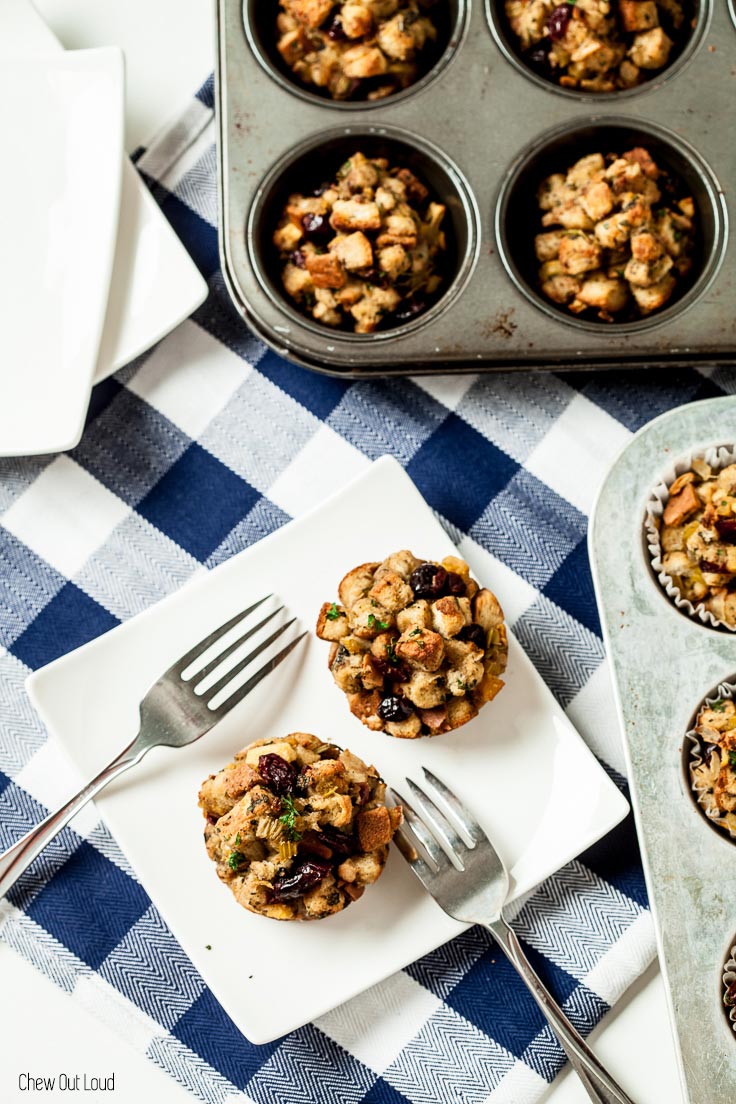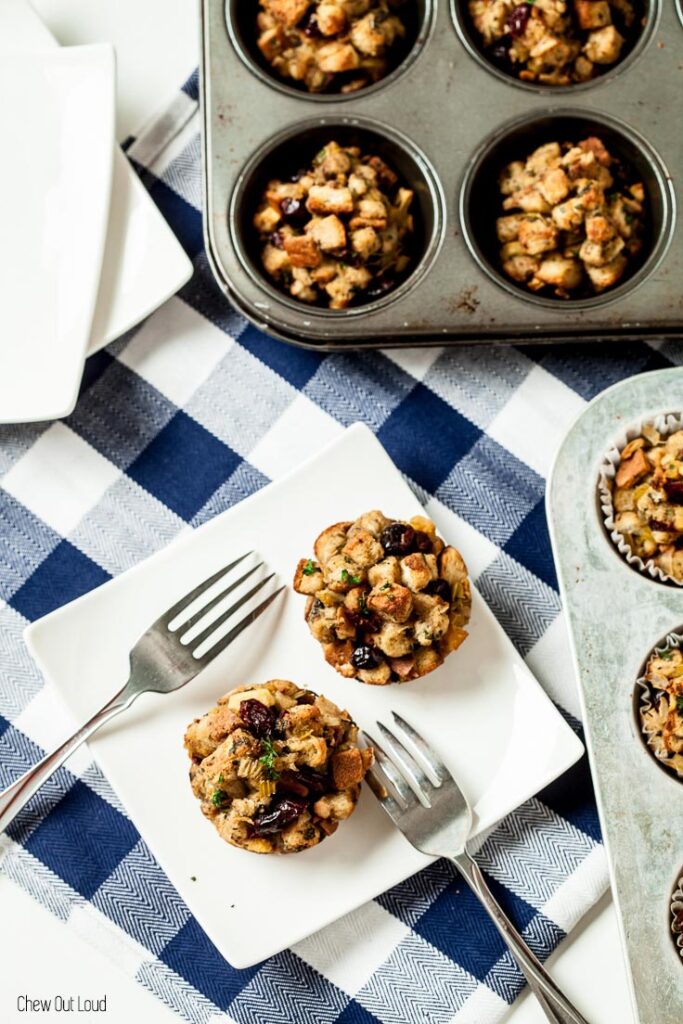 You'll Probably Like this Dish, too:
Did you make this?
Please give us a rating and comment below. We love hearing from you!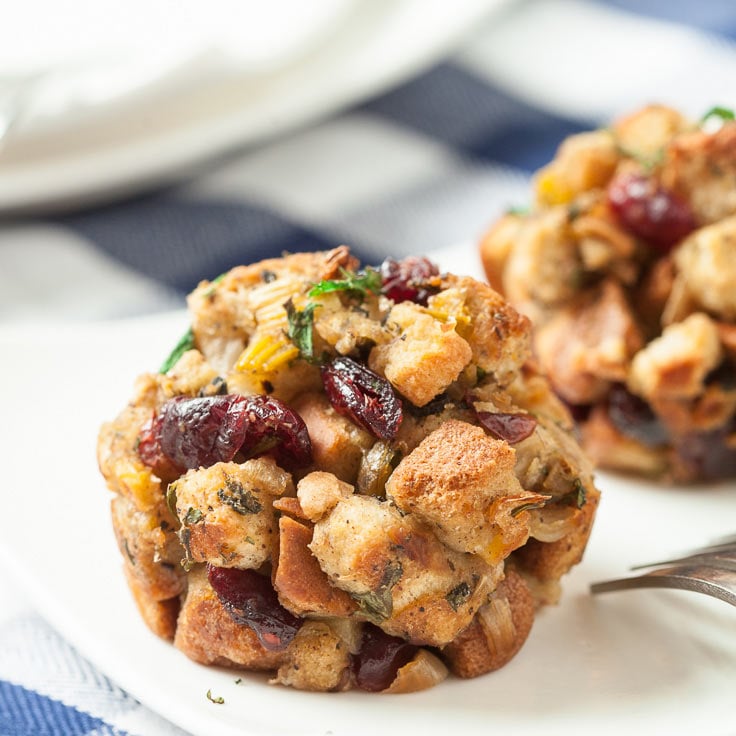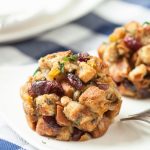 Stuffing Muffins Recipe (Make-Ahead)
Stuffing Muffins are a deliciously fun way to enjoy your holiday stuffing. These Stuffing Muffins are easy and make-ahead, which you'll appreciate during the busy holidays.
Ingredients
½

cup

salted butter,

plus more for greasing tins

4

stalks of celery

,

chopped

1

large onion

,

chopped

2

apples

,

peeled and chopped

1

cup

dried cranberries

2

TB

fresh sage

,

chopped

2

tsp

fresh thyme

,

chopped

1

tsp

fresh rosemary

,

chopped

½

tsp

ground cinnamon

¼

tsp

ground nutmeg

½

tsp

kosher salt

¼

tsp

freshly cracked black pepper

¼

cup

fresh parsley leaves

,

chopped

12

oz

bag herb seasoned cubed stuffing

2-3

cups

good quality chicken stock
Instructions
In a heavy large skillet, add olive oil and butter over medium high heat. Once mixture is melted and hot, add the celery and onions, cooking until onions are browned and translucent. Add remaining ingredients up to (but not including) cubed stuffing. Cook 1-2 minutes, stirring, and turn off heat. Add stuffing cubes and stir gently to combine. Add 2 cups of broth until bread is softened and moist. At this point, you can choose to cover and chill overnight or continue on with recipe.

When ready to bake, preheat oven to 375F with rack on lower middle position. Use rubber spatula to gently stir stuffing mixture and add more broth as needed (may not need to add much, depending on how soft you like your stuffing.)

Butter a 12-muffin tin generously. Divide stuffing mixture evenly into muffin tin. Bake 10-15 min or until nicely browned on top. Stuffing muffins can be served fresh out of the oven or a couple of hours later (they can easily be reheated if you like.)
Nutrition (per serving)
Calories:
162
kcal
|
Carbohydrates:
18.1
g
|
Protein:
1
g
|
Fat:
10.5
g
|
Saturated Fat:
5.3
g
|
Trans Fat:
0.3
g
|
Cholesterol:
20.9
mg
|
Sodium:
205.1
mg
|
Fiber:
2.2
g
|
Sugar:
14
g
Kitchen Stuff We Love:
Thanksgiving Favorites:
Festive Wild Rice Stuffing (GF). A deliciously fabulous stuffing for gluten free holidays.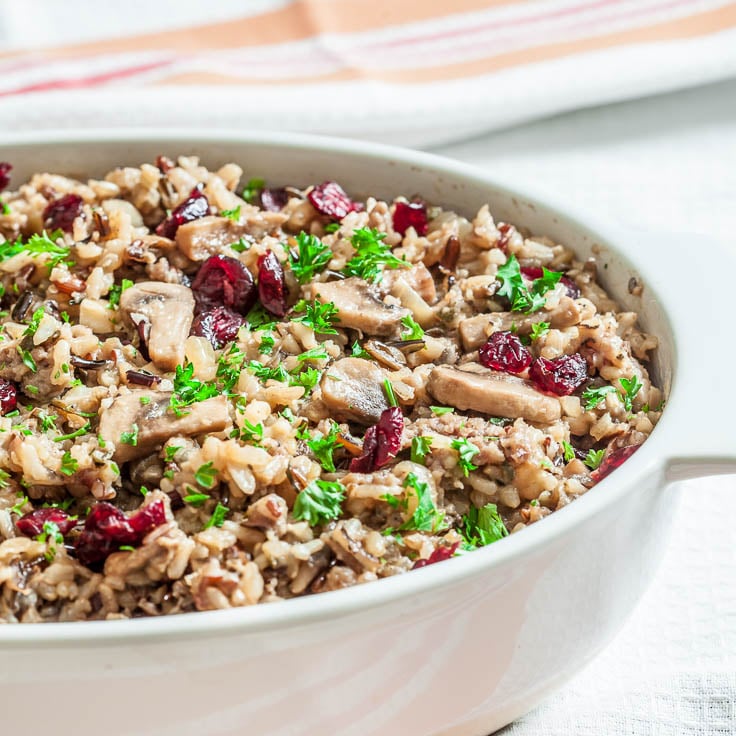 2. Cornbread Stuffing with Sausage and Apples. This is one of my personal favorite stuffing recipes.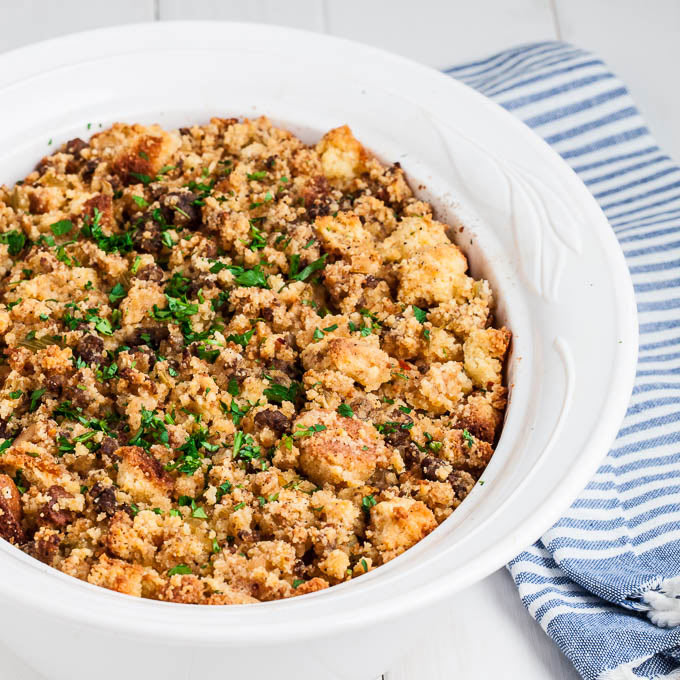 3. Easiest Fresh Cranberry Sauce. Because canned cranberry sauce doesn't hold a candle to this easy homemade version.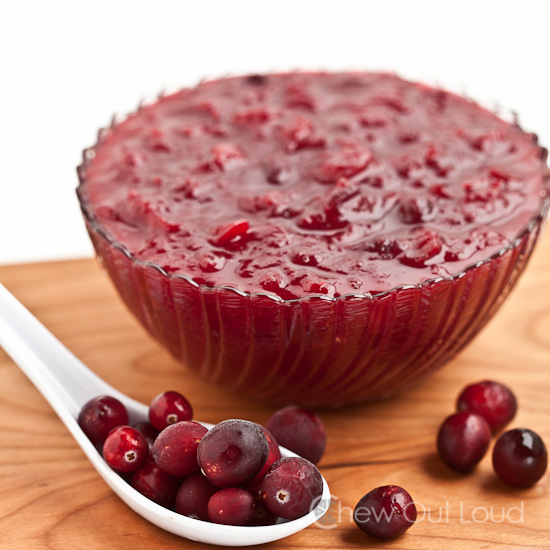 4. Slow Cooker Garlic Mashed Potatoes. Everyone's gotta have a Crock Pot mashed potatoes recipe that's awesome.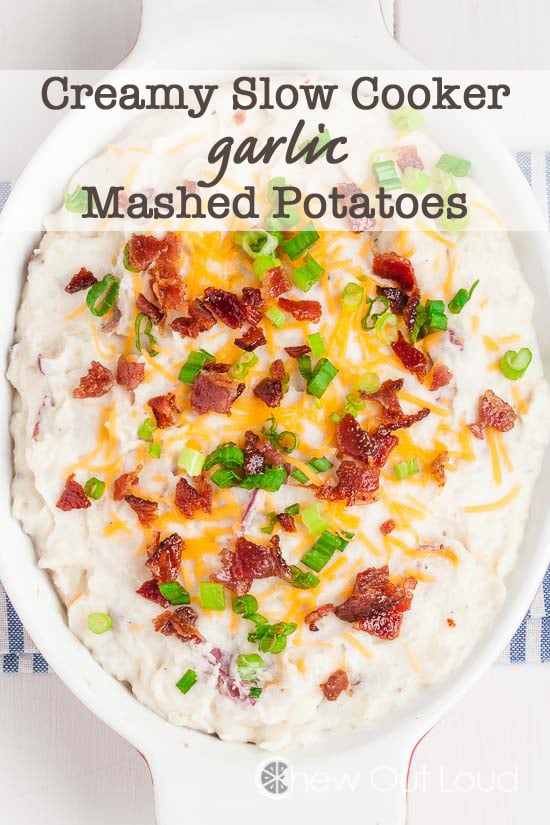 5. Sweet Potato Casserole with Pecan Crumble. Hands down everyone's favorite sweet potato casserole in the world.