If you're looking for the most mouthwatering homemade stuffing recipe, you'll be greatly rewarded for making this sausage and apple stuffing. Friends and family will devour this one. 

Sausage and Apple Stuffing
Truth is, I was never a stuffing fan until I tried this sausage and apple stuffing.  As a kid, our huge extended family usually paired our festive turkey dinners with asian sticky rice, which we still adore. As a kid, Hubby feasted on doctored up boxed stuffing.  Which isn't all bad, but it's just not my cup of tea.
So I went to town, exploring homemade stuffing recipes.  With the first bite of this fabulous sausage and apple stuffing, the journey was over.  This is totally my cup of tea.
Apparently, it's everyone else's too.  This sausage and apple stuffing got rave reviews, and even the kiddos scarfed this one down.  It's the only stuffing I've ever wanted to pile high on my holiday dinner plate, right next to those cheesy scalloped potatoes.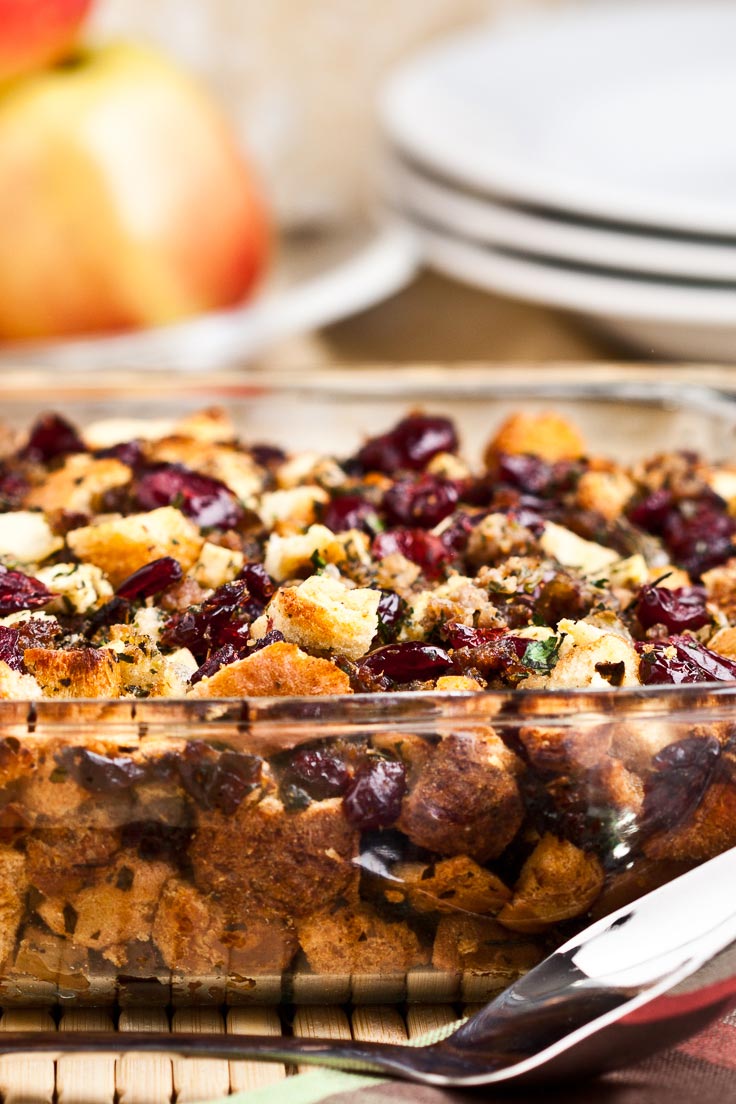 Apples, Sausage, Herbs, and Cranberries
There's only so much room on one's dinner plate during a holiday dinner, and who wants to take up limited plate (and tummy) space unless it's fully worth it?
This sausage and apple stuffing is filled with the aroma of wonderful herbs like rosemary, sage, and thyme. Fresh herbs are a must, as they taste dramatically better than dried herbs in this dish. The aromatics of herbs, onion, and garlic really shine in this stuffing recipe.
The apples and cranberries give it a toothsome texture. My favorite apple to use here are honeycrisp apples, as they keep shape well and have the perfect balance of sweet vs. tart. However, feel free to use your favorite variety of apples.
The browned sausage lends great flavor to the dish.  I usually opt for Italian seasoned sausage, as its flavor profile fits with this stuffing recipe perfectly. Again, you can use your favorite sausage, as long as it's ground sausage without casing.
Surprisingly, half of this stuffing is made with whole wheat bread – so it's even sort of healthy 🙂

Slightly crispy edges, tender center, not soggy
The top and sides of the sausage and apple stuffing emerge beautifully browned and slightly crispy.  The center of the stuffing is deliciously moist and tender, without being soggy.
Part of the reason for this is that we use slightly less broth in this recipe, allowing the cubed bread to soak up just the right amount of liquid to keep the end result tender, yet allow the top and sides to brown nicely.
That said, I know some perfer a mashier texture somewhat like what you'd get if you cooked the stuffing inside the turkey. If that's you, simply adjust and add a bit more broth prior to baking.
Enjoy!
Print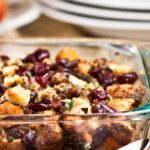 Sausage and Apple Stuffing
Author:

Prep Time:

20 min

Cook Time:

30 min

Total Time:

50 minutes

Yield:

12

1

x
Category:

side

Method:

bake

Cuisine:

American
---
Description
This sausage and apple stuffing is the winner, out of all the ones we've tested. It is highly aromatic and flavorful. Slightly crisp on the outside, tender on the inside. It just might be everyone's favorite side dish this year!
---
Scale
Ingredients
1

lb ground sausage (any flavor you like)

1

onion, chopped

5 tsp

fresh sage leaves, chopped

3 tsp

fresh rosemary

1

sprig fresh thyme

3 cup

s wheat bread, cubed

2 1/4 cup

s white bread, cubed

1

granny smith or fuji apple, peeled and chopped

1 cup

dried cranberries

1/3 cup

parsley, minced

2 cup

s chicken stock

4

TB melted butter
---
Instructions
Preheat oven to 350F. Lightly grease an 8×8 baking dish, or one of similar size. Set aside.
In a skillet, brown the sausage and onions together over medium heat. Stir and break up lumps evenly, until fully cooked through. Add sage, rosemary, and thyme, and stir another 2 minutes. Set aside.
Combine all bread cubes and place in single layer on a large baking sheet. Bake about 6 minutes, or until cubes are evenly toasted.
In a large bowl, combine and toss together the toasted bread cubes, cooked sausage mixture, and all remaining ingredients except for chicken stock. Add 1 cup of chicken stock, and toss. Depending on desired moistness, add up to another 1/2 cup and toss again.
Place stuffing mixture into prepared baking dish. Bake 30 minutes covered. Stir once or twice during the middle of baking, and add more broth if stuffing looks dry. Uncover, and bake another 15 minutes or until top is golden brown.
*Note: Stuffing can be assembled the night before, up to the point of adding broth. Add the broth only when ready to bake.
---
Keywords: sausage and apple stuffing recipe
Spotlight on sides