Homemade Stuffing with Apples and Sausage + Menu
If you're looking for the most mouthwatering homemade stuffing recipe, you'll be greatly rewarded for making this sausage and apple stuffing. Friends and family will devour this one.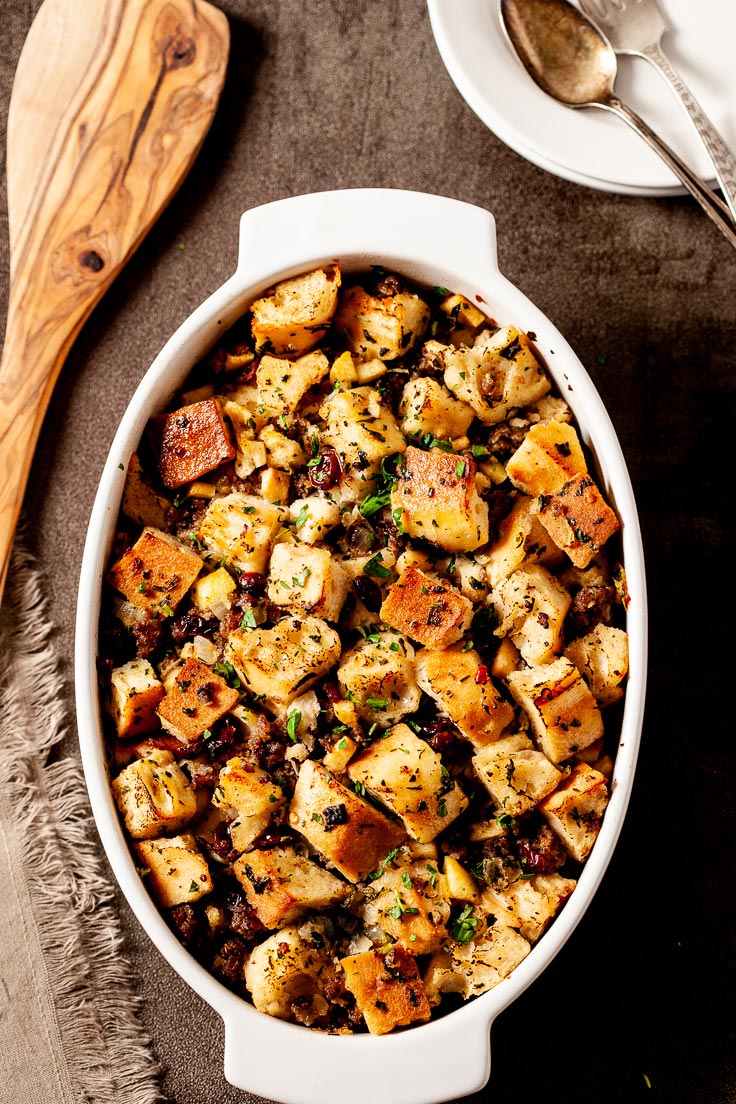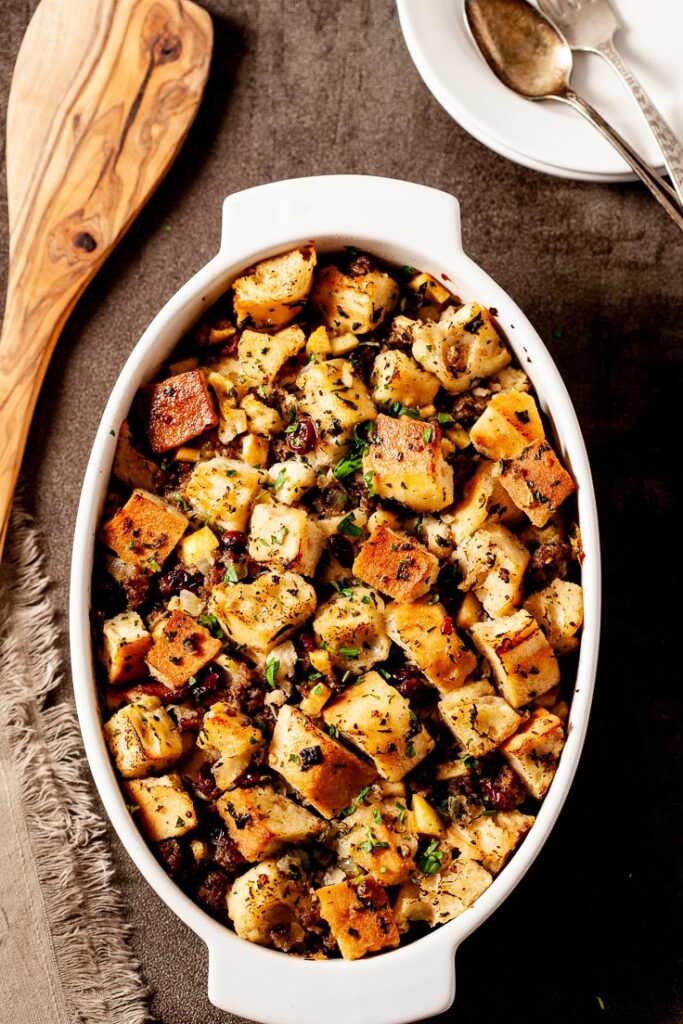 Homemade Stuffing with Apples and Sausage
Truth is, I was never a stuffing fan until I tried this homemade stuffing, teeming with savory sausage and sweet apples. As a kid, our huge extended family usually paired our festive turkey dinners with asian sticky rice, which we still adore.
So one year in my adult life, I got to serious work, exploring homemade stuffing recipes. The first bite of this fabulous homemade stuffing ended the search for stuffing perfection.
Apparently, it's everyone else's too. This sausage and apple stuffing got rave reviews from both kids and grandparents alike, and even pickiest teens doubled down on this homemade stuffing. Personally, it's the only stuffing I've ever wanted to pile high on my holiday dinner plate, right next to those cheesy scalloped potatoes.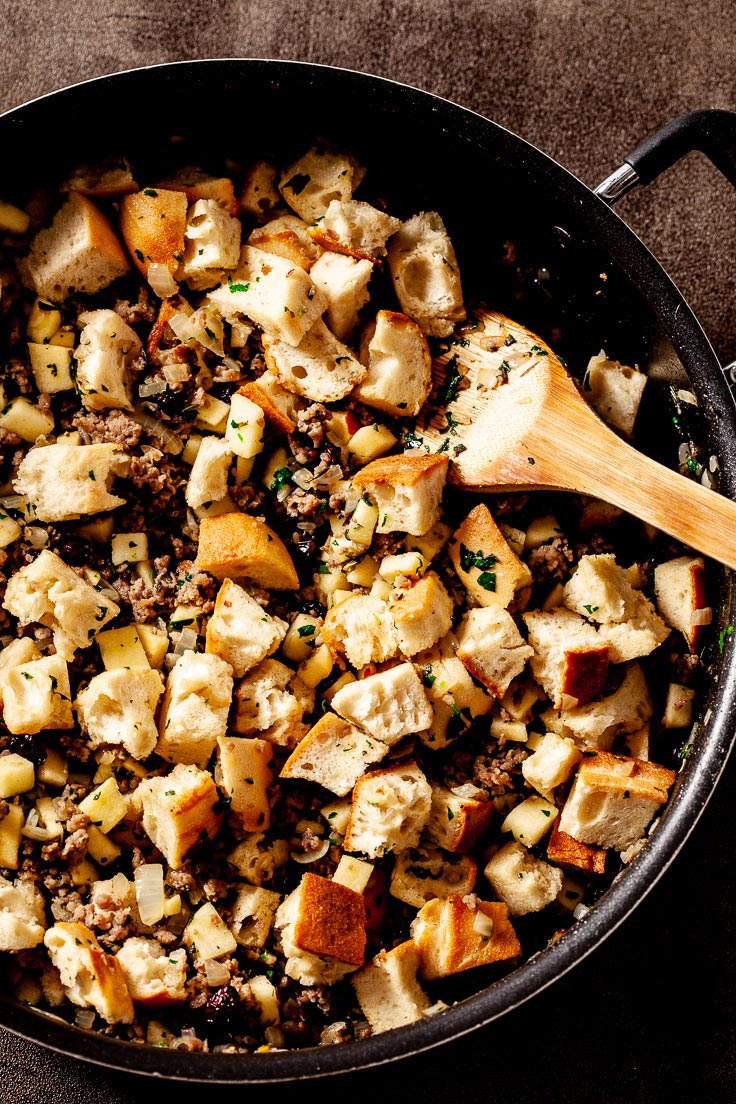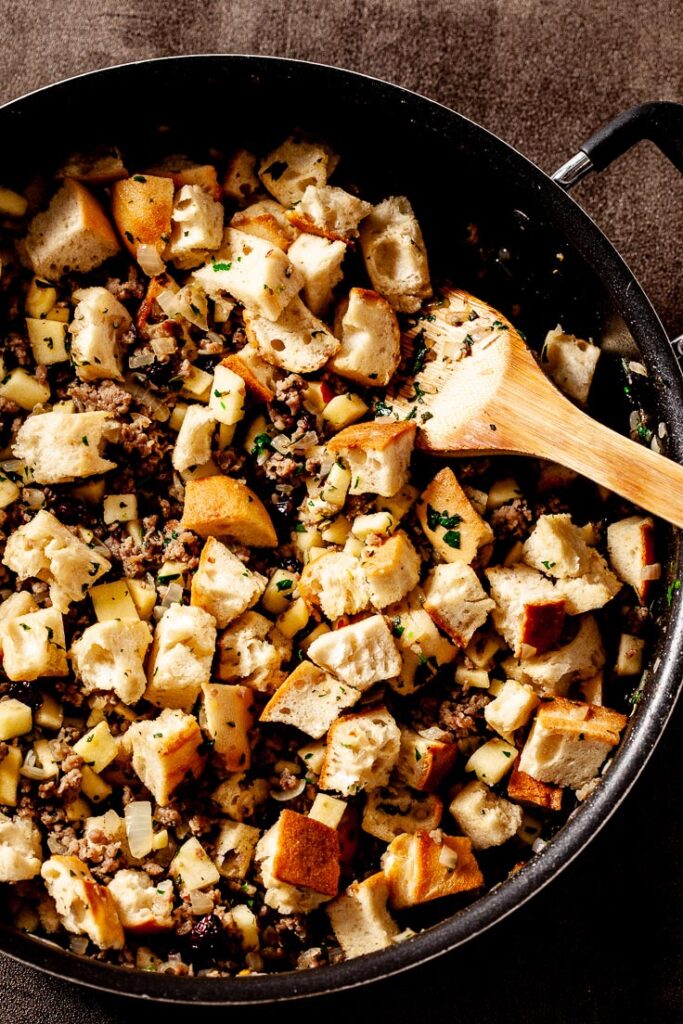 homemade stuffing Key Ingredients
There's only so much room on one's dinner plate during a holiday dinner, and who wants to take up limited plate space unless it's fully worth it?
This sausage and apple stuffing is worth every single flavorful bite. It's filled with the aroma of wonderful herbs like rosemary, sage, and thyme. Fresh herbs are a must, as they taste dramatically better than dried herbs in this dish. The aromatics of herbs, onion, and garlic really shine in this stuffing recipe.
The apples and cranberries give it a toothsome texture. My favorite apple to use here are honeycrisp apples, as they keep shape well and have the perfect balance of sweet vs. tart. However, feel free to use your favorite variety of apples.
The browned sausage lends great flavor to the dish. I usually opt for Italian seasoned sausage, as its flavor profile fits with this stuffing recipe perfectly. Feel free to use your favorite flavor of sausage or omit it for a meatless option.
Goodbye, Soggy Stuffing
The top and sides of this homemade stuffing emerge beautifully browned and slightly crispy. The center of the stuffing is deliciously moist and tender, without being overly soggy.
Part of the reason for this is that we use slightly less broth in this recipe, allowing the cubed bread to soak up just the right amount of liquid to keep the dressing ultra-tender, yet still allow the top and sides to brown nicely. Whether it's browned edges or soft center, there's something for everyone.
Adjust liquid, if needed
That said, some of you may prefer a texture similar to what you'd get if you cooked the stuffing inside the turkey. If that's you, simply adjust and add a bit more broth prior to baking. Note that a little liquid can go a long way, so adjust for desired texture gradually.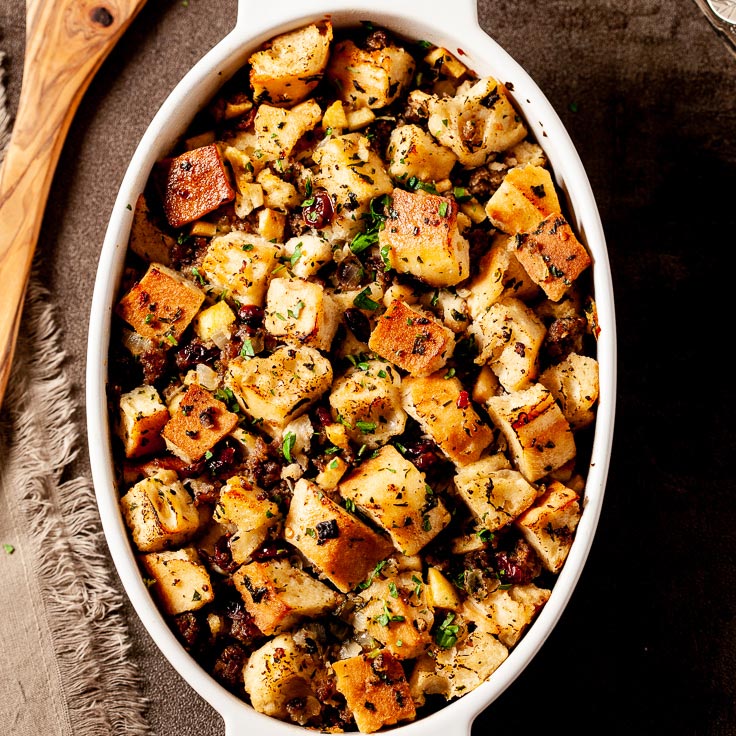 Delicious Thanksgiving Dinner Menu (make-ahead Recipes)
Main Dish: How to Brine and Roast Turkey with Homemade Gravy (brine and prep ahead of time, so turkey day is an easy day.) It's truly more flavorful and moist than any other turkey we've had, and that's coming from major turkey fanatics.
Side Dish (other than stuffing): Instant Pot Mashed Potatoes (5 Ingredients) is super quick and easy, while tasting fluffy-delicious. You can also use stovetop method, instructions included. This Sweet Honey Cornbread is every cornbread lover's dream, especially with a pat of melting butter on top. Each of these can be prepped ahead of time.
Vegetables or Salad: Best Broccoli Apple Salad or Kale Brussel Sprouts Salad with Honey Mustard Dressing both stay extra-crispy even when prepared ahead of time! That means you don't have to worry about mixing the salad too early; in fact, both these crunchy salads taste better with a bit of time.
Dessert: The Best Pumpkin Pie Recipe (Surprise Ingredient) is based off America's Taste Kitchen's version, which is so darned good. And this Best Pumpkin Cheesecake Recipe rivals Cheesecake Factory's version, at a fraction of the cost…it's so popular, it makes an appearance at our table every Thanksgiving gathering.
---
Did you make this?
Please give us a rating and comment below. We love hearing from you!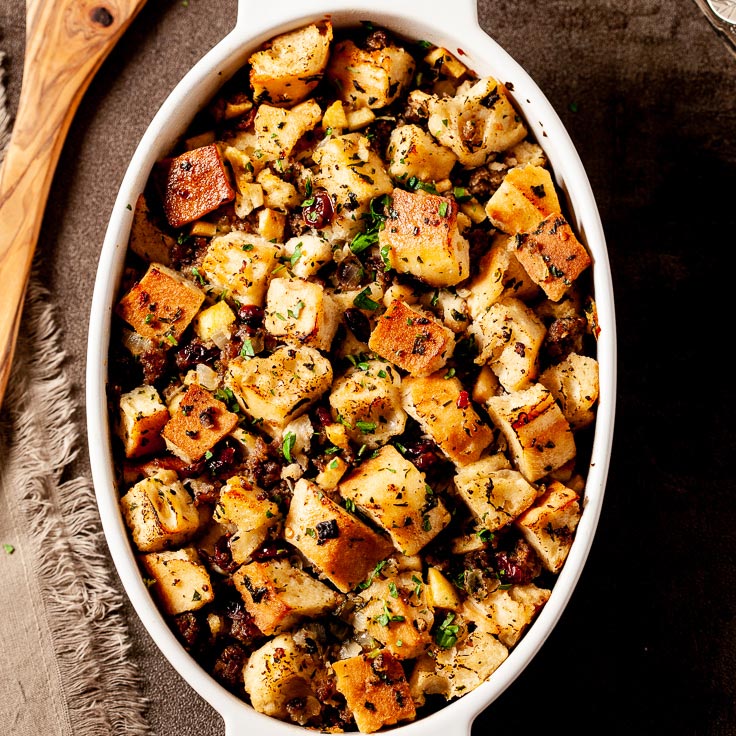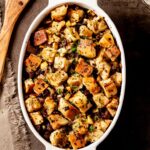 Sausage and Apple Stuffing
This sausage and apple stuffing is the winner, out of all the ones we've tested. It is highly aromatic and flavorful. Slightly crisp on the outside, tender on the inside. It just might be everyone's favorite side dish this year!
Ingredients
½

lb

seasoned ground sausage

,

no casings

1

onion

,

chopped

5

tsp

fresh sage leaves

,

chopped

3

tsp

fresh rosemary

1

sprig fresh thyme

6

cups

bread

,

hearty, such as French or Italian loaf, cut into cubes

1

apple

,

firm, peeled and chopped (granny smith, fuji, or honeycrisp work well)

½

cup

dried cranberries

⅓

cup

parsley

,

minced

2

cups

chicken stock

,

regular strength

4

TB

butter

,

melted
Instructions
Preheat oven to 350F. Lightly grease an 8×8 baking dish, or one of similar size. Set aside.

In a skillet, brown the sausage and onions together over medium heat. Stir and break up lumps evenly, until fully cooked through. Add sage, rosemary, and thyme, and stir another 2 minutes. Drain well and set aside.

Combine bread cubes and place in single layer on a large baking sheet. Bake about 6 minutes, or until cubes are evenly toasted.

In a large bowl, combine and toss together the toasted bread cubes, cooked sausage mixture, and all remaining ingredients except for chicken stock; toss so melted butter evenly coats bread cubes.

Gradually add 1 cup of chicken stock and toss to coat. Depending on desired level of moisture, add up to another 1/2 cup and toss again so all bread cubes are lightly soaked.

Place stuffing mixture into prepared baking dish. Bake 30 minutes, covered. Stir once during the middle of baking and add up to another 1/2 cup broth if stuffing is dry. Uncover, and bake another 15 minutes or until top is golden brown.
Notes
Stuffing can be assembled the night before, up to the point of adding broth. Add the broth only when ready to bake.
You can use entirely wheat or white bread, if preferred. If opting for all-white bread only, choose a loaf with more robust texture.
For a meatless version, simply omit the sausage or use vegan ground "meat". You can opt for vegetable broth in lieu of chicken broth.
If you prefer a texture more similar to stuffing that's been cooked in a turkey, add a bit more broth until it's to your liking. (See note in original article.)
If you enjoyed this recipe, please come back and give it a rating ♡
Nutrition (per serving)
Calories:
258
kcal
|
Carbohydrates:
45.5
g
|
Protein:
6.7
g
|
Fat:
5.9
g
|
Saturated Fat:
2.8
g
|
Cholesterol:
13.1
mg
|
Sodium:
115.9
mg
|
Fiber:
2.8
g
|
Sugar:
13.1
g
---
Spotlight on Holiday sides