Slow Cooker Beef Vegetable Barley Stew
If you're looking for a big 'n hearty stew that warms the family on a chilly night, you've hit the jackpot. This Beef Vegetable Barely Stew is as hearty as they come. Easily done in a slow cooker, so you can go about your business while dinner cooks itself.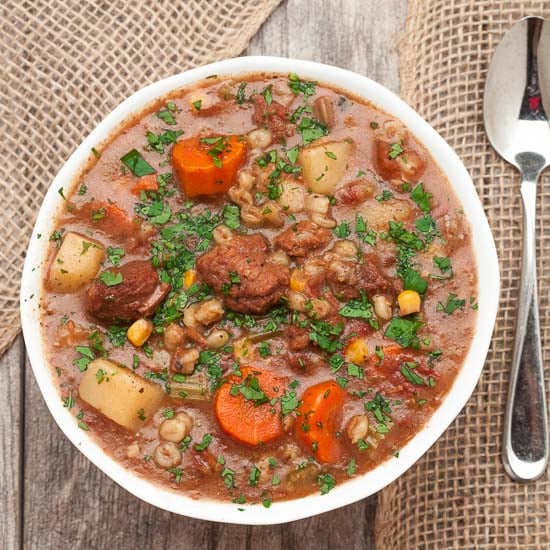 Punxsatuawney Phil stuck his head out of his burrow and saw his shadow. The furry critter predicts another 6 weeks of winter. Nice one, P.P.
Then again, for those of us lucky enough to call Minnesota home, nobody batted an eye. We are fully prepared for rude blasts of freezing snowstorms even in April. Sad but too true.
I'm not sure "6 more weeks of winter" means anything when you live in a place where snowmen adorn white lawns in late spring.
Besides, the famous shaggy marmot's weather predictions are cert controversial. Though he is kinda cute and I want to pet him.
One thing's for sure. We're feelin' the vibe for dishing up some stew…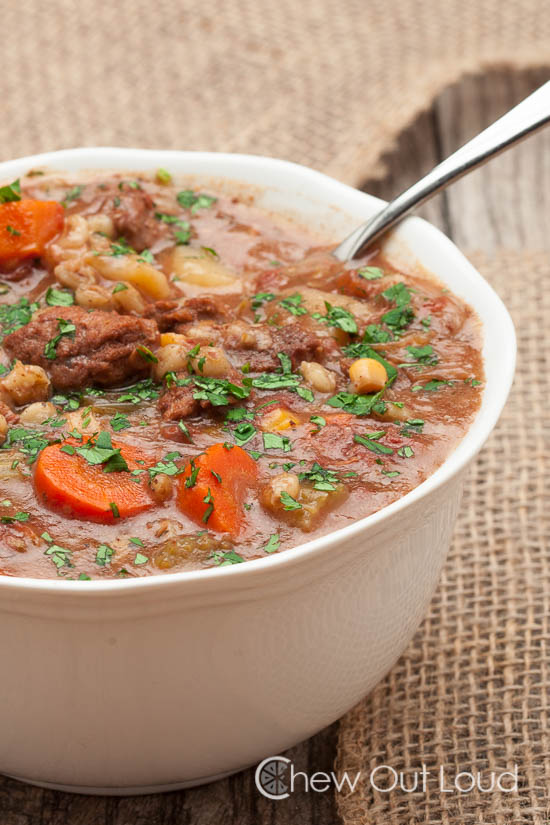 Whenever it's cold or I'm too busy or both… my slow cooker comes out of its own burrow.
Unlike P.P., my slow cooker enjoys a lengthy stay throughout the cold months, because it is that awesome. It deserves a regular spot in the kitchen.
After all, it's my faithful old Crock Pot with its old school outfit that creates delicious stews like this Slow Cooker Beef Vegetable Barley Stew.
This stew has everything going for it: tender chunks of beef, an array of veggies, and healthy barley to boot. It's superior in heartiness, feeding even the hungriest of tummies on a cold winter night.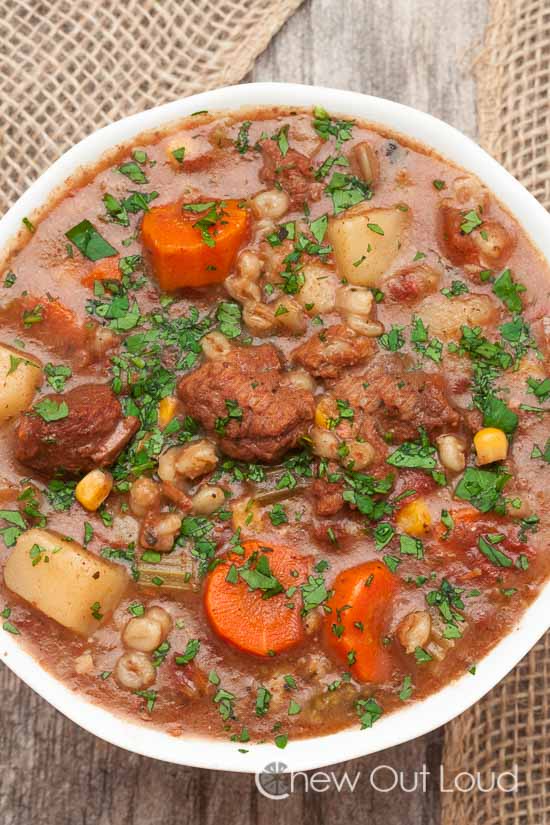 Be sure to give this stew all the hours necessary to cook into a nice, thick stew with tender beef. This is a big recipe that feeds a crowd, because that's the way I roll (ask the Hubbs.)
Feel free to divide recipe in half if you don't have a group to feed. Leftovers reheat beautifully, by the way.
Enjoy!
Print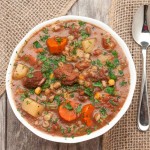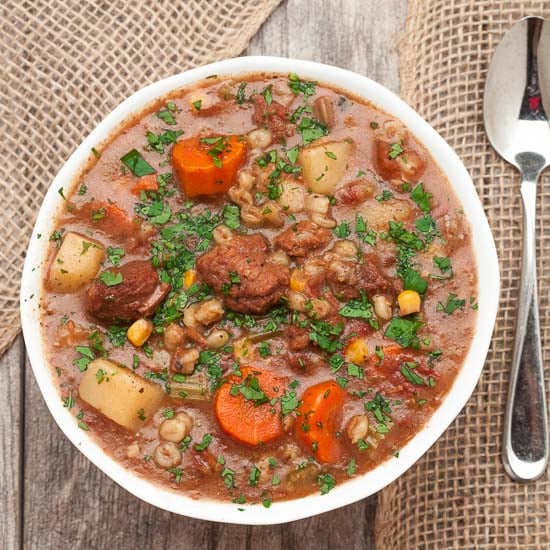 Slow Cooker Beef Vegetable Barley Stew
This Slow-Cooker Beef Vegetable Barley Stew is the heartiest beef stew that will grace your dinner table! It's chock full of tender beef, various veggies, and barley for an extra healthy boost. Best of all, it's easily made in your Crock Pot so you don't have to babysit the stew. This recipe feeds a crowd. You can cut it in half if you wish.
2

lb boneless chuck roast, cut into

1/2

inch chunks

14 1/2 oz

. can diced tomatoes with juices

4 cups

regular beef broth

1/2 cup

dry small "pearl" barley

1 cup

frozen sweet corn kernels

1

large onion, sliced

5

celery ribs, sliced

5

carrots, sliced

1 tsp

garlic powder

1 tsp

kosher salt, plus more to taste

1/2 tsp

freshly ground black pepper, plus more to taste

1/2 tsp

dried basil

1/2 tsp

dried oregano

1

large russet potato, peeled and cubed
Instructions
In a large slow cooker, add all ingredients except for the cubed potatoes (you can soak potatoes in a bowl of cool water to prevent them from turning brown in the meantime.) Stir to make sure all ingredients are submerged in the liquid and seasonings.
Cover and cook on low for 11-12 hours OR on high for 8-9 hours. During the last 3 hours of cooking, add the cubed potatoes (this prevents them from overcooking and becoming starchy and mushy.)
Add more kosher salt and black pepper to taste. Serve warm.
Author:
Category:

dinner, main
Source: Chew Out Loud
Here are a few more favorite hearty soups/stews to warm up your dinner table!
1. Chunky Beef or Turkey Chili. This is our family's favorite. All our friends love this as well, and you'll probably get recipe requests if you make this.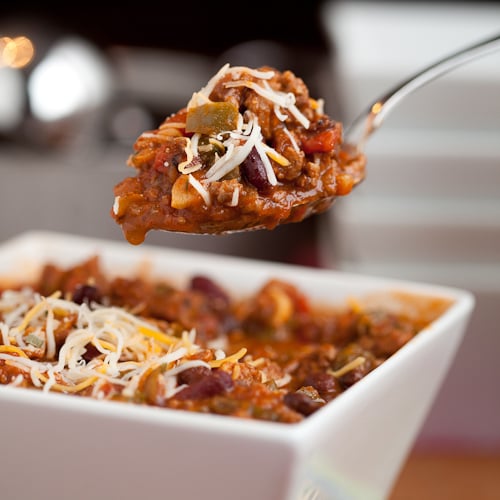 2. White Chicken Chili. This is another slow cooker stew that turns out fantastic. Easy and satisfying.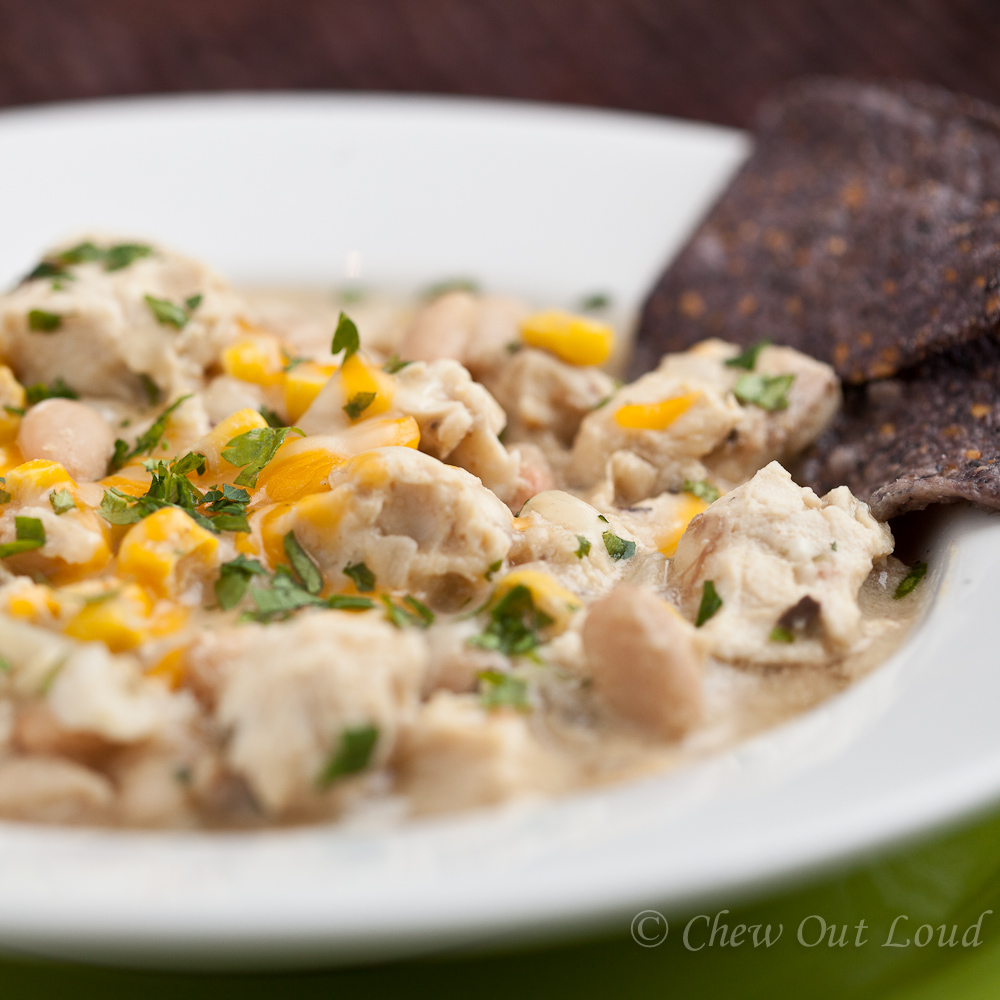 3. Easy Mexican Chicken Stew. We use rotisserie chicken and our slow cooker for this super easy weeknight stew that the entire family devours.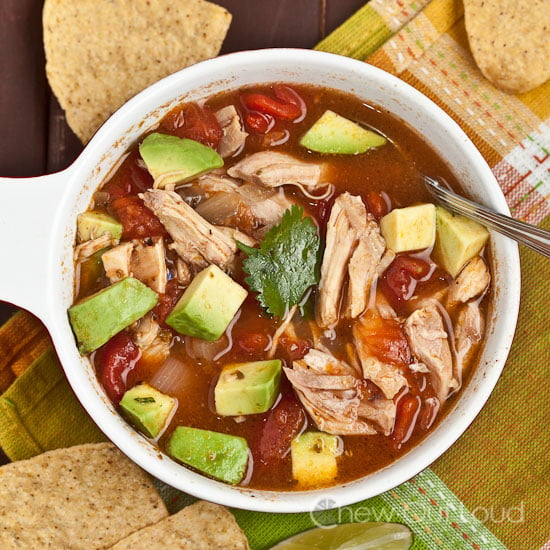 4. French Beef Stew. If you have a bit more time on the weekend and want to wow your friends, this is the thing to make. The flavors are complex and amazing. 100% guest-approved.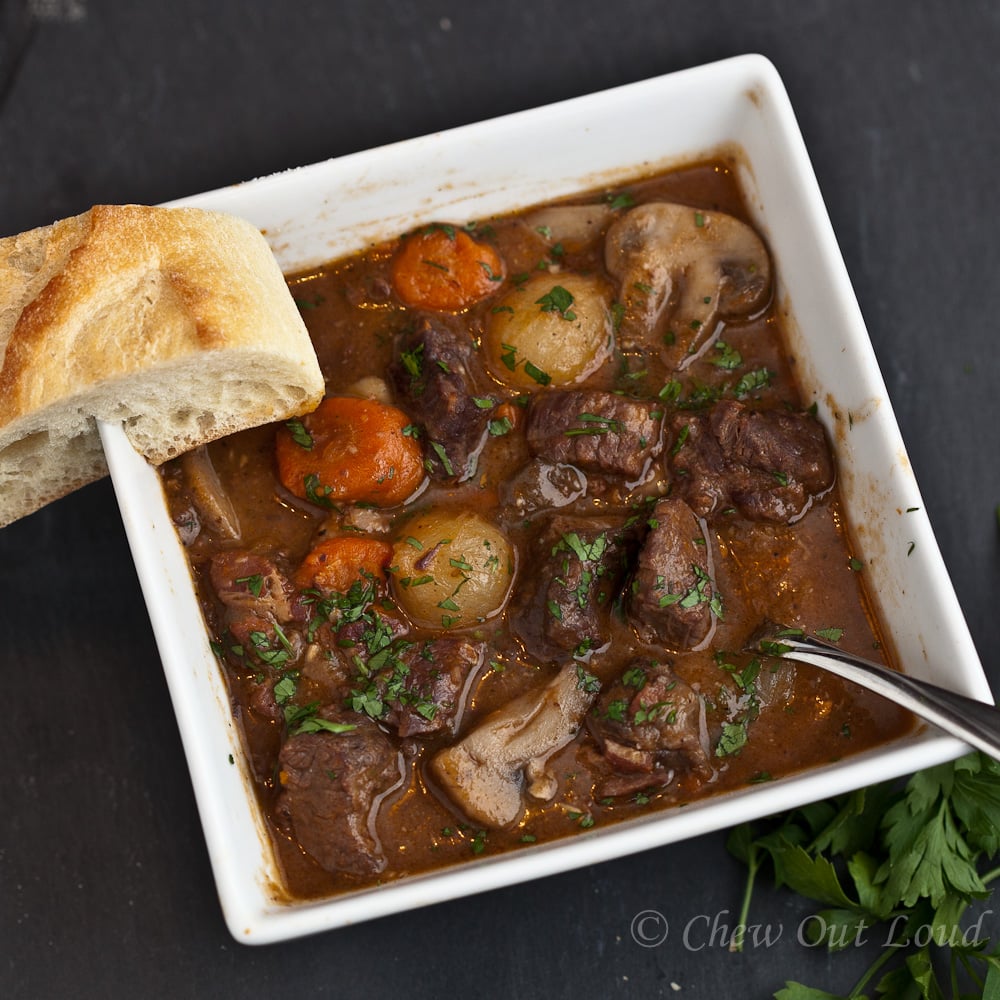 We'd love to have you follow us on Pinterest, where we pin the best finds!
Follow us on Facebook and Twitter for the newest recipes and frequent Gift Card Giveaways!
Hang with us on Instagram for behind-the-scenes food prep and meal ideas.