These Parmesan Garlic Pull-Apart Bread Rolls are so irresistible, you'll want to make a double batch if you're having people over. It's the perfect easy side to go with any meal.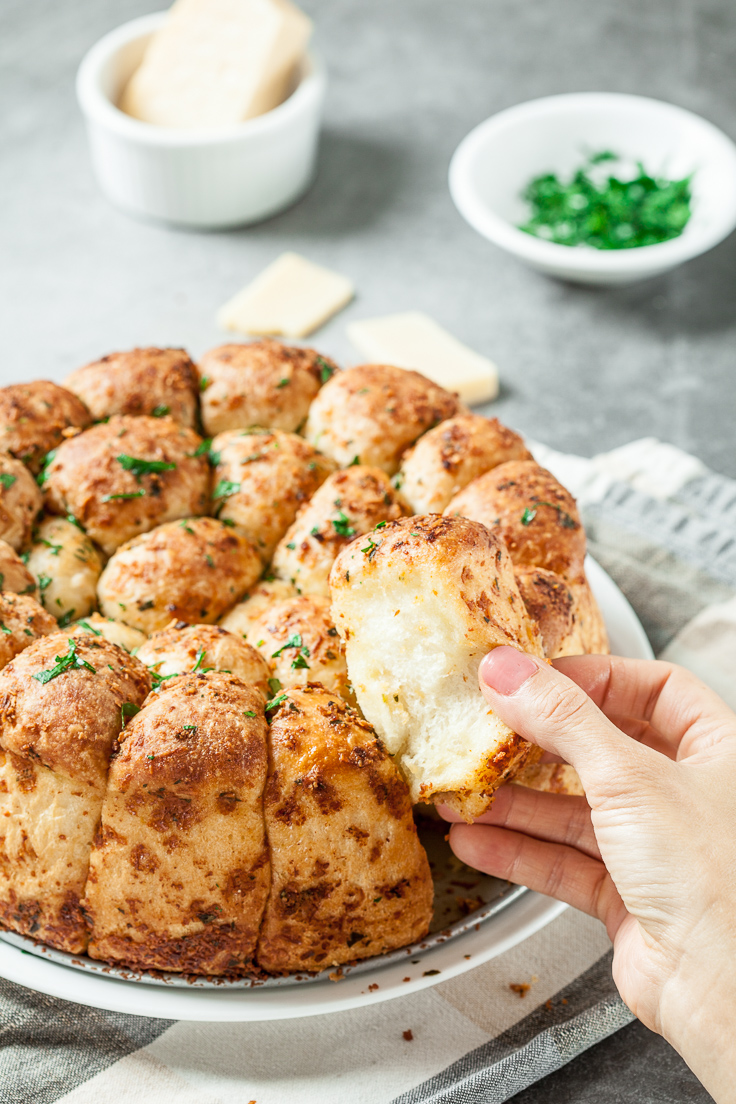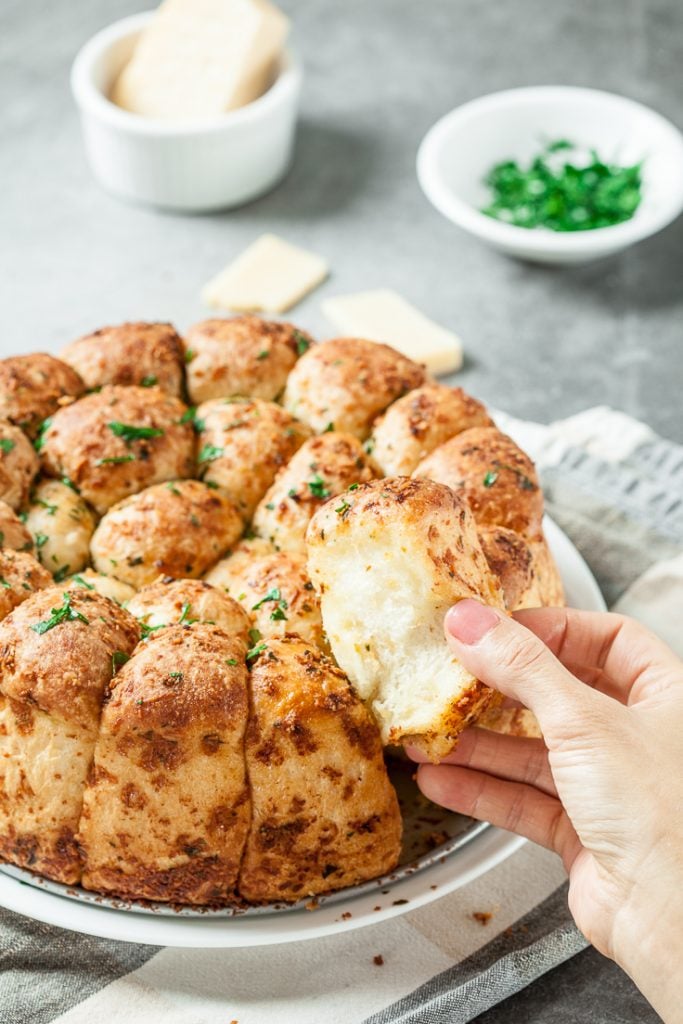 Garlic Parmesan Pull Apart Bread
Quick as always, the busy holiday season is upon us. Once November hits, the calendar rapidly fills up triple time. All the get-togethers swiftly monopolize the next two months.
I absolutely love the cheerful festivities of the season; the decorations, people, and food are the best trifecta. I get super into the all the celebrations, and would totally wear turkey shaped earrings if I had any.
I've shared before that, although I'm all in with holiday roasts, it's the side dishes that make The Meal extra amazing. I have plenty of friends who go for the sides before the roast. A basket of soft pillowy dinner rolls always vanishes in a snap.
The holiday months pinky-promise plenty of fun, but if I want to spend any time outside my kitchen, I gotta have a few holiday cooking hacks.
I've got the perfect hack for making these melt-in-your-mouth Parmesan Garlic Pull-Apart Bread Rolls. They're irresistibly yummy and supremely easy.
These Parkerhouse Rolls save me tons of time. Plus, they taste unbelievably awesome. They're outstanding in these impressive yet easy Parmesan Garlic Pull-Apart Bread Rolls.
These savory pull-apart dinner rolls are so good, expect them to disappear in a flash. You might want to make a double batch if you've got a hungry group.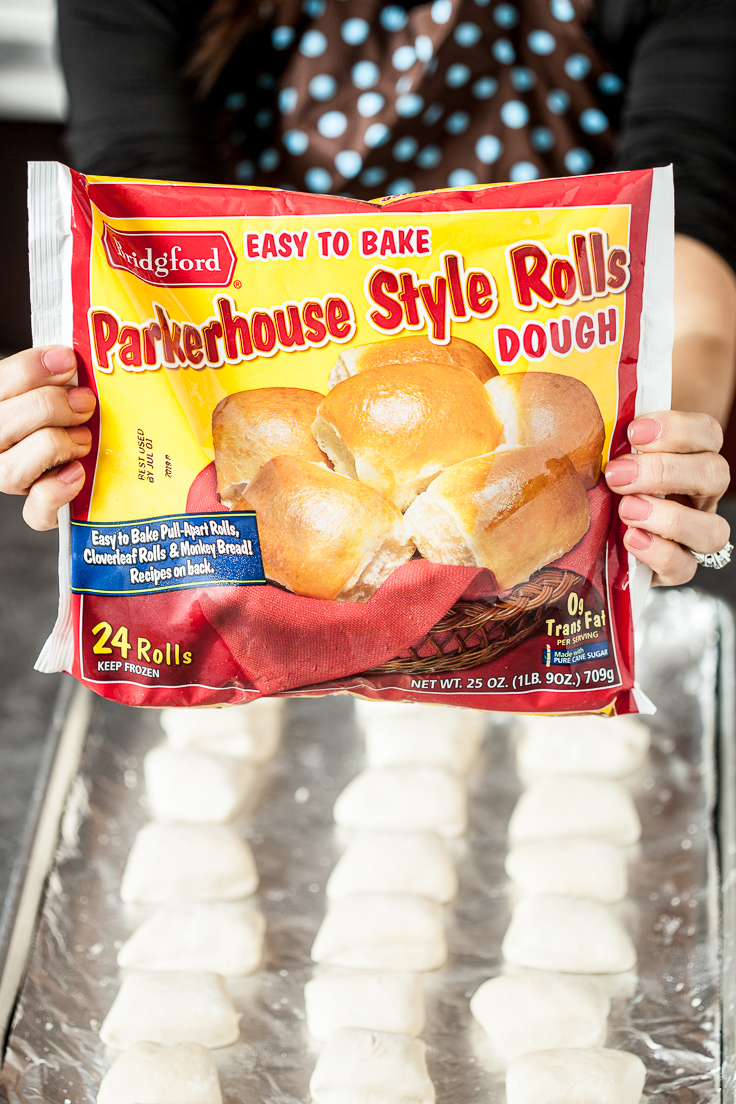 I love the Parkerhouse Rolls for their flavor and ease of use. Just defrost, brush with butter, and place in desired baking dish to let the rolls rise. It couldn't be easier.
People will have zero clue as to how easy this really was for you to pull off. They'll think you busted out big time elbow grease. We won't tell.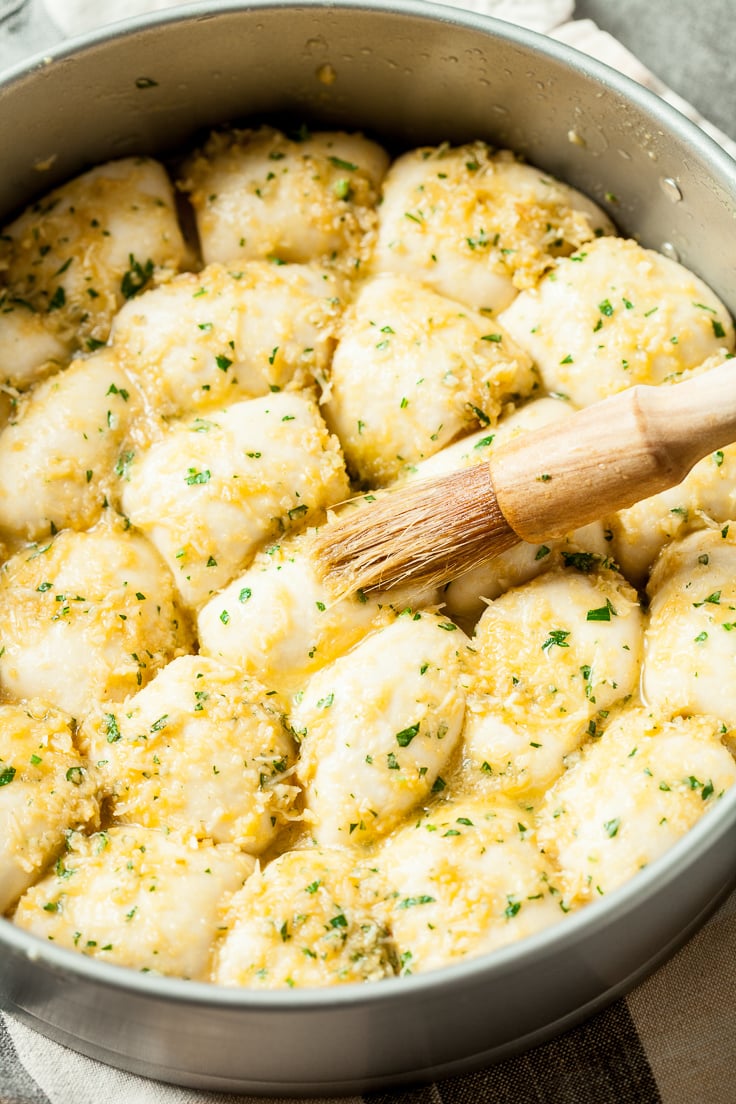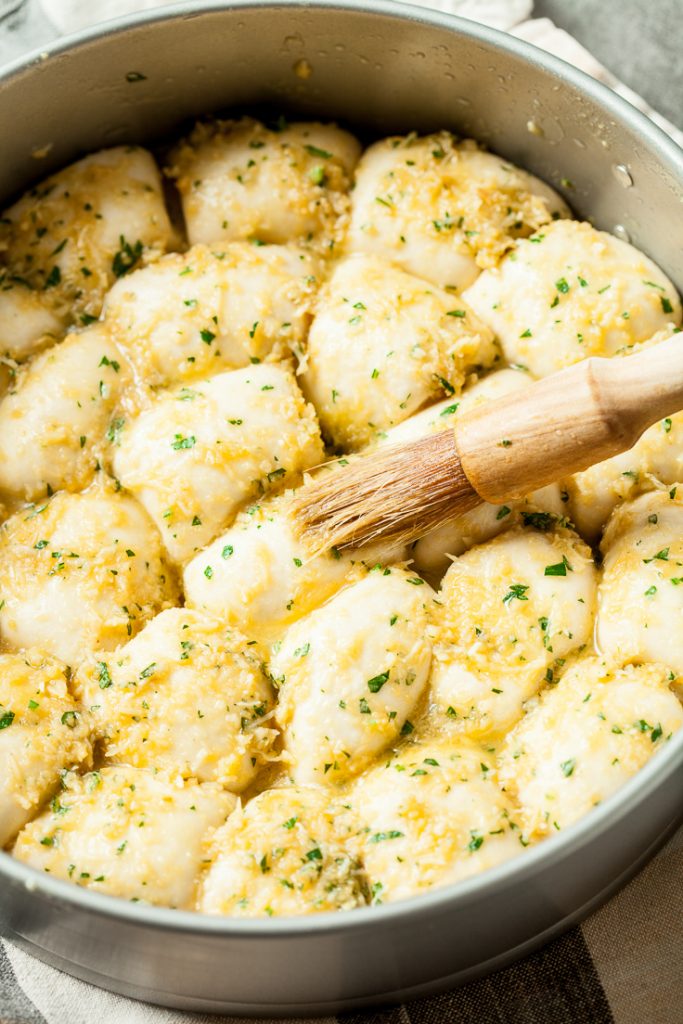 Tips for how to make Parmesan Garlic Pull-apart Bread Rolls
Let frozen Parkerhouse Rolls defrost first, according to package instructions
Allow for the rise time to ensure the fluffiest, yummiest dinner rolls
Parmesan Garlic Butter mixture can be made ahead of time and covered/chilled until ready to use; simply warm up and brush on rolls when ready to use
A 9-10′ springform pan with removable bottom makes it super easy to slide pull-apart bread onto your serving plate. However, a tube pan or bundt pan will work as long as you let the bread rolls cool enough to pull away from the sides of pan (for easy removal)
If you're lucky enough to have leftovers, they are undeniably delish the next day! Just reheat and eat. But don't count on having leftovers.
Happy baking season, Friends!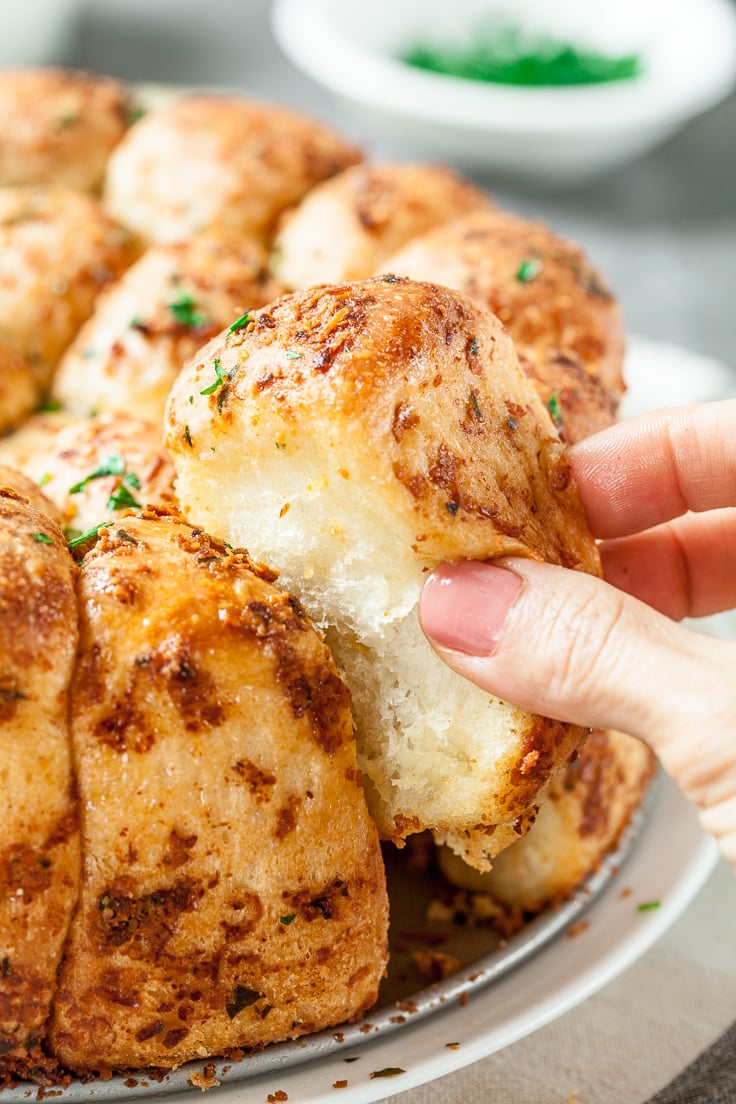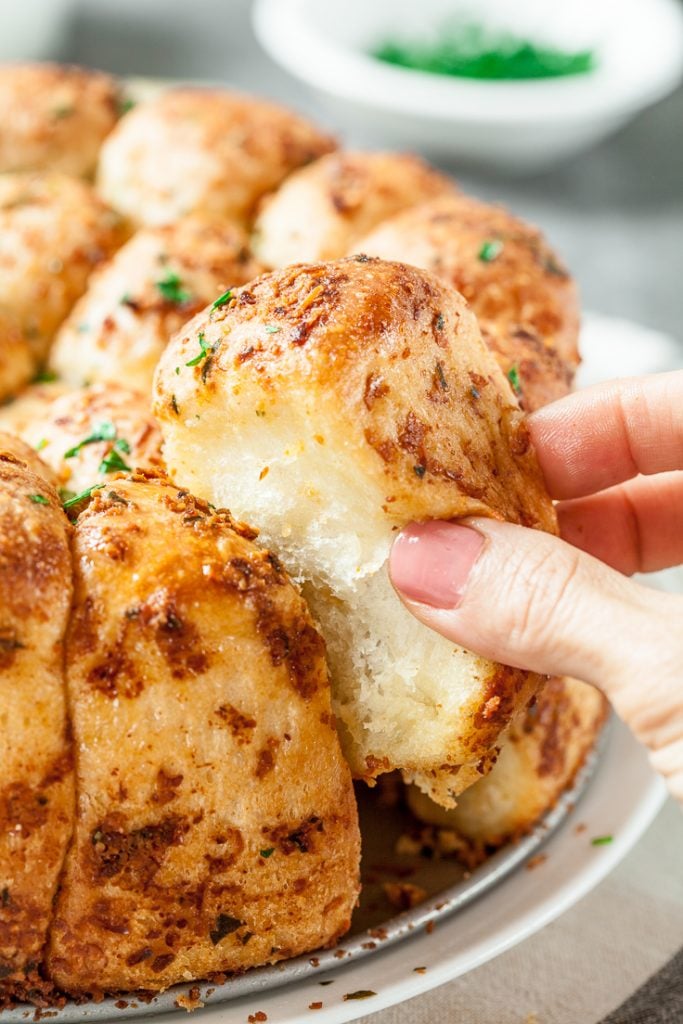 Print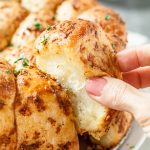 Parmesan Garlic Pull-Apart Bread Rolls
---
Description
These Parmesan Garlic Pull-Apart Bread Rolls are so irresistible, you'll want to make a double batch if you're having people over. It's the perfect easy side to go with any meal.
---
Scale
Ingredients
1 package (24ct) Bridgford Frozen Parkerhouse Rolls Dough
For Parmesan Garlic Mixture:
1 cup very finely grated parmesan cheese
1/4 cup melted butter, plus more for topping at end
1/4 cup extra virgin olive oil
1 tsp garlic powder
1 tsp onion powder
1/4 tsp table salt
---
Instructions
Defrost Parkerhouse Rolls according to package instructions. (Tip: I thaw mine on a rimmed, greased sheet pan and cover with another rimmed sheet pan.)
Prepare Parmesan Garlic Mixture: In a bowl, combine all mixture ingredients and stir to incorporate. When rolls are thawed, dip each roll ball into mixture to coat well. Tightly arrange dough balls into the bottom of greased springform pan with removable bottom – snugly nestle them into a single layer. Brush any remaining butter mixture onto the top of rolls. Place springform pan onto a rimmed baking sheet. Cover and let rise in a moderately warm, draft-free space until dough is doubled in size, about 2 hours.
Meanwhile, preheat oven to 350F with rack on lower middle position. Place risen dough in springform pan (still on rimmed baking sheet) in oven; bake 25-30  minutes or until nicely browned on top – watch carefully and cover with foil if top starts to brown too quickly before rolls are done.
Brush rolls with additional melted butter, if desired. Remove sides of pan. Serve immediately.
---
Notes
*If using a tube pan or bundt pan, follow same instructions but adjust baking time if needed. Rolls may need to cool enough for sides to pull away from pan before inverting the pan for easy removal.