Soba Noodles with Shrimp and Lime Cilantro
By Amy Dong
Published Jun. 10, 2015
Updated Aug. 17, 2022
Soba Noodles with Shrimp and Lime Cilantro. This dish is made for spring and summer. It's zesty and bright with lime, cilantro, and garlic. Light, refreshing, and satisfying.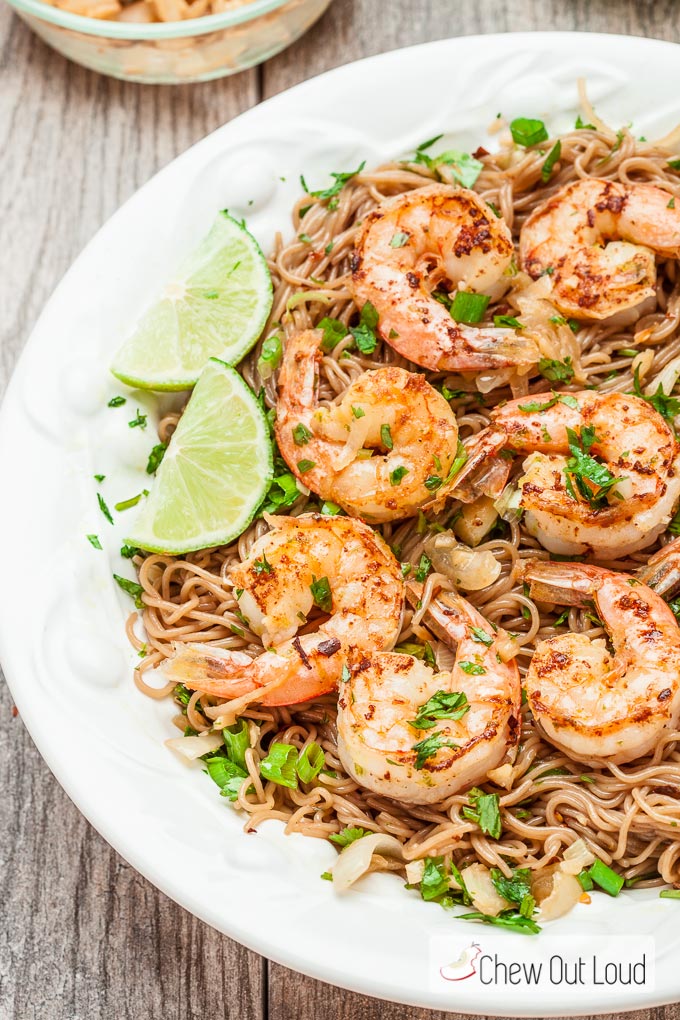 Soba Noodles
We've finally been hit with a mini heat wave. I'm sooo not complaining. Even if we're that family that tries not to turn on the A/C, challenging ourselves to take on the heat (there are exceptions.) But I am not complaining one iota.
I always say we get to kick up a little fuss over the winter or the summer, but not both. Since I bemoaned the frigid winter temps, I'm not about to yammer about anything now.
This is the kind of week for a cool meal at the end of a long workday. It's that time of year when bright, zesty soba noodles shout out pick me…pick me…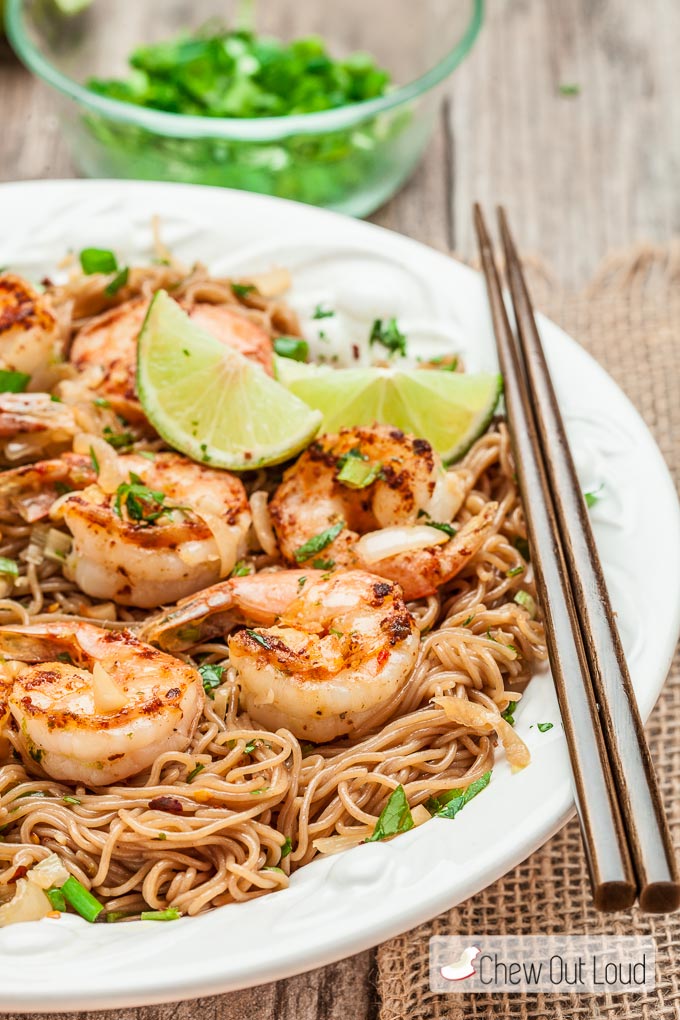 It's not going to take arm twisting for me to choose cool soba noodles on a warm day. Just yesterday, it was humid and sweltering. The perfect day for a pool party with friends, which is just what we did. There's no way any of us would have touched the oven. Even the toaster oven was a no-no.
A big bowl of cool Soba Noodles with Shrimp and Lime Cilantro is perfection on days like that. Check out the players: plenty of refreshing lime, cilantro, garlic, and onions. As much or as little crushed red peppers you'd like.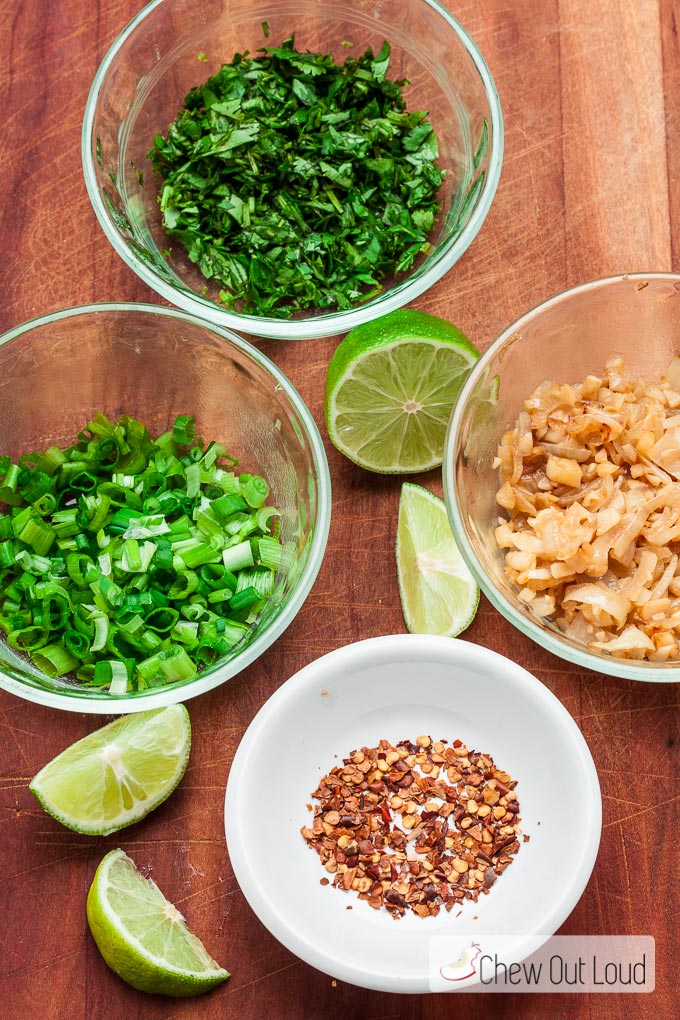 Surprise: Buckwheat contains no gluten
All of that goodness, tossed together with wonderful buckwheat noodles. Otherwise known as soba, which is a Japanese name for noodles made of buckwheat. Soba has soared with popularity recently, and for good reason. It's nutritious, versatile, and toothsome.
Note that buckwheat is actually made from a grain-like seed and completely unrelated to wheat. Buckwheat is naturally gluten-free and full of healthy antioxidants, which is great news for those with gluten sensitivities. Just be sure to check the label for gluten-free certification. (Also, why isn't it called buck flour instead?)
When it's cold out, soba noodles are great in a warm broth. When it's summer time, soba noodles are fantastic as a cold dish. Just boil, drain, and rinse in cold water. Pile on the seasonings and add-ins. No worries about the food getting cold.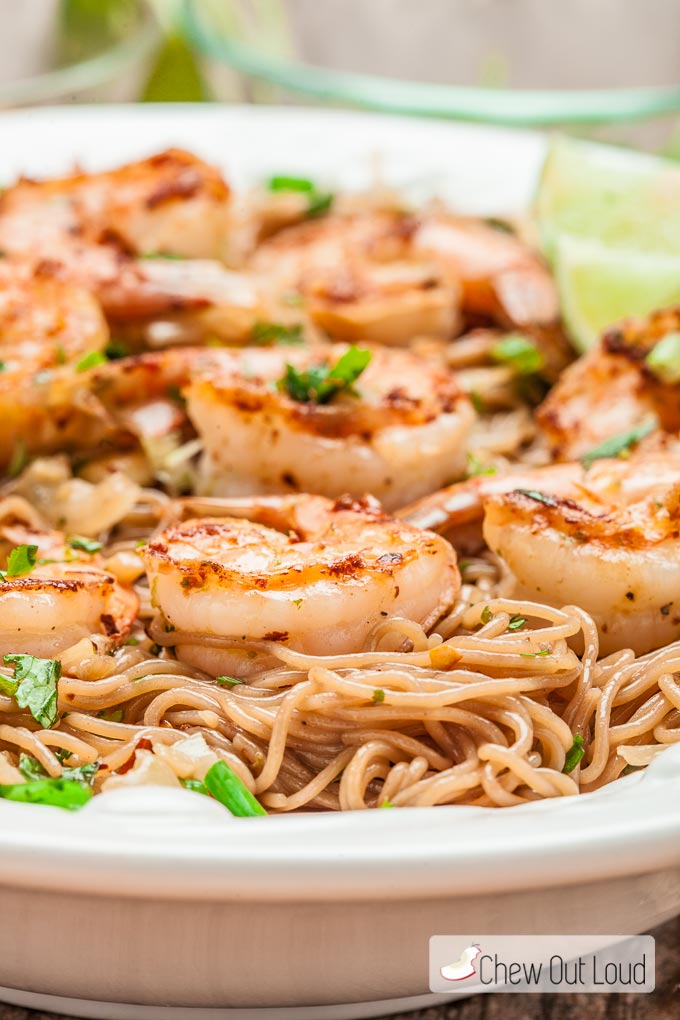 Don't skimp on the cilantro, lime, or garlic. It may initially feel like too much, but the flavors balance out so beautifully. Just try it, K?
We're shrimp lovers here, and this juicy shrimp doesn't disappoint. Be sure to get the large, raw shrimp and cook just until they're opaque. No longer than that; not over-cooking the shrimp is the key to its tender juiciness. It only takes about 1 minute per side.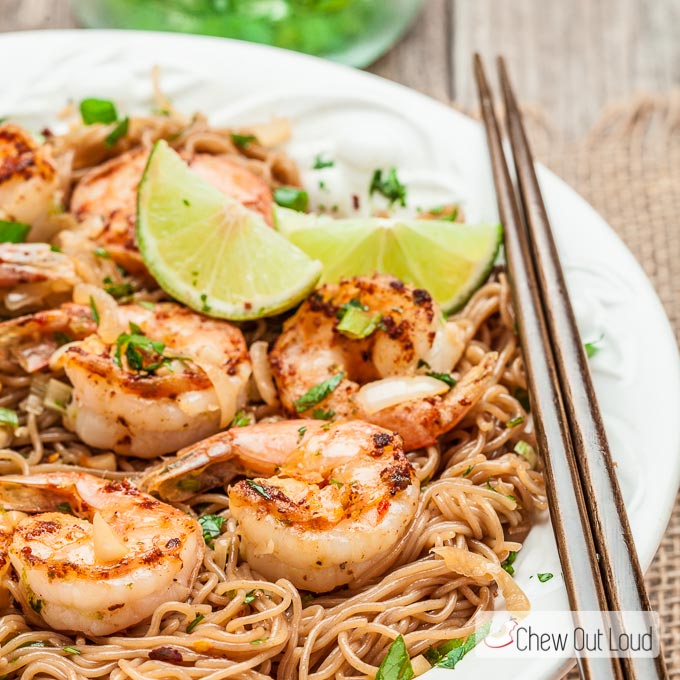 Adorn as you wish with fresh cilantro, crushed red pepper, onions, and garlic. Lime wedges = yes.
Enjoy.
Did you make this?
Please give us a rating and comment below. We love hearing from you!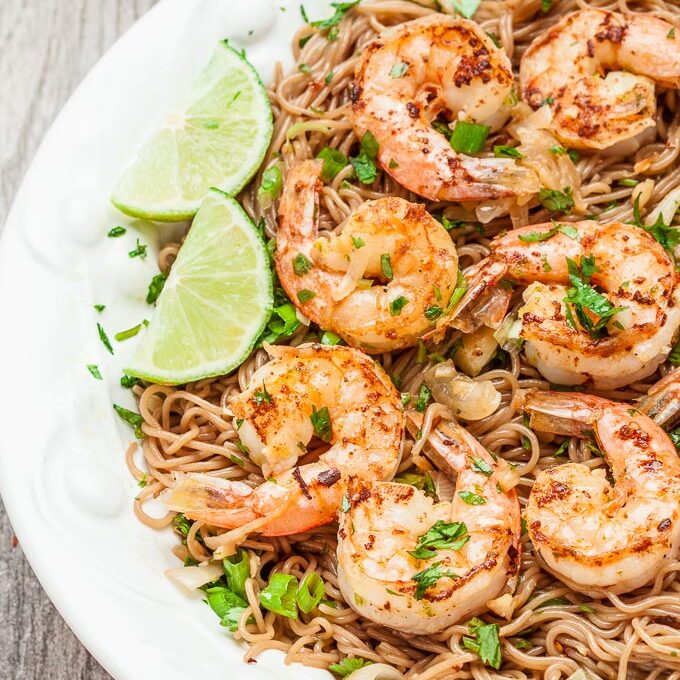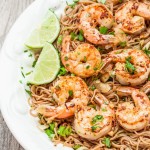 Soba Noodles with Shrimp and Lime Cilantro
This recipe for Soba Noodles with Grilled Shrimp and Cilantro is easy and delicious. It's the perfect spring/summer meal. Light, refreshing, healthy, and scrumptious!
Ingredients
1

lb

large raw shrimp

,

shelled and deveined, towel-dried

kosher salt and freshly ground black pepper

Olive oil for cooking

1

medium

onion

,

thinly sliced

6

garlic cloves

,

chopped

12

oz

dry soba

,

Asian buckwheat noodles

3

TB

low sodium soy sauce

3

TB

tamari

,

lighter, tangier style of soy sauce

1

TB

pure honey

zest + juices of 1 large lime

2

stalks scallions

,

finely sliced

¼

cup

fresh chopped cilantro

¼

tsp

crushed red pepper

lime wedges for serving
Instructions
In a bowl, sprinkle the shrimp with 1/4 tsp kosher salt and 1/4 tsp freshly ground black pepper. Toss to combine well. Set aside.

In a large nonstick skillet, heat 1 TB oil. Add onions and cook over moderate heat, stirring, until golden brown, 1 minute. Add garlic and a dash of kosher salt to the skillet and cook over medium until golden, 2-3 minutes. Transfer to a bowl and Set aside.

In same skillet, add 1 TB oil. Over medium high heat, place shrimp in even layer in the skillet, taking care not to overcrowd (may do this in batches.) Let cook without stirring until first side turns opaque, about 1 min. Turn shrimp over and cook until other side just turns opaque, about 1 min. Immediately remove from heat and set aside.

Bring large pot of well-salted water to a boil. Add soba noodles and cook, stirring, just until tender, about 4 min. Drain well and rinse with cold water. In a medium bowl, combine 2 TB olive oil, soy sauce, tamari, honey, lime zest, and lime juice. Add cool noodles and toss well. Add kosher salt and black pepper to taste, if needed.

Arrange seasoned soba noodles on a large serving platter or individual plates. Sprinkle with scallions, cilantro, crushed red pepper, and sauteéd onions and garlic. Arrange cooked shrimp on top and serve with lime wedges. Serve immediately.
Nutrition (per serving)
Calories:
418
kcal
|
Carbohydrates:
75
g
|
Protein:
31
g
|
Fat:
2
g
|
Saturated Fat:
0.3
g
|
Polyunsaturated Fat:
0.4
g
|
Monounsaturated Fat:
0.3
g
|
Trans Fat:
0.01
g
|
Cholesterol:
143
mg
|
Sodium:
2507
mg
|
Potassium:
503
mg
|
Fiber:
1
g
|
Sugar:
6
g
|
Vitamin A:
371
IU
|
Vitamin C:
6
mg
|
Calcium:
118
mg
|
Iron:
3
mg
Source: Chew Out Loud, adapted from Food & Wine
Here are a few favorite Asian inspired noodle dishes:
Jap-Chae (Korean Noodles). Oh my, oh my…just give this a try. It's one of the bestest things ever. Share it at a potluck, and it'll quickly become the dish people beg you to keep bringing. Great for spring and summer.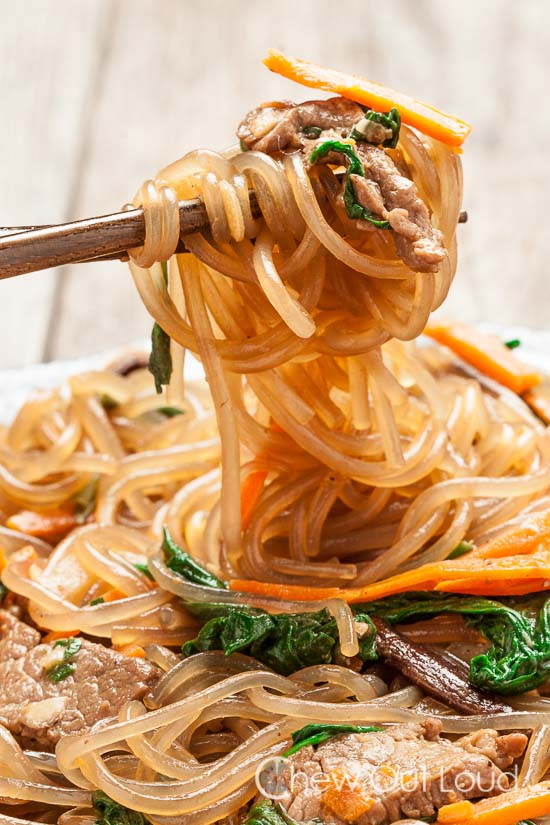 Peanut Sesame Noodles with Sriracha. Simply delicious. Everyone who tries this dish agrees – it's a crowd pleaser. Easy, flavorful, and great all year round.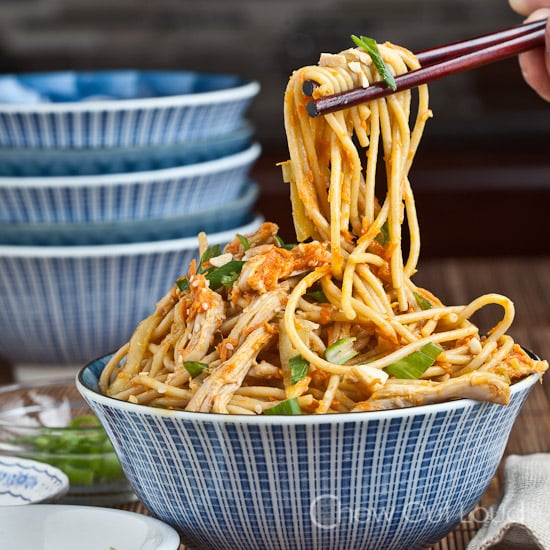 Mongolian Beef Noodles. We start off with tender, amazing Mongolian beef. Combine it with noodles for this simply scrumptious dinner.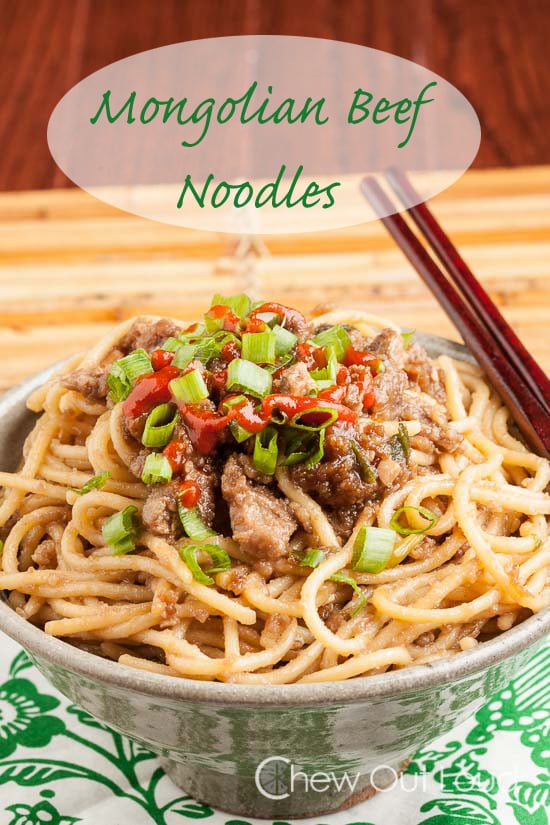 Asian Glass Noodles. Such a great twist on the usual pasta salad. It's light, flavorful, and so fabulous in summer.