Easy Pad Thai Recipe
This Easy Pad Thai Recipe is loaded with flavor and ready in just over 30 minutes, it's a healthy, protein-packed, homemade version of everyone's favorite restaurant dish!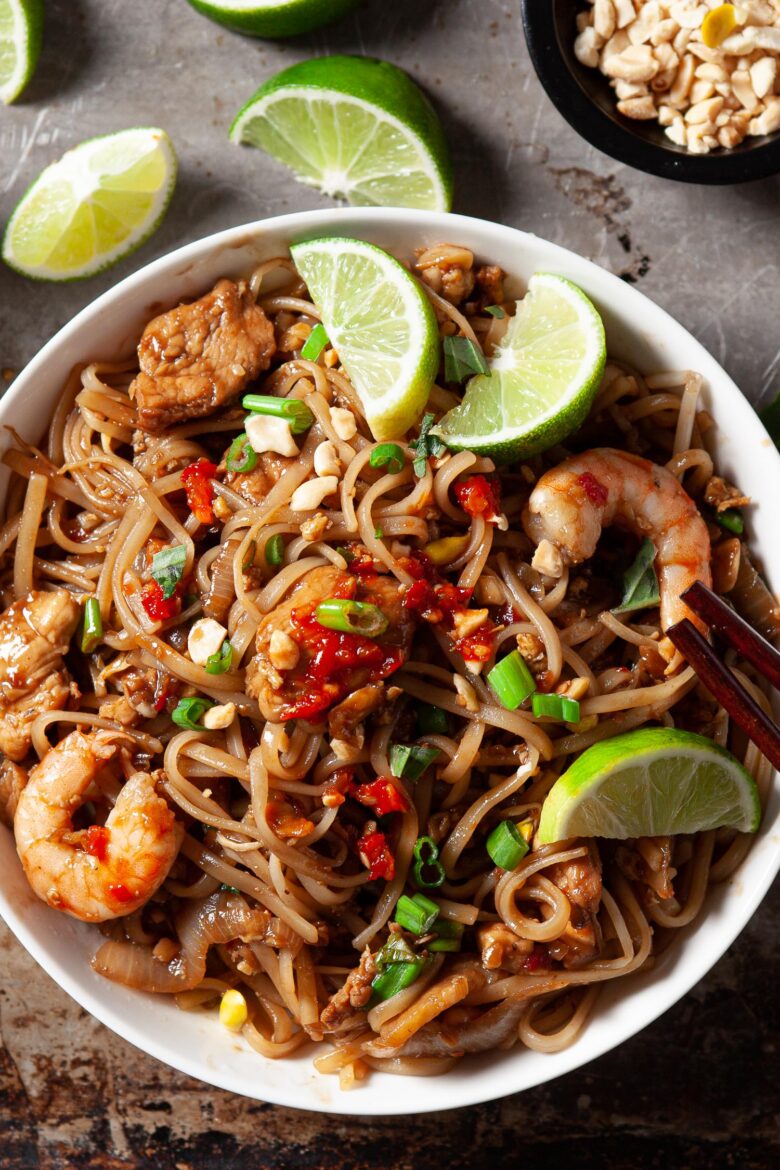 What Is Pad Thai?
Literally translated, pad thai means "Thai stir-fry." A popular dish from Thailand, it is a type of stir-fry recipe that utilizes techniques and elements commonly found in Chinese cuisine. The dish first emerged in the 20th century, and although there are many variations, it always consists of a combination of rice noodles, eggs, tofu, and meat tossed with a unique pad Thai sauce and is topped with peanuts, fresh vegetables, and cilantro. Declared a Thai national dish around the time of WWII, pad thai has continually grown in popularity throughout the years and can now be found in restaurants across the globe.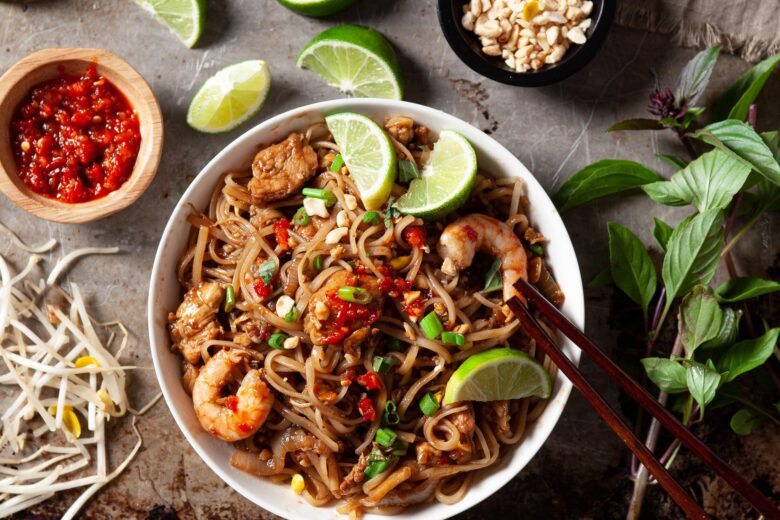 Why You'll Love This Easy Pad Thai Recipe
It's high-protein, full of nutrients, and super filling.
One batch makes 6 servings, meaning it's perfect for feeding a crowd.
From start to finish, this entire pad thai recipe is ready in just 35 minutes.
Made with authentic ingredients, it's just as delicious, if not better than anything version you'll find in a restaurant.
Sweet, spicy, salty, and hearty, this easy pad thai recipe is immensely flavorful and guaranteed to satisfy all your tastebuds.
Key Ingredients
For this easy pad thai recipe, we focused on utilizing authentic ingredients for a truly irresistible dish. Here's everything you'll need:
For the Sauce
Tamarind paste – Found in the ethnic aisle of grocery stores, this is made from the sour, sticky fruit that grows from tamarind trees. If preferred, you could also use tamarind pulp. Just be sure to soak it in hot water and strain out any solid portions if you do.
Brown sugar – Used to balance out the savory, umami flavors.
Fish sauce and oyster sauce – Both these sauces are essential, as tey combine to form the base of the sauce, creating a bold, savory taste.
Chili garlic sauce – This garlicky chili sauce gives the perfect kick of heat – growing up, our fridge was always home to a bottle of this delicious sauce.
Preserved radish – Use store-bought or homemade versions to create the deeply aromatic, sweet, and salty flavor of a traditional pad thai recipe.
Dry shrimp – This can be found at Asian grocery stores and adds a concentrated, briny succulent element to the sauce.
Lime juice – The acidity cuts through the heaviness of the rest of the ingredients, adding a refreshing lightness that balances out the dish.
For the Pad Thai
Protein – Chicken, shrimp, and eggs are used for the ultimate high-protein meal.
Tamari sauce – Similar to soy sauce, this adds a salty element. It's also gluten-free.
Cornstarch – Used to thicken the tamari and coat the chicken, making it extra crisp.
Pad Thai noodles – These are simply long rice noodles that can be found in the ethnic section of most grocery stores.
Oil – Olive oil or canola oil works best to prevent the noodles from sticking together and to help stir-fry the rest of the ingredients.
Aromatics – White or yellow onions, garlic, and green onions create a delicious savory flavor, adding depth to this easy pad thai recipe.
Beansprouts – Included for nutrients and a bit of crunch.
Peanuts – A staple in any pad thai recipe, peanuts add extra texture and a bold, nutty flavor.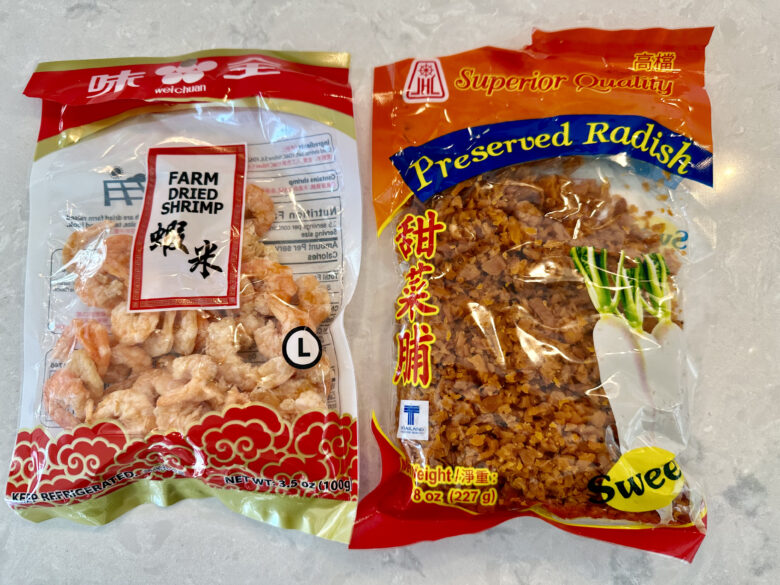 How to Make Pad Thai
Although it may seem intimidating, learning how to make pad thai is easy to do. Once you've tried this at home, you may never go back to mediocre restaurant versions again, as nothing beats fresh-off-the-stove authentic tasting pad thai from your own kitchen. Just follow the steps below.
Create the sauce. Add all of the ingredients for the sauce to a bowl, whisk to combine, and set it aside.
Prepare the chicken. Pat the chicken dry using clean paper towels and slice it into bite-sized pieces. Place the pieces in a bowl along with the tamari and cornstarch, tossing to coat, and set it aside.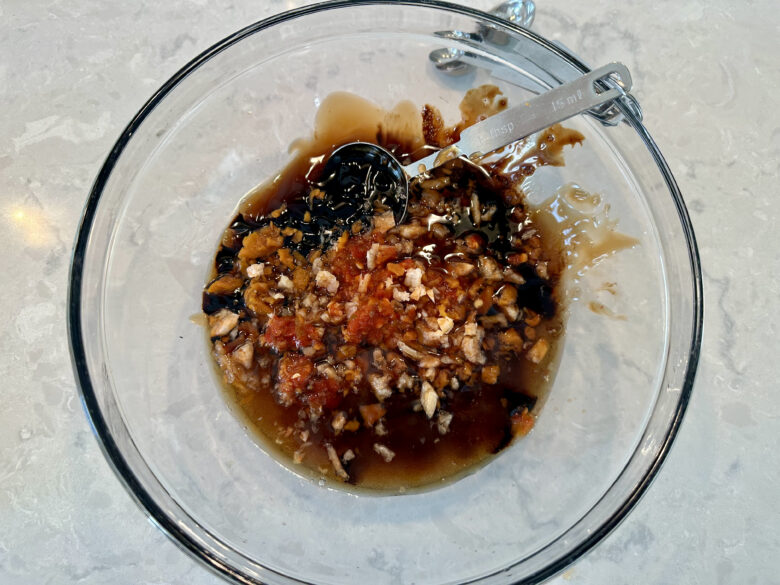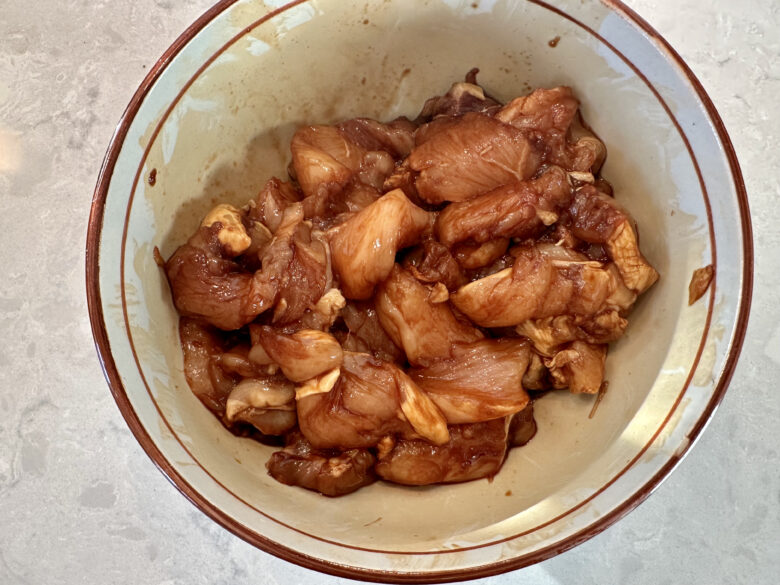 Assemble the noodles. Soak the noodles according to the package instructions. Then, drain and rinse them, and toss them lightly with oil.
Cook the protein. While the noodles are cooking, heat the oil in a large skillet or wok, and cook the onions until they are soft and translucent. Add the garlic until fragrant. Next, cook the chicken just until the center is no longer pink. Place the shrimp in the skillet, continuing to cook until they are almost opaque.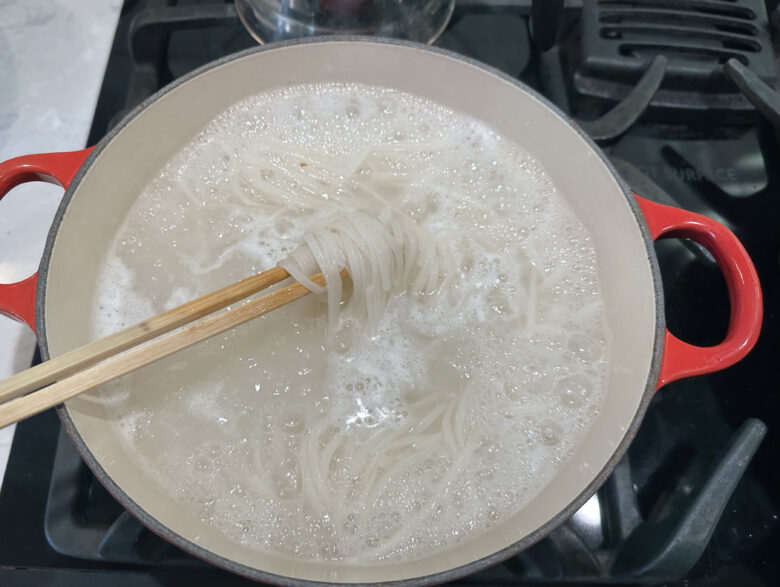 Crack the eggs. Create an open well in the center of the skillet, moving the ingredients to the side. Add the eggs, scrambling them in the center.
Combine and cook. Add the remaining ingredients, stirring to coat them all with the sauce. Continue to cook, stirring frequently until everything is well combined and the noodles are soft. Sprinkle your favorite garnishes on top, and serve warm!
Easy Pad Thai Recipe Common Questions
Can I make this pad thai recipe ahead of time?
This recipe is best enjoyed fresh while it's hot off the pan. However, if you happen to have leftovers, they can be transferred to an airtight container once they're completely cooled and stored in the fridge for up to 3-4 days.
What's the secret to the best pad thai recipe?
The secret to the best pad thai you'll ever taste is to use a large, deep pan with plenty of space, or a large wok and to avoid overcooking the noodles. You want to work quickly and have plenty of room for the ingredients to spread out. This will allow the flavors to combine well and prevent the protein from becoming tough.
What should I serve with this easy pad thai recipe?
Pad thai is super filling on its own. However, it also pairs well with sides and appetizers like our crunchy Thai salad or potstickers.
What kind of noodles should I use for Pad Thai?
Use dry rice noodles, typically found in Asian grocery stores, online, or the ethnic sections of major grocery stores.
How to I ensure my Pad Thai noodles don't become mushy?
It's important to follow the package instructions for your brand of noodles; some require soaking in hot water and other instruct you to boil the noodles first. The main key is not to over-soak nor over-cook. Keep it on the al dente side, as the noodles will continue to cook a bit once you add it to the wok.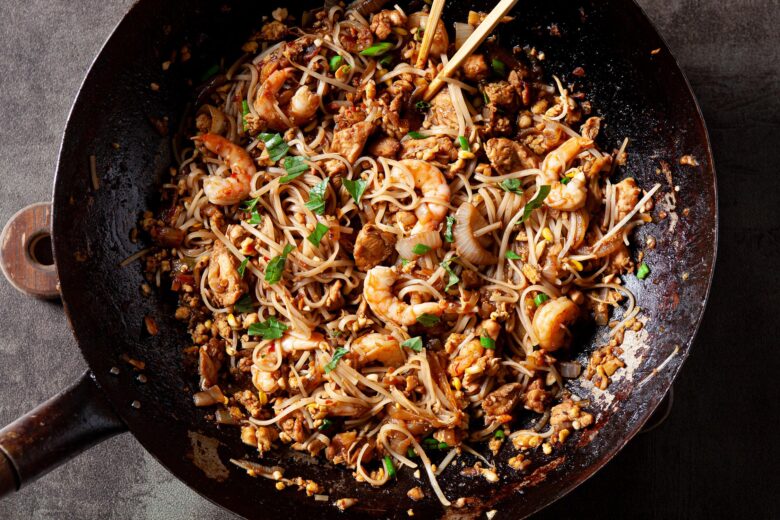 ---
More to Cook and Eat
---
---
Did you make this?
Please give us a rating and comment below. We love hearing from you!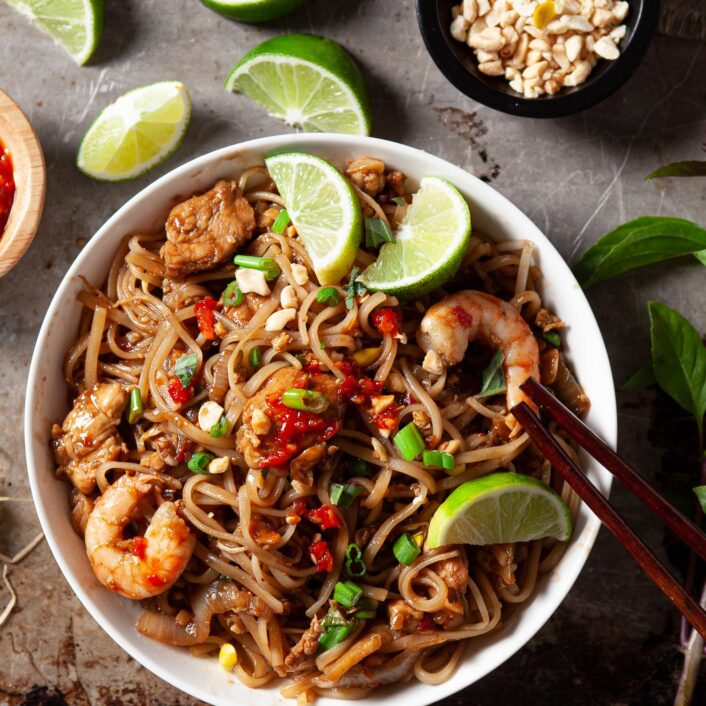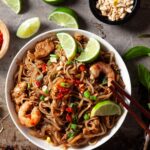 Easy Pad Thai Recipe
This easy pad thai recipe is bursting with protein thanks to the use of chicken and shrimp!
Ingredients
For Pad Thai:
½

LB

chicken breast or thigh,

boneless, skinless

1

TB

tamari sauce

1

tsp

cornstarch

8

oz

dry Pad Thai noodles

3

TB

olive oil,

or canola oil

1

medium onion,

thinly sliced

6

cloves

garlic,

minced

½

LB

large shrimp,

raw, shelled, and deveined

3

eggs,

lightly beaten

2

cups

bean sprouts

¼

cup

green onions,

thinly sliced

¼

cup

dry roasted peanuts,

finely chopped

Garnishes: lime wedges,

thinly sliced Thai basil, chopped cilantro, extra bean sprouts, extra chili garlic sauce
Instructions
In a bowl, combine all sauce ingredients, and stir to incorporate. Set aside.

Use paper towels to pat-dry chicken. Slice thinly into bite-size pieces. Place the chicken pieces in a bowl along with the tamari sauce and cornstarch, mixing well. Set aside.

Soak noodles according to package instructions. When done soaking, drain and rinse. Toss with a bit of oil to prevent sticking.

While noodles are soaking, heat oil over medium-high heat in a jumbo pan or large wok. Once oil is hot, add onions and stir 2-3 minutes, or until soft and translucent. Add garlic and stir 1 minute. Add chicken and stir just until chicken is no longer pink in center. Add shrimp and stir just until shrimp is almost opaque and not quite cooked through.

Use a spatula to push ingredients in the pan to the sides, leaving an open well in the center of pan. If needed, add a bit more oil in pan center. Crack the eggs into the open well, and scramble just until they are cooked through.

Add the bean sprouts, noodles, green onions, peanuts, and prepared sauce to the pan. Stir gently to fully incorporate, 2-3 minutes or until the noodles are soft. Serve immediately with garnishes.
Notes
The pad thai sauce can be made up to 2 days in advance – cover and chill in the fridge until ready to use.
Tamarind paste is super easy to use. If you prefer to use tamarind pulp, soak 3 TB pulp in ¼ cup hot water for at least 30 minutes, or until the mixture becomes thick and paste-like. Strain out any solids, using just the leftover paste.
We highly recommend using preserved radish, as it provides deeply aromatic sweet, and salty flavors of authentic Pad Thai. There is no good substitute, so if you cannot find it, just omit it.
Dry shrimp can be found at Asian grocery stores or online; it provides a concentrated briny, succulent flavor to the sauce.
To keep this recipe gluten-free, be sure to buy gluten-free oyster sauce.

If you enjoyed this recipe, please come back and give it a rating ♡
Nutrition (per serving)
Serving:
1
serving
|
Calories:
450
kcal
|
Carbohydrates:
60
g
|
Protein:
24
g
|
Fat:
13
g
|
Saturated Fat:
2
g
|
Polyunsaturated Fat:
2
g
|
Monounsaturated Fat:
7
g
|
Trans Fat:
0.02
g
|
Cholesterol:
182
mg
|
Sodium:
720
mg
|
Potassium:
492
mg
|
Fiber:
3
g
|
Sugar:
19
g
|
Vitamin A:
253
IU
|
Vitamin C:
10
mg
|
Calcium:
98
mg
|
Iron:
2
mg