Tender Yellow Cake with Chocolate Whipped Cream Frosting
When my sweet middle child turned seven, he was unwavering in his one birthday request.
It wasn't a new toy. He's the type of precious kid who isn't into fancy new gadgets. He would much rather hold fast to his tattered old favorites than acquire any new replacements. Wish lists aren't a big thing for him.
My boy did, however, request a "vanilla cake."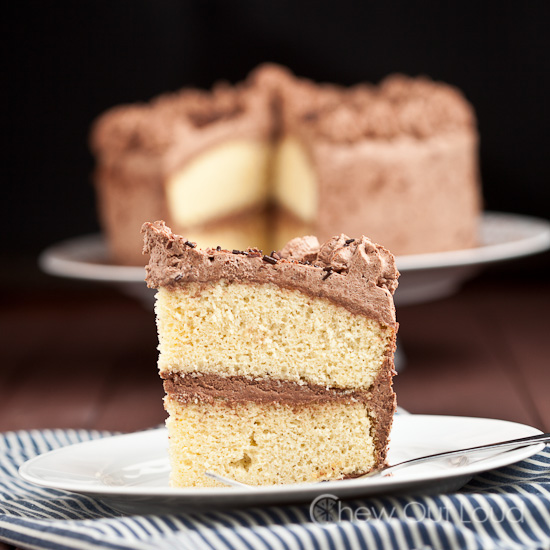 Vanilla, he said. Because we often devour chocolate cakes such as this One Bowl Chocolate Cake. And we just had this yummy DQ-like Ice Cream Cake and everyone always requests ice-cream cake. So, regular vanilla cake needs to have a turn.
Ok, so I'm not sure if this is officially a "regular vanilla cake," but it is a superb yellow cake that contains the wonderful aroma of pure vanilla in it.
Yeah, my lil' guy fully approved. In fact, everyone became immediate fans of this yellow cake, and it has certainly earned a coveted spot in our birthday cake rotation.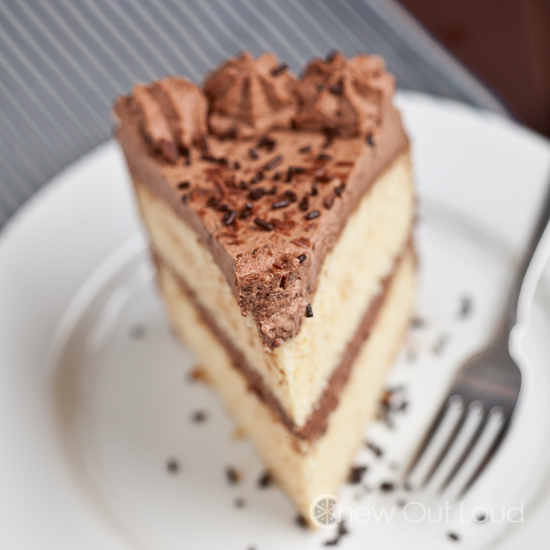 This tender yellow cake is magnificently rich, soft, and moist. I am especially fond of the simple ingredients and the ease of preparation. This fluffy, moist cake comes together quickly and is pretty much fail-proof.
Yellow cake just begs for a chocolate frosting, and I had to oblige. I wanted an alternative to a heavier buttercream. I was also looking outside of super-sweet ganache for this particular yellow cake.
Not that I don't adore ganache, but this yellow cake is so light and tender, a light and fluffy frosting would be its perfect match.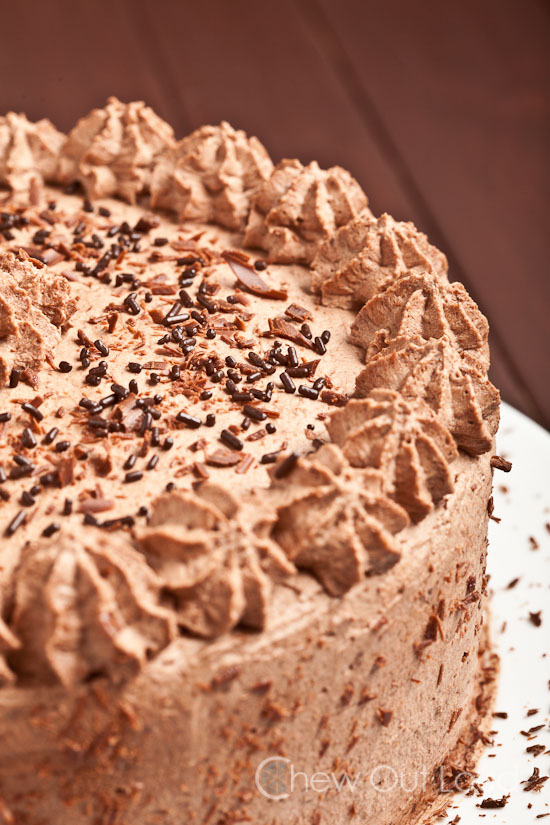 The quintessential covering for this tender yellow cake is a chocolate whipped cream frosting.
I routinely use Stabilized Whipped Cream to frost my desserts and cakes, as it does not weigh down the dessert and it boasts such a delicate yet scrumptious flavor.
I took my go-to stabilized whipped cream recipe into overdrive by adding a generous amount of real cocoa powder to it. The resulting chocolate whipped cream frosting is phenomenal. It's like a fluffy, light chocolate-milk flavored frosting.
Seriously, this frosting is a dessert all on its own.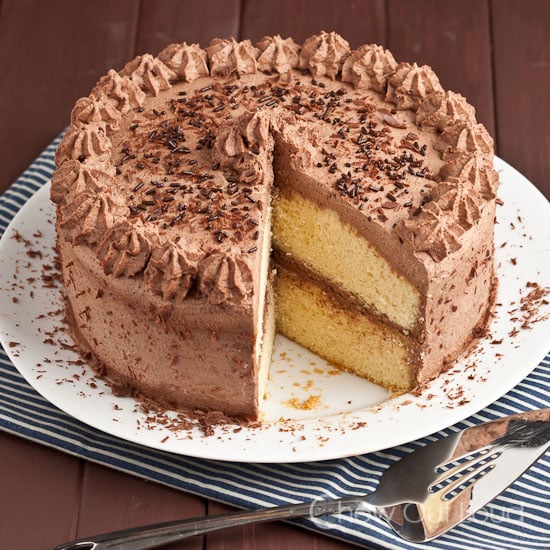 I totally did keep a separate little bowl of this chocolate whipped cream frosting in the back of the fridge.
Just for Mommy.
After-party material.
Make this, and you'll know exactly what I mean.
Enjoy!
Did you make this?
Please give us a rating and comment below. We love hearing from you!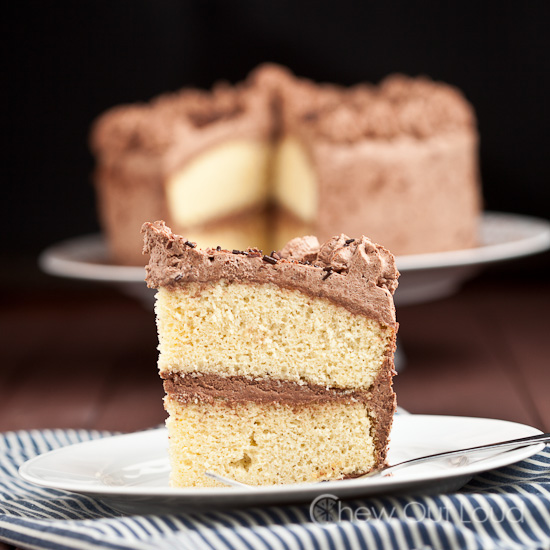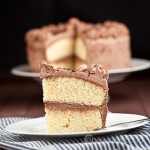 Tender Yellow Cake with Chocolate Whipped Cream Frosting
This tender yellow cake boasts a moist, fluffy, and tender crumb. It is lavishly spread with a fluffy, light chocolate whipped cream frosting that is unforgettable.
Ingredients
For the Cake:
½

cup

whole milk

,

room temp

4

large eggs

,

room temp

3

tsp

good vanilla extract

1 ¾

cups

7 oz cake flour

1 ⅓

cups

white sugar

2

tsp

baking powder

¼

tsp

table salt

16

TB

salted butter,

sliced and softened to room temp
Instructions
Preheat oven to 350F, adjust rack to lower middle or middle, and grease two round cake pans (9 inch.) Line cake pans with parchment on bottom, grease the paper and the sides of pan, and dust entire insides of pans with flour. Set aside.
To make the cake:
In a bowl, whisk together the milk, eggs, and vanilla. Set aside.

In the bowl of a stand mixer, use the paddle to whisk together the flour, sugar, baking powder, and salt on low speed until incorporated. Slowly add the butter, 1 slice at a time, mixing until just pea-sized bits remain.

Add all except for the last 1/2 cup of the milk mixture. At medium high speed, beat until batter is light and fluffy, about 1 min. Reduce to medium low, and add rest of the 1/2 cup milk mixture, beating 30 more seconds. Batter may look curdled; stir once more by hand.

Divide batter evenly between greased cake pans, smoothing tops out.

Bake until toothpick in the center comes out with a few tender crumbs attached, about 19-20 minutes. Do not overbake.

Let cakes cool in pans on wire rack until they can be easily removed. Remove cakes from pans and let cool completely to room temp before frosting.
To make the frosting:
Combine cold cream, powder sugar, and cocoa in a large bowl. Place in fridge about 10 minutes.

In small glass bowl, combine gelatin with 3 TB water until water is soaked into the gelatin. Microwave in 10-second intervals, just until mixture is dissolved and melted. Stir, and let cool to a thick lukewarm liquid.

Blend the chilled cream mixture on medium-low speed until mixture is ribbony, 10-20 seconds. Slowly add the room-temp melted (no longer warm!) chocolate. Whisk 10-20 more seconds, or until holds stiff peaks.

While continuing to blend, add lukewarm gelatin liquid in a steady stream directly into the blending, continuing to blend for about 10 more seconds.

The frosting will appear sturdy and clumpy, but will smooth on cake nicely. Chill frosting at least 15 minutes before using. If needed, give it a stir by hand before using.

Frost cake as desired. Leftover frosting keeps well covered in fridge for a couple of days. Keep frosted cake covered and chilled until ready to serve.
Nutrition (per serving)
Calories:
809
kcal
|
Carbohydrates:
72
g
|
Protein:
11
g
|
Fat:
62
g
|
Saturated Fat:
38
g
|
Polyunsaturated Fat:
3
g
|
Monounsaturated Fat:
16
g
|
Trans Fat:
1
g
|
Cholesterol:
232
mg
|
Sodium:
354
mg
|
Potassium:
292
mg
|
Fiber:
3
g
|
Sugar:
39
g
|
Vitamin A:
2087
IU
|
Vitamin C:
1
mg
|
Calcium:
157
mg
|
Iron:
2
mg
Source: Chew Out Loud (cake portion adapted from Cooks Illustrated Cookbook)