Triple Pumpkin Scones with Cream Cheese Icing
By Amy Dong
Published Nov. 4, 2014
Updated Aug. 17, 2022
Scones are the ultimate brunch treat, and these Triple Pumpkin Scones with Cream Cheese Icing are sure to be a hit. They are packed with pumpkin and drizzled with a decadent cream cheese icing that is finger licking good.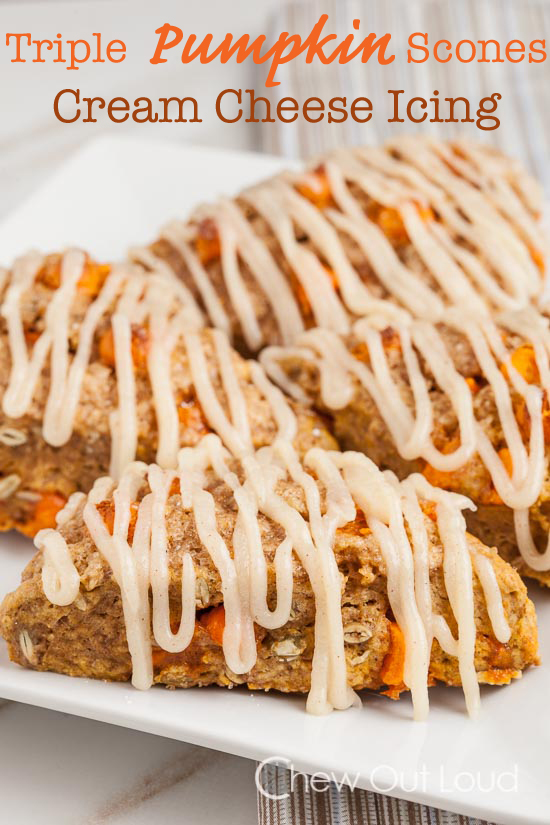 Scones are the quintessential breakfast/brunch treat. They're perfect for dishing up at home, bringing to friends' homes, and serving up at brunch potlucks.
Scones, much like cookies, begin as a blank canvas for the home cook (aka artist!) to create with. Make them sweet or savory, according the season, or just to suit whatever your tummy craves.
We love these fantastical Pumpkin Spice Scones with Cinnamon Icing each fall. These moist, scrumptious White Chocolate Berry Scones are my favorite for any time of year.
This time, I couldn't get cream cheese icing out of my head, so here we go…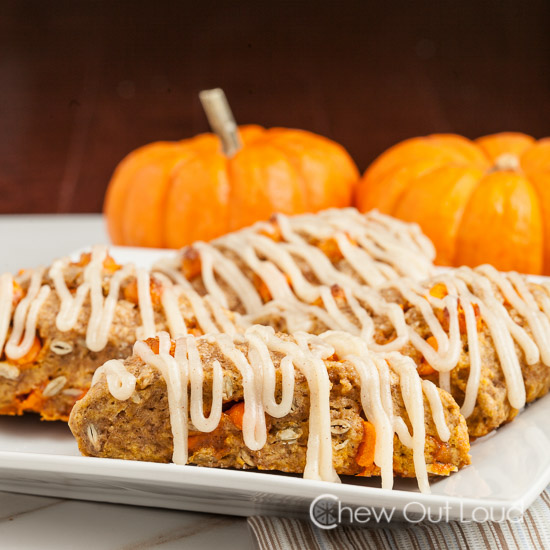 Triple Pumpkin Scones with Cream Cheese Icing. Hello, Beauties.
These are moist, satisfying, and full of pumpkin flavor. I even accidentally overbaked my scones (timer malfunction?!) and they still came out fairly tender. If you don't overbake them, they'll be awesomely moist.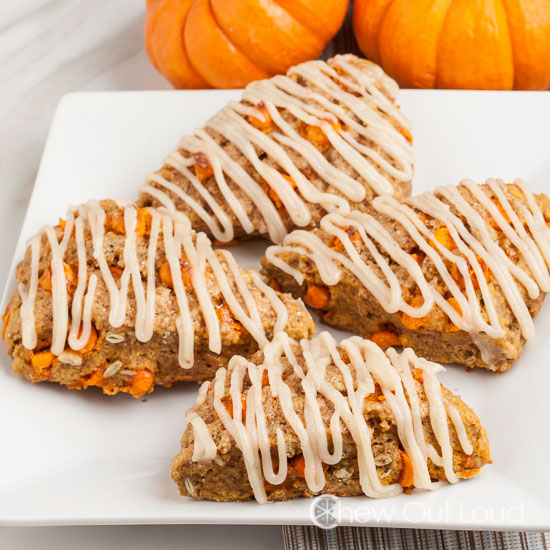 These scones are packed with pure pumpkin, roasted pumpkin seeds (pepitas), and pumpkin chips.
Pumpkin chips only come around seasonally each fall, so grab 'em while they are still here. When I saw them at Target, I dropped several bags into my cart, giddy with the possibilities.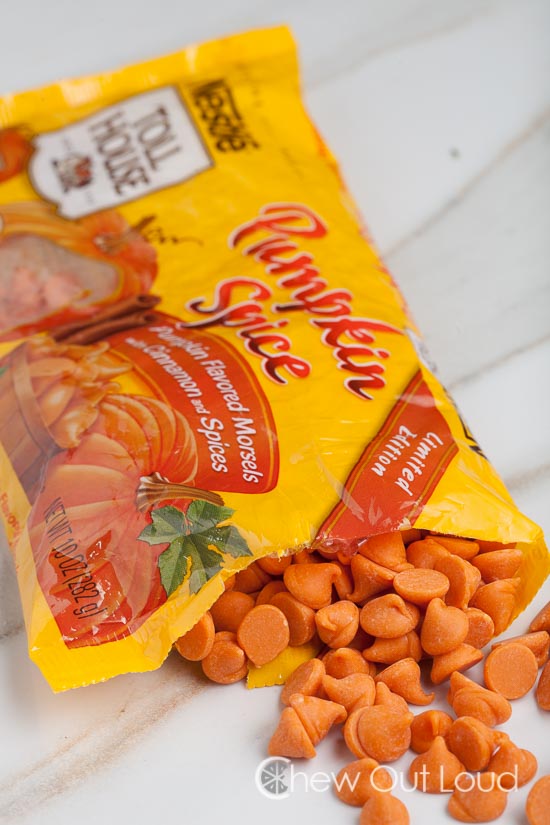 When my friend said her mom's favorite morning treat was a pumpkin scone, I couldn't wait to bake these up for her birthday.
The group of us happily munched on these pumpkiny scones with our coffee and tea, and I quickly decided I'll definitely be making these again.
The cream cheese icing is finger licking delicious. It really kicks up the yum factor on these scones. No skipping the cream cheese icing, please. Like anyone needs coercing.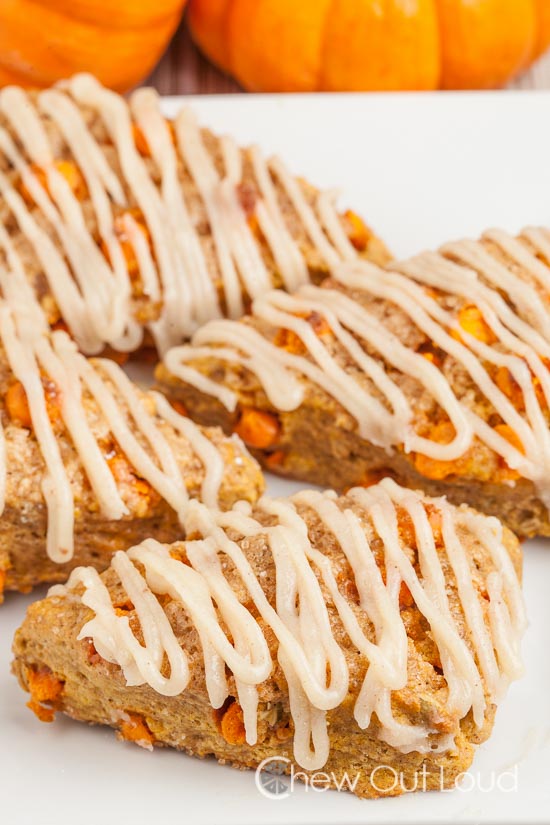 Enjoy!
Did you make this?
Please give us a rating and comment below. We love hearing from you!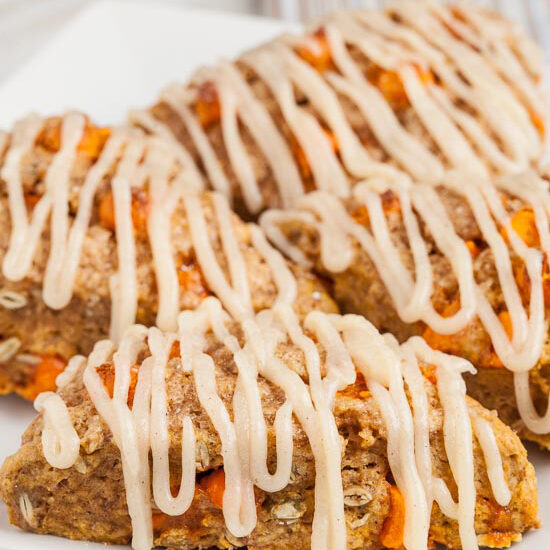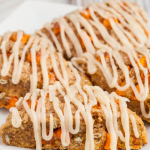 Triple Pumpkin Scones with Cream Cheese Icing
These Triple Pumpkin Scones with Cream Cheese Icing will be the hit of your brunch! They are moist, packed with tons of pumpkin flavor, and drizzled with the most finger-licking good icing.
Instructions
In a large mixing bowl, whisk together flour, sugar, baking powder, salt, and spices. Work in cold butter (I use my fingers) just until mixture is unevenly crumbly; some chunks of butter that remain unincorporated are good. Stir in pumpkin chips and Pepitas.

In a separate bowl, whisk together the pumpkin and eggs until smooth. Add pumpkin egg mixture to the dry ingredients. Stir until all is moistened and holds together. If dough is sticky, just scrape it into a ball and wrap with cling wrap. Place in fridge for at least 1 hr or until dough is cold enough to be workable.

Line two plates with squares of parchment paper (parchment should extend past the plate) and sprinkle some flour on parchment. Divide dough in half and place each half on a separate plate. Pat each half into a 6 inch circle, about 3/4 inches thick each. Carefully slice each circle into 6 wedges. Separate wedges so there is at least 1/2 inch space between them. Brush each wedge with milk and sprinkle with coarse sugar.

Place uncovered scones into freezer for 30 minutes (necessary step for this recipe.) While scones are chilling, preheat oven to 425F.

Transfer parchment paper with scone wedges onto baking sheet. Bake scones 17-19 minutes on lower middle rack, watching to make sure they don't over bake. Once they are golden on top and a toothpick comes out mostly clean (a few tender crumbs are great.)

While scones are baking, make Cream Cheese Icing. Mix together all icing ingredients and whisk to incorporate well.

Remove scones from oven and cool. Drizzle with glaze and serve. Wrap any leftovers in airtight container and keep at room temp. Do not put in fridge. Glazed scones keep well for a day or two.
Nutrition (per serving)
Calories:
312
kcal
|
Carbohydrates:
57
g
|
Protein:
5
g
|
Fat:
14
g
|
Saturated Fat:
8
g
|
Polyunsaturated Fat:
1
g
|
Monounsaturated Fat:
4
g
|
Trans Fat:
0.4
g
|
Cholesterol:
64
mg
|
Sodium:
400
mg
|
Potassium:
106
mg
|
Fiber:
2
g
|
Sugar:
17
g
|
Vitamin A:
2570
IU
|
Vitamin C:
1
mg
|
Calcium:
90
mg
|
Iron:
2
mg
Source: Chew Out Loud
Here are a few of my favorite brunch goodies:
Pumpkin Spice Scones with Cinnamon Drizzle — Moist, tender, and full of fall spices!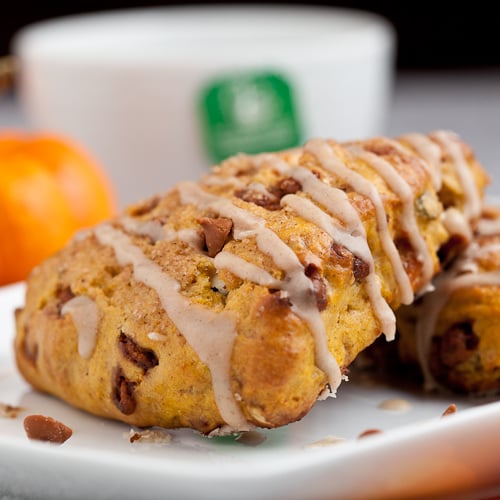 White Chocolate Berry Scones — These are moist, chock full of dried berries, and perfect year round.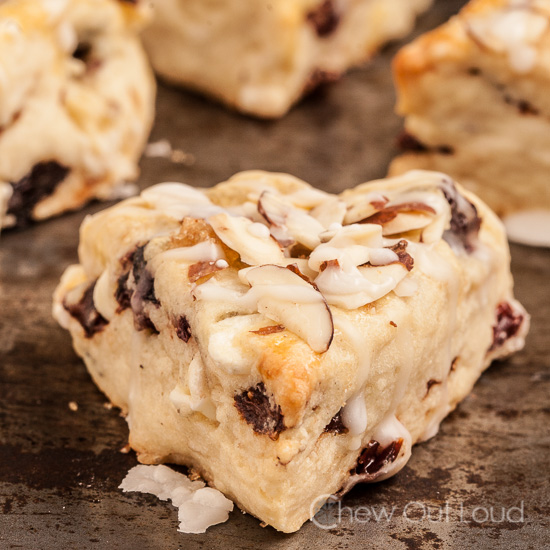 Best Ever Pumpkin Bread — This is hands down, the best and moistest pumpkin bread we've ever eaten.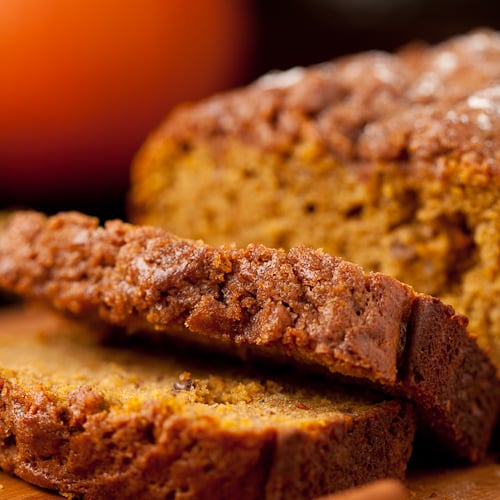 Fluffy Pumpkin Pancakes — Healthy and absolutely fluffy and moist! If you're going to have pancakes in fall, this has got to be the thing.