White Chocolate Cranberry Scones
By Amy Dong
Published Dec. 10, 2014
Updated Aug. 17, 2022
These White Chocolate Cranberry Scones are crispy at the edges, yet have a moist 'n tender crumb throughout. Fresh cranberries make these scones festive for the holidays.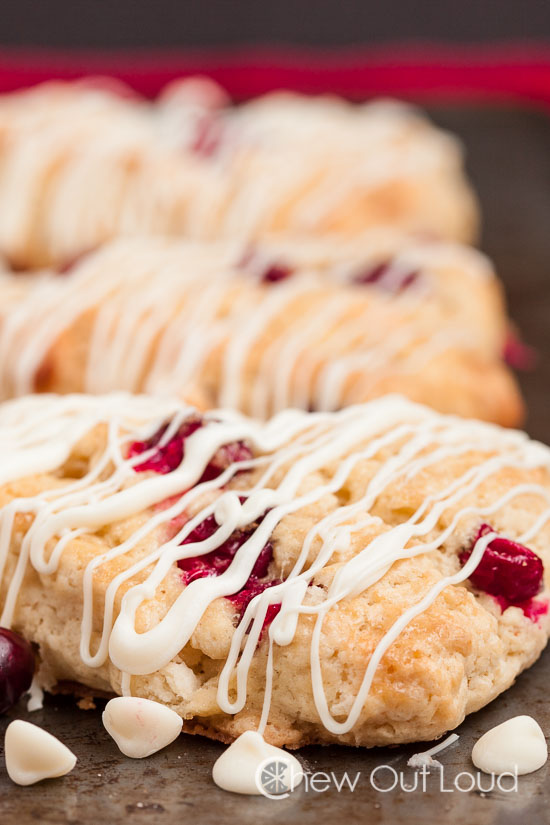 We've got lots of white chocolate raspberry love in this space, but it's the cranberry's time to shine right now.
I've been making fresh cranberry sauce every year (a must do!) but once I discovered baking with fresh cranberries, there's no turning back.
White chocolate and cranberries have long been in cahoots, particularly in cookies, but typically recipes call for dried cranberries. We eat our Craisins by the handful, so no qualms with that.
But baking with fresh cranberries is a completely knock-your-socks off way to get your cran-goodness in every luscious bite…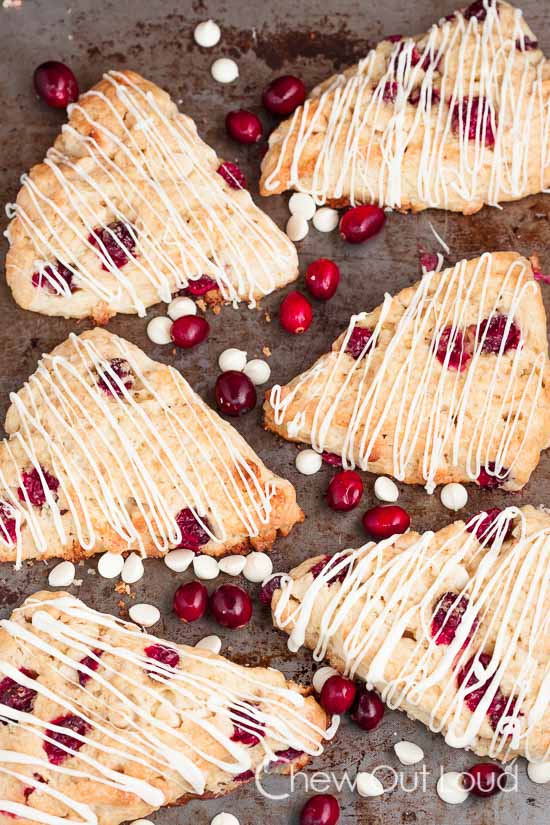 The tart juiciness of fresh cranberries combined + the sweetness of white chocolate = strikingly awesome.
These White Chocolate Cranberry Scones have an unbelievably moist and tender crumb, encased in a crispy exterior.
Festively sprinkled with coarse sugar on top and drizzled with more of my favorite white chocolate.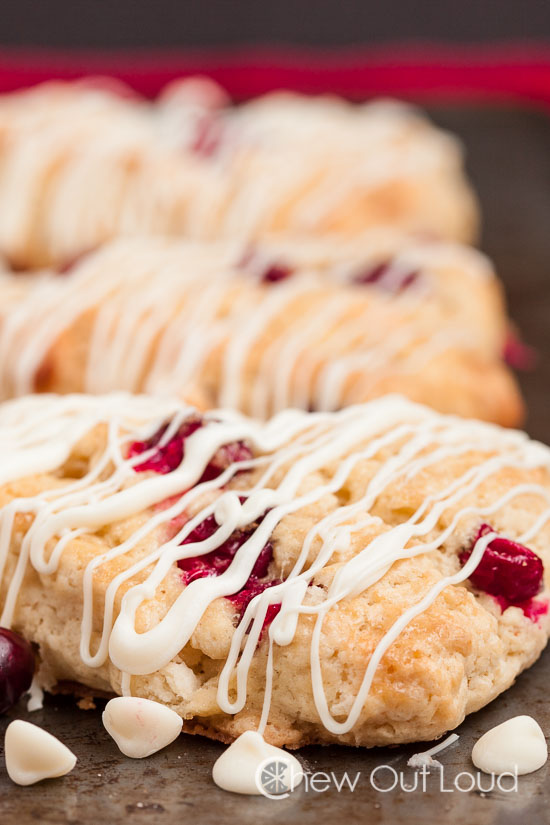 Thanks to my wise foresight, I managed to set aside a couple scones this time for myself and Hubby. We happily savored them because that's all we got.
Scones simply don't last long around here.
The rest of this batch was polished off by our Littles with lightening quick speed.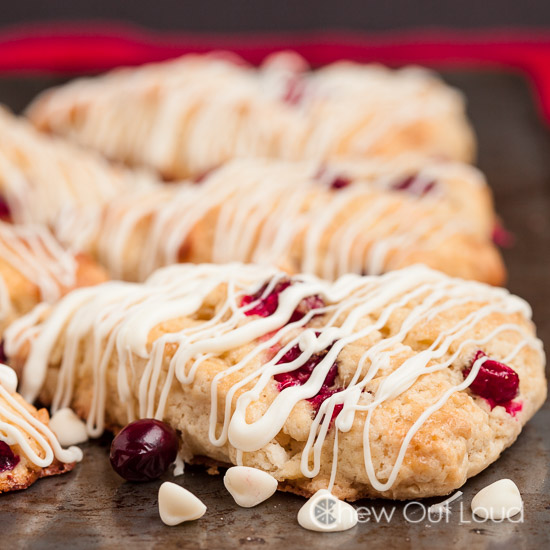 Red, white, and festive.
Crispy exterior, moist center.
Perfect for gifting and sharing and simply enjoying.
Did you make this?
Please give us a rating and comment below. We love hearing from you!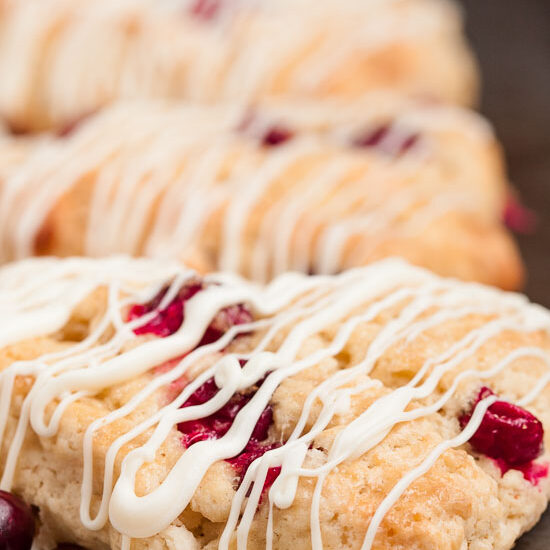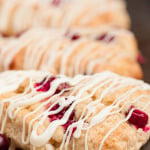 White Chocolate Cranberry Scones
These White Chocolate Cranberry Scones are crispy on the exterior and super moist throughout. They are tender without being dry at all. The tangy juiciness of fresh cranberries melds perfectly with the sweetness of silky white chocolate.
Instructions
In a large bowl, whisk together the flour, sugar, cinnamon, baking powder, baking soda, and salt. Using large holes of a box grater, grate frozen butter into the flour. Use fingers to work in the butter until it resembles a coarse meal. Stir in white chocolate chips.

In separate bowl, whisk together sour cream, eggs, and vanilla until smooth and incorporated.

Use a fork to stir sour cream mixture into flour mixture until large clumps form. Gently stir in cranberries. Use hands to form dough into two even sized balls. (As you work the dough, it will come together and form balls; don't overwork dough.)

If dough is sticky and needs to firm up a bit, wrap dough balls tightly and chill until it's easier to work with, about 20-30 minutes.

Meanwhile, line baking sheets with parchment paper. Set oven to 400F, with rack on lower-middle position.

On a lightly floured, flat surface, pat each dough ball evenly into an 8-inch circle, about 3/4 inch thick each. Using a very sharp knife, cut each circle into 8 triangle wedges. Place triangles on lined baking sheets, 1 inch apart.

Brush the egg wash on top of each triangle. Sprinkle tops with coarse sugar.

Bake one sheet at a time, about 14-17 minutes or just until tops are light golden. Do not over bake.

Allow scones to cool completely to room temp.

Melt 1/2 cup white chocolate chips and drizzle over the top. Serve immediately, or store in airtight container for up to 2 days. Baked scones are best within first 24 hours. If they are very slightly under baked, they will stay moist longer.

*Note: If you want to make the dough ahead of time, simply wrap the two dough balls in cling wrap and chill up to 2 days in fridge. Then, shape and bake as directed.
Nutrition (per serving)
Calories:
256
kcal
|
Carbohydrates:
42
g
|
Protein:
5
g
|
Fat:
8
g
|
Saturated Fat:
4
g
|
Polyunsaturated Fat:
1
g
|
Monounsaturated Fat:
2
g
|
Trans Fat:
0.003
g
|
Cholesterol:
42
mg
|
Sodium:
260
mg
|
Potassium:
109
mg
|
Fiber:
1
g
|
Sugar:
16
g
|
Vitamin A:
149
IU
|
Vitamin C:
2
mg
|
Calcium:
80
mg
|
Iron:
2
mg
Source: Chew Out Loud
Scones, Scones, Scones! We love them, and hope you will too!
Pumpkin Scones with Spice Glaze that are better than coffee shops?! Yes, absolutely fool-proof so. Moist and decadent.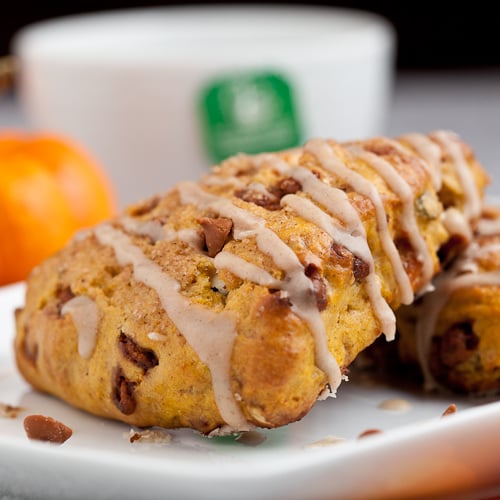 Triple Pumpkin Scones with Cream Cheese Icing. Because we can't get enough of pumpkin + cream cheese. So, so good.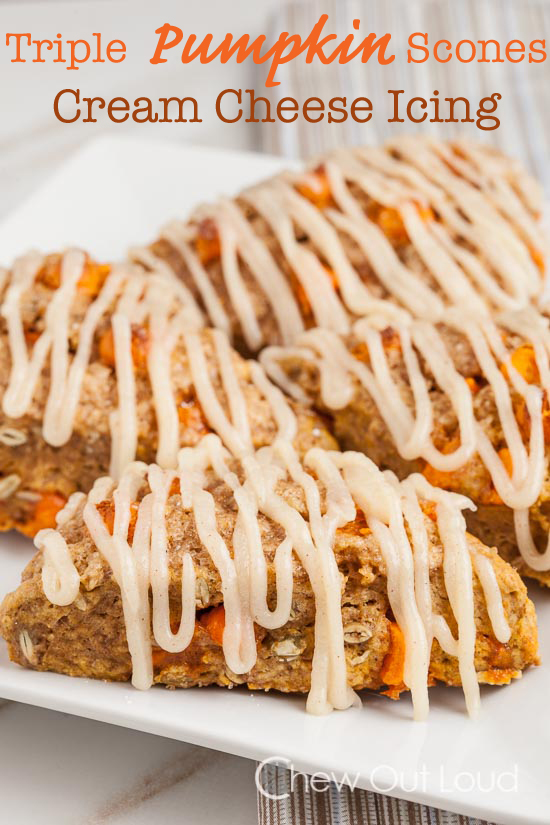 White Chocolate Berry Almond Scones. Use your favorite dried berries in these fab scones that are 100% guaranteed to be a hit.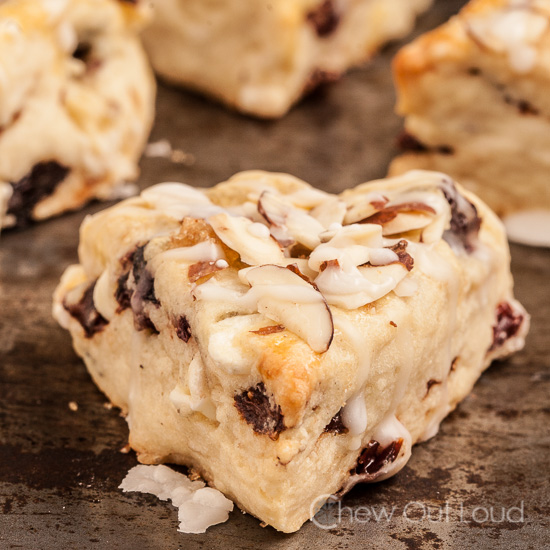 We'd love to have you follow us on Pinterest, where we regularly pin the best stuff 🙂
Follow us on Facebook and Twitter for the newest recipes and giveaway prizes (here's our current giveaway.)
Hang with us on Instagram for behind-the-scenes shots of the food we make… and happy things 🙂
We're honored you came over today and hope you enjoyed today's recipe.