White Chocolate Raspberry Cheesecake
This White Chocolate Raspberry Cheesecake is even better than Cheesecake Factory's version; it's thick, rich, and everything a New York style cheesecake should be.
[*Note: This recipe has been updated with new photos and instructions here.]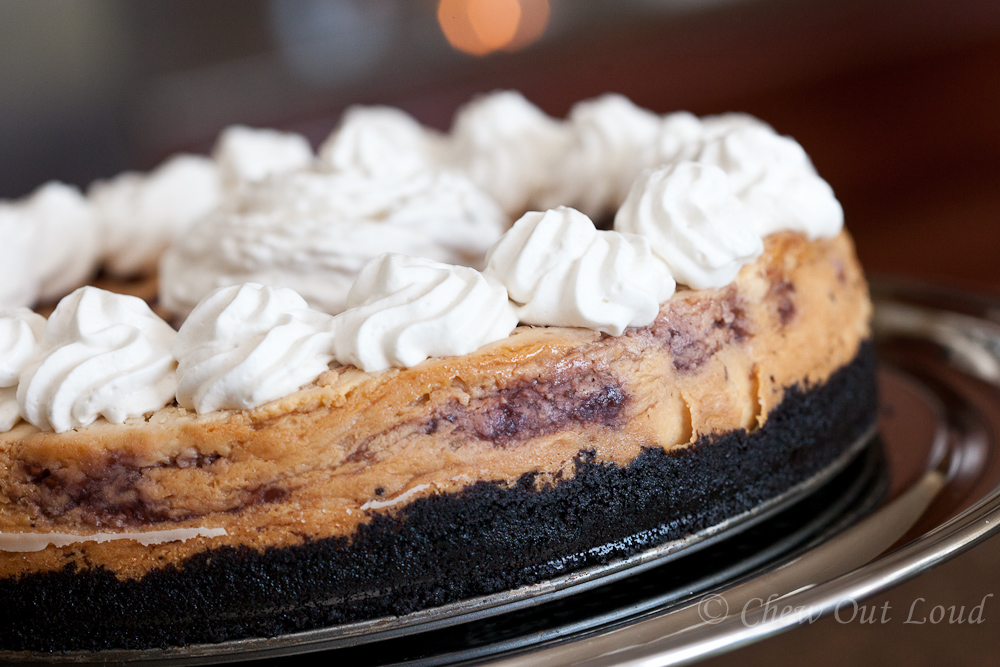 White Chocolate Raspberry Cheesecake
There are two camps of eaters. Those who love cheesecake seem to be in the majority camp. Then there are the handful of people who say they don't like cheesecake. I obviously adore cheesecake and would eat it every day if I could. This white chocolate raspberry version is my favorite cheesecake in the whole wide world, and it has singlehandedly converted a few of those non-cheesecake fans over to our side 🙂
The fact that I could eat cheesecake daily is what drives me to bake this dense, rich, indulgent New York style cheesecake every opportunity I get. Birthdays: it is the cheesecake lover's dream cake. Christmas: the red and white swirls have that holiday covered. Valentines Day: this thick cheesecake with chocolate crust is the perfect sweetheart dessert. In fact, February 14th is coming up, and your loved ones would be so impressed.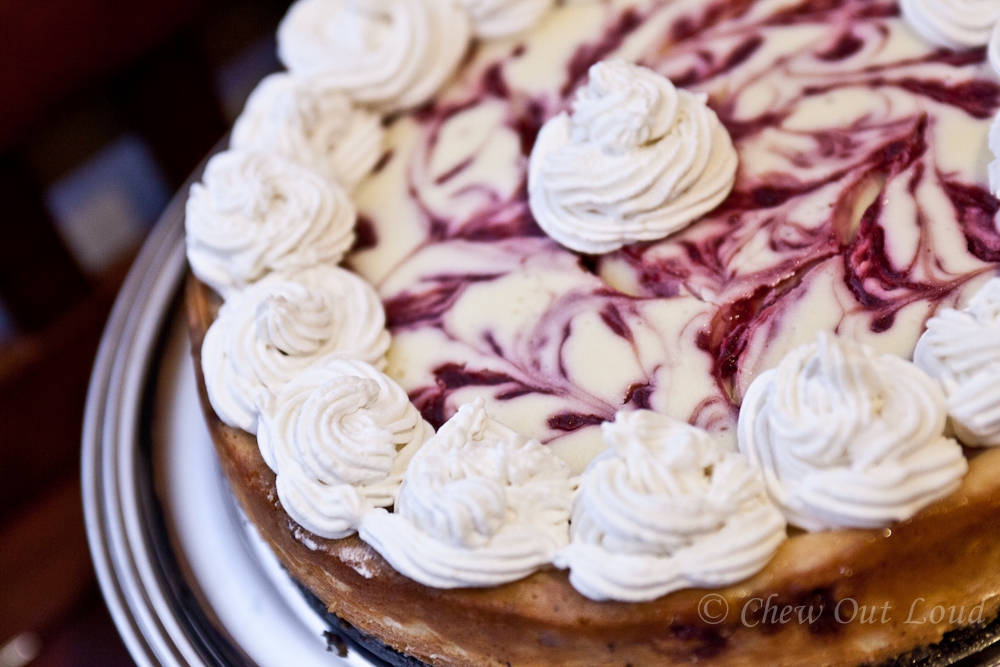 It's actually better than Cheesecake Factory's version
I'm bragging on the cheesecake (not myself) when I say this, but countless people have requested this recipe, deeming it better than Cheesecake Factory's. I have to agree. Years ago, I liked Cheesecake Factory's white chocolate raspberry cheesecake for indulging my sweet tooth… but ever since this homemade one stole my tummy, I can't order cheesecake at any restaurants anymore.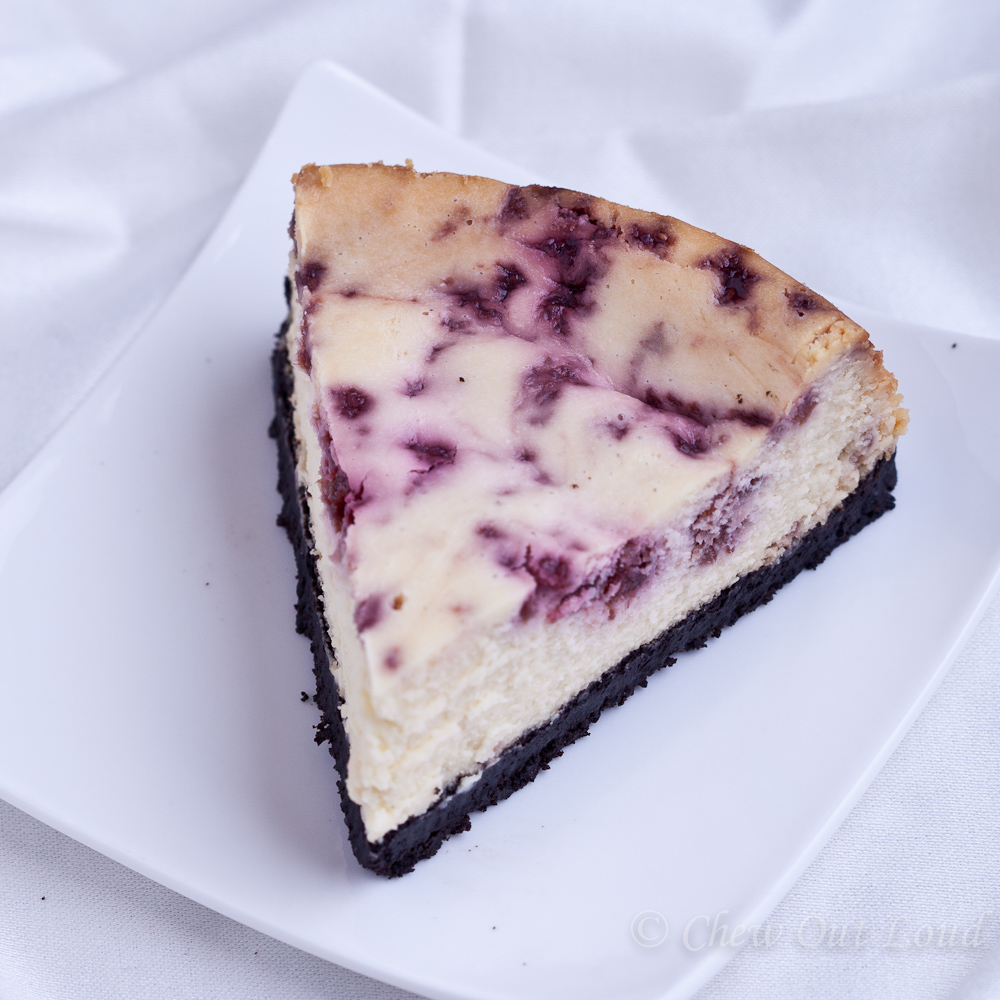 It's easier than you thought
White chocolate raspberry cheesecake is surprisingly easy to make. The best part about this plush cheesecake is that it is made at least a day ahead of time! Score! If you come here often, you know I'm always looking for recipes that can be done ahead of time. I can't really cook well and socialize with a bunch of people at the same time. I try to have most of my cooking done, so I can be fully in the moment with my friends. It helps to use stabilized whipped cream so you can decorate the entire cheesecake the day before and it stays perfect in the fridge. No runny or watery-ness!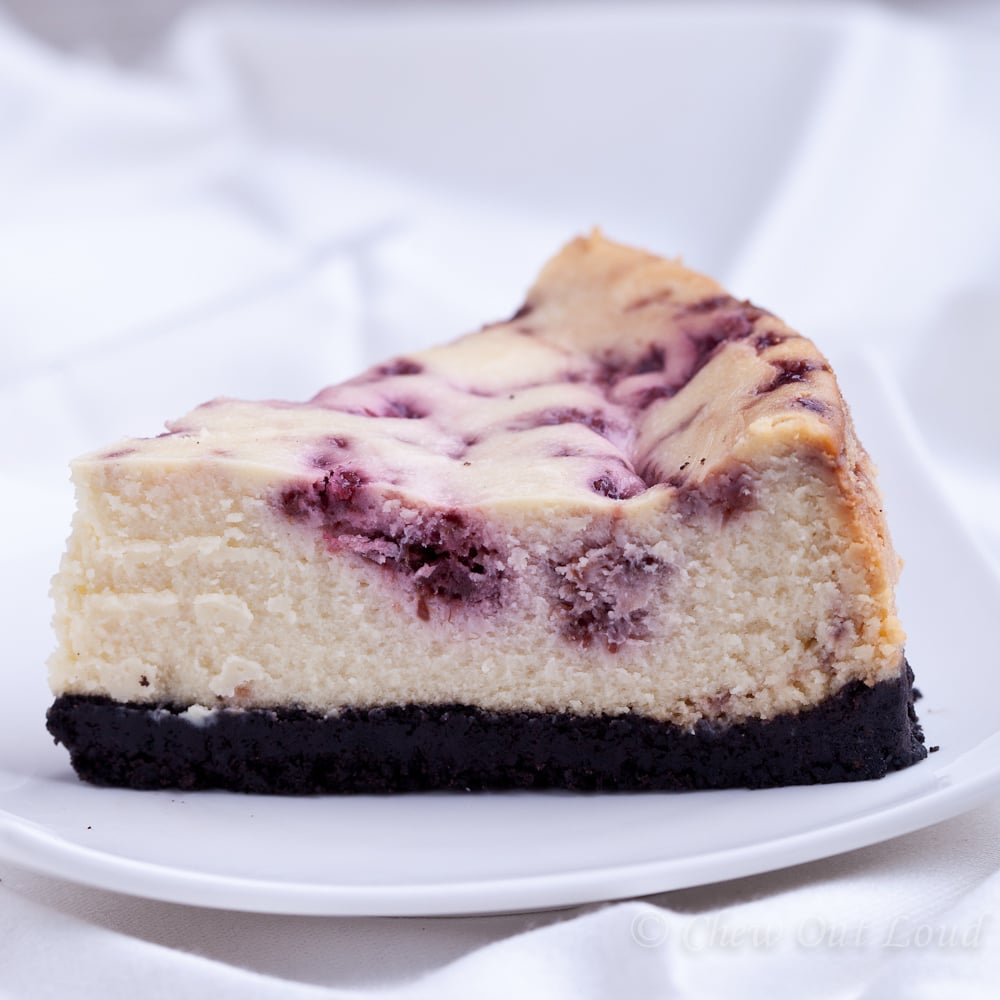 White Chocolate Raspberry Cheesecake is Perfect for entertaining
Next time you're having dinner guests, try out this impressive cheesecake along with some good coffee. Relish in the fact that it can be completely made up to 2 days beforehand. You just might convert a non-cheesecake eater into a fan.
Bonus: If you have leftovers and want to prevent yourself from eating it all, this cheesecake freezes beautifully.
Print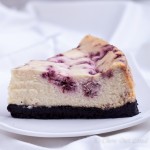 White Chocolate Raspberry Cheesecake
INGREDIENTS
For the crust:
2 1/2 cups chocolate cookie crumbs
1/2 cup melted butter
For the raspberry sauce:
1 (10 oz) package frozen raspberries
2 TB sugar
3 tsp cornstarch, dissolved in 1/2 cup water
For the cheesecake:
1 bag (12 oz) pure white chocolate chips
1/2 cup half and half
3 (8 oz) packages good cream cheese, softened
1/2 cup sugar
3 large eggs
1 TB vanilla extract
Instructions
Make the crust: In a large bowl, mix fine cookie crumbs with butter until well incorporated. Press into bottom of a greased 9-inch springform pan. Set aside.
Make raspberry sauce: In a heavy saucepan, combine raspberries, sugar, and cornstarch/water mixture. Mix well. Bring to boil and boil for 5 minutes, stirring occasionally, until sauce is thick enough to coat a spoon. Remove from heat and set aside.
Preheat oven to 215F. Set rack to lower middle position. Place a pan full of water in the lowest rack. Using a small heavy saucepan, melt white chocolate chips with half and half, on low heat. Stir often until completely melted and smooth. Remove from heat and set aside.
In large bowl, mix together softened cream cheese and sugar until smooth. Beat in eggs one at a time. Add vanilla and the melted white chocolate mixture.
Pour half of batter over the crust. Spoon about a third of the raspberry sauce over batter in small chunks. Swirl with tip of butter knife. Gently pour in the remaining cheesecake batter. Spoon another third of the sauce over the top of batter. Swirl with tip of butter knife to complete the desired marble effect.
Bake at 215F for 3 to 3 1/2 hours. Filling will still jiggle in the center and seem undone. Edges should feel firm upon light touch. Turn heat off and let cheesecake cool in the oven, with door ajar.
Once cool, cover springform pan tightly with foil and cool cheesecake in fridge overnight. Carefully remove cheesecake from springform, and garnish with whipped cream, white chocolate shavings, or fresh raspberries. Remaining third of raspberry sauce can be used for topping as well.
Notes
Note: If you are freezing leftovers, simply wrap cheesecake well with cling wrap. Defrost in fridge or counter. It tastes just as yummy after being frozen!
The slow-bake method at room temp allows you to bake a cheesecake without cracks on top. It takes longer to cook, but will give you a smooth cake without unsightly cracks.
Did you make this?
Leave a comment below and tag @chewoutloud on Instagram