4-Ingredient Pecan Sandies
These easy Pecan Sandies are melt-in-your-mouth shortbread cookies that are bursting with the aroma of real butter and roasted pecans. We keep these pecan cookies deliciously simple with only 4 ingredients.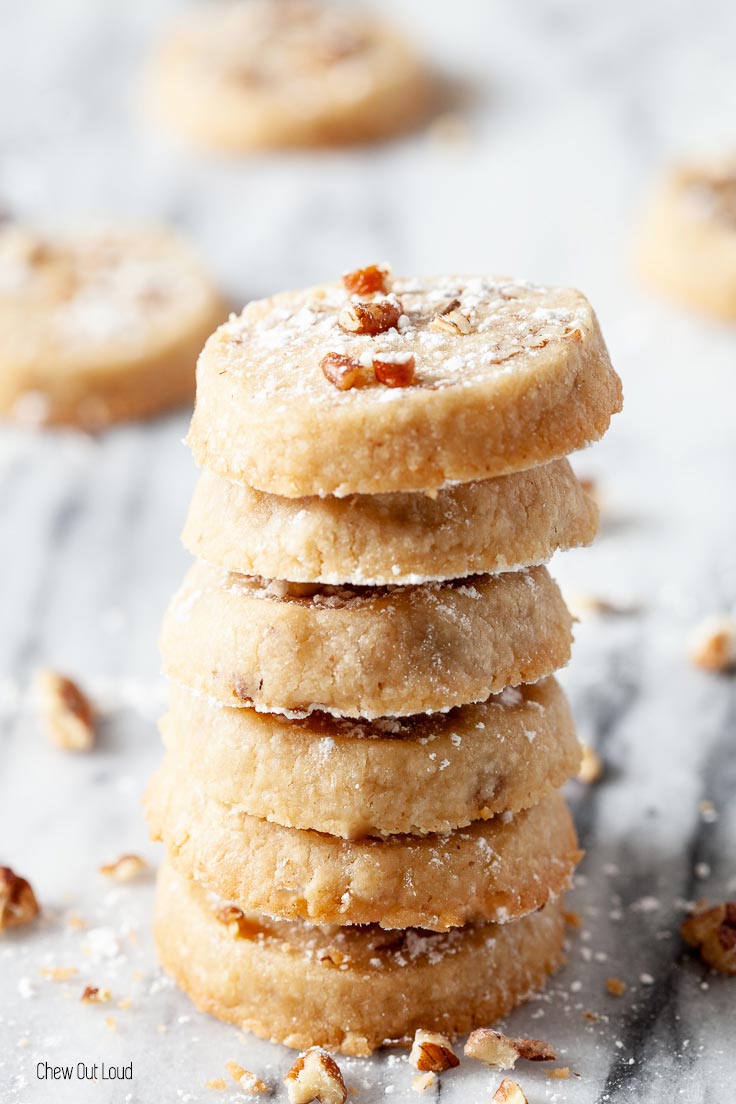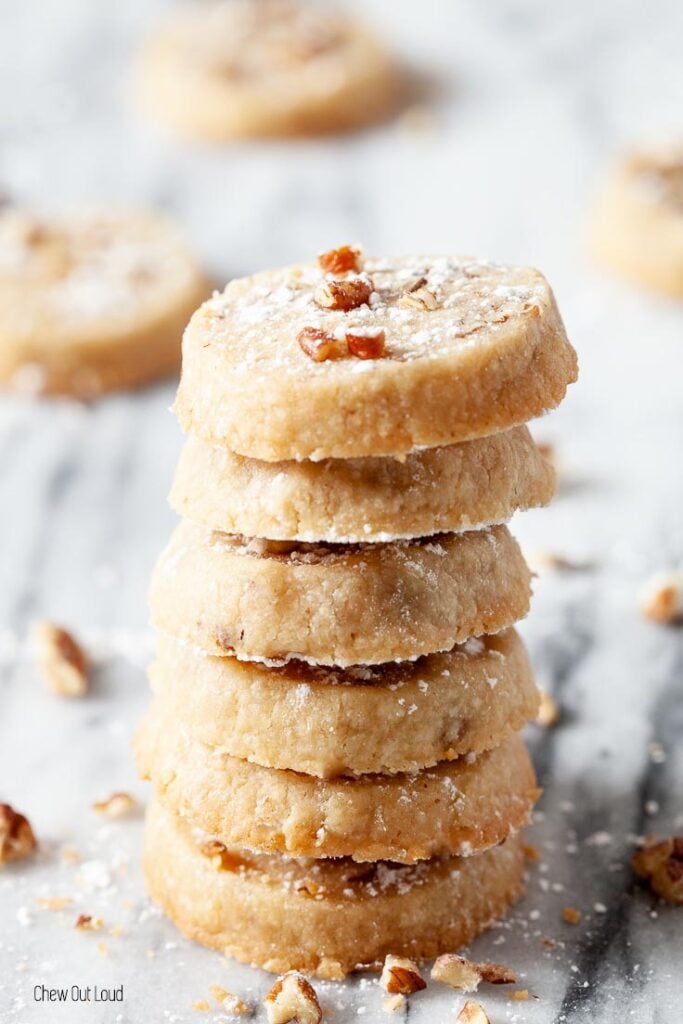 What are Pecan Sandies?
If you aren't familiar with Pecan Sandies, they do have kind of an adorably unique ring to them. They're also referred to as sablé sometimes. Super glitzy moniker.
Essentially, this fancy sounding yet humble looking cookie is a butter shortbread cookie strewn with roasted pecans. Pecans can either be partially ground and included within the dough, or they can be used whole and placed on top of the cookies. For this recipe, we go with a happy jolly middle — finely chopped pecans sprinkled throughout the dough. Not too much, not too little. It's juuuuust right. (Said the baby bear.)
Often, pecan sandies contain white sugar, baking powder, or eggs. This recipe includes none of those. Instead, these deliciously simple melt-in-your-mouth sandies are based on our forever favorite easy buttery shortbread cookies.
We simply added roasted pecans to the mix and transformed these dreamy shortbread cookies into a slice-and-bake deal that's way too easy not to try…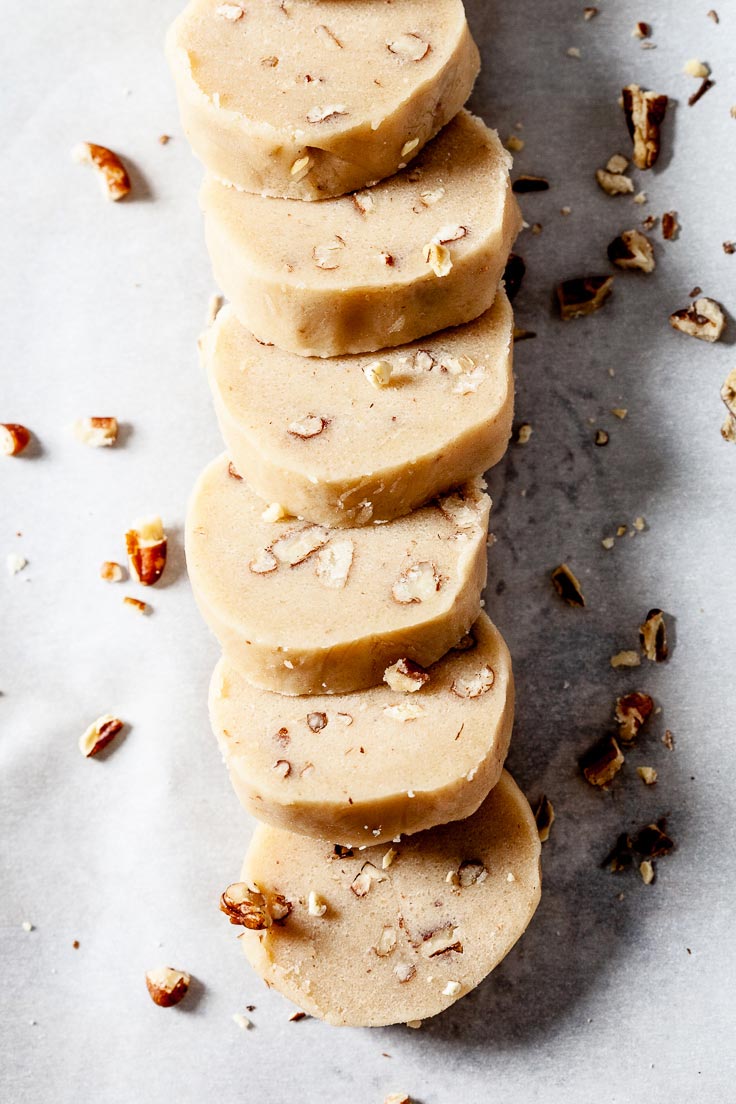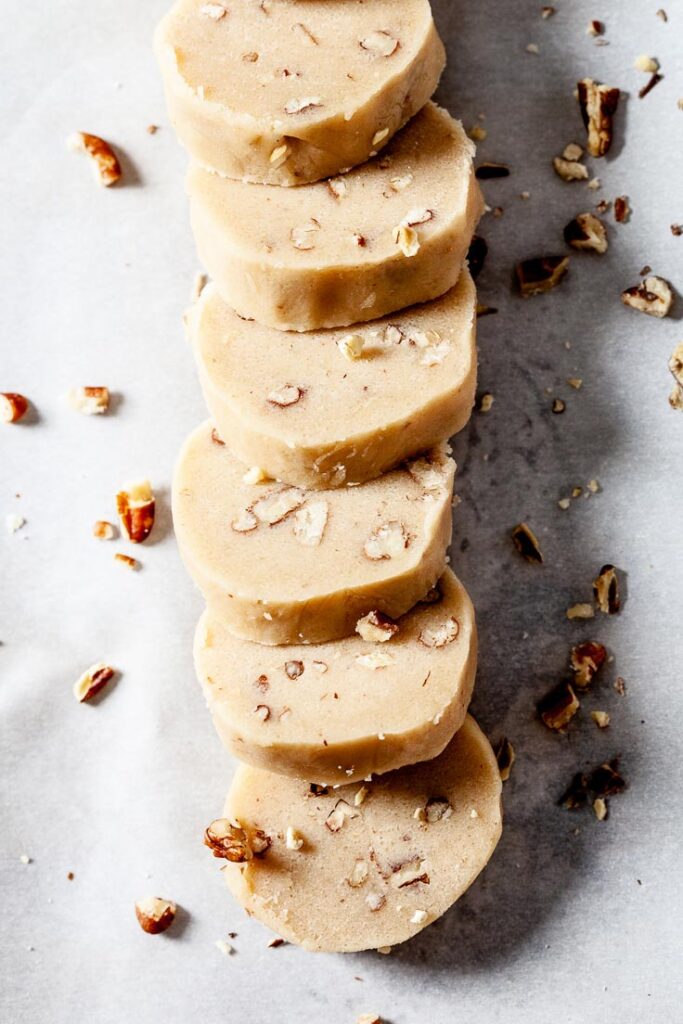 How to make pecan sandies with just 4 ingredients
Because there are only 4 ingredients, make every ingredient count, using only the freshest ingredients.
Cold salted butter is used in this pecan shortbread recipe. Slice the butter and keep it chilled prior to using. A stand mixer is extremely helpful when mixing cold butter to a fluffy consistency. Using salted butter eliminates the need for adding any additional salt. Keeping the butter cold helps your dough to retain ability to be rolled into logs.
Rather than the typical white sugar, we opt for all light brown sugar, tightly packed. Important: use only fresh brown sugar that has not lost any of its moisture (as brown sugar sits in the pantry, it tends to gradually dry out.)
When measuring all-purpose flour, only use measuring cups meant for dry ingredients. Gently spoon flour into your dry measuring cups and scrape off excess flour with flat edge of a knife. Do not tap down or pack down flour. One of the biggest reasons for less than ideal results in baking is inaccurate flour measurements.
Finely chopped roasted pecans give these shortbread cookies the nutty aroma characteristic of pecan sandies cookies. Reserve some for sprinkling on top of the cookies just prior to baking – this is purely vanity, but you know how people eat with their eyes and all.
Totally optional: powdered sugar for dusting on top of baked/cooled cookies. Again, for pomp only.
Why do we make pecan sandies with brown sugar?
Many pecan sandies cookies contain confectioner's sugar or granulated sugar in the dough. We use brown sugar for its depth of flavor and its moisture content.
Be sure your brown sugar is fresh and has not lost any of its moisture from being in the pantry too long. I've noticed that even when my brown sugar has been opened for just a few weeks, it already seems a bit drier than when first opened. You can keep brown sugar moist longer by double wrapping it airtight and storing it at moderate room temperature.
(We've probably all heard of the slice of bread or apple or even marshmallow tricks to rejuvenate aged brown sugar, but I've yet to confirm the epic-ness of those hacks.)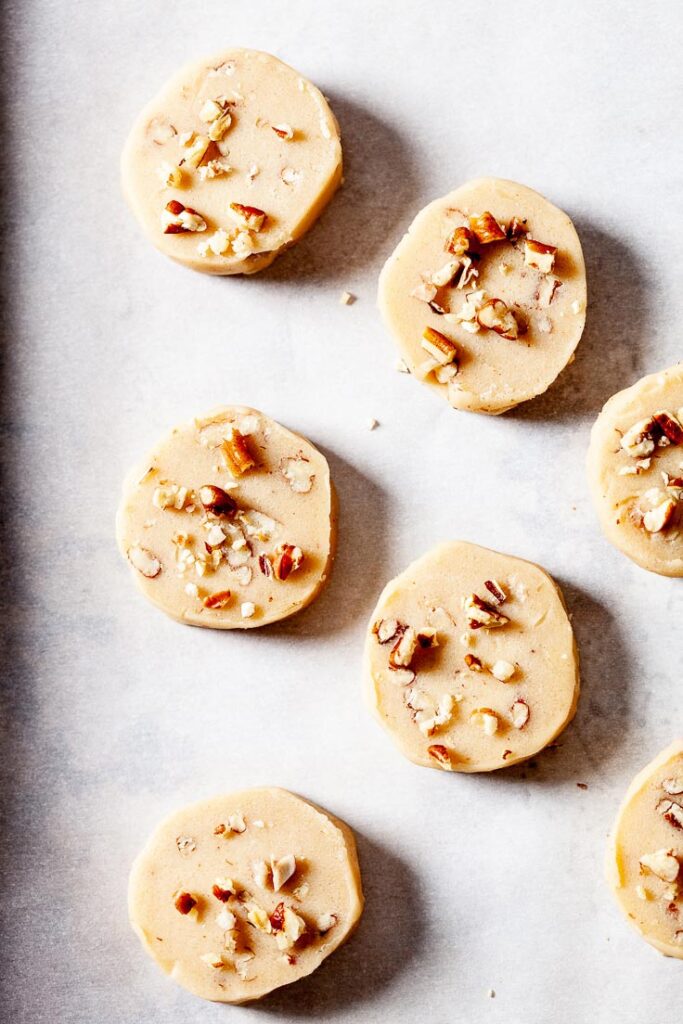 Final pro tips
Line baking sheets with parchment paper or silicone mats. I use my mats for all cookie baking adventures, and they never disappoint.
It's definitely worthwhile to pull out your stand mixer whenever the recipe calls for fluffing butter and sugar together.
It takes several minutes for the cold butter and brown sugar to become fluffy on medium-high speed in stand mixer. It needs to look like fluffy whipped butter. Don't rush this process. It's not a race, unless you're on Chopped.
You may not end up using all of the flour; the consistency of your cookie dough should be akin to play-dough. Not dry/crumbly nor wet/sticky.
My favorite cookie making tip: whenever working with cookie dough literally by hand, it helps tremendously to keep the palms of your hands slightly damp with either a bit of water or oil. None of the cookie dough will cling to your palms that way 🙂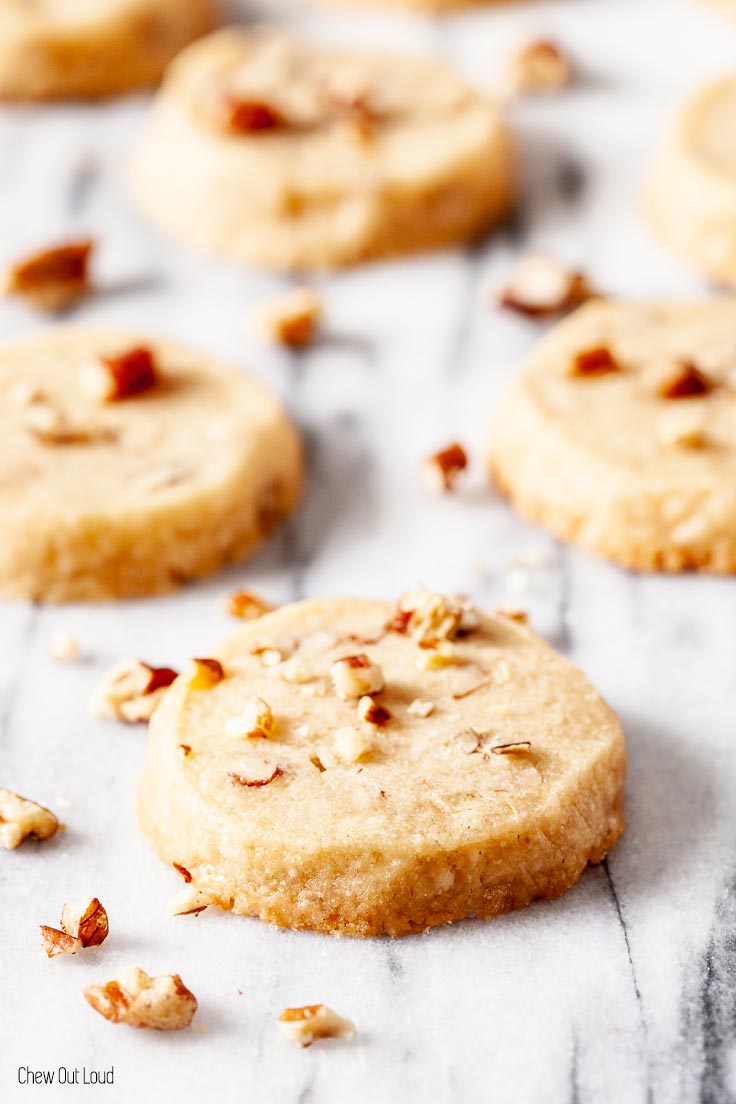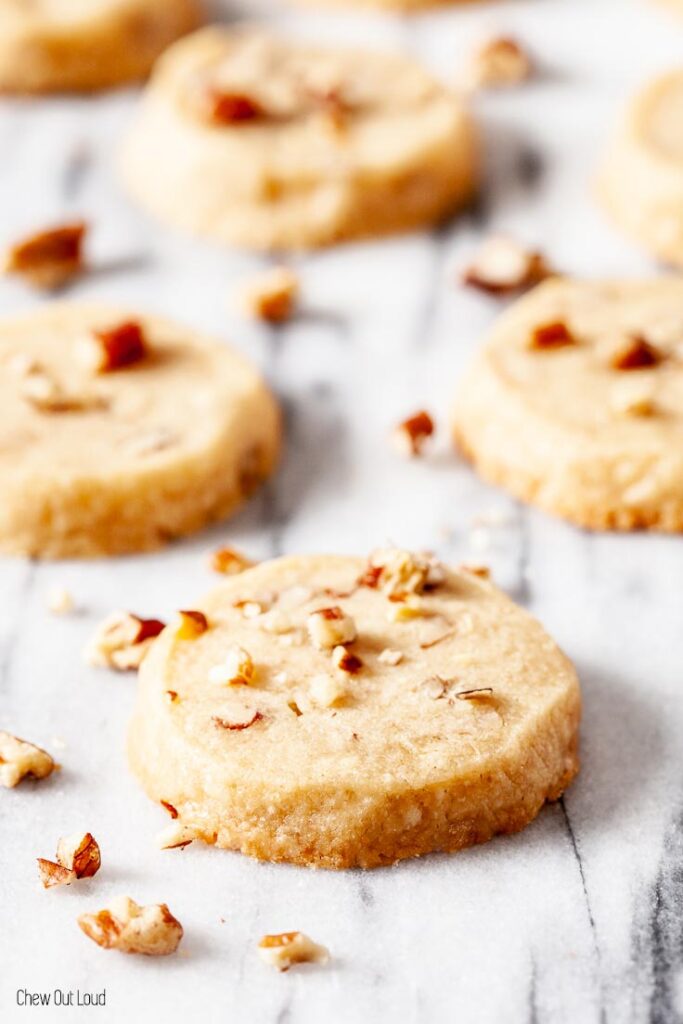 Fun variations for these pecan shortbread cookies
Play around with various nuts; chopped roasted walnuts, almonds, or hazelnuts are great options.
If you like vanilla flavor in your shortbread, feel free to add 1 tsp of pure vanilla extract into your dough. A bit of almond extract is delicious as well. We actually use both in our vanilla almond cut out cookies.
Try add-ins such as chocolate chips, white chocolate, dried cranberries, or colorful sprinkles. We did holiday sprinkles with our 3-ingredient shortbread cookies.
Instead of slice-and-roll cookies, try rolling out the dough 1/2-inch thick and use cookie cutters for fun shapes.
Try drizzling finished cookies with melted chocolate or homemade salted caramel, which is out of this world amazing.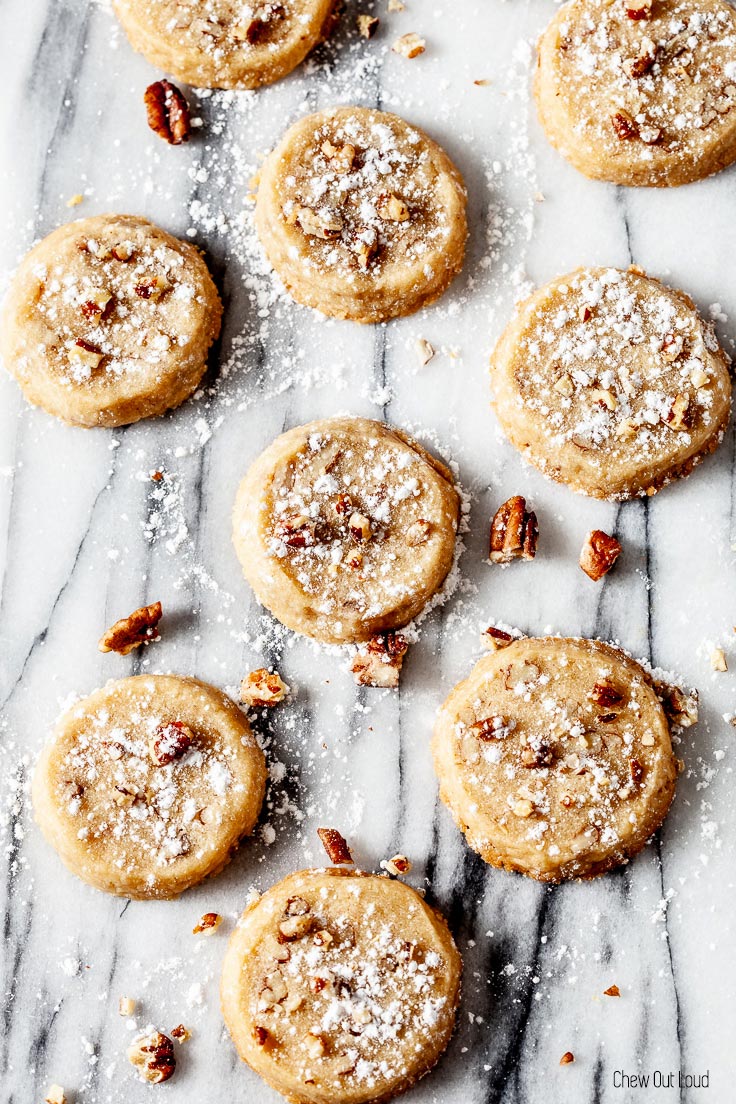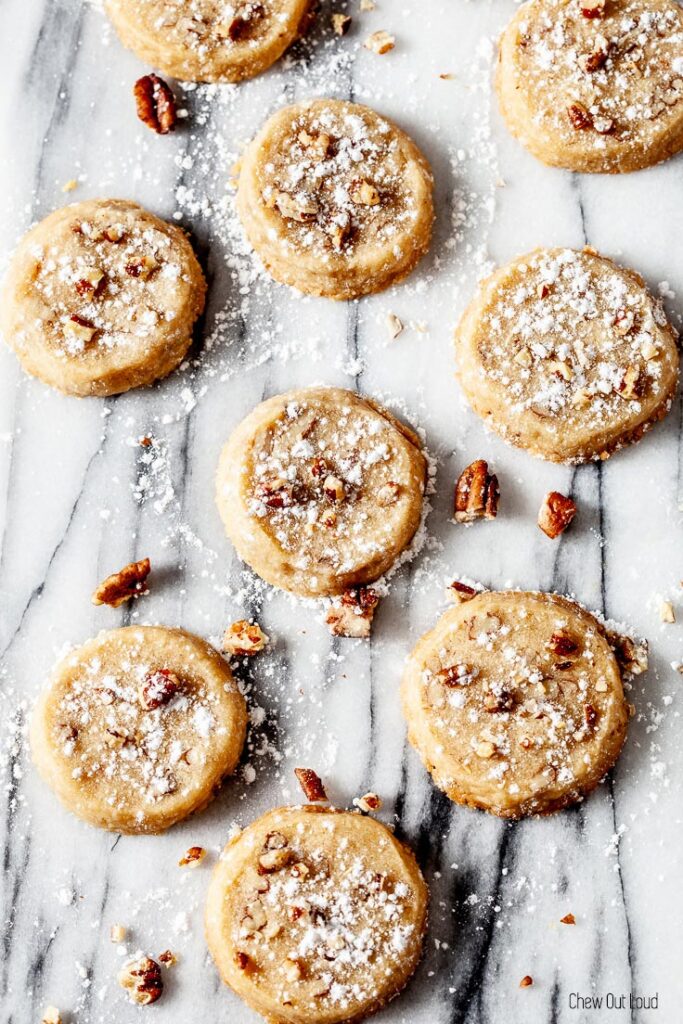 Can both the unbaked dough and baked pecan sandies be frozen?
Yes and yes. You can confidently wrap up unbaked dough airtight and keep in freezer for several weeks until ready to be used. Defrost by placing frozen dough in fridge overnight.
Baked cookies can be wrapped airtight and frozen for 1-2 weeks. They're absolutely perfect for cookie emergencies, which is a real live thing.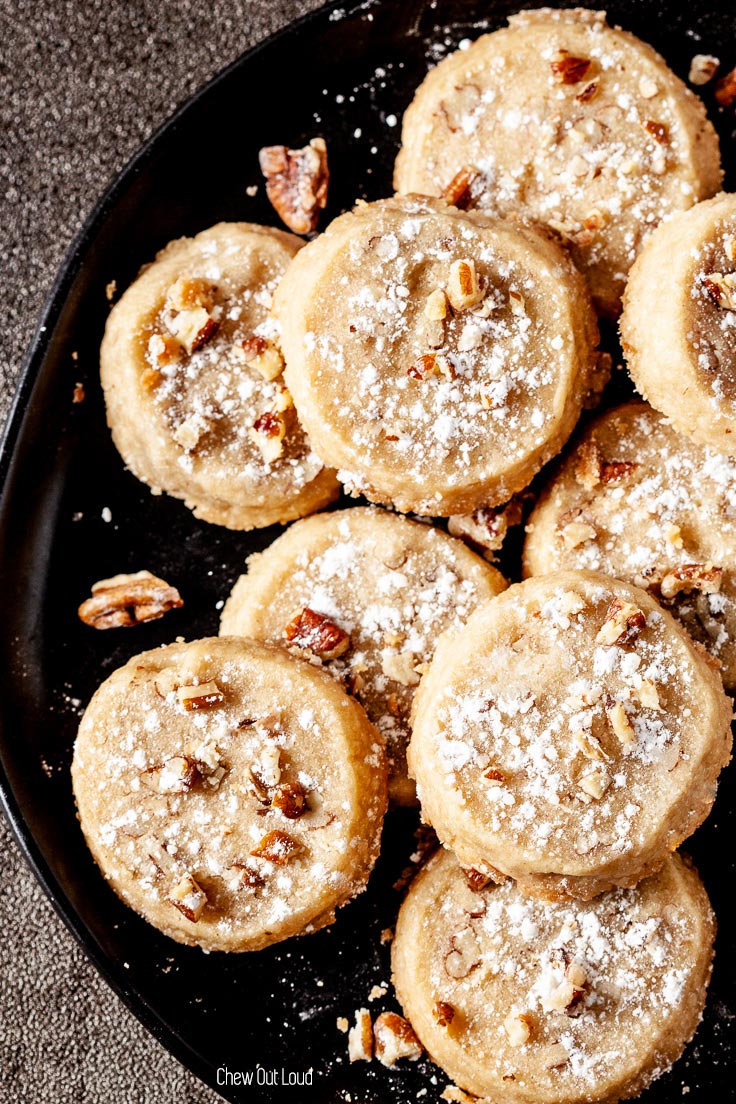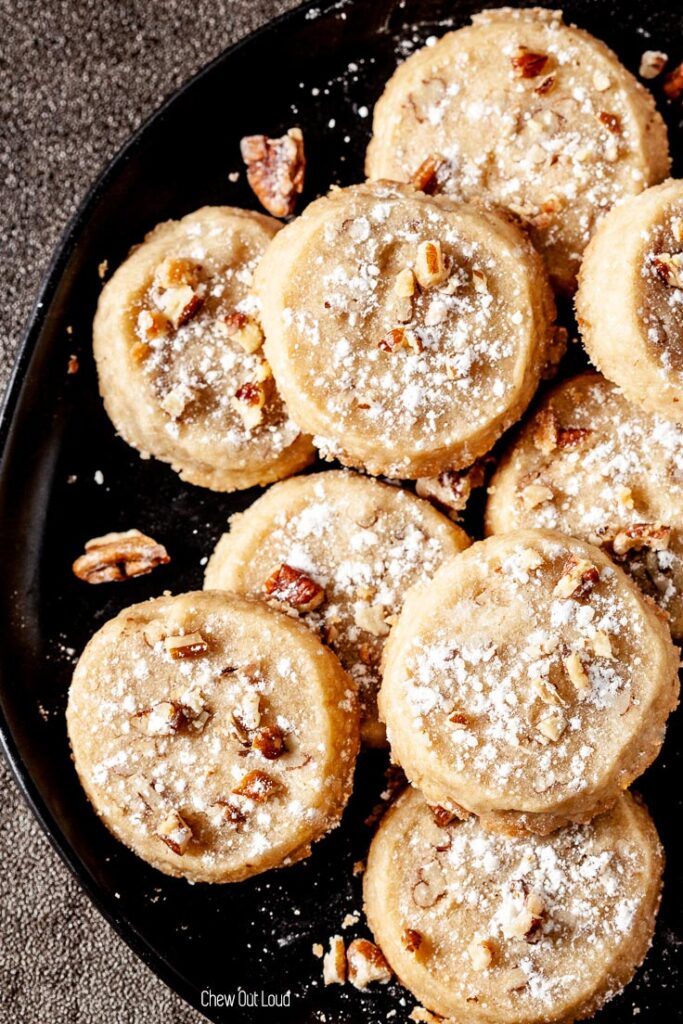 More to bake and eat
---
Have you seen these buttery jam thumbprints in action?
---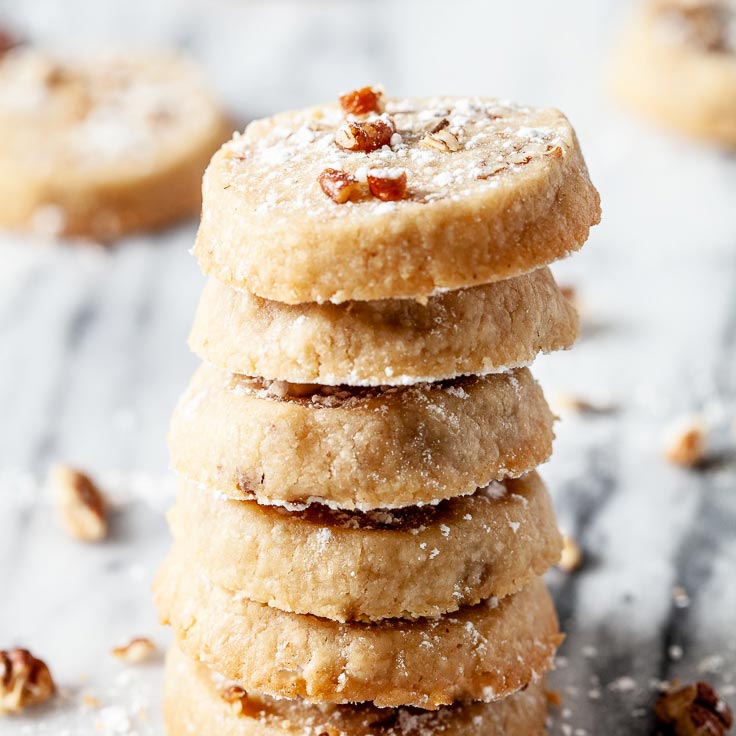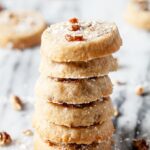 4-Ingredient Pecan Sandies
These easy Pecan Sandies are melt-in-your-mouth shortbread cookies that are bursting with the aroma of real butter and roasted pecans. We keep these pecan cookies deliciously simple with only 4 ingredients.
Ingredients
1

cup

salted butter

,

cut into pieces and chilled

½

tightly cup packed light brown sugar

,

be sure it's fresh

2 ¼

cups

all-purpose flour, divided (you may not end up using all of it)

½

cup

roasted pecans

,

finely chopped, plus extra for topping

Optional: powdered sugar for dusting
Instructions
Mix: In the bowl of a stand mixer, add butter and brown sugar. Using paddle attachment on medium-high speed, mix until fluffy and light, several minutes. Scrape down sides as needed. Add only 1 1/2 cups of the flour and mix on medium-low speed until combined, scraping down sides as needed.

Knead: On a large board, sprinkle 1/3 cup flour to keep dough from sticking to the board. Use rubber spatula to transfer dough to the board. Knead dough by hand for 2 minutes, adding only as much of the remaining flour as needed to make a soft pliable dough. The dough should end up soft and workable, similar to play-dough. If it's too sticky, add in one tablespoon of flour at a time just until dough is the right consistency. Do not add so much flour that dough becomes dry (note: you may not end up using all the flour.) Work in pecans.

Roll into logs: Divide dough in half and gently roll into logs that are 1 1/2" diameter. Tip: moisten palms with a bit of water or oil to prevent dough from sticking to palms. If your dough has become too warm, chill dough a few minutes to firm up just enough to allow you to roll it.

Chill dough: Wrap logs airtight and chill 30 minutes or until firm enough to slice easily. Preheat oven to 325F with rack on lower middle position. Line large rimmed baking sheet with parchment paper or silicone baking mat.

Slice: Remove one dough log from fridge and slice into 1/2" thick rounds. Place each cookie 2 inches apart on baking sheet. Place extra chopped pecans on top of cookies, if desired. Bake 12 minutes, or until bottom edges are golden brown. The tops of cookies should remain pale; do no over-bake. Let cookies cool a couple of minutes on baking sheet, before transferring to wire rack to finish cooling. If desired, sprinkle with powdered sugar.

Repeat: Repeat with the remaining dough log (if dough becomes too firm, let rest at room temp a few minutes to soften just enough to slice.) Cookies keep very when sealed airtight, at room temp.
Notes
These make approximately 30 smaller cookies; they'll bake up to be about 2-inches diameter. When shortbread cookies are too large, they can break apart easier. To prevent that, we keep them on the smaller side. Perfect bite-sized treats!
Dough logs can be wrapped airtight and frozen for several weeks. Defrost in fridge and slice to bake. Baked cookies can also be wrapped airtight and frozen 1-2 weeks.
If you enjoyed these cookies, please come back and give them a rating. 🙂
Nutrition
Calories:
101
kcal
|
Carbohydrates:
7.5
g
|
Protein:
1.2
g
|
Fat:
7.5
g
|
Saturated Fat:
4
g
|
Trans Fat:
0.2
g
|
Cholesterol:
16.3
mg
|
Sodium:
48.9
mg
|
Fiber:
0.4
g
|
Sugar:
0.2
g
Did you make this?
Leave a comment below and tag @chewoutloud on Instagram