Lace Cookies | Florentines
By Amy Dong
Published Jan. 18, 2023
Updated Sep. 26, 2023
This Lace Cookies recipe features golden toffee-like flavor and a crisp texture for a truly drool-worthy treat. Made with less than 10 ingredients, it's ready in minutes and is unbelievably easy to create!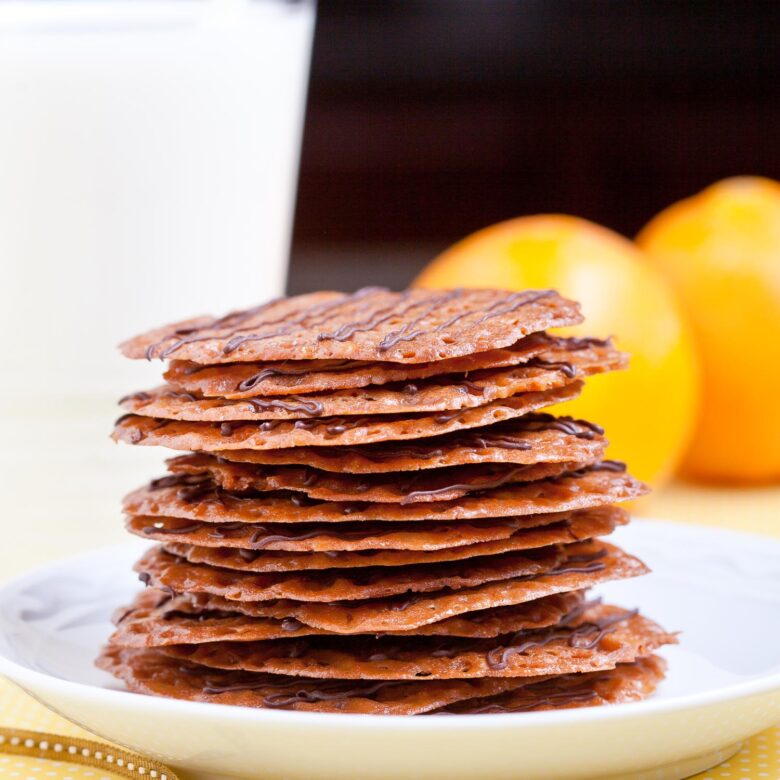 What Are Lace Cookies?
Lace cookies are thin, crisp cookies that get their name from their beautiful lace-like appearance. Some versions are made with oats while others are made with nuts. In addition, some recipes, like ours, are made with a base of flour. However, no matter what, lace cookies always contain a combination of butter, sugar, and salt for a slightly sweet, buttery taste that no one can resist!
Why You'll Love This
Just 8 ingredients are all you need to create irresistible flavor.
Quick and easy to make, they bake in less than 15 minutes.
The bright, zesty orange flavor balances out the sweetness of the chocolate and sugar for a well-rounded cookie that will leave you coming back for more.
One batch makes up to 30 lace cookies, enough to treat your whole clan, give away as gifts, or take to gatherings.
The beautiful lace appearance means they're perfect for fancy parties while the simple instructions make them great for every day.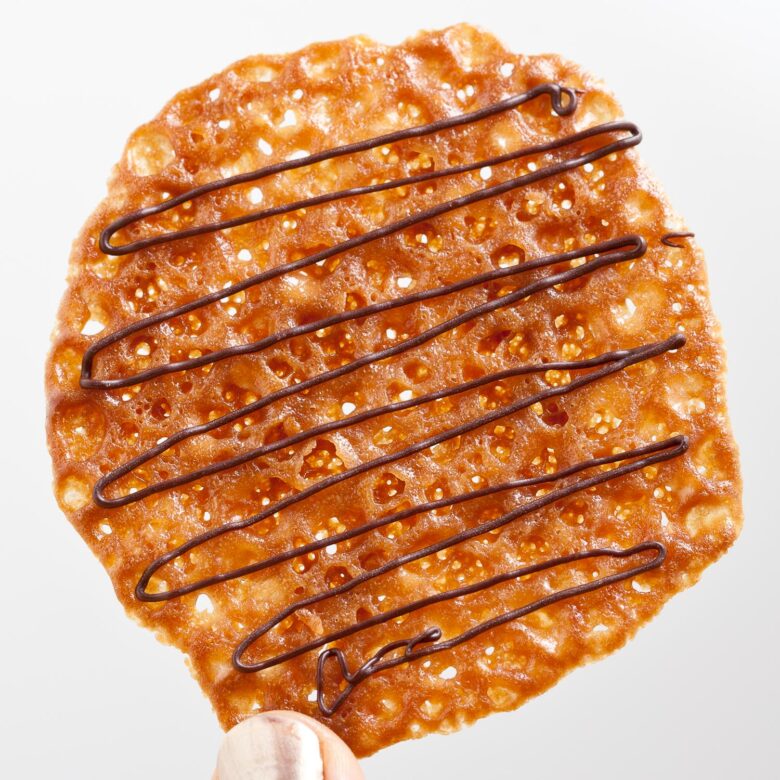 Key Ingredients and Simple Substitutions
Although this lace cookie recipe features a few items you might not expect to see in a typical cookie, the ingredient list is short and sweet. Here's everything you'll need:
Light-Brown Sugar – This helps sweeten the batter while keeping it soft and moist. If needed, dark brown sugar can be used in its place. However, it will have a slightly more robust taste.
Butter – Regular butter creates a rich flavor and melt-in-your-mouth texture. If needed, dairy-free butter can be substituted in its place.
Light Corn Syrup – Helps prevent the sugar from crystallizing, contributing to a smooth texture.
Cointreau – This is our secret to creating a bright orange flavor that makes this lace cookie recipe out of this world! If you're looking for an alcohol-free option, simply add extra orange extract instead.
Orange Extract – Like the Cointreau, this helps enhance the orange taste and can easily be found in the baking section of most grocery stores.
All-Purpose Flour – Used to form the base of the dough.
Orange Zest – Mixed into the cookie dough, this adds a bit of texture and enhances the citrus flavor even further.
Semi-Sweet Chocolate Morsels – These are melted down and used for drizzling on top. Dark chocolate chips would taste excellent as well.
Pro-Tips
Don't let the intricate appearance of these lace cookies fool you. They're really quite easy to make; especially when you follow our baking tips below!
Use a Heavy-Bottomed Saucepan. These are able to absorb and distribute heat more evenly than their thin counterparts. As a result, it makes it easier to heat and combine the ingredients without the risk of them burning as they cook.
Don't Make the Cookies Too Big. Unlike chocolate chip or sugar cookies, lace cookies are meant to spread out quite a bit as they bake. Therefore, for the best results, we recommend using no more than about 1 ½ teaspoons of batter per cookie.
Don't Over-bake. Due to the fact that these cookies are so thin, they bake extremely quickly. So, be sure to keep a close eye on them in the oven, and pull them out as soon as they begin to bubble up and turn a beautiful golden brown.
Cool Completely. It's difficult to wait, but you'll want to make sure to allow your lace cookies to cool completely before adding the chocolate. Otherwise, they're likely to fall apart!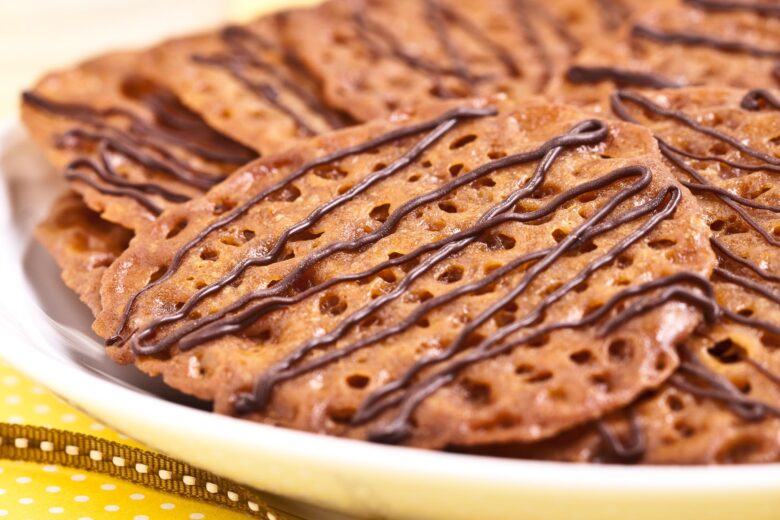 Florentines Common Questions
How long do lace cookies last?
Once fully cooled and transferred to a sealable bag or airtight container lace cookies will stay fresh at room temperature for up to 3 days or in the refrigerator for up to 1 week.
Can I freeze these cookies?
Yes! Baked lace cookies can be frozen for up to 3 months. Then, just thaw them in the fridge when you're ready to eat.
Can I make this lace cookie recipe gluten-free?
To make this lace cookie recipe gluten-free, simply swap out the all-purpose flour with a 1:1 gluten-free all-purpose flour alternative.
---
More to Bake and Eat
---
---
Did you make this?
Please give us a rating and comment below. We love hearing from you!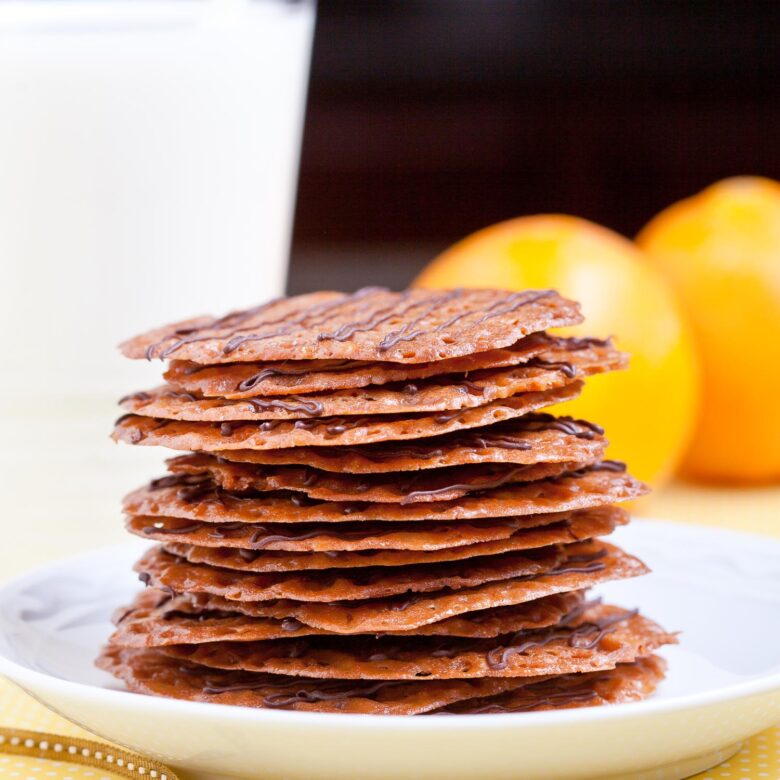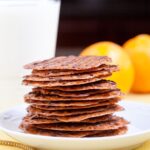 Lace Cookies
This Lace Cookies recipe features bold, toffee-like flavor and a crisp, wafer-like texture for a truly drool-worthy treat. Made with less than 10 ingredients, it's ready in minutes and is unbelievably easy to create!
Instructions
Preheat oven to 350F, and place rack on the lower middle position. Line baking sheets with parchment paper. Set aside.

In a small, heavy saucepan over low heat, add the sugar, butter, corn syrup, Cointreau, and orange extract. Cook until the butter melts, stirring frequently. Remove the saucepan from the heat, and add the flour and orange zest. Stir again until the ingredients are well-combined

Drop heaping teaspoons of batter onto the prepared baking sheets leaving 2 ½ inches between each cookie.

Bake 11-13 minutes or until the cookies have spread out, bubble up, and become golden brown. Be careful not to burn!

Let the cookies cool on the baking sheet for 10 minutes before transferring them to a wire rack to cool completely. Continue baking in batches, if needed, until all the batter has been used.

Once all of the cookies have cooled, add the chocolate morsels to a microwave-safe bowl. Heat in 20-second intervals, stirring in between. Drizzle the chocolate onto the cookies, and cool completely.
Notes
Cointreau provides a fragrant depth of flavor to these cookies and is highly recommended; the alcohol cooks off and evaporates during baking, leaving just the orange essence. If needed, you can replace it with any other orange liqueur. Alternatively, you can sub with 1 tsp additional orange extract + 1 tsp vanilla extract.
For easy drizzling, pour the melted chocolate into a Ziploc bag, cut a tiny hole in the corner, and squeeze out the chocolate.
If preferred, dip the lace cookies halfway into the melted chocolate instead of drizzling.
To make cookie curls, cool cookies for 1-2 minutes or until they are easy to handle and pliable. Then, curl each cookie around the handle of a wooden spoon, sliding them off once cool and firm.
If you enjoyed this recipe, please come back and give it a rating! ♡
Nutrition (per serving)
Serving:
1
cookie
|
Calories:
74
kcal
|
Carbohydrates:
10
g
|
Protein:
1
g
|
Fat:
4
g
|
Saturated Fat:
2
g
|
Polyunsaturated Fat:
0.1
g
|
Monounsaturated Fat:
1
g
|
Trans Fat:
0.1
g
|
Cholesterol:
5
mg
|
Sodium:
18
mg
|
Potassium:
33
mg
|
Fiber:
0.5
g
|
Sugar:
7
g
|
Vitamin A:
60
IU
|
Vitamin C:
0.3
mg
|
Calcium:
6
mg
|
Iron:
0.4
mg