Orange Chocolate Lace Cookies
'Tis the season for cookies. Cookie exchanges, cookies on the dessert table, cookies for gift-giving… and cookies in our own cookie jar. We've already been giving away many of our favorite cookies this season. What to bake up next?
Orange Chocolate Lace Cookies! I've always admired pretty lace cookies, but they look like they'd be way more work than the usual drop cookies. In a sudden spirit of adventure, I talked my preschooler out of Word World so we could create crunchy cookies together.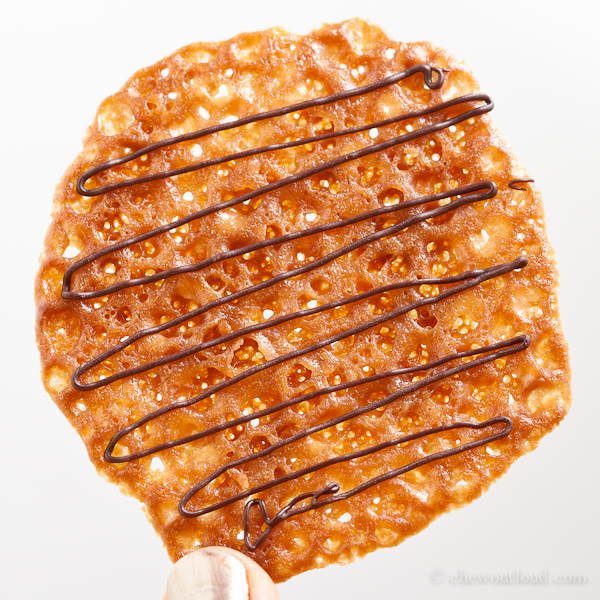 Surprisingly, these orange lace cookies are unbelievably easy to pull off. So easy and deliciously tasty. These cookies boast a fabulous crispiness and depth of flavor that reminds me of toffee. Only better, because they're infused with lively orange and then drizzled with chocolate.
Because these orange chocolate lace cookies are super crisp, they keep extremely well. No worries about the cookies drying out or getting stale. These little pretties are probably one of the easiest treats for mailing or gifting because of how well they keep.
The kiddos will enjoy watching the bubbling lace pattern develop in the oven. Science project-slash-dessert? Yeah, maybe just dessert. Enjoy!
____________________________________________________________________________
RECIPE (about 25-30 cookies)
INGREDIENTS
1/4 cup tightly packed light-brown sugar
1/4 cup regular butter
1/4 cup light corn syrup
1 TB Cointreau
1/2 tsp orange extract
1/2 cup + 2 TB all-purpose flour
1 TB orange zest, finely chopped
4-6 oz semi sweet chocolate morsels, for drizzling
DIRECTIONS
Preheat oven to 350F and place rack on lower middle position. Line baking sheets with parchment paper.
Combine sugar, butter, corn syrup, Cointreau, and orange extract in a small but heavy saucepan. Stir over low heat, until butter melts. Remove from heat and add flour and orange zest. Stir to combine.
Drop heaping teaspoons of batter onto parchment lined baking sheet, 2 1/2 inches apart. Wet hands for easy dough handling. Place baking sheet in oven and bake until cookies are spread out, bubble up, and golden brown. About 11-13 minutes. Remove from oven and cool several minutes before transferring to wire rack. Finish cooling on wire rack. Continue baking batches, stirring batter occasionally.
When cookies are completely cool, it's drizzle time. Melt chocolate morsels in microwave safe bowl (20 second intervals, stirring in between.) Scrape melted chocolate into ziploc bag. Cut a tiny hole in corner of bag, and drizzle on as much warm chocolate as you want. Cool completely. Enjoy!
Source: Chew Out Loud, adapted from Martha Stewart Living
Notes: You can also dip the cookies halfway in melted chocolate in lieu of drizzling. If you're feeling particularly adventurous, you can make cookie-curls. Cool cookies just 1-2 minutes, or until they are warm and pliable. Curl around handle of wooden spoon. When firm, slide cookie off.