Texas French Toast Bake
French toast casserole isn't really Texan. But this scrumptious French Toast Bake is big and hearty, just like Texas. Everyone asks for this recipe, so here it is. Easy, make-ahead, and a crowd pleaser every time.
Note: Updated instructions and photos can be found here ←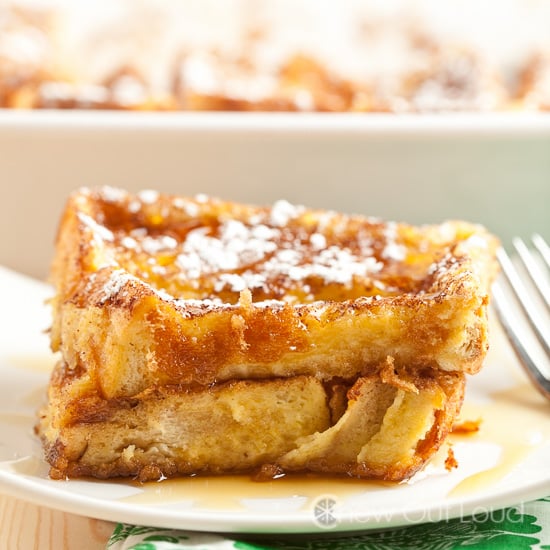 Best French Toast Casserole
What makes this French Toast Bake superb is the use of a fresh loaf (not frozen) of Texas Toast, in place of regular sliced bread.
If you aren't familiar with Texas Toast, it is typically found in the sliced bread aisle of grocery stores, and the thing about it is… well, it's Texas-sized.
It looks like white bread, sliced extra thick and made extra dense. If you use a less dense bread, your results will be skewed.

Use the right kind of bread ↑↑
I usually buy whole-grain bread, so it's something special for me to reach for this white enriched sandwich bread. Though whole-grain bread has come a long way in texture and flavor, the fluffy white slices above brought me back to my childhood.
Be sure you're using the fresh sliced bread; not the frozen Texas toast. The right bread makes all the difference here.
It's hard not to cheat and eat the bread straight out of the bag. Just remember that you'll need to use almost the entire loaf for the French Toast Bake, so try. Just try.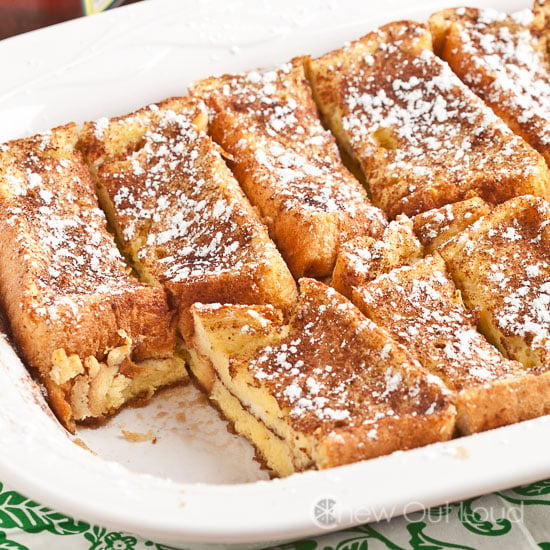 Weekend and Holiday Favorite
This is one of the most ideal, no-fuss offerings for brunch on Christmas, New Years, or any weekend morning. It's simple to assemble the night before.
Wake up late the next morning, pop it in the oven, and give your family a carefree smile. My family loves anything French Toast-ish, and they flipped for this one.
Devoured the whole pan the same day. I'm talking no leftovers, not even a few crumbs.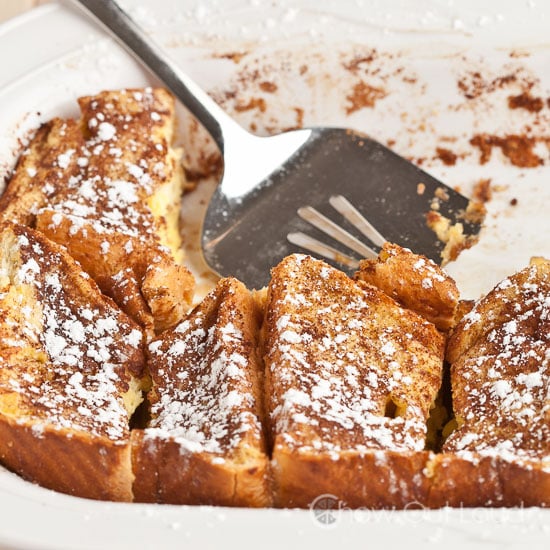 This Texas French Toast Casserole is something that will easily go on your family's list of favorites.
The thick, dense slices of white fluffy bread soak up the custard perfectly. The brown sugar, pure vanilla extract, and aromatic cinnamon meld together like magic.
It's just the right amount of sweetness. You can serve with pure maple syrup, but you might not need it.
Oh, this is important – be sure to scrape out all the gooey yummy goodness you'll find on the bottom of pan.
Enjoy, Y'all!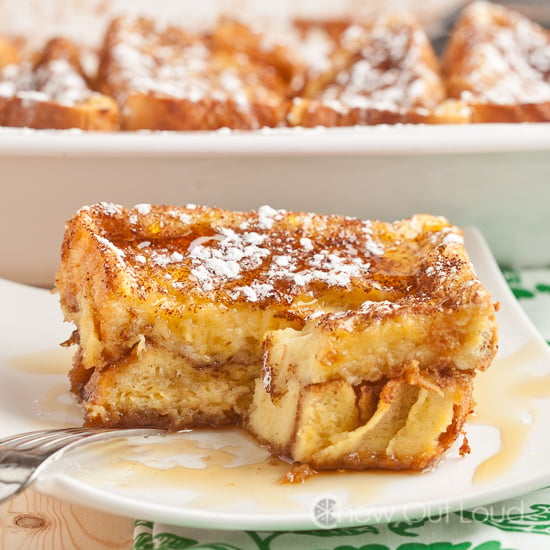 Recipe in Action for perfect results: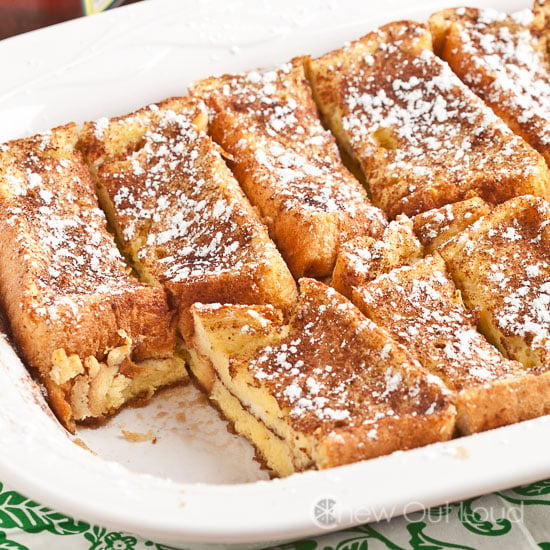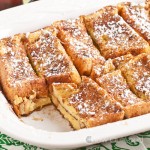 Texas French Toast Bake
This Texas French Toast Bake will knock your morning socks off! Everyone who's tasted this has wanted the recipe, so we put it here and hope you enjoy it as much as our friends/family all do! Be sure to use a nice, thick, fresh loaf of thickly sliced Texas French Toast bread. (In fresh bread aisles, not frozen.)
Ingredients
½

cup

melted butter

,

1 stick

1

cup

packed light brown sugar

1

entire loaf

,

1 lb, 12 oz Texas Toast fresh sliced bread (Not frozen. Don't use other breads.)

4

large eggs

1 ½

cup

whole milk

1

TB

vanilla extract

2

TB

light brown sugar,

mixed with 2 tsp cinnamon

Powdered sugar for sprinkling

Real maple syrup for serving

,

if desired
Instructions
Put butter in a microwave safe bowl and microwave in 20 second increments, stirring in between, until melted. Add 1 cup brown sugar and stir until well incorporated Pour into bottom of a greased 9×13 pan, spreading mixture evenly.

Beat eggs, milk, and vanilla until incorporated. Set aside.

Lay a single layer of Texas Toast in pan, cutting pieces to fit if needed. Spoon 1 cup of egg mixture evenly over bread. Sprinkle with half of the brown sugar/cinnamon mixture. Repeat with second layer, using up the rest of egg mixture over that layer, and ending with a sprinkling of brown sugar/cinnamon mixture. Try to get the custard evenly soaked into the bread slices.

Cover tightly and chill overnight in fridge.

Bake at 350F for 40-45 minutes on lower middle rack — covered for the first 30 minutes, and uncovered after that. Sprinkle with powdered sugar. Be sure to scrape up all the bottom sticky goodness. If desired, serve with pure maple syrup.
Did you make this?
Leave a comment below and tag @chewoutloud on Instagram
French Toast Bakes you'll swoon over:
French Toast Casserole with Streusel. We've made this countless times, always to rave reviews. Easy and prepped the night before for an easy breezy morning.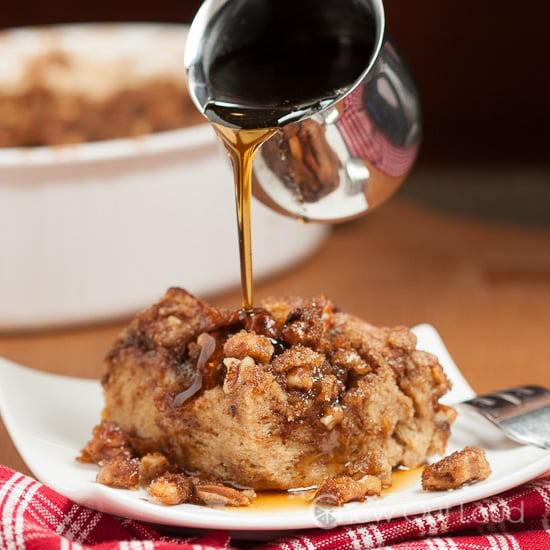 Apple French Toast Casserole . This one takes after the star recipe here, but infuses apples and cinnamon into the layers. Nothing but awesome. Perfect for fall, but we adore it any weekend of the year.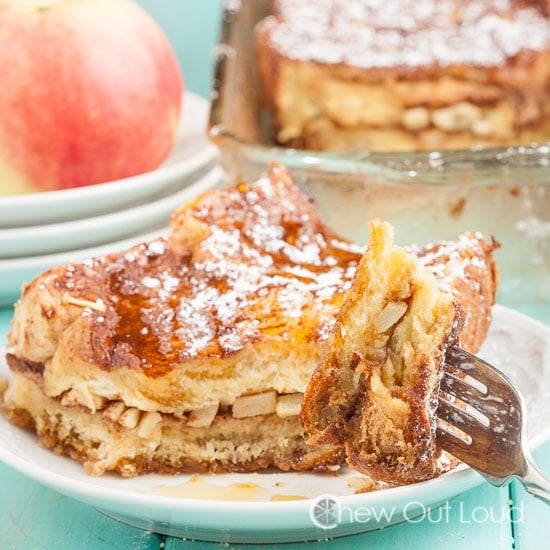 Pumpkin French Toast Casserole. Simply amazing, especially during fall. But I keep a stash of pure pumpkin in my pantry for whenever the craving strikes!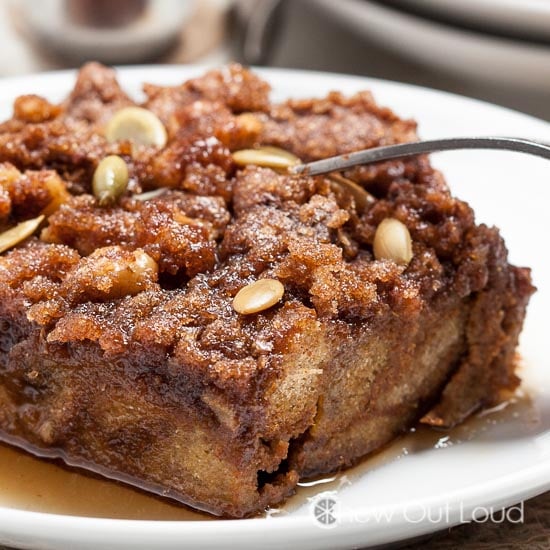 Hawaiian Apple Bread Pudding. I suppose this is technically dessert, but I'm all about dessert for breakfast. There are apples here, it's semi-healthy-ish maybe. But 100% delish!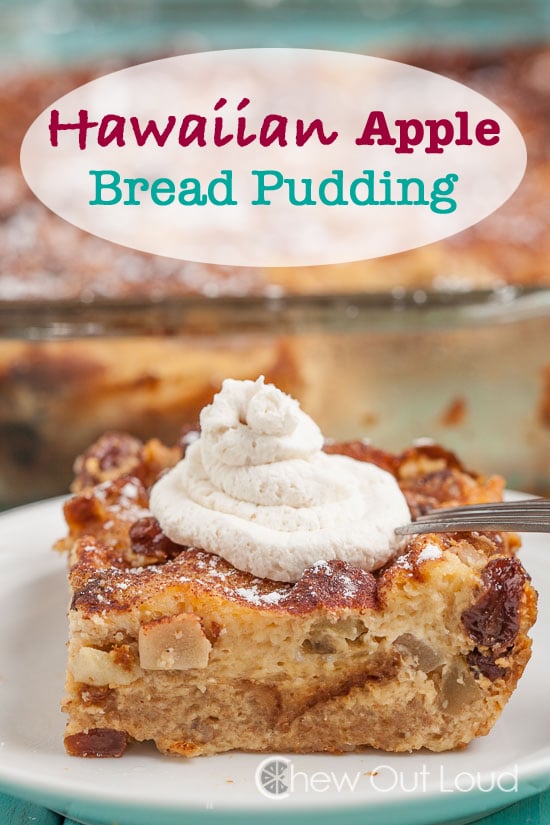 Nutella Croissant Bread Pudding. Again, technically dessert. Clearly a pattern, but I figure…if one can legit eat a fried doughnut at 9am, why not bread pudding? And Nutella?! Oh yeah.