Best Banana Cream Pie Recipe
This is the best banana cream pie recipe you'll ever taste. Made with a flaky crust, rich velvety custard, and plenty of bananas, it's sweet, creamy, and utterly irresistible.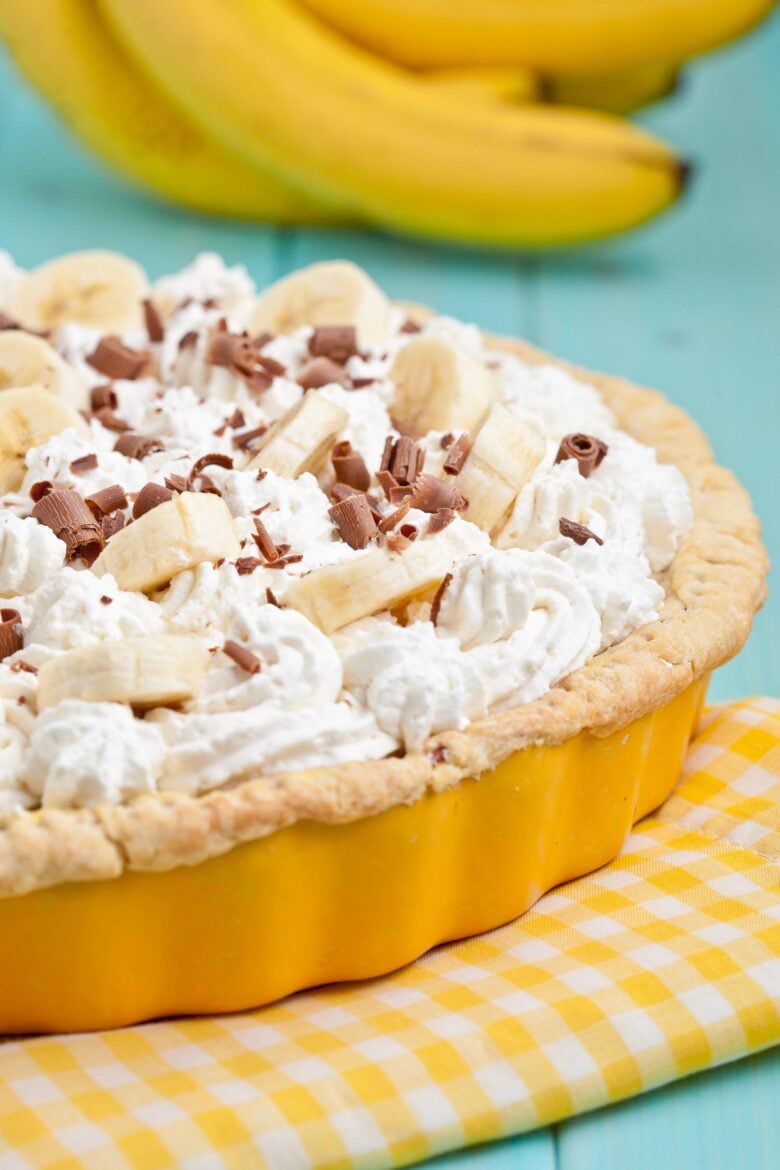 What Is Banana Cream Pie?
If you're unfamiliar, banana cream pie is a classic American dessert that consists of a creamy custard filling, sliced bananas, and a flaky, golden pie crust. Wildly popular across the country, banana cream pie recipes are most common in the Midwest. It's essentially the banana version of a classic cream pie. However, the origins of the dessert can be traced back to a written recipe for "banana pie" that was published in The Woman's Exchange Cookbook in 1901. Not quite the banana cream pie we know and love today, the original dessert featured a baked crust that was filled with a mixture of bananas and powdered sugar topped with whipped cream.
Later, in 1906, the Blue Ribbon Cookbook published a recipe that used a banana and custard filling that was poured into a pie crust layered with banana coins. Eventually, the two recipes merged into one to create banana cream pie. It's not clear exactly when this happened. However, the one thing we know for sure is that the dish's popularity has never waned and continues to be a crowd-pleasing treat!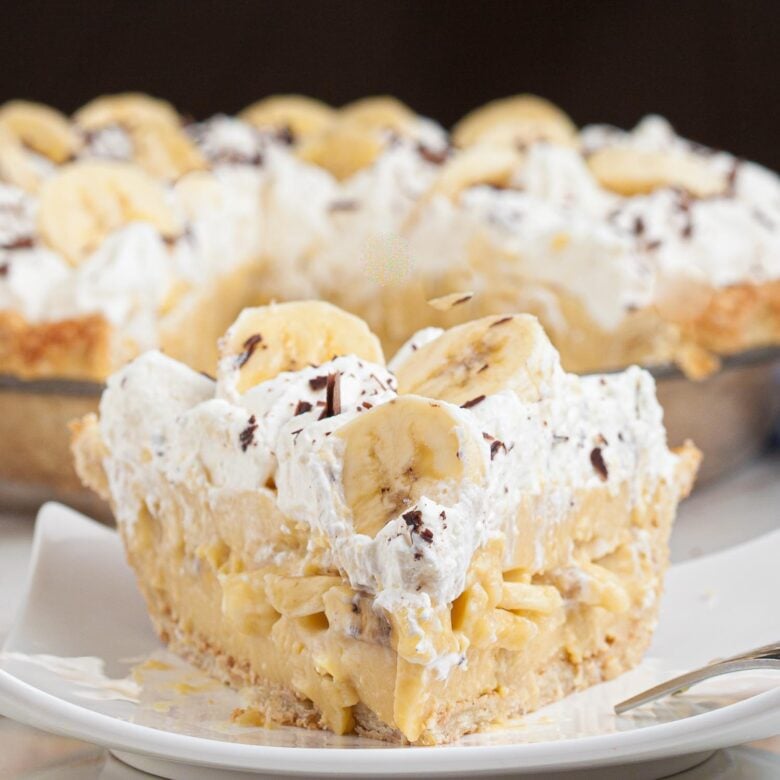 Why it's The Best
Not to toot our own horns, but after countless hours of testing and retesting, we're pretty certain this is the absolute best banana cream pie recipe you'll ever make or eat. Here's why:
It comes together with whole food ingredients for the best, bold flavor. You won't find any pre-made pudding mix here!
Three layers combine to create a combination of textures that are flaky, creamy, and smooth.
This easy banana cream pie bakes in just 35 minutes.
There's no need for additional sauces or drizzles, caramel sauce, or add-ins, meaning the banana flavor is bold.
The rich buttery crust combines with the filling for a balance of flavors that's sweet without being overpowering.
We use a simple homemade whipped cream that's so much better than store-bought, and compliments this pie perfectly.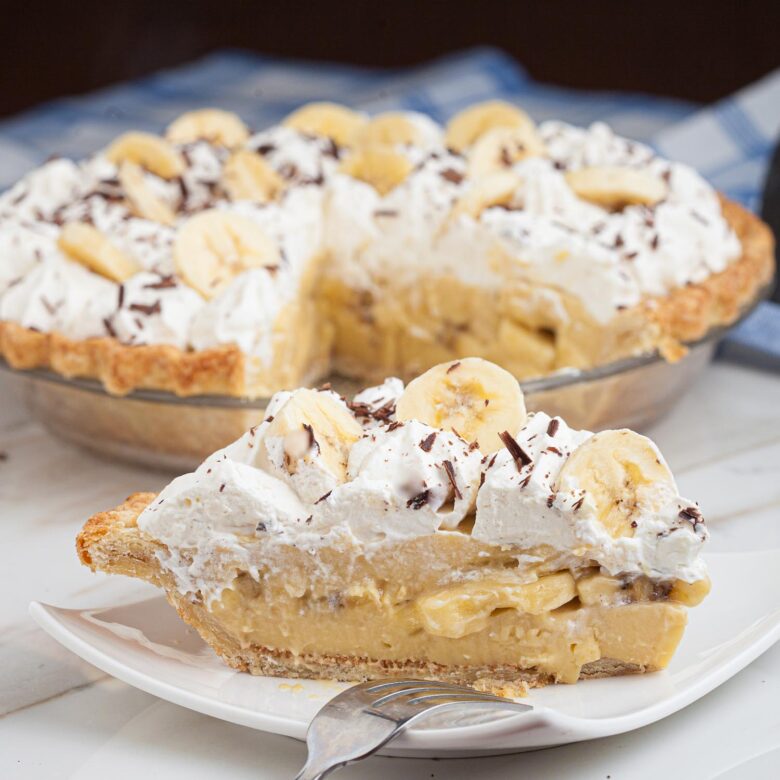 Pro-Tips
If you've ever been too intimidated to attempt to make a banana cream pie recipe, don't worry! With the tips and tricks below, the process is a breeze.
Choose the Right Bananas. When it comes to choosing the right bananas for the best banana cream pie recipe, you want them to be ripe but still firm. This ensures they hold their shape once sliced. Too-ripe bananas like you would use to make banana bread will just fall apart and those that aren't ripe enough won't have the sweet flavor we're looking for in this recipe.
Don't Skimp on Whisk Time. Be sure to whisk the custard for the entire 5 minutes. Otherwise, the custard will not become smooth and thick or hold its consistency.
Avoid Burning the Crust. To prevent your pie crust from burning in the oven, line the edges with foil, and fill the inside of the pie with weights such as an oven-proof bag of dry beans.
Create a Flaky Crust. When it comes to making a homemade pie crust, be sure to use cold water and handle the dough as little as possible. This prevents it from being overworked. As a result, the ingredients combine easily and melt together in the oven to create layers of buttery, flakey deliciousness.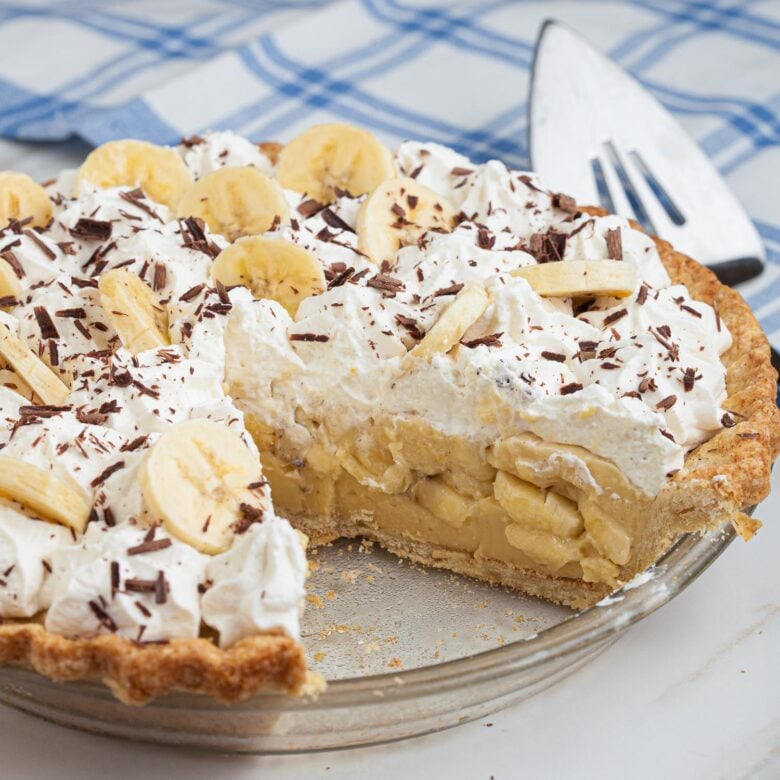 How to Store
Once assembled, this easy banana cream pie recipe is best served right away while the fruit is still fresh. However, if needed, it can be prepared up to 3 days in advance. For the best results, we recommend assembling the pie crust and filling. Cover the dessert carefully with foil, and place it in the fridge. Then, when you're ready to serve, simply add the whipped topping and fresh banana slices, and enjoy!
Common Questions
How do I keep the bananas from turning brown in a banana cream pie recipe?
To prevent your bananas from turning brown, toss them with a few drops of freshly squeezed lemon or lime juice before adding them to the custard. This will help keep them looking fresh and vibrant!
Why didn't my banana cream pie set?
There are a few reasons why your easy banana cream pie might not have set properly. First, make sure the custard has been whisked for the full 5 minutes in order to thicken. You'll know it's ready to use when it easily coats the back of a spoon. Second, make sure you have allowed the custard enough time to cool completely before adding it to the crust. Finally, make sure to allow at least 4 hours or ideally up to overnight for the finished pie to cool in the fridge.
How do I keep this best bananas cream pie recipe from becoming runny?
The key to preventing this banana cream pie recipe from becoming runny is to cook the custard properly! Remember to whisk the custard on stovetop for the full 5 minutes or until it gets super thick. As long as it sets, your pie will turn out great.
---
More to Bake and Eat
---
---
Did you make this?
Please give us a rating and comment below. We love hearing from you!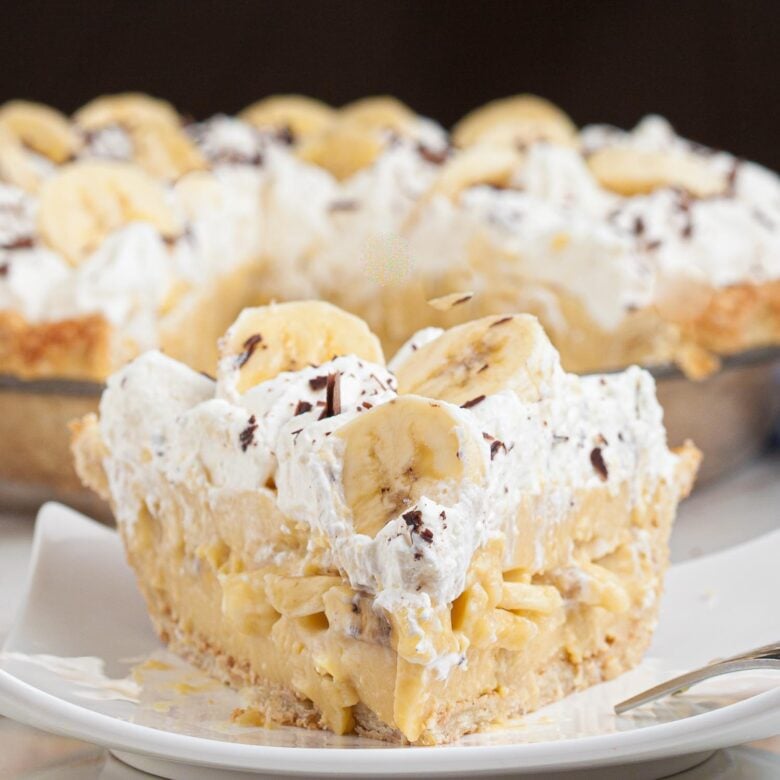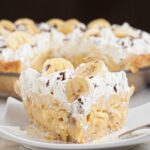 Best Banana Cream Pie Recipe
This is the best banana cream pie recipe you'll ever taste! Made with a flaky crust, rich velvety custard, and plenty of bananas, it's sweet, creamy, and utterly irresistible.
Instructions
Make the Crust:
In a food processor, add the flour, sugar, and salt. Pulse 5 seconds or until well combined. Add the cold butter, and pulse 10 times or until the mixture resembles coarse crumbs. Transfer the mixture to a bowl, and stir in 4 TB ice water.

Using a rubber spatula, press the dough together, adding 1 TB additional ice water at a time until it sticks together. Flatten the dough into a 4" disc, wrap with plastic wrap, and chill in the fridge for 1 hour.

Let the chilled dough sit at room temperature for 10 minutes. Then, roll it into a 12-inch circle on a lightly floured surface. Place it on a 9-inch pie plate, letting the excess dough drape over the edges. Using fingers, gently press the dough into the plate, and tuck or crimp the edges. Cover the dough with plastic wrap, and place it in the freezer for 1 hour.

Preheat the oven to 375F with the rack on the lower middle position.

Line the edges of the crust with foil, and fill the inside with pie weights (We use dry beans in an oven-proof bag.). Bake 25-30 minutes. Remove the foil and weights, and continue to bake 10 minutes or until golden brown. Set aside to cool completely.
Make the Filling:
In a medium saucepan, whisk the sugar, cornstarch, and salt. Add the evaporated milk, egg yolks, and whole milk. Whisk again until smooth.

Bring the ingredients to a simmer over medium heat and whisk constantly for 5 minutes or until the mixture thickens and becomes smooth. It's important to keep whisking until mixture turns very thick.

Remove the pan from the heat, and whisk in the butter and vanilla extract. Let the filling cool for 5 minutes, stirring frequently with a wooden spoon. *Do not stir again after this.

Pour half the filling into the prepared pie crust. Slice the bananas, and layer them on top followed by the remaining filling. Cover the pie with plastic wrap, and chill 4 hours or up to overnight.
Make the Topping:
In a stand mixer fitted with a whisk attachment, whip the heavy cream, sugar, and vanilla on medium speed for 1 minute or until foamy. Increase the speed to high, and continue to whip for 3-4 minutes or until stiff peaks form.

Spread the whipped cream over the chilled pie. Serve immediately, or keep chilled in the fridge until ready to serve.
Notes
Prep time listed does not include chill time in fridge.
To ensure filling sets nicely, do not skimp on whisk time. Whisk for the entire 5 minutes, or until custard turns smooth and very thick.
If you enjoyed this recipe, please come back and give it a rating ❤️
Nutrition (per serving)
Serving:
1
serving
|
Calories:
489
kcal
|
Carbohydrates:
54
g
|
Protein:
13
g
|
Fat:
27
g
|
Saturated Fat:
11
g
|
Polyunsaturated Fat:
4
g
|
Monounsaturated Fat:
10
g
|
Cholesterol:
163
mg
|
Sodium:
60
mg
|
Potassium:
405
mg
|
Fiber:
4
g
|
Sugar:
31
g
|
Vitamin A:
780
IU
|
Vitamin C:
3
mg
|
Calcium:
180
mg
|
Iron:
2
mg