Best Banana Bread Recipe
This is simply the best banana bread recipe; we keep coming back to it. This easy banana bread boasts supreme moistness and big banana flavor without distractions.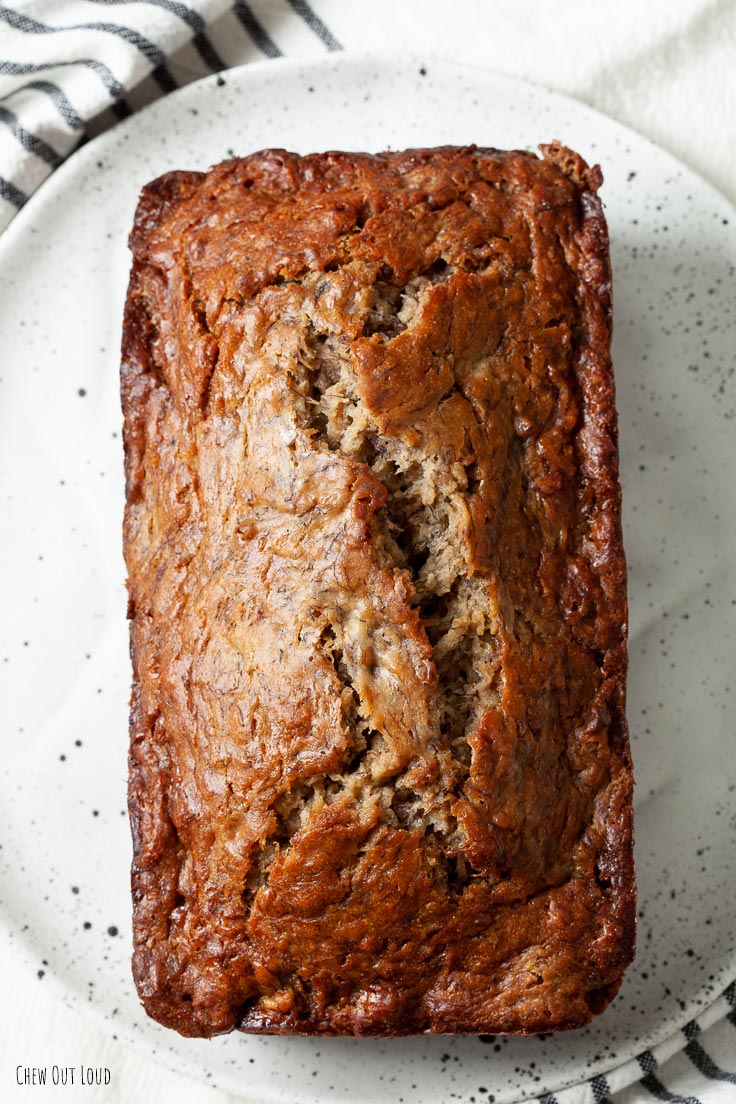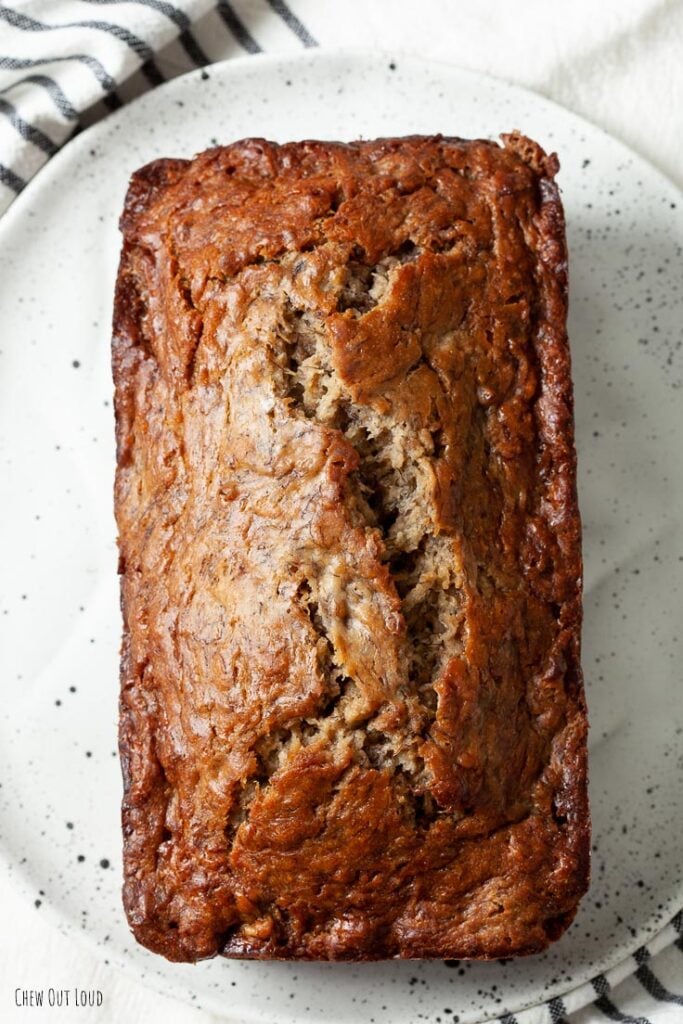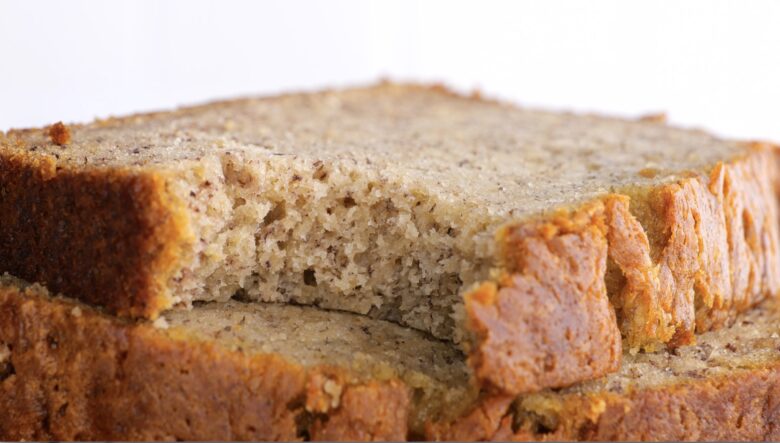 The Best Banana Bread Recipe is Simply Classic
If you're a banana bread fan, this recipe for our all time Best Banana Bread is 200% for you. We didn't fool around with this classic, extra moist banana bread recipe because why mess with a great thing?
There's a time for experimenting with banana bread variations — Hello, One-Bowl Healthy Banana Bread, which is crazy delicious without any refined sugar or dairy. There are [obviously] moments when chocolate is called for, as in Banana Ricotta Chocolate Bread.
However, when we're craving pure banana bread where nothing but bananas shine, front and center, we always come back to our Best Banana Bread Recipe.
This easy banana bread recipe is loaded with pure banana flavor and as tender as it gets. Time to let those super-ripe bananas do their magic.
Watch This Recipe in Action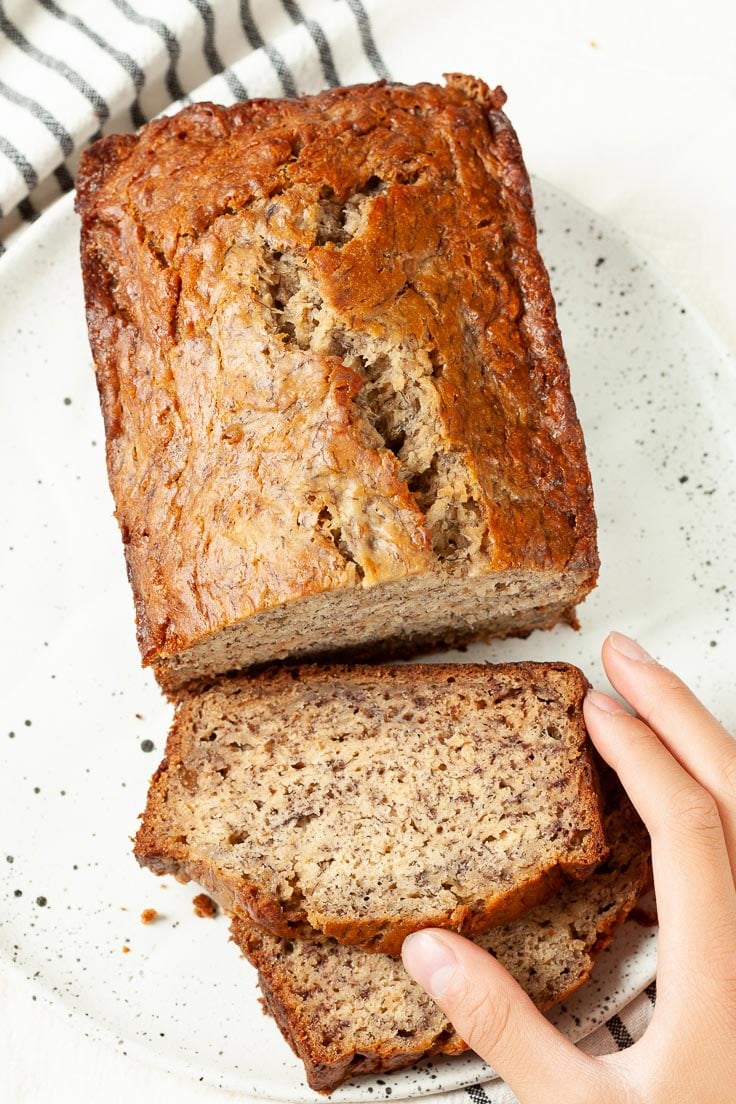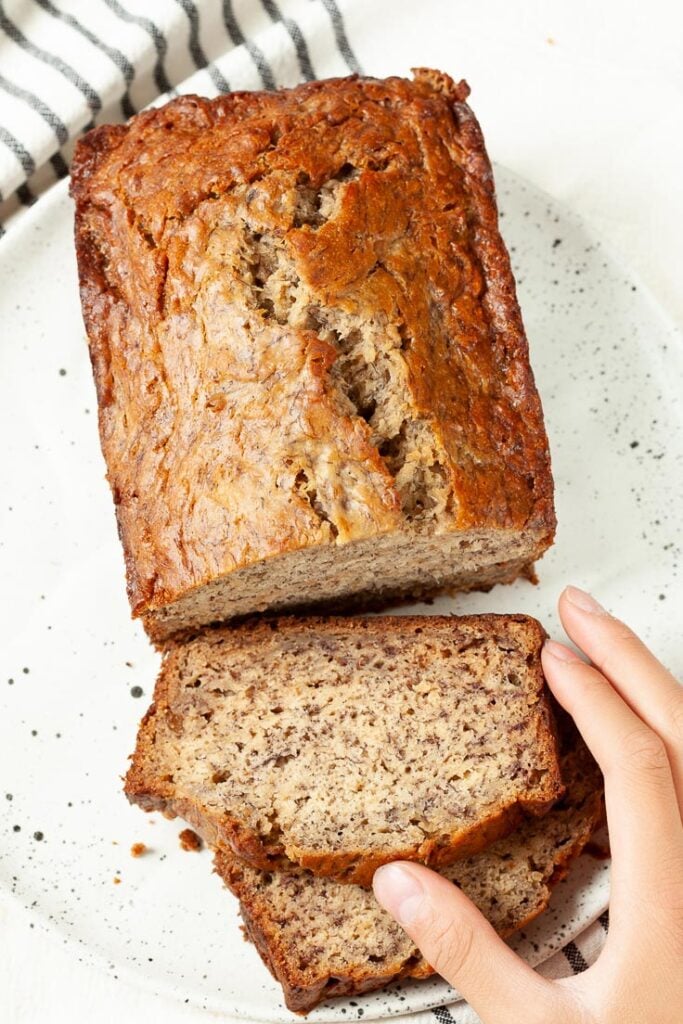 Key Ingredients
Six medium-sized, overly ripe bananas – the more brown spots, the better. And yes, it says 6 bananas…not a typo.
2 fresh large eggs – let them sit out long enough to reach room temperature.
Real butter, softened to moderate room temp. Don't let the butter get so soft that it's close to melty, though.
Pure vanilla extract, as it's a great assist to the bananas.
A mixture of white and brown sugar. The white sugar keeps texture light, while brown sugar complements the ripe bananas.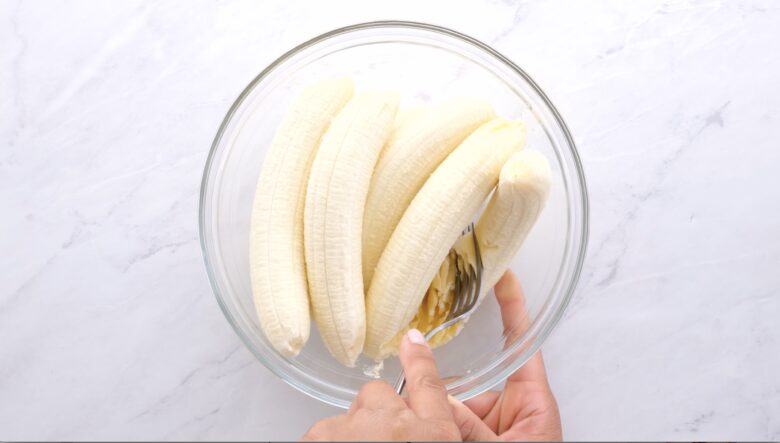 Key Steps
Mash 6 medium-sized, very overripe bananas.
Use electric mixer to mix together the wet ingredients.
Whisk the dry ingredients by hand.
Use rubber spatula to fold wet and dry ingredients, just until no flour streaks remain.
Bake until toothpick inserted in center of loaf comes out with a few tender crumbs attached.
Wait until loaf is FULLY COOL before slicing!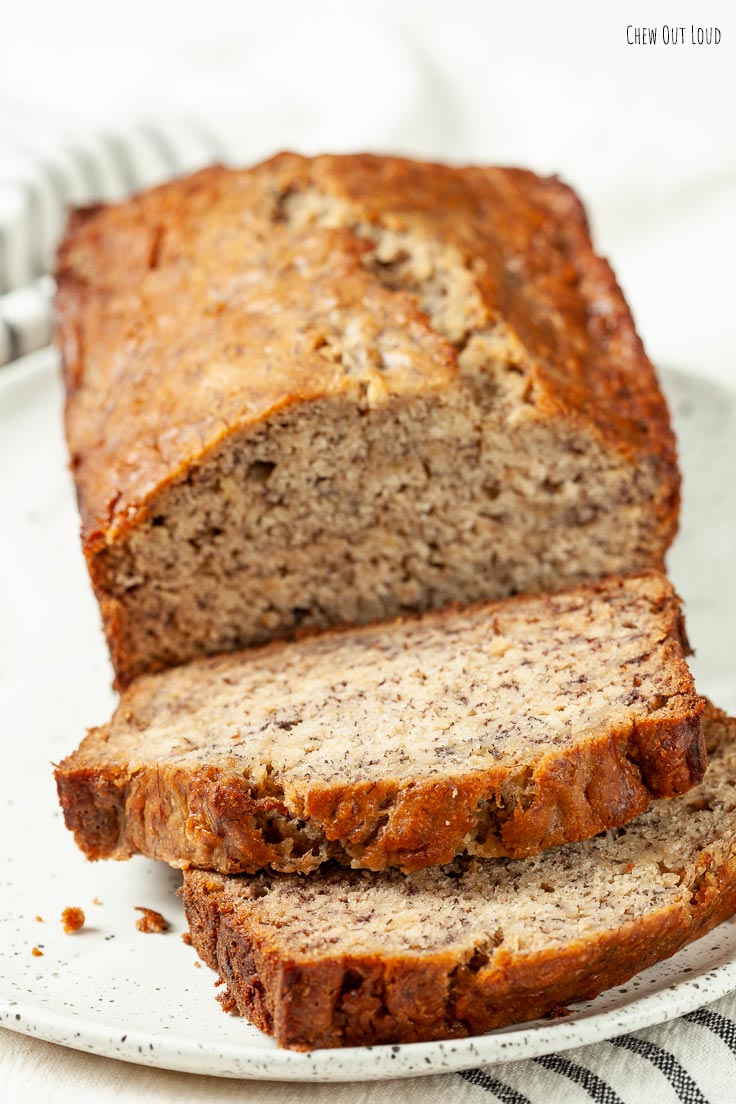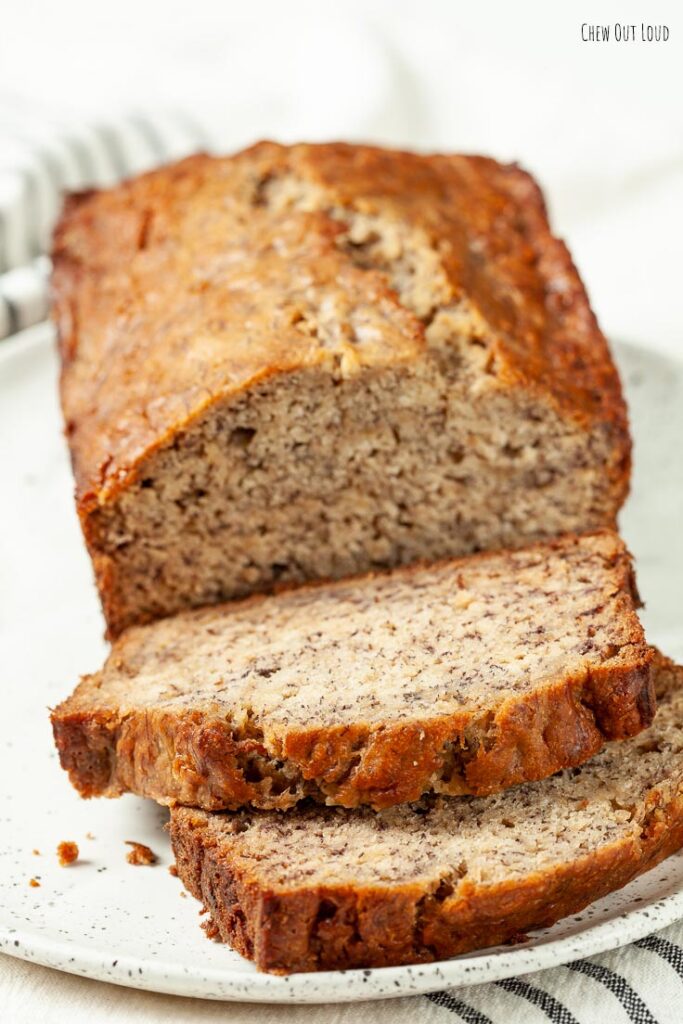 Tips for Perfect Quick Bread
Use a lighter colored nonstick 9×5 loaf pan, if possible. The lighter color prevents edges from getting overly browned too quickly, and nonstick surfaces ensures that this moist banana bread will remove easily.
Use a stand mixer (or electric hand mixer) to cream together the softened butter with the white/brown sugars. This part is not to be rushed; take the minutes necessary for butter/sugar mixture to achieve a fluffy and light consistency.
When folding together the dry and wet ingredients, take care not to over-mix. Fold just until no dry flour streaks remain. Always keep in mind that over-mixing results in a coarser/dry texture, which we want to avoid.
Once toothpick inserted into the center of your banana bread comes out almost clean with a few tender crumbs attached, the loaf is done. Don't wait until toothpick is 100% clean, or you'll risk over-baking.
Allow your banana bread loaf to cool to room temp, or at least lukewarm before loosening from pan. Quick breads have a solid reputation of becoming more tender/moist the next morning.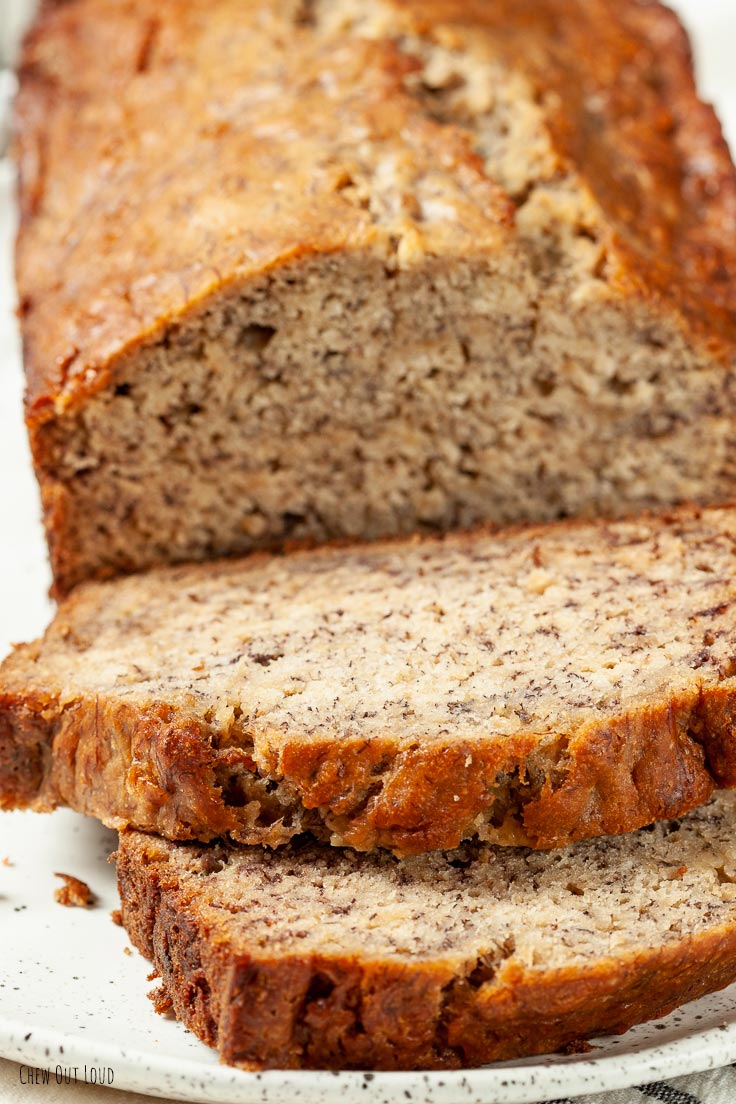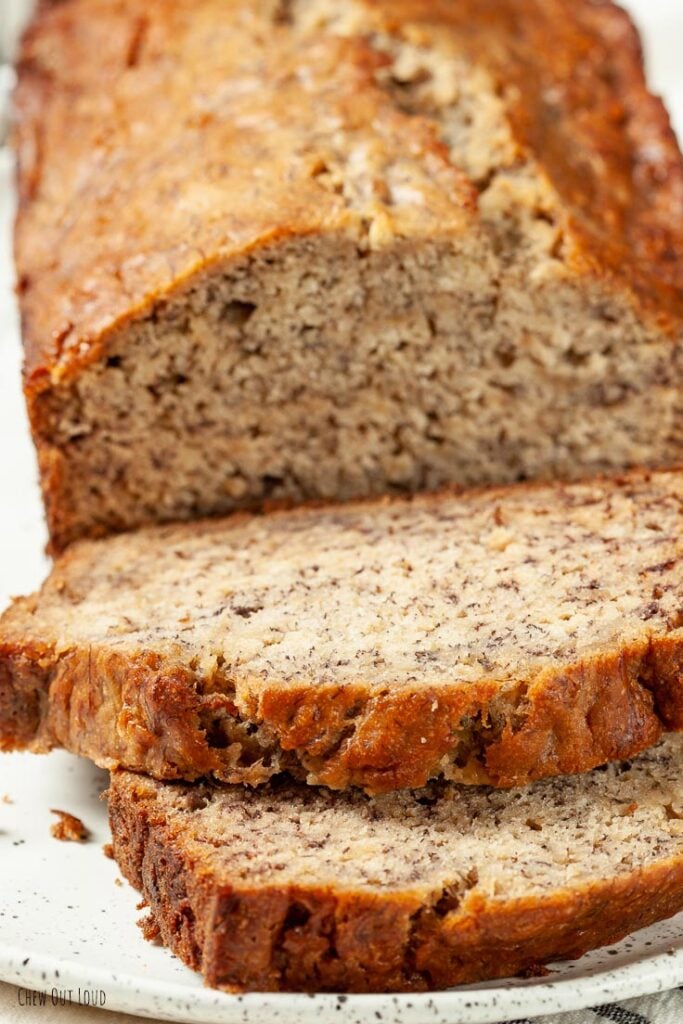 Make Banana Bread Ahead of Time
If you're anything like me, you appreciate baked goods that can be frozen and taken out to serve when needed. This moist banana bread can be frozen as a whole baked loaf or in slices. Just be sure that the bread has cooled to room temp before wrapping airtight and freezing.
Just thaw at moderate room temp prior to serving. I usually take it out the night before I want to serve it. If you'd like to serve thawed banana bread warm, slice the bread and warm it up in oven or toaster for a few minutes just until warmed through.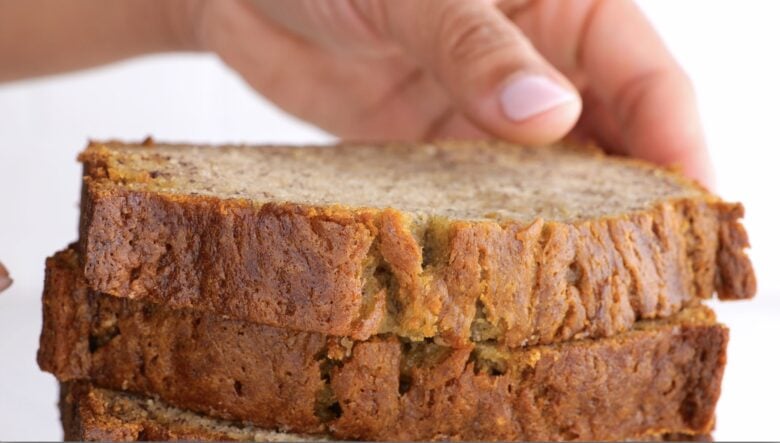 Banana Bread Recipe
Commonly Asked Questions
What causes banana bread not to rise?
Be sure to use super fresh baking soda, as this is the most important aspect to a good rise in banana bread. It's highly recommended to switch out your baking soda every 3 months.
What if my banana bread is too dense?
It's really important to measure dry/wet ingredients accurately. Aside from using a food scale, the scoop and level method is your best friend when it comes to baking.
Does banana bread need to be refrigerated?
As long as your kitchen is at moderate room temperature, banana bread is best kept wrapped airtight on the counter for a couple of days. It does not need to be chilled, unless you're planning to keep it longer than that.
Can I freeze banana bread?
This banana bread recipe is ideal for freezing. Simply wrap it airtight and freeze 1-2 months. Let it come to room temperature the night before you want to serve it.
Can I use frozen bananas for this banana bread recipe?
Absolutely. Be sure to defrost bananas and drain all excess moisture from them prior to using in the recipe.
How can I tell when my banana bread is done?
We always use this method: insert toothpick into the thickest center of banana bread to check for doneness. Once toothpick comes out with just a few tender crumbs attached, it's done.
More to Bake and Eat
---
Did you make this?
Please give us a rating and comment below. We love hearing from you!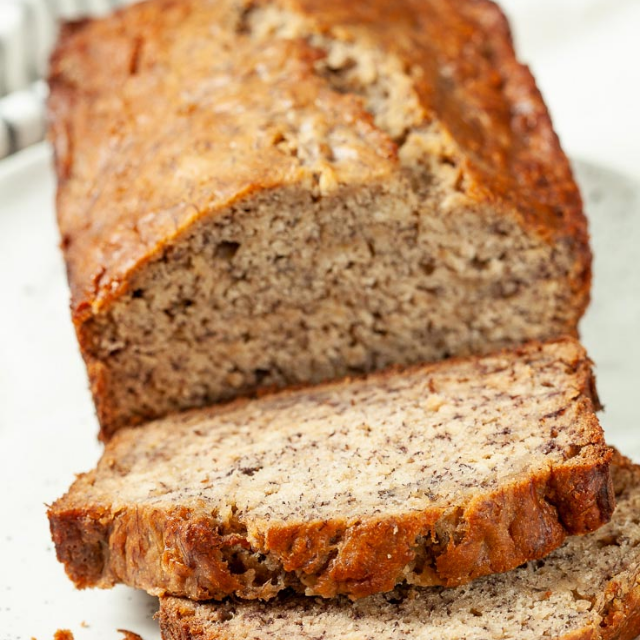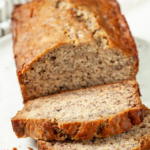 Best Banana Bread Recipe
This is simply the best banana bread recipe; we keep coming back to it. This easy banana bread is moist and offers huge banana flavor without distractions.
Instructions
Preheat oven to 350F, with rack on lower middle position. Grease a nonstick 9×5 loaf pan (light colored pan, if possible.) Set aside.

In the bowl of a stand mixer fitted with paddle attachment, cream together the butter and both sugars on medium-high speed until light and fluffy, scraping down sides and paddle as needed (2-3min.) Add eggs and beat on medium-low speed just until combined. Add mashed bananas and vanilla extract; continue beating just until mixture is incorporated. Remove bowl from stand mixer and set aside.

In a separate bowl, stir together flour, baking soda, and salt until combined. Add flour mixture to bowl with banana mixture.

Use a rubber spatula to fold dry and wet ingredients together just until no flour streaks remain, scraping down sides as needed. Do not over-mix, as doing so causes a drier/tougher texture.

Scrape batter fully into greased loaf pan, gently evening out batter to the edges and corners of pan. Bake 1 hour, or until toothpick inserted in center of loaf comes out with a few tender crumbs attached. Do not wait until toothpick is completely clean, or your loaf may become over-baked.

Let finished loaf cool in pan at room temp overnight or until fully cooled. Gently loosen bread from edges of pan with thin knife, turn it out onto a cutting board, and slice to serve.
Notes
This recipe is pure and banana-focused, so we kept it simple. If you'd like to amp up the flavors with some warm spices, feel free to add 1 tsp cinnamon and 1/4 tsp nutmeg to the dry ingredients.
Six whole, medium-sized bananas is equivalent to about 4 cups of mashed bananas.
If using frozen bananas, defrost them in a colander at room temperature prior to using in this recipe; all excess liquid should be drained. Bake time may need to be increased when using defrosted bananas.
Our banana bread isn't overly sweet, as it relies on overripe bananas to provide some of the sugar content – the more spotted they are, the better. If you prefer a sweeter bread, increase granulated sugar to 1/2 cup.
*If you enjoyed this bread, come back and give it a rating ❤️
Nutrition (per serving)
Calories:
290
kcal
|
Carbohydrates:
49
g
|
Protein:
4
g
|
Fat:
11
g
|
Saturated Fat:
6
g
|
Polyunsaturated Fat:
1
g
|
Monounsaturated Fat:
3
g
|
Trans Fat:
0.4
g
|
Cholesterol:
57
mg
|
Sodium:
254
mg
|
Potassium:
284
mg
|
Fiber:
4
g
|
Sugar:
25
g
|
Vitamin A:
376
IU
|
Vitamin C:
6
mg
|
Calcium:
36
mg
|
Iron:
1
mg
---
---