Easy Key Lime Pie (Make-Ahead)
This Key Lime Pie is a favorite dessert to make for sharing with others. It's smooth, creamy, and jaw-dropping delicious. Bonus: You only need 5 ingredients to make AND it can be made in advance.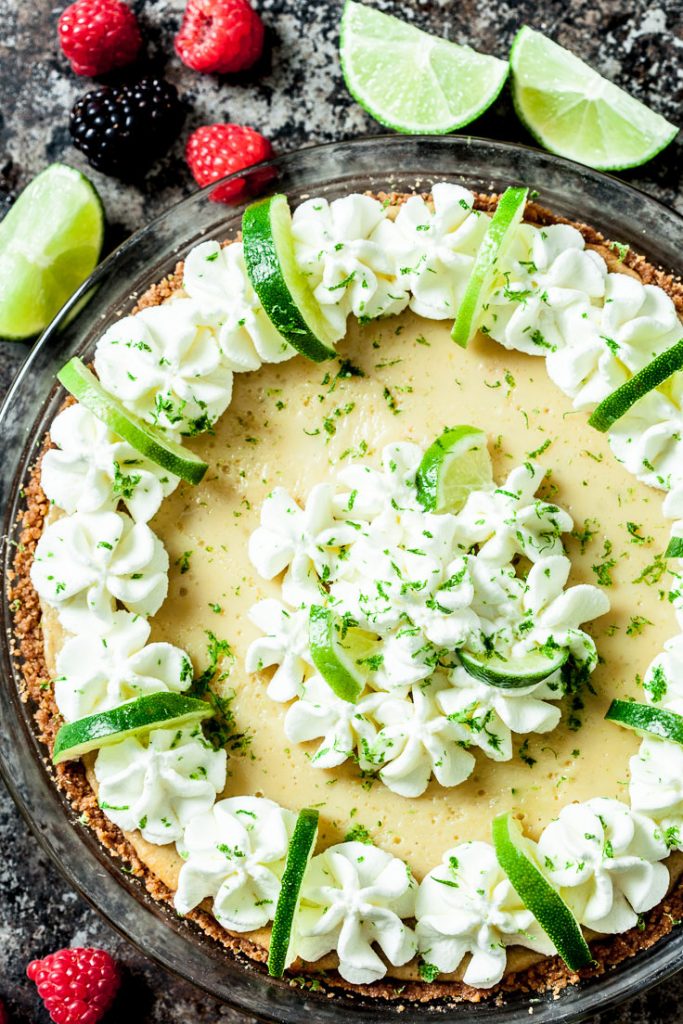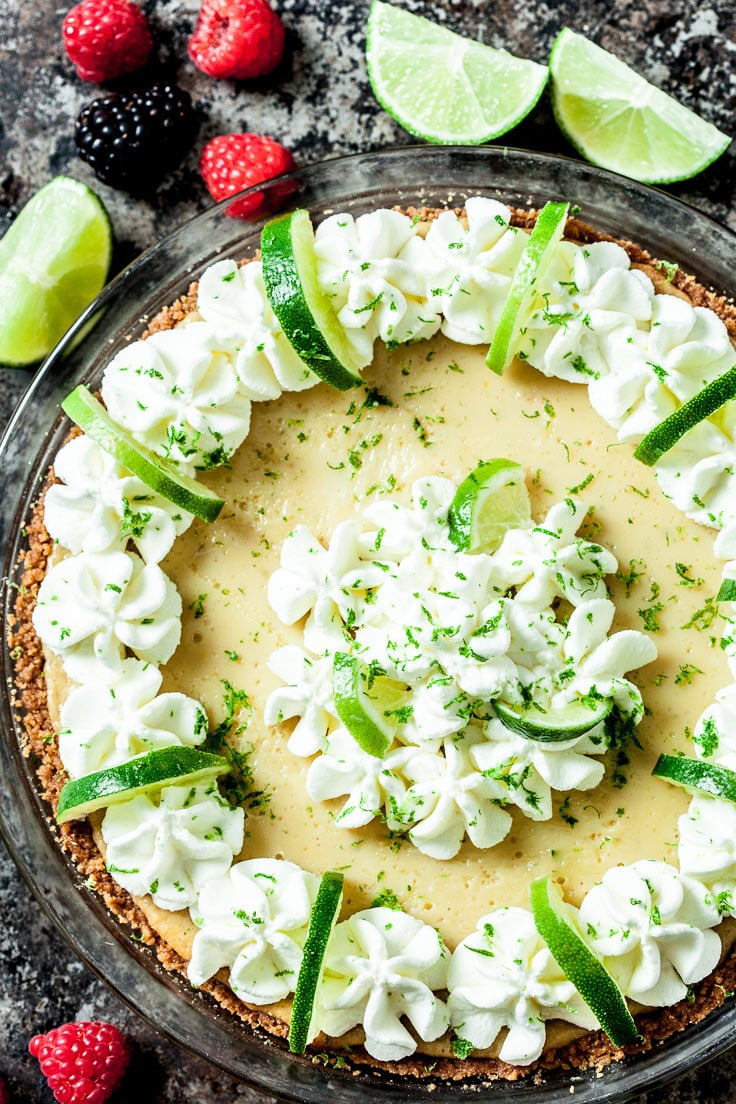 The Best, Easy Key Lime Pie
Whether you already love key lime pie or you're new to this delightful dessert, put this recipe on your must-share-with-friends list. If there's not an occasion for entertaining coming up soon, ask a few friends over for a casual pie night, because this pie too good to skip.
You only need 5 ingredients to make this luscious key lime pie.
Optional super-easy homemade whipped cream takes just 2 ingredients.
Key lime pie is not sour-lime tasting; rather, it's reminiscent of creamy smooth cheesecake with refreshing lime essence.
No special equipment is needed; just a hand whisk will do.
This easy key lime pie can be made entirely in advance, covered, and chilled until pie night arrives.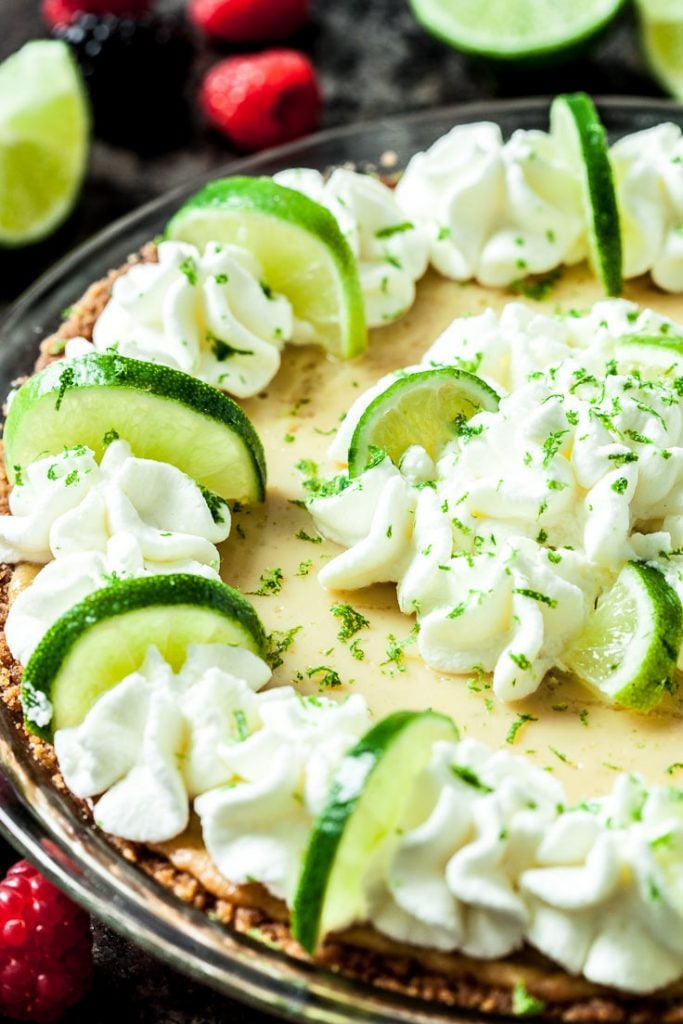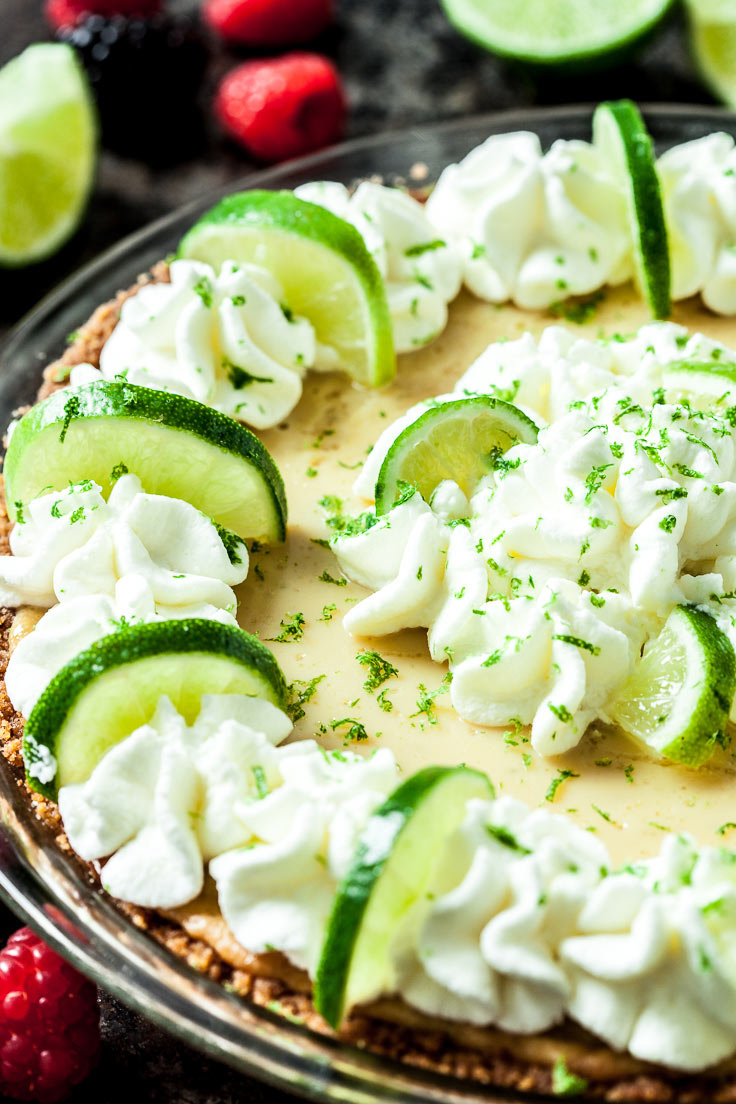 Tips for key lime pie success
Use fresh graham cracker crumbs; if the crumbs are stale, it will affect the flavor and not in a delicious way.
Go ahead and use salted butter in the crust, as that bit of salt provides perfect balance.
Use only freshly squeezed lime juice, as there are only 3 filling ingredients and the limes are key (see what I did there?)
Speaking of fresh limes, a bit of zest is beautiful for garnish.
Try our super easy homemade whipped cream, which is decidedly better than store bought whipped cream.
To keep your finished key lime pie beautiful, invert a second pie pan over the top of the pie and place it in the fridge, far away from little hands.
Homemade whipped Cream is easy
If you want to elevate your key lime pie recipe, just whip together some heavy whipping cream and sugar for the most fluffy-good homemade whipped cream. My favorite way to ensure whipped cream withstands sitting out is to stabilize the whipped cream.
Definitely use this recipe if your pie will be hanging out at room temp for awhile. If you're keeping the pie chilled and don't plan to have it sitting out long, you can go without stabilizing the whipped cream.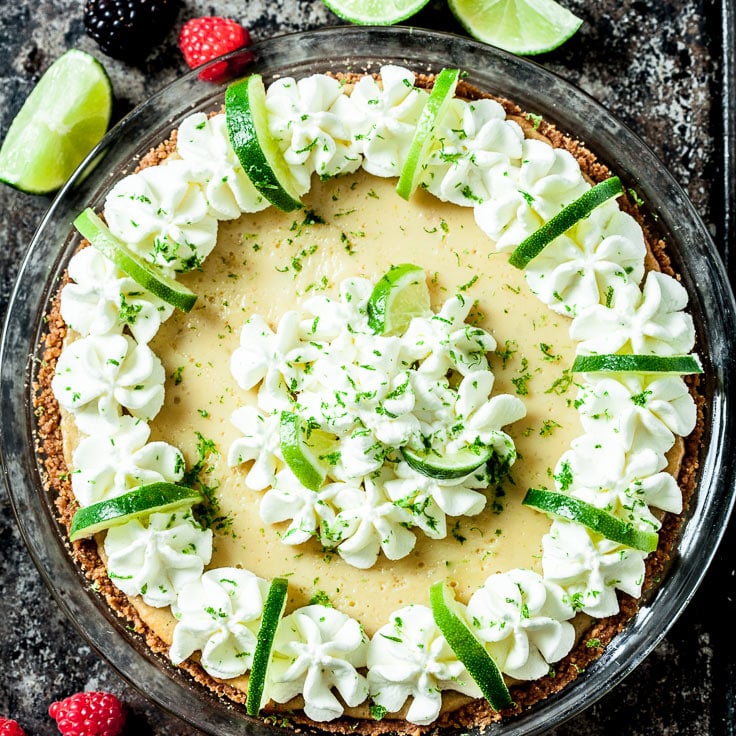 Common Questions and Answers
Q: What exactly are key limes?
A: Key limes (Mexican or West Indian limes) are smaller, contain more seeds, and can be yellower than typical limes. Key limes also have a higher acidity level and more of a fruity-tart flavor. If you see these little guys at the store, definitely pick some up and make this pie.
Q: What if I can't find key limes?
A: If you can't find key limes, use fresh regular limes. I've used regular limes for key lime pie when I've had limes to use up, or when I wanted the bright green zest.
Q: Can I use bottled lime juice?
A: No matter what, fresh limes are way better than anything from a bottle. Bottled juice won't give you nearly the same quality of flavor.
Also try these easy blueberry pie crumb bars: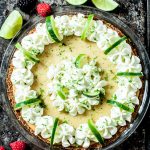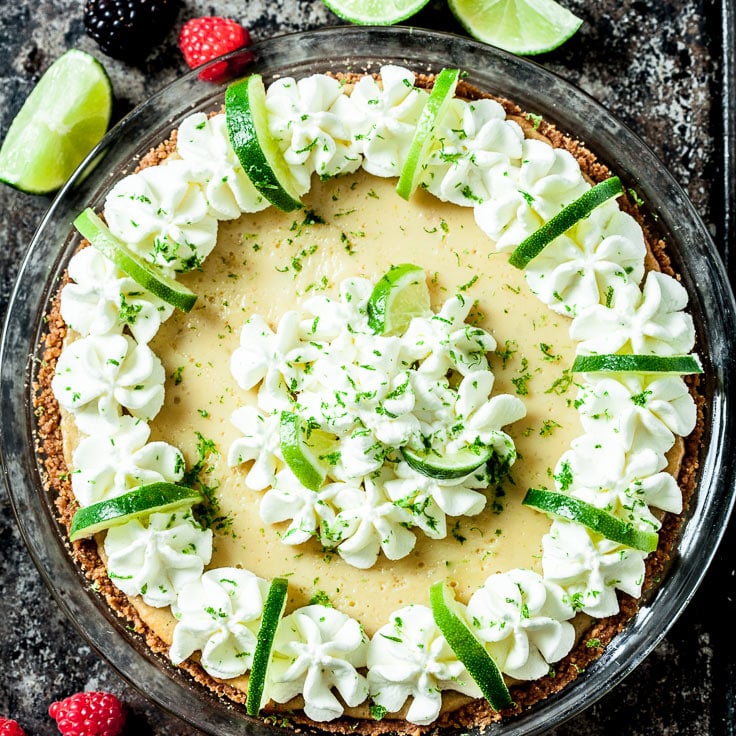 The Best Key Lime Pie Recipe
There's no better way to cap off the summer than sharing the best Key Lime Pie with your favorite people. This Key Lime Pie is smooth, creamy, and jaw-dropping delicious. Bonus: You only need 5 ingredients to make this pie!
Ingredients
For Whipped Cream
1

cup

heavy whipping cream

,

very cold

¼

cup

powdered sugar
Instructions
Make Crust
Preheat oven to 350F, with rack on lower-middle position. Thoroughly combine graham cracker crumbs and melted butter until it can hold together. Press evenly and firmly into the bottom and sides of a 9-inch pie pan. Bake 6 minutes, remove from oven (keep oven on) and set aside to cool a bit while you make the filling.
Make Filling
Combine sweetened condensed milk, lime juice, and egg yolks in a bowl and hand-whisk until mixture is fully incorporated. Gently pour filling into baked crust.

Bake 20-23 minutes or until center is set. Cool pie completely on wire rack before chilling.
Make Whipped Cream
Place the beaters of a hand-mixer and a steel bowl in freezer for a few minutes, to get them really cold.

Pour cold heavy whipping cream and powdered sugar into cold bowl, and whip until stiff peaks form (some recipes call for soft peaks, but I've found that stiff peaks work best for retaining shape) – don't worry if it seems a little over-whipped. Transfer whipped cream into a piping bag or frosting tool. Pipe whipped cream along edges and center of pie.

Cover pie (a second pie pan, inverted over the top works great, or use a pie carrier with lid) and chill until ready to serve.
Notes
*Be sure to use only freshly squeezed lime juice (not bottled juice). Use key limes if they're available. If not, regular limes will work.
*I make graham cracker crumbs by placing whole crackers into a large ziploc bag, seal it, and roll it out with rolling pin. You can also use a food processor, but be careful not to over-process.
*If your pie will be sitting out at room temp for a couple of hours during a party or event, I recommend using this stabilized whipped cream recipe to ensure that the whipped cream keeps its shape. That said, this pie is best chilled.
*If you enjoyed this recipe, please come back and give it a rating ♡
Nutrition
Calories:
288
kcal
|
Carbohydrates:
31.5
g
|
Protein:
6
g
|
Fat:
15.9
g
|
Saturated Fat:
9.3
g
|
Cholesterol:
134.6
mg
|
Sodium:
23660.6
mg
|
Sugar:
31.3
g
Did you make this?
Leave a comment below and tag @chewoutloud on Instagram
It's Pie Time: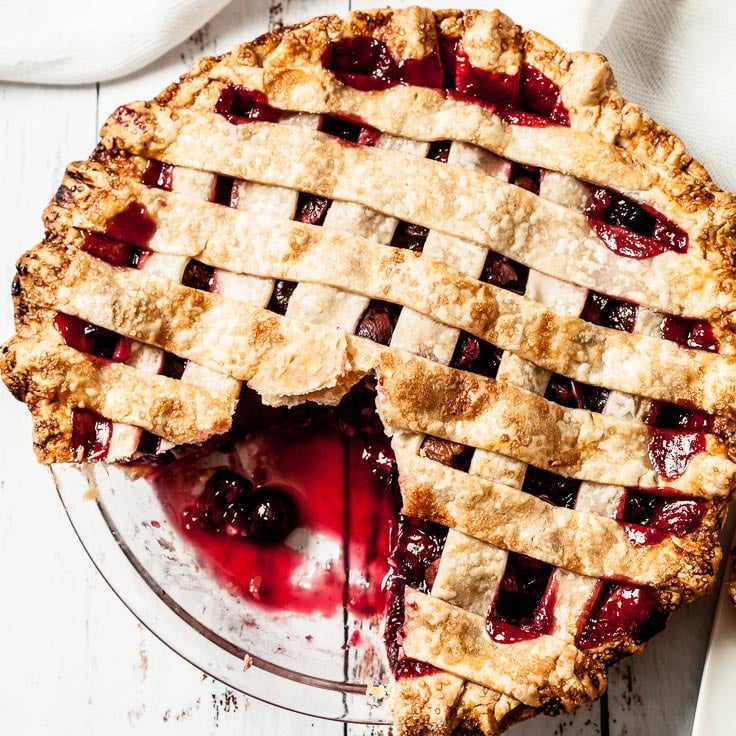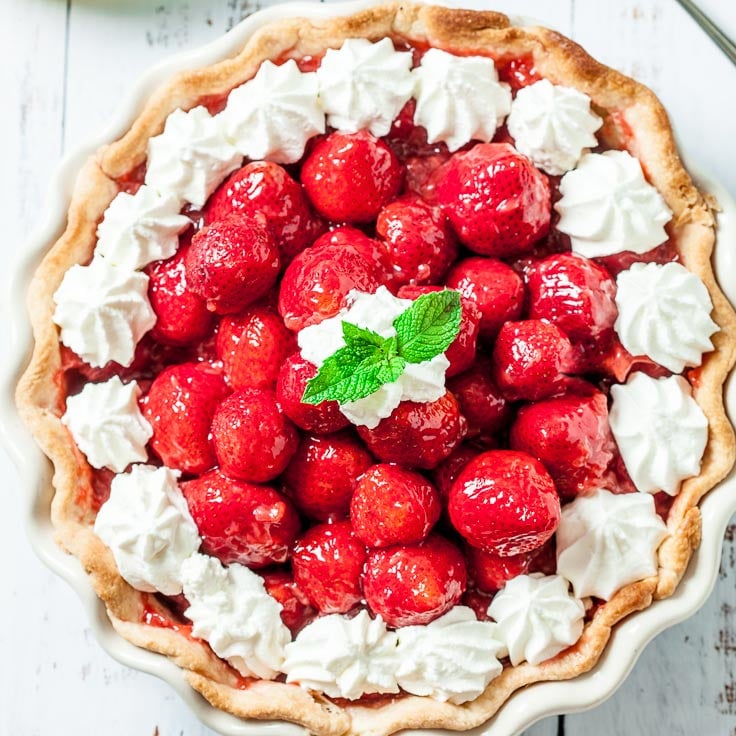 The Best Pumpkin Pie Recipe (Surprise Ingredient)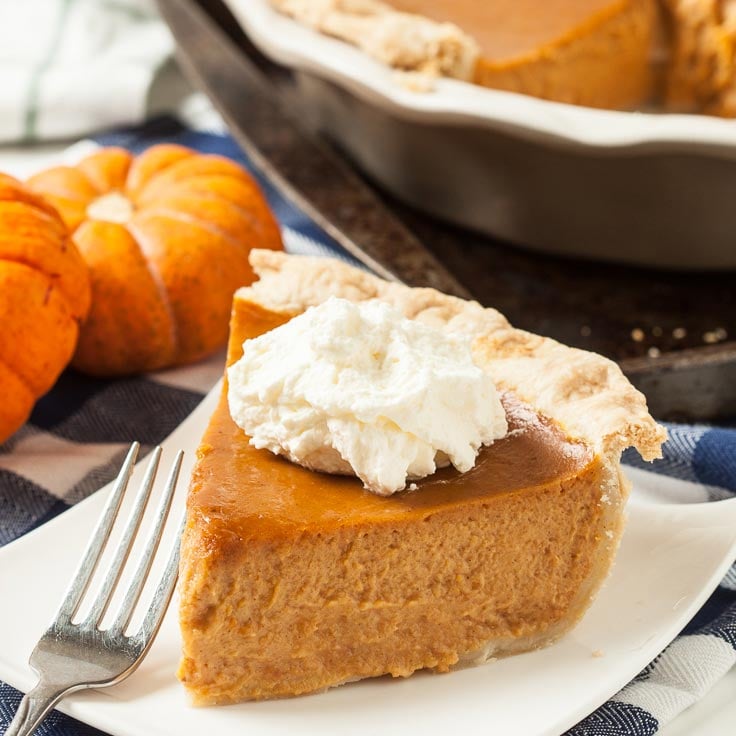 Fresh Peach Pie with Flaky Butter Crust