Hawaiian Apple Bread Pudding
This Hawaiian Apple Bread Pudding is over the top scrumptious! Made with King's Hawaiian Sweet Bread, apples, and an applesauce custard, this bread pudding is the perfect breakfast or dessert for your weekend.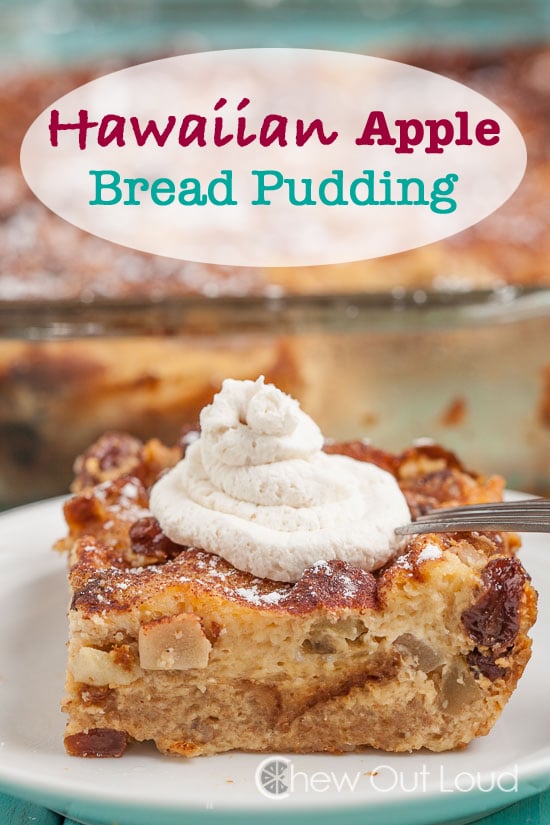 I've had a serious hankering for bread pudding made with King's Hawaiian bread for what seems like years now.
We make bread puddings every so often, but I've been craving it with King's because there's just no way it could not be awesome. You just know it has to be fantastic.
Why?
Because this: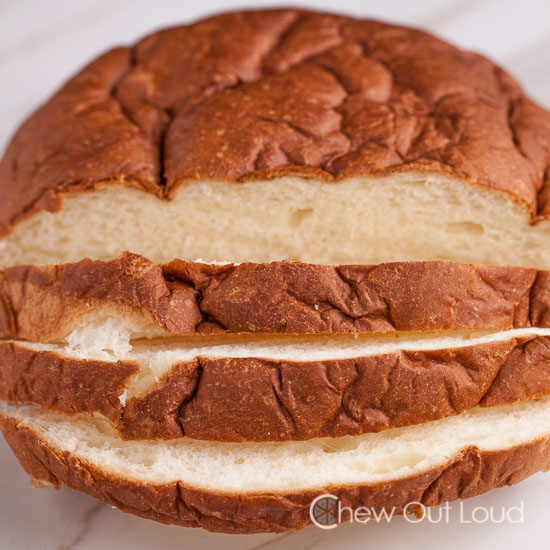 Be still my tummy. The sight of King's Hawaiian Sweet Bread will always propel me back to my childhood.
Every time I went to the store with my mom, if we passed a display of those sweet round loaves, I'd beg for one. And Mom always obliged. The minute we got home, my brother and I (mostly I) would tear into that pillowy soft, slightly sweet, heavenly bread.
It was usually all gone within hours. Minutes, maybe.
It was especially fun to smash and smoosh a piece of fluffy sweet bread into as tight of a little bread-wad as was possible. Then pop that poor wad into our mouths. It tasted better that way. Say I'm not the only one…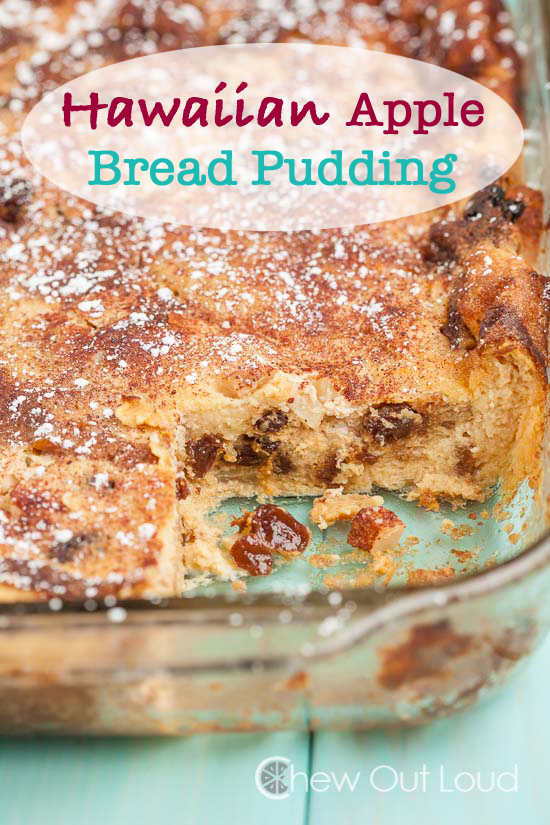 So recently when I got the craving for bread pudding, I decided it was time to tear into my favorite sweet bread.
Literally. Tear (or cut, if you're feeling civilized) an entire round loaf of King's Hawaiian bread into pieces. Try not to eat. Your patience will be rewarded.
Let it soak up a luscious custard made with milk, cinnamon, eggs, and applesauce. Toss in raisins and diced apples for texture and flavor.
The results are so, so worthwhile.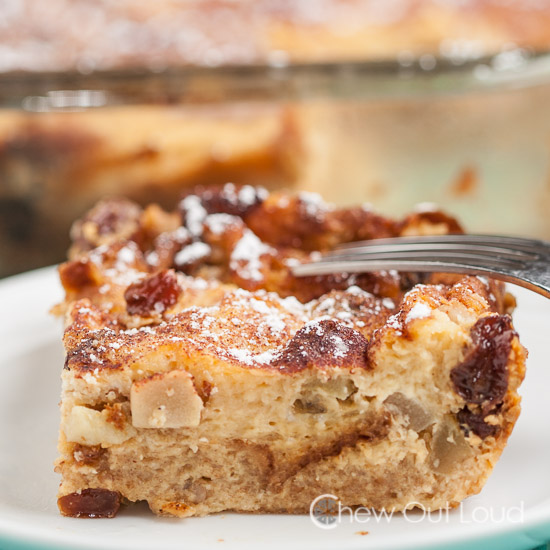 This Hawaiian Apple Bread Pudding is meant to be baked immediately after assembly. Luckily for us, it's super easy to assemble.
Serve it up with maple syrup, whipped cream, powdered sugar, or ice cream… depends on whether you're doing breakfast or dessert with it. Or snack.
I could eat it for dinner.
Enjoy.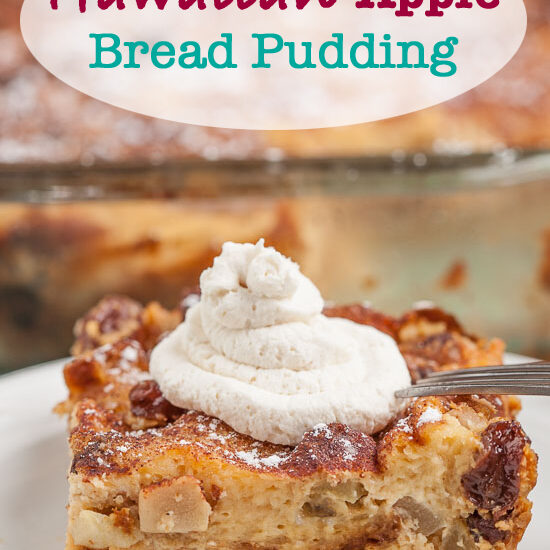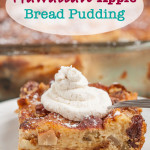 Hawaiian Apple Bread Pudding
Ingredients
1

entire loaf King's Original Hawaiian Bread

,

round loaf

1

cup

raisins

1

large granny apple

,

peeled and diced

½

cup

salted butter

1

cup

granulated sugar

2 ½

cups

milk

pinch

of table salt

1

cup

applesauce

9

large eggs

,

beaten

1

TB

vanilla extract

1

TB

cinnamon

½

tsp

nutmeg
Instructions
Preheat oven to 350F with rack on lower middle position.

Cut bread into bite size pieces and place in a greased 9x13 pan. Sprinkle raisins and apples over the bread and gently toss the top half just a bit so the fruit is slightly mixed in. Set aside.

Melt butter, sugar, milk, and salt together in a saucepan over low heat. Let mixture cool to just warm. Add applesauce and stir. Stir in eggs (mixture can't be hot or eggs will cook.) Evenly ladle vanilla over the top. Sprinkle evenly with cinnamon and nutmeg over top. Bake 45-55 min or just until middle is set and top is golden brown and puffy. Keep watch after about 35 minutes - if it's browning too quickly, lightly tent with foil for the remaining bake time.
Did you make this?
Leave a comment below and tag @chewoutloud on Instagram
Source: Chew Out Loud
Here are more favorite recipes that double as both dessert and breakfast:
Nutella Bread Pudding — This stuff is seriously great. Nutella + croissants + custard = a bit of paradise.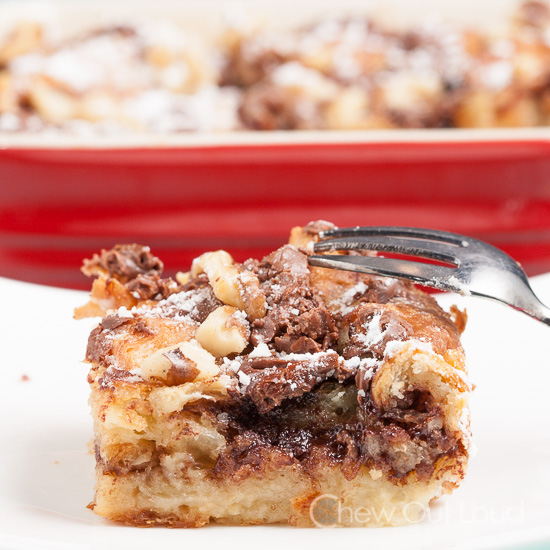 Apple Texas French Toast Bake — Thick, dense Texas toast bread soaks up the apple-y custard beautifully.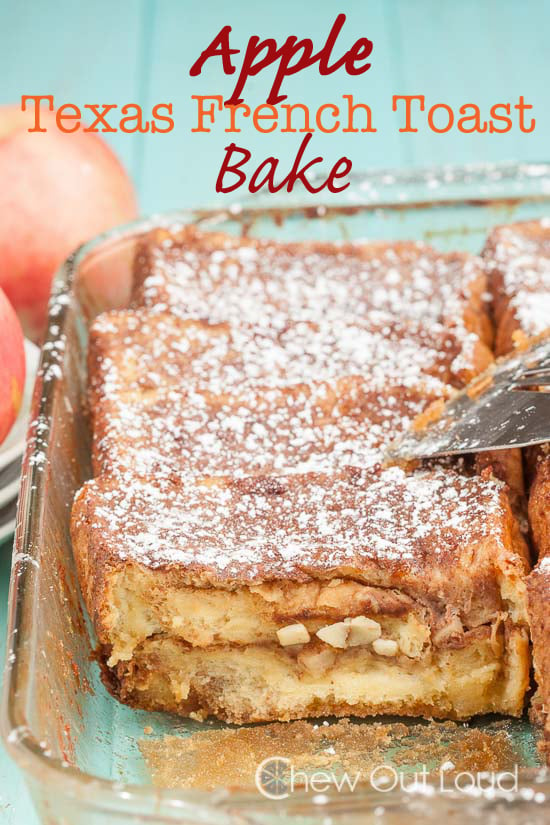 Apple Caramel Cinnamon Cake — This apple cake is superbly tender, moist, and scrumptious! Infused with cinnamon spice and drizzled with caramel, it's a sure hit every time.