Banana Cake with Whipped Cream Cheese Frosting
By Amy Dong
Published Oct. 27, 2013
Updated Aug. 17, 2022
I hadn't planned on making a banana cake this week. We had just finished an early dinner one night. Hubby and one of our boys hustled off to basketball practice. I was enjoying a bit of down time with my other two boys; a rarity to be sure.
It was still early. I didn't really want to clean the kitchen just yet, and was doing my best to avoid it.
So the words slipped off my tongue before I knew it: Boys, wanna bake something yummy?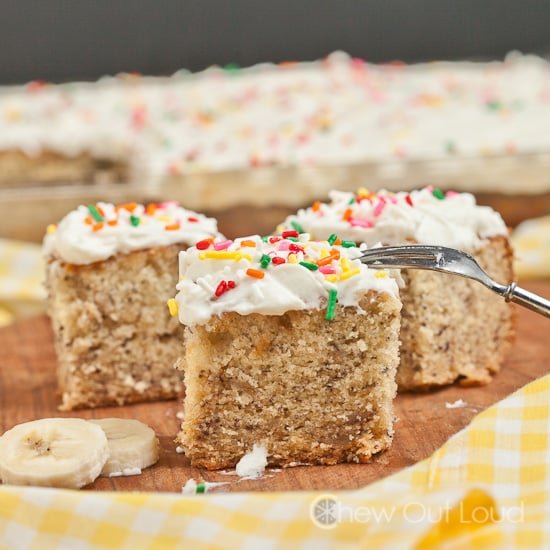 Yeah, let's go make more of a kitchen mess! We'll worry about those dishes later. That's how this banana cake happened…
When you're baking on a spontaneous whim, whatever is in the pantry must suffice. I knew I had to manage those waayy ripe bananas we had, so that's the route we ran with.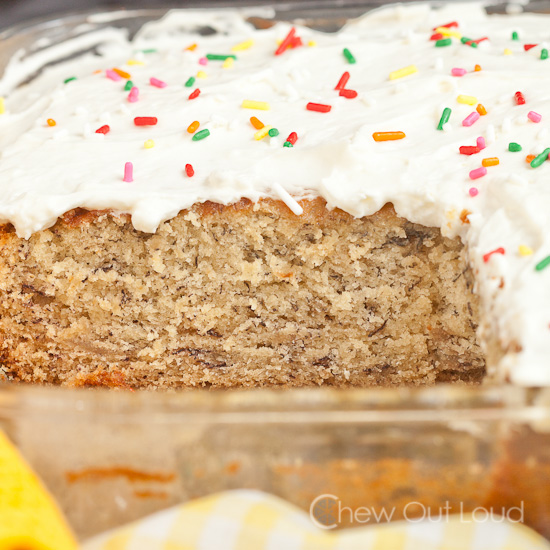 When you're baking on a time constraint, quick 'n easy is the only way to go. This banana cake could not be easier. Or quicker. The boys and I literally whipped up the batter and tossed it into the oven well before bath time.
I wasn't planning to frost the cake that I hadn't planned on making. But this whipped cream cheese frosting is my weakness. I already had the ingredients in the fridge. How could I say no to this airy, fluffy, perfect whipped cream cheese frosting?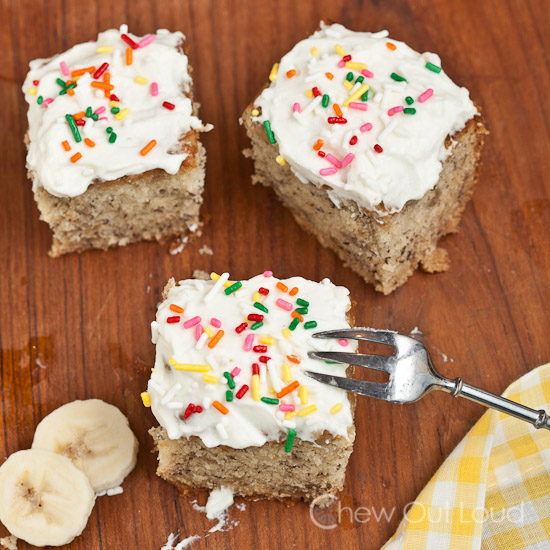 This banana cake is as tender and moist as they come. It is soft, fluffy, a little bit dense, and a lot tender. The bananas truly shine in this cake, with a big banana flavor in every happy bite.
The whipped cream cheese frosting nearly takes the cake. Pardon the pun. This light and fluffy frosting makes any dessert over the moon. Not overly sweet, nor too thick. Just a pillowy soft, melt-in-your-mouth blanket that enhances the cake in a close-your-eyes-mmm way.
I obviously love whipped cream frostings: Double Chocolate Cake with Kahlua Whipped Cream was one of my earliest posts (clearly), but it's still my absolute favorite chocolate cake ever.
Fluffy yellow cake with Chocolate Whipped Cream Frosting boasts my favorite chocolate frosting of all time.
If you leave off the frosting (or not,) this plain banana cake makes an awesome breakfast. Cake for breakfast? Yeah, we do that.
Enjoy!
Did you make this?
Please give us a rating and comment below. We love hearing from you!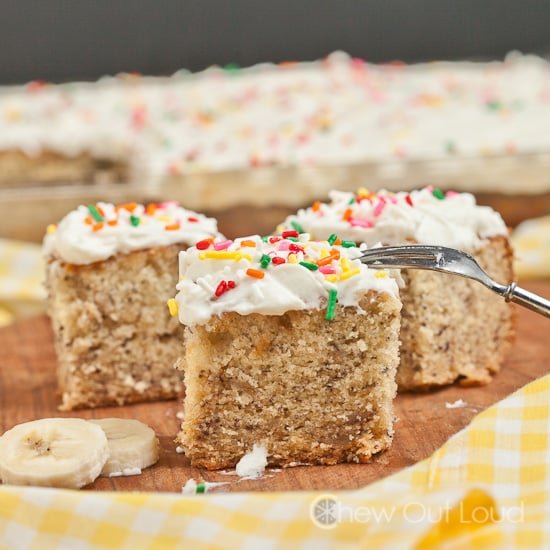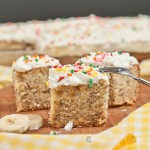 Banana Cake with Whipped Cream Cheese Frosting
This delicious banana cake is super moist, tender, and can be served for dessert or brunch. The whipped cream cheese frosting is fluffy, creamy, light, and spoon lickin' good! Cake stays moist for a few days in airtight container.
Instructions
Preheat oven to 350F, with rack on lower middle or middle rack.

Generously grease and lightly flour a 9x13 glass pan (if you use metal, please adjust for less baking time.)

In a small bowl, mash bananas well, and set aside.

In a separate bowl, combine whole milk with lemon juice. Let sit at room temp.

In a medium bowl, combine the flour, baking soda, and salt. Whisk well, and set aside.

In the large bowl of a stand mixer with paddle attachment, combine butter and sugar, and blend on medium until light and fluffy; approx 2-3 min. Add the eggs and vanilla. Beat just to combine.

Add in half of the flour mixture, blending on on medium-low just to combine. Add in half the milk mixture, blending just to combine. Repeat with remaining flour mixture and milk mixture.

Gently stir in the mashed bananas by hand, just until batter is fully incorporated. Do not overmix.

Using rubber spatula, scrape down bowl sides and scrape batter into prepared pan. Bake in preheated oven 50-55 minutes, or until toothpick inserted in middle comes out with a few tender crumbs attached. Let cake cool completely in pan on wire rack.

To Make the Frosting: Beat softened cream cheese with powdered sugar, salt, and vanilla until mixture is smooth and creamy. In a cold metal bowl, beat cold heavy whipping cream until it maintains stiff peaks. Gently fold the whipped cream into the cream cheese mixture, until fully combined. Keep chilled until ready to frost cooled cake.
Nutrition (per serving)
Calories:
342
kcal
|
Carbohydrates:
50
g
|
Protein:
5
g
|
Fat:
19
g
|
Saturated Fat:
11
g
|
Polyunsaturated Fat:
1
g
|
Monounsaturated Fat:
5
g
|
Trans Fat:
0.3
g
|
Cholesterol:
77
mg
|
Sodium:
238
mg
|
Potassium:
158
mg
|
Fiber:
2
g
|
Sugar:
25
g
|
Vitamin A:
708
IU
|
Vitamin C:
3
mg
|
Calcium:
65
mg
|
Iron:
1
mg
Source: Chew Out Loud, cake portion adapted from Food.com