Pumpkin Cream Cheese Bundt Cake
Today's recipe is for all those pumpkin fanatics and cheesecake lovers.
I know, I already bragged through my cyber megaphone about this New York Style Pumpkin Cheesecake, which so many of my friends and readers adore.
But this is the season of fall flavors, and The Great Pumpkin continues to come calling.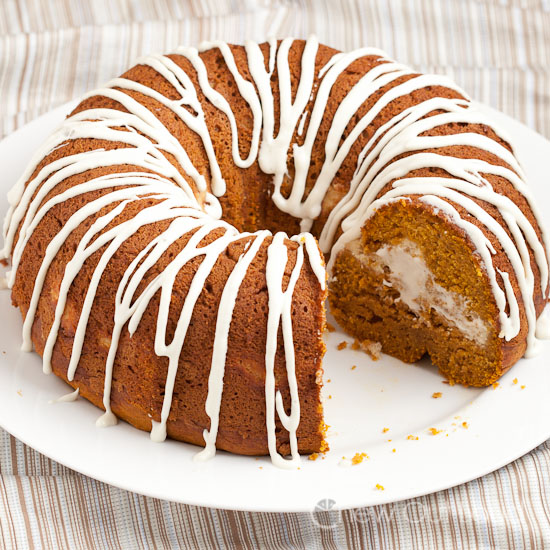 I've already revealed what a cheesecake craver I am. If you missed it before, my all-time favorite cheesecake in the whole universe is this White Chocolate Raspberry Cheesecake on Oreo Crust, which gives the Cheesecake Factory a serious run for its money.
Thus, it's only natural that we would seek to incorporate a little cheesecake-ness into this Pumpkin Cream Cheese Bundt Cake…
The cream cheese filling tastes like a bit of cheesecake paradise, playing hide-and-seek in the center of the moist cake. The pumpkin cake encasing the cheesecake filling boasts a moist, tender crumb. It's brimming with the goodness of pumpkin. The whole cake is then drizzled with a decadent cream cheese glaze.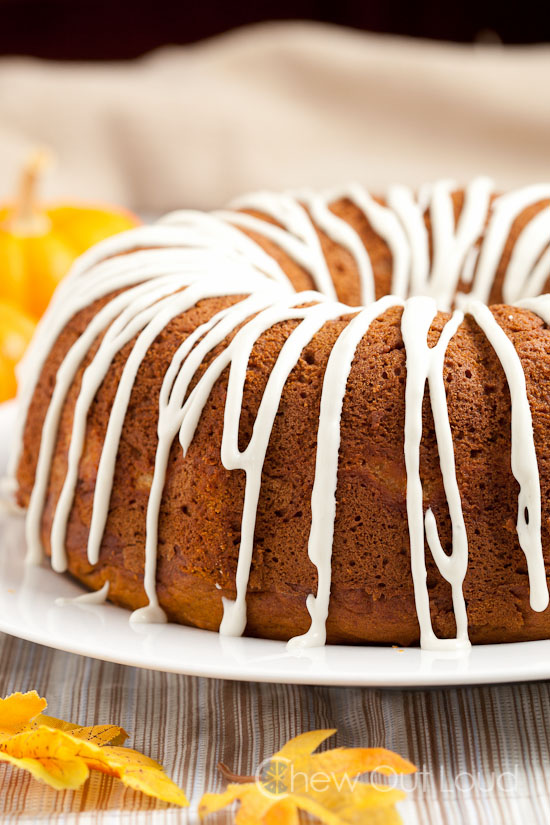 The first time I made this Pumpkin Cream Cheese Bundt Cake, Hubby was already raving, but my finicky palate felt like the cake had a bit more salt than I liked, and wasn't quite sweet enough (I rarely say that, since I'm a habitual sugar-reducing baker.)
It just has to be the right balance. So, I wanted to redo this a second time, just to make sure I'm giving you the best recipe I possibly can.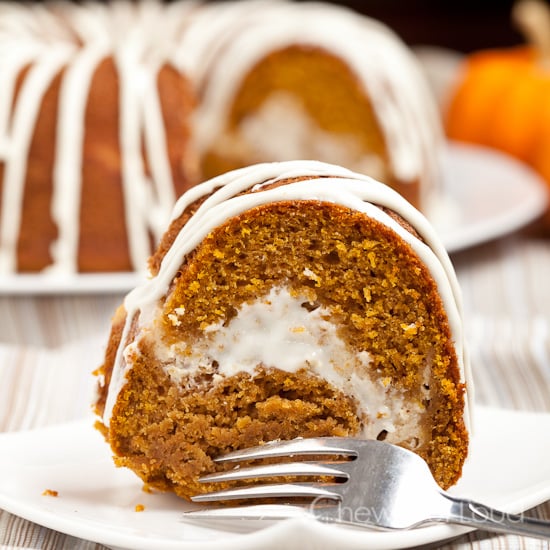 This Pumpkin Cream Cheese Bundt Cake is perfect for any holiday breakfast or brunch table. The moist and tender pumpkin cake encases a wonderful cream cheese filling. To make the cheesecake flavor more intense, a perfectly sweet cream cheese glaze drapes the cake.
Enjoy!
Did you make this?
Please give us a rating and comment below. We love hearing from you!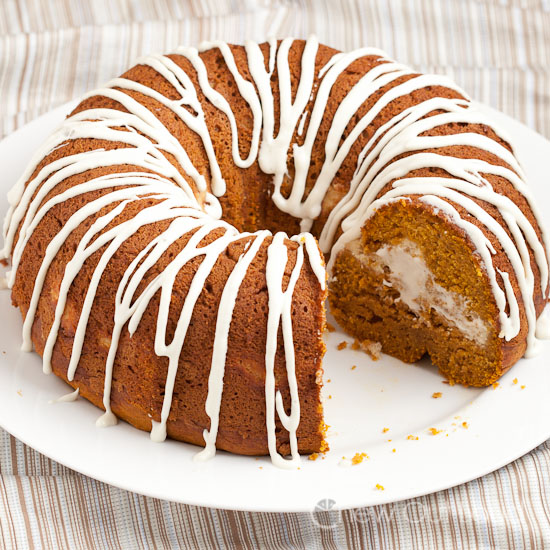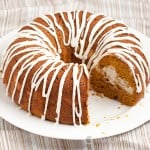 Pumpkin Cream Cheese Bundt Cake
This moist, tender Pumpkin Bundt Cake encases a luscious cream cheese center. The entire cake gets an extra boost of cheesecake flavor with a delicious cream cheese drizzle.
Instructions
Preheat oven to 350F, with rack on lower middle or middle position. Generously grease Bundt pan and set aside.

Make the Filling: Beat cream cheese cubes with sugar on medium high, until completely smooth. Add egg, cinnamon, and vanilla, beating until smooth. Transfer to a covered container and chill in fridge.

Make the Cake: In a large bowl, combine the flour, baking powder, baking soda, salt, cinnamon, all spice, cloves, ginger, and nutmeg. Whisk together and set aside.

In the bowl of stand mixer, using paddle attachment, cream butter and both sugars until fully mixed and fluffy. Beat in eggs, oil, pumpkin, yogurt, and vanilla, until mixture is smooth.

Fold dry ingredients into the wet ingredients by hand, using rubber spatula.

Pour almost half of batter into grease Bundt pan, filling the grooves. Using wooden spoon, try to carve out a generous tunnel in the batter, and fill the tunnel with cream cheese filling. Filling will probably overflow the tunnel, but this helps to keep the filling together. Gently pour in remaining cake batter.

Bake 55-60 minutes or just until toothpick inserted in the center comes out almost clean, with few tender crumbs attached. Cool cake in pan 15-20 minutes; transfer to wire rack to finish cooling.

Make the Glaze: Beat softened cream cheese and powdered sugar until smooth and fluffy, about 4 minutes on medium high. Add rest of glaze ingredients, stirring by hand. Add 1 tsp of milk at a time, as needed, to reach your desired glaze consistency.

Note: I scrape the glaze into a small ziploc baggie, cut a tiny tip off a corner, and drizzle happily onto cake!
Nutrition (per serving)
Calories:
575
kcal
|
Carbohydrates:
73
g
|
Protein:
10
g
|
Fat:
29
g
|
Saturated Fat:
12
g
|
Polyunsaturated Fat:
2
g
|
Monounsaturated Fat:
13
g
|
Trans Fat:
0.2
g
|
Cholesterol:
103
mg
|
Sodium:
542
mg
|
Potassium:
276
mg
|
Fiber:
2
g
|
Sugar:
38
g
|
Vitamin A:
778
IU
|
Vitamin C:
4
mg
|
Calcium:
134
mg
|
Iron:
3
mg
Source: Chew Out Loud (cake portion inspired by brighteyedbaker)