Chia Seed Pudding
This Chia Seed Pudding is healthy, fruity, and satisfies your sweet tooth without sacrificing the waist line. It's the perfect treat for breakfast, afternoon snack, or evening dessert.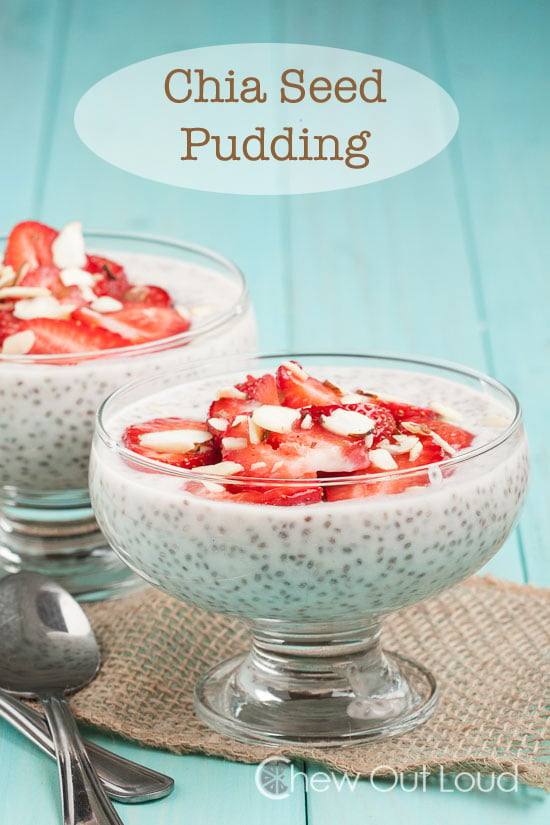 So, I've taken the plunge into green territory. Tropical Green Smoothie, anyone?
And I've already been putting flax into everything I can get away with. Especially chocolate cake: The Omega-3 of all Chocolate Cakes.
Now I'm venturing down chia seed road. Chia. It's such a fun word that I almost want to rename my pup. But I don't think our Izzy Girl would approve.
There's a reason chia seeds are becoming all the rage. It's a little super seed with powerhouse nutrition. And it's so easy to incorporate into the kitchen. Take this Chia Seed Pudding…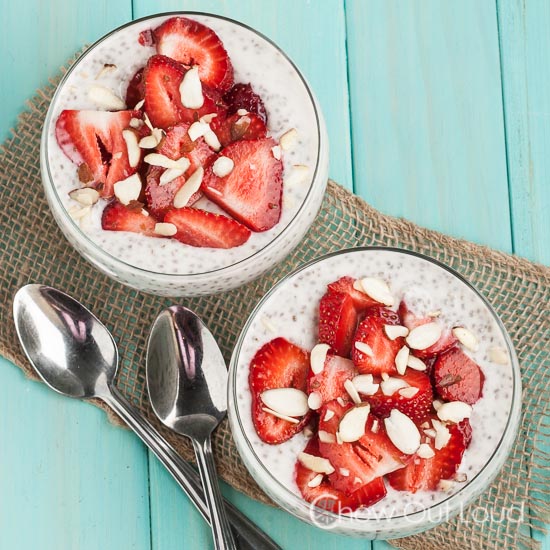 I was floored when I saw that 1 TB has 6-8 grams of fiber, 3-4 grams of protein, and lots of Omega-3's. Just ONE little tablespoon?! I'll take it.
Rather than eating dry chia seeds, I went for a bit of fun. I let the seeds "bloom" in the pudding mixture, which is somewhat reminiscent of a tapioca pudding. The seeds grow chewier and softer as they sit in the pudding base.
We used strawberry Greek yogurt and fresh strawberries for a strawberry treat. This Chia Seed Pudding is so flexible, you can easily adapt it towards whatever fruit fix you'd like.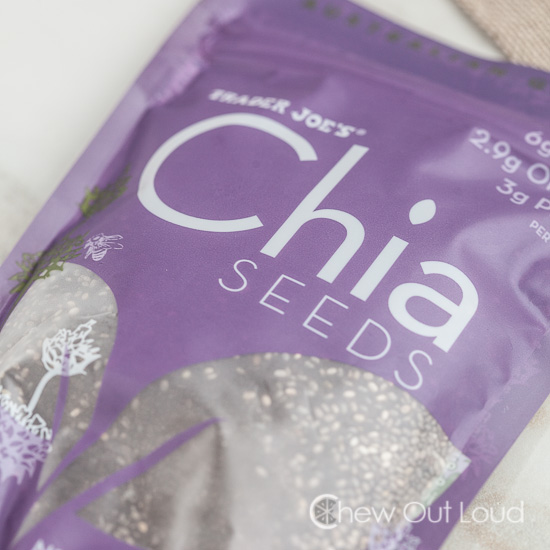 The Littles immediately spotted the chia seed pudding resting in the fridge, and I had to remind them that it wouldn't be "ready" until tomorrow.
I realize it's incredibly hard to wait, but these super seeds do need to rest a bit in order for the pudding to thicken up.
Once I gave the green light, it took approx. 30 seconds for the boys to devour their big bowls of chia seed pudding. Then it was a chorus of more, please.
I'm definitely going to keep a bag of chia seeds in my pantry as a staple item from now on.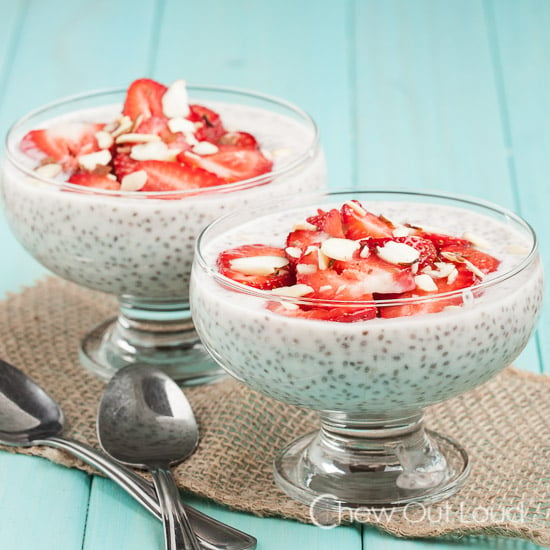 Whipping up all sorts of fruity variations for chia seed pudding is one of my goals for the rest of summer. We're hitting the berry farm soon, and my mind is already swirling with ideas.
Here's to a summer full of treats that are totally guilt-free and satisfying.
Not that I'm giving up cookies. Balance 🙂
Enjoy!
Did you make this?
Please give us a rating and comment below. We love hearing from you!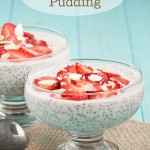 Chia Seed Pudding
This Chia Seed Pudding is fruity, fresh, and packs a healthy punch! Chia seeds are full of protein, Omega 3's, and fiber with every bite. They will soften and grow chewier after sitting in the pudding for awhile, giving the pudding a nicely thickened texture. This recipe is highly adaptable; feel free to experiment with seasonal fruits.
Ingredients
1

cup

sweetened vanilla flavored almond milk

1

cup

strawberry Greek yogurt

1

tsp

pure vanilla extract

pinch

kosher salt

¼

cup

dry chia seeds

1

pint

fresh strawberries

,

chopped

¼

cup

roasted almonds

,

slivered
Instructions
In a bowl, combine the almond milk, yogurt, vanilla extract, and pinch of kosher salt. Whisk gently until incorporated. Whisk in the chia seeds, and let stand for 30 min. Gently stir to redistribute the seeds. Cover and refrigerate overnight.

When ready to serve, gently fold in half of the strawberries into the pudding. Use the rest of the strawberries and almonds for garnish.

Note: Make it nut-free by omitting the almonds.
Nutrition (per serving)
Calories:
215
kcal
|
Carbohydrates:
28
g
|
Protein:
7
g
|
Fat:
9
g
|
Saturated Fat:
1
g
|
Polyunsaturated Fat:
4
g
|
Monounsaturated Fat:
3
g
|
Trans Fat:
0.02
g
|
Cholesterol:
6
mg
|
Sodium:
128
mg
|
Potassium:
400
mg
|
Fiber:
8
g
|
Sugar:
17
g
|
Vitamin A:
39
IU
|
Vitamin C:
70
mg
|
Calcium:
251
mg
|
Iron:
2
mg
Source: Chew Out Loud, adapted from Giada De Laurentiis
This Yogurt Honey Fruit Dip is terrific and delish; perfect for summer snacking and gatherings.
Here's that Omega-3 Chocolate Cake we love. Pack some nutrition into your chocolate!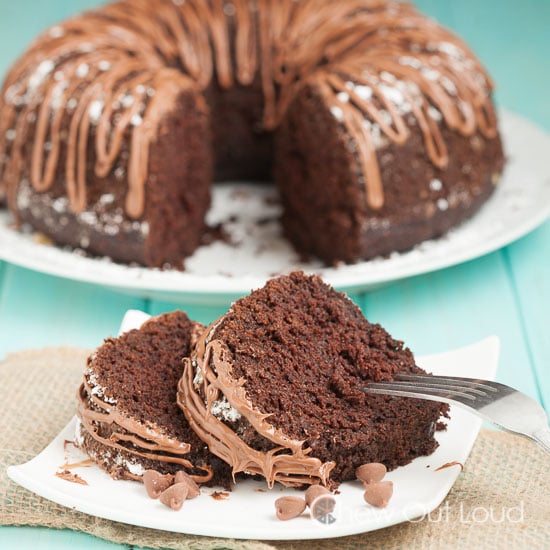 This Crunchy Granola is SO addictive, healthy, and easy to take for summer outings.