How to Make Overnight Oats (No-Cook)
By Amy Dong
Published Jan. 26, 2021
Updated Aug. 17, 2022
This Overnight Oats Recipe needs only 3 simple, pure ingredients and no cook time at all. It's incredibly easy to get your healthy, hearty oatmeal in the morning with zero fuss. Prepare individual jars for your eaters and let them choose their toppings.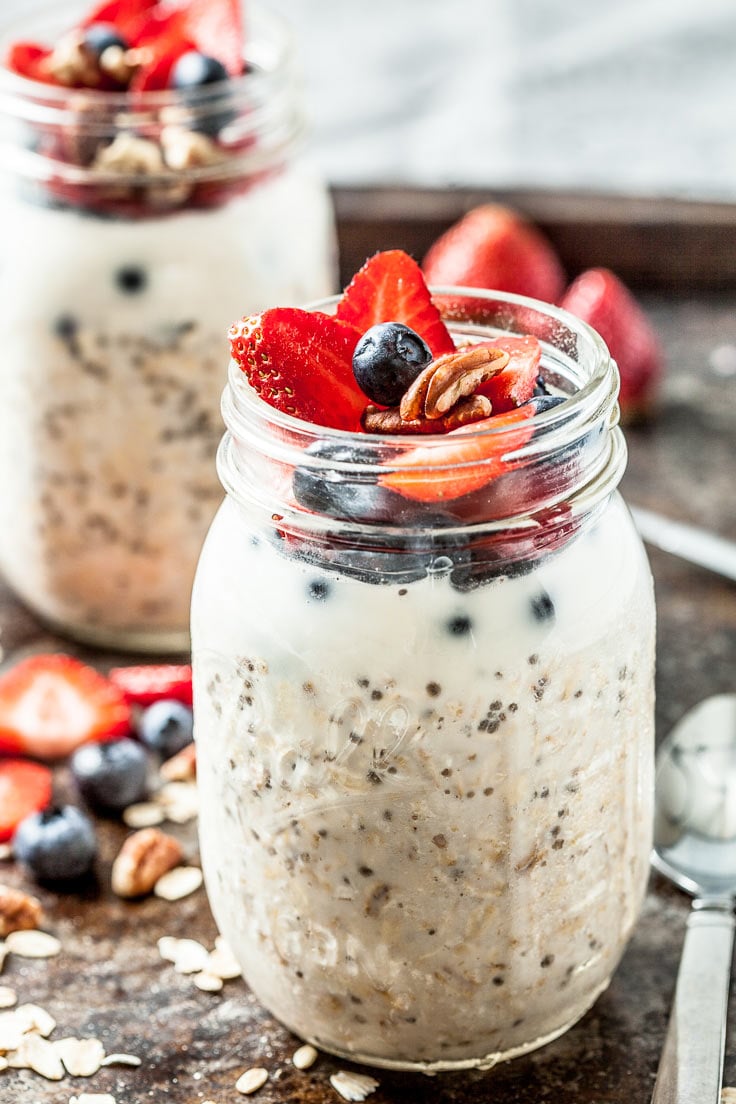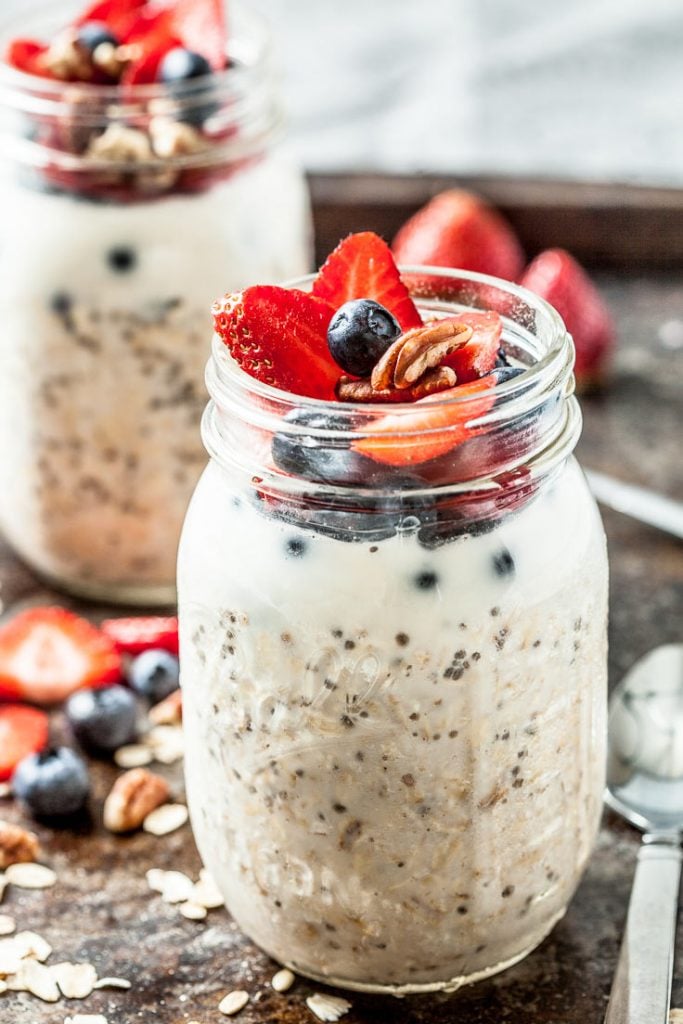 Easy, Hearty Overnight Oats
If there's ever been a non-recipe type of recipe that everyone needs up their sleeve, this Overnight Oats is it.
Of course, the headlined 3-ingredient recipe will be provided on this amazing oatmeal deal, but use it as more of a guideline rather than a rigid recipe. I mean, some eaters like their oatmeal thicker, while others prefer it slightly thinner. Some want their breakfast sweeter. Some like it less sweet. The gist is, this overnight oats recipe is super flex. Add more of what you want and less of what you don't.
We've been on an oat kick for years now. I guess that means it's technically not a kick anymore. It's more of a lifestyle. When you can have the goodness of healthy, hearty oats in everything from this Maple Cinnamon Baked Oatmeal for a brunch crowd…to these irresistible Thick, Chewy Oatmeal Raisin Cookies for dessert, it's easy to enjoy all the oats.
Lately, we've been devouring jar after jar of today's Overnight Oats, and nobody is complaining one teensy bit. It's ridiculously easy to meal-prep several jars of overnight oats to keep in the fridge. Every morning is a fuss-free, quick, satisfying reach for a yummy jar of no-cook oats and all the toppings for my peeps to sprinkle on.
Everyone's fed and happy, which makes mama happy, which means everyone is even happier.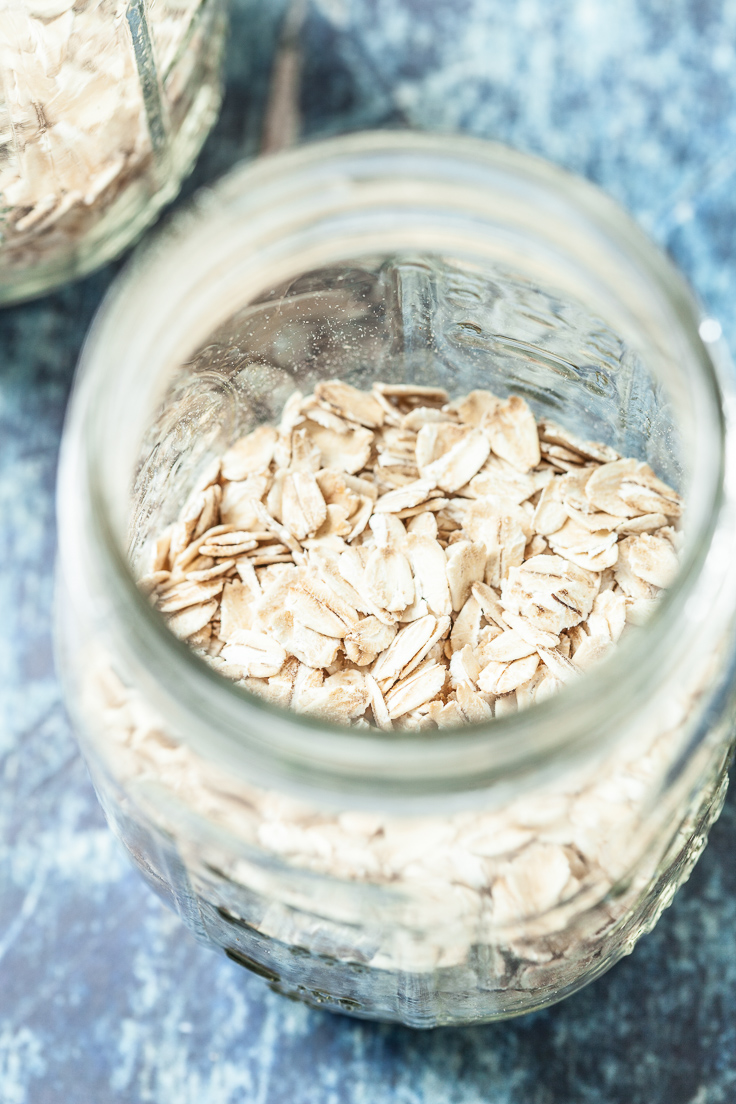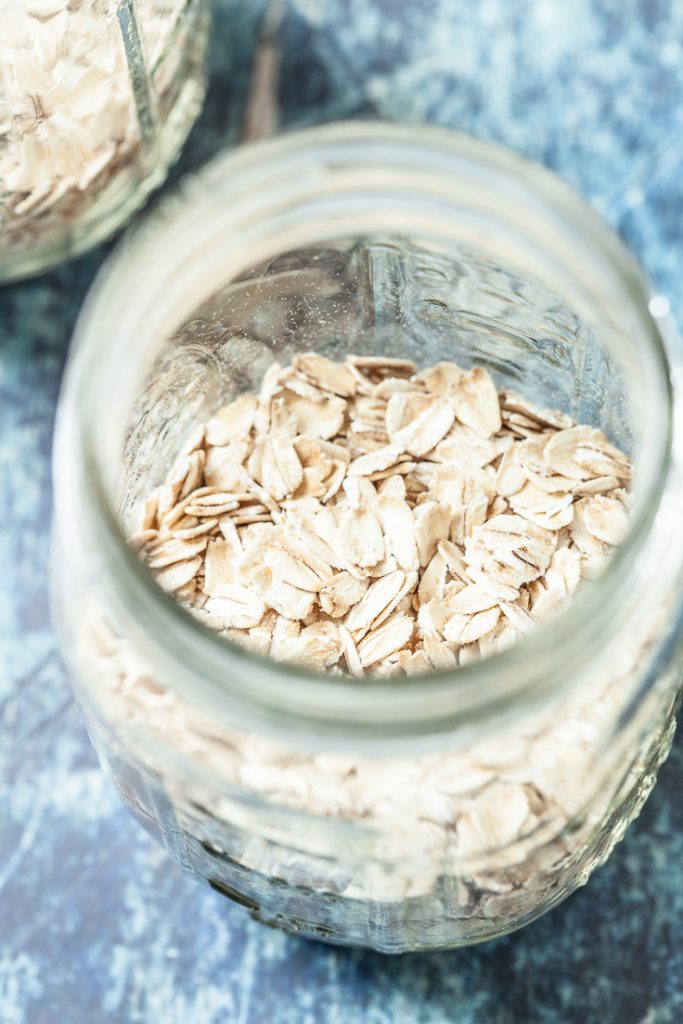 How to make no-cook overnight oats in a jar
This is genius simple. In fact, I don't know why I haven't been doing this since I was three. But it's better late to the game than never.
All you need are 3 simple ingredients to get you started:
Old fashioned rolled oats: whole oats absorbs liquid nicely, without becoming mushy. We use it exclusively in these oat granola bars.
Almond milk (We love vanilla almond milk for both oats and ice cream, but feel free to use any milk of your choice)
Pure honey, agave nectar, or maple syrup. My favorite is local, raw, unfiltered honey. It's the star of our famous Honey Cornbread.
You'll combine those 3 ingredients into a jar, cover, and chill until ready to enjoy. It's really that easy. If you want to jazz up your overnight oatmeal a bit, add these 2 highly recommended items into your jar before the overnight soak:
Chia seeds – this helps to thicken oatmeal overnight, provides great texture, and awesome nutrition. Definitely try this healthy, creamy chia seed pudding.
Cinnamon – yes and yes. It's optional, but many love a nice dash of spice in their oats.
As all that weren't fabulous enough at 7am or whatever time you break your fast… we get to do it all up with toppings! To make our morning oat fix happen seamlessly, I pre-cut my fruits the night before and lay out whatever toppings people may want to grab. It's all on the ready — just grab, sprinkle, and eat.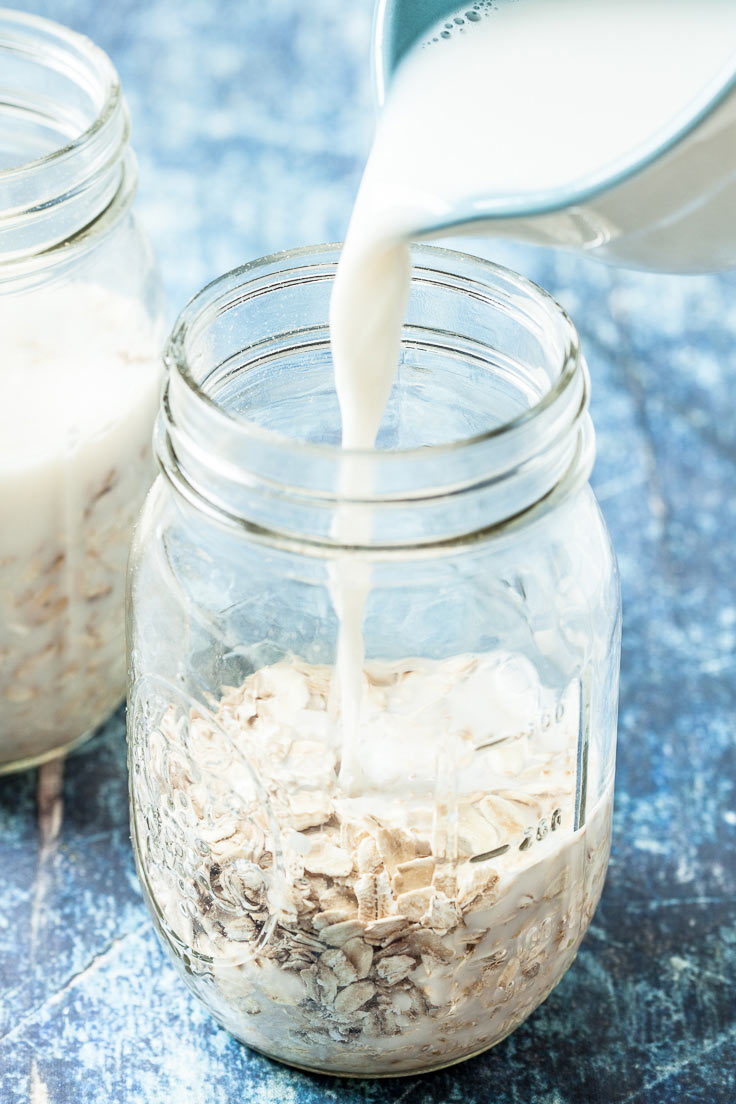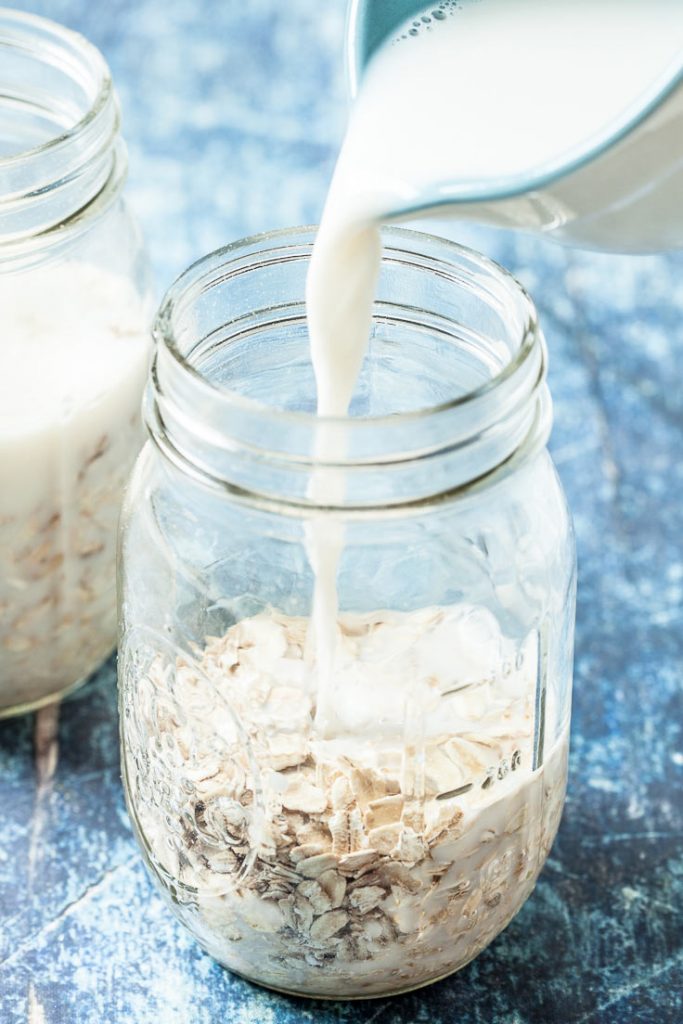 Tips for perfect overnight oats
You don't really need a jar. Any individual sized container with a lid will work just fine. Jars are trendy and cute, but they're mostly for trendy cuteness.
Be sure to add certain toppings, like nuts, only when ready to eat. Mushy nuts aren't delicious.
Other toppings, like berries or dried fruits, can be included for the overnight soak for an extra easy morning.
If your oatmeal turns out too thick, just add a bit more milk for desired consistency. If it's too thin, add extra toppings like chia seeds or ground flax; much of the thickness depends on how long the oats were allowed to soak.
You can enjoy overnight oats hot OR cold. I personally prefer my oatmeal hot, so I pop my jar/bowl in the microwave for a minute and it comes out perfectly.
This is the best non-recipe kind of recipe.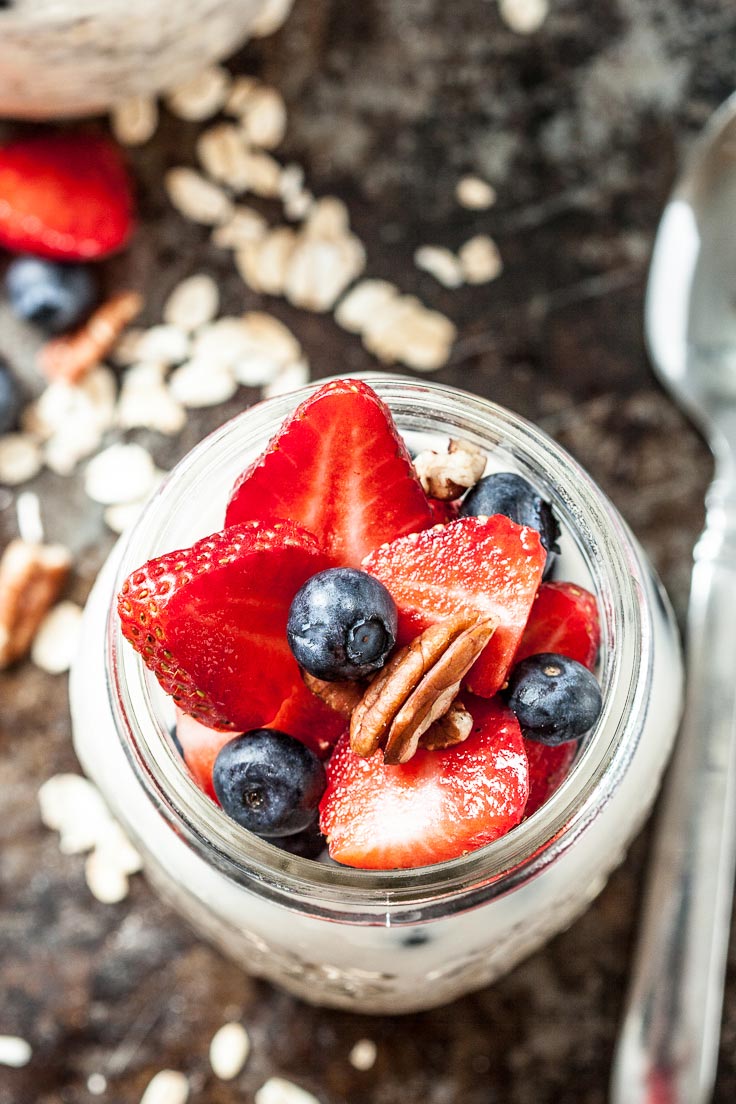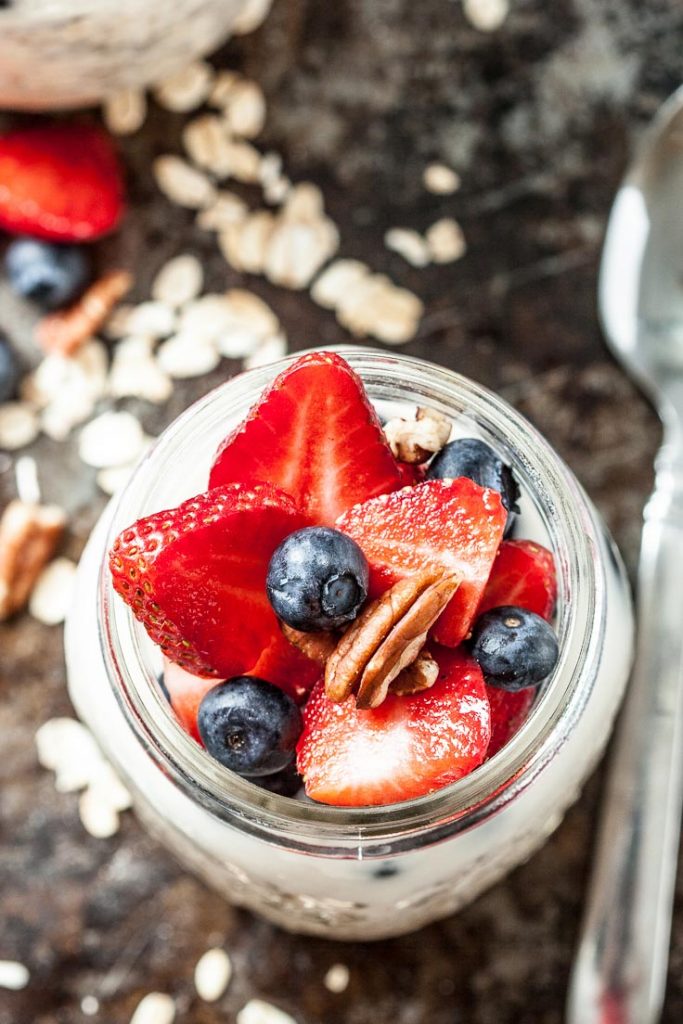 ---
---
Did you make this?
Please give us a rating and comment below. We love hearing from you!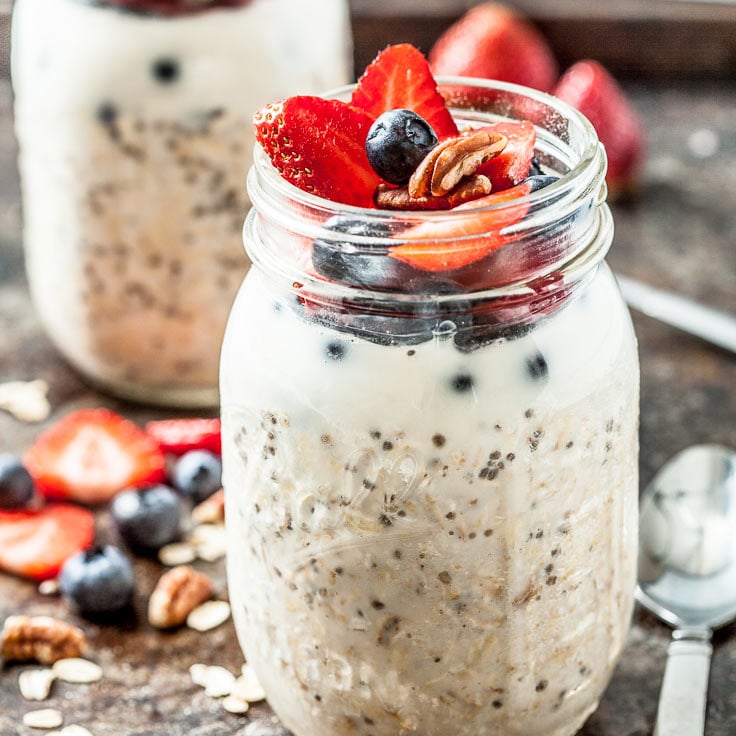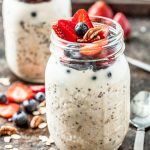 Overnight Oats Recipe (No-Cook)
This Overnight Oats Recipe needs only 3 simple, pure ingredients and no cook time at all. It's incredibly easy to get your healthy, hearty oatmeal in the morning with zero fuss. Prepare individual jars for your eaters and let them choose their toppings.
Ingredients
½

cup

old fashioned rolled oats,

not quick cook

½ to 1

cup

almond milk

,

or other milk of your choice*

3

tsp

pure honey,

agave nectar, or maple syrup

Optional add-ins: 1/2 cup any flavor yogurt,

cinnamon, chia seeds*

Optional Topping ideas: fresh berries,

dried fruit, bananas, nuts, coconut, chocolate chips
Instructions
In a mason jar or other glass container with lid, add the oats, desired amount of milk, and desired amount of honey.

If desired, add chia seeds and cinnamon (recommend including them for extra texture and flavor) Stir to combine well. Add yogurt if you'd like. Stir and cover with lid. Chill overnight.

If enjoying cold, simply add your choice of toppings and eat. If you prefer hot oatmeal, be sure your container is microwavable and set it on high for about 1-1.5 minutes. Stir well, add your toppings, and enjoy!
Notes
If adding chia seeds, go with closer to 1 cup milk, as chia seeds will soak up some liquid. If not using chia seeds, use 1/2 cup milk. Also, if you're planning to do a quick microwave zap in the morning for hot oatmeal, add more milk (heating the oats will soak up more liquid as well)
Yogurt provides creamier, thicker texture. It's not recommended that you heat up your oats in the morning yogurt was added to the mixture.
You can easily customize this to make it vegan, gluten free, or sugar free
If you enjoyed this recipe, please come back and give it a rating ♡
Nutrition (per serving)
Calories:
235
kcal
|
Carbohydrates:
45
g
|
Protein:
6
g
|
Fat:
4
g
|
Saturated Fat:
0.5
g
|
Polyunsaturated Fat:
2
g
|
Monounsaturated Fat:
2
g
|
Sodium:
166
mg
|
Potassium:
158
mg
|
Fiber:
5
g
|
Sugar:
18
g
|
Vitamin C:
0.1
mg
|
Calcium:
172
mg
|
Iron:
2
mg
Oat-ally Delicious:
Maple Cinnamon Baked Oatmeal (Gluten-Free)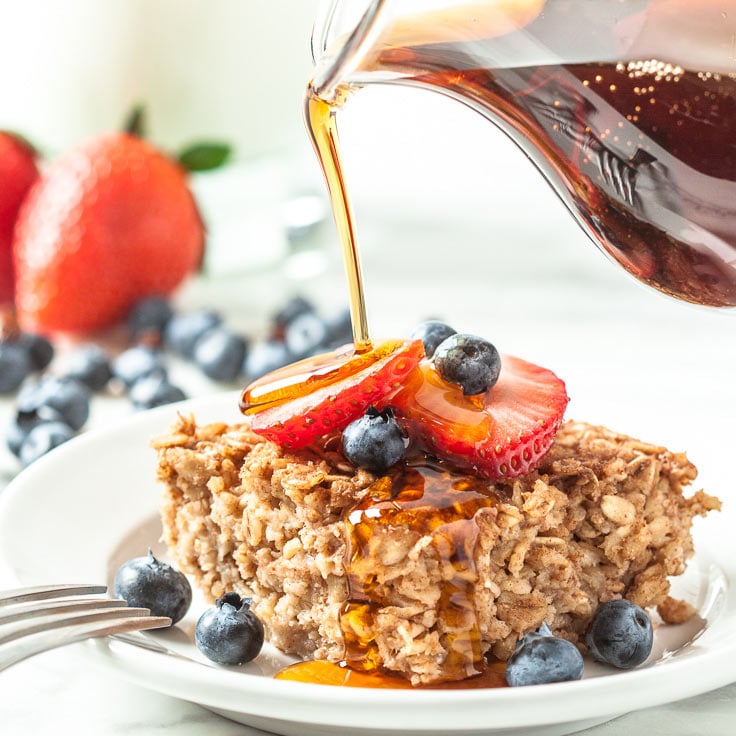 Chewy Pumpkin Oatmeal Cookies Recipe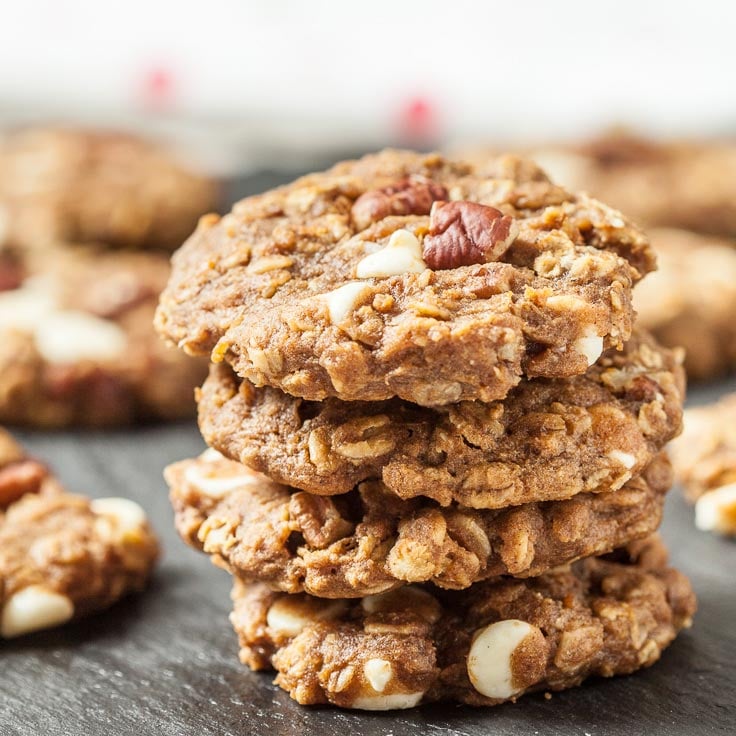 Thick, Chewy Oatmeal Raisin Cookies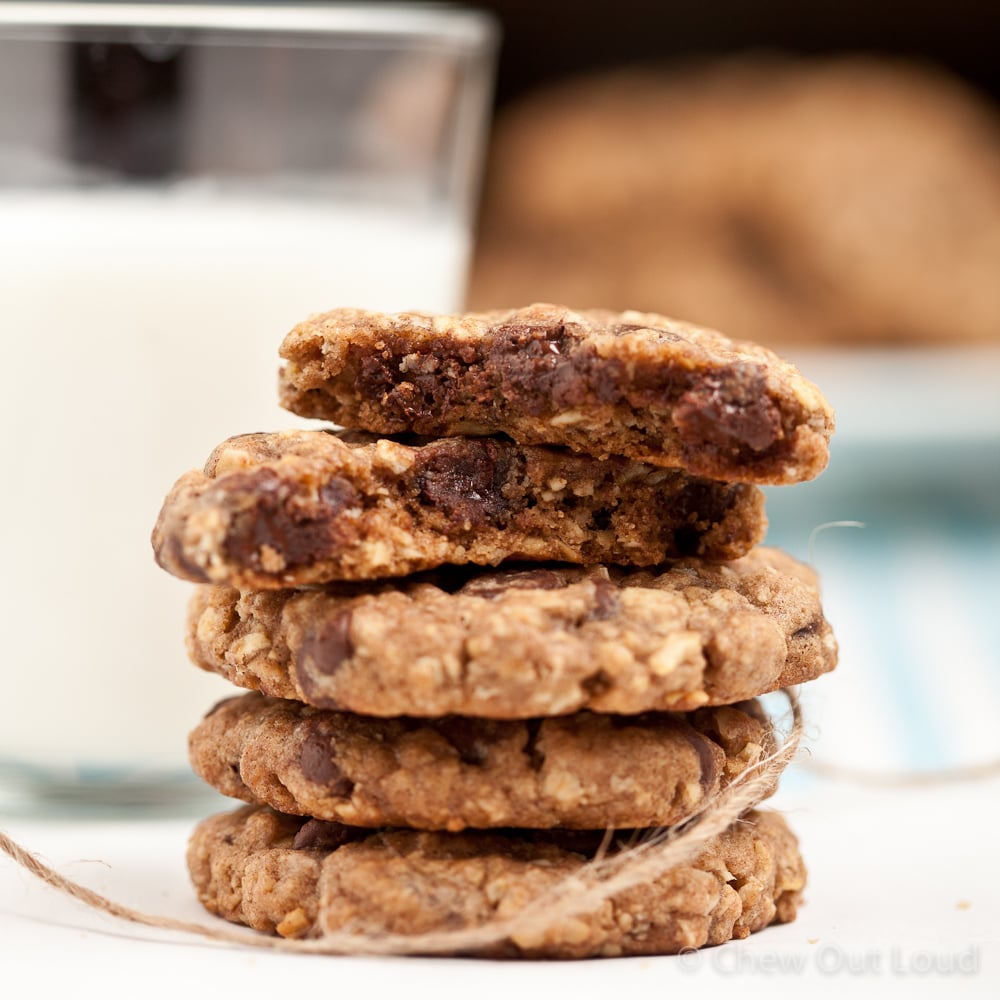 World's Best Chocolate Oatmeal Cupcakes