Cioppino Recipe (Seafood Stew)
An easy take on a classic Italian-American dish, this Cioppino recipe, also known as seafood stew or seafood cioppino, is warm, hearty, and incredibly delicious. Serve it warm with thick, crusty bread!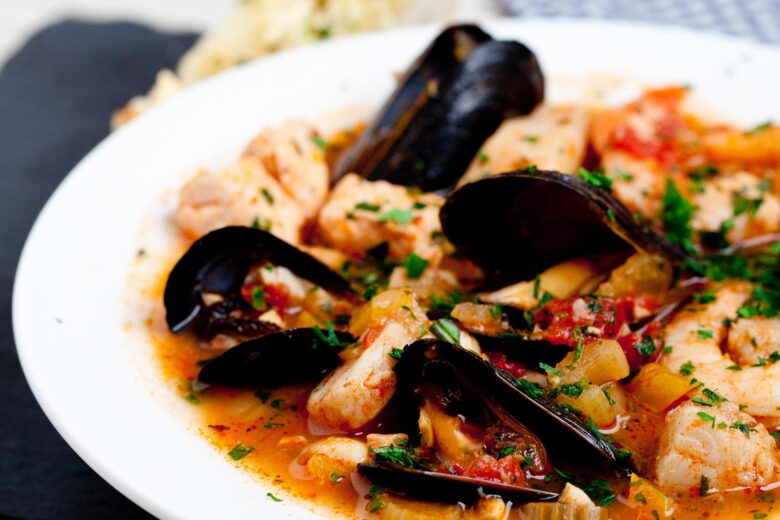 What Is Cioppino?
Pronounced "chuh-pee-noh", cioppino, or seafood stew, is often thought to be an Italian dish but is actually an Italian-American recipe that originated in San Francisco. Initially, it was inspired by Ciuppin, a fish stew from the Ligura region of Italy, and was made by country fishermen while they were on their boats out at sea.
Today, cioppino can be found in many variations. However, it always contains a mixture of seafood such as clams, mussels, shrimp, octopus, calamari, lobster, and fish combined in a savory broth. Throughout the years, seafood stew has grown in popularity and can now be found in restaurants throughout the United States!
Watch us Make Cioppino
What's the Difference Between Cioppino and Bouillabaisse?
Often confused for one another, cioppino and bouillabaisse are not the same. For instance, cioppino was created in America, but bouillabaisse comes from France. In addition, cioppino often includes a richer tomato base. Meanwhile, bouillabaisse contains a white, fish stock base with some tomatoes added in.
Furthermore, the creation of authentic bouillabaisse is said to be possible only in Provence, France, as the original recipe contains the region's indigenous scorpion fish. Bouillabaisse contains other ingredients not found in seafood stew such as potatoes, fennel, and orange peel.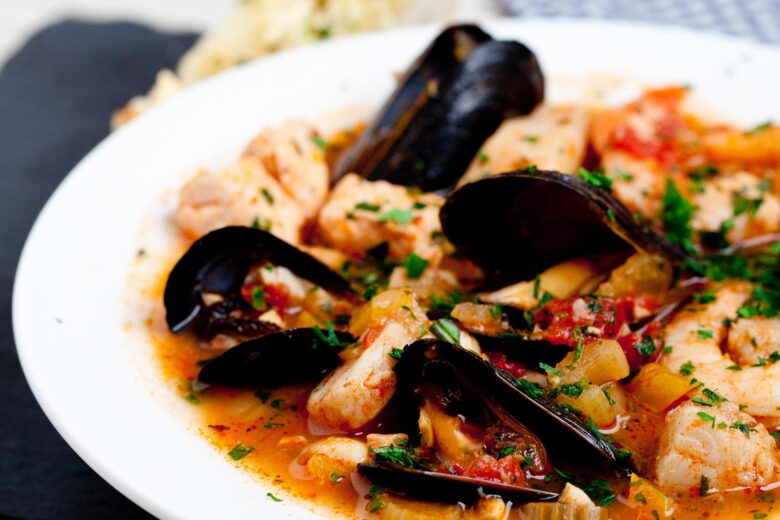 What Is In This Cioppino Recipe?
Every chef seems to have their own take on what to include in this seafood stew recipe. However, for this version, we kept the list as simple as possible using ingredients that are widely available in stores. Here's what you'll need:
Vegetables – Onions, garlic, celery, bell pepper, and plum tomatoes help form the base of this cioppino recipe.
Herbs and spices – Bay leaves, dried oregano, salt, pepper, parsley, and basil add a warm, savory, Italian flavor.
Light olive oil – Used to sauté the veggies and add healthy fats to the stew. We prefer to use light olive oil as its neutral flavor blends well with the rest of the ingredients.
Tomato paste – This helps create a rich tomato base.
Dry white wine – The earthiness of dry wine helps enhance the flavor of the seafood.
Clam juice – This is easily found in most grocery stores.
Seafood Stock – Use homemade or store-bought seafood stock to add flavor. If needed, you can use chicken broth instead.
Sugar – Just a pinch helps balance out the acidity of the tomatoes for a well-rounded dish.
Seafood – We include a mixture of clams, mussels, fish, shrimp, and scallops for a protein-loaded cioppino recipe!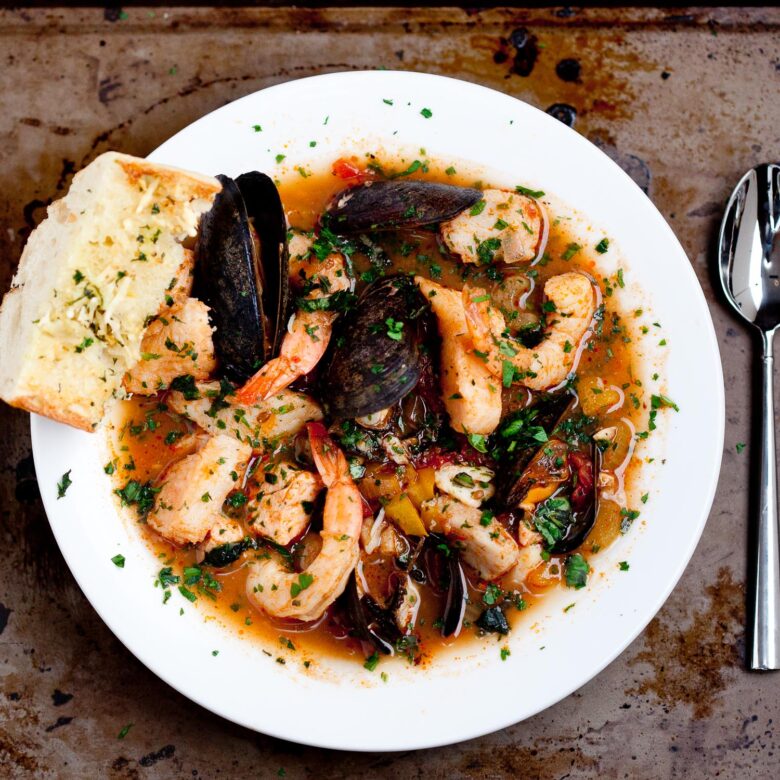 The Best Wine for Seafood Cioppino
Wine is often included in seafood recipes like this seafood stew because its acidity adds depth to the dish, balancing all the flavors. When choosing a wine for your cioppino recipe, look for:
Dry and crisp white wines like Pinot Grigio, Sauvignon Blanc, or a French Chardonnay – avoid big, oaky styles.
High-quality wines that you'd enjoy drinking (do not use cooking wines)
If you prefer a red wine, we recommend a good Chianti or Sangiovese.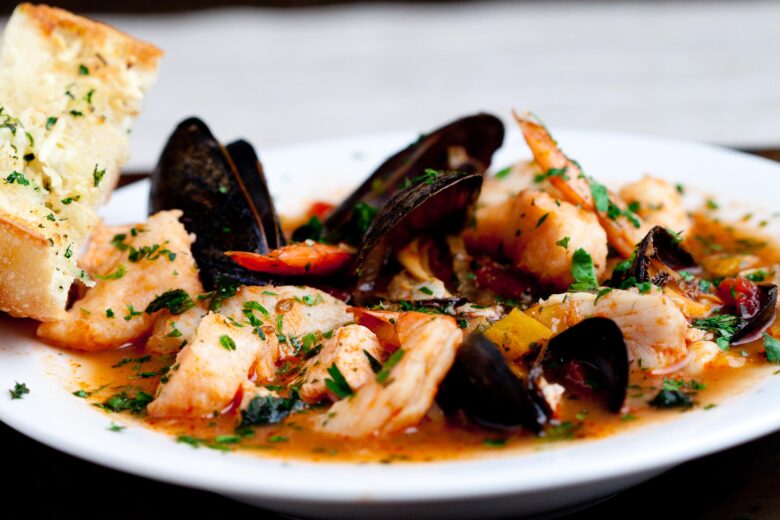 Cioppino (Seafood Stew) Common Questions
What does cioppino mean in Italian?
Cioppino is not actually an Italian word. However, it comes from the word "ciuppin" from the Ligurian dialect which means "chopped or torn to pieces".
What should I serve with this seafood stew recipe?
For us, serving seafood stew with thick, crusty bread is a must! Or, if you prefer something a bit lighter, it also tastes great with a refreshing salad.
How long does seafood stew last?
Once fully cooled, seafood cioppino can be transferred to an airtight container and stored in the fridge for up to 3 days.
Can I freeze leftovers?
Yes, transfer your stew to a freezer-safe container, making sure the seafood is completely submerged in broth, and store it in the freezer for up to 3 months.
---
More to Cook and Eat
---
Did you make this?
Please give us a rating and comment below. We love hearing from you!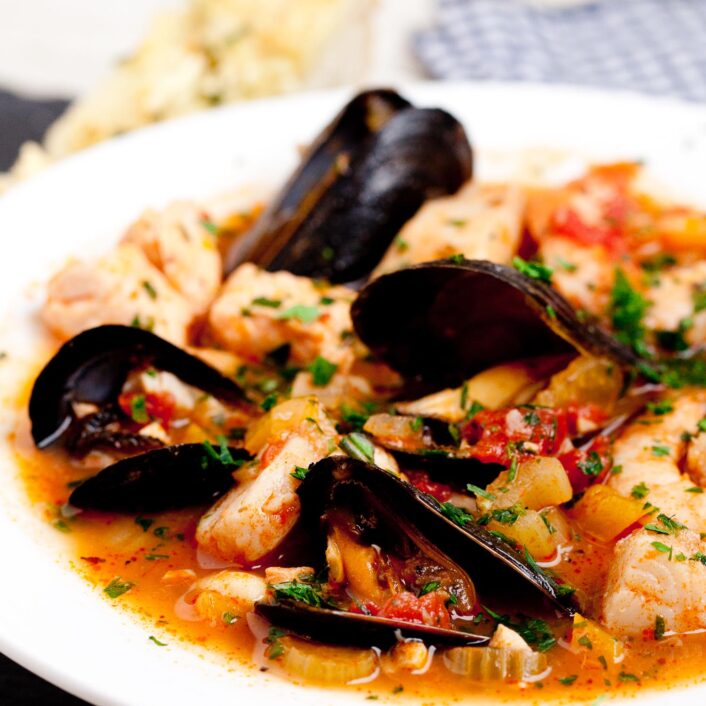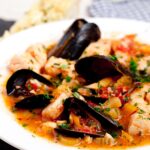 Cioppino Recipe (Seafood Stew)
An easy take on a classic Italian-American dish, this Cioppino recipe, also known as seafood stew or seafood cioppino, is warm, hearty, and incredibly delicious!
Ingredients
2

medium

onions,

finely chopped

8

cloves

garlic,

minced

1

tsp

oregano

1 ½

tsp

table salt

¼

cup

light olive oil

3

celery stalks,

thinly sliced

1

yellow pepper,

seeded and diced

2

TB

tomato paste

1 ½

cups

dry white wine,

such as sauvignon blanc

30

oz

whole plum tomatoes,

from can, drained and chopped – juices reserved*

1

cup

bottled clam juice

1

cup

seafood stock,

or chicken stock

2

TB

sugar

20

whole clams,

shell-on

20

whole mussels,

shell-on

1

lb

firm fish,

ie., halibut, snapper, or salmon

1

LB

raw shrimp,

16-20 count-size, deveined, tail shell on

1

LB

sea scallops,

large, muscles removed from side, if attached

¼

cup

fresh parsley,

chopped

¼

cup

fresh basil,

chopped

Optional: crusty bread for serving
Instructions
Add the onions, garlic, bay leaves, oregano, salt, pepper, and oil to a large heavy pot or Dutch oven over medium heat. Cook 5 minutes or until the onions are soft. Stir in the celery, bell pepper, and tomato paste, and continue to cook for 1 minute.

Pour in the wine, and bring the ingredients to a boil for 5-6 minutes or until the liquid is reduced by half.

Reduce the heat to medium, and stir in the tomatoes, clam juice, broth, and sugar. Cover and simmer 30 minutes. Taste the broth; add salt and pepper as needed.

Add the clams and mussels. Cook only until the shells open, and immediately transfer the opened calms and mussels to a separate bowl. Toss out any shellfish that won't open.

Lightly season the fish, shrimp, and scallops with salt and pepper. Add them to the stew, and simmer covered 3 minutes or just until the shrimp turn opaque. Note: If the shrimp turn opaque before the fish is done, remove them from the stew to prevent them from overcooking.

Turn off the heat, discard the bay leaves, and return all of the ingredients back to the stew. Divide the stew into bowl, garnish with fresh basil, if desired, and serve warm with crust bread.
Equipment
1 Large Heavy Pot or Dutch Oven
Notes
*Whole plum tomatoes provide a deeper flavor, but you can also use plain, diced tomatoes instead.
Wine Pairing: A good quality, dry Sauvignon Blanc or crisp Rosé will go beautifully here.
Feel free to add whatever fresh quality seafood is available to you. Many people like to include crab legs or lobster claws. The most important thing is not to overcook the seafood.
To make this recipe ahead of time, prepare the broth through step 2. Then, store it in an airtight container in the fridge for 1-2 days. When you're ready to eat, add the broth back to a pot, and follow the recipe as normal.
Store leftovers in an airtight container in the fridge for up to 3 days or in the freezer for up to 3 months.
Pour leftovers over freshly cooked pasta for a seafood linguine.
If you enjoyed this recipe, please come back and give it a rating ♡
Nutrition (per serving)
Serving:
1
serving
|
Calories:
466
kcal
|
Carbohydrates:
33
g
|
Protein:
43
g
|
Fat:
14
g
|
Saturated Fat:
2
g
|
Polyunsaturated Fat:
2
g
|
Monounsaturated Fat:
7
g
|
Trans Fat:
0.01
g
|
Cholesterol:
162
mg
|
Sodium:
640
mg
|
Potassium:
1233
mg
|
Fiber:
4
g
|
Sugar:
15
g
|
Vitamin A:
1075
IU
|
Vitamin C:
62
mg
|
Calcium:
156
mg
|
Iron:
5
mg