Easy Seafood Paella
By Amy Dong
Published Jan. 18, 2016
Updated Aug. 17, 2022
You can have this Easy Seafood Paella on the table in much less time than with traditional methods, as we remove the extra steps of mortar/pestle paste-making. No need for a paella pan here; any extra large pan or skillet will work.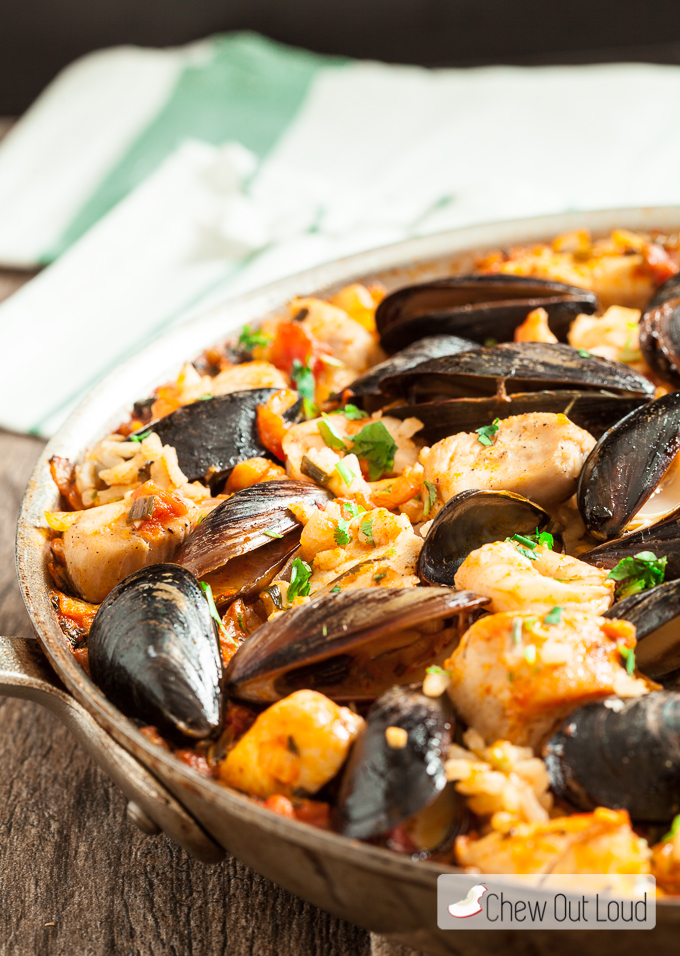 First off, I just have to get this off my chest and then I'll leave it alone. At least for the next ten minutes.
I'm currently questioning what I'm doing here in the Arctic -30F (minus thirty, no typo) windy abyss of a land called Minnesota.
Been trying my best not to whimper about the 'grees. I'm not perfect. Clearly.
Now that that's outta the way, let's talk paella. This paella, on the other hand, is kinda perfect…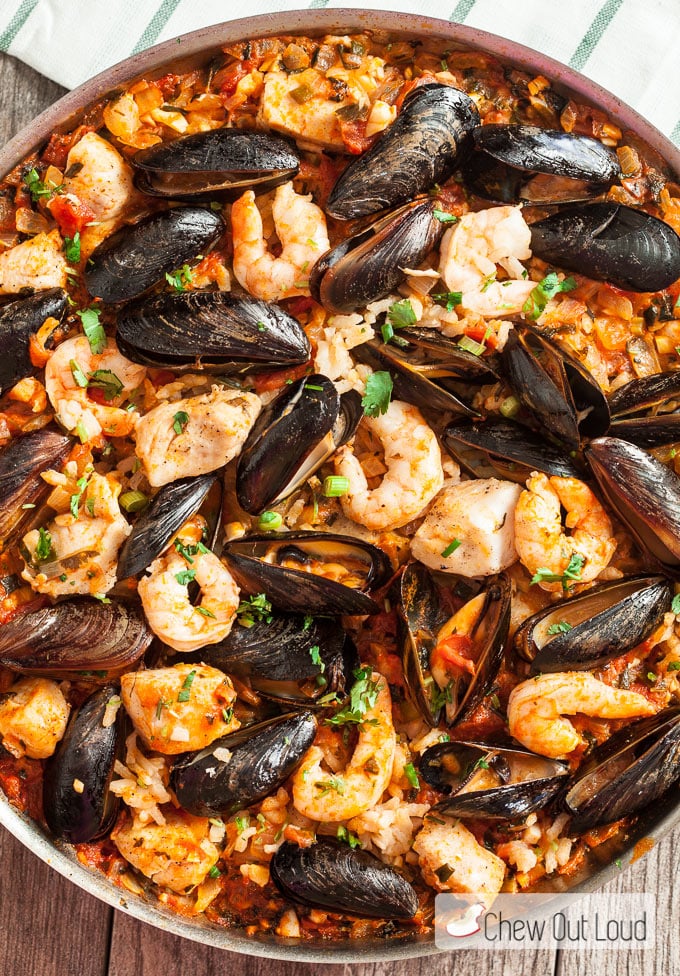 This Seafood Paella is perfect for days when you just need to hunker down and cook yourself some seafood comfort.
It's perfect for satisfying that succulent shellfish and rice craving when you don't own a mortar and pestle the size of a basketball.
I personally had to come up with a simplified, easier version of seafood paella because I don't have the patience for manually grinding all the herbs into a paste. Nor do I own a paella pan. Yet.
And I needed this paella because I ruminate over seafood in my spare time. It's a bit of an addiction for sure.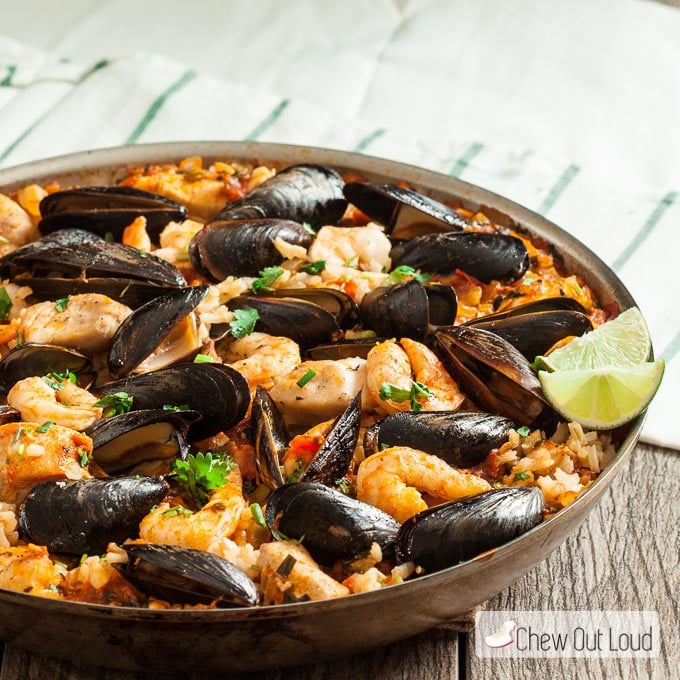 Here's to counting the days until I can go outside without a fleece gaiter.
If you don't know what that is, consider it an incredible blessing.
Did you make this?
Please give us a rating and comment below. We love hearing from you!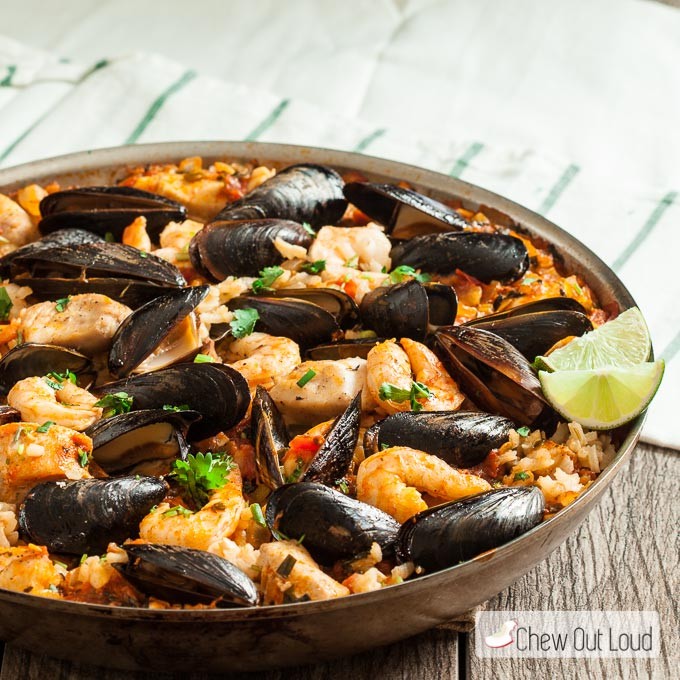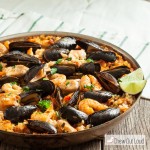 Easy Seafood Paella
You can have this Easy Seafood Paella on the table in much less time than with traditional methods, as we remove the extra steps of mortar/pestle paste-making. No need for a paella pan here; any XL pan or skillet will work.
Ingredients
4 to 4 ¼

cups

good quality homemade or store bought chicken broth

,

the better your broth, the better the rice flavor will be

2

cups

clam juice

,

bottled, found in grocery stores

1

lb

firm white fish

,

cut into bite size pieces (i.e., mahi-mahi, orange roughly, snapper, or halibut are good.)

14

fresh mussels in shell

,

cleaned/de-bearded, and well-drained

14

clams in shell

,

cleaned and well-drained

12

large or extra large shrimp

,

shelled or de-shelled

kosher salt and freshly ground black pepper

4

TB

salted butter

1

medium onion

,

chopped

8

cloves

fresh garlic

,

minced

¼

cup

freshly chopped cilantro

¼

cup

freshly chopped basil

¼

cup

freshly chopped scallions

3

tsp

smoked paprika,

it's important to use smoked paprika for the smoky flavor

3

large Roma tomatoes

,

seeded and chopped

2

cups

Arborio rice

,

dry

Optional: lemon or lime wedges or chopped cilantro to serve
Instructions
In a pot, heat up 4 cups of chicken broth and the clam juice. Cover and keep warm. Thoroughly towel dry the fish and shrimp, keeping them separate. Sprinkle both with a layer of kosher salt and black pepper. Set aside and continue with recipe.

In an extra large heavy skillet/pan (or cast iron pan, but NOT non-stick,) heat up the salted butter on high heat. Add the onions and garlic, cooking and stirring for 1 minute. Add the cilantro, basil, and scallions, stirring for 1 min. Add smoked paprika and tomatoes, stirring to combine well. Cover and let cook 3-4 minutes until tomatoes become soft.

Pour in the hot broth/clam juice mixture. Bring to a boil. Add salt and pepper to taste (I prefer to add more seasoning rather than less, as the rice will absorb it all.) Sprinkle rice over the pan. Boil for 3 minutes uncovered, stirring occasionally. Smooth out the rice.

Add fish evenly over the rice. If needed, press down so that the fish is mostly submerged in liquid. Do not stir at all from here on out. Lower heat to a low boil and cook uncovered until most of the liquid is absorbed, but there is still enough to continue cooking, 10 minutes (add up to 1/4 cup extra broth if it's too dry.)

Add all of the shellfish evenly over the top, placing shells so that they will open face up. Cook over low boil uncovered for 15 minutes, until rice is tender and shrimp is opaque. (Turn shrimp over once halfway through cooking to ensure it cooks through.) Turn heat off and immediately cover with a domed lid or foil and let sit for 10 minutes. Discard any unopened shellfish. Serve immediately with wedges of lemon, lime, or cilantro as desired.
Notes
Sometimes peas are added, so feel free to use them if you like.
Traditionally, a generous pinch of saffron is used in paella. If you like, add saffron threads to the dish when tomatoes are added.)
This dish is best eaten the day it's made; Arborio rice tends to become mushy the next day (similar to what happens with risotto.)
Nutrition (per serving)
Calories:
355
kcal
|
Carbohydrates:
51
g
|
Protein:
20
g
|
Fat:
7
g
|
Saturated Fat:
4
g
|
Polyunsaturated Fat:
1
g
|
Monounsaturated Fat:
2
g
|
Trans Fat:
0.2
g
|
Cholesterol:
66
mg
|
Sodium:
885
mg
|
Potassium:
531
mg
|
Fiber:
3
g
|
Sugar:
4
g
|
Vitamin A:
1017
IU
|
Vitamin C:
11
mg
|
Calcium:
52
mg
|
Iron:
4
mg
Source: Chew Out Loud
The sea is where it's at: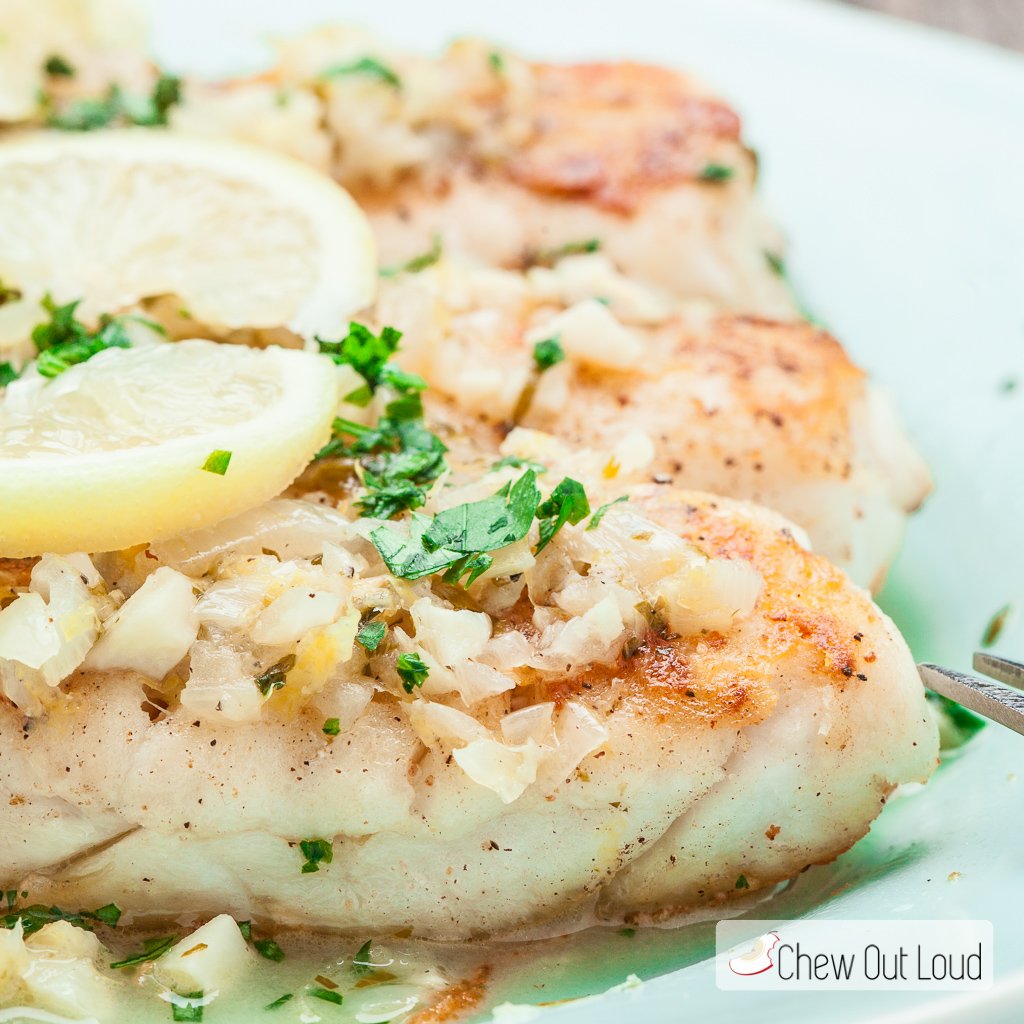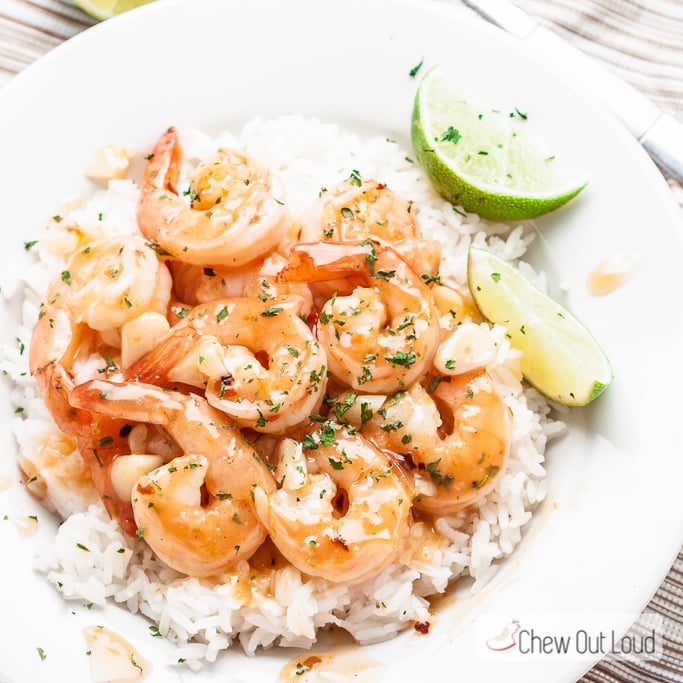 3. Mussels in Garlic Wine Sauce