Healthy Poke Bowls (with Sriracha Mayo)
Poke shops are popping up everywhere, and for good reason. They're supremely fun to eat, full of healthy ingredients, and bursting with umami flavor. Now, you can make your own gluten-free Poke Bowls right at home.
Poke Bowl, Your Way
I cannot be more excited about today's dish, because we're here to talk about the fabulous poke bowl!
Poke, Pokay, Pokeeee 😋 ✨
However you say it (the real way rhymes with okay)…it's all the rage, and for deliciously good reason. I love poke bowls so much, I could truly and genuinely eat them every single day.
Poke bowls are supremely healthy, easy to make, and packed with umami flavor (Translation: delightful flavor bomb.)
Not to mention super fun to make and eat. Especially with chopsticks and drizzled with creamy Sriracha Mayo; recipe included, of course.
Don't forget all the nom-nom condiments, tailored to your cravings. It's all about DIY poke, your way…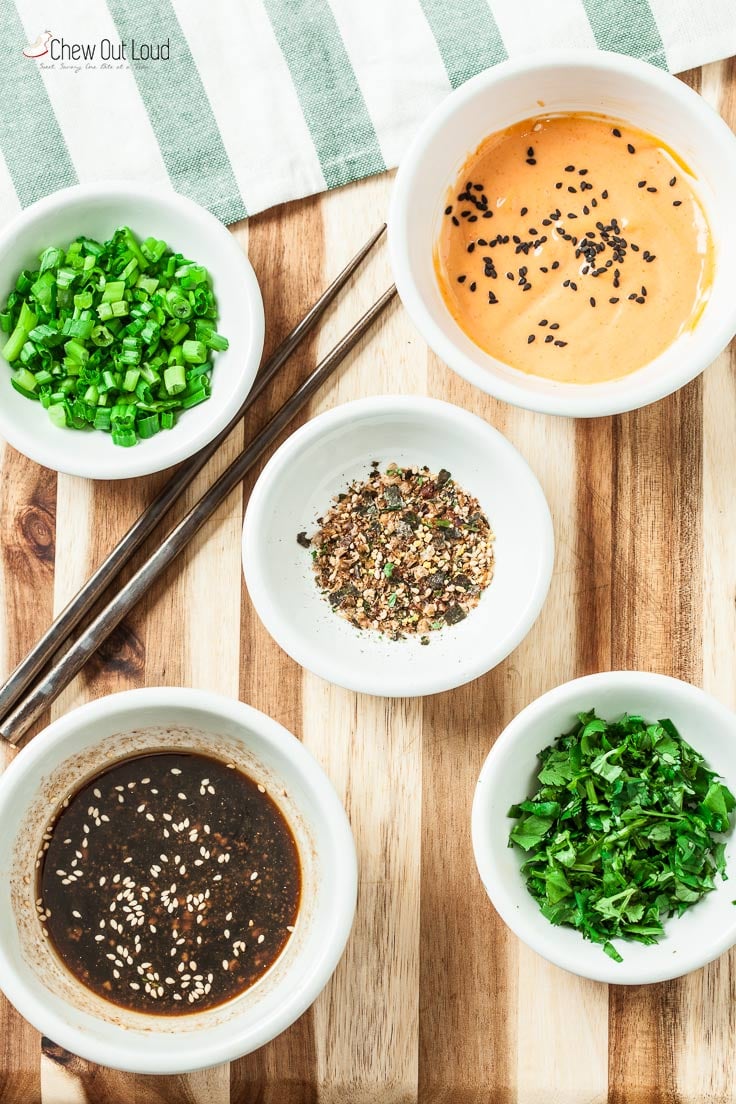 Easy Poke Bowls are healthy and delicious
Every time we go back to L.A., NYC, or any of the big cities, we hit up all the Poke Bowl restaurants.
I'm all geeky like that, obsessively chasing the best food and making it top priority to eat all the poke before flying back home.
If there were shirts that said "I 💓 Poke" I'd totally wear them. If you know where such shirts exist, it's best not to tell me because I'm on a clothing budget.
We've scouted like mad and have yet to land upon a really great poke restaurant in our current Minneapolis stomping grounds, though we're gaining great foodie traction overall. And even if there were an excellent poke place in my 'hood, I'd still make my own easy poke bowls. Because they're especially delicious when you make them just the way you like them.
And honestly, now that we've got the DIY poke bowls down pat, we're not nearly as inclined to order them even when we go back to L.A.
It's the same deal with these DIY Chipotle Chicken Burrito Bowls. Once you start making even-better versions at home just the way your family likes them…well, it's hard to beat homemade.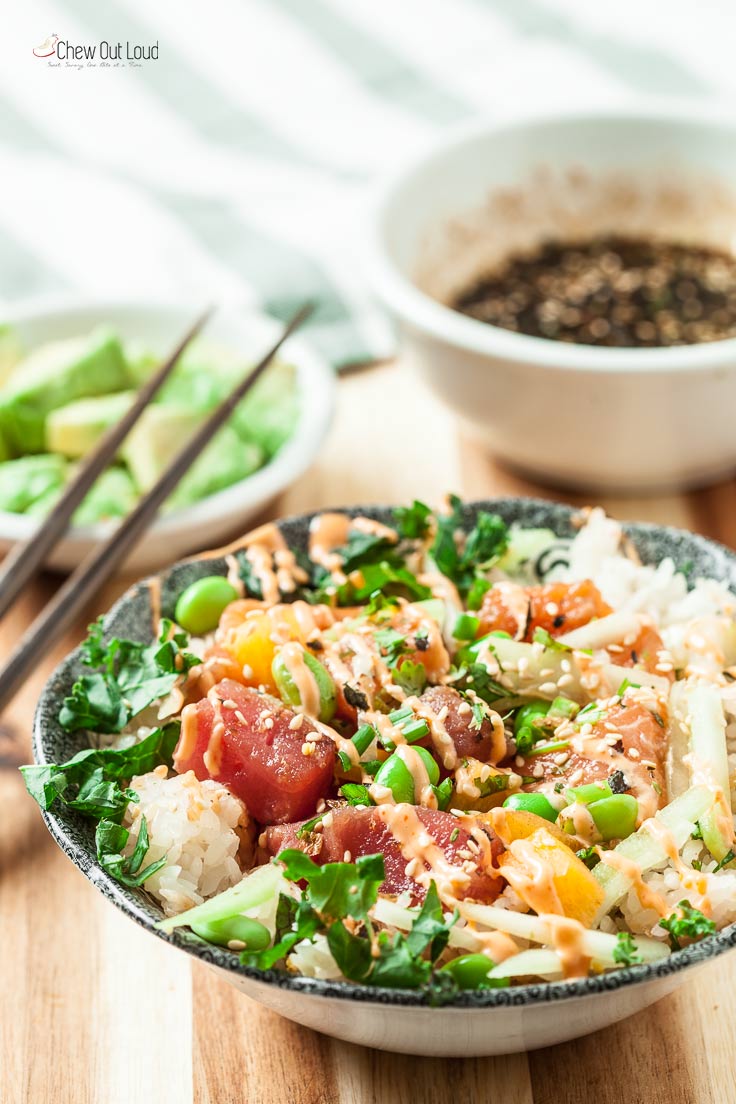 How to make your own poke bowls
Sriracha Mayo is a must. Make extra, because people devour this 2-ingredient sauce. Plus, it's delicious over grilled chicken and shrimp as well. A balanced mixture of mayo and Sriracha is all you need. Definitely make your own.
The Sesame-Soy sauce is irresistible and can be used on all varieties of protein beyond poke bowls. Tamari soy sauce is your best bet here; it's much more balanced in flavor than regular soy sauce, and it happens to be gluten-free.
The Asian rice wine vinegar, toasted sesame oil, and wasabi paste can all be found in the Asian section of most major grocery stores these days.
You can choose any favorite sashimi-grade fish you like. Tuna and salmon are my go-to faves, but it's super fun chatting with your local fishmonger and finding fresh new fish to try.

The most fun part is all the garnishes and condiments. You can go as simple or complex as your night allows. We love adding sliced cucumber, green onions, avocado, and mango. Delicious options include cilantro, shredded carrots, lettuce, edamame, and toasted sesame seeds. The possibilities are endless, which means you really can't mess up.
Pro Tip: Furikake, a highly recommended ingredient, is easily found in Asian grocery stores or maybe even in the Asian aisle of major supermarkets. This is the only garnish I'd encourage you to please not leave out.
You're set. Pick up your chopsticks, pour the sake if you like, and poke on.
Print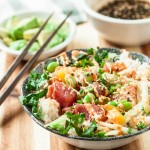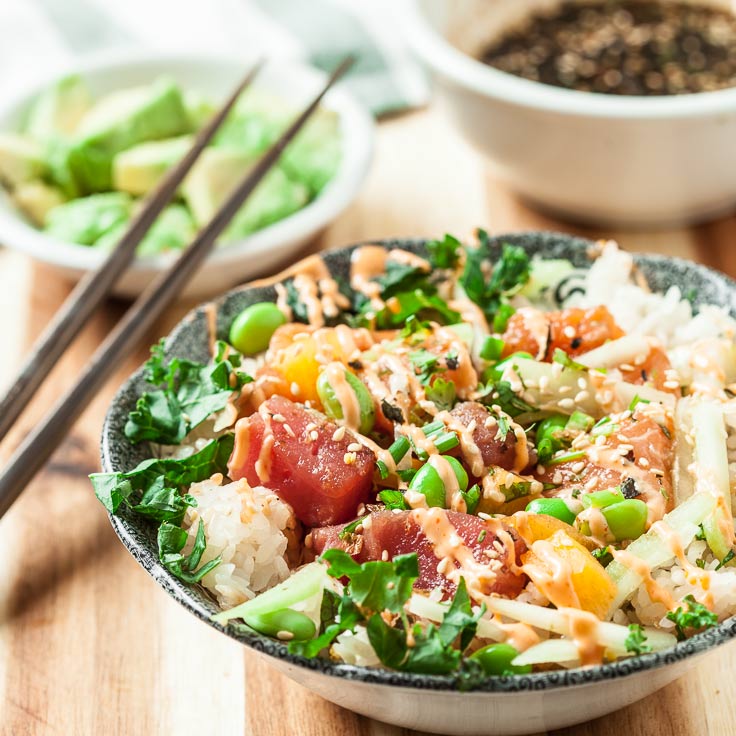 Healthy Poke Bowls (with Sriracha Mayo)
Poke shops are popping up everywhere, and for good reason. They're supremely fun to eat, full of healthy ingredients, and bursting with umami flavor. Now, you can make your own DIY Poke Bowls right at home.
Prep Time:

30 mins

Total Time:

30 mins
For Sriracha Mayo:

3

TB regular mayo

1

TB Sriracha hot sauce
For the Sesame-Soy Sauce:

3

TB good quality Tamari (GF soy sauce)

1 tsp

Asian rice wine vinegar

1 tsp

Asian toasted sesame oil

1 tsp

granulated sugar

1/4 tsp

ginger powder

1/4 tsp

wasabi paste
For the Poke Bowl:

2 cups

shredded green leaf lettuce

2 cups

sashimi-grade tuna, salmon, or other fish (towel-dried and cubed)

1

small cucumber, seeded and sliced

1

ripe mango, peeled and cubed

1

semi-ripe avocado, cubed
Garnishes: Chopped cilantro, green onions, toasted sesame seeds, Furikake (highly recommended)
Serve with: Cooked white or brown rice (about 3 cups cooked)
Instructions
Make Sriracha Mayo: Stir together the mayo and Sriracha in a small bowl. Cover and chill until ready to use.
Make Sesame-Soy Sauce: In a bowl, hand-whisk together all Sauce ingredients. Stir cubed tuna/salmon into the sauce, coating well. Cover and keep chilled until ready to assemble bowls.
Assemble Bowls: Divide cooked rice into 4 smaller bowls (or 2 larger bowls.) Evenly layer each bowl according to order: lettuce, marinaded tuna/salmon, cucumber, mango, and avocado. Sprinkle with chopped cilantro, green onions, sesame seeds, and Furikake as desired. Drizzle with Sriracha Mayo. Serve immediately.
Notes
Nutrition facts include cooked rice.
If you enjoyed this recipe, please come back and give it a rating ♡
Nutrition
Serving Size:

1

Calories:

279

Sugar:

1.7 g

Sodium:

952.1 mg

Fat:

9.2 g

Carbohydrates:

42.6 g

Protein:

5.2 g

Cholesterol:

4.3 mg
Author:
Category:

lunch, dinner

Method:

chop

Cuisine:

Asian
More fish to make and eat: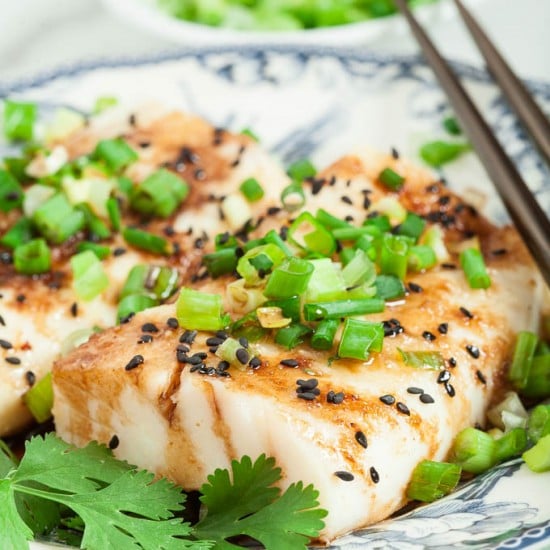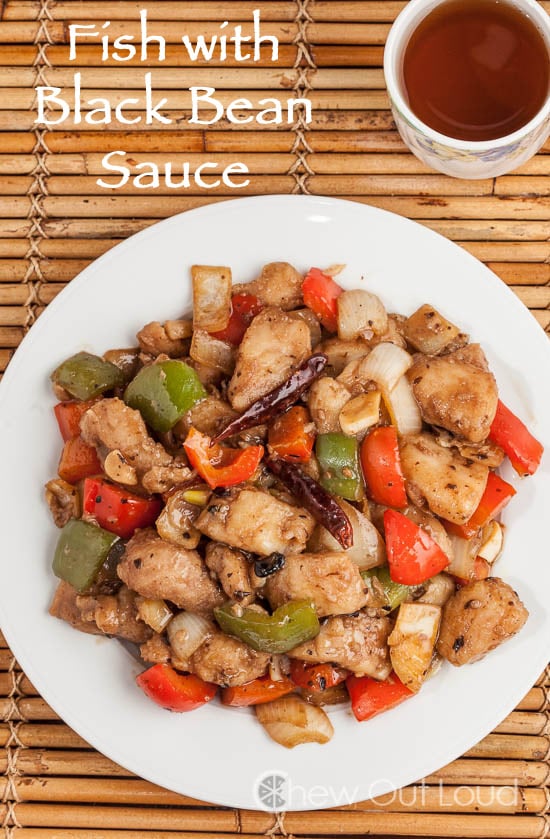 3. White Fish with Lemon Butter Sauce