Hawaiian Macaroni Salad (L&L BBQ Copycat)
This Hawaiian Macaroni Salad is a magnificent side dish for all the cookouts and picnics. This is reminiscent of the famous L&L Hawaiian BBQ mac salad. Make it completely ahead of time.

Macaroni Salad, Island Style
I grew up near the sandy beaches of So. Cal. Being on the West Coast near the ocean and year-round sunshine means a thriving Hawaiian culture, evidenced through surf and food.
I can't speak to the surf, since the most adventurous I ever got on the waves was via boogie board. But food? That I can gab for days about. Hawaiian food joints were all around me, and simply adored it.
Anything from mom-and-pops, hole-in-the-wall restaurants to Hawaiian fast food joints, combination plates of teriyaki chicken or steak teriyaki beef abound. Lunch Plates = Swoon.
The side dishes are just as decadent. It doesn't get better than the refreshing crispness of chopped Asian chicken salad and the huge flavors of this creamy macaroni salad.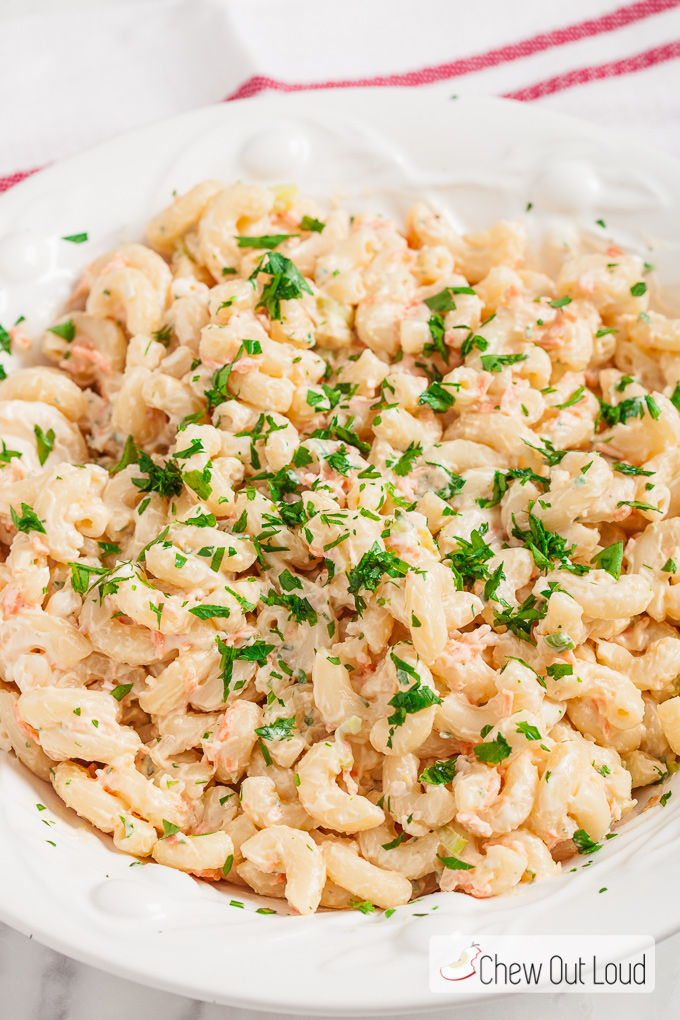 Make-Ahead Mac Salad for Your Next Gathering
I'm not even a mac salad type of gal, but this one is ridiculously flavorful. If you're on the fence about macaroni salad, give this super easy recipe a try for your next cookout or picnic.
This Hawaiian macaroni salad requires only a handful of ingredients and is amazing the flavors are allowed to meld together overnight; it's the perfect side dish for any picnic or backyard cookout.
To make a batch of mac salad ahead of time, cook up your macaroni until it's nice and tender. Drain and rinse in cold water to halt the cooking. Be sure it's well drained so no excess water interferes with the dish.
Then pile on the shredded carrots, minced onions, green onions, and spices. Real mayo for creaminess. It's that easy. Mix it all together and chill in a covered container until you're ready to serve. Again, letting your mac salad chill overnight results in fabulous flavors.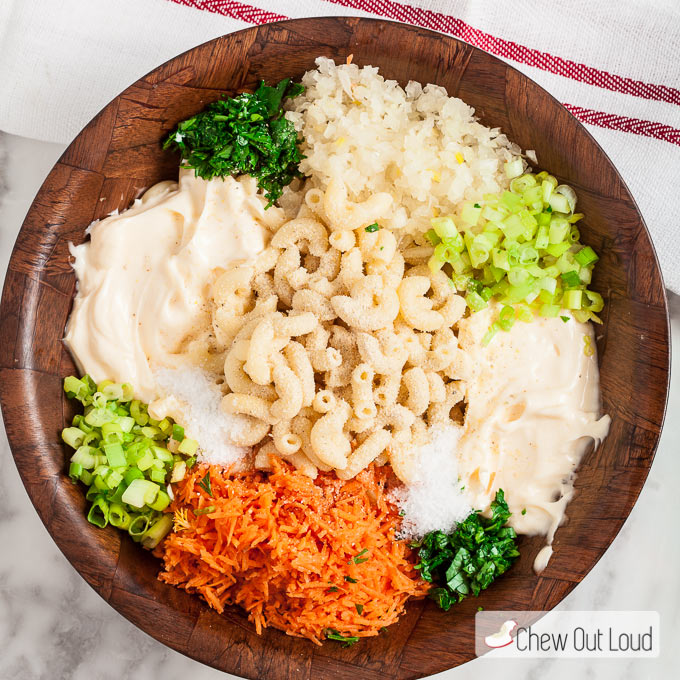 Plan Your Menu (Make-Ahead Recipes)
This creamy, easy macaroni salad is superb alongside your favorite BBQ meats and veggies.
Here's a simple cookout menu that spotlights prep-ahead recipes so you can actually relax and enjoy your meal with friends and family.
Appetizer: 4-Ingredient Crock Pot Buffalo Meatballs are not only unbelievably easy, but they can be prepared ahead of time and won't crowd up your grill space. The slow cooker also frees up your stovetop and oven and keeps your kitchen cool.
Main Dish: No need to choose between beef or chicken, with these two delicious options. This Hawaiian BBQ Grilled Chicken Recipe can be marinated ahead of time (up to 2 days ahead) and is budget friendly. Our 30-Minute Steak Teriyaki is simple, quick, and boasts huge flavors.
Side Dish: this macaroni salad, recipe card below
Drinks: You'll love this make-ahead Hawaiian Mai Tai for the adults. Kids adore this 4-Ingredient Orange Julius Recipe that takes only 5 minutes to whip up, and can be chilled until ready to serve (older kids can easily make these on their own.)
Dessert: This easy One Bowl Yum-Yum Cake is ultra moist and fits the tropical theme. It's shocking how tender and tasty this cake is, given that it needs no oil nor butter. Feel free to find for your favorite sweet treat to serve up (or ask someone else to bring!)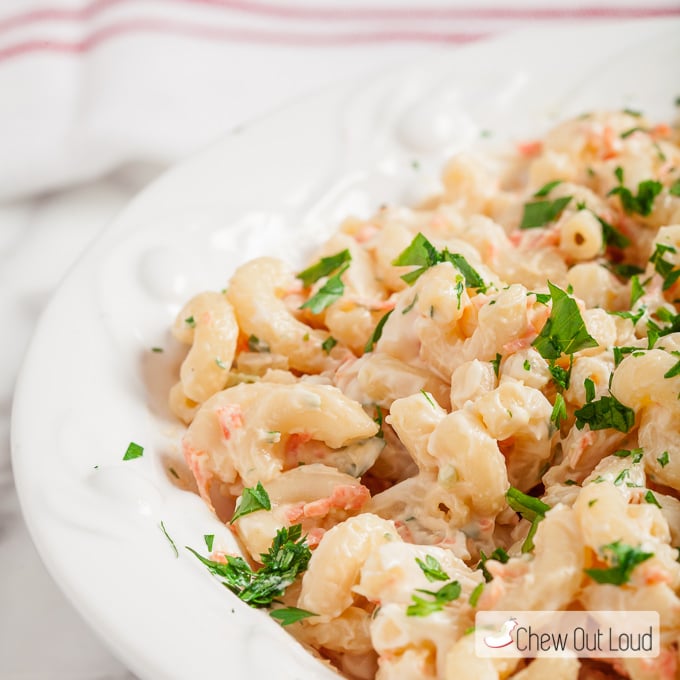 Try this Easy, Delicious Potato Salad, too:
Did you make this?
Please give us a rating and comment below. We love hearing from you!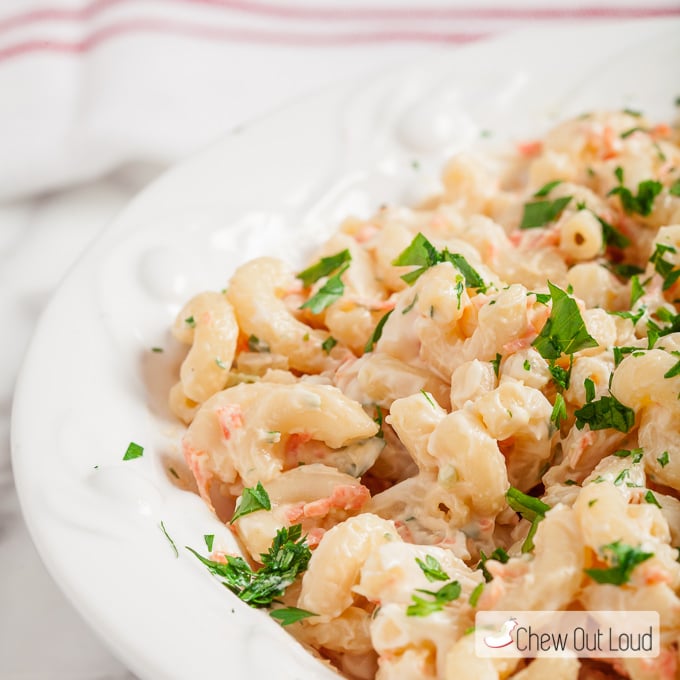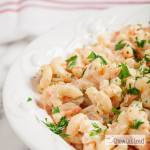 Hawaiian Macaroni Salad (L&L BBQ Copycat)
This Hawaiian Macaroni Salad is so good, it's addictive. Easy to make, feeds a crowd, and tastes awesome. Don't be surprised when people go back for seconds and thirds of this mac salad.
Ingredients
½

lb

dry elbow macaroni

¼

cup

onion

,

minced

2

TB

shredded carrots

1

cup

real

,

whole mayo

¼

cup

green onion

,

thinly sliced

½

tsp

white pepper

1

tsp

kosher salt

Optional: freshly chopped parsley for garnish
Instructions
Bring a large pot of well salted water to boil. Cook macaroni until tender, according to package instructions. Drain, rinse thoroughly with cold water; be sure to drain well.

Combine remaining ingredients with the cold, cooked macaroni. Toss to combine well. Chill 2-3 hours or overnight. Toss again right before serving.
Nutrition (per serving)
Calories:
308
kcal
|
Carbohydrates:
25
g
|
Protein:
4.3
g
|
Fat:
21.1
g
|
Saturated Fat:
3.3
g
|
Trans Fat:
0.1
g
|
Cholesterol:
11.6
mg
|
Sodium:
353.9
mg
|
Fiber:
1.9
g
|
Sugar:
2.7
g
A BBQ party isn't complete without all the awesome sides! Here are some faves:
Southwestern Barley Salad. Light yet packed with flavor. The lime and cilantro really shine, while barley adds a toothsome satisfaction.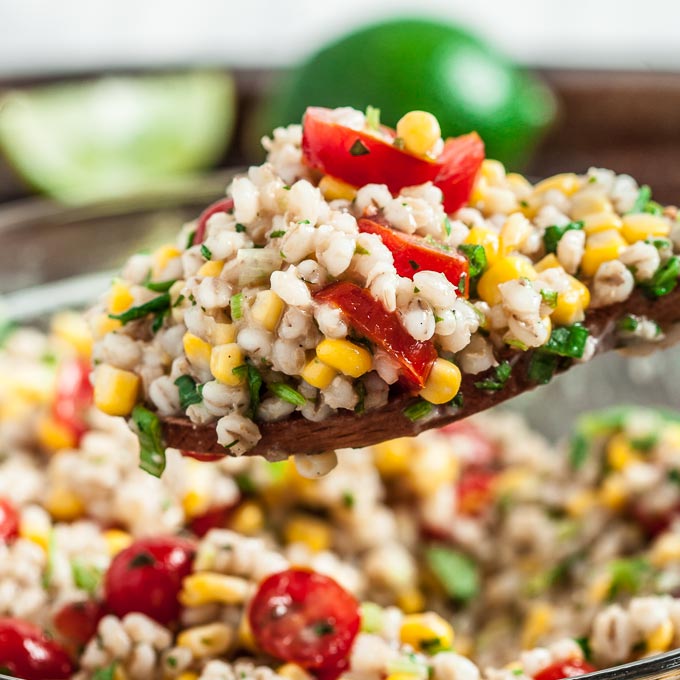 Hawaiian Salmon Poke. Not really a side, but an extremely popular appetizer (or light dinner) in Hawaii. Nutritious and delicious.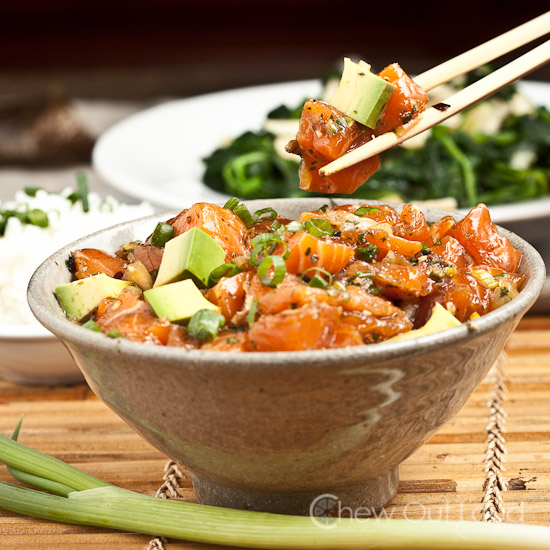 Potato Salad with Honey Mustard Vinaigrette. A deliciously tangy, slightly sweet, and zippy potato salad that adds tasty interest to your table.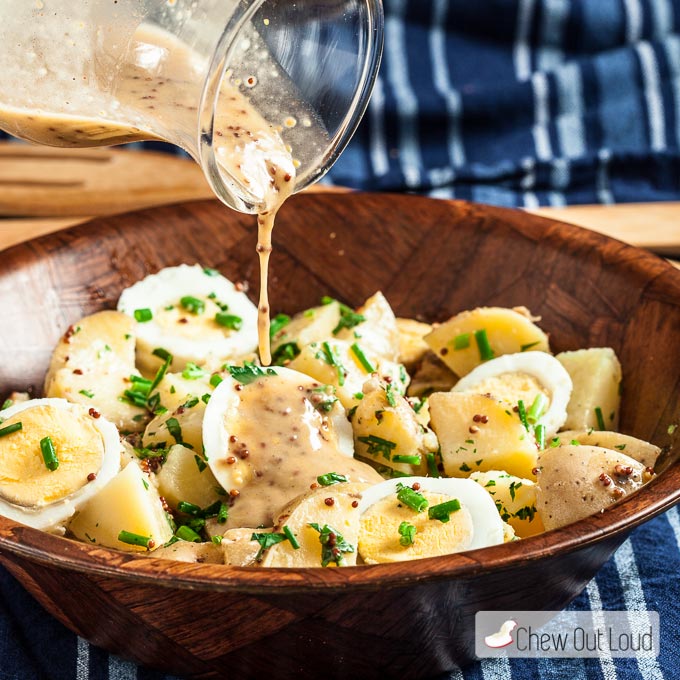 Caprese Pasta Salad. As delicious as it is pretty. Perfect spring/summer side dish or light lunch.