Salmon Poke Bowl
By Amy Dong
Published Jul. 17, 2022
Updated Aug. 17, 2022
This Salmon Poke Bowl is a homemade version of the popular Hawaiian dish. It's fresh, flavorful, and even better than your favorite sashimi. Serve it on its own or in a hand-roll.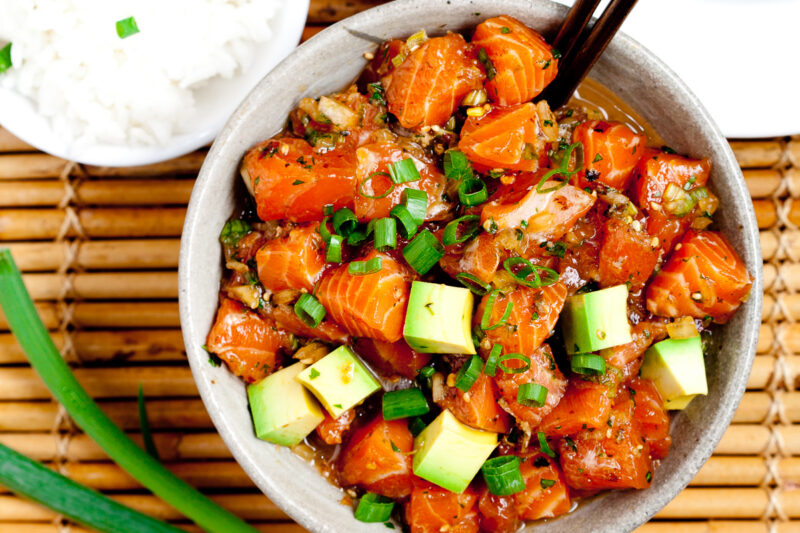 Articles may contain affiliate links, for which we earn a very modest amount, at no cost to you. Thank you for supporting our small business.
What Exactly is a Salmon Poke Bowl?
Poke (pronounced poke-ay) is a Hawaiian word that means, "to slice or cut" and is made with sushi-grade fish such as salmon and tuna that are marinated in a sweet and spicy sauce. Poke bowls are a native Hawaiian dish and are comprised of poke-style fish, rice, vegetables, seasonings, and sauces.
When it comes to making your own salmon poke bowls, you can get as fancy as you'd like. Feel free to go crazy with all your favorite toppings. However, simplicity is the name of the game around here. We prefer to skip all the extras and serve up a flavorful bowl of poke salmon as an easy lunch or dinner. Or, for a fun twist, we sometimes pair it with sticky rice for yummy hand-rolls.
With little more than fish and a few spices, you can't go wrong in how you serve it.
What You'll Love About This Salmon Poke Bowl
One bite and your tastebuds will be transported to an island of pure tropical bliss.
It requires no actual cooking; you don't even have to turn the oven on.
Made with salmon, this poke bowl is full of healthy fats and protein.
You can easily dress it up with rice, veggies, and seasonings to transform it from a small appetizer to a filling lunch or dinner.
It's guaranteed to impress all of your guests.
You can easily adjust the spice level to suit your preferences.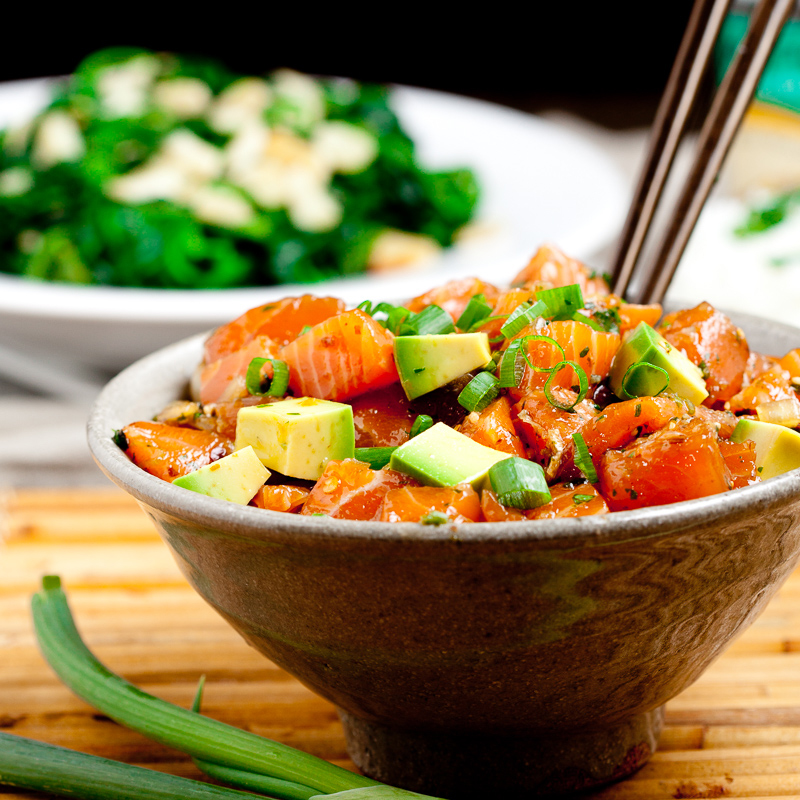 Key Ingredients for This Salmon Poke Bowl
Quality sashimi-grade salmon fillet: feel free to use another type of fish such as tuna, white fish, or even octopus. If you aren't sure where to source quality seafood, here's the best wild caught Alaskan salmon.
Plenty of soy sauce is used to create the base of the marinade and create a satisfying umami flavor.
Including just a bit of sugar helps balance out the hot spices for that sweet and tangy taste we all love.
There's no lack of seasonings around here! There's nothing better than a combination of Furikake rice seasoning, red pepper flakes, freshly grated ginger, and lime juice. Unless you add chopped onions and scallions, and we do. Oh, and don't forget the cilantro, too.
Cubed, semi-firm avocado. Using an avocado that is not yet mushy adds texture to this otherwise soft dish along with an irresistibly creamy taste.
Nori sheets. If you're feeling a little fancy.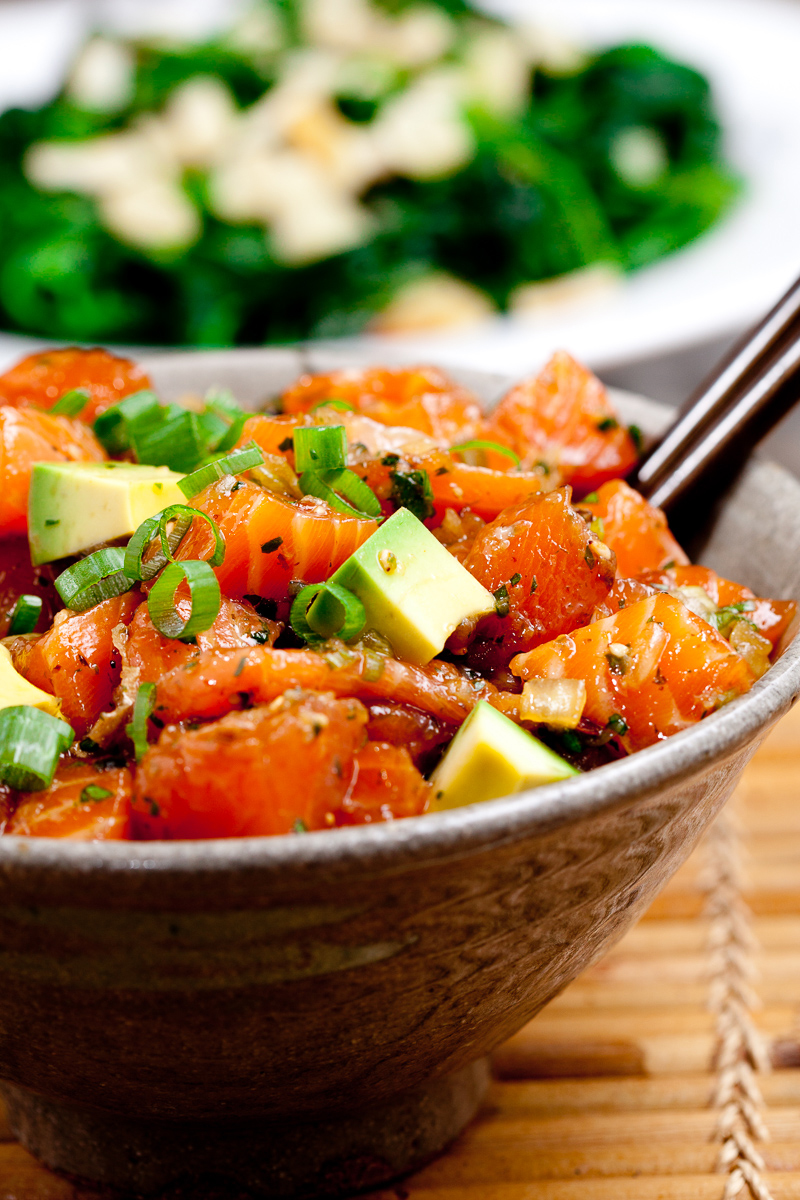 Salmon Poke Bowl Commonly Asked Questions
Is this salmon poke bowl healthy?
Yes! Made with simple ingredients, it's full of healthy fats, protein, and a bit of fiber thanks to the onions and avocado.
Can you eat salmon poke raw?
Yes, as long as you use high-quality sushi-grade salmon, poke is safe to consume raw. As with all raw seafood, there is minimal risk involved in consumption.
Can I make salmon poke ahead of time?
We recommend storing leftovers in the fridge for 1-2 days but no longer than that. Also, we suggest leaving out the avocado until just before you're ready to serve. The sauce mixture can certainly be made in advance.
---
More to Cook and Eat
---
---
Did you make this?
Please give us a rating and comment below. We love hearing from you!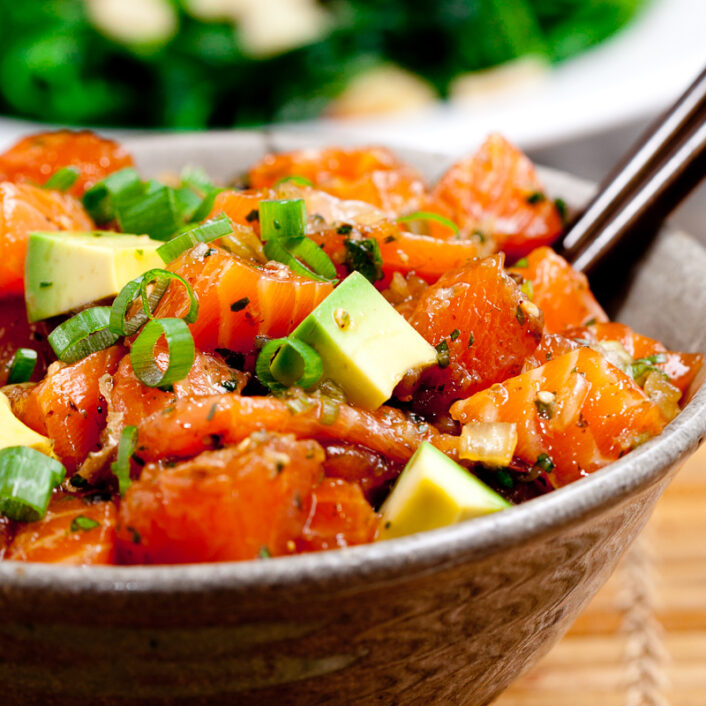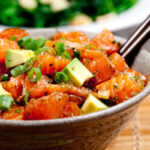 Salmon Poke Bowl
This Salmon Poke Bowl is a homemade version of the popular Hawaiian dish. It's fresh, flavorful, and even better than your favorite sashimi. Serve on its own or in a hand-roll.
Ingredients
1

lb

quality sashimi-grade salmon fillet,

cubed

¼

cup

quality light soy sauce or Tamari sauce.

1

rounded TB white sugar

2

TB

Furikake rice seasoning

½ - 1

tsp

red pepper flakes,

depending on your heat preference

1

tsp

freshly grated ginger
Juice from 1 wedge of a fresh lime,

no bottles!

¼

cup

chopped onion

¼

cup

chopped scallion
Half of a semi-firm avocado,

cubed

Freshly chopped cilantro for garnish
Optional nori sheets,

if making hand rolls
Instructions
Combine, Toss, and Chill: Add all ingredients together in a bowl. Toss to coat well. Cover tightly and chill for at least 1 hour. Add to your favorite room temperature, cooked white (or brown rice) and serve poke cold.

To Make Hand Rolls: Cut a nori sheet in half, fill with desired amount of rice and salmon poke, and roll it up. Enjoy rolls immediately.
Notes
If you enjoyed this recipe, please come back and give it a rating 🙂
Nutrition (per serving)
Calories:
152
kcal
|
Carbohydrates:
6.1
g
|
Protein:
18.1
g
|
Fat:
6.6
g
|
Saturated Fat:
1
g
|
Cholesterol:
38.6
mg
|
Sodium:
340.8
mg
|
Fiber:
1.5
g
|
Sugar:
3.1
g