It's only mid-November, but in my midwestern stomping grounds, it has been feeling a bit glacial.
We usually gravitate towards hearty stews to warm us on chilly days. There's typically no shortage of this family favorite Homestyle Chicken Noodle Soup, satisfying Chunky, Hearty Chili, or super easy White Chicken Chili.
But today, we're defying the frigid temps. And we're doing it Island style.
For some, this defiance may require an adventurous spirit 🙂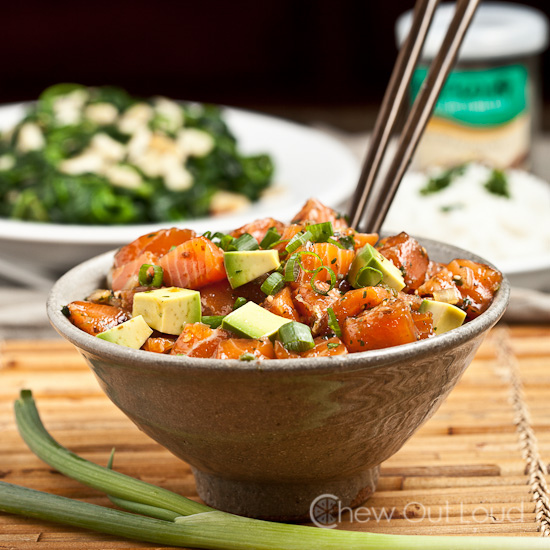 Aloha. We're dishing on Poke today, quite possibly my favorite appetizer in the universe.
Poke (pronounced poke-ay) is a popular appetizer commonly seen at Hawaiian potlucks, parties, and cherished hole-in-the-wall island joints. In fact, it was the skilled poke-maker of such a joint that inspired me to experiment with making my own.
This recipe is the awesome result of many yummy experiments.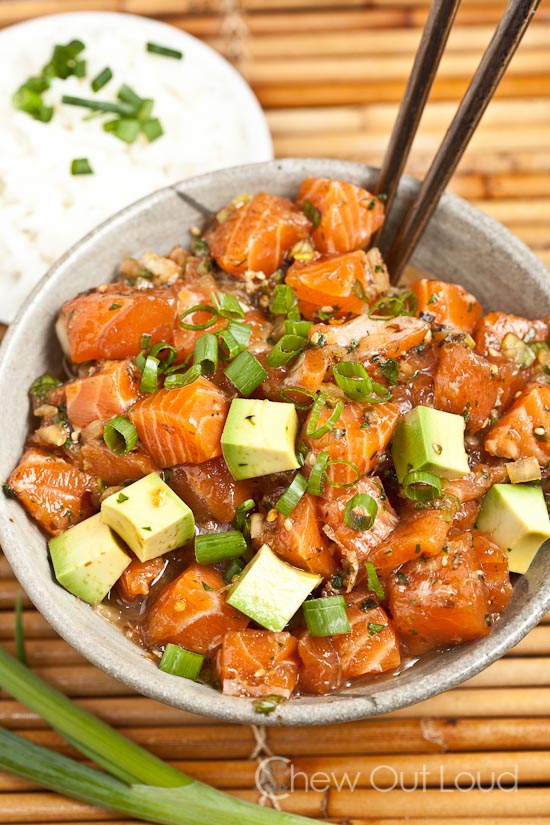 Hubby and I often treat ourselves to this salmon poke during our date nights at home. It totally satisfies all our pent-up sashimi cravings.
Salmon poke reminds me of how much I love the food in Hawaii, with all their fresh fish and seafood. It brings back delicious moments of tropical bliss on free-spirited vacations. B.K., of course. Before Kids.
If we can't romp on island sand, we might as well at least eat like we are.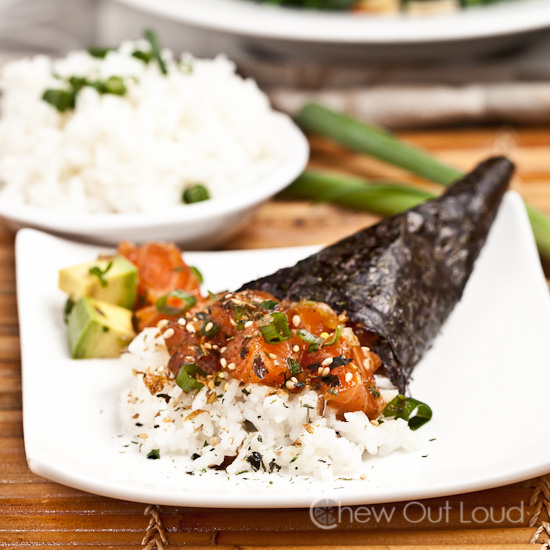 Just for fun and to show off more salmon poke goodness, Hubby made us Salmon Poke Hand Rolls. Y…U…M.
Yeah, raw fish may be a stretch for some. But for those who enjoy it, it honestly doesn't get much better than this. And for those willing to don that adventurous spirit, a good Salmon Poke Hand Roll may open up a door you'll never close.
It also couldn't be easier. No cooking necessary 😉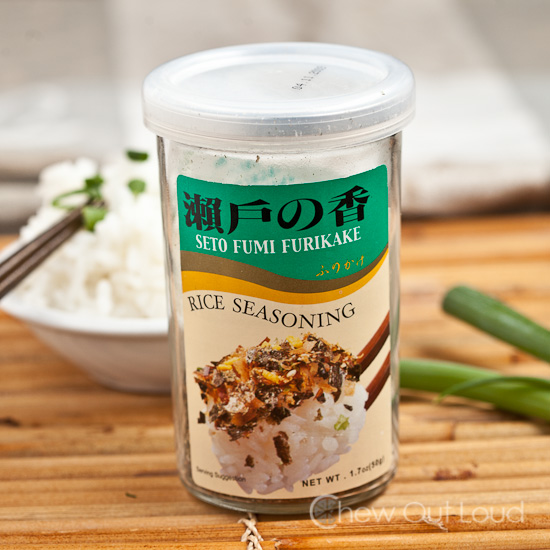 You'll need a good umami rich Furikake, found in Asian grocery stores. There are generally several flavors available; I like the basic Seto Fumi Furikake best. Not sure if it can be found in the Asian aisle of your normal large grocery store, but it's worth a look.
And, of course you'll need some nori sheets if you're hungry for hand rolls.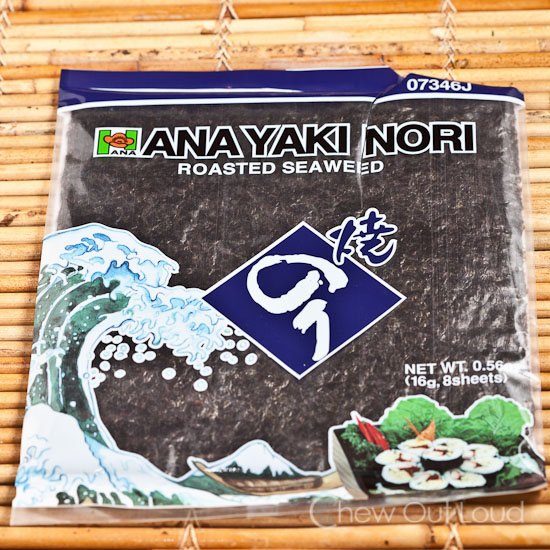 Thanks for letting us deviate from the regularly scheduled program of holiday recipes, in order to bring you this rebellious and scrumptious salmon poke.
More holiday recipes coming up next.
Enjoy!
Print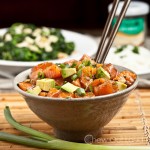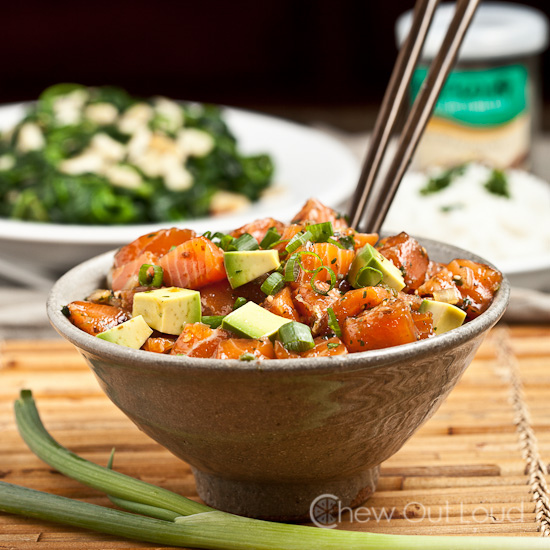 Hawaiian Salmon Poke
Poke (poke-ay) is a favorite appetizer common in Hawaii. This salmon poke is fresh, flavorful, and even better than your favorite sashimi. Make it into a hand-roll for an impressive and fun way to nosh. Be sure to chill at least an hour.
1

lb quality sashimi-grade salmon fillet, cubed

1/4 cup

light soy sauce (I like Kikkoman)

1

rounded TB white sugar

2

TB Furikake rice seasoning (I use Seto Fumi)

1/2

–

1

tsp red pepper flakes, depending on your heat preference

1 tsp

freshly grated ginger
Juice from

1

wedge of a fresh lime (no bottles!)

1/4 cup

chopped onion

1/4 cup

chopped scallion
Half of a semi-firm avocado, cubed
Freshly chopped cilantro for garnish
Optional nori sheets, if making hand rolls
Instructions
Combine all ingredients together in a bowl. Toss to coat well. Cover tightly and chill for at least 1 hour. Serve cold.
Serve with white rice, or make into hand rolls.
If making hand rolls, simply cut a nori sheet in half, fill with desired amount of rice and salmon poke, and roll it up. Eat rolls immediately.
Author:
Category:

appetizer, side
Source: Chew Out Loud