Easy Blueberry Pie Crumb Bars
Easy Blueberry Pie Crumb Bars are just the ticket when you want a dessert that's crunchy, fruity, and bursting with flavor. It's always a hit wherever you bring it. Delicious chilled or reheated.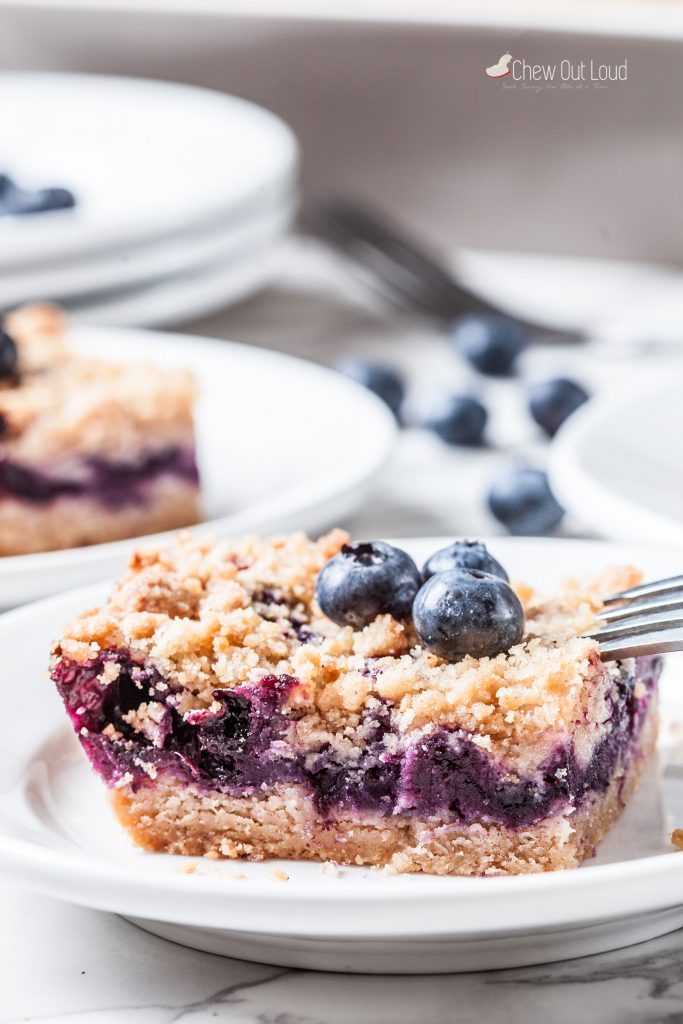 Remember when I mentioned we've been to the doctor's at least ten times so far this summer?
Well, let's make that eleven. I'm counting The Bulldog today because all the pet families know this: our fur babies count.
We took Sammy to the vet last night, which thankfully showed that my diligent albeit non-glamorous canine ear treatments at home successfully resolved his ear infection.
Sammy at the vet is always a riot. 🐾 The big little boy inevitably brings attention to himself whether he tries to or not. His clumsy-floppy self gets love from everyone, without fail. The boy is all goofball with his sloppy wet kisses and too-big paws.
Now, these Blueberry Pie Crumb Bars? They don't sport puppy paws, but they are definitely always a riot. They inevitably bring attention to themselves.
These crispy berry-filled bars get lots of love from everyone, everywhere it goes. Without fail.
How to Make Blueberry Pie Crumb Bars:
Did you see the trick for evenly pressing down the bottom crust? ↑ ↑
We use that simple trick for lots of crusts, from These decadent Carmelita Bars to these winning Chocolate Chip Cookie Cheesecake Bars.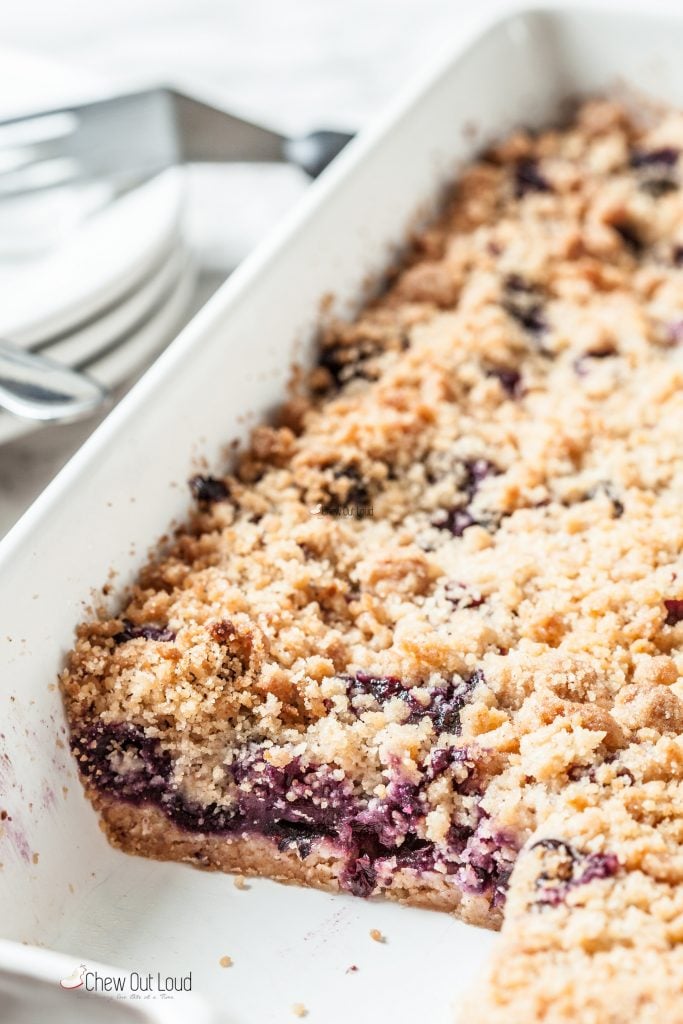 These Blueberry Pie Crumb Bars boast a big load of fresh blueberries, bursting with juicy sweetness in the middle layer.
The top and bottom layers consist of a buttery bottom crust and crispy topping that's infused with fragrant cinnamon.
The whole thing is baked just until you get that beautiful golden brown topping. Sadly, you'll have to wait until the dessert is fully cool before cutting into it. The filling needs that time to set nicely.
Blueberry Pie Crumb Bars are yummy chilled or re-heated. Hubby and I are torn on this one; I prefer my bars chilled, while he is adamant that reheated in the toaster oven is the way to go.
Truth: these bars are fabulous cold, warm, straight up, or with a scoop of ice cream. You choose.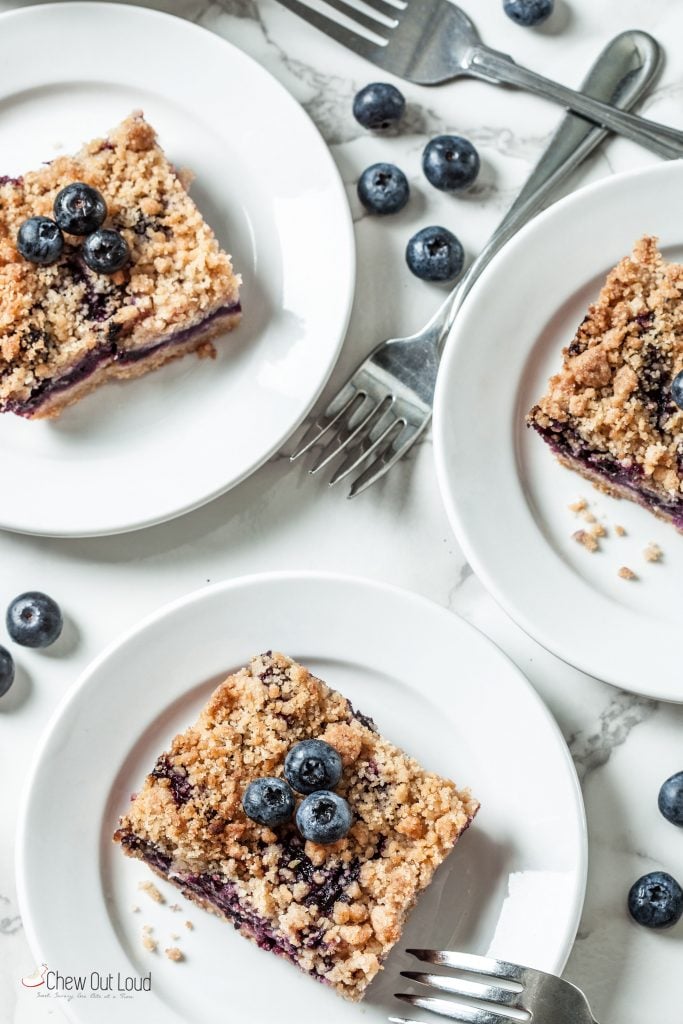 Bake up some Blueberry Pie Crumb Bars and share the love.
Enjoy 🌟
Print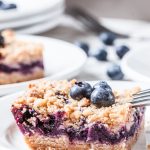 Easy Blueberry Pie Crumb Bars
Easy Blueberry Pie Crumb Bars are just the ticket when you want a dessert that's crunchy, fruity, and bursting with flavor. It's always a hit at potlucks and gatherings. Delicious chilled or reheated.
Prep Time:

20 mins

Cook Time:

50 mins

Total Time:

1 hour 10 mins
For the Crust & Topping:

3 cups

all purpose flour

1 cup

sugar

2 tsp

ground cinnamon

1 tsp

baking powder

1/4 tsp

table salt

1 cup

cold salted butter, sliced into cubes

1

large egg
For the Filling:

4 cups

fresh blueberries

1/2 cup

sugar

4 tsp

cornstarch
Freshly squeezed juice of 1 lemon (approx. 3 TB)
Instructions
Preheat oven 375F with rack on lower middle position. Grease a 9×13 baking pan and set aside.
Make the Crust/Topping: In a bowl, hand-whisk the flour, sugar, cinnamon, baking powder, and salt. Use a pastry cutter to cut in the cold butter. Add the egg and continue to cut in with pastry cutter until dough becomes a crumbly consistency. Evenly press half of the dough into greased pan (see video for tips.)
Make the Filling: In a large bowl, hand-whisk together the sugar, cornstarch, and lemon juice. Use a rubber spatula to gently fold in the blueberries to coat. Softly spread blueberries evenly over crust, including excess juice from the bowl. Evenly sprinkle remaining topping dough over the blueberry layer.
Bake 45-50 min or just until topping is golden brown. Let dessert cool completely at room temp before cutting into squares (may be easier to cut when chilled) Serve bars chilled or re-heated, with ice cream or freshly whipped cream.
Author:
Category:

dessert
Kitchen Essentials:
So Berry Good…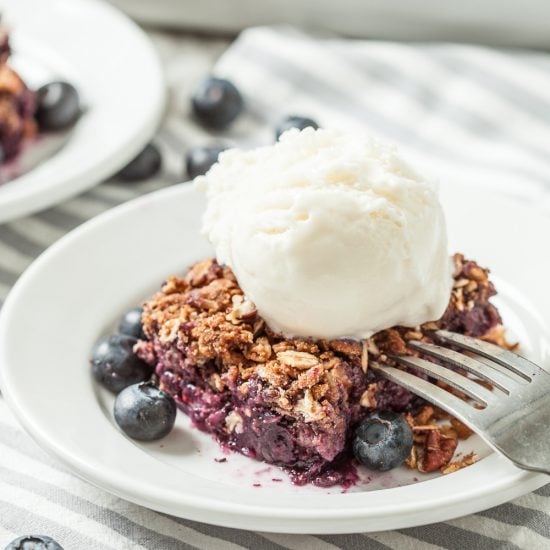 2. Fresh Strawberry Crumb Cake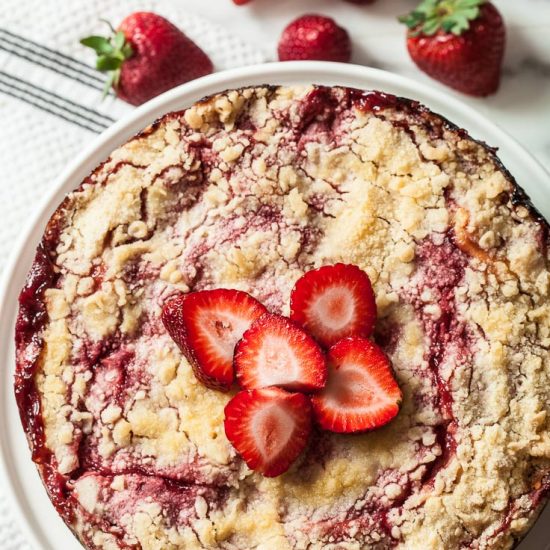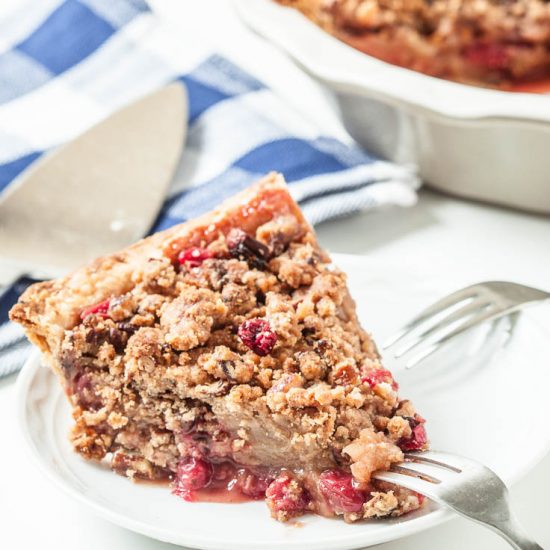 4. Baked Blueberry Oatmeal (GF)