Pumpkin Cupcakes
By Amy Dong
Published Sep. 28, 2023
Updated Oct. 25, 2023
These moist Pumpkin Cupcakes with whipped cream frosting will have your home full of fall aromas. Your family will come running for these tender, flavorful cupcakes.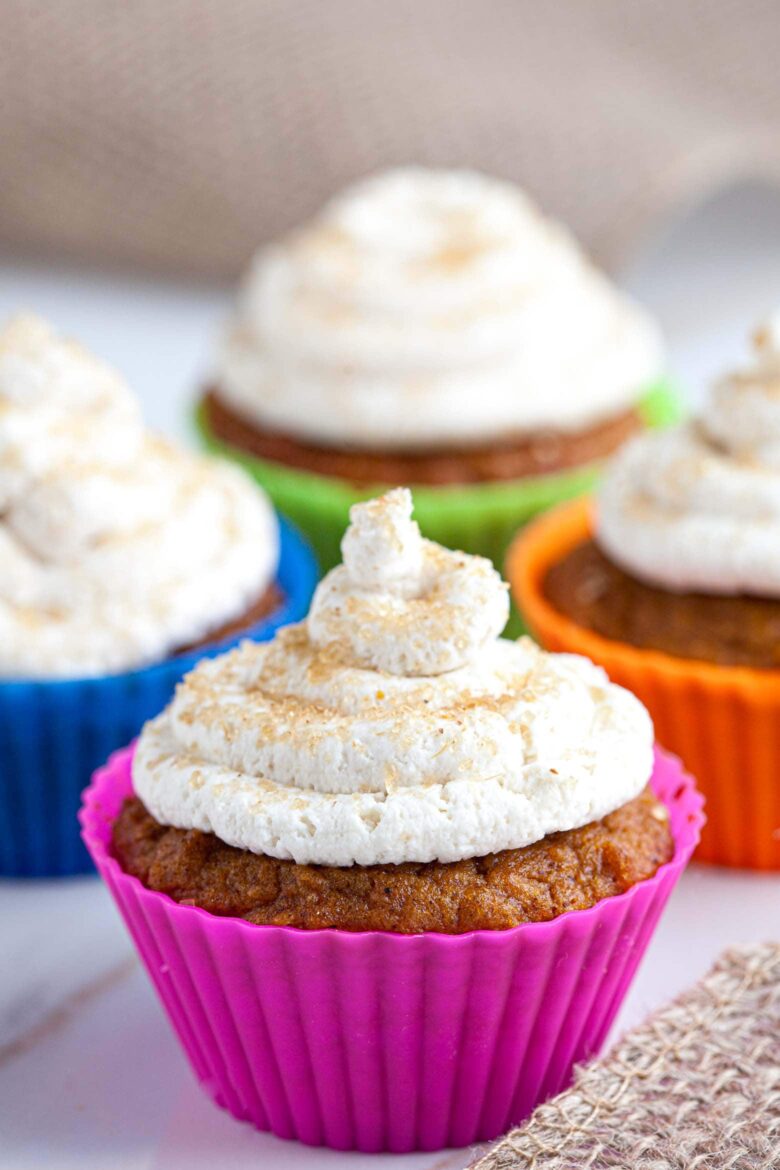 Video: Watch Us Make This Recipe
The Perfect Pumpkin Cupcakes
These delightful fall cupcakes are made completely from scratch – no box mixes needed – and are extremely easy. They're everything-fall, with a homemade pumpkin spice blend that includes cinnamon, ginger, nutmeg, and cloves. The result is a moist, flavorful cupcake with the perfect balance of warm autumn spices.
Homemade pumpkin cupcakes are made with real pumpkin puree in them, just like this pumpkin bread recipe. Pumpkin cupcakes are the perfect fall dessert to share with all your favorite eaters.
What you'll love
The balance of warm fall spices makes the flavor of these cupcakes really stand out.
These pumpkin cupcakes are topped with stabilized whipped cream, which won't become runny as it sits.
These pumpkin cupcakes are made with real pumpkin puree. This gives them an authentic pumpkin flavor.
It's really easy to make them gluten-free cupcakes. Just use 1 to 1 Gluten Free Baking Flour.
The instant vanilla pudding mix makes them perfectly moist without falling apart.
The ginger sugar sprinkles (recipe below) are a flavorful and fun way to fancy up these cupcakes and other desserts like our Best Pumpkin Pie Recipe.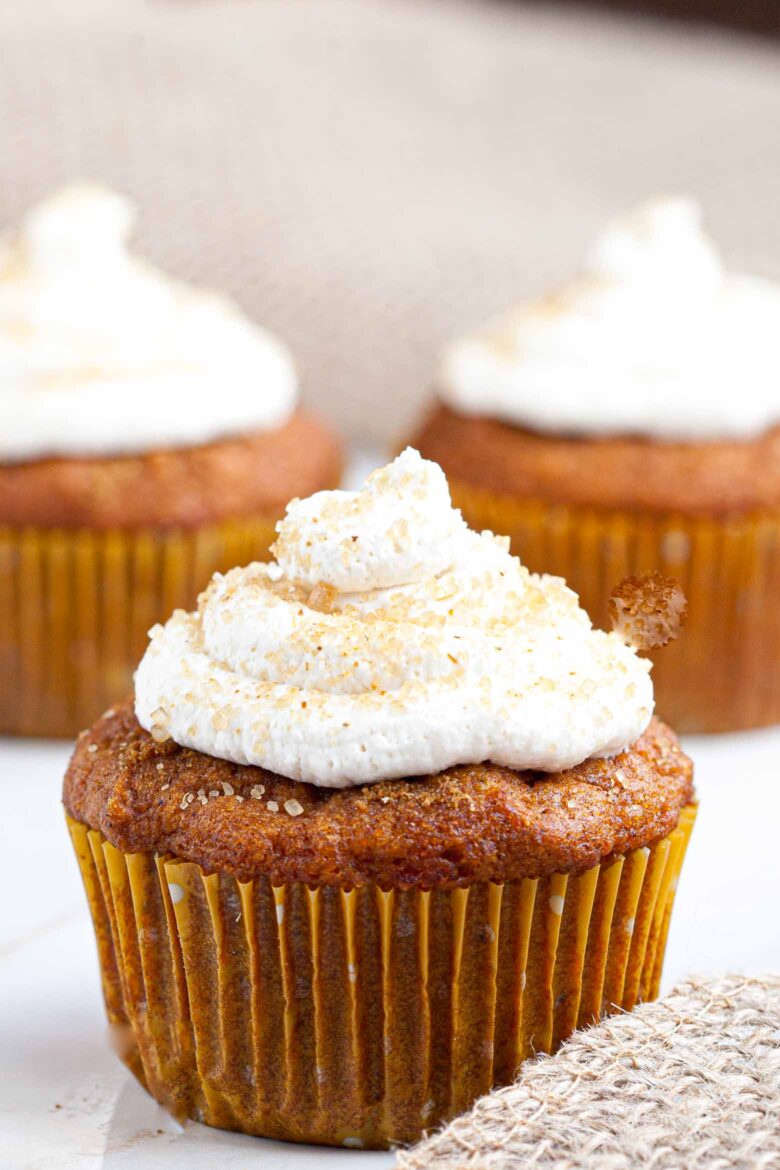 Key INGREDIENTS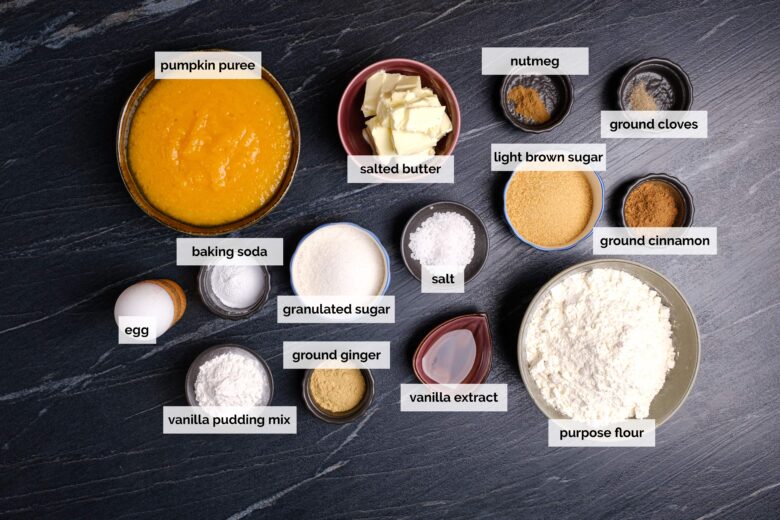 Here are some key ingredients that you probably already have in your pantry:
Instant Vanilla Pudding: adds moisture and flavor to the cupcakes.
Baking Soda: this is important because it reacts chemically and adds air pockets within the batter, which gives the cupcakes a spongy texture.
Cinnamon: one of the most iconic flavors to pair with pumpkin desserts.
Ground Ginger: slightly spicy and contrasts with the cinnamon.
Nutmeg: adds a warm nuttiness to the cupcakes.
Cloves: enhances the cinnamon flavors.
Butter: use salted butter for the fullest flavor.
Brown Sugar: caramelizes and makes the cupcakes taste like pumpkin pie.
Eggs: emulsifies and holds all the ingredients together.
Vanilla Extract: adds deeper flavor notes to the cupcakes.
Pumpkin Puree: this is what makes them pumpkin cupcakes! Use pumpkin puree, not pumpkin pie filling.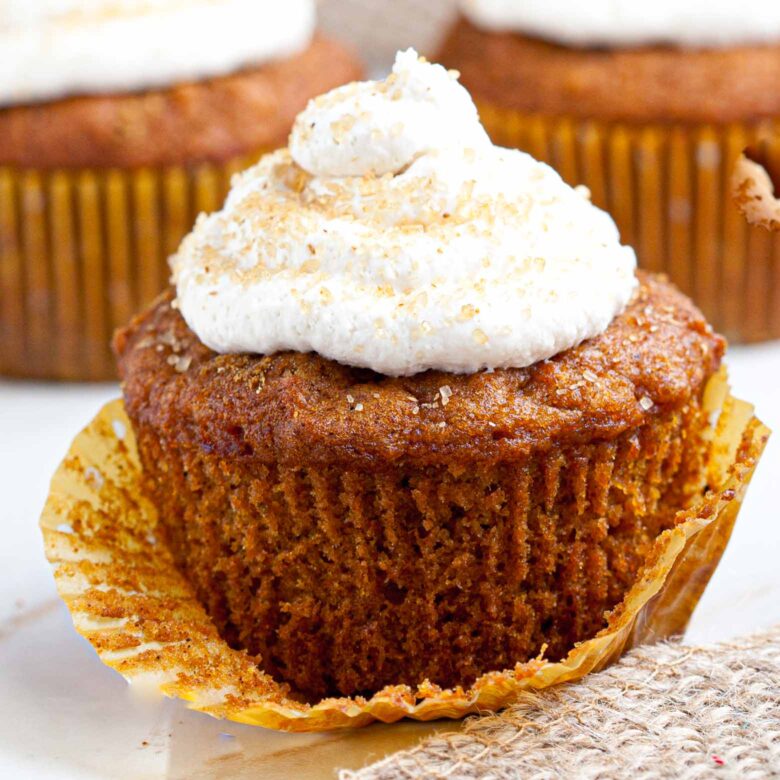 Substitutions and Variations
These easy pumpkin cupcakes are pretty perfect, but if you're one who likes to tinker with variations, here are a few fun ways to twist things up.
If pumpkin spice flavored instant pudding is available – usually seasonally – feel free to use that instead of the vanilla pudding.
For a deeper molasses flavor, use dark brown sugar in lieu of the light brown sugar.
Use 2 TB pumpkin pie spice seasoning in place of cinnamon, ginger, nutmeg, and cloves.
Add Ins: feel free to amp up your pumpkin cupcakes with some diced apples, chocolate chips, or chopped pecans in the batter.
Step-By-Step Instructions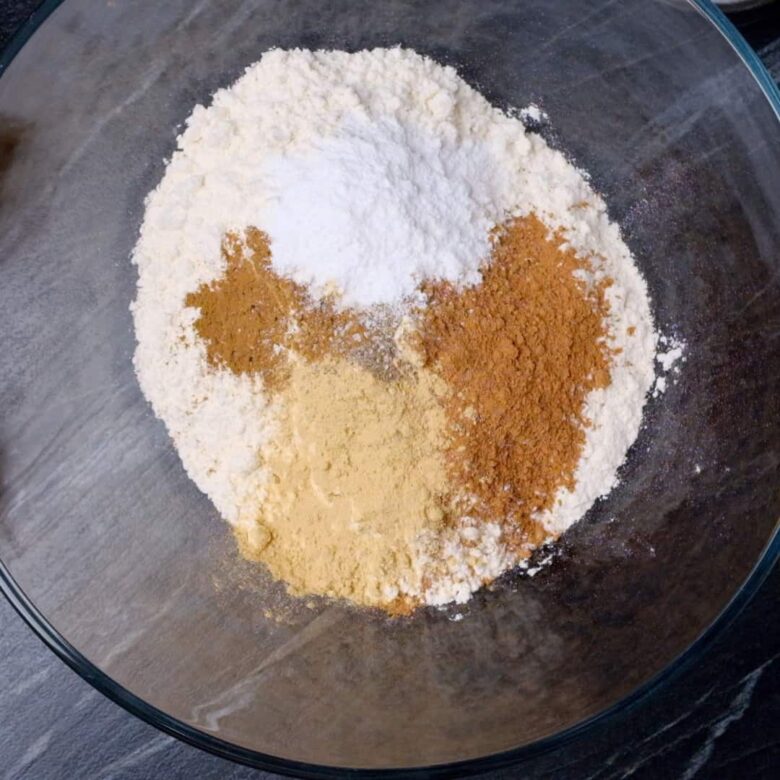 Whisk dry ingredients. This prevents the batter from clumping and evenly distributes all of the ingredients together.
Combine wet ingredients. Beat sugars and butter until light and fluffy. Then, add eggs one at a time, followed by vanilla extract and pumpkin.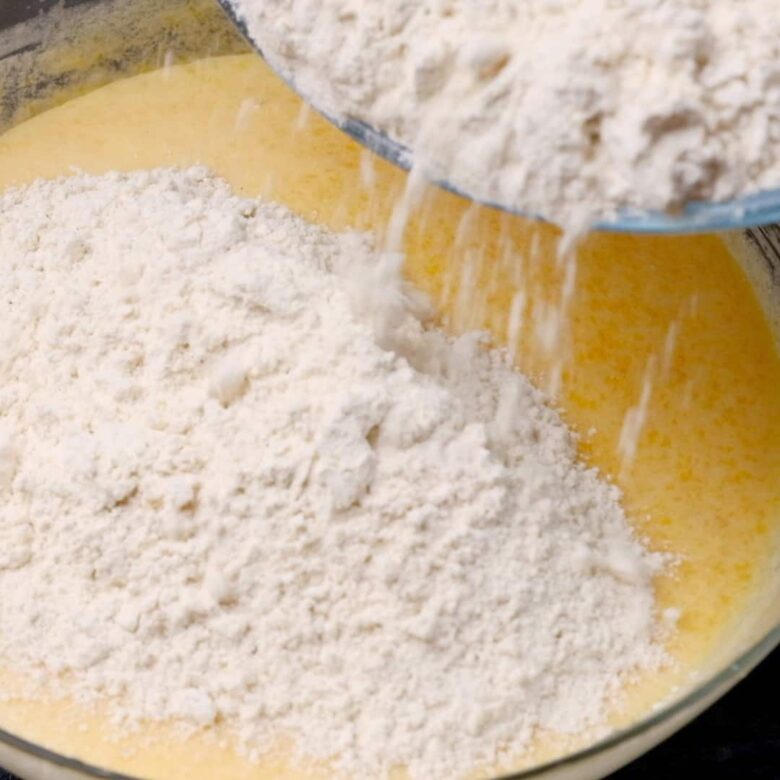 Carefully fold dry ingredients into the wet ones. Do not over-mix it. This is the secret to getting wonderfully fluffy and tender cupcakes. A few little streaks of flour remaining in batter is just fine.
Bake, but don't over-bake. Bake until golden brown and toothpick inserted in center comes out with a few tender crumbs still attached. Allow cupcakes to fully cool before serving.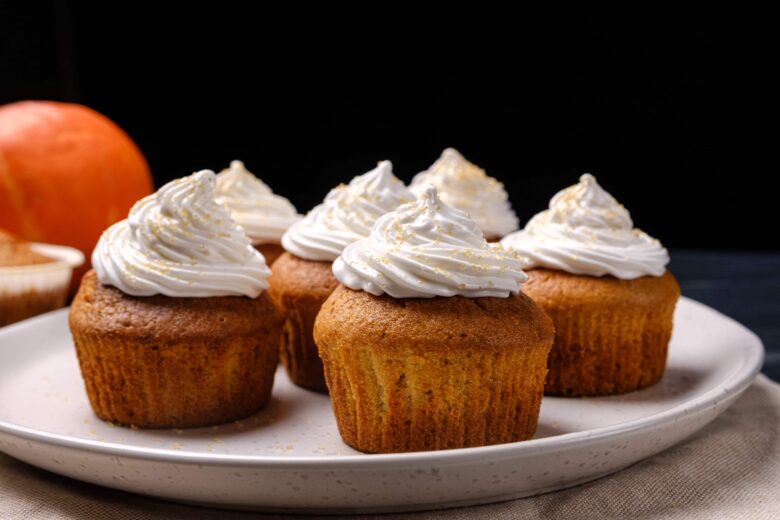 Finally, Frost with stabilized whipped cream. Make homemade whipped cream ahead of time and then chill to pipe or decorate as you desire.
For full list of ingredients and instructions, see recipe card below.
Commonly Asked Questions
Are paper cups or silicone cups better for cupcakes?
When the cupcakes finished baking and cooling, the silicone liners easily separated from the cupcakes. No tearing, ripping, or ruining the sweet little cake. All of it is wonderfully intact and super easy to clean.
You'll be pleasantly surprised to find that the cupcakes themselves actually turn out to be even moister and more tender in the silicone liners vs. paper.
Can you make pumpkin cupcakes without ginger?
Yes, you can certainly leave out the ginger. The ginger really adds a large burst of flavor that sets them apart from other pumpkin desserts, we highly recommend you try it.
How do you store leftover cupcakes?
You can store cupcakes in an airtight container at room temperature for up to a week. After you frost them, keep them in the refrigerator for three days.
Can I make pumpkin cupcakes ahead of time?
Yes, these are absolutely make-ahead friendly. Even the stabilized whipped cream can be made (even piped!) and chilled until ready to serve.
How do you know when the cupcakes are ready?
The trick is to bake your pumpkin cupcakes just until a toothpick inserted in the center comes out with a few tender crumbs still attached – not completely clean, so they're not over-baked. When pressing the tops of muffins lightly, they should gently bounce back.
Did you make this?
Please give us a rating and comment below. We love hearing from you!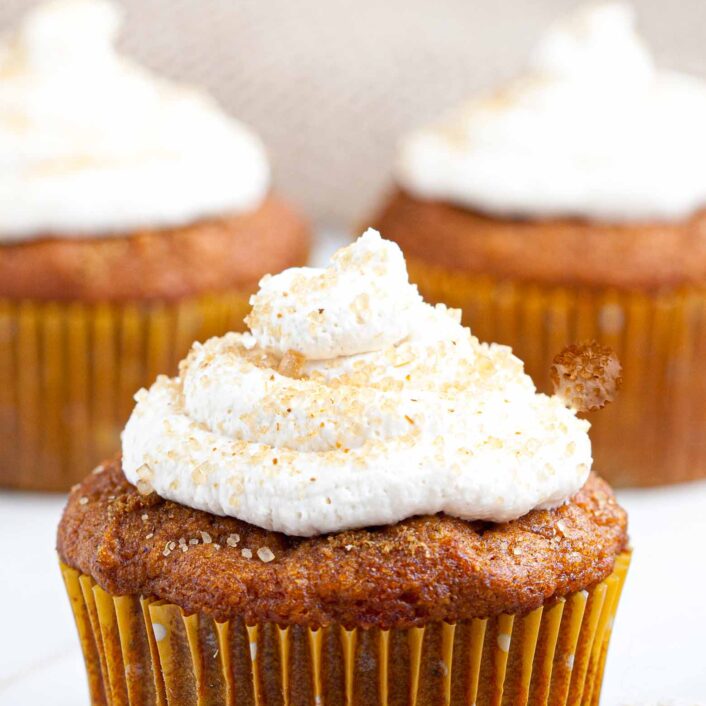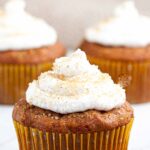 Perfect Pumpkin Cupcakes
Rich and flavorful, these pumpkin cupcakes will have your family running to the kitchen. Your house will be filled with fall aromas.
Instructions
Preheat oven to 350F with rack on lower middle position. Line muffin tin with liners and set aside.

In a large bowl, whisk together the flour, pudding mix, baking soda, salt, cinnamon, ginger, nutmeg, and cloves. Set aside.

In the bowl of a stand mixer with paddle attachment, beat the butter and both sugars on medium-high until light and fluffy, about 3-4 min. Mixture should look pale yellow and texture should be airy.

Add eggs one at a time, incorporating into mixture individually. Add vanilla and pumpkin, beating until incorporated.

Using rubber spatula, fold the dry flour mixture into the wet butter mixture. Fold gently until just incorporated, with a few little streaks of flour here and there remaining. Distribute the batter evenly into lined muffin cups.

Bake until golden brown and toothpick inserted in center comes out with a few tender crumbs attached, 20-25 min. Do not over bake. Cool in pans 10 minutes and remove to wire rack to cool completely.

Frost with Stabilized Whipped Cream or use your favorite frosting. Srinkle liberally with coarse ginger-sugar for garnish. Cupcakes keep well in airtight container at a moderate room temp; leftovers may be frozen.
Notes
For a gluten-free version, use 1 to 1 Gluten Free Baking Flour.
Store-bought whipped cream tends to become runny after awhile, but stabilized whipped cream keeps its shape and holds well.
Instead of whipped cream, you can use your favorite buttercream frosting as well.
Feel free to sprinkle in some of your favorite add ins, including chocolate chips, diced apples, or chopped pecans.
If you enjoyed this recipe, please come back and give it a rating ❤️
Nutrition (per serving)
Calories:
216
kcal
|
Carbohydrates:
33
g
|
Protein:
2
g
|
Fat:
9
g
|
Saturated Fat:
5
g
|
Polyunsaturated Fat:
1
g
|
Monounsaturated Fat:
2
g
|
Trans Fat:
0.3
g
|
Cholesterol:
51
mg
|
Sodium:
218
mg
|
Potassium:
80
mg
|
Fiber:
1
g
|
Sugar:
23
g
|
Vitamin A:
3040
IU
|
Vitamin C:
1
mg
|
Calcium:
25
mg
|
Iron:
1
mg