Happy weekend, Everyone!  Christmas is less than a week away…depending your level of readiness, you're either going  "woo hoo!" or  "uh oh."
If you're still on the hunt for the perfect hostess gift, holiday party favor, or you just want some festive cookies that keep very well, here are these delectable gingerbread biscotti.
Dunking perfection.  Coffee lovers need no further explanation.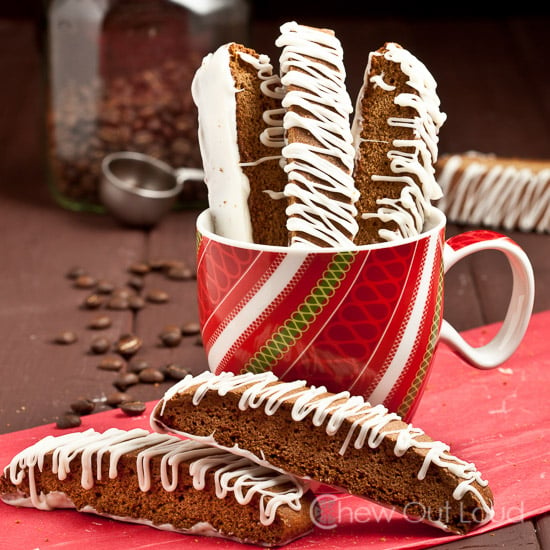 I have long been making my usual Double Chocolate Biscotti for holiday gift-giving and for my own coffee dunking bliss. But this year, I wanted to try out these gingerbread biscotti.  Wowzers!
Gingerbread equals holidays. And since I've already made loads of these super chewy and soft Chewy Soft Ginger Cookies, it was time to let the cookie pendulum swing to the other side – the crisp side…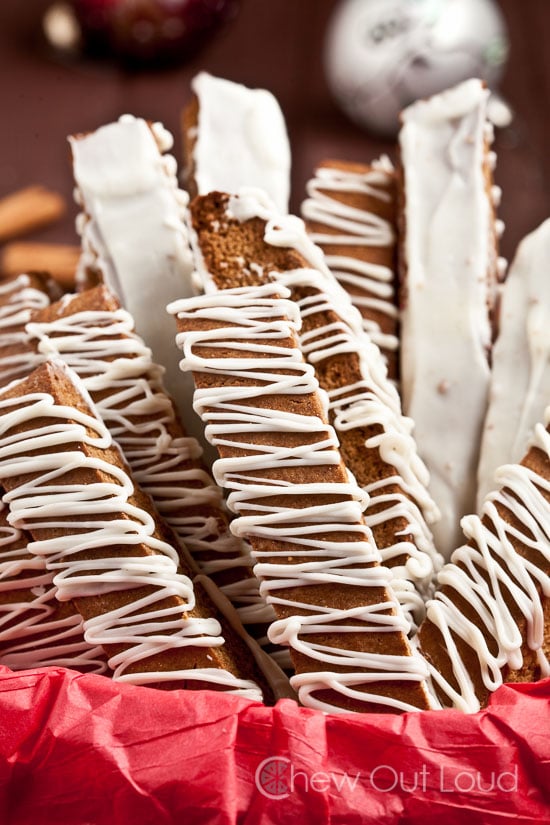 I know.  If you read any of my cookie posts, it's no secret that I'm weak in the knees for chewy and soft cookies.
But.  If any cookie must be crispy and crunchy, it's name has to be Biscotti.  Biscotti were born to be crispy, so they can hold up to a phenomenal dunking party with hot cocoa or coffee.
One dunk into your favorite morning (or evening) joe, and these Gingerbread Biscotti are ready to melt in your mouth.  It literally and immediately melts into your sweet tooth, one happy dunk after another.
Biscotti are one of my favorite treats to give away, because they keep…forever?   At least they keep well for several weeks, and that might as well be forever in cookie-years.
These Gingerbread Biscotti are perfectly crisp, flavorful, and they dunk like Magic.
Johnson?  Sorry, I just had to.
Enjoy, and Happy-Weekend-Before-Christmas!
Print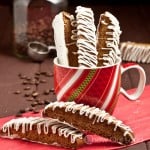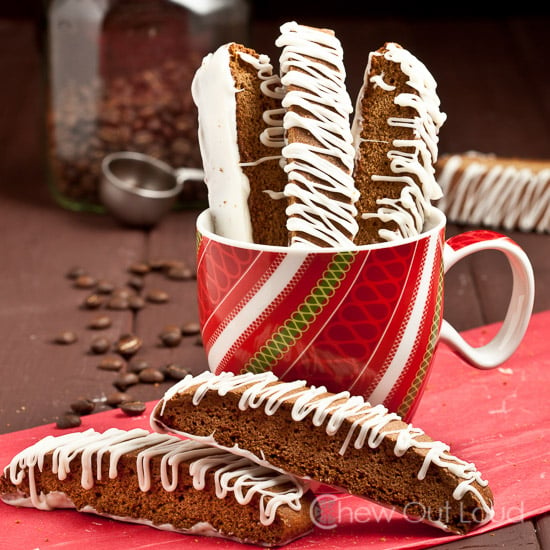 Gingerbread Biscotti
---
Description
These gingerbread cookies are perfectly crisp, full of gingerbread flavor, and were born to be dunked into your favorite cup of joe. They keep super well, and are perfect for gift-giving.
---
1/3 cup

salted butter, melted

1 cup

granulated sugar

3

large eggs, room temp

1/4 cup

real molasses

2 1/4 cups

all purpose flour

1 cup

whole wheat flour

1/2 tsp

salt

1

TB baking powder (yes, TB)

2

TB plus 1/4 tsp, ground ginger

1

TB ground cinnamon

2 tsp

ground cloves

1/2 tsp

ground nutmeg
Optional: Melted white chocolate for drizzling
---
Instructions
Preheat oven to 375F. Line a cookie sheet with parchment paper. Set aside.
In a large bowl, mix together the melted butter, sugar, eggs, and molasses, combining well. In a separate bowl, combine the remaining ingredients. Whisk dry ingredients together to incorporate. Mix dry ingredients together with butter mixture, and continue to work it until a thick dough forms.
Divide dough in half. Shape each half into logs about 12×3 inches. Place on parchment lined cookie sheet. Pat each log down to about 1/2 inch thick.
Bake for 25 minutes. Remove from oven (still keep oven on,) and allow it to cool enough to handle.
Using a sharp bread knife, cut each log into 3/4 inch thick diagonal slices. Place each sliced biscotti on its side, and bake about 7-8 minutes. Turn each cookie over and bake another 7-8 minutes or until cookies feel dry and are turning crispy.
Let cool completely to room temp. If desired, drizzle with melted white chocolate or your choice of icing.
Category:

breakfast, dessert
Source:  Chew Out Loud, adapted from allrecipes.com
Here are my favorite soft pumpkin cookies, full of holiday spices and makes your house smell amazing: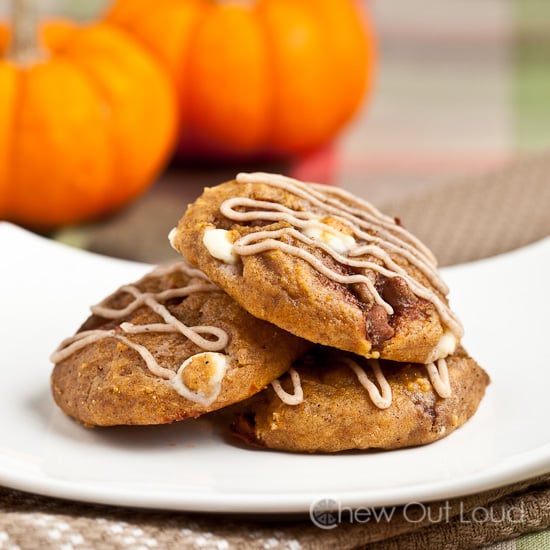 In case you missed these ever-chewy and soft Oatmeal Chocolate Chip cookies, you don't want to miss them twice!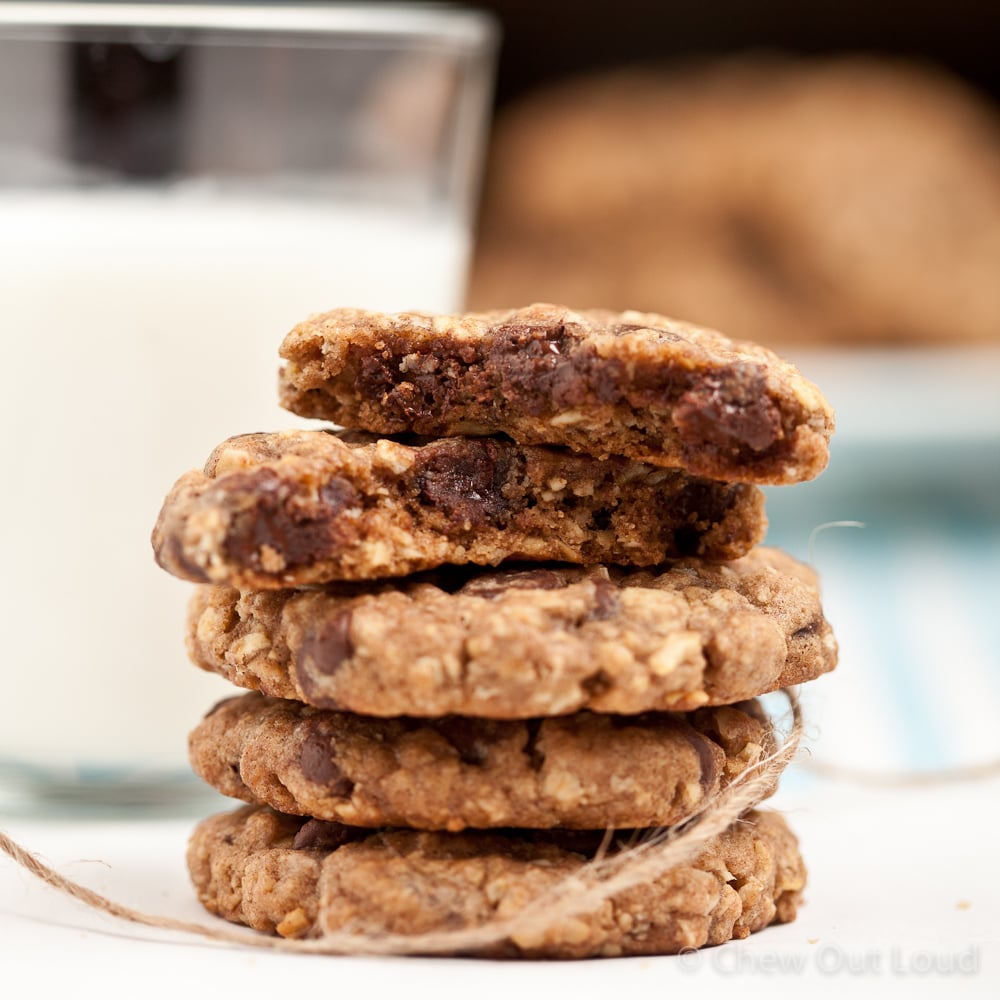 Here's some gingersnap action…under the cheesecake, that is!  Who turns down New York Pumpkin Cheesecake?