Chewy White Chocolate Cranberry Bars
By Amy Dong
Published Dec. 15, 2014
Updated Sep. 7, 2023
These Chewy White Chocolate Cranberry Bars are uber chewy, with just the right mix of crispy exterior and soft centers. Loaded with fresh cranberries and white chocolate, this is a winning holiday treat!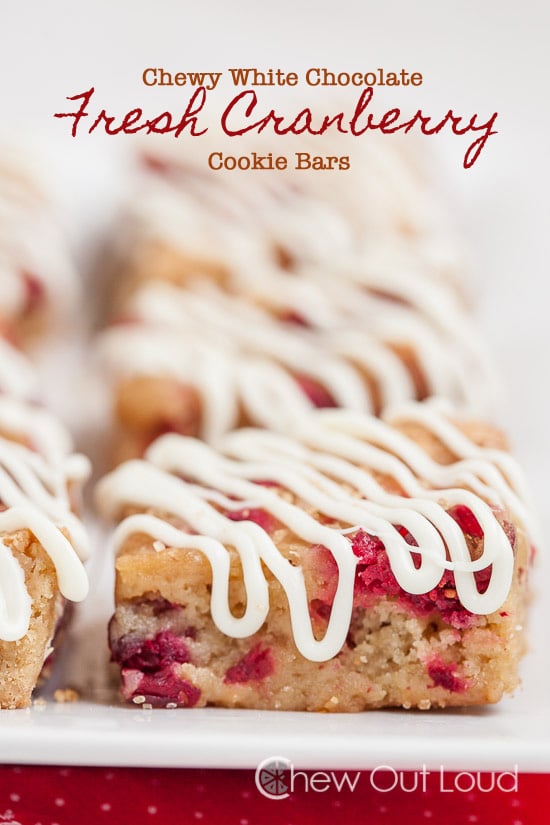 This holiday season, we can't get enough of the beautiful fresh cranberries.
Knowing they'll be fresh in stores for a very limited amount of time makes me want to hoard them, bake the kazoodles out of them, and gobble them up.
Then it's goodbye until next year.
Most recently, we've devoured White Chocolate Cranberry Scones. Those were a game-changing scone. My family hopes they'll make an appearance every holiday season from now on.
And what do you think of these…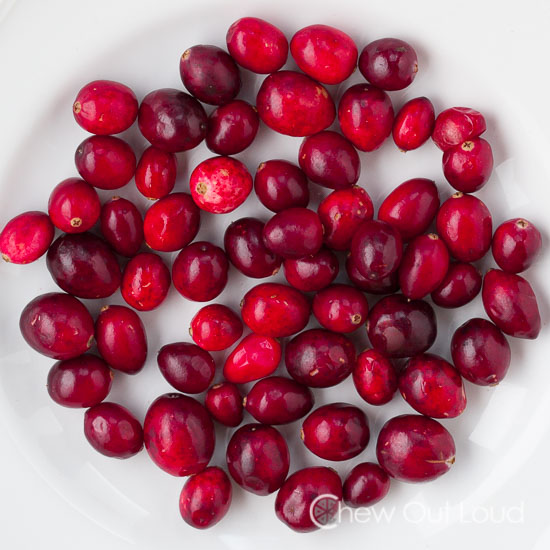 Gorgeous, brilliant cranberries. They're crazy tart all by themselves, of course, but envelope them with brown sugar and white chocolate?
They become perfectly balanced out, with a delicious dance of sweet vs. tart. Not too tart, not too sweet, but wonderfully luscious.
Fresh cranberries also make the resulting dessert extraordinarily moist and tender.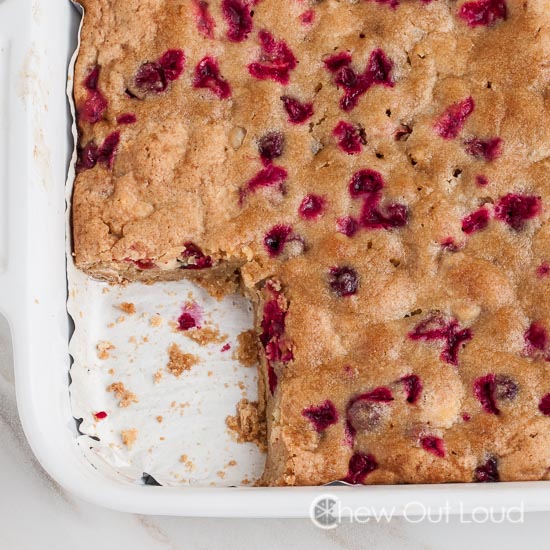 I'm a big white chocolate fan.
Once when I was about 11 years old, I singlehandedly polished off a solid Easter bunny made entirely out of white chocolate. It took me days to put it away, but I did it all by myself.
I can't believe my mom let me do that.
I think my boys have inherited my love of white chocolate. 'Course, we don't discriminate between any chocolate.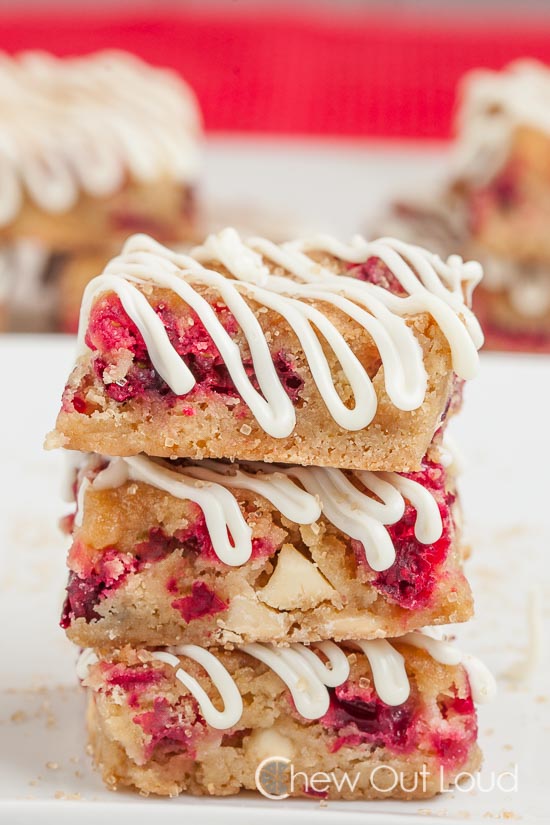 These White Chocolate Cranberry Bars are ridiculously easy to pull off… easier than shaping cookies one at a time.
They also keep nice and chewy for at least a day or two in an airtight container.
Stir the batter, dump in pan, and cut. Eat, smile, and repeat.
Enjoy!
Did you make this?
Please give us a rating and comment below. We love hearing from you!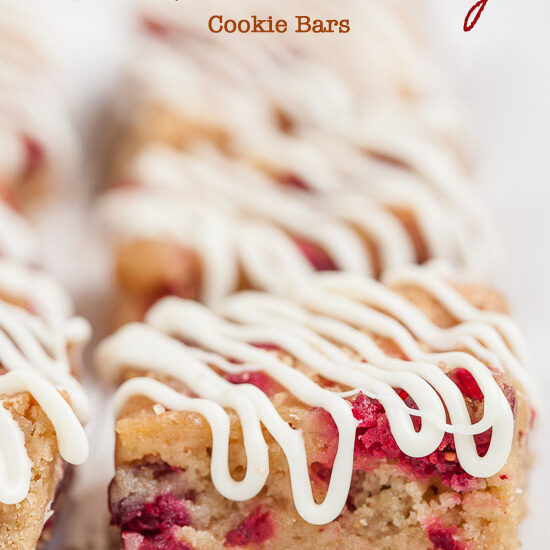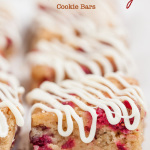 Chewy White Chocolate Cranberry Bars
These White Chocolate Cranberry Bars are extremely chewy and mouthwatering. They are full of fresh cranberries, which balance out the sweetness perfectly. Be sure to give them time to cool completely before digging in. Great for the holiday season!
Instructions
Preheat oven to 350F with rack on lower middle position. Line the bottom of a 8×8 baking pan with parchment paper and grease both the paper and side of pan.

In a bowl of a stand mixer fitted with paddle attachment, beat together the egg, butter, sugar, and vanilla on medium until well incorporated. Add flour and baking powder and mix to combine, but don't overmix. Using a rubber spatula, gently fold in the white chocolate and cranberries.

Transfer batter into greased baking pan, evening the top out. Bake 30-33 minutes or just until top is golden brown and puffy. Don't overbake.

Allow dessert to fully cool to room temp before cutting into bars. Melt 1/2 cup white chocolate chips and drizzle over bars. Bars will keep well at room temp in airtight container for 1-2 days.
Nutrition (per serving)
Calories:
160
kcal
|
Carbohydrates:
24
g
|
Protein:
2
g
|
Fat:
7
g
|
Saturated Fat:
4
g
|
Polyunsaturated Fat:
0.3
g
|
Monounsaturated Fat:
2
g
|
Trans Fat:
0.2
g
|
Cholesterol:
27
mg
|
Sodium:
89
mg
|
Potassium:
60
mg
|
Fiber:
1
g
|
Sugar:
17
g
|
Vitamin A:
148
IU
|
Vitamin C:
1
mg
|
Calcium:
40
mg
|
Iron:
1
mg
Source: Chew Out Loud
Here are some of our favorite cookie bars…gimme gimme gimme…
Chewy M&M Cookie Bars. Again, easier than making cookies one at a time. Ridiculously chewy, chock full of M&M's, and a favorite of kids and grownups all year round.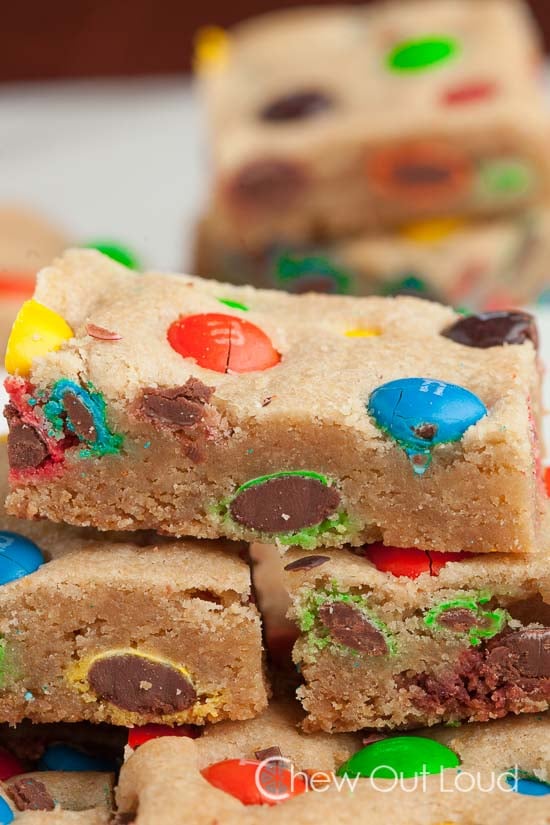 Chewy Snickerdoodle Bars. If you like snickerdoodles, you'll go wild over these bars. They're easy and so chewy.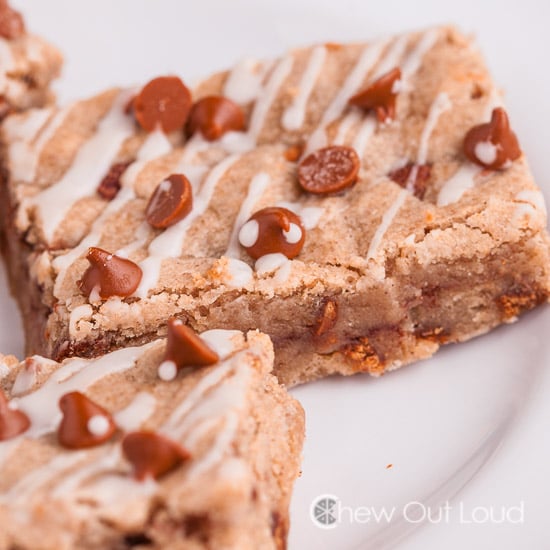 Congo Bars (Blondies). So chewy, chocolatey, and unbelievable.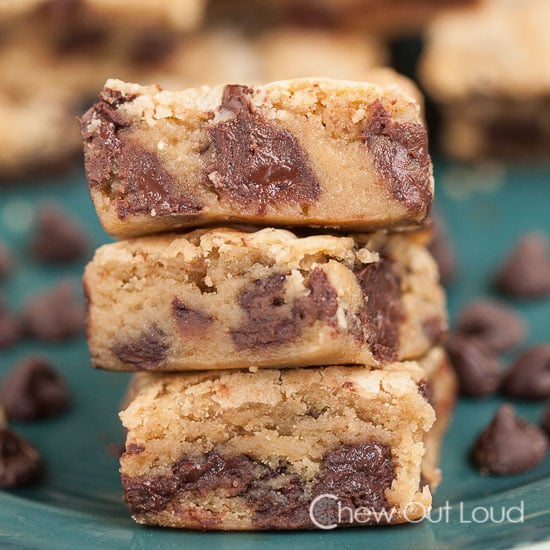 Chocolate Chip Cookies Cheesecake Bars. Because chocolate + cookies + cheesecake.