Hasselback Potato Recipe
By Amy Dong
Published Nov. 12, 2019
Updated Aug. 17, 2022
This Hasselback Potato Recipe is a side dish that's delicious and impressive. Wow your guests during the holidays with an easy hasselback potato casserole they'll be sure to rave over.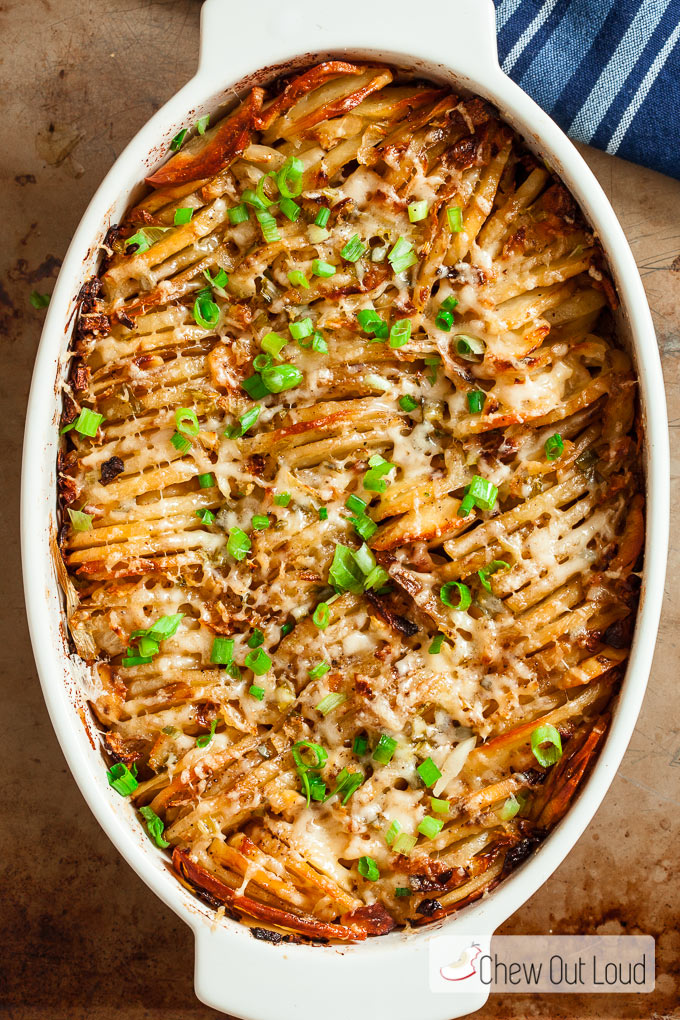 Hasselback Potato Recipe
Every year it sneaks up on us. Or maybe sprints is more like it.
It's less shocking if snow's been on the ground for awhile. But some years the ground we walk on has yet to turn from brown to white, and it's those years that it arrives with a jolt.
It = the first day of winter + the winter holidays + the new year. All around the speedy corner.
We're really and truly just 5 days away from the first official day of winter and 8 days from Christmas. !!!🎄
Which means soooo many things. But since this is a dedicated space for foodies…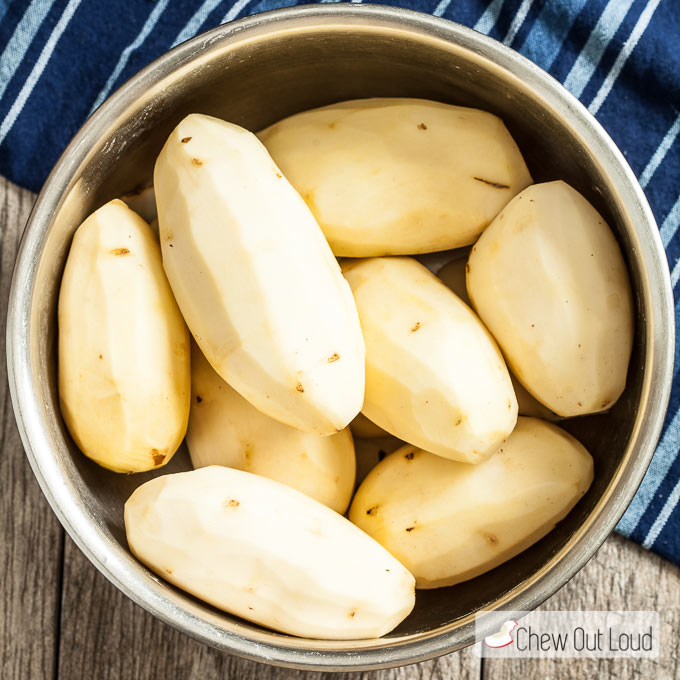 Hasselback Potatoes as the star side dish
Being that we're a foodie place, we're gonna talk food and just leave all the unfinished shopping + wrapping behind.
Every holiday season, we do some ridiculous turkey hoarding and we're not shy about it.
We've been roasting big birds for alltheparties for 15 years now. That's not all…we buy extra turkeys on sale and…um…bury them in the snow outside. Because who has room in their freezer for 2 extra large turkeys?
One year we went to dig up a big bird and couldn't find the spot we'd stashed it in. Shoveling snow for turkeys like Where's Waldo? That's us. I think it was spring when it finally surfaced. Still frozen and ready for Easter 😅
But aside from turkeys and hams and all the roasts, the most fun part of holiday meals = glorious side dishes.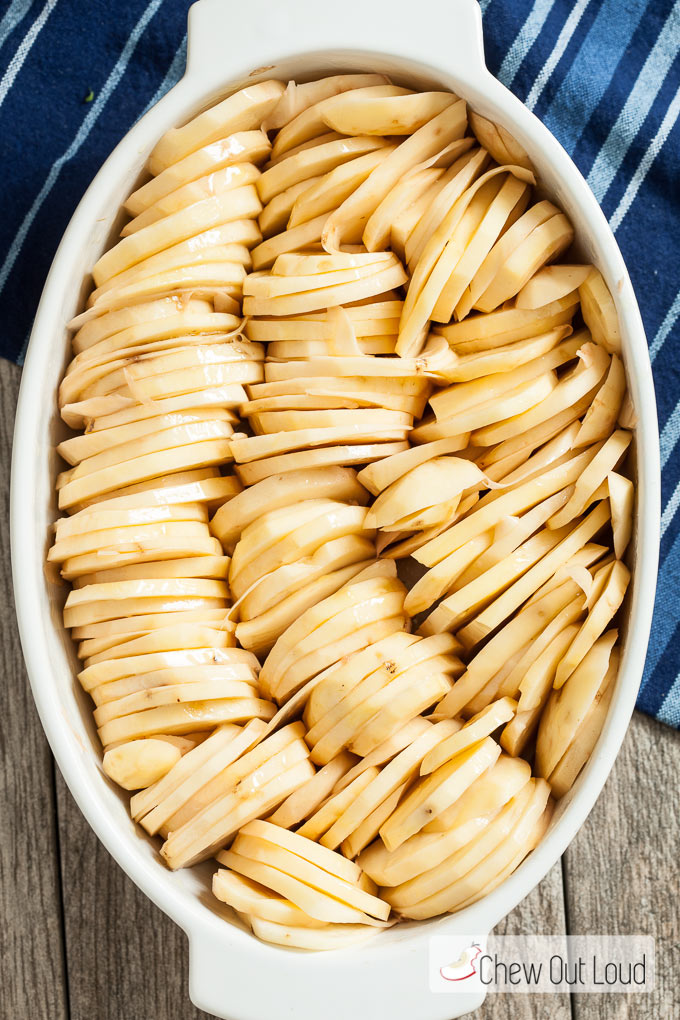 How to make hasselback potatoes in casserole form
Most of us can agree that potatoes reign supreme when it comes to holiday side dishes. Whether it's Russets, Goldens, or Reds…whether mashed, roasted, or slow-cooked…potatoes are the ultimate holiday comfort dish.
After all, potatoes are the 9th wonder of the world.
Given that status, it's no wonder(!) dishes like Slow Cooker Garlicky Mashed Potatoes and Crispy Smashed Red Potatoes are instant crowd favorites during holiday season and beyond.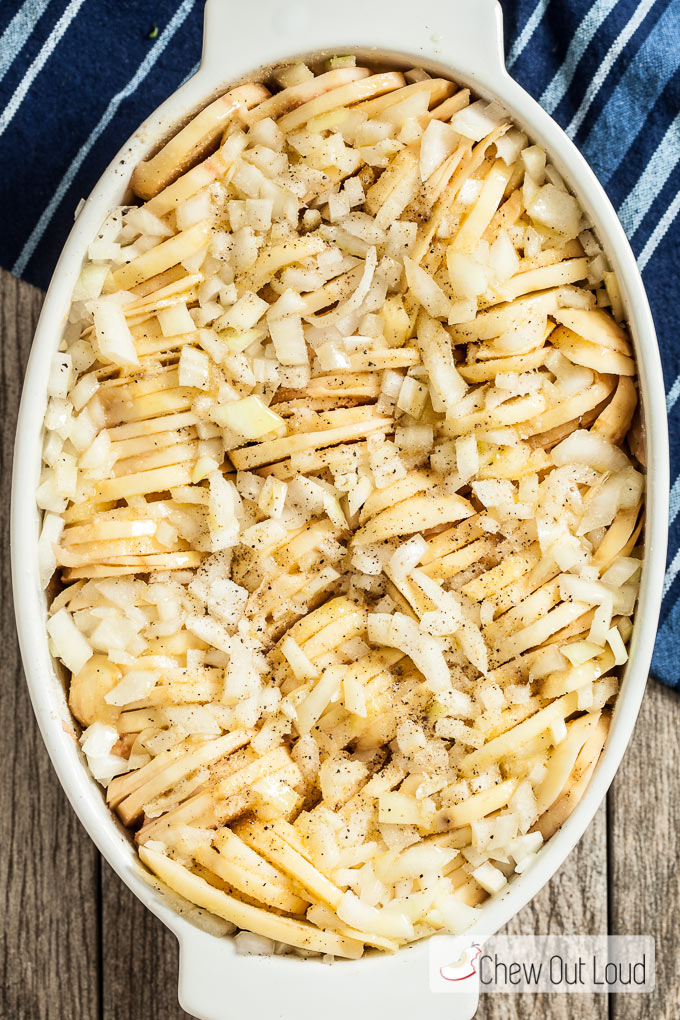 Why you'll love these hasselback potatoes
This holiday season, I'm not only dishing up beloved Make-Ahead Mashed Potatoes and the all-time super fabulous Sweet Potato Casserole with Brown Sugar Crumble.
I'm branching out in spud town and having a potato party with this Hasselback Roast Potato Casserole.
Here's what this irresistible dish has going for it:
Hasselback is just a fun thing to say.
It's crazy delicious. As in, crispy on the edges and tender throughout the center.
You know your family and friends will be floored by your potato prowess.
Pssst…this dish is surprisingly easy to pull off.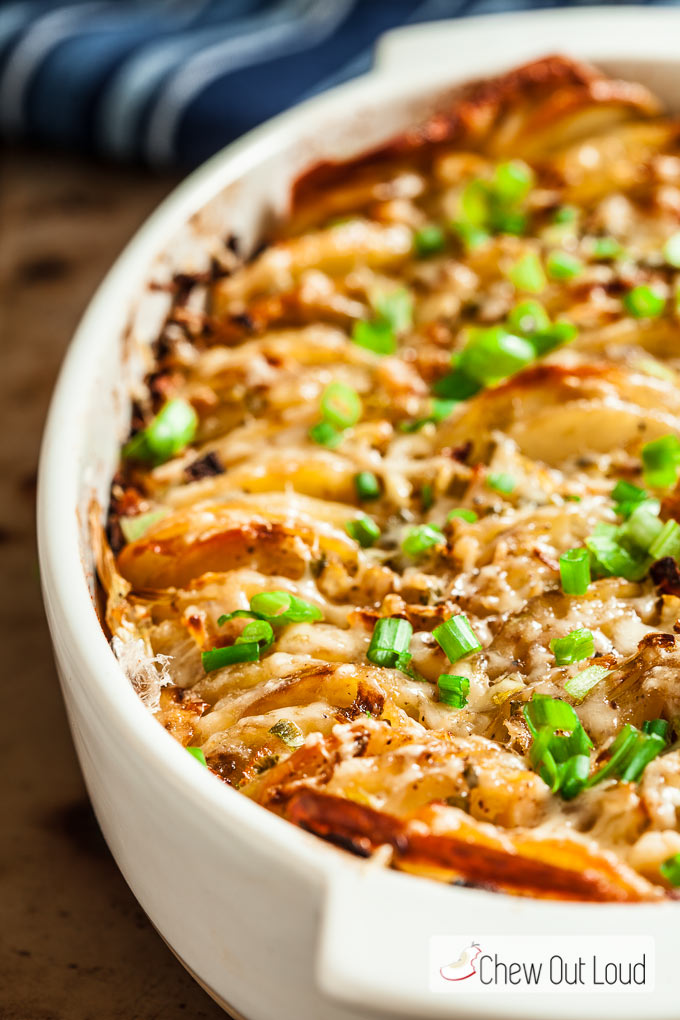 Cheesy Hasselback Potatoes are the way to go
If you have a mandolin (highly recommended) then your job is cut out for you. Literally 😋
If you don't own one and prefer not to get one, a sharp knife will do the trick with a bit of elbow grease.
Once the potatoes are peeled and sliced…it's all an easy downhill ride from there. Just throw on the herbs/seasonings and bake. Do allow for the usual potato bake time. Sprinkle on your cheese and toppings.
Hear the ooohs and aaahhs. Accept it; receive it. You'll probably be asked to make this dish every year from now on.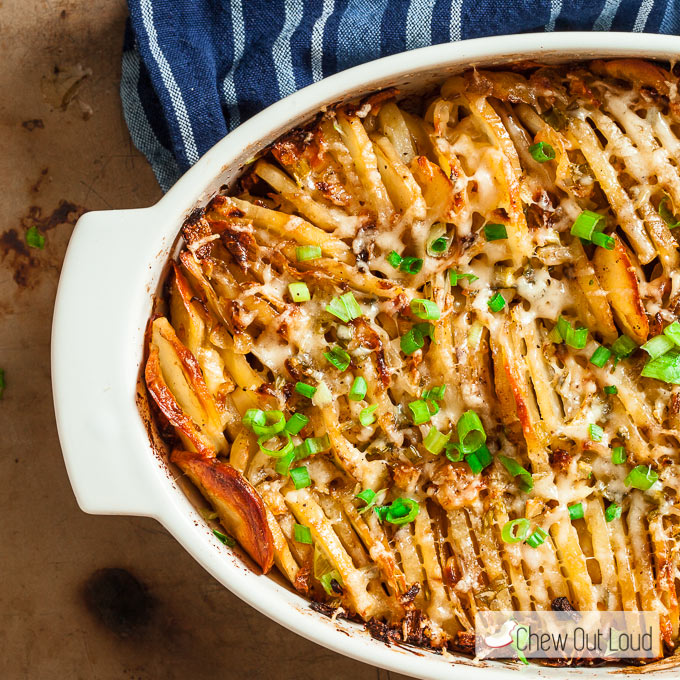 Here's to the glorious, beautiful holiday season.
And to fun new ways of gobbling up comfort food.
Did you make this?
Please give us a rating and comment below. We love hearing from you!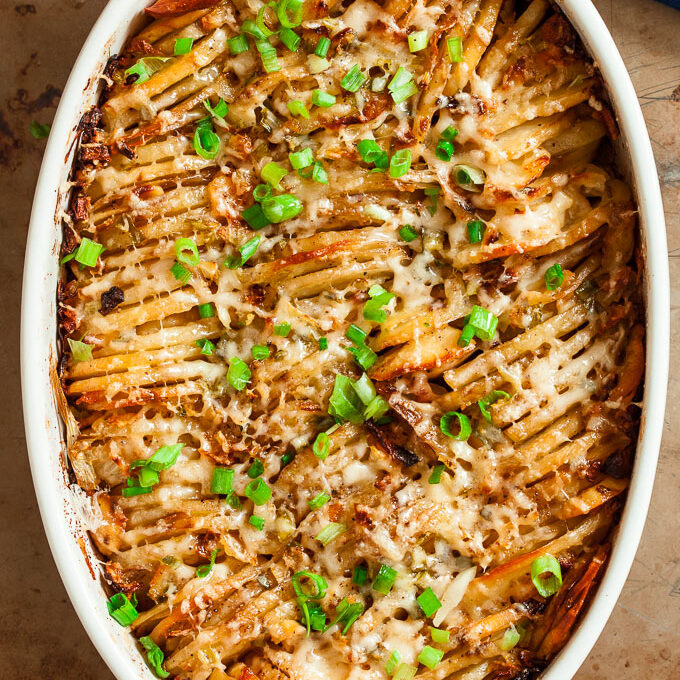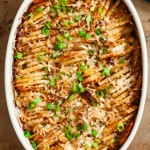 Hasselback Roast Potato Casserole
Hasselback Roast Potato Casserole is crispy on the edges and tender throughout the center. It's a simple yet show-stopping way to serve up potatoes. Wow your guests with this delicious recipe!
Ingredients
3

TB

salted butter,

melted

4

lbs

russet potatoes

,

washed and peeled

1

medium onion

,

chopped

5

cloves

garlic

,

chopped

kosher salt and freshly ground black pepper

½

cup

freshly shredded parmesan cheese

3

TB

thinly sliced green onions
Instructions
Preheat oven to 375F with rack on middle position. In a bowl, whisk together the melted butter, olive oil, and 1 1/4 tsp kosher salt + 1/2 tsp freshly ground black pepper. Brush bottom of a 9-inch baking dish with a bit of butter mixture; set the remaining mixture aside.

Slice potatoes thinly and evenly cross-wise (for fastest and most even results, use a mandolin to slice potatoes. A sharp knife will work, too.)

Arrange potato slices upright (vertically and somewhat tightly) in prepared dish. Wedge chopped onions and garlic throughout potatoes. Brush with butter mixture, reserving 1/4 cup for later.

Bake 1 hour uncovered. Brush on the reserved 1/4 cup butter mixture and continue baking another 30 minutes until top is lightly browned. If it starts browning too quickly, cover loosely with foil.

Sprinkle top with shredded parmesan cheese and green onions. Bake 5-10 minutes until cheese is golden and melted. If desired, sprinkle top with a light dusting of kosher salt and black pepper. Serve immediately.
Notes
This dish comes together quickly once the potatoes are sliced. A mandolin can get the job done in 5-10 minutes. Be sure to allow enough time to bake. Dish is best when served hot and fresh from oven. Feel free to experiment with your favorite garnishes...crumbled bacon, other cheeses, and other herbs. It will be delicious any way you make it!
Nutrition (per serving)
Calories:
156
kcal
|
Carbohydrates:
22.1
g
|
Protein:
3.5
g
|
Fat:
6.4
g
|
Saturated Fat:
2.5
g
|
Trans Fat:
0.1
g
|
Cholesterol:
8.6
mg
|
Sodium:
89.6
mg
|
Fiber:
3.4
g
|
Sugar:
2.1
g