These smashed potatoes have been floating around Pinterest, and it was just a matter of time before it would surface on our dinner table.
Two of my boys are the pickiest potato-eaters in the universe.  They enjoy but a couple of things potato-related.  As in french fries and tater tots.
When both boys shoveled these smashed potatoes into their mouths, along with a resounding "mmmm," I knew we scored big with this smashed red potato recipe.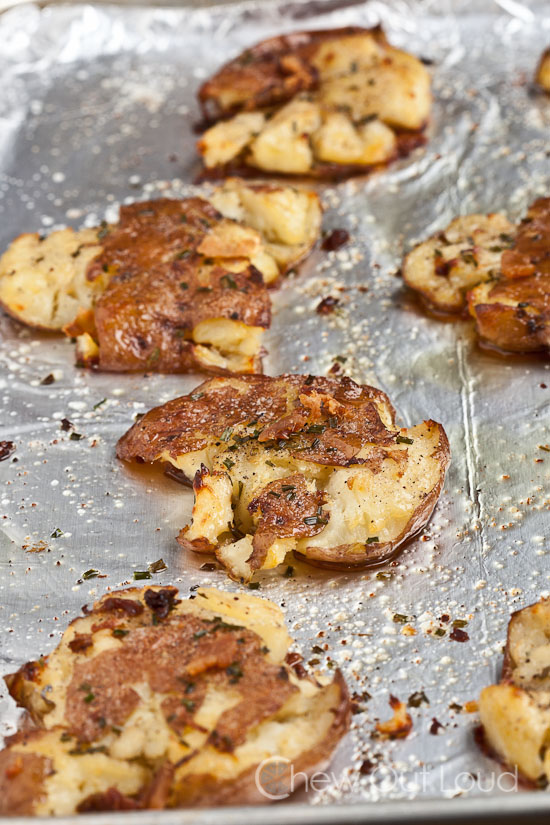 Smashed potatoes just sounds like a fun food.  They are every bit as fun to make as they are to say out loud.  These potatoes are ridiculously easy and tasty.
I waited all but a few seconds after removing these sizzling potatoes from the oven before biting into one.  Crunch.  Chomp.  Chew.  Ohhh, are these potatoes gooooood.
They really do emerge sizzling hot, and the aroma immediately whets your appetite.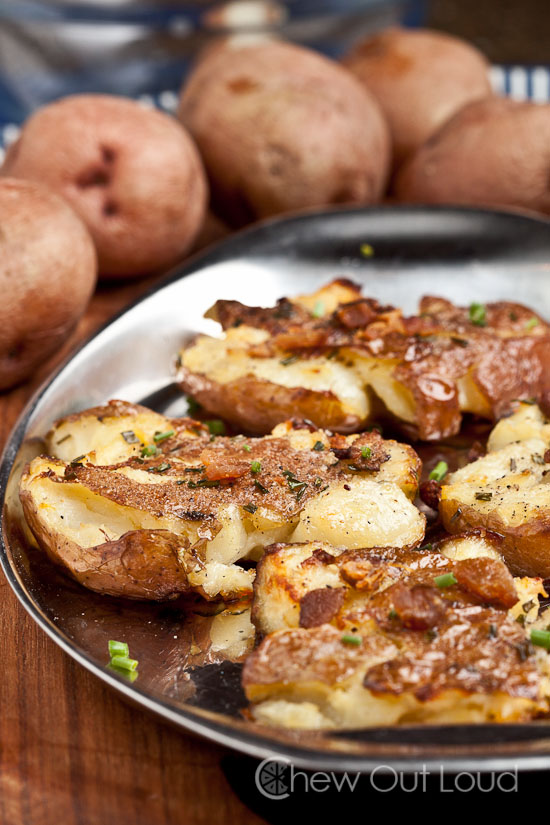 Crispy and crunchy on the outside.  Fluffy, tender, and soft on the inside.  Bursting with the perfect flavor combination of olive oil, kosher salt, pepper, and garlic.  Nothing fancy is needed to put these smashed potatoes on the table.
I found a few variations on smashing style.  You can use the flat bottom of a glass (was too slippery to work well for me.)
Or, you can use a sheet of foil or cloth to smash the potatoes down.
What worked best for me was using my potato masher.  If you own one, that's the easiest way to go.  Otherwise, go with the foil or cloth overlay and smash away.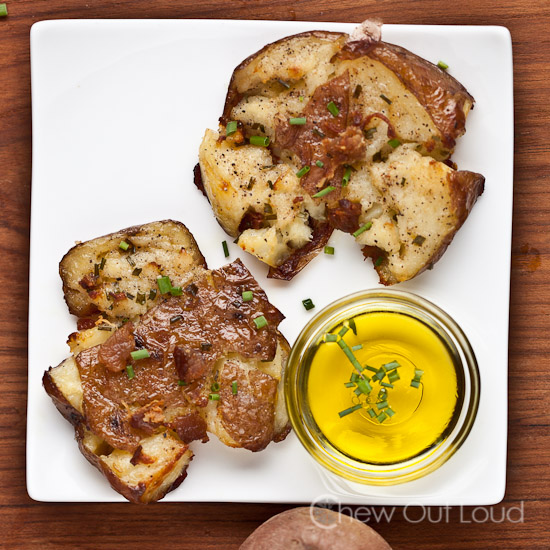 Now we've added these Smashed Red Potatoes in addition to these Roasted Garlic Butter Herb Potatoes that my peeps readily nosh on.  Our list of potato-hits is growing.
Serve these up with a Tender, Juicy Meatloaf for a flavorful and easy dinner everyone will rave about.
Enjoy!
Print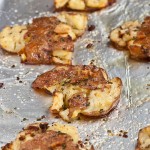 Smashed Red Potatoes
---
Description
These Smashed Red Potatoes are gaining popularity for good reason. They are delightfully crispy on the outside, yet tender soft on the inside. These potatoes are the perfect side dish for almost any meal.
---
12

whole red potatoes
extra virgin olive oil
garlic powder to taste
kosher salt to taste
freshly ground black pepper to taste
optional: chopped chives or chopped bacon for garnish
other: table salt for boiling water
---
Instructions
Fill a large, heavy pot two-thirds full of water. Generously sprinkle table salt into water, and bring to a boil. Add potatoes and cook just until they are tender when pierced with a fork. Don't overcook them. Remove potatoes and drain.
Preheat oven to 450, with rack on upper middle position.
Cover a large baking pan with foil. Brush foil with plenty of olive oil (be generous, as this prevents sticking.)
When potatoes have cooled enough to handle, gently press down each potato with a potato masher until they are about 1/2 inch thick. Lay smashed potatoes on prepared pan. Generously brush tops with olive oil, and don't be shy here!
Sprinkle tops generously with kosher salt, pepper, garlic powder, and chives/bacon if you are using. Don't be afraid to use enough salt.
Bake 20-25 minutes, or just until nicely browned and sizzling!
Eat while they're hot.
Source:  Chew Out Loud, adapted from Pioneer Woman
If you're a spud lover, we think you'll enjoy these fail-proof potato dishes!
Garlic Butter Herb Red Potatoes. I can have a plate of these and call it dinner. This is always good, and pairs perfectly with so many meals.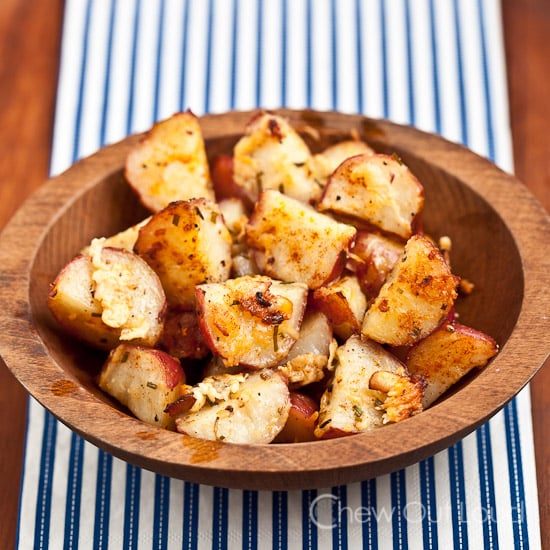 Onion Parmesan Roasted Potatoes. Slightly crispy on the outside and tender on the inside. Full of flavor all around.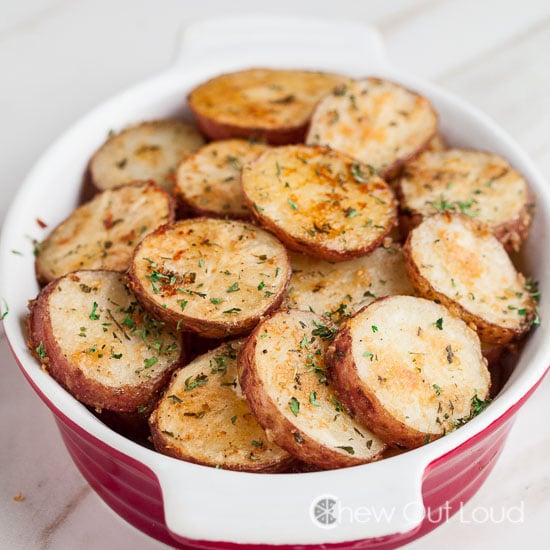 3. Slow Cooker Garlic Mashed Potatoes. No need to wrestle for oven time. These mashed potatoes are creamy, rich, and delicious. Make-ahead to boot!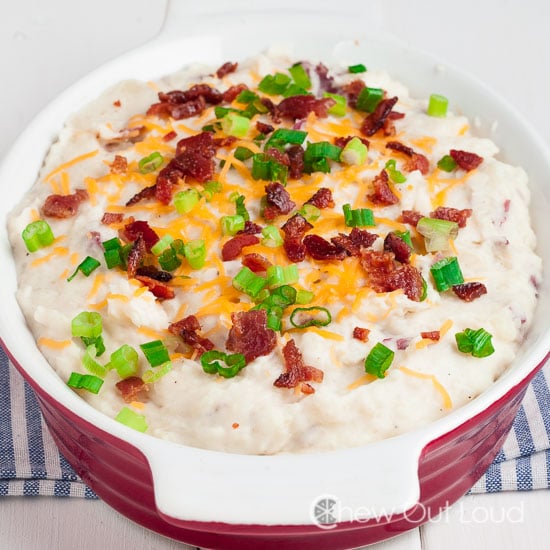 We'd love to have you follow us on Pinterest, where we pin the best finds!
Follow us on Facebook and Twitter for the newest recipes and frequent Gift Card Giveaways (psst, my fave is Target!)
Hang with us on Instagram for behind-the-scenes food prep and meal ideas.