Huli Huli Chicken
If there's one grilled chicken to try, it's this Huli Huli Chicken. "Huli-huli" means "turn-turn" and traditionally well known as a Hawaiian-only food. But now the secret's out – you can easily make this tender, mouthwatering chicken at home.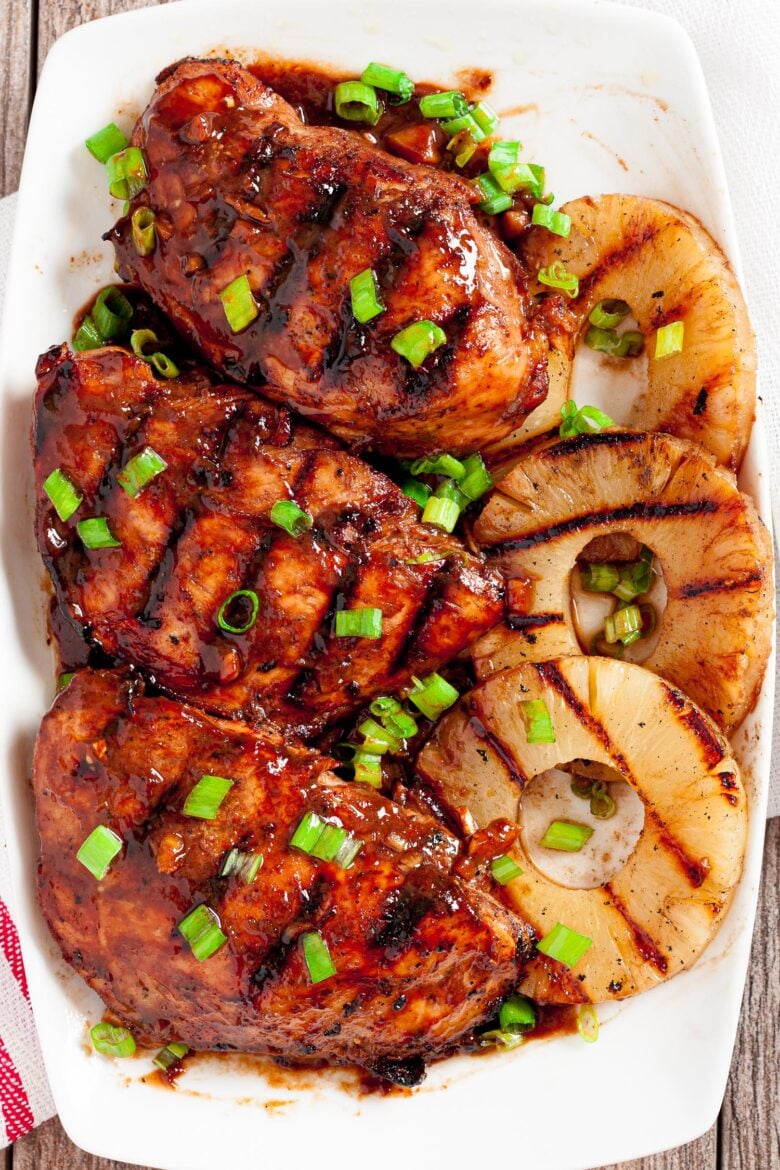 What is Huli Huli Chicken?
Aside from being super fun to say out loud, the term Huli Huli refers to the method of frequent turn, turn grilling used in Hawaii. This particular recipe for Hawaiian BBQ chicken was known as a special Hawaiian food when it first hit the scene back in the 1950's, and quickly became a huge hit, and you'll see why when you taste this.
Thankfully, it's a secret no longer and we can all enjoy this mouthwatering chicken dinner for our own grill-outs, whenever the craving for really good chicken comes calling. Hawaiian Huli Huli Chicken is tender, savory, BIG on flavor, healthy, and worthy of every happy bite.
Why This Recipe Stands Out
The flavors are perfectly balanced, with sweet, savory, highly aromatic notes your taste buds will appreciate.
The marinade is easy yet provides huge flavor and tenderness to the chicken.
It's healthy, lean, and full of protein – perfect for those who don't want to sacrifice flavor for fitness.
It's easily prepared ahead of time, making huli huli chicken a wonderful meal prep recipe.
You'll love it served alongside of our Hawaiian macaroni salad.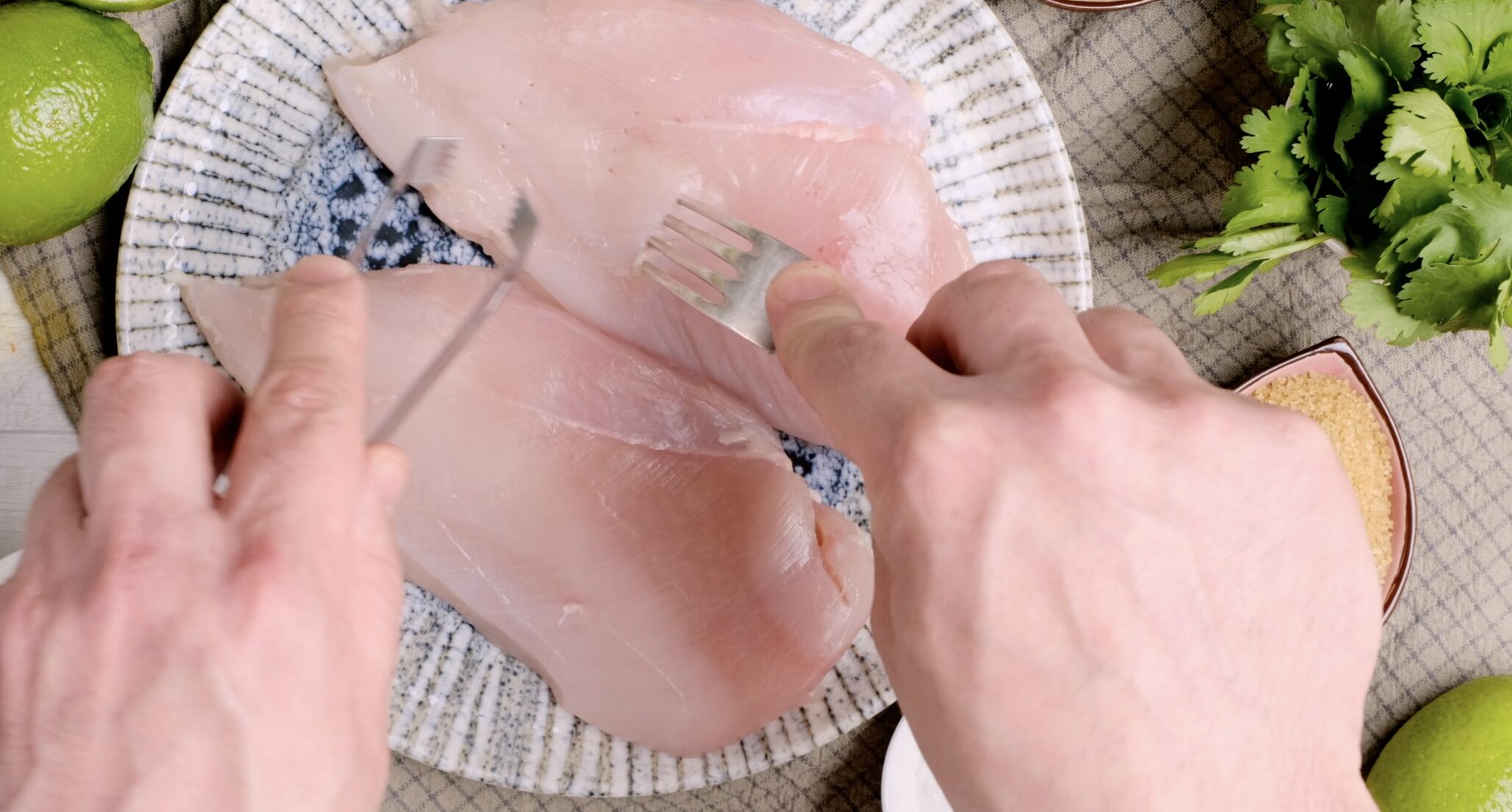 Key Ingredients
Boneless, skinless chicken breasts or thighs – both can be used. Note that chicken thighs will always yield more tender results, as they're much more forgiving if you accidentally overcook them.
Brown sugar – pack it down during measuring, as the right amount provides sweetness to the marinade.
Ketchup – for sweet, tangy flavors and a natural color boost.
Regular soy sauce – since we don't use any additional salt, you'll want a full-bodied soy sauce.
Sherry – this provides flavor complexity and depth, while its enzymes and acids assist with tenderizing the meat. If needed, you can use rice cooking wine instead.
Ginger – use fresh ginger, and mince it yourself. In marinades, fresh ginger is always better than ginger powder.
Garlic – use freshly minced garlic, and plenty of it, for the most aromatic flavors.
Freshly ground black pepper – we always opt for using a pepper mill to freshly grind peppercorns, as the flavor difference is huge.
Green onions – an optional but nice pop of color and flavor for garnish.
Key Steps
Always use paper towels to pat dry chicken to remove excess moisture before starting the recipe.
Pierce chicken throughout, to allow it to absorb as much of the marinade as possible.
Marinate chicken overnight, to give it time to fully soak in the flavors.
Reserve some of the marinade to use as a basting sauce.
Be sure your indoor or outdoor grill is preheated so that it's hot prior to putting the chicken down.
Cook chicken only until the center is no longer pink; the key to tender chicken breasts is not to over-cook it.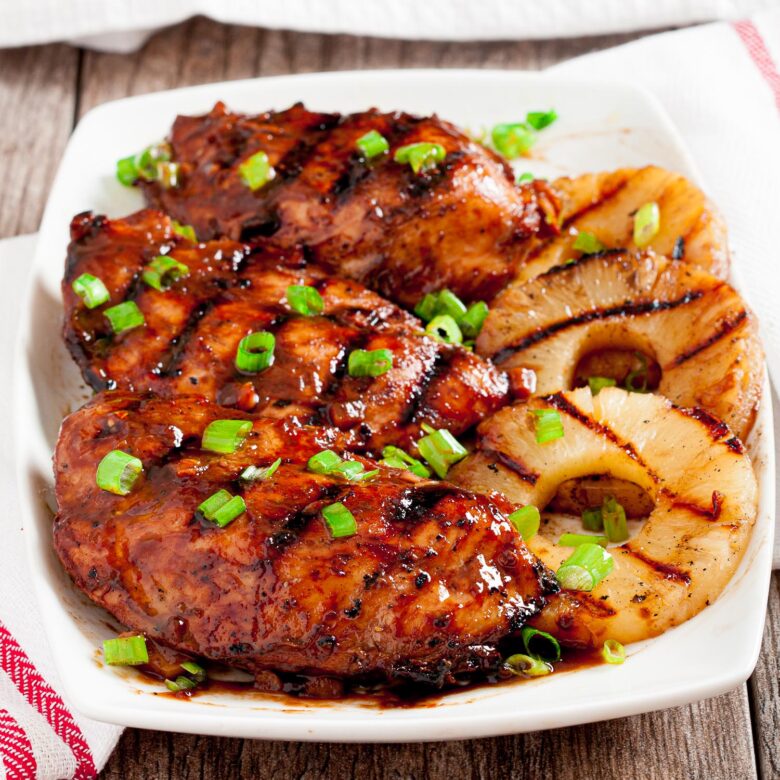 Make-Ahead Tips
A recipe's ability to be prepared ahead makes for easier weeknight meals and more relaxing gatherings.
Marinade ingredients can be combined and stored in an airtight container in the fridge for 3 days prior to using.
Chicken can be marinated for up to 2 days before grilling, if you'd like to have it prepped a couple days early.
Combine raw chicken and marinade in freezer bags and freeze them for up to 2 months. Defrost completely before grilling.
Grilled chicken can be made large-batch style and divided for various meals throughout the week.
What to Serve with Huli Huli Chicken
The possibilities here are truly endless, as huli huli chicken pairs well with everything from crispy green salads to pasta salads. Here are our favorite dishes to serve with huli huli chicken:
Commonly Asked Questions
What is the traditional Huli Huli chicken marinade made of?
The traditional Huli Huli chicken marinade typically consists of a combination of soy sauce, brown sugar, ketchup, ginger, garlic, and sometimes a hint of pineapple juice. Our recipe does not require pineapple juice, but uses a bit of sherry for depth of flavor and for meat tenderizing.
Can I use boneless chicken for Huli Huli chicken?
Traditionally, you'll see bone-in chicken being used for huli huli chicken, but we prefer using boneless chicken for its ease of use and quicker cook time.
How long should I marinate the chicken?
We highly recommend marinating for 8 hours, but preferably overnight. The longer the marinade is in contact with the chicken, the more flavor will be absorbed. However, if you're short on time, try to give it at least 4 hours of marinade time.
What can I serve with Huli Huli chicken?
Huli Huli chicken pairs well with a variety of sides. Traditional Hawaiian accompaniments include steamed white rice, Hawaiian macaroni salad, and grilled pineapple. You can also serve it with a fresh green salad, roasted vegetables, or even in a sandwich or wrap.
Did you make this?
Please give us a rating and comment below. We love hearing from you!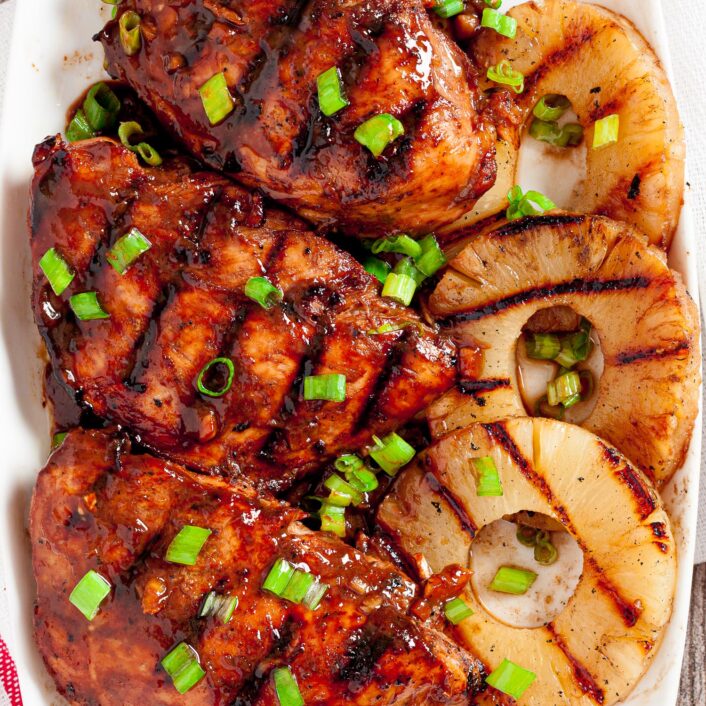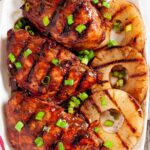 Huli Huli Chicken
If there's one grilled chicken to try, it's Hawaiian Huli Huli Chicken. "Huli-huli" means "turn-turn" and was well known as a "Hawaiian-only" food. Now, you can easily make it right at home.
Ingredients
3

lbs

chicken breasts

,

or thighs, boneless and skinless

½

cup

brown sugar,

packed

½

cup

ketchup

½

cup

soy sauce,

regular strength

¼

cup

sherry

2

tsp

fresh ginger

,

minced

4

cloves

garlic

,

minced

Optional: green onions

,

sliced thinly for garnish over cooked chicken
Instructions
Use paper towels to dry the chicken pieces well. Use a fork to pierce chicken pieces throughout.

In a bowl, combine all remaining ingredients to make the marinade. Reserve 2/3 cup of marinade for a basting sauce. Pour rest of marinade over towel dried/pierced chicken pieces in a large bowl, turning chicken to thoroughly coat well. Cover and chill overnight, or at least 8 hours. Turn once or twice during marinade time to ensure even marinating.

Drain/discard used marinade from chicken pieces.

Grease grill and heat to medium high heat. Grill chicken 4-5 minutes per side, or just until center is no longer pink; do not over-cook. Baste with the 2/3 cup reserved marinade during the last couple of minutes during grill time – if you start basting too early, it will be more likely to burn.

Serve with grilled pineapple rings and freshly sliced green onions, if desired.
Notes
We recommend chicken thighs for extra tenderness, as they're much more forgiving if you accidentally overcook them. If you use chicken breasts, the key to tenderness is to avoid over-cooking.
Sherry provides a complex depth of flavor and helps tenderize the meat. If you can't find sherry, you can use rice cooking wine.
If you need a non-alcoholic option for sherry, you can use unsalted chicken stock; note that the flavors will be somewhat different. If using chicken stock, we do recommend adding in 1/4 cup real pineapple juice, for the acids.
Prep time listed does not include resting/marinade time.
See original article for delicious serving ideas.
If you enjoyed this recipe, please come back and give it a rating ❤️
Nutrition (per serving)
Serving:
1
serving
|
Calories:
230
kcal
|
Carbohydrates:
38
g
|
Protein:
48
g
|
Fat:
6
g
|
Saturated Fat:
1
g
|
Polyunsaturated Fat:
1
g
|
Monounsaturated Fat:
2
g
|
Trans Fat:
0.03
g
|
Cholesterol:
145
mg
|
Sodium:
317
mg
|
Potassium:
883
mg
|
Fiber:
0.1
g
|
Sugar:
33
g
|
Vitamin A:
69
IU
|
Vitamin C:
3
mg
|
Calcium:
32
mg
|
Iron:
1
mg