Grilled Chicken Thighs (with the Best Marinade)
This extra juicy, tender grilled chicken is super easy and incredibly flavorful. The marinade is inspired by the lively flavors of Hawaii. Friends and family love this savory chicken dinner!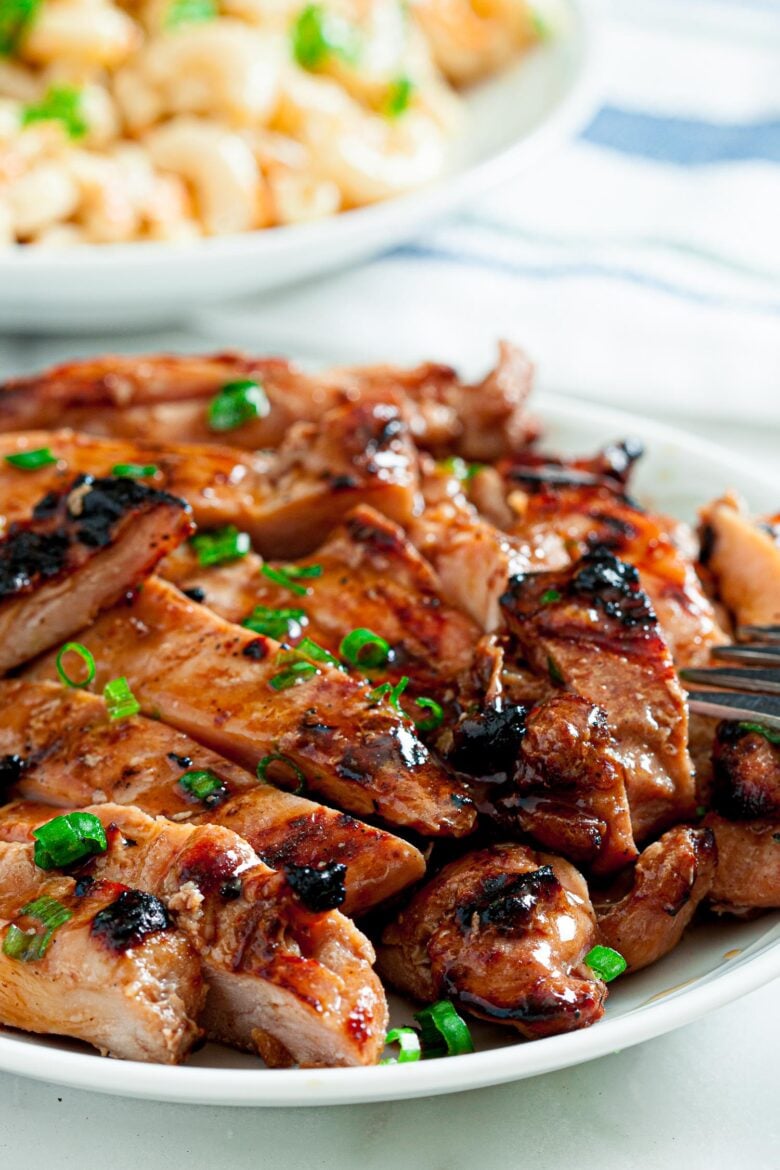 Video: Watch Us Make This Recipe
Marinated Grilled Chicken Thighs
We all love grilled chicken throughout the summer, as it's one of the most versatile dishes to pair with pizza and pasta, rice and quinoa dishes, and all the delicious greens. We don't stop with everyday grilled chicken, though – we elevate the flavors by marinating chicken thighs with a combination of pineapple juice, soy sauce, and toasted sesame oil. It's a harmony of sweet and savory flavors and results in tender, juicy chicken thighs. We can't wait for you to taste this grilled chicken thigh recipe for yourself!
Why This Recipe Stands Out
You won't worry about bland nor dry grilled chicken here.
This recipe rewards you with huge flavors and extra-tender meat.
There are just 10 simply pantry ingredients, most of which a well-stocked kitchen will already have, or are easy to find at any grocery store.
It's a perfect meal prep recipe that can easily be fully prepared ahead of time for busy days.
Marinated chicken makes for an easy freezer meal, ready to set on the grill when you are.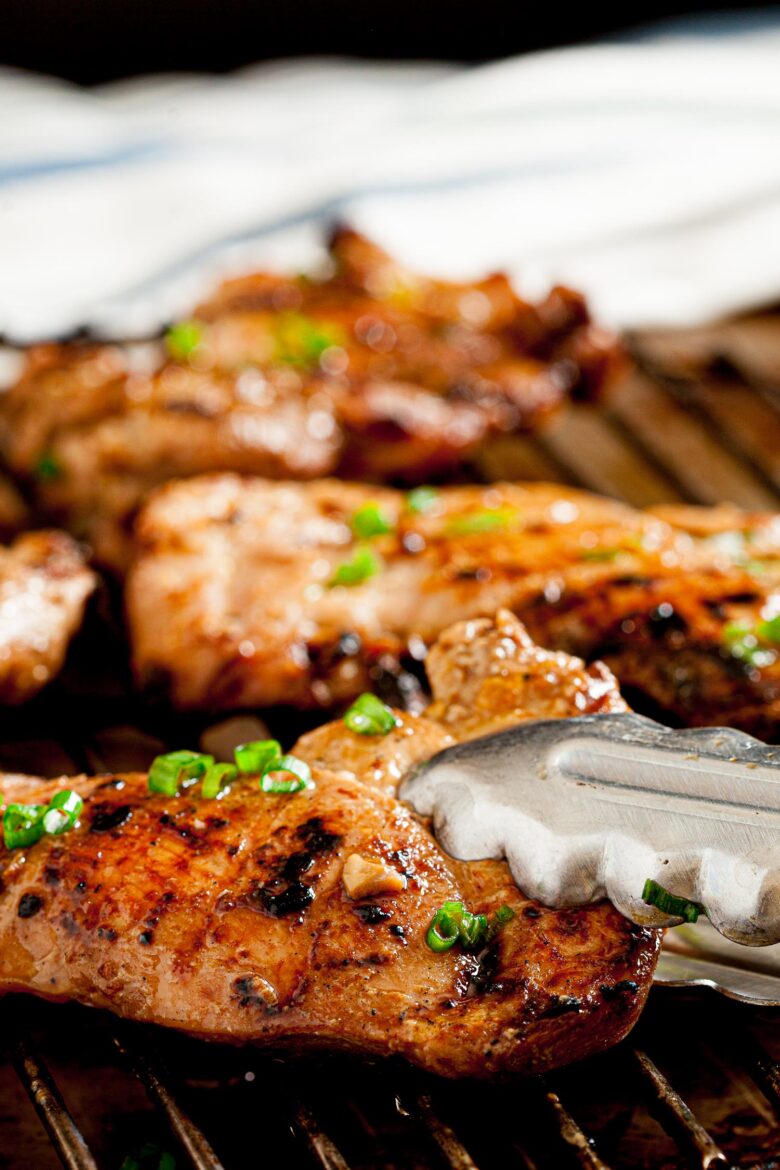 Key Ingredients
Onion – you can use brown, yellow or white onions. Avoid red onions, as those have too much of a sharp bite to them for this recipe.
Garlic – you'll use 6 whole garlic cloves; we skip garlic powder, as there's no substitute for freshly minced garlic when it comes to marinades.
Ginger – use fresh ginger vs. powder, as fresh ginger is much more fragrant in a marinade.
Pineapple Juice – here's where this recipe stands out from the rest. Pineapple juice is the secret ingredient that provides sweet, tropical flavors and the acidity to tenderize the meat.
Soy Sauce – use regular strength soy sauce for full-bodied flavor. You can also use Tamari soy sauce for a gluten free option.
Sugar – use just a half-cup of granulated sugar to balance out the flavors,
Apple Cider Vinegar – this gives a boost of extra meat-tenderizing acidity.
Sesame Oil – be sure to use Asian sesame oil, or toasted sesame oil. It's not the same as normal sesame oil, which is much lighter. Asian sesame oil is darker and unparalleled in its aroma.
Chicken Thighs – we highly recommend chicken thighs for their forgiving nature when it comes to tenderness. You won't worry about overcooking it slightly.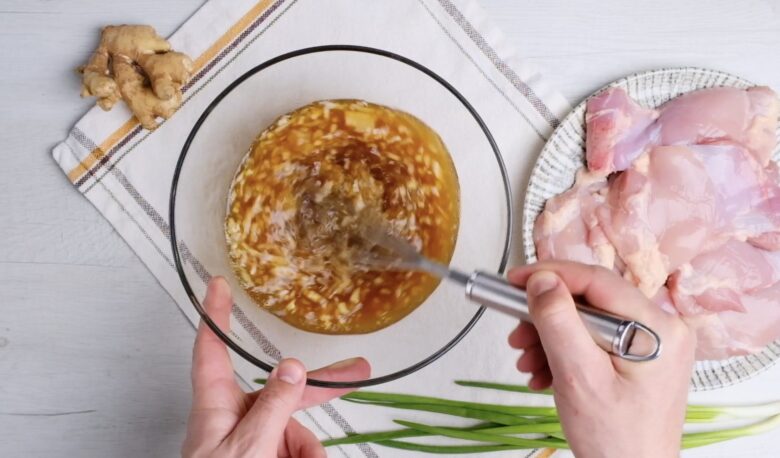 Meal Prep Tips
The marinade can be made several days in advance. Keep covered and chilled in the fridge until ready to use.
Buy trimmed boneless, skinless chicken breasts for ease of preparation.
Chicken can be marinated overnight, up to 3 nights total. That means you can have it all prepped and ready to grill on the day you wish to serve it.
Marinated raw chicken can be placed in an airtight freezer bag to freeze up to 2 months. Thaw in fridge a couple nights before you'd. like to grill the chicken.
What to Serve with Grilled Chicken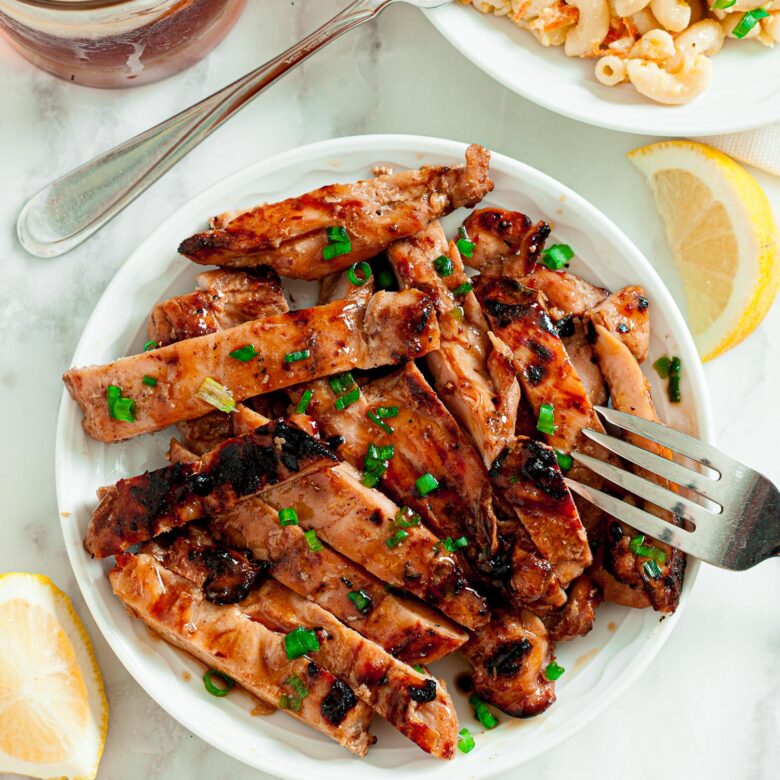 Commonly Asked Questions
How long should I grill chicken thighs?
The cooking time for grilled chicken thighs depends on various factors, such as the thickness of the meat and the temperature of your grill. As a general guideline, cook boneless chicken thighs for 6-8 minutes per side on medium-high heat, flipping them only once. Ensure the internal temperature reaches 165°F (74°C) for safe consumption. Again, actual cooking time varies. Aim not to overcook your chicken thighs; aim for centers that have just become no longer pink and nice grill marks on both sides.
Can I use bone-in chicken thighs for grilling?
Absolutely! Bone-in chicken thighs can be grilled with great results. Keep in mind that they will definitely require longer cooking times to ensure the meat is cooked through. It's recommended to use a meat thermometer to check the internal temperature and ensure it reaches 165°F (74°C).
Can I substitute chicken breasts for chicken thighs?
While chicken breasts can be substituted for chicken thighs, keep in mind that chicken breasts tend to be leaner and and will dry out more easily when grilled. To prevent dryness, pound chicken breasts to an even thickness so they will cook evenly. It's important to marinate the chicken breasts at least overnight and use a meat thermometer to monitor the internal temperature so you can remove them from heat as soon as they're cooked through. Aim for an internal temperature of 165°F (74°C) but no higher.
Can I use a gas grill or charcoal grill for grilling chicken thighs?
Both gas grills and charcoal grills can be used for grilling chicken thighs. Gas grills offer convenience and precise temperature control, while charcoal grills provide a smoky flavor that many people enjoy. Whichever type of grill you use, ensure it is greased well and preheated before cooking the chicken thighs.

Can I reuse the marinade?
It is not recommended to reuse the marinade that has been in contact with raw chicken. It's best to discard any leftover marinade once you're ready to grill. The exception is if you'd like to bring leftover marinade to a boil, in order to kill off any bacteria. In that case, you can use boiled marinade to baste chicken with – be sure not to double dip the basting brush if it comes into contact with raw chicken, though.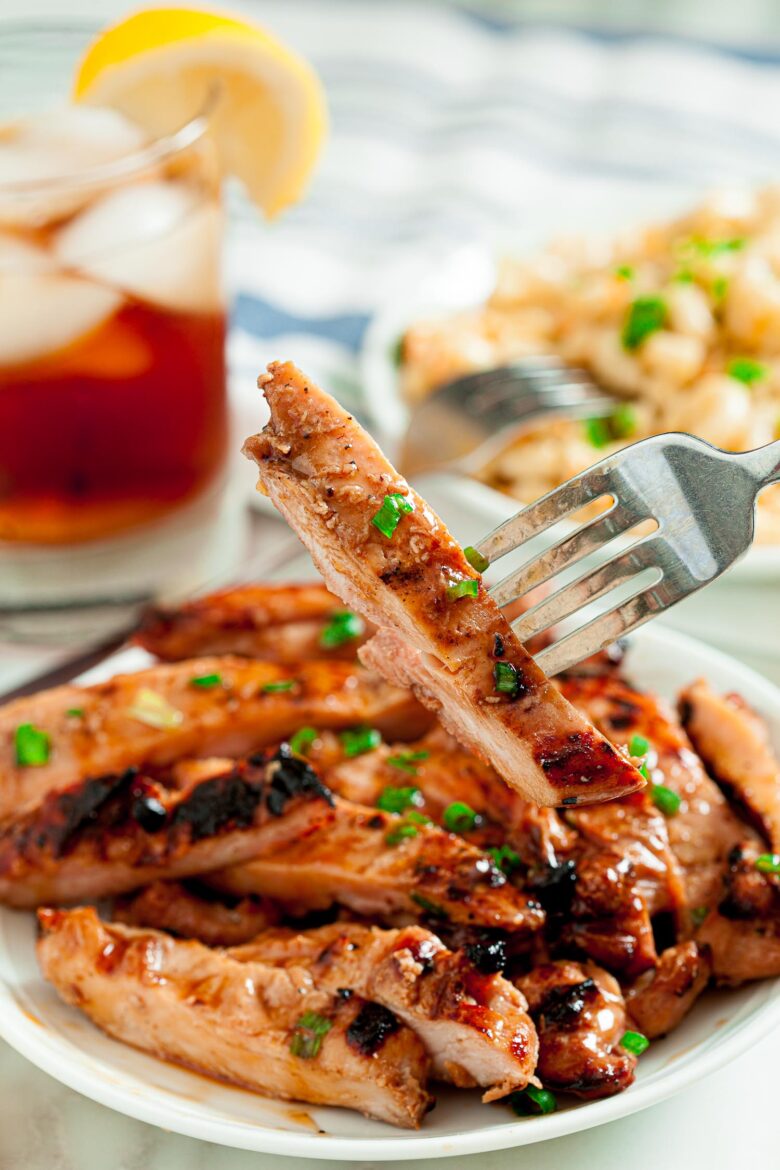 More to Grill and Eat
Did you make this?
Please give us a rating and comment below. We love hearing from you!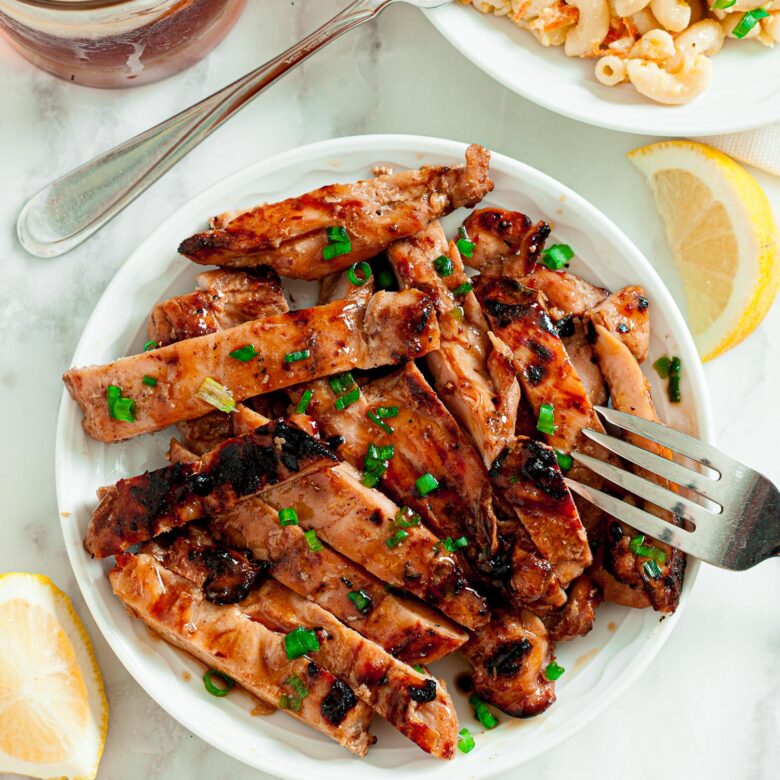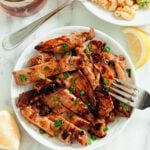 Grilled Chicken Thighs (with the Best Marinade)
This extra juicy, tender grilled chicken is super easy and incredibly flavorful. The succulent marinade is inspired by the bright, lively flavors of Hawaii. Friends and family love this savory chicken dinner!
Ingredients
½

cup

chopped onion

6

garlic cloves

,

chopped

1-inch

piece

fresh ginger

,

peeled and chopped

2

cups

pineapple juice

½

cup

soy sauce,

regular strength or tamari sauce

½

cup

granulated sugar

5

TB

apple cider vinegar

1

TB

Asian sesame oil

table salt

8

chicken thighs

,

boneless, skinless

Optional: freshly chopped green onions, cilantro, or parsley for garnish
Instructions
In a large bowl, whisk together the onion, garlic, ginger, pineapple juice, soy sauce, sugar, vinegar, and Asian sesame oil. Whisk until sugar is dissolved and marinade is well incorporated.

Use paper towels to thoroughly pat-dry the chicken pieces. Place chicken in a single layer on a cutting board, place a sheet of cling wrap over the chicken, and pound to an even thickness*. Throw out cling wrap. Use a fork to pierce chicken pieces throughout. Lightly sprinkle chicken thighs on both sides with table salt.

Place chicken in bowl of marinade. Toss to completely coat chicken pieces with marinade. Cover and chill overnight, or up to 3 nights total. Be sure to turn chicken pieces over halfway through, if all pieces aren't completely immersed in marinade.

Grease and preheat grill at medium-high heat. Remove chicken from marinade* and grill just until center is no longer pink, taking care not to over-cook. It may take about 6-8 min per side, but actual cook time varies.

Garnish as desired and serve immediately.
Notes
If chicken is already even in thickness throughout, there is no need to pound them.
If you'd like to baste chicken with the marinade, bring marinade to a boil and make sure not to double-dip the basting brush if it comes into contact with raw meat; you can pour sauce a little at a time onto the meat, to be safe.
The recommended 6-8 minutes per side of grilling is an estimate. Actual cook time varies, depending on thickness of meat, temperature of meat prior to cooking, and true temperature of grill.
I like to make extra marinade to freeze for future use. Just be sure to place in a freezer proof container and lay cling wrap directly over the marinade to avoid freezer burn. It's an easy way to have a delicious marinade at the ready!
This dish is fantastic with Hawaiian Mac Salad!
If you enjoyed this recipe, please come back and give it a rating ❤️
Nutrition (per serving)
Serving:
1
g
|
Calories:
199
kcal
|
Carbohydrates:
35
g
|
Protein:
22
g
|
Fat:
19
g
|
Saturated Fat:
5
g
|
Polyunsaturated Fat:
4
g
|
Monounsaturated Fat:
8
g
|
Trans Fat:
0.1
g
|
Cholesterol:
87
mg
|
Sodium:
244
mg
|
Potassium:
315
mg
|
Fiber:
0.2
g
|
Sugar:
29
g
|
Vitamin A:
165
IU
|
Vitamin C:
8
mg
|
Calcium:
25
mg
|
Iron:
1
mg